Sleeping bags are firmly where we started and they remain a core part of our range to this day. Back in the 1970's when Rab Carrington was making down sleeping bags in Buenos Aires, he probably didn't imagine that 40 years later sleeping bags with his name on them would be used all over the world in some of the most beautiful yet hostile environments.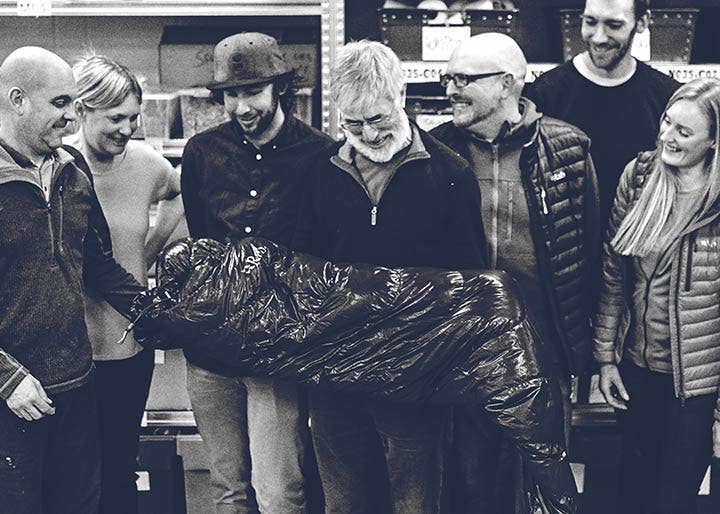 To this day, we hand-fill our down insulated sleeping bags at our factory in Derbyshire, UK. This allows us to know for definite that, by the time our bags reach our customers, they have never been compressed or stored in a way which could be harmful to the down inside. Our lightweight, packable sleeping bag options are ideal for alpine climbers, mountaineering trips or general winter conditions due to their compact and excellent warmth-to-weight ratio. Both 3 season and 4 season sleeping bags are available with hydrophobic down and synthetic fill options.
Ses mêmes valeurs sont toujours d'actualité, nos produits étant garnis, cousus et finis dans le Derbyshire. L'attention que nous portons au détail le plus infime et à l'innovation la plus simple nous permet de fabriquer des sacs de couchage qui durent toute une vie.
Diese Werte stehen bis heute im Mittelpunkt – so werden die Schlafsäcke immer noch in Derbyshire befüllt, genäht und fertiggestellt. Durch unsere Liebe zum Detail und zu schlichter Innovation setzen wir uns auch weiterhin dafür ein, Schlafsäcke zu fertigen, die ein Leben lang halten.