Whether you're trekking the Himalayas, sport climbing or fell walking, you need a backpack that moves with you across the terrain.
The guide covers everything you need to know about finding your back length to help you choose the right size pack for your trip.
How to Measure Back Length

Find your torso length to choose the right size backpack for you
Lowe Alpine Backpack Sizes

Sizing tables for packs with fixed and adjustable back length
Many of our packs, and specifically the bigger and more technical packs are available in different back lengths or adjustable back lengths. Contrary to popular belief, your torso length and not your height is the key to getting a well fitted pack. Tall people don't necessarily have long back lengths, just as shorter people may have a long back length.
What is back length?
Your back length can be found by measuring from your C7 vertebra (the bony protrusion at the back of your neck) to your iliac crest (the top of your hips).
Finding your back length measurements will help you to select the right size pack for your body for the most comfortable carry, wherever your adventures take you.
What is back length?
You will need a tape measure and a friend to help you out.
Place your hands on your hips and tilt your head forwards.

Ask your helper to measure from the bony protrusion at the back of your neck to where your hands sit on your hips.

This measurement will give you an idea of which back length to choose.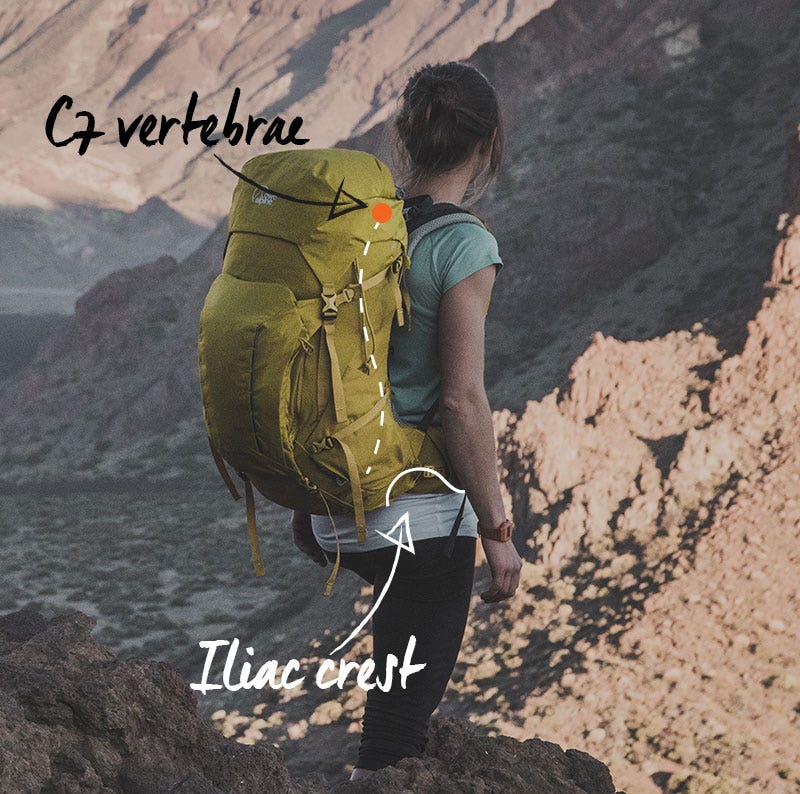 Lowe Alpine Backpack Size Guide
As a guide our packs fit as follows:
Fixed Back Length
Women's Regular Back Length

 

Regular Back Length

 

Longer Back Length

 

16"/ 41cm

 

18"/ 46cm

 

20" / 51cm

 
Adjustable Back Length
Lowe Alpine packs flex to fit to your body shape, so don't worry if your back length does not measure exactly 16, 18 or 20 inches. We have adjustable back lengths on many styles of packs in our ranges.
Carry System

 

Women's Regular Back Length

 

Regular Back Length

 

Longer Back Length

 

VT Flex / VT Plus

 

17-21"

 / 43-53cm

19-23"

 / 48-58cm

21-25"

 / 53-63cm

V-Trax

 

14-18"

 / 36-46cm

16-20"

 / 41-51cm

18-22"

 / 46-56cm

Air Contour+

 

17-19"

 / 43-48cm

19-21"

 / 48-53cm

21-23"

 / 53-58cm

Air Contour

 

14-18"

 / 36-46cm

16-20"

 / 41-51cm

 18-22" / 46-56cm

AirZone+

 

17-19" / 43-48cm
19-21" / 48-53cm