Description
Designed for long winter days, the durable yet dexterous nature of the Guide 2 GTX Gloves make them well suited to dedicated winter mountaineers, outdoor professionals and guides. The robust outer uses GORE-TEX® Warm waterproof technology with a supple Pittards® leather palm and digital leather reinforcement. This is combined with PrimaLoft® Gold synthetic insulation and a high pile lining to ensure warmth, dexterity and protection on cold, damp climbs.
The mapped 3D construction, pre-curved shape and PrimaLoft® Gold Grip Control of the Guide 2 GTX Gloves make ropework and tool handling easier, reducing hand fatigue on long days. In addition to this, the roll-top fingers and thumbs give a more precise fit, minimise seam exposure and increase durability. The cuff of the gloves can be quickly adjusted using one hand, and the protective outer extends inside the cuff of the glove to reduce freeze-thaw melt when clearing snowy ledges. An integrated pull-on tab and removable leash make sure gloves are firmly attached, and are easy to put on and take off.
GORE-TEX Fabric
The original GORE-TEX is a durable, waterproof, windproof, and breathable fabric, optimised for all-weather protection. From light snow to heavy rain GORE-TEX garments keep water out, guaranteed. They also allow moisture from sweat vapor to escape, avoiding that clammy feeling when overheating.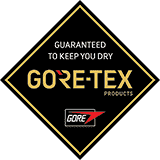 Made with GORE-TEX Warm
Warmer, for longer.
Learn more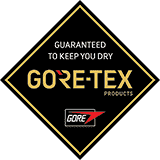 GORE-TEX Warm
Gloves made with GORE-TEX Warm feature insulation layers engineered to provide the maximum possible warmth and comfort, even when you're out in cold temperatures for extended periods.
Highly Insulated
The extra insulation in GORE-TEX Warm gloves keeps you protected, and comfortable, for even longer.
Durably Waterproof
GORE-TEX products with the GUARANTEED TO KEEP YOU DRY™ provide innovative and durable waterproof protection that you can always rely on.
Totally Windproof
Cold wind removes the warm air between your skin and clothing. Products made with GORE-TEX are totally windproof, so you stay comfortable for longer.
Extremely Breathable
During intense activity, it is essential that sweat vapour can escape. This product has superb breathability that ensures you will stay dry and comfortable.
Key Specs

Weight

:220g / 7.7oz

Outer Fabric

:Fabric Outer - GORE-TEX®:,

Fabric Inner

:Fabric Inner - Pittards®:,

Product Code

:QAH-63
Features

Bemberg and PrimaLoft® Gold 100g/m2 grip control palm insulation
PrimaLoft® Gold and high pile 60g/m2 insulation to back of hand
GORE-TEX® Warm waterproof technology
Durable textured stretch outer
Pittards® Armortan leather palm, fingers and nosewipe
Pittards® digital leather reinforcement in key wear areas
Single handed adjustable cuff
Integrated pull on tab
3D pre-curved construction
Removable leash
| | Hand Circumference | Hand Length |
| --- | --- | --- |
| XS | 16.5cm-18cm | 15.5cm-16.5cm |
| S | 18-19cm | 16.5-18cm |
| M | 20-21.5cm | 19-20cm |
| L | 23-24cm | 21.5-23cm |
| XL | 24-25.5cm | 23-24cm |
| XXL | 25.5-26.5cm | 24-25.5cm |
| | Hand Circumference | Hand Length |
| --- | --- | --- |
| XS | 6.5-7in | 6-6.5in |
| S | 7-7.5in | 6.5-7in |
| M | 8-8.5in | 7.5-8in |
| L | 9-9.5in | 8.5-9in |
| XL | 9.5-10in | 9-9.5in |
| XXL | 10-10.5in | 9.5-10in |
N.B. The table above shows body measurements not garmernt measurements.
Hand Length is measured from the wrist to the end of the middle finger.
Hand circumference is measured around the knuckles.