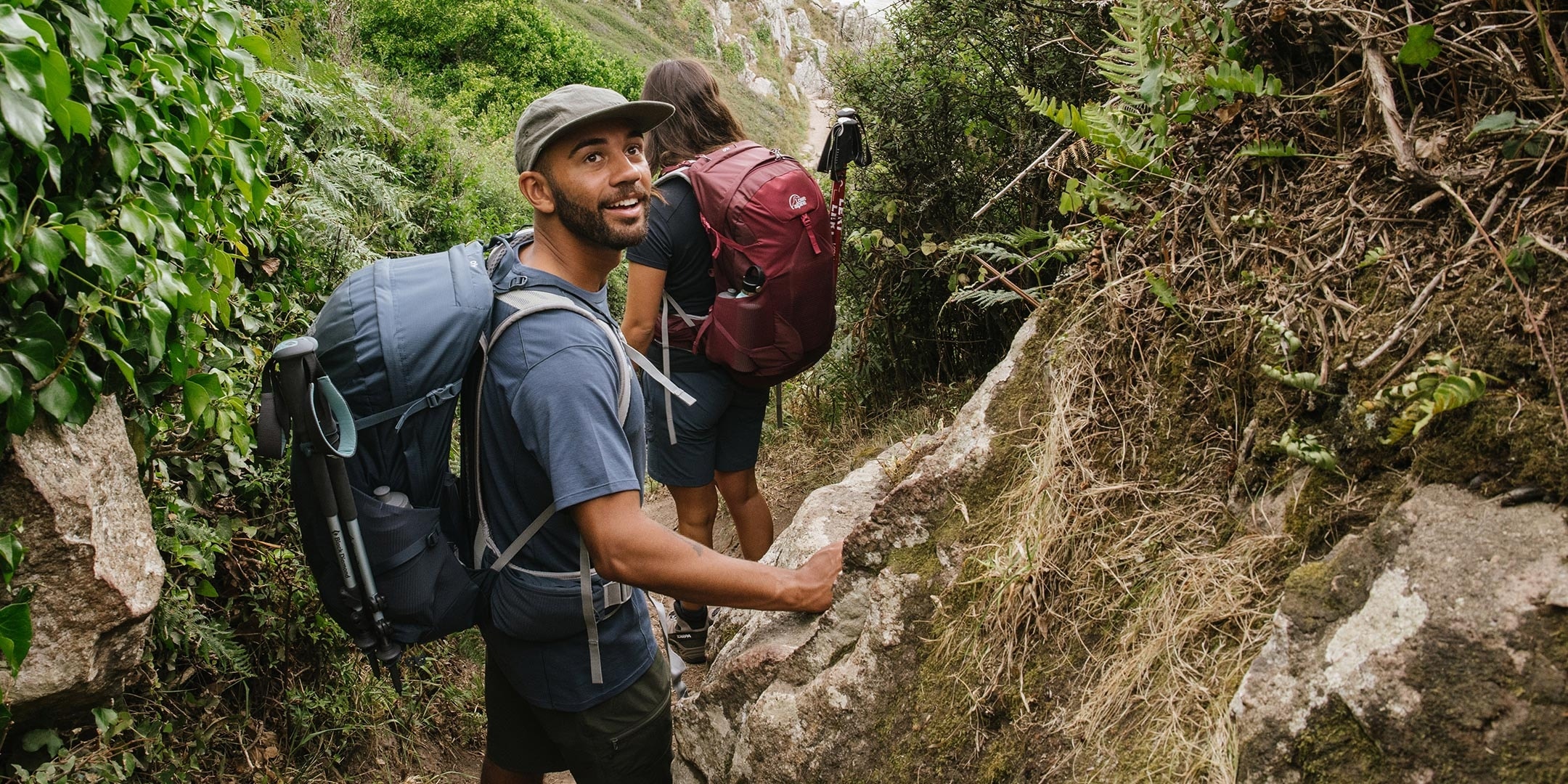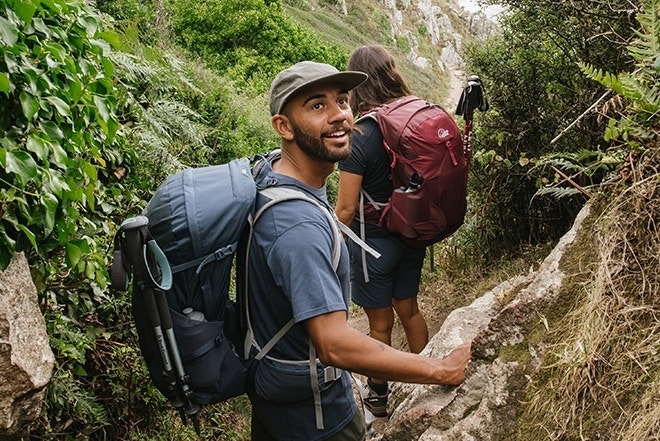 There's something rather special about hiking in summer.
Perhaps it's the trees at full foliage, providing welcome shade, and a tempting spot where you can watch the endless blue skies. Or maybe it's the promise of refreshing rivers, lakes and streams, that can only be accessed on foot, rewarding you for your efforts as the sun reflects from their rippling surface.
Late sunsets and early sunrises stretch the available daylight hours, while the warmer weather is perfect for finding camping spots to enjoy with friends, or perhaps alone.
Hiking in the summer is fleeting and before we know it, we have reached the equinox, and the days slowly shorten, but the ebb and flow of time makes it all the sweeter.
This guide to summer hiking is aimed at helping you get the most out of the small window of seasonal high temperatures and longer days.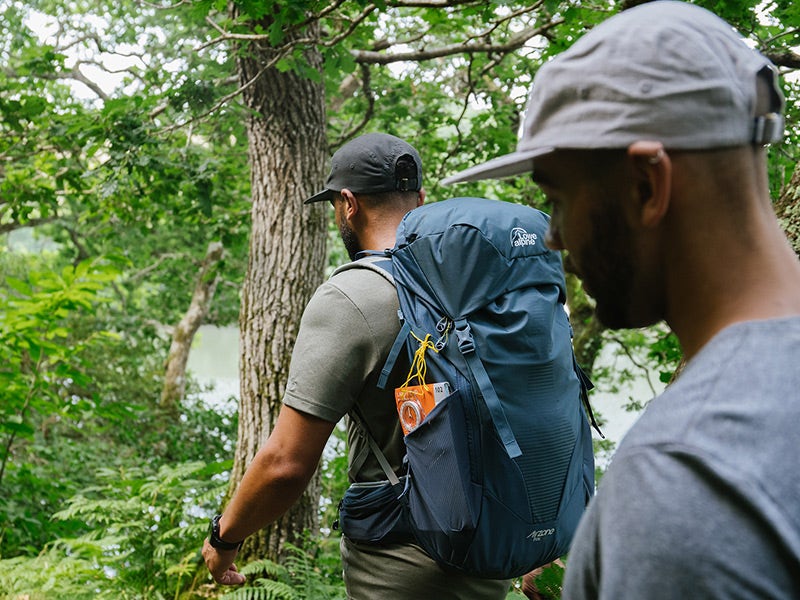 Where to begin
If you are new to hiking, then welcome to the fold of hikers who form our mountain people community here at Rab. You are in safe hands, and we aim to walk you through the basics of getting outside and into the hills this summer.
Our guide seeks to answer questions and provide advice aimed at day hikers, rather than multi-day hikers, or thru-hikers. The barrier to entry is lower, and with the right kit, you can enjoy impressive days out in the hills and mountains hill bagging and seeing the landscape from a whole new perspective.
What this guide covers
Packing for a summer hike

Planning your hike

Staying safe on the trail

The Leave No Trace ethos

Finding a community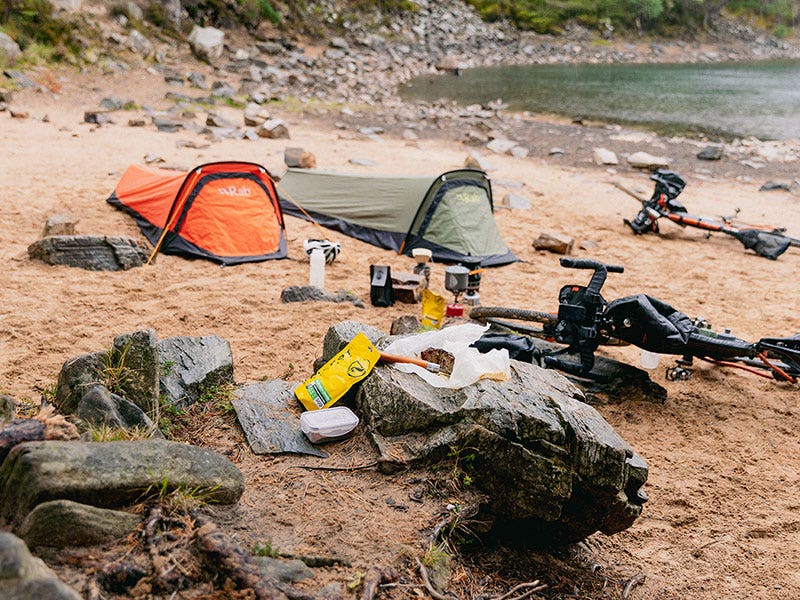 Layers
Baselayer / cycling jersey
Midlayer
Shell layer
Insulated layer

Cycling Essentials
Helmet
Bib shorts
Cycling shoes

Accessories
Gloves
Hat
Socks
Evening shoes

Camp
Sleeping bag
Camping pad
Shelter
Pillow
Headtorch

Cook
Stove
Cutlery and bowl
Food
Water
Coffee

Luggage
Stuff sacks
Bike bags

Bike Accessories
Bike repair kits
Gear repair
First aid kit
Power bank
Map (or mapping software)


What to wear for summer hiking
If you plan to head outdoors for a short hike of up to an hour or two, you need nothing more than shorts, a t-shirt, some water, and a good pair of walking trainers or trail runners. You will also need a backpack to stash your map, a small first aid kit and some snacks. The gear you wear to the gym is perfect.
But for serious day hikes with a good amount of elevation gained over several hours, you need to consider what you wear and pack for your summer hike. Remember, even in the summer, conditions in the mountains are changeable and unpredictable.
This section will give an overview of what we recommend wearing and packing for your summer hike.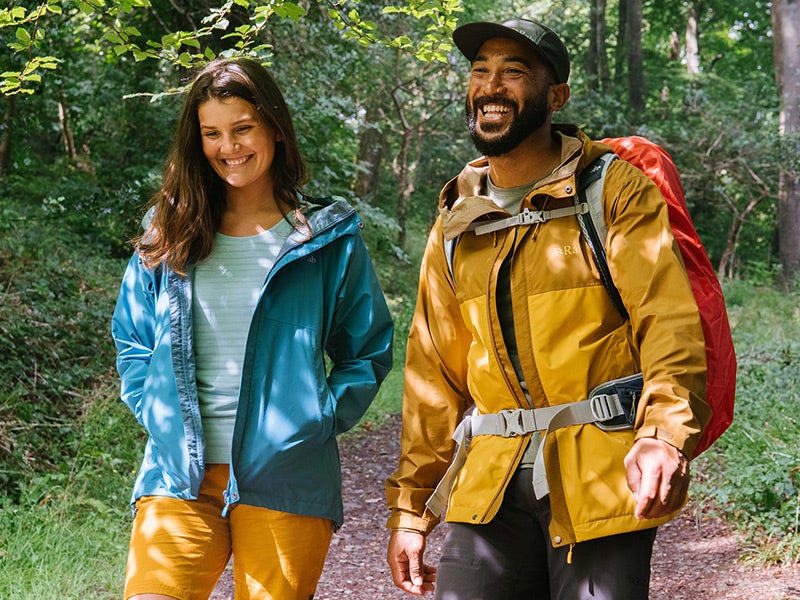 Technical t-shirt
It's best to avoid cotton t-shirts which are heavy when wet, and don't dry out quickly unlike synthetic wicking t-shirts. Although wearing a wet t-shirt on a warm day may sound nice at first, it will increase chafing, and if you are caught out after dark, it will leave you with a cold first layer. Lightweight synthetic layers are soft, chafe-free, will keep you cool in hot conditions and are warmer than cotton in cold conditions
Lightweight midlayer
It's unlikely that you will need a down jacket or your winter fleece for summer hiking. However, we recommend that you bring a lightweight fleece as an emergency layer. Even in the summer you need to factor in wind chill and prepare for the unexpected, so having a warm layer is essential.
Shorts or lightweight trousers
Some hikers prefer to wear trousers year-round, opting for lightweight highly packable trousers to wear in the summer months. These protect legs from the sun, but also help with insect bites, and walking through undergrowth and nettles.
However, if you prefer to tan your legs in the summer, you will need to wear a pair of breathable lightweight shorts that offer a comfortable fit around the waist.
Breathable socks
Wearing the right socks can make or break a walk. The wrong socks, for example ones that are not breathable or are too thick for summer use, will likely cause blisters, especially over long distances.
We recommend using dedicated hiking or trail running socks that are designed for summer use.
Lightweight walking boots or trail shoes/runners
The footwear you choose comes down to personal preference. Some walkers prefer a sturdy walking boot that offers ankle support. Meanwhile other walkers prefer to travel lighter, using a lightweight walking shoe, or even trail runner.
Try both to see what you prefer, as each has its pros and cons. Both the waterproof protection of a walking boot, and the low weight and bulk of a trainer, can be helpful depending on your choice of hike.
Accessories
There are several accessories you don't want to leave home without on a summer hike. These include:
Hat & sunglasses

Sun cream

A well-stocked first aid kit and knowledge on how to use it

Map & compass

Power pack, if you plan on using your phone to navigate (still pack your paper map)

Enough snacks to last the day

Enough water to last the day (3-4 litres on a hot mountain day)

Stuff sacks for storing gear and taking your rubbish off the hill
Regardless of your route, there are some simple tips that will help to make your first ride out a success:
1. Time & Distance
Carefully consider how much time you have to complete a route. Perhaps you have a weekend, or a week or two. Consider how far you can comfortably cycle each day, the extra weight of your gear and the prospect of cycling for multiple days in the row.
This information should help you to choose a route that fits into your schedule.
Planning your hike
Choosing a route for summer hiking can be a challenge. Not for a lack of options, but because there's a lot of choice. Book shops are filled with guidebooks packed with excellent routes. And if books are not your thing, there are new apps being released each year, all with user-generated routes and short guides.
Apps such as AllTrails and Komoot are a great place to start and have thousands of routes, all with varying levels of challenge, across the globe.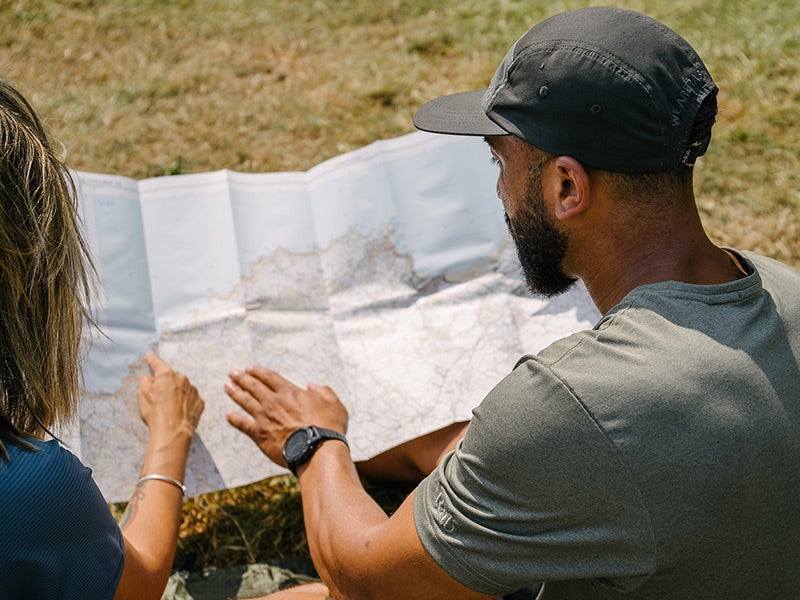 If you're a beginner hiker, keep it simple and explore close to home. Start by visiting your local country park, or nearest National Park or nature reserve.
There are a few reasons why this is a good idea.
Firstly, you are closer to home should you have any issues while on the trail. Secondly, you will be surprised at what you will find in your local countryside when you step away from the streets and roads you probably know well.
When planning your hike, we have some helpful points to consider, especially if you want to hike in the summer for the first time:
Pick a route you know you can comfortably complete. If the route is more challenging, consider an exit route. Ideally this will be an exit point halfway where you know you can comfortably stop and walk back on yourself. Alternatively, it could be a stop where public transport or a lift home is possible.

Choose a well-worn and waymarked trail. This may include walking a section of a National Trail, or a short circular trail following a route. Or just a well-walked footpath with good signage along the way. Walking a popular trail helps you to navigate which in turn will lead to a more enjoyable experience overall.

If you do decide to follow a map on your phone, ensure you have a backup map in your rucksack and a power bank. Sometimes phones fail for several reasons and having a spare will give you the confidence you need to continue navigating if necessary.
Staying safe on the trail
Before you step foot on the trail, it's important to consider your safety. It is of course safer than winter hiking, where the chances of being caught in adverse weather or slipping are significantly higher.
However, you still need to consider some important factors. These include:
Staying cool and hydrated

Hot weather first aid

Being on exposed ridges or scrambles when the weather turns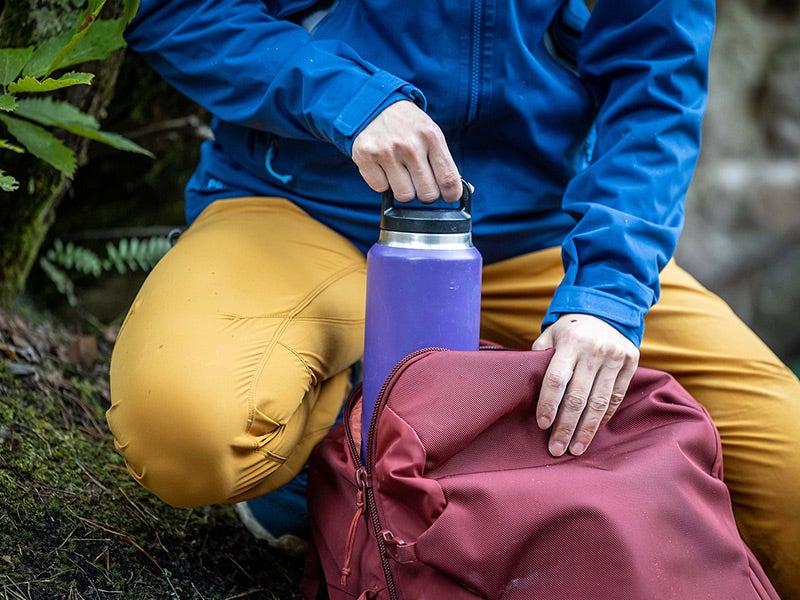 Staying hydrated
Knowing how much water to bring on a hot day can be a challenge. Quite simply, it's best to bring more than you need. If you're worrying about the extra weight of too much water, you will drink it soon enough. You'll thank yourself for having carried extra as the day goes on. There's nothing worse than running out of water on a scorching summer's day.
Hot weather first aid
Sun cream is an obvious addition to your kit list when walking, as well as a sun hat and glasses. On high mountains or upland routes, you will be exposed to the sun for most of the day so it's important to use a high SPF sunscreen to protect your skin from harm.
Hot weather also leads to sweaty feet. Consider bringing blister patches and wearing the right socks that help to move excessive moisture away from your feet. This will in turn help to prevent blisters that can ruin a good day on the trail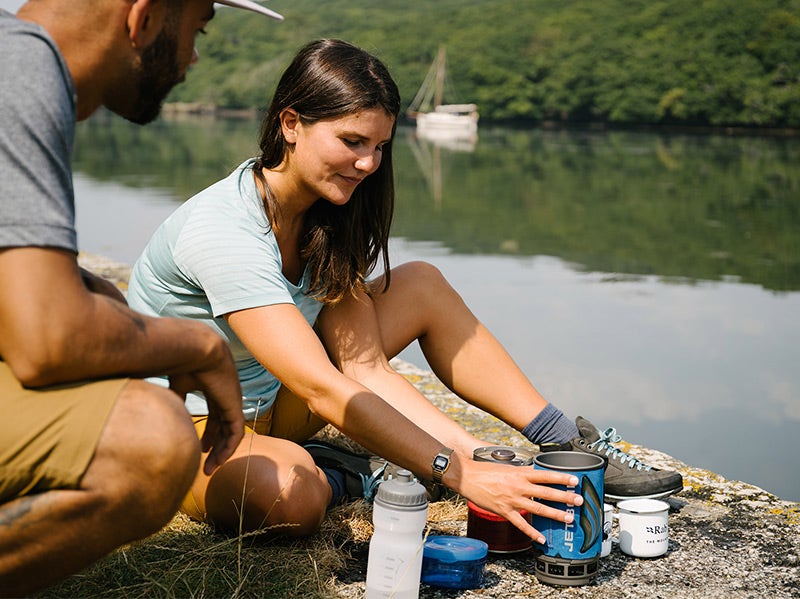 If you are a first-time hiker, it's helpful to familiarise yourself with the Leave No Trace principles. These principles are designed to help outdoor enthusiasts reduce their impact on the environments we love to use. The hope is that by following the guidelines we can continue to preserve our natural places for future generations to enjoy.
The seven Leave No Trace principles are:
1. Plan ahead and prepare
Research the areas you plan to visit, pack the essentials and respect any local regulations and guidelines. For example, some areas of the countryside may be out of bounds during times of year due to birds nesting or for regrowth.
2. Travel and camp on durable surfaces
When you do choose to walk, and even stop for the night, do so on surfaces that are either designed for walking and camping or that are not prone to heavy erosion.
3. Dispose of waste properly
Whether you're on a day hike or multi-day trek, it's important to remove all your rubbish, and properly dispose of human and pet waste.
4. Leave what you find
Our natural places are best enjoyed with eyes rather than your hands. This means not disturbing natural objects or creatures.
5. Minimise campfire impact
UK laws on campfires generally prohibit it, but in other countries if you do light a campfire use established fire rings and keep your fire small. Please extinguish your fire completely when you are done.
6. Respect wildlife
Animals are best seen from a distance and often don't do well with human food despite their interest in your lunch.
7. Be considerate of other visitors
Our wild and outdoor spaces are for all. Be courteous and respectful of everyone else enjoying the outdoors.
By sticking to these principles, you can help preserve the beauty of our outdoor spaces and ensure that they are still there for future generations to enjoy.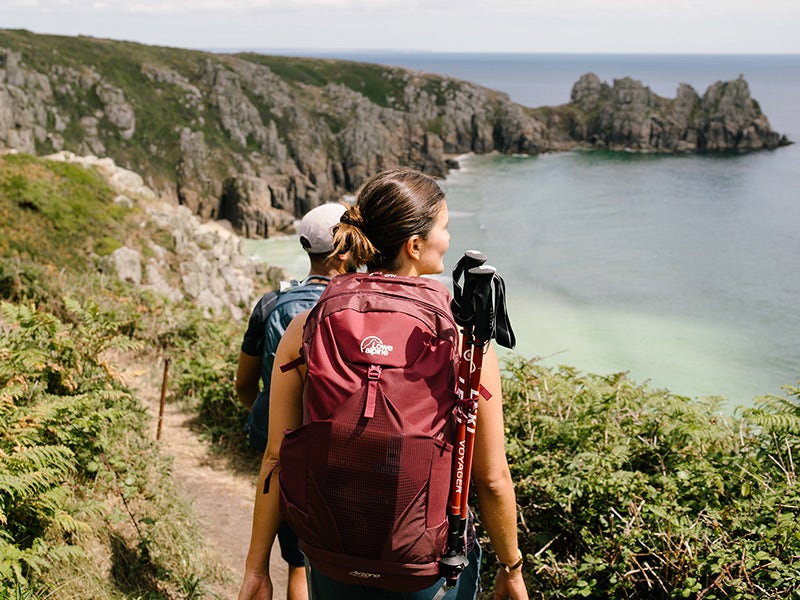 It's often easier to choose where to walk if the decision has been made for you. If the idea of walking alone is not for you, and you would rather the buzz and snack-sharing of a community walk, then we recommend the following groups and organisations.
The Ramblers
The Ramblers are a national charity for the UK working to protect the places we love to walk, while promoting walking for our health and pleasure. They also have a busy calendar of social walks, with local walking groups covering the length of Britain.
Facebook groups
Facebook groups offer an excellent space to share hiking tips, compare route notes, and find other walkers. Some groups also offer organised community walks. These are unlikely to be guided, so may not be a great place to start if you're a beginner, but they will allow you to meet like-minded outdoor loving folks.
Mountaineering clubs
There are a number of independent climbing and mountaineering clubs throughout the UK. Many have a rich heritage, with a few also owning mountaineering huts in remote corners of the country which give discounts to members. In addition to climbing and mountaineering, many of these clubs also put on walking meetups for members who either no longer climb or may not wish to.
Guided walks
There are several small businesses offering guided walks. These can be private or part of a small group, and are an opportunity to learn from an instructor, and to build your confidence on day hikes.
National Navigation Award Scheme
As you progress as a walker, you may benefit from getting your NNAS award. The National Navigation Award equips you with the skills you need to develop as a competent walker and navigator in the hills and mountains of the UK. You are also likely to meet other hikers through the training, giving you more hiking partners.