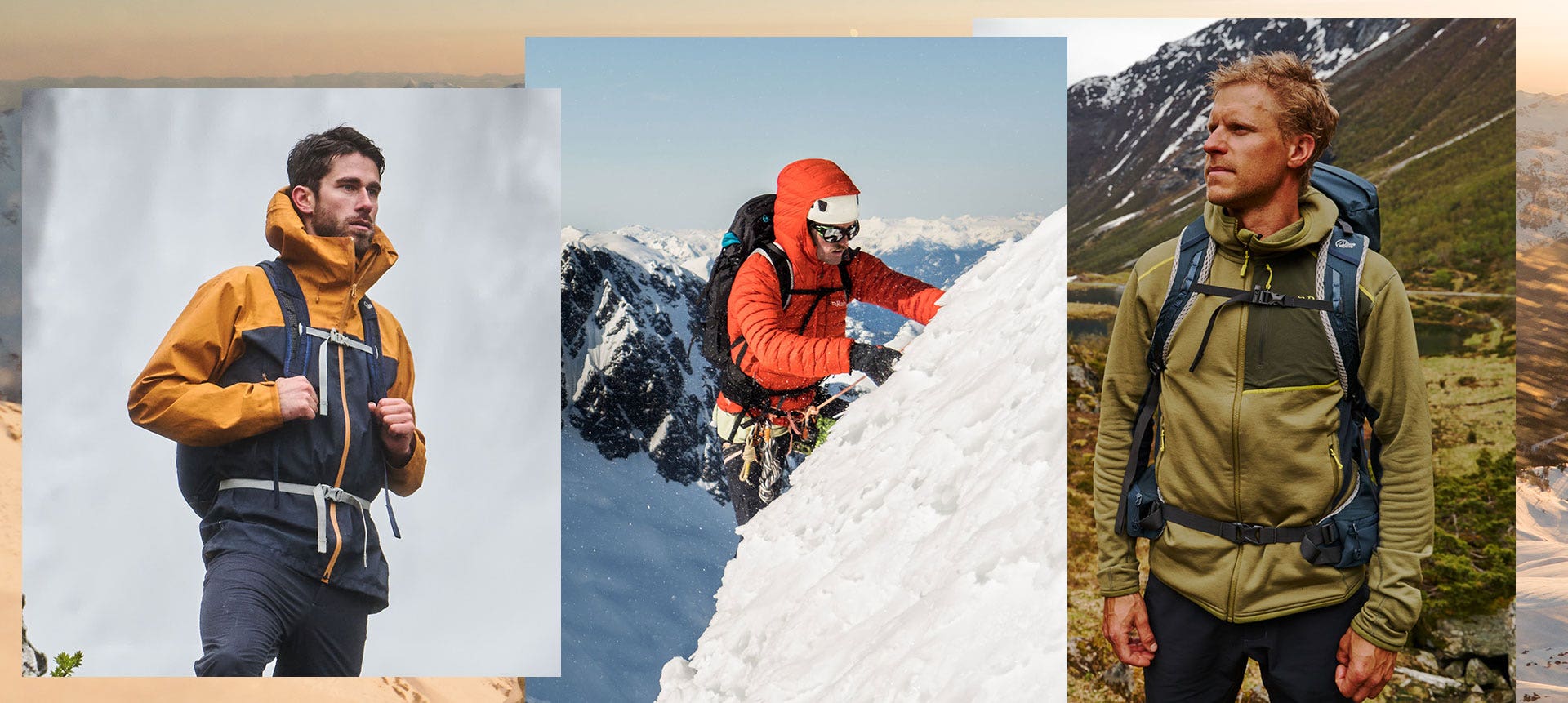 Shop the latest range from Rab®, our new season men's outdoor clothing and accessories feature tried and tested favourites along with our latest innovations. Leveraging decades of alpine experience, we combine the latest fabrics and innovative designs with the world's most advanced mountain features to create a range that is ready to tackle your next adventure.
Whether you're looking for our latest a href="/mens/down-jackets">men's down jacket, waterproof jacket, or you're keen to find out what's new in our hiking clothing, running clothing or sleeping bag ranges, you'll find all the very latest offerings from Rab® right here.
Made from natural-feel yarn and lined with soft fleece for extra warmth and comfort.

Advanced, featherlight, close-fitting fleece hat.

A highly dexterous technical climbing glove.

A lightweight and waterproof technical winter climbing glove.

The ultimate technical winter gauntlet, combining GORE-TEX® Active and PrimaLoft® Gold.

GORE-TEX® Warm Waterproof Technology to maximise warmth and dexterity.

Lightweight glove is the perfect crossover solution for skiing, mountaineering and everything in between.

An ultra-dexterous glove with all the protection, breathability and precision you need.

All-weather warmth with premium dexterity and grip for the ultimate off-piste freedom.

Lightweight down jacket to take anywhere. Windproof, breathable, packable.

Bestseller. Warm, windproof, breathable, packable.

The hardwearing down jacket. Durable and water resistant.

The ultimate warm and waterproof down jacket, for however wild the weather gets.

Constructed to optimise warmth and mobility whilst minimising bulk.

Mid-weight, technical down jacket. Water-resistant outer shell.

Superlight mountain grade down jacket.

Retro-inspired true cold-weather midlayer wth shearling-style fleece.

Versatile mid-weight technical fleece, perfectly suited to high-intensity mountain use.

Mid-weight stretch fleece offering easy low-bulk mountain insulation.

A true all-mountain fleece. Built as a breathable midlayer for high-energy cold-weather use.

Ideal multi-application stretch fleece midlayer. Flexible, low-bulk winter insulation.

Easy-pack pull-on. Practical both as a midweight baselayer and a lightweight fleece.

Midweight softshell jacket with a honeycomb fleece backer providing extra warmth and protection.

Zoned construction and synthetic insulation. A seriously warm layer for winter mountaineering.

Lightweight, hooded, easy-stash mountain all-rounder with high-loft synthetic insulation.

Lightweight, easy-stash, multi-activity jacket with high-loft synthetic insulation.

Synthetic insulated jacket for ski mountaineering, backcountry descents and Big Mountain sport.

The all-in-one, multi-sport mountain softshell.

Moisture-wicking and high-stretch shell. Perfect for winter mountaineering.

A fully featured, breathable, stretch waterproof jacket.

Rugged off-piste ski shell built with new GORE-TEX® Pro.

Off-piste waterproof ski pant with advanced movement and breathability.

The ultimate do-it-all ski mountaineering waterproof shell.

Fully-featured specialist GORE-TEX® jacket for harsh, hostile weather. Lightweight but durable.

Our lightest softshell, wind resistant and highly breathable.

Ultra-warm and protective down jacket built with GORE-TEX INFINIUM™ WINDSTOPPER®.

Ultra-warm and packable down slippers now made with recycled down and outer fabric.

Warm, lightweight, and packable booties made with recycled synthetic insulation and fabric.

Warm, lightweight, and packable slippers made with recycled synthetic insulation and fabric.

Soft and packable shearling fleece booties perfect for warming cold toes.

Very warm, insulated socks for extreme cold environments, made with recycled materials.

A warm wool blend beanie made with recycled materials.

Windproof fleece gloves made with recycled materials and GORE-TEX INFINIUM™ STRETCH technology.

Durable and hardwearing, heavyweight stretch cotton canvas pant.

Technical ski pants with 2-Layer GORE-TEX and synthetic insulation.

Sturdy 3-Layer GORE-TEX waterproof pants for total protection on mountain adventures.

Our definitive winter mountaineering pant for pushing your limits in winter alpine conditions.

Protective, articulated, and breathable, these are the definitive pants for ski mountaineering.

All-season, mid-weight soft shell pants offering protection on mixed mountain and alpine terrain.

A versatile, all-season, stretch pant made with mid-weight softshell for all-mountain use.

All-season, stylish softshell pant for any outdoor adventure.

Lightweight, protective hooded down jacket with GORE-TEX INFINIUM™ WINDSTOPPER® and recycled down.

Recycled down hooded jacket built with durable, wind resistant stretch fabric.

Recycled down hooded smock built with durable, wind resistant stretch fabric.

Definitive alpine down jacket offering uncompromised protection, warmth, and light weight.

An ultra-warm and packable, down-filled, weather resistant jacket.

A lightweight, midlayer jacket made with stretch fleece for mobility and comfort.

A smart casual brushed cotton shirt with a super soft feel for everyday and outdoor use.

A breathable and ultra-lightweight jacket with body mapped synthetic insulation.

Adaptable synthetic insulated hoody, the warmest jacket in the Xenair range.

Warm and adaptable synthetic insulated jacket for all mountain use.

Tough and versatile synthetic insulated jacket made with recycled materials.

Unrivalled warmth, weight, and durable protection in the ultimate synthetic insulated jacket.

Insulated 2-layer GORE-TEX jacket designed for deep winter skiers.

A lightweight, breathable, and packable jacket for the backcountry skier.

Robust and reliable 3-Layer GORE-TEX waterproof jacket for mountain adventures in all conditions.