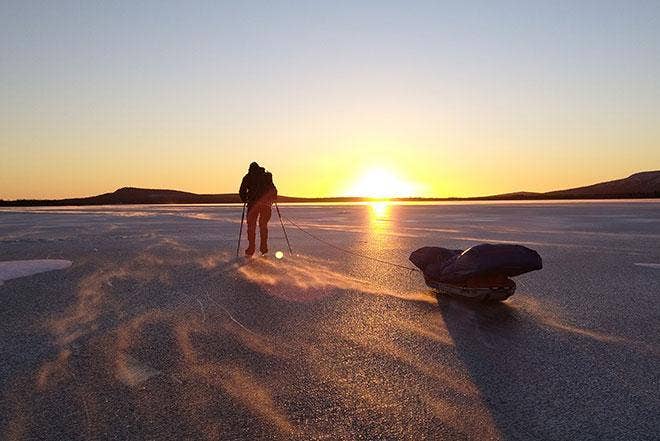 ---
Autumn in Sápmi – better known as Lapland – can be quite spectacular. A vivid spectrum of oranges, reds and yellows breaks through the snow that is – surprisingly – covering the surface only so slightly. Snow is falling late this year, giving us time to test our expedition kit on the frozen lakes of northern Sweden.
Crossing the Polar Circle is like a bittersweet farewell to warm summer days as the barren landscape of the Arctic takes over. The trees are smaller, the days shorter and the distances between places longer. We drive icy, slippery roads to get to the first lake where we will pitch our tent. By 4pm the sun has vanished completely and the air has a fierce chill to it. The temperature drops quickly to minus 10 degrees Celcius but we are comfortably warm in our Infinity Jacket, Power Stretch Pro Pants, and Astral Mitts.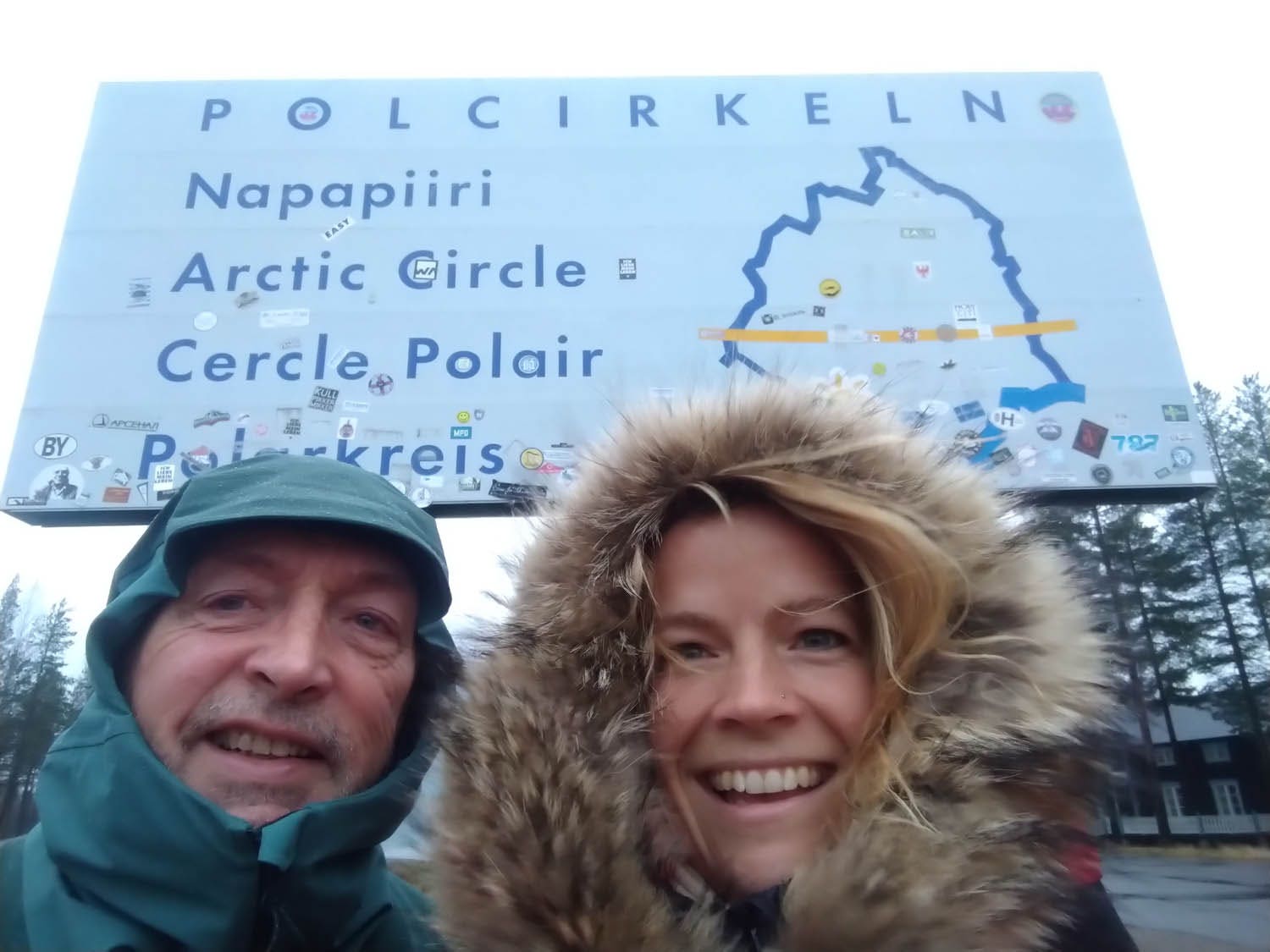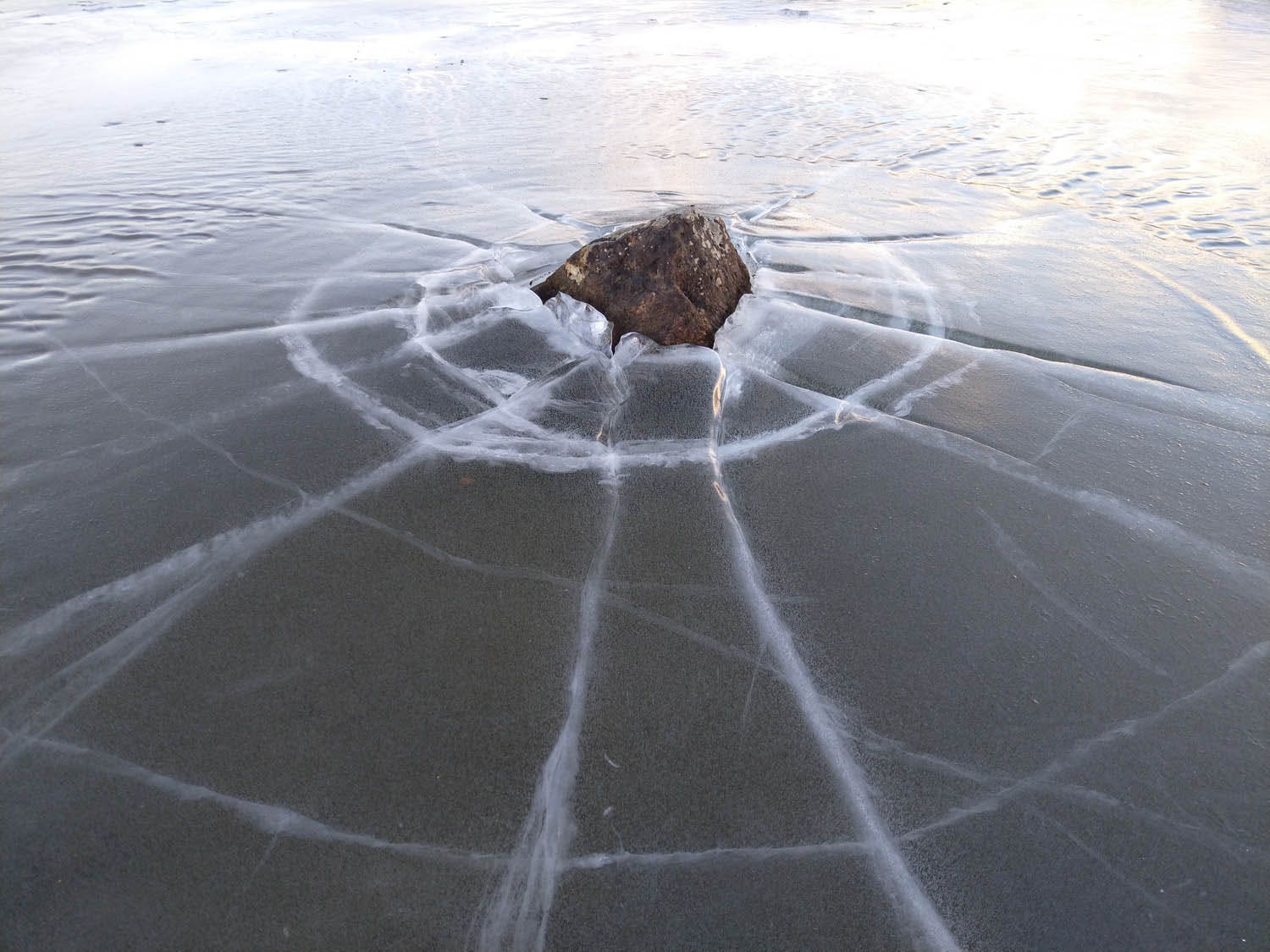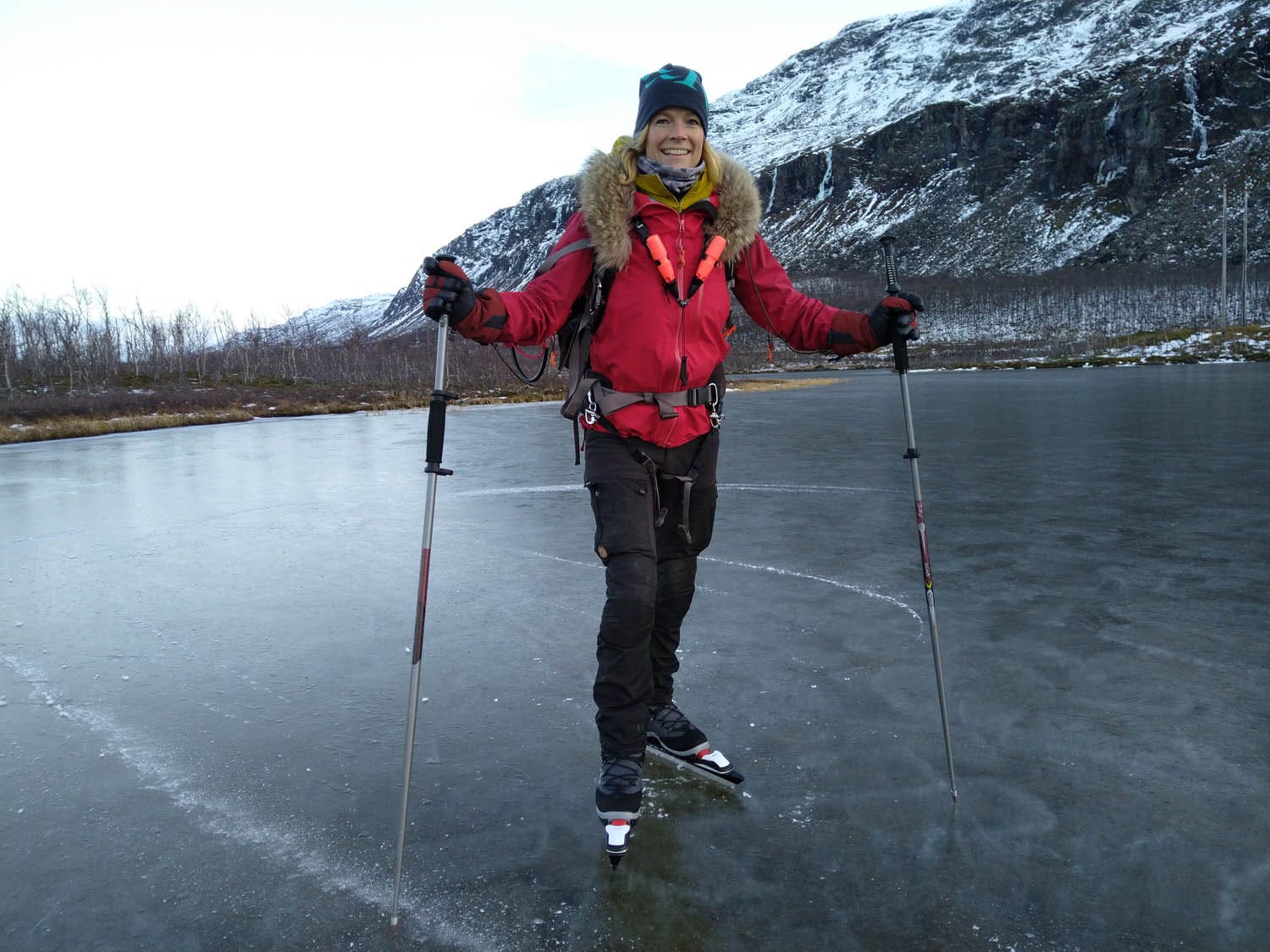 By 5pm – in the flickering light of our headtorches – we screw the first ice-screws in, pitch camp and use our petrol stove to melt some ice. 'Cheers!' I say, handing Gerard a nyponsoppa: a Swedish delicacy drink made from rosehip. 'To excellent expedition training!'
We discuss the plan. Gerard zips up his jacket while I shine a light on the map in front of us. Two fully packed pulkas are on the ice next to our tent, ready to be taken for a test ride. The expedition food I prepared beforehand weighs a kilo a day per person. We carry an ice-axe, petrol (200ml/day/pp), our beds are stowed in our Pulk Bags and our tent is folded in half on top.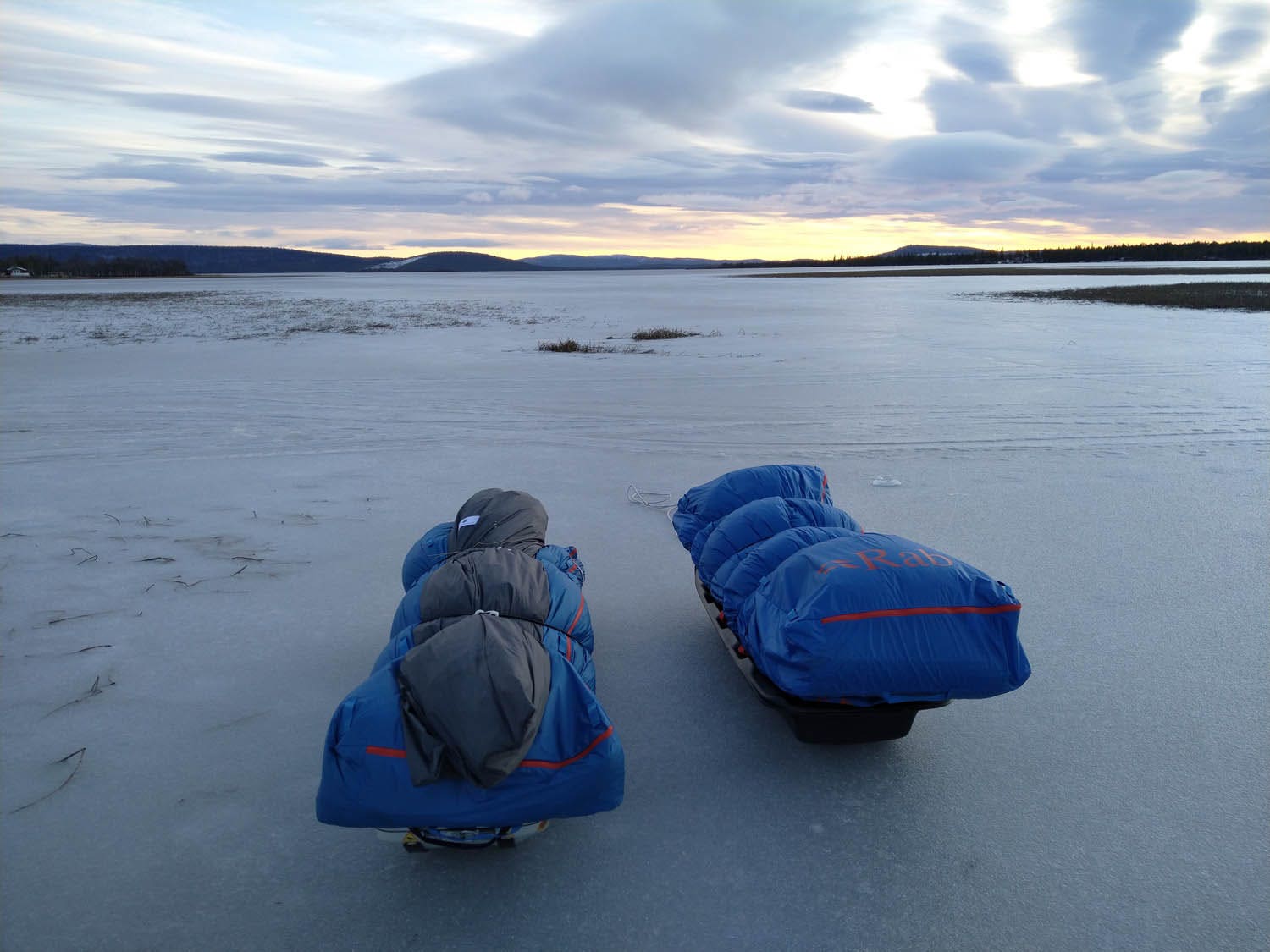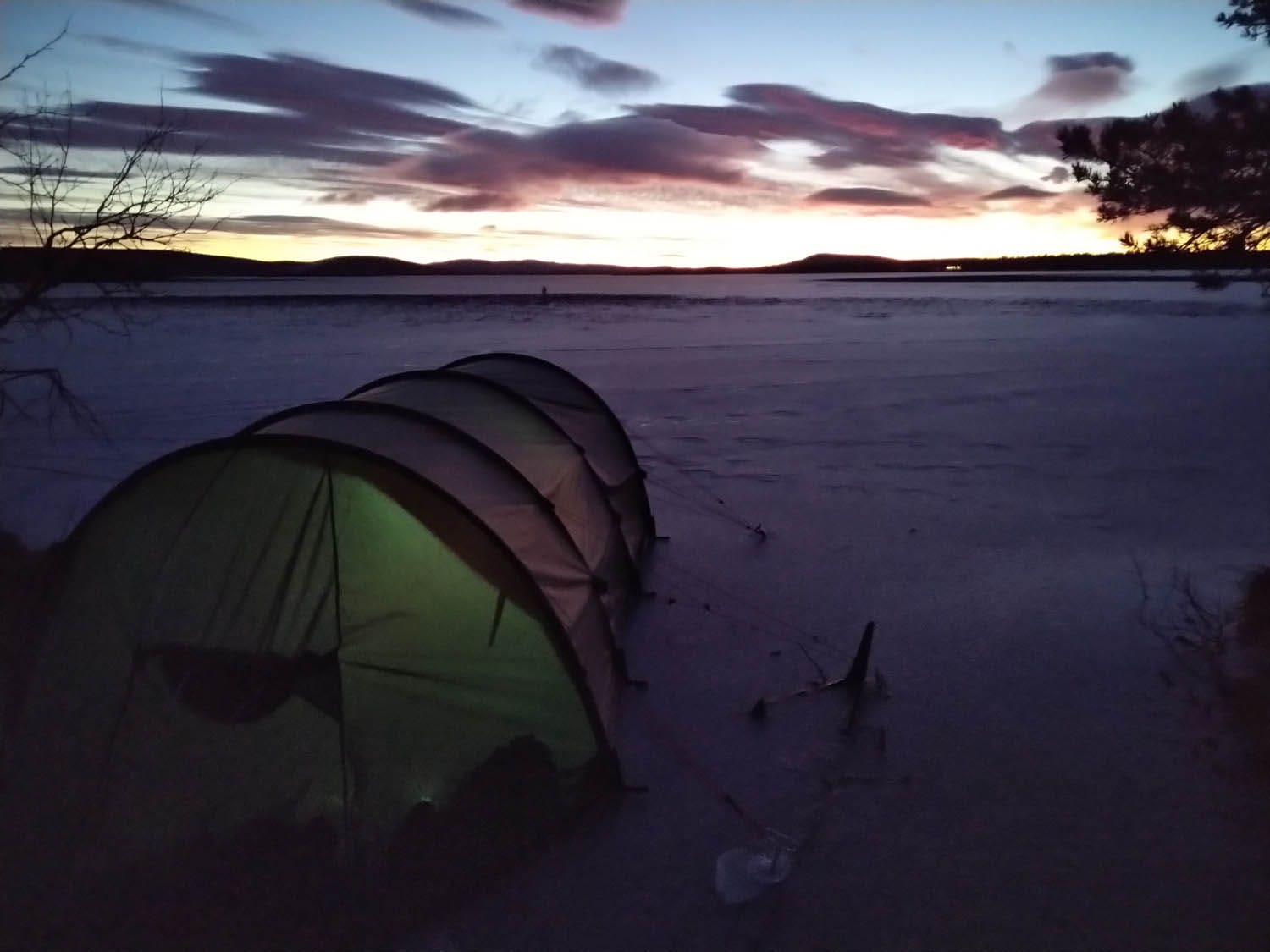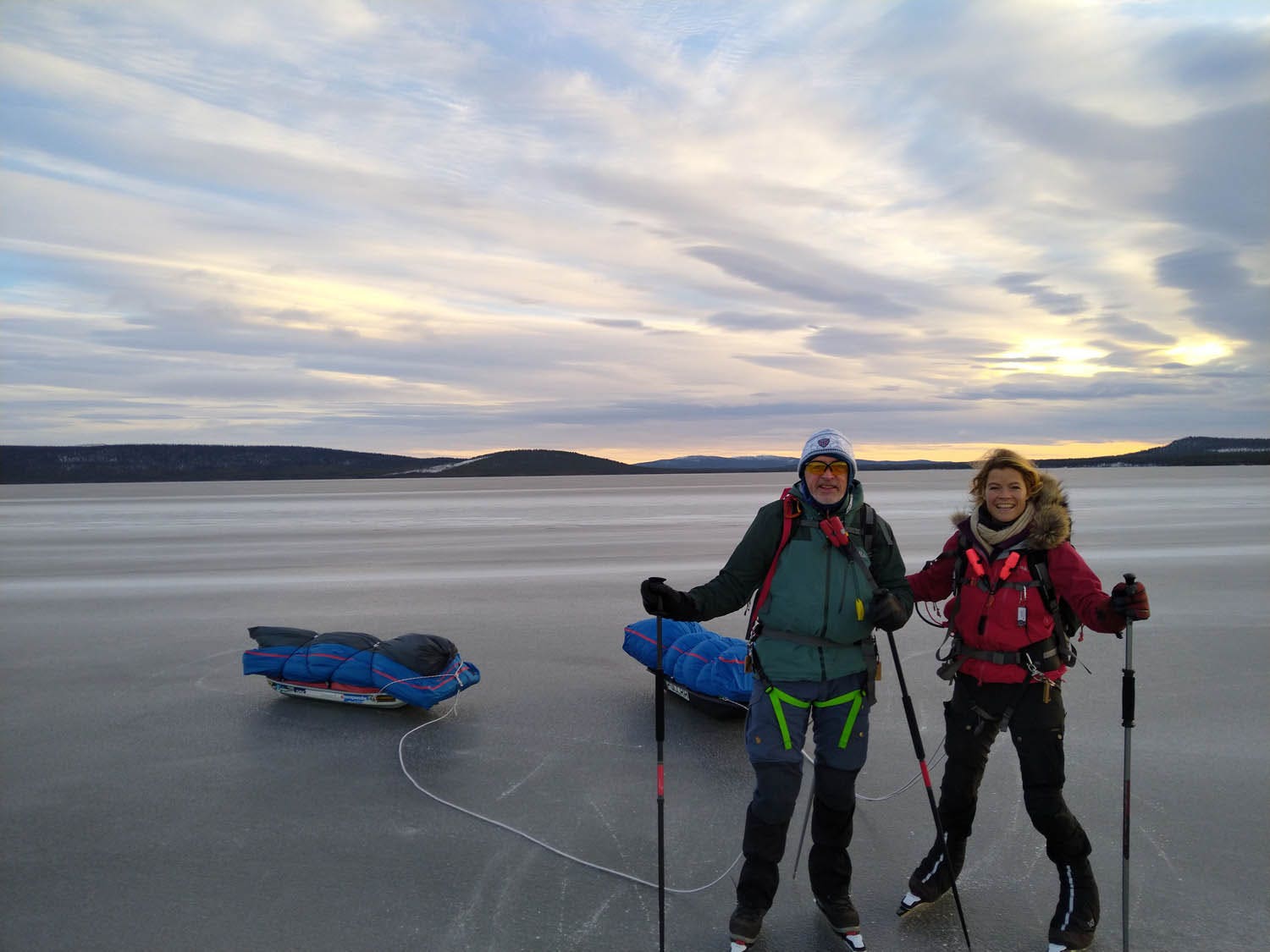 For the next two weeks, we chase skateable ice to try out different elastics, rope length, runners, weight distribution and ice-skating techniques to improve sled stability. We battle through storms where spindrifts of snow dance on the ice and our sleds take us for a ride instead of the other way round. We focus on making long days, many kilometres and get lots of experience on the ice.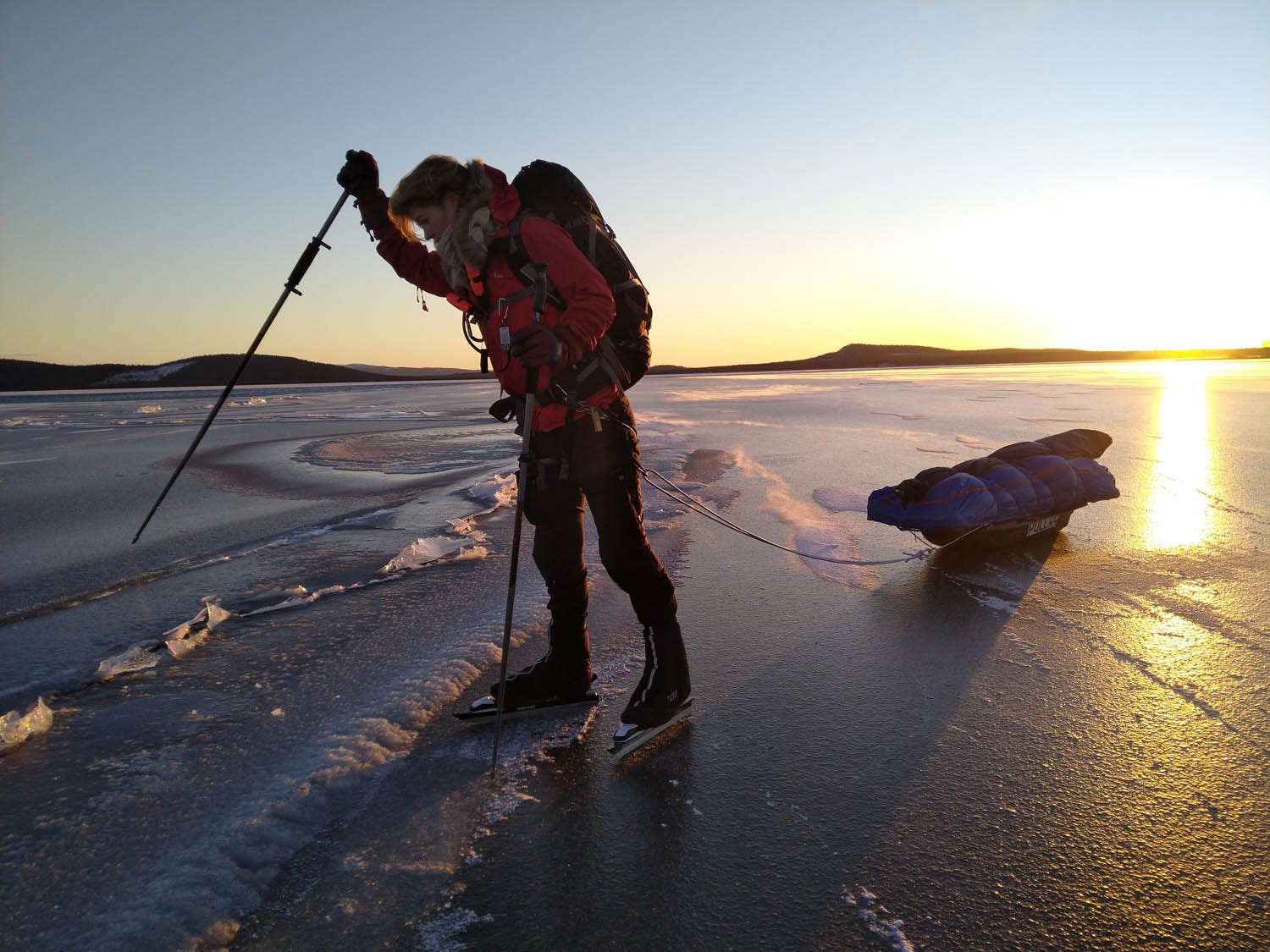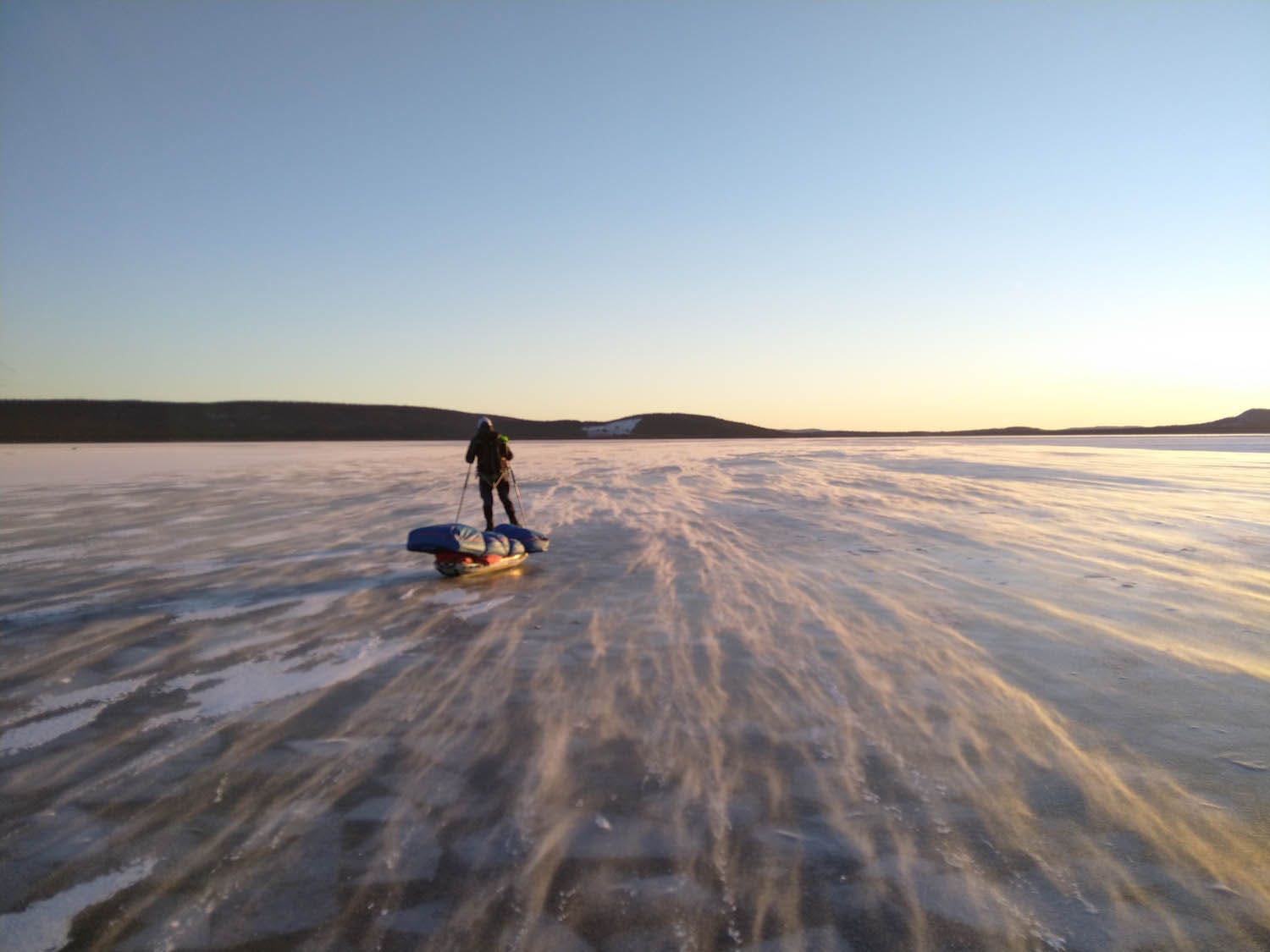 For safety and floatation, we wear a backpack containing a dry-sack full of clothes. We both wear a rescue line to get assistance from our partner and ice-picks to speed up the process of exit across the surface of the ice from a chilly water hole. We appropriately take Friday the 13th as the day to practice the rescue procedures after breaking through thin ice.
Teamwork is key in these conditions and having a partner you trust, respect and care for is something to cherish. I am deeply impressed with Gerard's strength, endurance and ongoing craving for adventure. He teaches me all he knows from years of guiding ice-skating groups and I teach him what I know about winter camping, survival and living outdoors.
Together we make quite the extraordinary team to celebrate another successful day out on the ice under the enchanting Northern Lights that are now dancing above us. We stand there gazing at them in silence. It is one of the benefits of being outdoors all the time.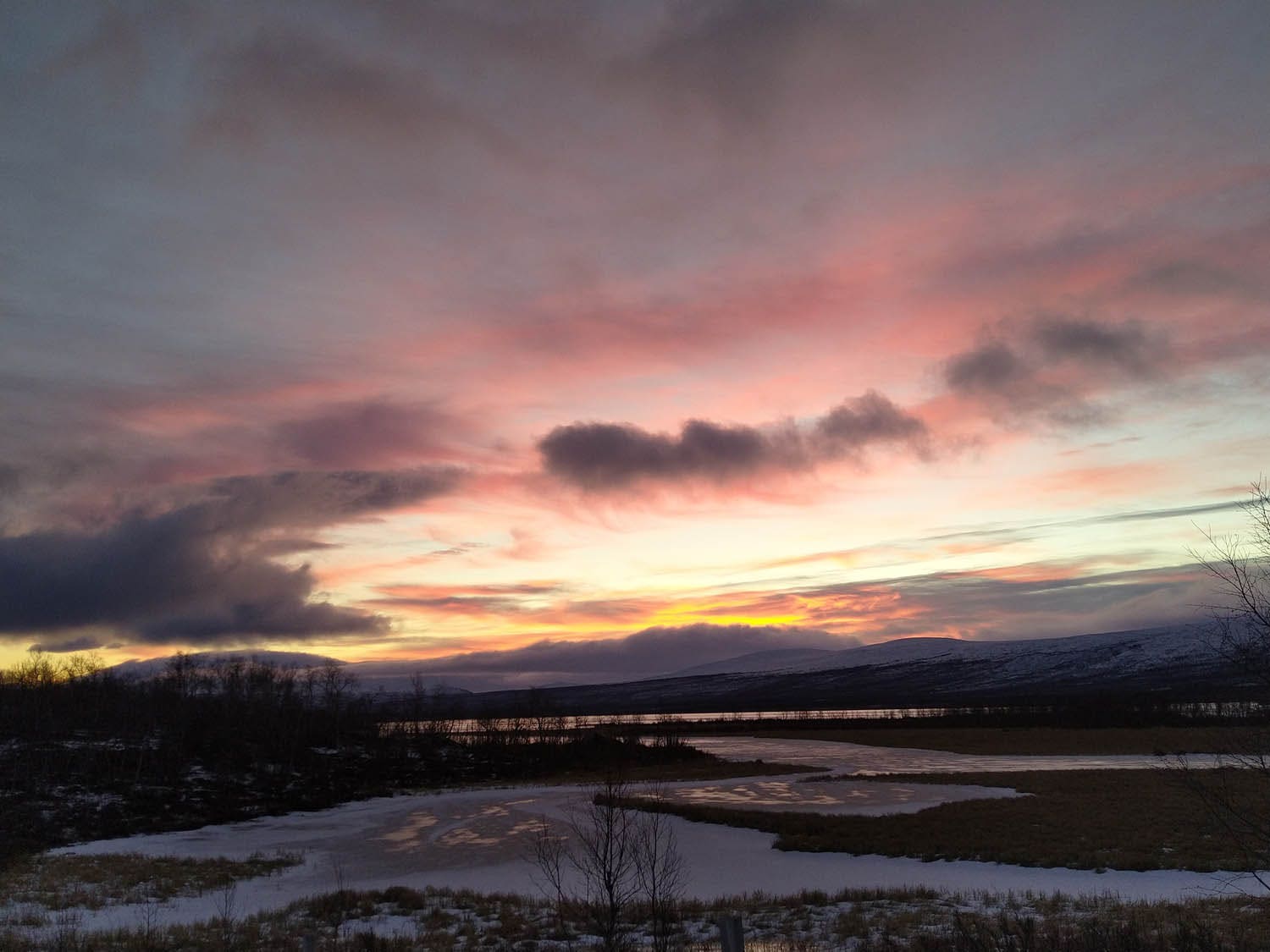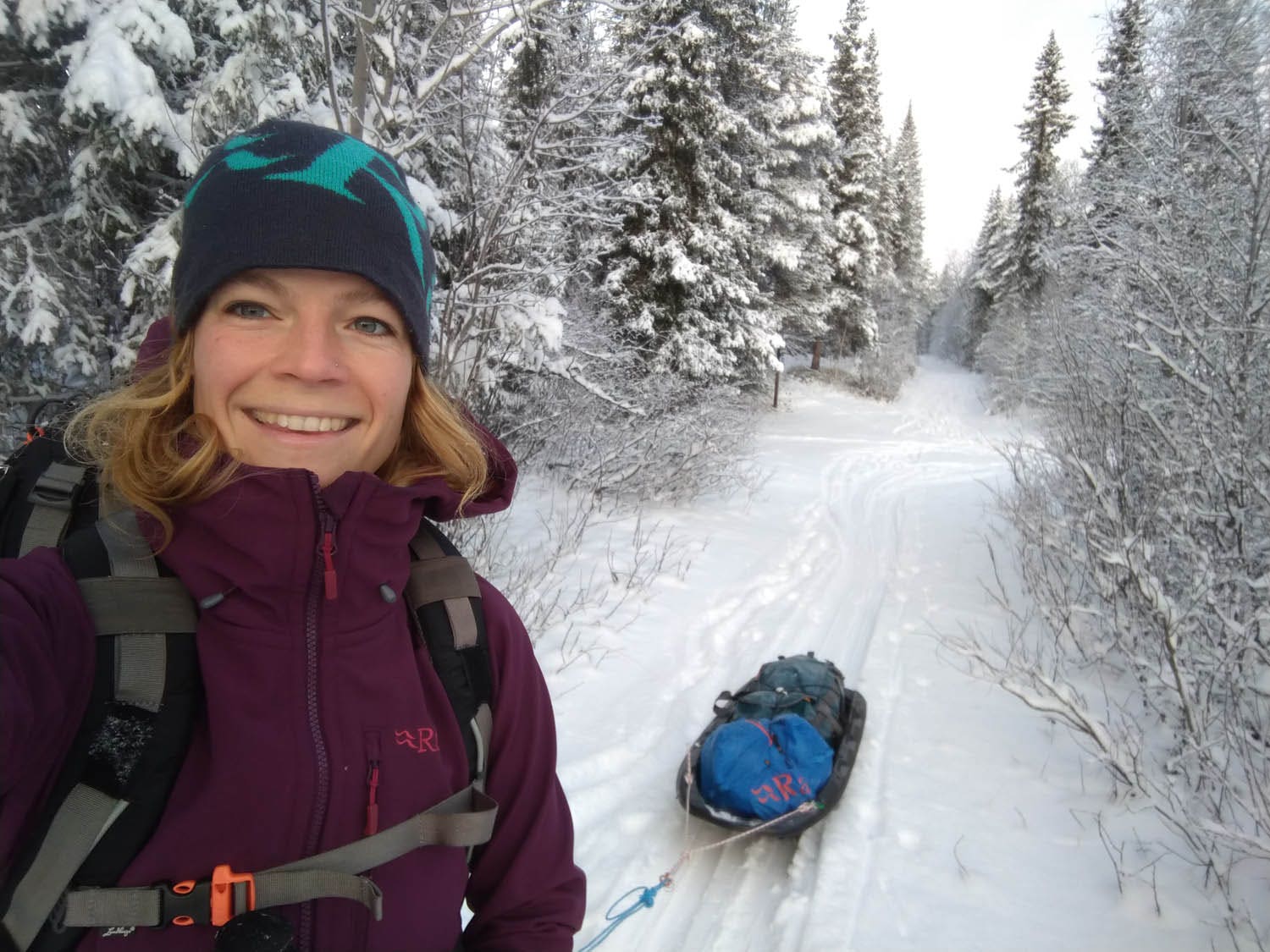 All of a sudden we hear a sound. When we walk towards it, we stumble upon a mother moose and two young grazing close by, apparently undisturbed by our presence. Cautiously I manage to approach until I am only a few metres away. The beauty of the scene is almost other-worldly and in the next days we see more moose, reindeer, foxes and hare. I turn a roadkill capercaillie into dinner. As a shooting star flies over our heads, it is hard to think of something more to wish for. Unless maybe some snow?
After weeks of testing our winter camping routines, our equipment, the pulkas and the ice-skating intensively we are ready for the next step.: to put on a pair of skis and make a long-distance trek through the wilderness. Let it snow, let it snow, let it snow!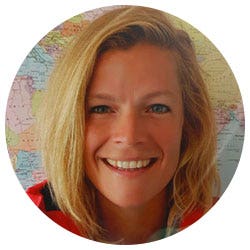 Words and images by | Tamar Valkenier
---
Tamar Valkenier is a Dutch adventuress and survival guide and is currently preparing for her upcoming expedition to Lake Baikal which – assuming that travel restrictions allow for it – she and her partner Gerard Murre aim to cross on ice skates. At our Basecamp blog, Tamar will report about her training and preparations for the expedition on a regular basis. You can also follow Tamar at www.tamarvalkenier.com or on instagram @tamarvalkenier.
Read more about Tamar here