No one knows down insulation like we do. It's where Rab Carrington began back in 1980s Sheffield and ever since those early days, Rab® down products have consistently represented the pinnacle of innovation and design.
Nothing beats the insulative performance of down. Here at Rab®, we utilise down's unique properties to suit the activities and environments that our customers find themselves in. Whether you are looking for an everyday winter jacket or a means of staying alive on your next Himalayan conquest, this guide will give you the information you need to pick the right jacket for the job.
Down Explained

What is down and why is it such a good insulator? We explain where down comes from, the physics behind its properties and performance and how the introduction of technologies such as hydrophobic down are helping to tackle some of its limitations.
Down Fill Power

Many jackets are sold off the back of their fill power rating, but the measurement is easily misunderstood. In this section we'll explain exactly what fill power is and why, here at Rab®, we use a wide range of down grades in the manufacture of our products.
Down Jacket Construction

A good down jacket is about more than its insulative filling. The countless different activities and environments we design for leads to a wide range of very different products. We'll run through the construction methods to consider when comparing jackets.
Down is the layer of feathers that are closest to a bird's body. These feathers are made of very fine tendrils and fibres that provide the lightest and most efficient means of trapping and holding air in position.
This trapped air produces an incredibly efficient thermal barrier, which at the weight and mass of down, is unrivalled by any natural or synthetic equivalent. By using down in the construction of garments and sleeping bags, we can ensure that your body heat stays put, instead of escaping into the atmosphere around you.
Individual down clusters expand, or loft, to fill an area that is vast relative to their size. Because the down consists almost entirely of trapped air, the result is a product that is incredibly light and also very easy to compress. Its down's ability to pack down small into the pocket of a backpack or stuff sack that makes it the ideal insulation choice for climbers, mountaineers and anyone else who needs lightweight clothing.
Nikwax hydrophobic down
Down is naturally breathable, which makes it very comfortable to wear, but this comes with a drawback – it can absorb moisture. This moisture can overload the fibres, or cause them to stick together, stripping the down of its insulative properties.
To mitigate this effect, we apply a Nikwax water repellent "hydrophobic" treatment to the down. This treatment significantly improves the performance of the down by preventing the clusters from absorbing moisture and helping it to retain its loft. In the event that the down does become waterlogged, the treatment significantly decreases the time it takes the down to dry and its loft to recover.
It's worth noting that hydrophobic treatment means that a down jacket will perform better in wet conditions, but it's not intended to make a garment waterproof. If you're looking for a down jacket that is also waterproof you'll want something that combines insulation with a waterproof material.
Down vs. Synthetic insulation
Broadly speaking, our garments and sleeping bags use one of two types of insulation – down or synthetic. Although down is, for its weight, always warmer than a synthetic equivalent, there are instances where synthetic insulation may be the preferable choice.

Synthetic insulation is relatively good at dealing with moisture, especially when compared to down that has not been hydrophobically treated. When synthetic insulation is soaked it will offer more warmth than down which makes it a good choice for damp and cold conditions, typical of Scottish winter climbing.

Synthetic insulation is generally easier to clean and care for and is also a less expensive material than down. Ultimately though, there is still no synthetic material that can rival the warmth-to-weight ratio of duck or goose down, so where weight and packability are a concern there is really no contest.
Duck and Goose down
Rab jackets use either duck down or goose down. Higher grade down (700FP and up) tends to be from geese as the clusters are larger, offering a higher warmth to weight ratio and improved packability.

Although duck down consists of smaller clusters and a reduced warmth to weight ratio, we find that it is still the best choice for everyday jackets, as premium goose down is simply too warm for everyday use.
Responsible Down Standard
While down products have revolutionised the way we dress for outdoor activities, it's impossible to ignore the fact that the raw material is farmed from animals on a large scale. As the popularity of down garments grows, we have an increased responsibility to ensure that our insulation is produced in environments where animal welfare standards are being maintained.
All of our virgin down is independently certified to the Responsible Down Standard. The RDS independently certifies down against animal welfare requirements and tracks it from the source to the final product. This means farming down in environments that allow them to live healthy lives, express innate behaviours and not suffer from fear, pain or distress.
If you want to find out more about the Responsible Down Standard, you can read more here.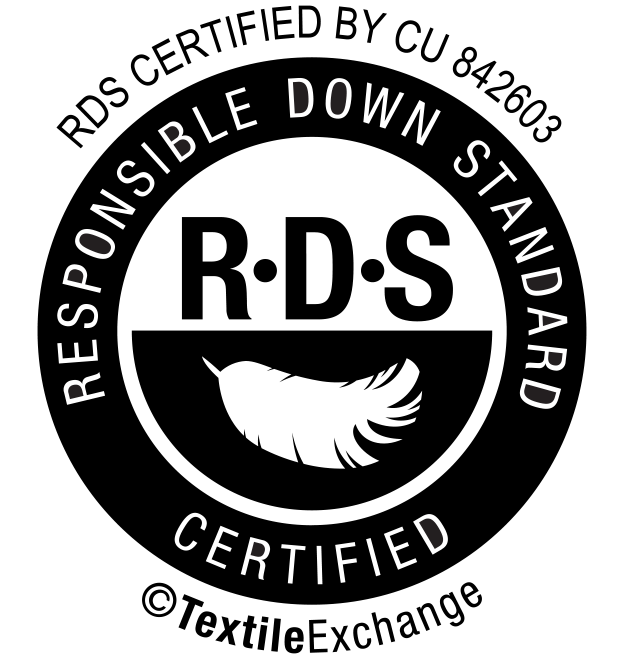 Using recycled down is a sustainable alternative to virgin down and helps reduce our environmental impact. It means that we don't need to use virgin raw materials and it also helps prevent unnecessary waste going to landfill.
We're proud to be using GRS-certified recycled down in our Microlight range. Sorted and graded in Europe before being delivered to us, recycled down is currently the only down recycling company to be certified by the Global Recycling Standard.
The team are experts at reclaiming down from post-consumer waste items like duvets and pillows. The reclaimed down is sterilised, cleaned, treated with Nikwax® hydrophobic treatment and graded into different qualities and fill powers resulting in the same insulation properties as virgin down.


Fill power refers to the quality of down. Fill power does not refer to the amount of down used and it cannot be relied upon to give an idea of a product's warmth, unless, that is, you are also considering the product's 'fill weight' too.
We grade down according to the size of the clusters, that is the amount of air that the down is able to trap relative to its weight. To do this we take 1 gram of fully lofted down and record its volume, the result represents the down's "fill power".
All of our Duck down is 650FP and our Goose down ranges between 750 and 1000FP. The range of down that we use allows us to fine-tune our garments to meet the differing demands of our customers, both in terms of budget and intended use.

650 fill power duck down is used in everyday jackets where the same volume of goose down would be too warm.

700 fill power goose down is used in our best-selling Microlight and Microlight Alpine jackets as it's warmth-to-weight ratio is perfect for jackets where the fill weight is low, and packability is of prime concern.

800 fill power goose down is used in our technical mountain jackets.

850 fill power down is used in our expedition jackets, designed for use in extreme cold and polar conditions.

We only use 1000 fill power goose down in one jacket, the Zero-G. The Zero-G combines incredibly high quality down with an ultra-fine 7d Pertex® Quantum outer in the ultimate alpine down jacket. Its warmth-to-weight ratio is unsurpassed and it represents the pinnacle of Rab's down expertise.
Warmth to weight
How warm your jacket is will depend on a number of factors, but in the main it comes down to fill power and fill weight. Most lightweight, technically oriented jackets tend to use a very high fill power. However, this doesn't mean our lightweight jackets are necessarily warmer.
A jacket for everyday use can use a larger quantity of relatively low fill-power down, because weight isn't a concern and the warmth requirements are modest. In contrast a jacket designed to be carried on climbs in winter conditions must be both light and warm. In this case, using a high fill power down lets us put less in the jacket and achieve a higher ratio of warmth to weight.
Down garments are usually constructed using a series of baffles. Baffles are individual chambers which hold the down in place, ensuring an even distribution of insulation and minimising cold spots. It is these baffles that give many down jackets their distinctive appearance.
We use two types of baffle in the construction of our down jackets: stitch-through and box-wall.
Stitch Through
In stitch-through (or sewn through) garments, the baffles are created by stitching the outer fabric directly to the inner fabric. We use stitch-through construction in most of our down jackets as it minimises the amount of outer fabric and stitching required, which provides a significant weight saving. Whilst this is the best construction method for lightweight garments, it does have one drawback. Because the down is pinched at the seams, reducing the space it has to loft, stitch-through garments have a less consistent level of insulation than those constructed using box-wall baffles.
Box Wall
Box-wall garments are made from distinct box-shaped compartments that run horizontally around the body. Because the box-shaped baffles are not pinched at the edges, there is space for the down to fully loft throughout the chamber allowing for an even distribution of down and vastly reducing the likelihood of cold spots. The extra material used to create each box means that these garments are usually heavier and less packable. However, in the most extreme temperatures, they are often the best solution.
Buying a Down Jacket
Rab's range of down jackets cover a huge number of styles and intended uses, but we know the breadth of our range can be a little overwhelming. With this in mind we've grouped our range by the types of use we think they're most suited for to help you narrow down your options.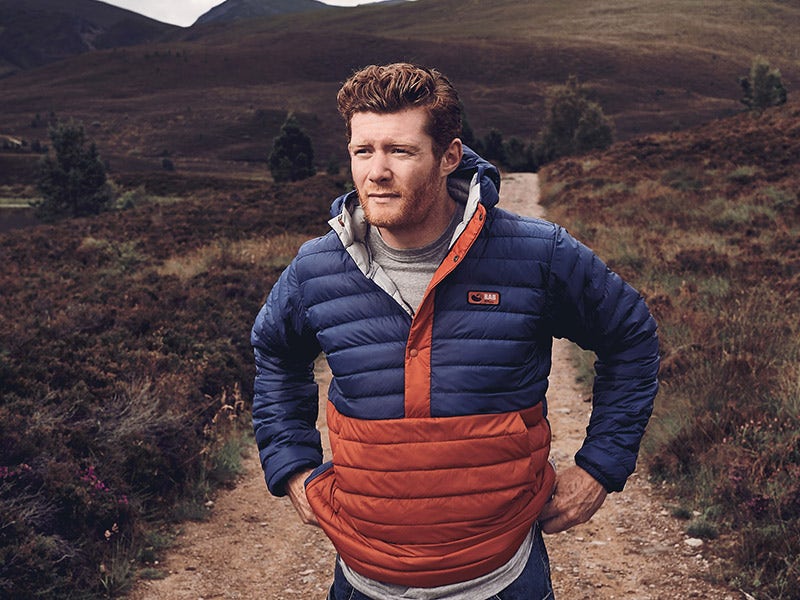 Everyday
These jackets are made to look good and keep you warm in your day-to-day life. They use high-quality duck or recycled down and durable outer materials and are made to be your go-to winter coat, whether it's quick bouldering sessions, warming up at the climbing wall or braving a freezing January commute. While most of the jackets in our range have a technical fit to allow for layering and fit around harnesses our everyday jackets are built with comfort and style in mind.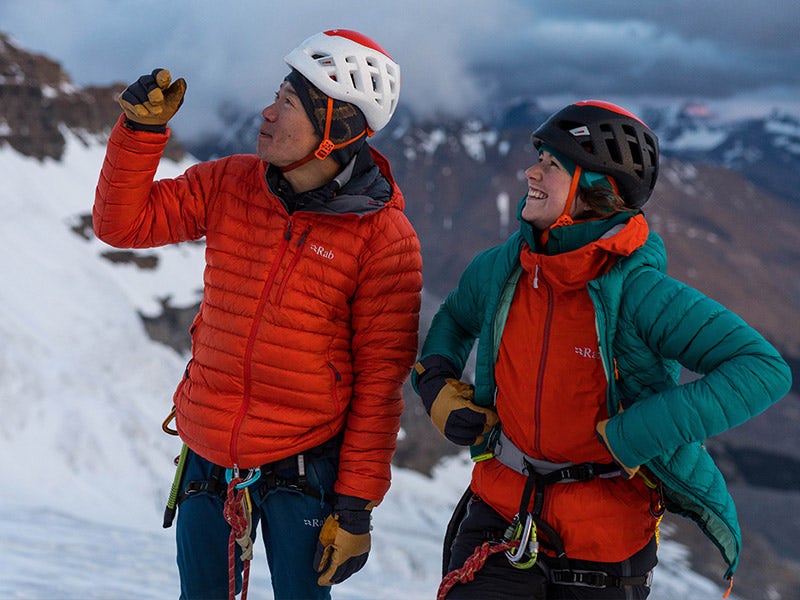 Mountain
These products are designed for climbers, mountaineers and hillwalkers who need light-weight clothing that they can take into the mountains. Our mountain jackets use both high quality European goose down and technical fabrics. They're light enough to take with you on longer trips and are warm enough to deal with anything short of full winter conditions.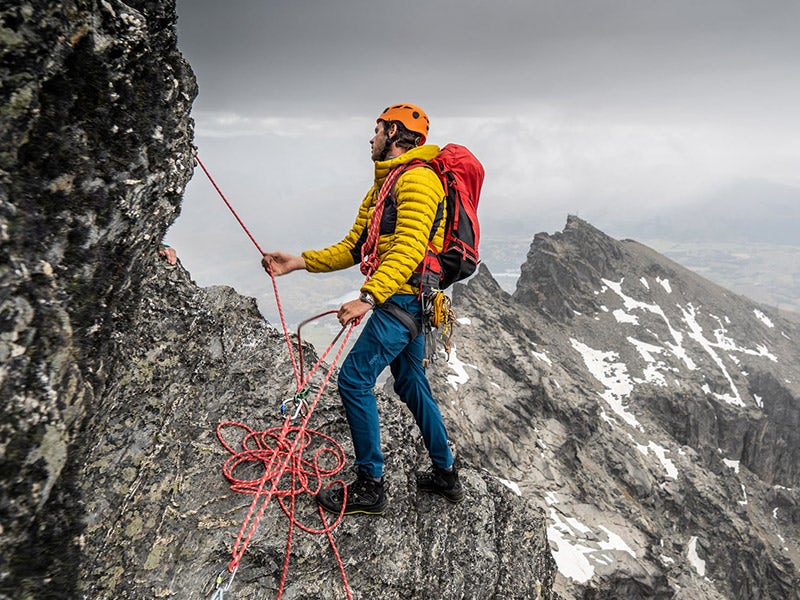 Ascent
These technical mountain jackets feature very high fill-power down and ultra-light outer materials to provide incredible warmth for their weight in full winter conditions. While all these jackets offer exceptional warmth for their weight, there is still variation in the range.
Built from more durable outer materials, the Neutrino Pro and Position Pro are designed for high altitude mountaineering where guaranteed warmth and durability are an absolute must.
The Kaon and Prosar use ultra-light outer materials and high fill-power down, allowing for lower fill weights without compromising warmth. This is what makes them the go-to choice for alpinists who are looking to stay warm while saving on weight, allowing them to move as quickly as possible in the mountains.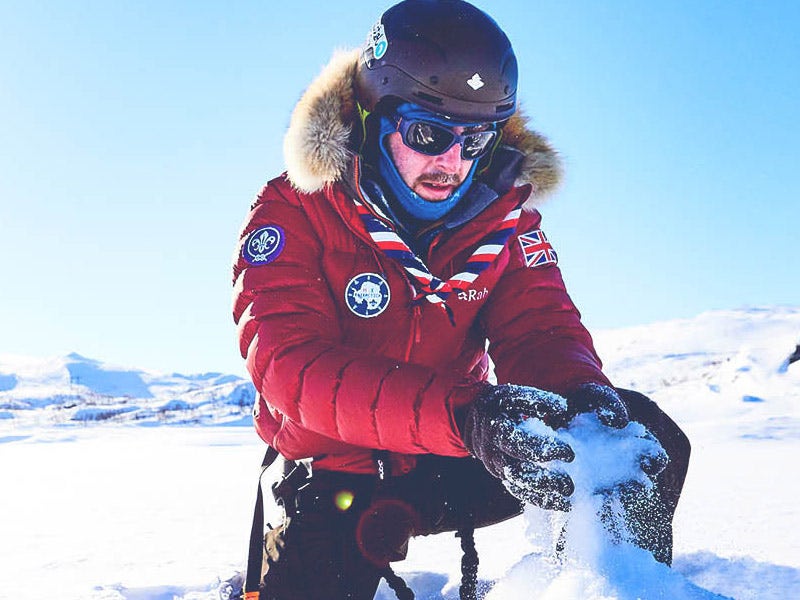 Expedition
Our expedition products are built to go to high altitudes or on polar expeditions. They're tough, dependable and extremely warm.
From the rugged ranges of Alaska to the vast expanses of Antarctica these jackets are designed for high-altitude and polar environments. These products have taken people to some of the most extreme locations in the world and back again. All of the jackets below are built to be hard-wearing and warm in even the most hostile conditions.
One of the distinguishing features of jackets in this category is the use of box wall construction to ensure consistent warmth without cold spots. They also use waterproof outer fabrics to keep the weather at bay and have a generous fit to accommodate multiple layers.
Now you know what you're looking for, why not take a look at our full range of insulated jackets?
Once you've got your new jacket, you'll want to make sure it lasts - we've got a few pointers for proper down storage and cleaning.
Washing Down
Rab® down products can be home cleaned, however this is a difficult and time-consuming job as the drying process can take several hours. If you're in the UK then you can take advantage of our new Rab Wash service, a no fuss, specialist down wash service that ensures that your Rab® jacket or sleeping bag is clean, fully lofted and ready for your next adventure. If you're outside the UK, you can find information on caring for your down products in our help centre.
Storing Down
Down should be stored uncompressed and out of direct sunlight in a dry, cool place. If your down product gets damp, air it thoroughly and make sure it is completely dry before putting it back into storage. If the product is still damp after airing, a short cycle in a tumble dryer on a cool setting should help to complete the drying and restore the loft.