Everybody needs a waterproof jacket in their outdoor clothing system – but the range of products and technologies available can be overwhelming.
This guide is designed to explain the range of options available as well as the technologies that make waterproof fabrics effective. We'll cover how waterproofs are constructed and the relative benefits of different fabric types as well as the features you should look out for when buying a waterproof jacket. Finally we'll walk you through our Waterproof Range to help find the perfect jacket for your needs.
Waterproofing

How waterproof fabrics are constructed and why we use different fabrics and technologies for our range of waterproof clothing
Breathability

Find out how we make fabrics breathe without compromising their waterproof performance and why some jackets breathe better than others

Durability

We explain how we test the durability of our fabrics, and why you need to consider a jacket's durability when shopping for your perfect waterproof
Waterproofing is an absolute measure. Either something is waterproof or it's not. However, higher standards of waterproofing allow for more durability and a jacket that will stay waterproof for longer.
Methods of Waterproofing
There are two basic methods to waterproofing a fabric, membranes and coatings. Both of these methods are applied to the inside of the outer fabric of a jacket (or overtrousers).
Membranes
Sometimes called laminates, membranes are fine films that are bonded to the back of the outer fabric. These layers are incredibly thin, at Rab we use membranes that range between 7 and 30 microns in thickness – for reference, a strand of human hair is around 100 microns. Finer membranes will allow for greater breathability but regular use can lead to a loss of waterproofing. To avoid this we use laminates of the highest possible quality.
Most of our waterproofs use one of four fabric technologies, GORE-TEX®, Pertex Shield®, Pertex Shield®+ and Proflex™. Each technology is different both in terms of membrane composition and how they are manufactured.
Coatings
Generally speaking, this is the simplest way to waterproof a jacket. We simply apply a liquid coating to the back of the outer fabric in the same way that you would apply paint with a roller. When the liquid dries it forms a solid (but breathable) barrier. The more layers that are applied, the more durable the waterproof coating will be. However this does come at the cost of breathability (which we'll cover below!).
Coatings have their place, but they are a less dynamic solution and, as a result, we use them sparingly.

Testing Waterproofness
The standard test for waterproofing is to build up water pressure on the surface of the fabric and measure how much it can withstand before it allows water to pass through. Imagine a very tall, open-ended laboratory test tube standing on the fabric and being slowly filled with water. As more water is added, the pressure on the fabric will slowly increase. When we talk about the level of waterproofness in a particular fabric, we are expressing the height of that column before the waterproofing surrenders e.g. 20,000mm. This measurement is known as the hydrostatic head.
Out in the field, this pressure can manifest itself in a number of ways. The straps of your backpack, overfilled pockets, a climbing harness or just kneeling on the ground all increase the external pressure on the garment and it is often at these points of contact that moisture will seep through the fabric. In such cases, a high hydrostatic head may become a key factor in your buying decision. The trade off is, that in most cases, a high hydrostatic head results in a less breathable jacket.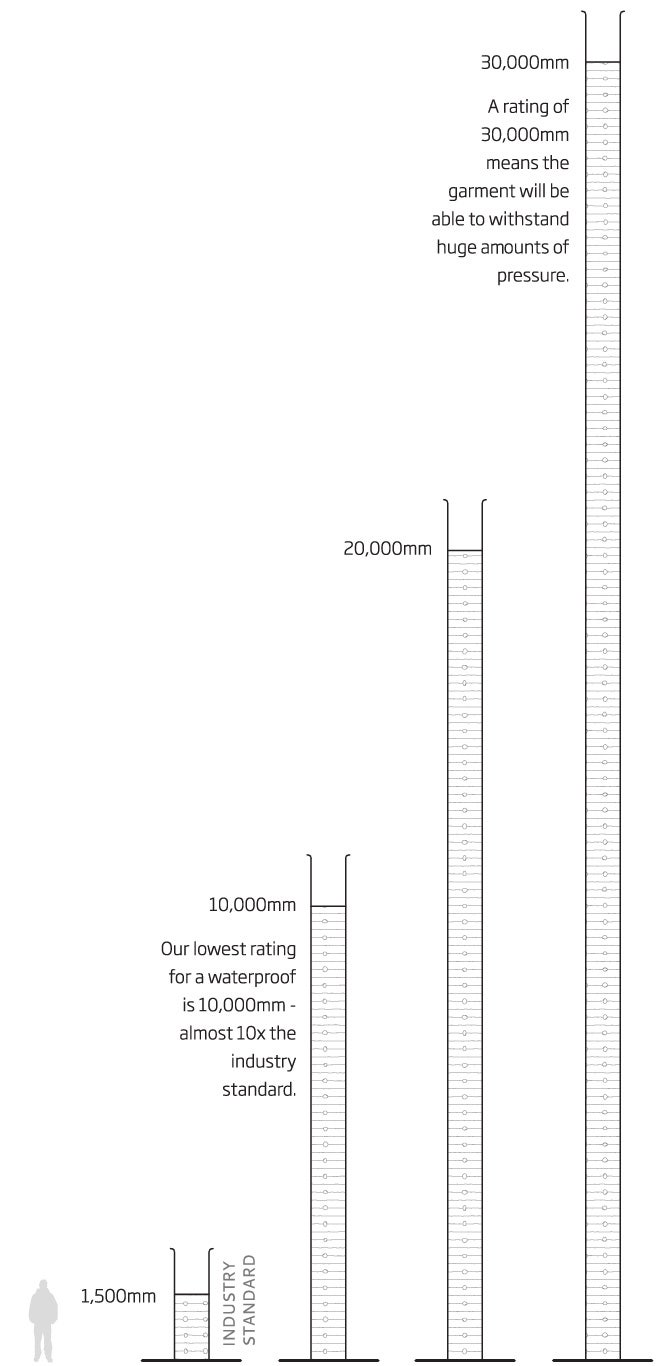 How Waterproof Fabrics Are Constructed
Waterproof fabrics, whether coated or laminated are constructed in 3 different ways. Each method results in different characteristics and possible applications.
2 Layer

A 2 layer waterproof has an outer fabric with a membrane or coating bonded to it. To protect the inner layer a separate lining, often a nylon mesh is needed. The simplicity of the construction means that this method is often used in less technical waterproofs. Because of the compromises in performance and comfort, we don't make 2-layer garments at Rab.
2.5 Layer

In a 2.5 layer waterproof the waterproof technology is again bonded to the exterior fabric but, rather than using a lining or third layer to protect the waterproof element, there is instead a coating or print applied to the surface. This construction is lighter and more packable than 3-layer construction. However, it also tends to be less durable.

3 Layer


In a 3 layer fabric the waterproof technology sits between the exterior face fabric and a woven or knitted inner fabric. Typically these fabrics are very durable but can be quite heavy. Exceptions to the rule do exist however, with our Flashpoint Jacket weighing in at just 185g.
When we talk about jackets being 'breathable' we are referring to the extent to which the garment allows moisture vapour to escape.
In a 'non-breathable' garment even light activity will result in you quickly overheating. Your body's response to exertion is to sweat, but because there is no way for that vapour to escape, the interior of the jacket becomes very wet. This overheating is soon followed by a dramatic reduction in body temperature as the trapped moisture acts a thermal conductor transferring your body heat nearly 25x faster than that of dry clothing. The result would, at best, leave you feeling very uncomfortable and in extreme cases lead to dehydration or even the onset of hypothermia.
When considering the problem of breathability our designers will typically use either Microporous or Hydrophilic technology.
Microporous
Tiny, microporous holes exist in the membrane which are small enough to allow steam to escape, but too small to result in liquid water permeating from the outside.
Hydrophilic
Hydrophilic membranes work by conveying moisture at a molecular level. The process relies on the pressure inside the garment exceeding that outside, so wearers have to be active for the membrane to become breathable. As a result jackets that use hydrophilic membranes adapt to your activity level and retain heat well.
Conditions Dependant
It's worth mentioning that all breathable systems rely on a difference in humidity and pressure between the inside and the outside of the garment in order to work. This means that even the most breathable system will be less efficient when the outside atmosphere is full of water (i.e when it's grim out).
Measuring Breathability
There are many ways to measure breathability. Our standard method is to record the amount of evaporation through a square metre of fabric over a 24 hour period eg 20,000mm/sq m/24hrs. Even the most breathable systems will be less efficient when the outside atmosphere is full of water though, so aside from lab-based measurements, thorough field testing plays a central role in the design and development of our breathable garments.
| Breathability (mm per m sqr/24hrs) | Level |
| --- | --- |
| 0-1000 | Very Poor |
| 1000-5000 | Modest |
| 5000 - 10000 | Good |
| 10000 - 15000 | Great |
| 20000+ | Exemplary |
Breathability and Warmth
It might seem intuitive that the lighter a fabric is, the more breathable it will be, however this is often not the case. Jackets like our Latok feature rugged 3-layer GORE-TEX fabric but boast some of the highest breathability ratings in our range. It's worth remembering that breathability and temperature management aren't the same thing: Breathability is about removing moisture vapour from inside the jacket, not letting cold air in. That's why we also feature pit zips on our breathable jackets.
At Rab we use a number of different waterproof technologies in our jackets to cover the broad range of activities and conditions our users have to deal with.
Gore-Tex
At the heart of the GORE-TEX fabric is an extremely thin membrane that's durably waterproof, windproof, and breathable, and has over 9 billion pores per square inch. The microscopic pores on the membrane are 20,000 times smaller than a water droplet, which means water droplets can't pass through. The pores are 700 times larger than a water vapour molecule which means perspiration passes right through. This is what makes the membrane breathable. The volume of air that passes through one square meter of fabric in one second (l/m²sec) is 5.0 or less, creating a truly windproof membrane.
Proflex

A unique Rab innovation, Proflex™ is made by sandwiching a bespoke PU hydrophilic membrane between two high gauge knit fabrics. Because of its unique construction, Proflex allows us to make genuine 'Softshell' jackets with the waterproof protection of a traditional hardshell jacket.
Designed to transform the way you dress for the outdoors, Proflex™ is a true revolution in waterproof technology.
Pertex Shield
Pertex Shield® represents a fusion of technically advanced face fabrics with a breathable microporous waterproof coating. With the focus on durability, Pertex Shield® combines wind and water protection with excellent breathability.
Pertex Shield+
Pertex Shield®+ is the ultimate lightweight, waterproof fabric for fast moving outdoor activities. It uses a hydrophilic PU membrane to provide a high level of dynamic breathability – the harder you work, the greater the breathability of the fabric.
Often confused for waterproofing, Durable Water Repellency, or DWR, is a technology that we use throughout our range of waterproofs. DWR causes water to bead on the surface of the fabric so that instead of soaking into the garment's outer fabric, the rain simply rolls off.
By reducing the amount of standing water on the garment's outer, the breathability of the fabric is maintained and it remains light and comfortable to wear.
After prolonged use you may find that the DWR's performance begins to diminish. This can be refreshed by applying a DWR treatment after washing.
Creating a waterproof fabric is one thing, but making sure it can stand up to the frankly ridiculous things our athletes and customers get up to is another challenge entirely.
In addition to the exhaustive durability tests carried out by our fabric partners, we comprehensively test all of our designs both in the confines of Rab HQ and by sending them to some of the most extreme environments in the world.
Martindale
An industry standard, the Martindale machine's beauty is in its simplicity, subjecting a sample of a fabric to a repeated rubbing motion to simulate long term wear. At Rab we use our own modified, and arguably more extreme versions, of the standard tests for durability, abrasion resistance and snagging.
Real-Life Testing
Testing fabrics here at Rab helps to ensure that we're selecting the right materials. The true test however, is to take the garments to the places for which they are designed. Central to the relationship we have with all of our athletes is the regular testing of our products. Our prototype garments are taken to the most extreme places on the planet by people whose job it is to push outdoor equipment to it's limits.
Our athletes understanding of what constitutes an industry-leading product and the insight they provide is vital to the design and testing process.
How much durability do you need?
When buying a jacket it's important to consider the trade-off between durability and weight, as more durable fabrics tend to be heavier and warmer. If you're travelling fast and light or only using your waterproof for occasional bursts of rain in warm weather, it can be worth investing in a lighter garment. However, if you're in the habit of really abusing your gear then it's definitely worth investing in a jacket that can take repeated punishment.
Buying A Waterproof Jacket
When you're choosing a waterproof there are a number of features besides the fabric that need considering.
HOOD
Getting a hood that fits is important, it affects how much body heat you'll lose through your head as well as how good your field of vision is in poor conditions. It's worth considering the level of adjustment available on a Jacket's hood, and whether or not you intend to wear a helmet under it.
Drawcords
Drawcords let you alter the fit of your jacket to suit your shape. If you want to have the option to eliminate drafts, then a hem drawcord is a feature to look out for.
ZIPS
No matter how good your waterproof fabric is, if your zips leak, you're going to end up wet. Make sure your waterproof has either YYK Aquaguard Zips or, in some jackets, a storm flap to keep precipitation out. If you run hot or don't like to layer and de-layer as the weather demands, you'll want to look for jackets with venting 'pit zips' under the arms like our Firewall jacket.
FIT
Getting the right fit is important – the first step is to take a look at our sizing charts to figure out what size you need. Next, think about whether you're going to be wearing multiple layers under your jacket or just a baselayer. For the former you want a regular fit jacket, for the latter, you should look for a slim fit.
Weight
Weight can often come at the cost of durability, so it's important to carefully assess your priorities when you're picking a jacket. If you're travelling light, or plan to stow your jacket rather than wear it, then looking at the lighter end of the range makes sense. If you're expecting to wear your jacket for activities that might cause heavy abrasion or require resistance to tearing then it's probably wise to look at the heavier end of our range.
Pack Size
If you're planning on wearing your jacket all day then the packed size might not be a concern, but if you're travelling light, or need something you can throw on at a moment's notice, then it can make a big difference. Some of our lightest jackets – such as the Downpour Plus – pack down into their own pockets or come with their own stuff sack.
It's important to consider what you're going to get up to in your jacket when you're making a decision. To make choosing easier we can break down the range into three broad categories: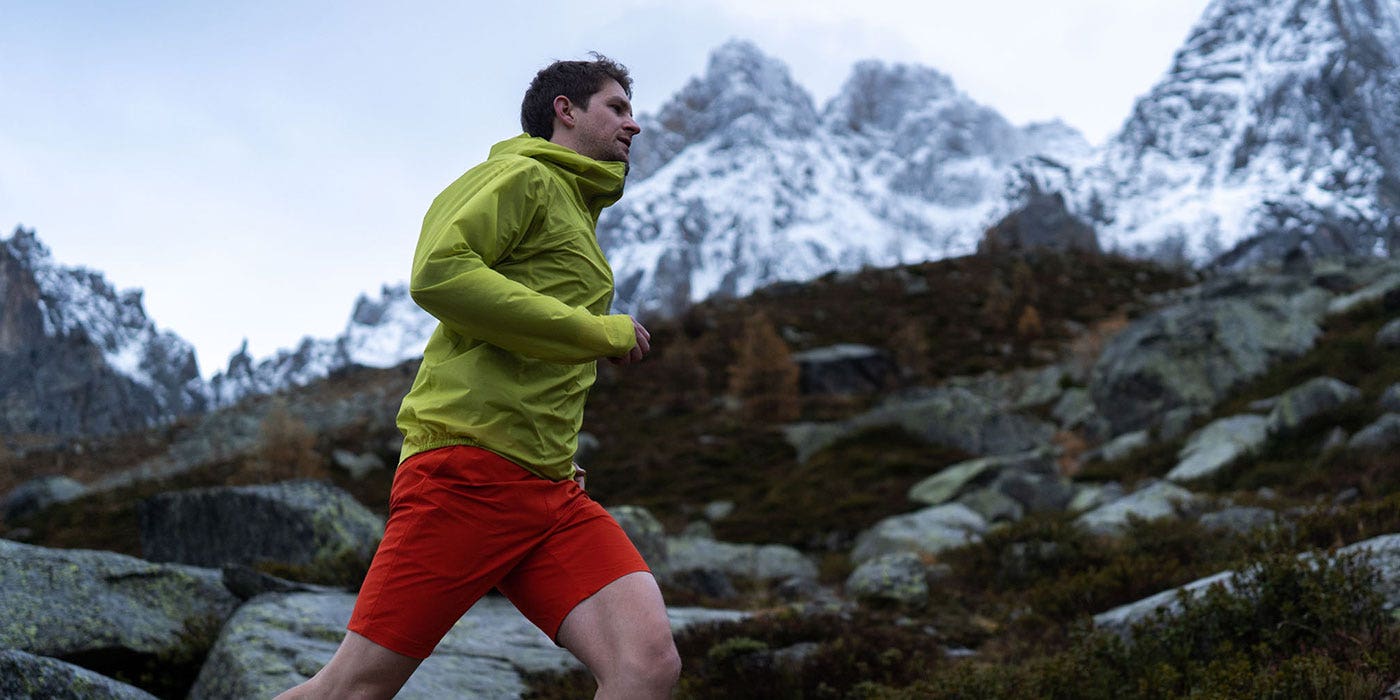 Fast & Light
Our fast and light waterproofs are designed to pack small for activities where you want quick protection from the weather without carrying a fully-featured shell. They're also great for sustained activity in the mountains, such as adventure racing, where breathability is as much of a concern as weather protection.
Included in this category is the lightweight, stripped-back Pacer Jacket. Designed for mountain running, the Pacer is made from 3 layer GORE-TEX® Active fabric waterproof for advanced comfort, optimised breathability and minimal weight.
For those who want a few more features in their lightweight jacket there is the Spark. Designed for climbing or adventure racing its high breathability makes it perfect for high intensity activity in wet conditions.
What to Look For:
Light-weight
Minimal features
Small packed Size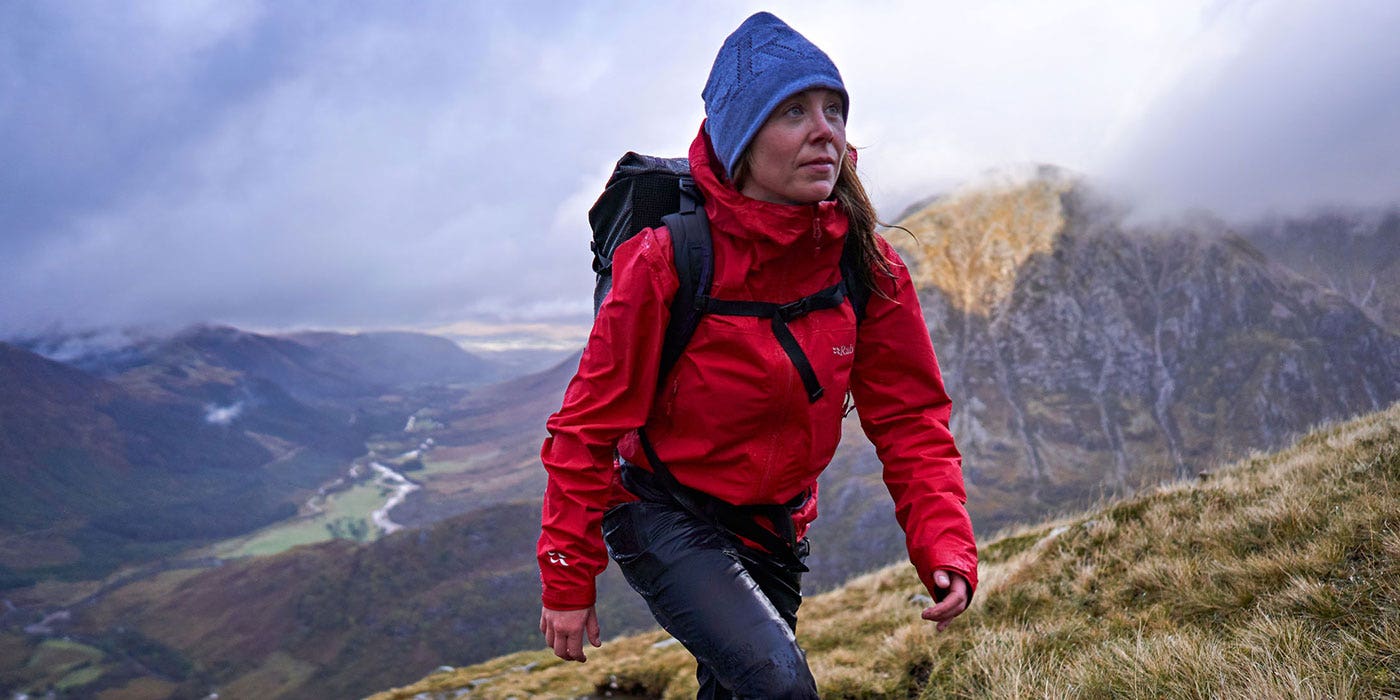 Summer-Weight
Our summer-weight jackets represent a middle ground between our stripped back, light-weight jackets and our range of tough 3-layer garments. A summer-weight jacket should offer a good balance of weight and pack size, coupled with exceptional breathability. They tend to have more features than our Fast & Light jackets, with more fit adjustments and useful pockets.
The Zenith Jacket excels in poor conditions. With lightweight GORE-TEX® PACLITE Plus fabric, there is plenty of space for flexible layering, making it the perfect choice as a lightweight waterproof shell for exposed mountain trips.
The Kinetic plus jacket also falls into this category, using Rab's own Proflex™ fabric technology it stretches and breaths like a softshell while also featuring a flexible waterproof membrane. This combination makes it the ideal outer shell for a huge range of mountain activities.
What to Look For:
Packs Small
Adjustable Fit
2.5 Layer Fabrics
Full Hood Adjustment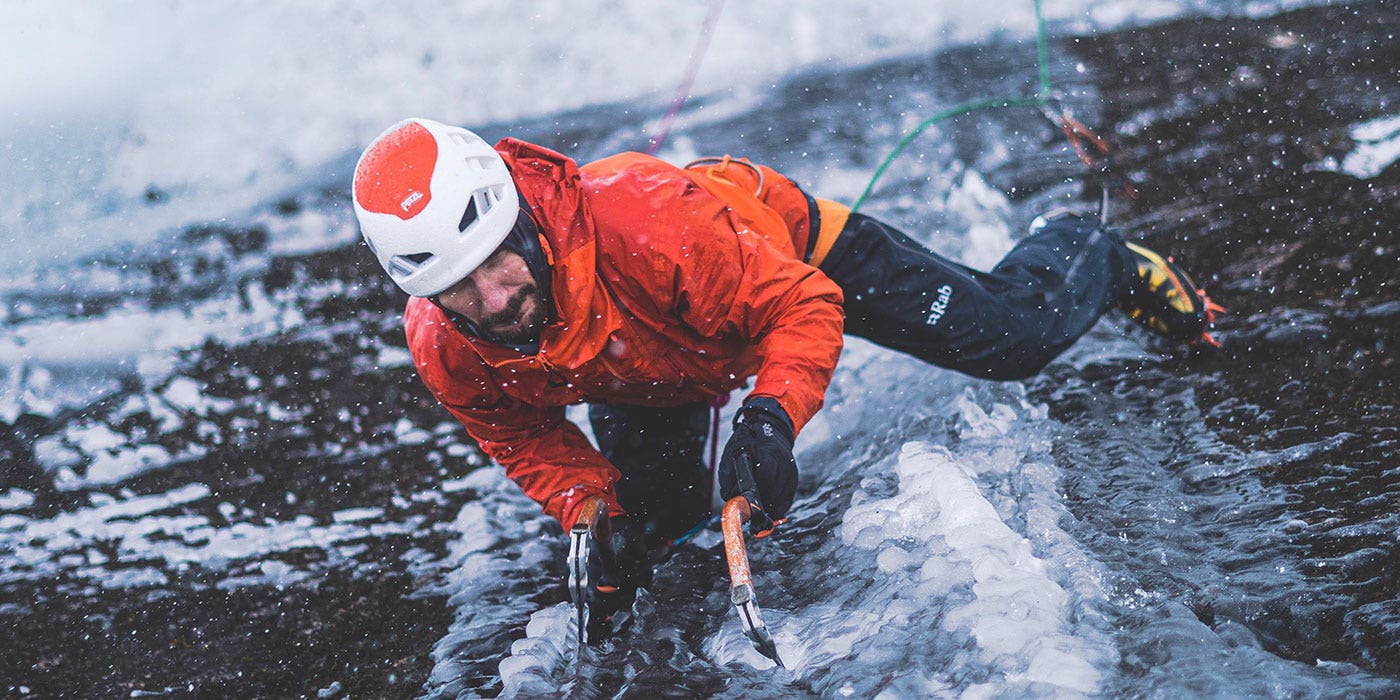 Endurance
Our endurance jackets are designed for continuous use in the worst conditions. They include all the features that are required for mountaineering, ski touring and climbing in snow or rain as well, as reinforced zones where heavy wear is expected.
Our Latok Jacket is the classic example of a fully-featured jacket designed to keep you dry and comfortable in Scottish winter conditions. It features tough, three-layer GORE-TEX fabric with reinforcements for areas that see a lot of wear when winter climbing.
The Khroma GTX ski jacket is designed for cold, deep winter powder. Constructed from a hybrid of hardwearing, fully recycled 70D GORE-TEX® Pro fabrics, it combines durable waterproof performance with extreme breathability for outstanding weather protection and comfort.
The Firewall jacket is a recent addition to the range that incorporates an element of stretch with a 3-layer waterproof construction. We've also included extra-long 'escape artist' pit zips to help regulate temperature during periods of intense activity.
Robust and reliable, the Kangri GTX Jacket is a GORE-TEX® 3-layer mountain waterproof ready for year-round alpine adventures and perfect for everything from winter hillwalking to showery scrambles.
What to Look For:
Durable 3L Fabrics
Reinforced Zones
2 Way Zips
Pit Zips
Harness-Compatible Pockets
Now you know what you're looking for, why not take a look at our full range of waterproof clothing?
Below we guide you through some simple steps that will ensure your waterproof serves you for years to come
Prevention is very much better (and cheaper) than cure – we want to make it simple for you to look after and make the best use of all your clothing and equipment.
Cleaning
The instructions below are a guide to cleaning any of our waterproof range, more specific instructions for your membrane can be found on the garment label.
Hand or machine wash using a technical cleaner such as Nikwax Tech Wash on a gentle 30ºC cycle. Avoid detergents, fabric softeners or conditioners, dry-cleaning or ironing as these may damage the garment. You can hang-dry your garment, but, unless stated on the product label, it's also fine to tumble-dry your product on a low temperature to help maintain the DWR.
Reproofing
Your waterproof garment contains a durable water repellent finish (DWR) on the exterior of the fabric that serves as a first barrier to penetration of the fabric by external water.
This DWR finish degrades over time and will occasionally need to be replenished. Even though the waterproof membrane is still keeping the water from passing through the fabric, performance will be increased if you maintain the DWR finish with regular treatments.
Once the garment has been washed we recommend using a re-proofing agent such as Nikwax TX Direct to completely restore surface water-repellency. We recommend using a spray-on product rather than a wash-in one.