Recycle Your Old Down
Give it a new lease of life
Down has been bought and sold for its insulation properties for centuries. It's lightweight, warm, and super packable. Our down filled sleeping bags became an instant hit back in 1981. And down insulation has been a staple part of our business ever since.
But what happens at the end of its life?
At Rab, we've offered a Repair Service since our inception. We also wash down jackets and sleeping bags, working to keep your kit going for as long as possible.
But all good things do eventually come to an end.
After a lot of looking around, we couldn't find any easy way to recycle your old down products. So we decided to work out how to do it ourselves. Trying to keep down - a resource that will out-live your jacket or sleeping bag - in use for longer.
In May 2021, we started collecting down products to send to recycling.
And why should it stop there?
If we're collecting down, we might as well collect all sorts of down: duvets, pillows, jackets, sleeping bags, whatever!
We're gathering them, bailing them, and sending them to a facility to be cleaned, sorted, and made ready to be re-used. Starting the next phase of their journey.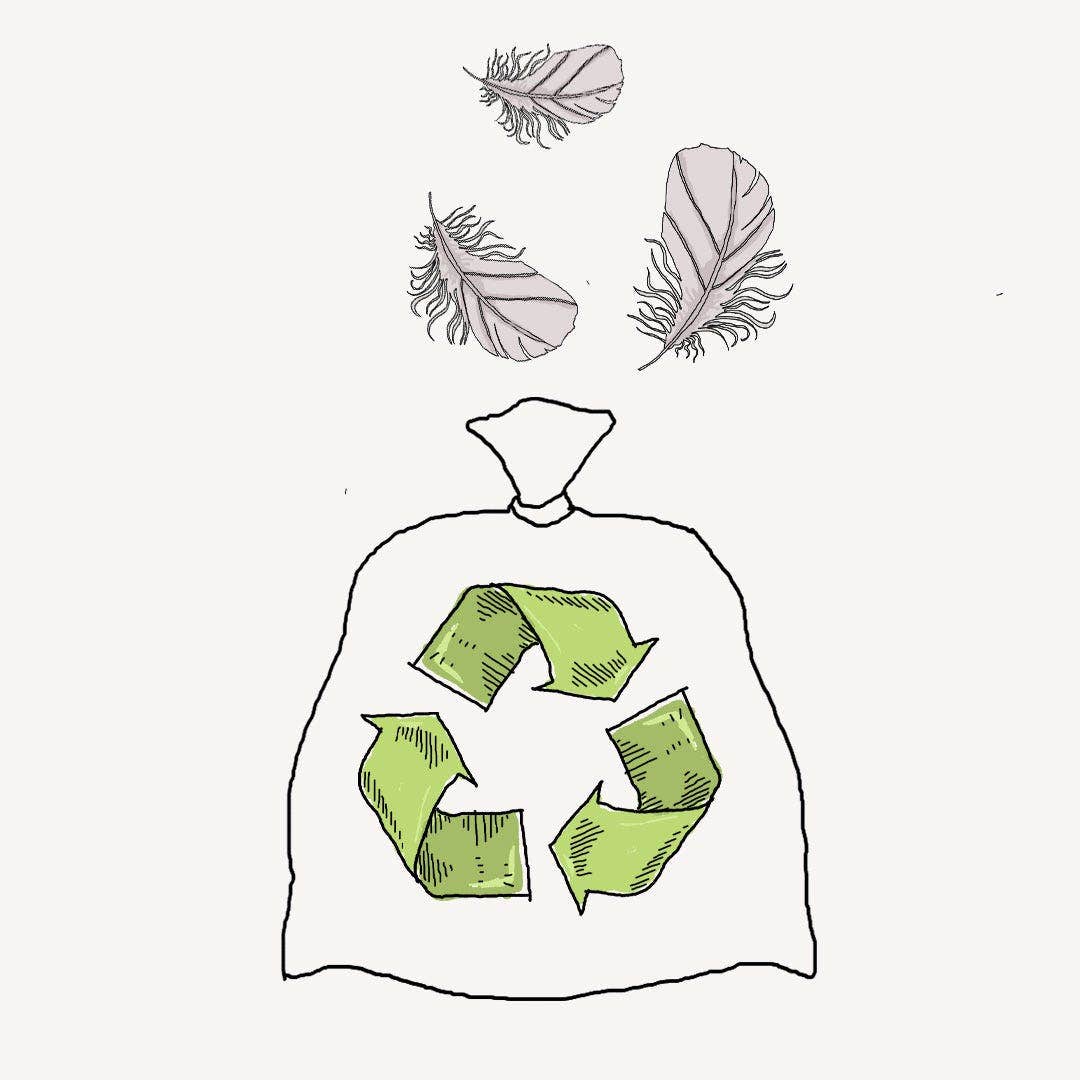 1. Recycled down is sourced from post-consumer waste items like duvets, pillows and other down products.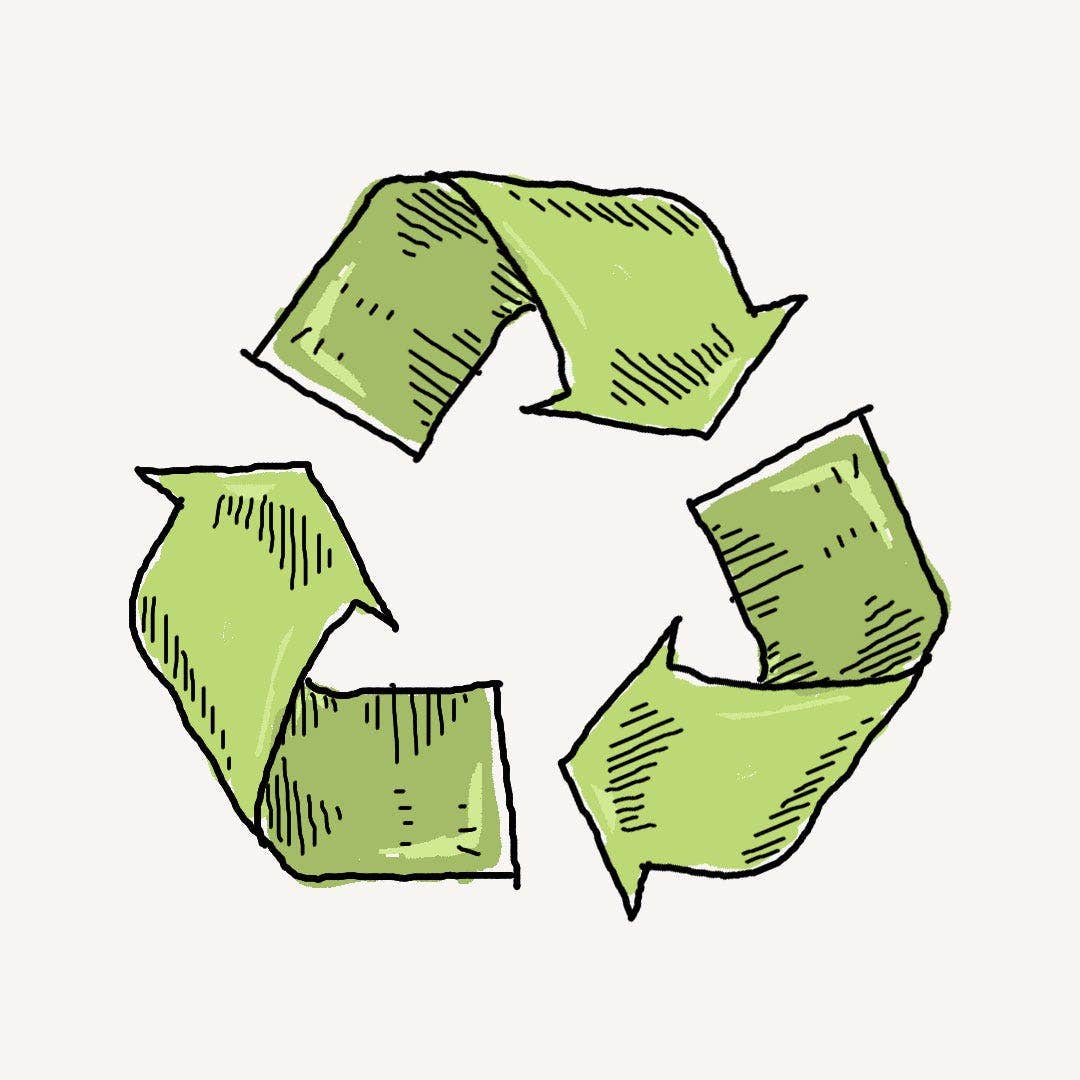 2. Sorted and graded in Italy, it is then delivered to us.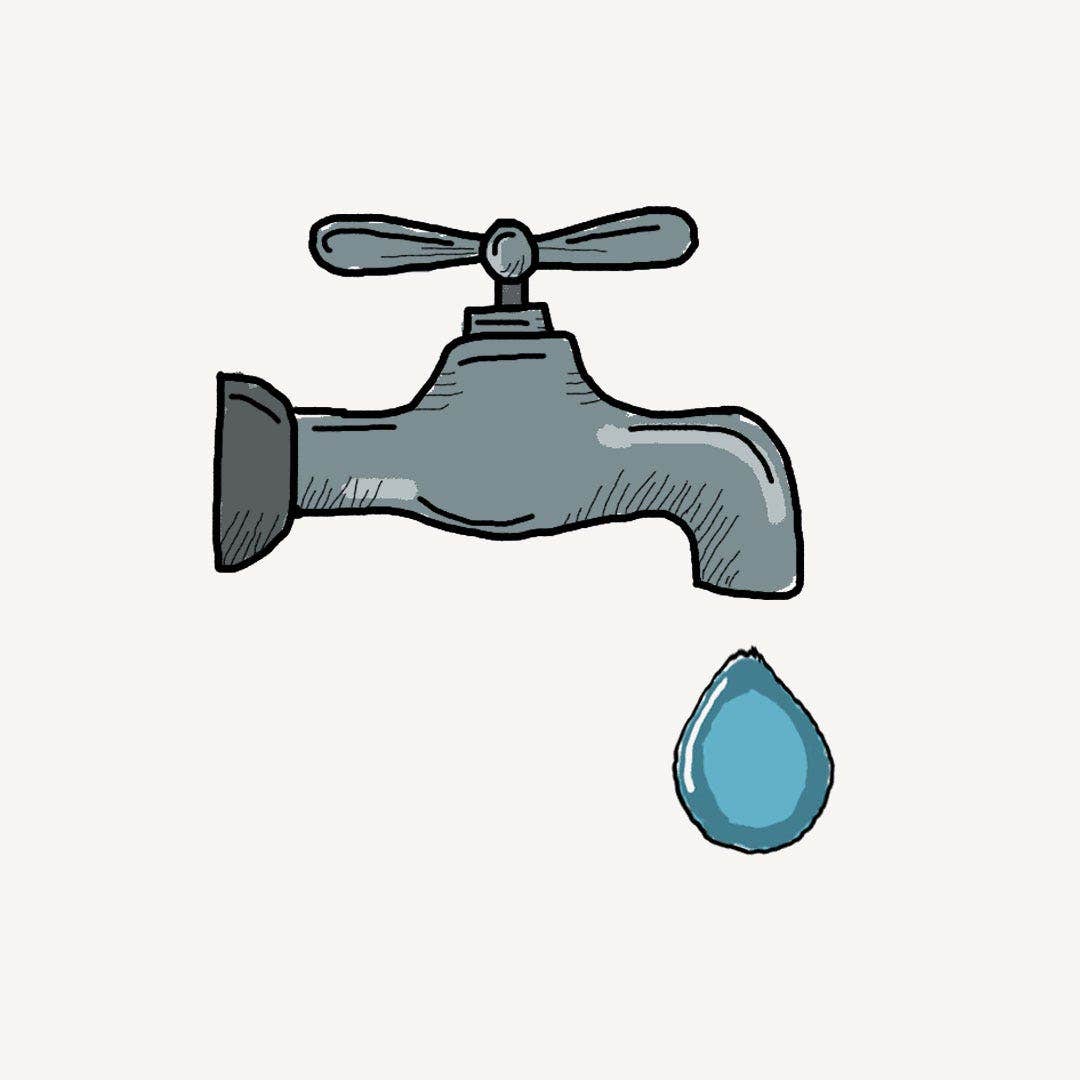 3. Using recycled down is a sustainable alternative to virgin down and helps reduce our environmental impact.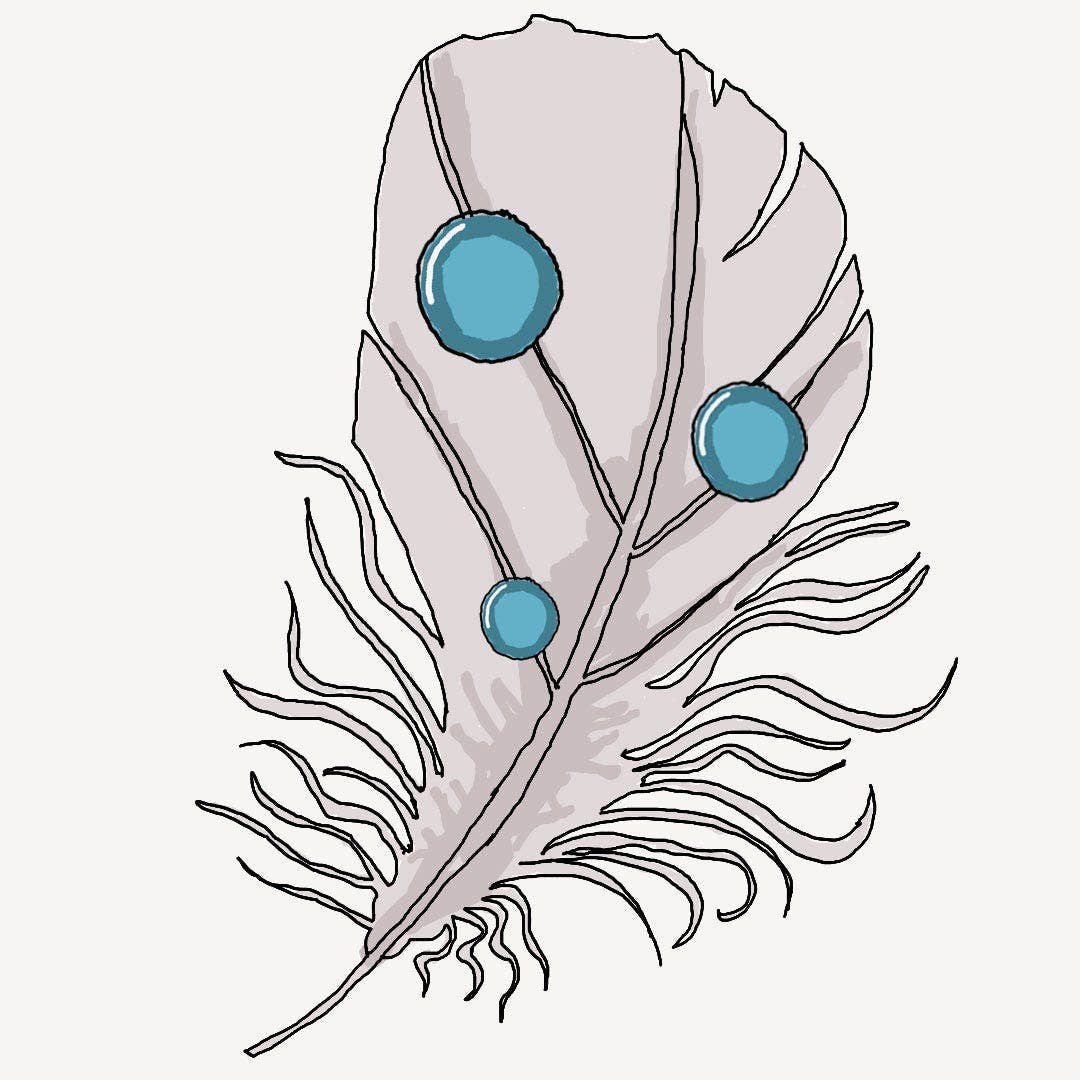 4. The reclaimed down is sterilized, cleaned, treated with Nikwax® hydrophobic treatment and graded into different qualities.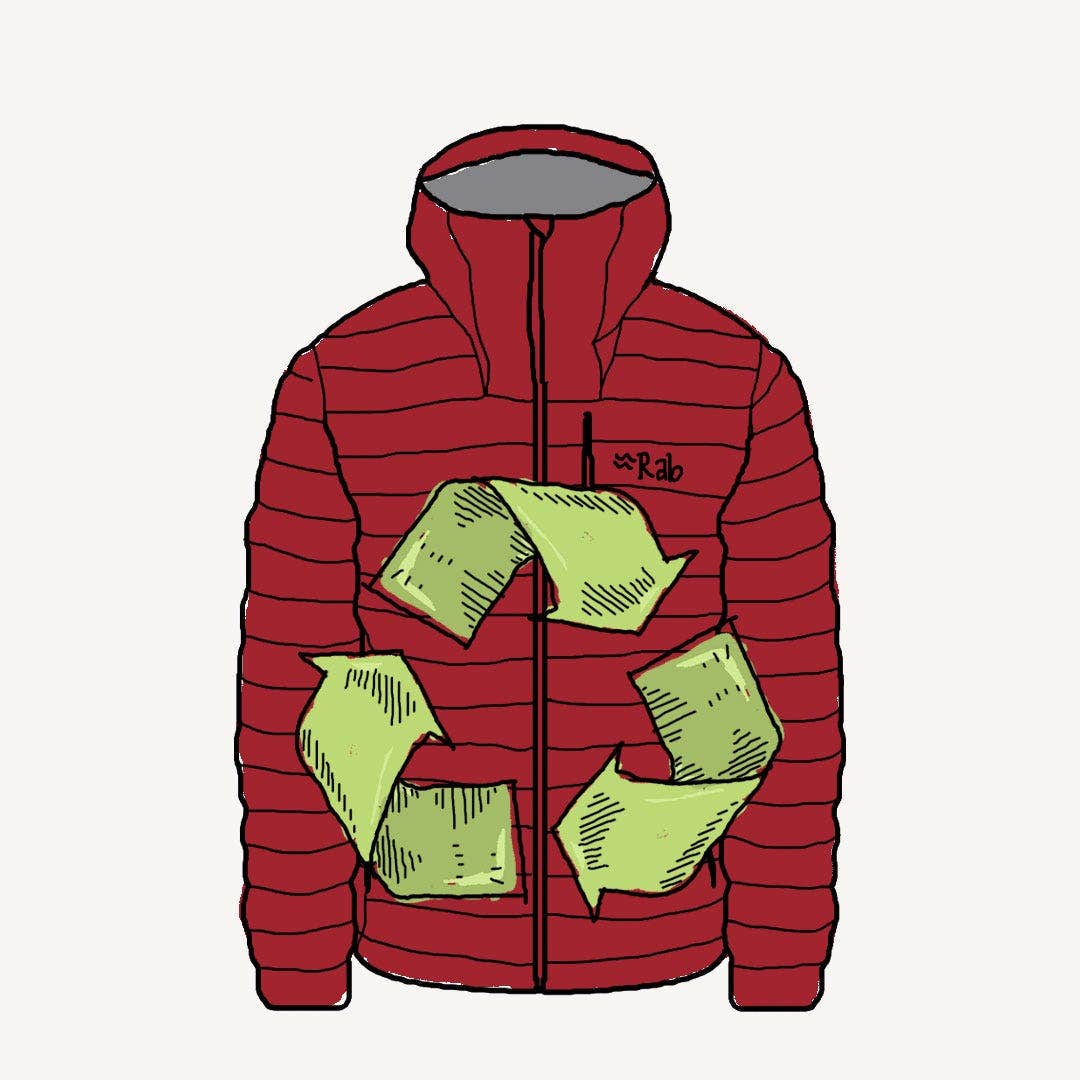 5. With the same insulation properties as virgin down, we can take this high quality recycled down and use it to make new products.

How do you recycle your old down?
Package securely

Create a freepost return label here

Drop off at your local post office
Freepost Return Reason: Down Recycling
Freepost Authorisation Code: Long Live Down
This label can be printed off. If you don't have a printer, just take the QR code to your local Post Office, and they can print one for you.
Postage Address
Rab Down Recycling
Equip Outdoor Technologies
Birchwood Way
Somercotes
Derbyshire
DE55 4QQ
If you're nearby, you can also drop your down off at our headquarters at the same address.
Or find our Down Recycling Point at the following events
19th March to 1st April - The Climbing Works
19th March to 1st April - The Climbing Works
Find our Down Recycling Point at the following events
19th March to 1st April
The Climbing Works, Sheffield
7th to 8th May
Snowdon Sky Race, Snowdon Base Camp
20th May to 22nd May
Keswick Mountain Festival, Keswick
4th June
Scafell Sky Race, Great Langdale
9th July
Lakes Sky Ultra, Patterdale
10th July
Pinnacle Ridge Extreme, Patterdale
29th July to 31st July
Women's Trad Festival, Sheffield
11th October to 13th October
Blue Earth Summit, Bristol
17th November to 20th November
Kendal Mountain Festival, Kendal
Large subhead (32px text, 38px line height)
Small subhead (20px text, 28px line height)
How to check your kit is down
Have a look at the white care label. Here it will say either it's either Goose down, or Duck down.
Please don't send us synthetic items as these will spoil the batch.
Got more questions? Get in touch with us here.