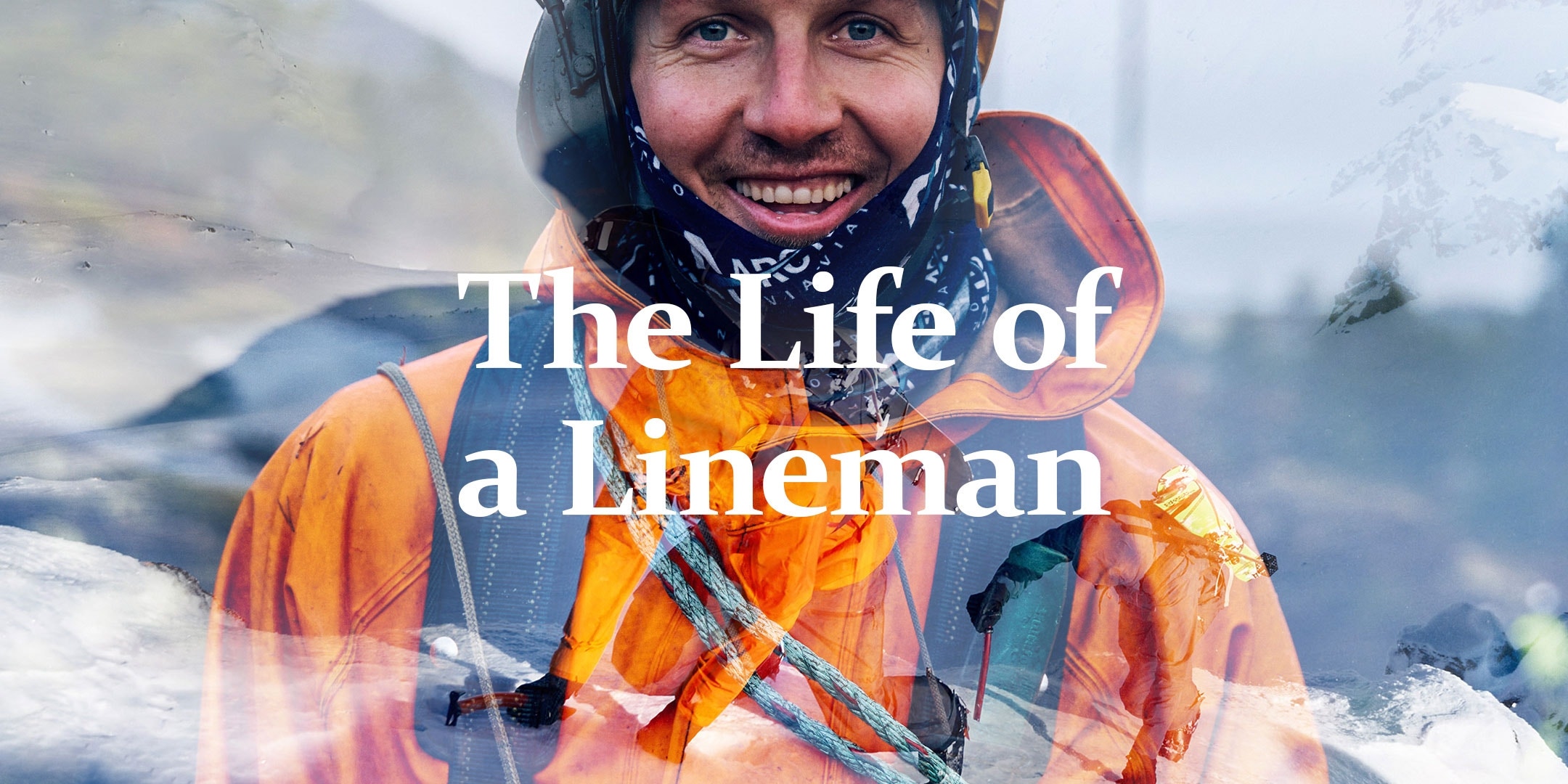 Learn how Rab Athlete Krister Kopala balances his dangerous job as a lineman with his passion for winter sports.
Paragraph text. (If formatted incorrectly use 16px size and 24px line height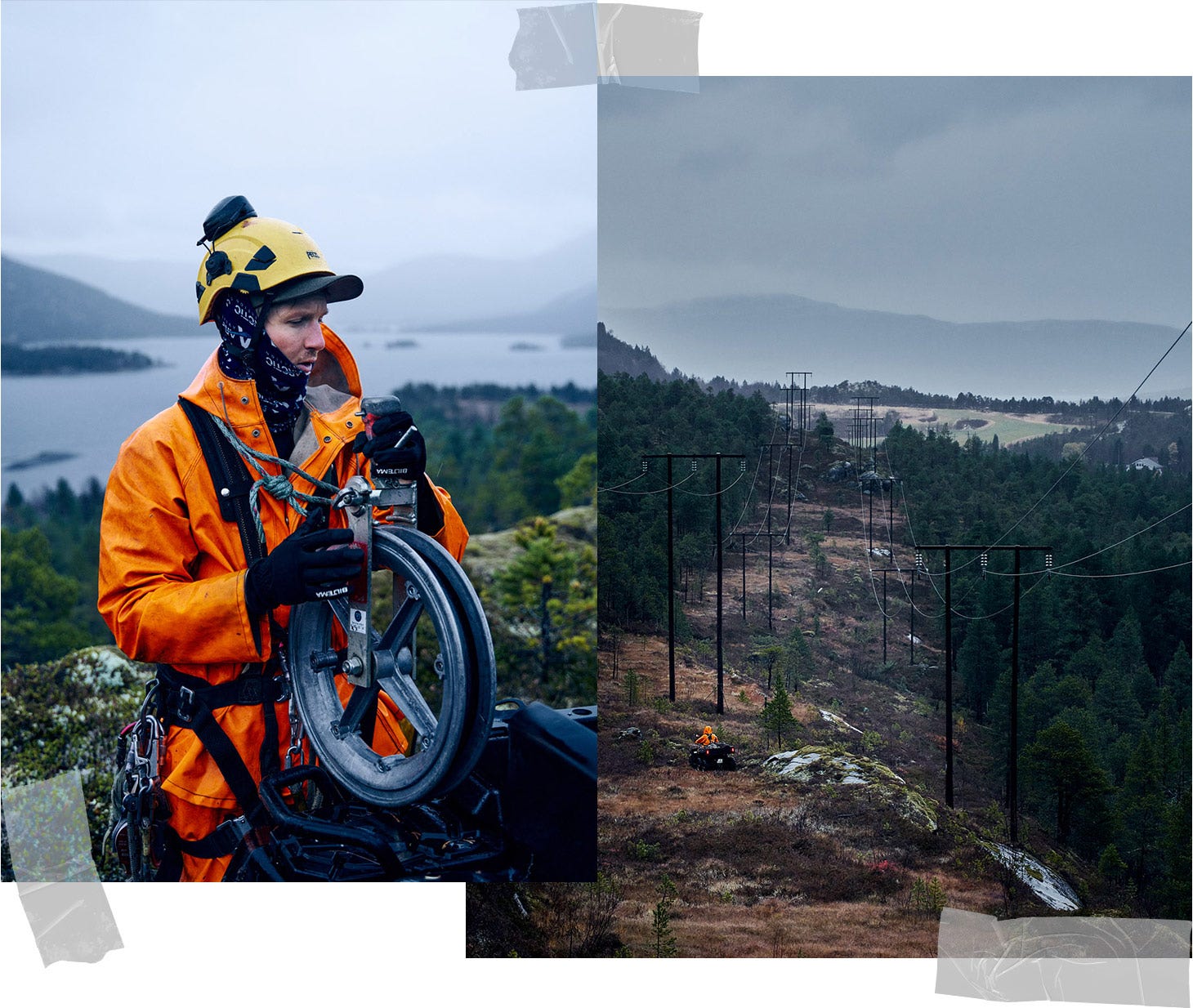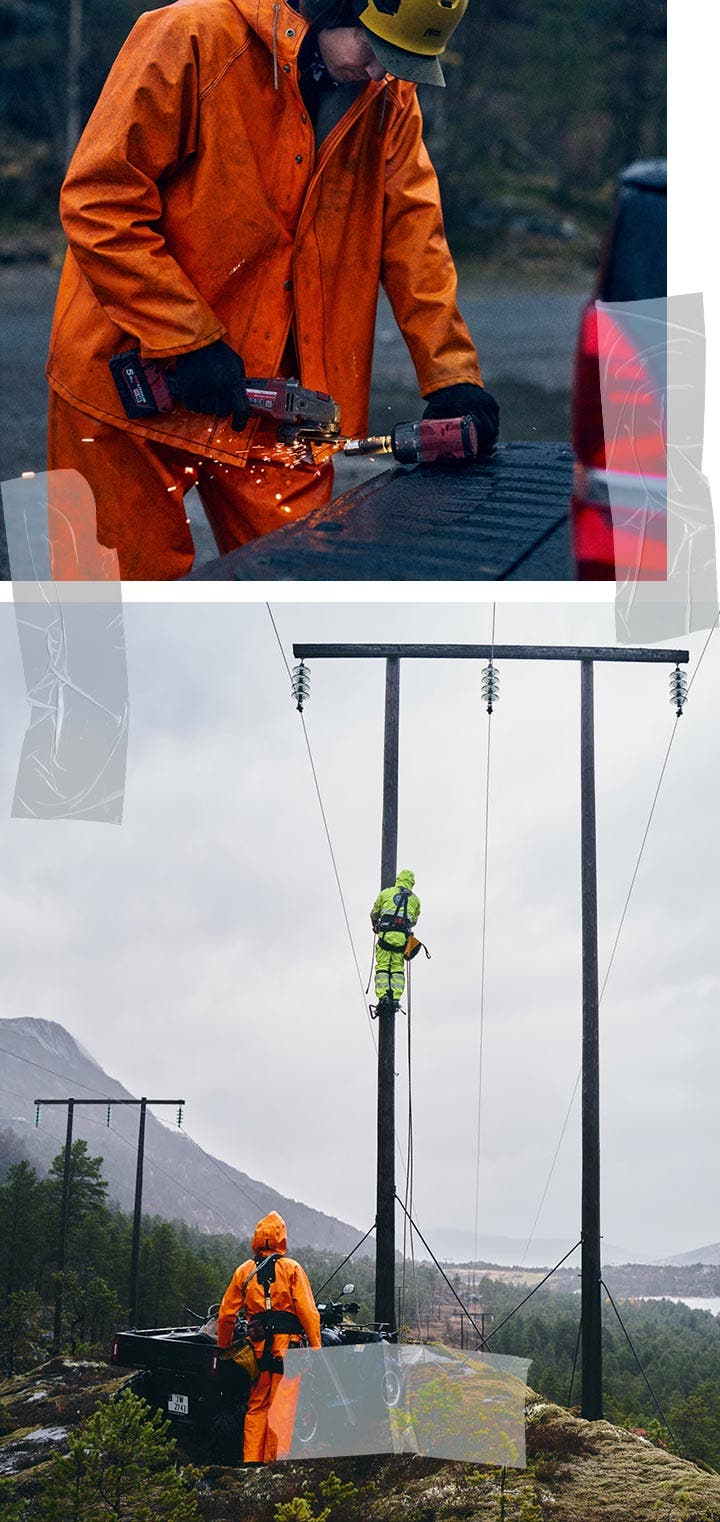 Krister, why don't you tell us a little bit about yourself and where you currently live and work?
So my name is Krister Kopala. I'm 32 years old and I live in Tromsø in Norway, where I was born and raised. I love it here, I live close to the coast, but high up, where we are surrounded by the Lyngen Alps, a 20 minute drive from Tromsø. The access we have is insane.
I work as a lineman, building power lines during the summer so that I can go snowboarding in the winter.
It's hard work. I'm outside all the time in all types of weather. It doesn't matter if it's stormy, a thunderstorm, raining, or freezing. You learn how to manage the cold and these conditions. This keeps you in shape for the winter. It's physically hard work, carrying heavy gear, walking a lot, with heavy backpacks.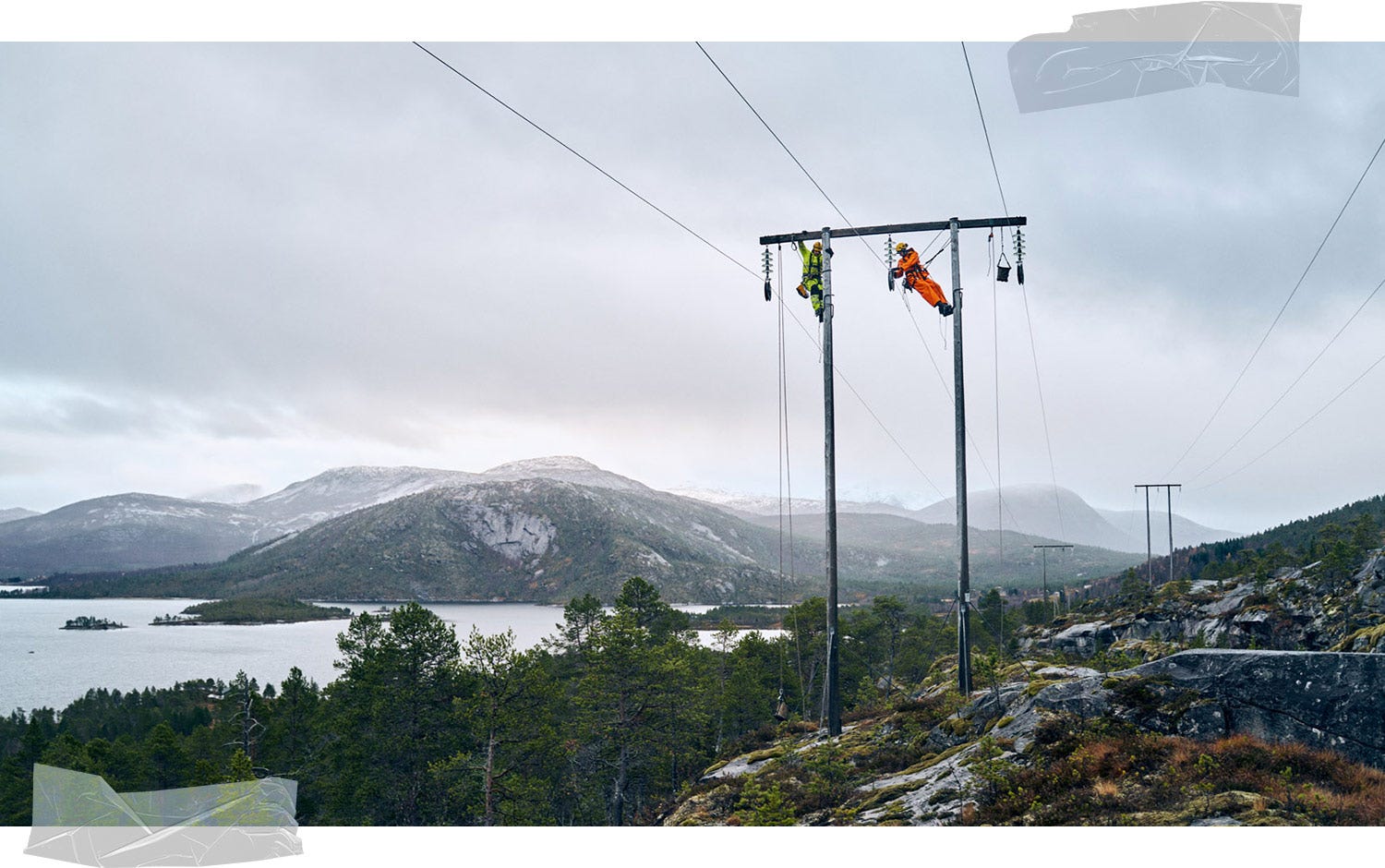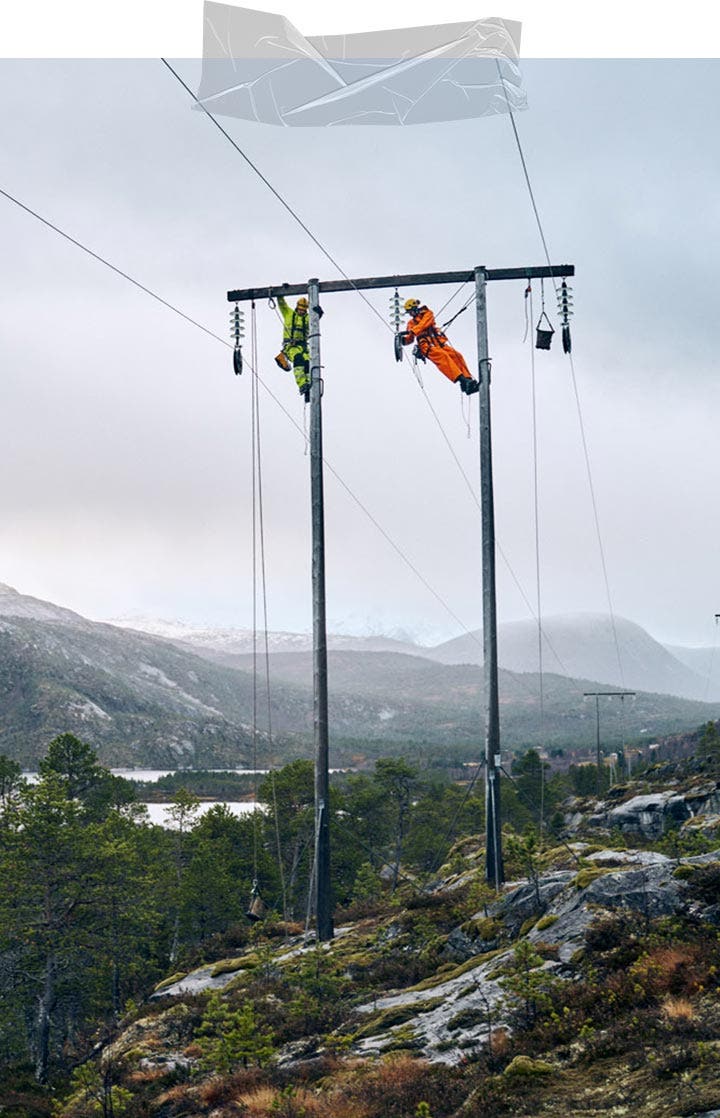 Is there electrical work involved in your job?
It's not electrical work. Instead, we install the big poles, pulling the cables, putting everything up, and then the electrician comes to plug in the power. It's cool, with some fun tools to use too. My favourite is the helicopter. It feels cinematic to have a helicopter flying 20 metres above your head as you're standing up on the pole trying to fix it.
What kind of education do you need to do this work?
You don't need any education to do what I do. Because you don't work with electricity.
If you know how to use a screwdriver, you're good to go. You do need to complete an internet course for a couple of hours. We focus on safety. This is super important as you can fall down and really hurt yourself. People die every year doing this job.
This is my seventh year doing it, and it's hardcore work. You really work for the money.
What's your earliest memory of winter sports?
My earliest memory of winter sport must be before I got my snowboard, when I used to put small skis together when I was little and spend a lot of time outside, as my father was pretty active. I'm sure I had slalom skis from the day I was born.
In 1991 and 1997 we had a crazy, crazy good winter jumping from rooftops and skiing everything we could. I've always been attracted to winter. My mum always used to say that winter was my time, winter was Krister's time.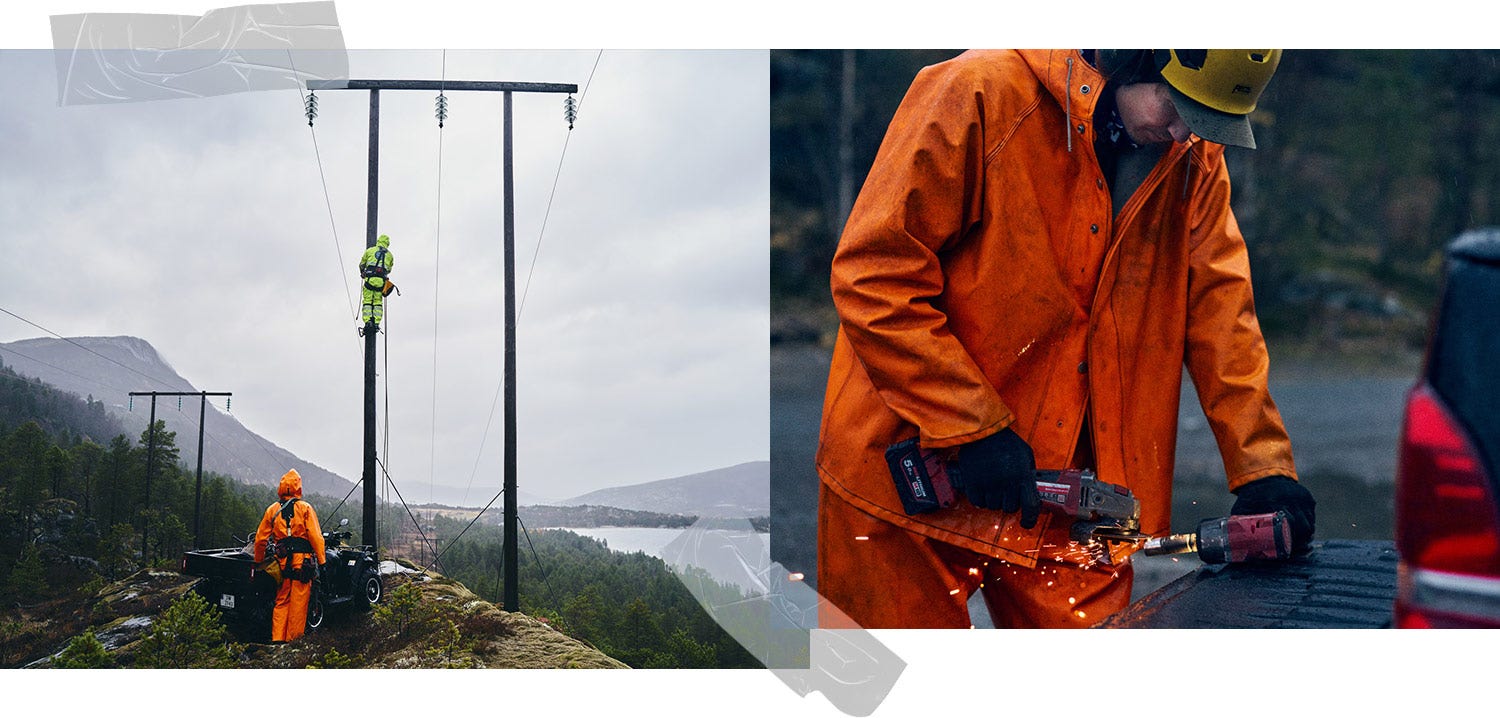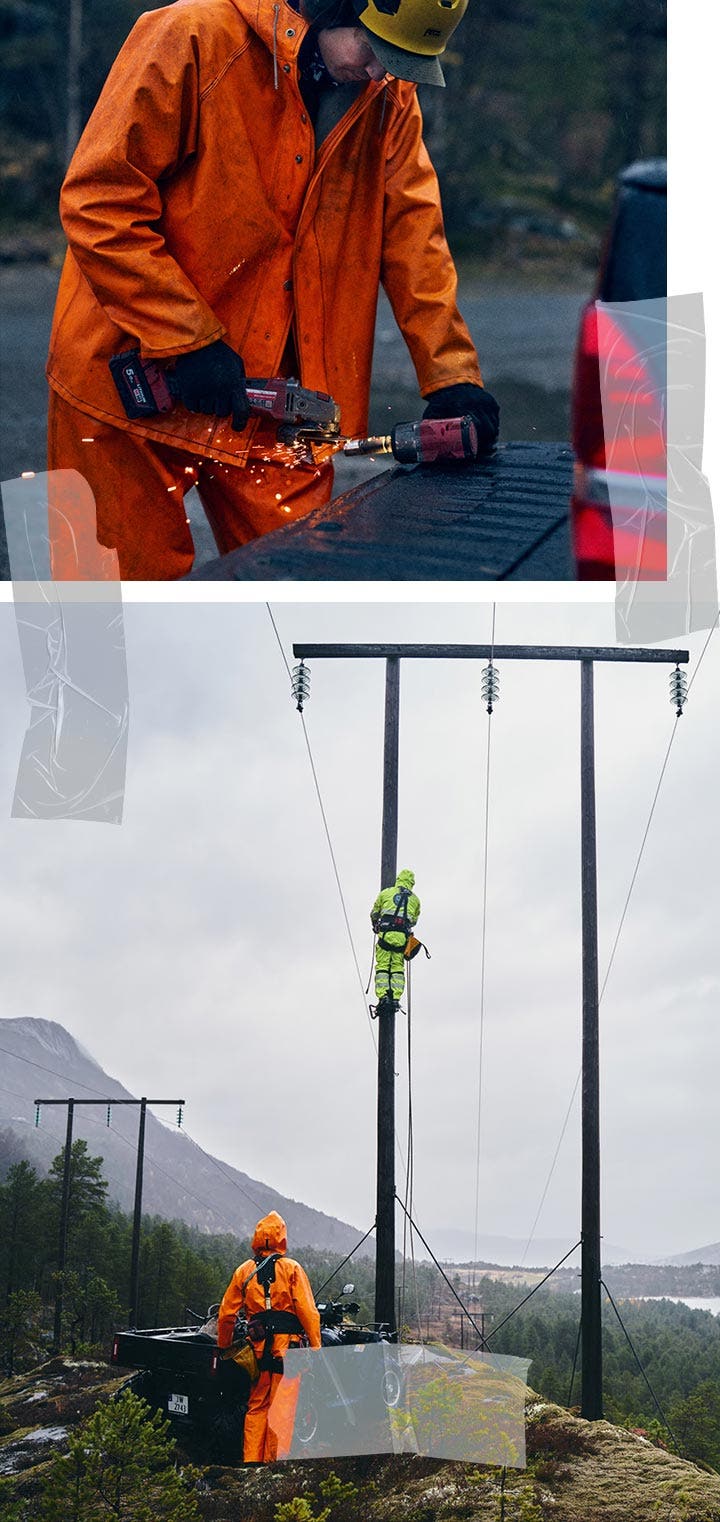 In the lineman video, you see the other side of your life that most people don't see. Working half the year to ski and ride. Is that a balance you enjoy?
I enjoy making my money doing honest work. I feel like I'm building something which feels great. However, if you look at my Instagram, I'm barely active in the summer because I'm working all the time. When I work with people and I tell them what I do, then they see some of my movies can't believe what I do! I live in two different worlds, but I enjoy that we get to travel around Norway. One time we were building a power line up on the mountain and we stayed in a small village by ourselves. We installed our own electricity, water, a stove, fridge, and everything we needed to live up there. People had no idea what we were doing, it was super out there.
What's the day-to-day life of a lineman?
You work 10 days on, and 10 days off. And during those 10 days you do 12-hour shifts. You start at 7 and stop at 7. You wake up at 5:30, stretch, drink coffee, and prepare for the rest of the day.
You go out to work and you come home and prepare the meal for the next day. It feels like you're in a hamster wheel. Every day your routine is training, working, making food, eat, sleep, repeat.
What's your main driving force that keeps you pushing to find new lines and experiences?
I have an inner feeling, or inner flame that feels like it needs to be tamed which is why I get out there.
Mountains give me an overwhelming feeling of being small and not having control. I love going out there and working like I do with my job. For example, figuring it out as you go, checking out the snow, finding anchor points, working out if you're going to repel.
It's those experiences and moments which are the best parts for me.
I even love coming down from the mountains, sitting in a warm car where it's now a privilege to be warm and sleeping in a bed. You appreciate the small things when you get out in the mountains.
When you go into the mountains and you start climbing, you realise I can only do what I can do to minimise the risk of anything. You need to understand the mountain is in charge and you can only do so much to prepare for the day.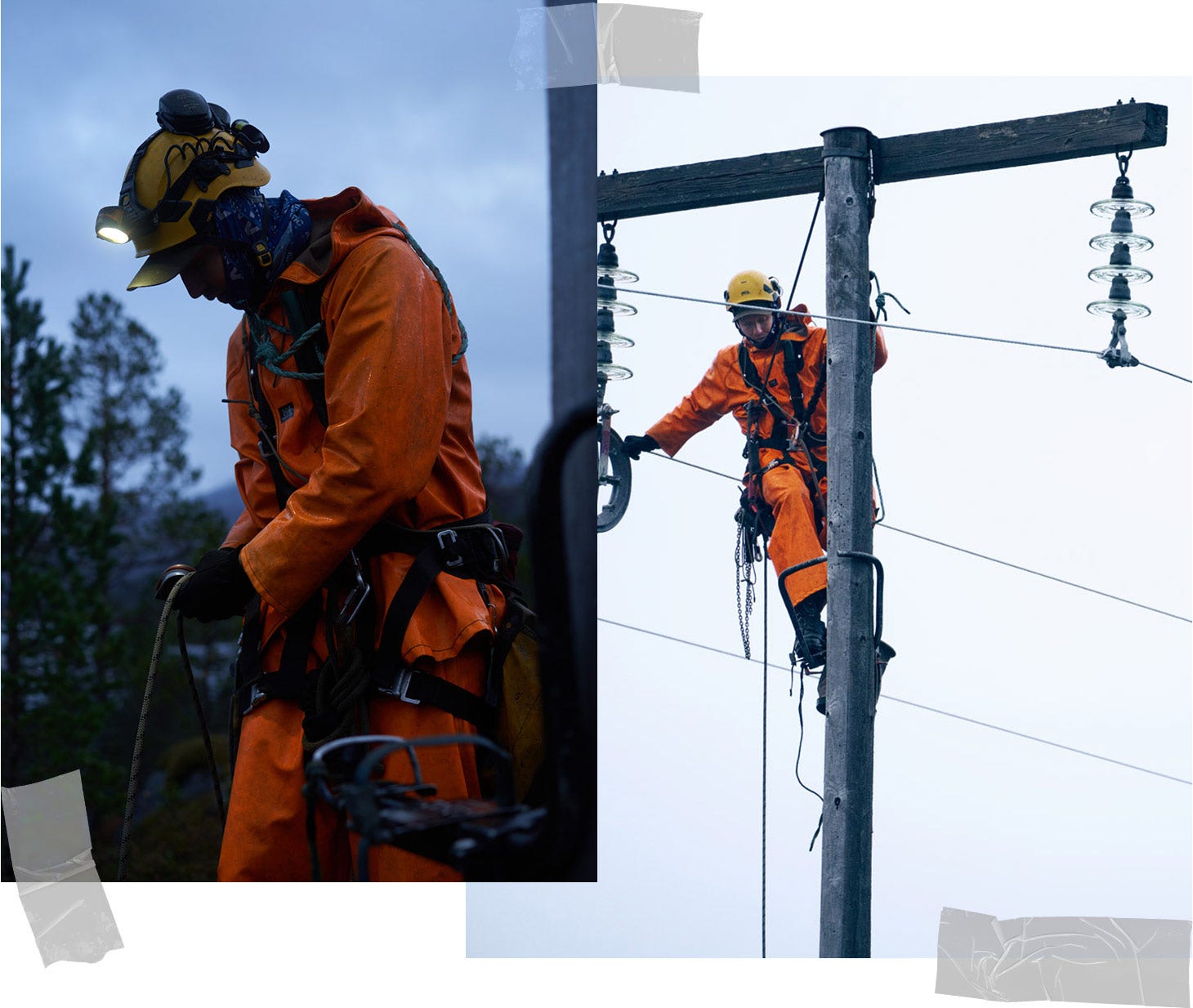 Do you feel scared, and how do you process those feelings so that you can come to terms with them?
I'm scared a lot of times. But I think if people say they are afraid of heights and they're just shaking a bit, I don't believe they are scared of heights, they are just being human. Your body and mind are reacting to something like it's a threat. You know if somebody is afraid of heights as they just freak out, that's different.
I'm scared especially with things that are new to me such as climbing. Often I'm scared when I go up, but as soon as I strap into my board, I remember I've been doing this for many years now and I'm in control.
I like being scared. It's a good feeling to explore being human, being out of your comfort zone, and appreciating the small things.
What makes Rab the type of brand that you want to partner with?
Over the past years it hasn't just been snowboarding for me. It hasn't been only doing this one powder turn in front of the camera and doing it on repeat. If I just say I'm a split boarder, what picture do you get?
Over the years it's become more and more of a split board/alpinism/Shred Alpinism. Jeremy Jones just wrote the book called The Art of Shralpinism.
We share a genuine love of being out there in the mountains, doing cool stuff and not just holding up a jacket.
We share the same goals. We're walking the same way and what Rab stands for, I stand for and the products are living up to that as well.
It's not like a snowboarder when you go out with a baggy fit with the pants below your ass. The gear is designed for people like me who are more into climbing and then snowboarding down.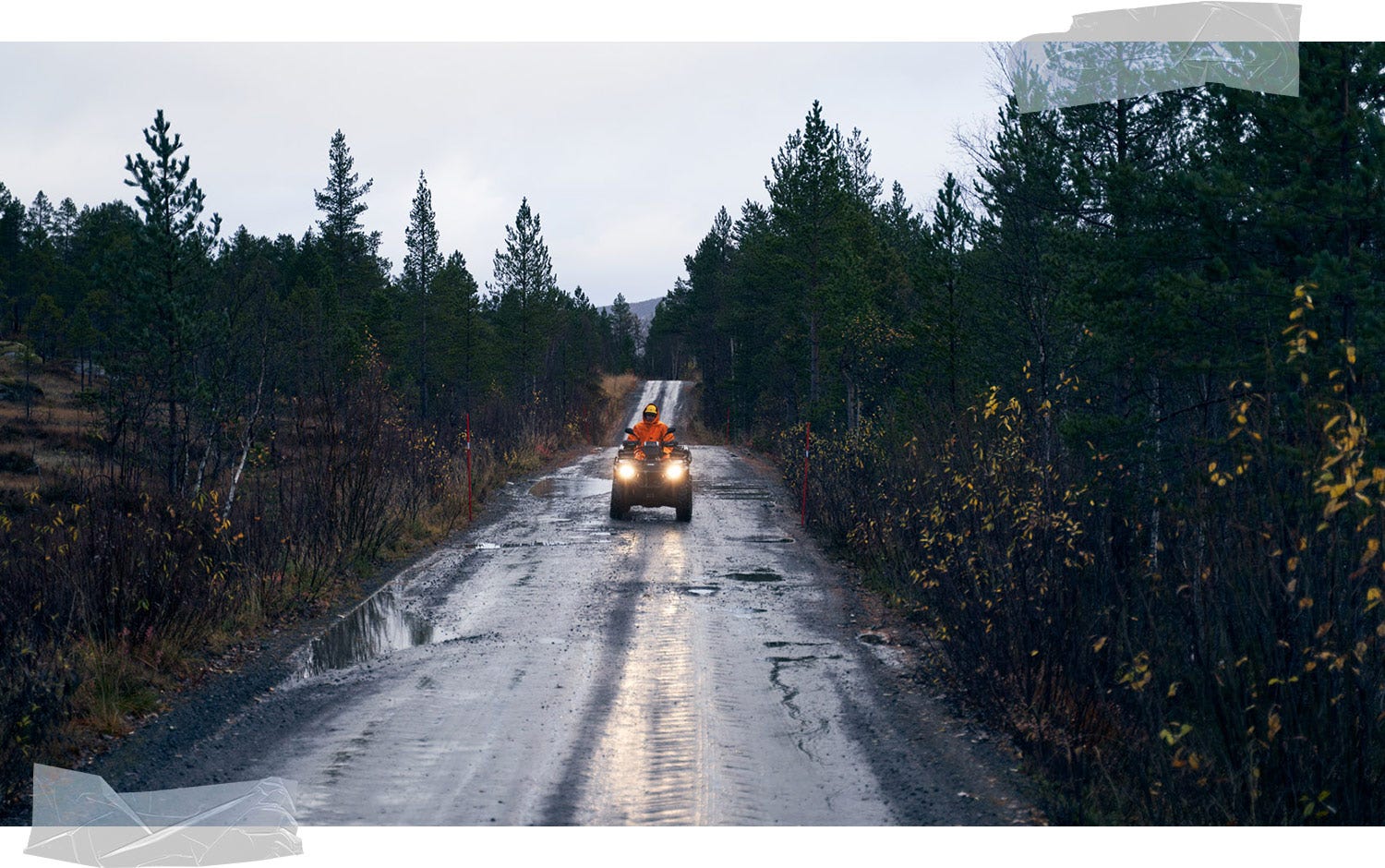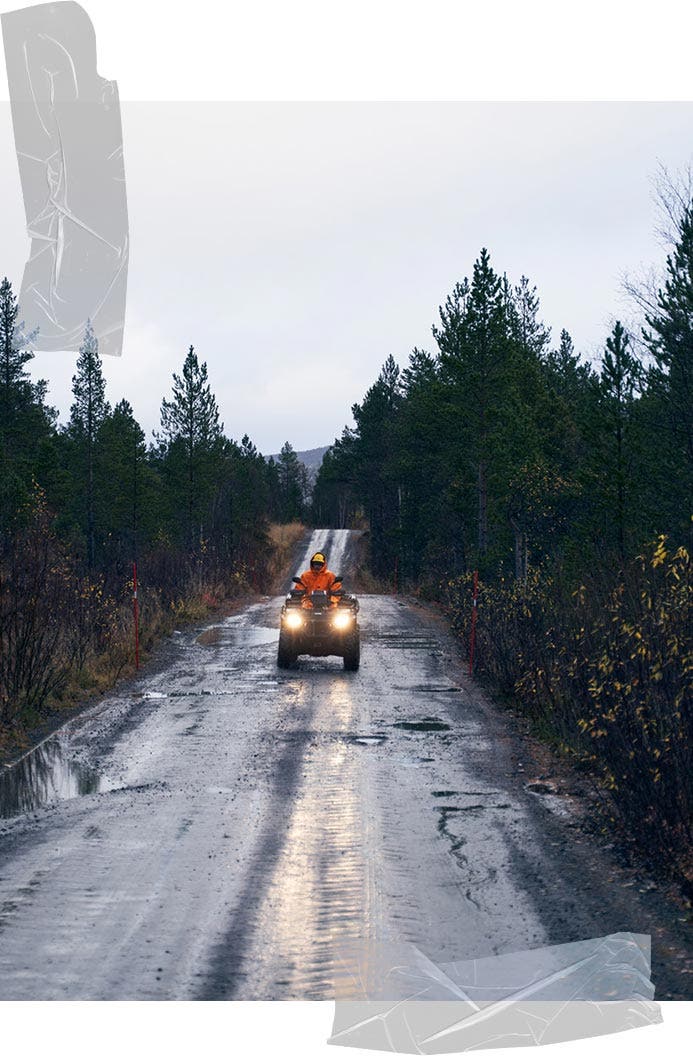 But when you're not working or skiing, what else excites you?
Training, training for the upcoming season.
Just being healthy, eating good foods, local foods, pure foods.
I think food has been the thing taking up some of my time. I was focusing on eating well, training, being on the programme and having a goal for the next season.
I focus on being fit for when the season starts. And of course, being with my family, friends. During the season you don't have too much time for family as I travel a lot. And of course, just appreciating the small stuff.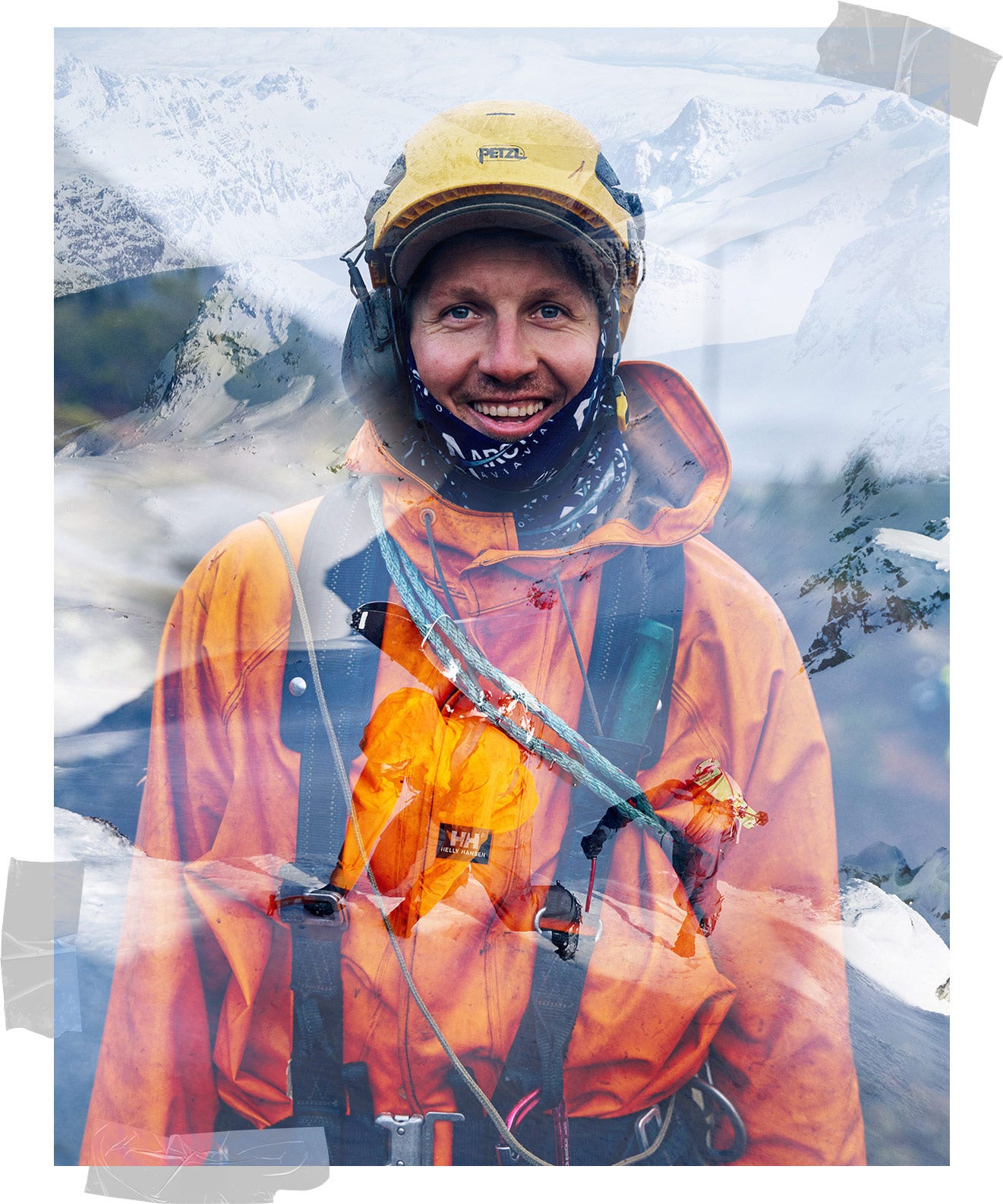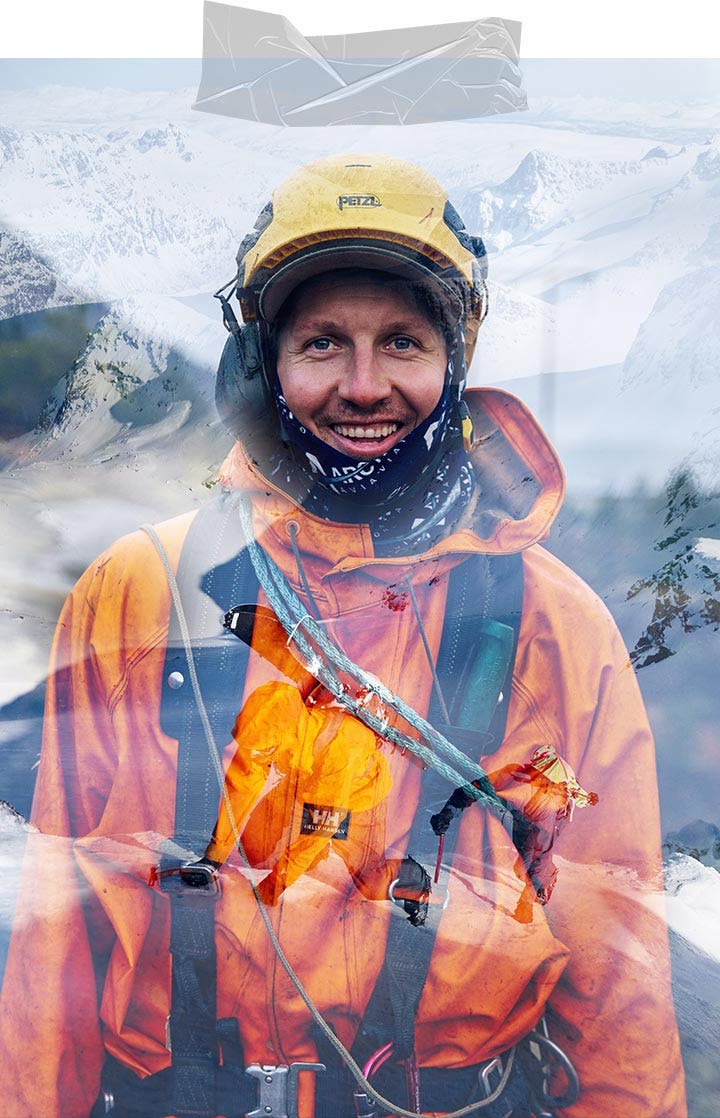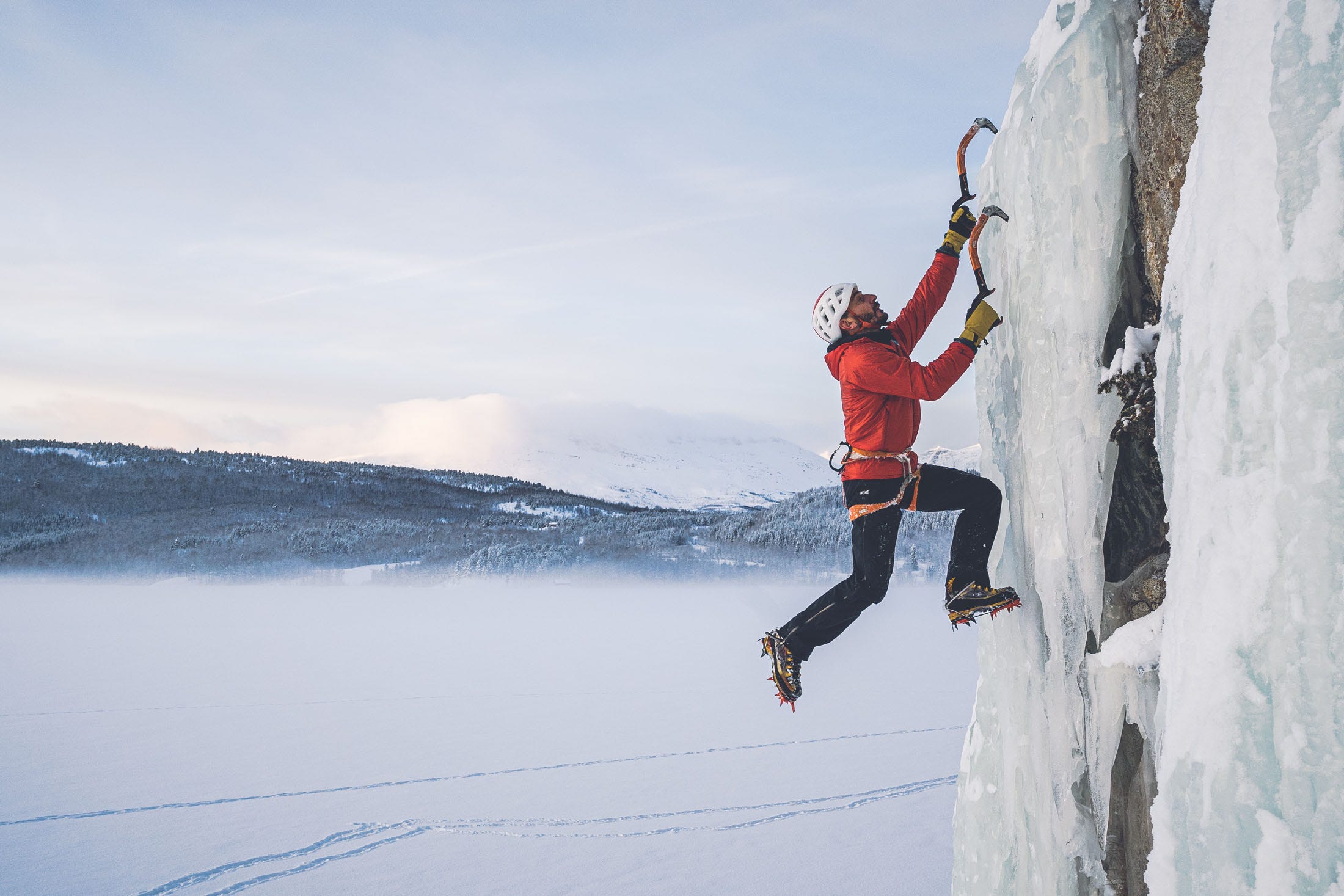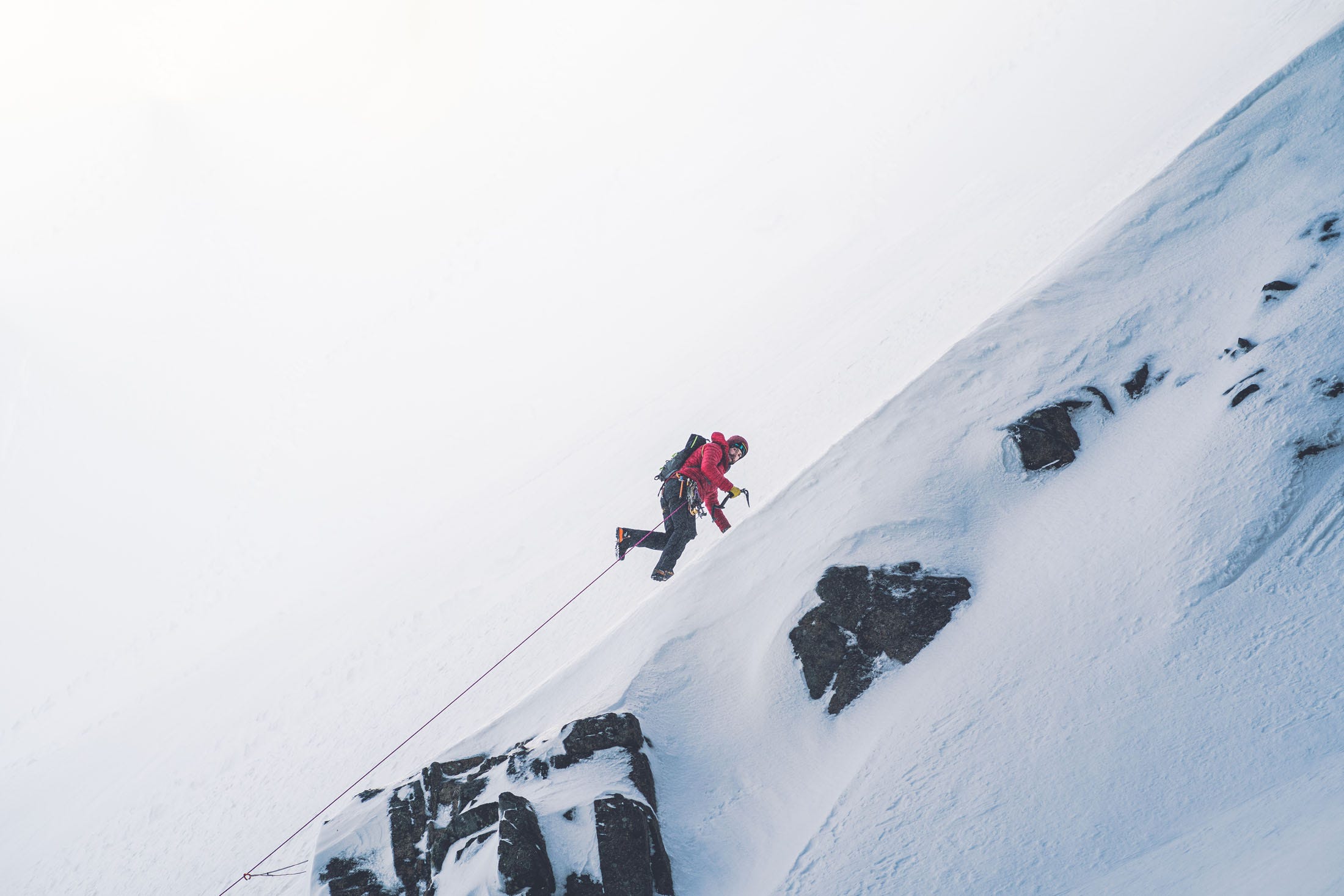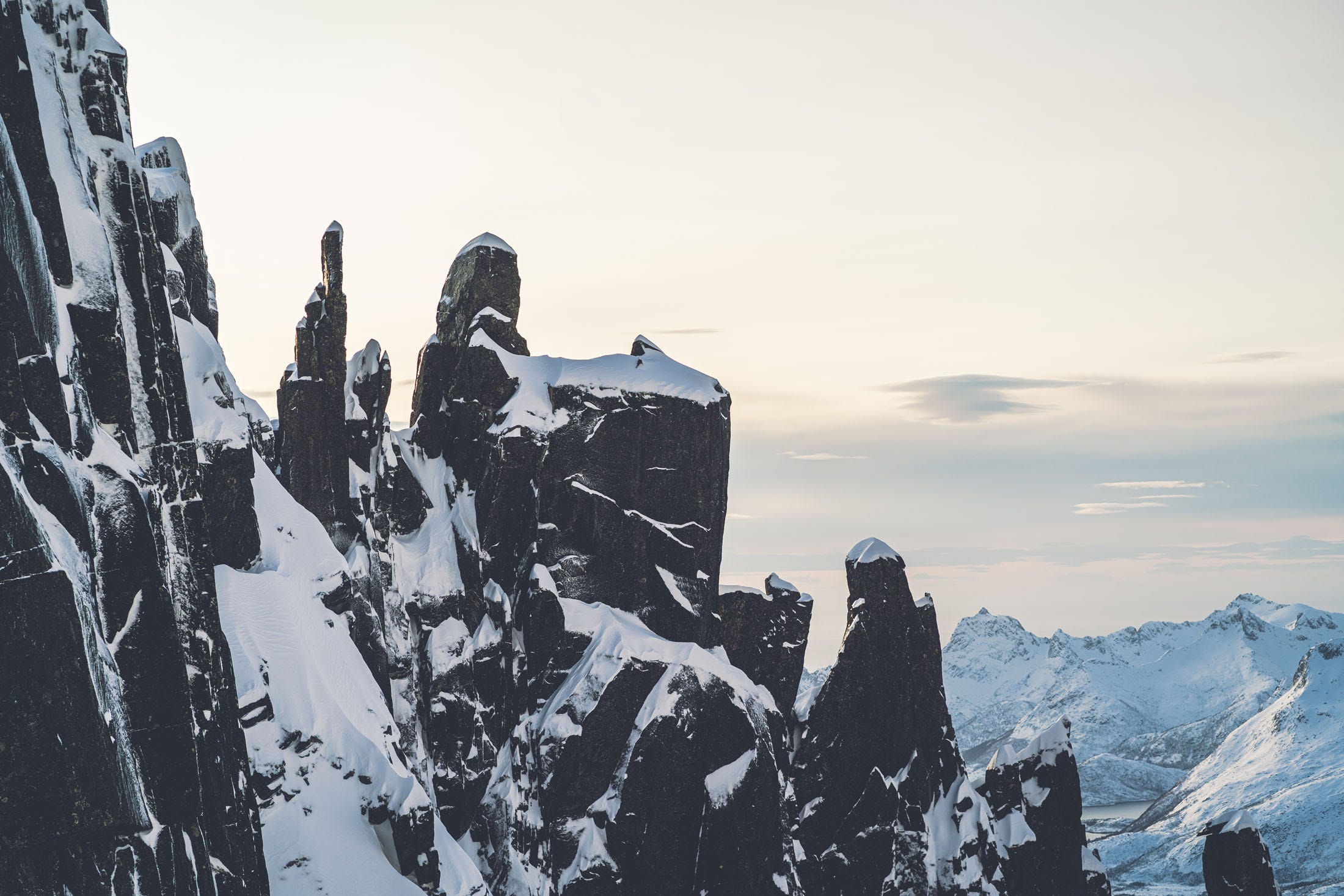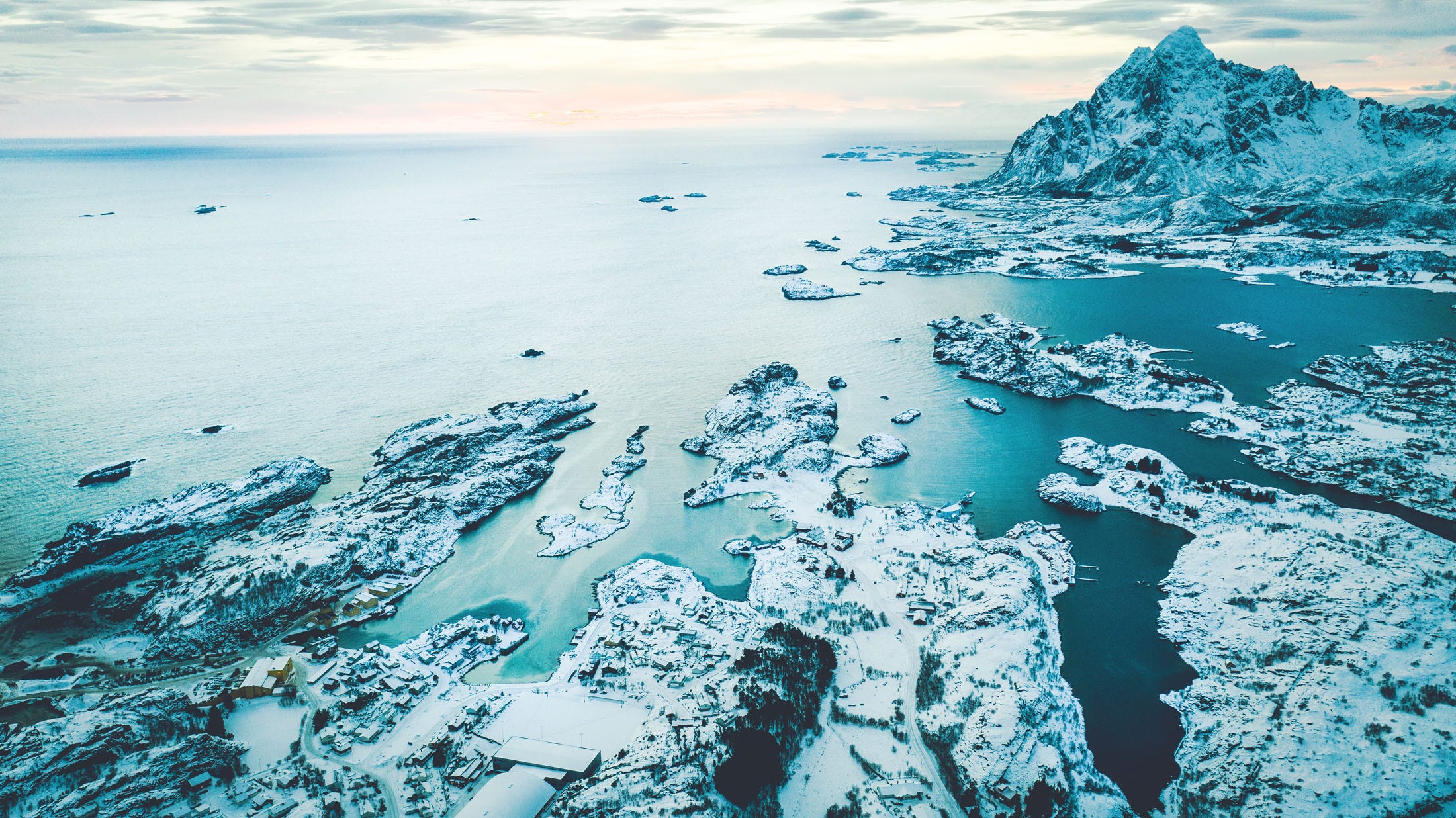 Quote style, bold, italic, 20px over 28px
Large subhead (32px text, 38px line height)
Small subhead (20px text, 28px line height)
Missed the Premier of White Giant?
Last year, Rab athlete Krister Kopala dedicated his season to riding some of the most unforgiving lines on Jiehkkevárri, the highest and arguably most remote mountain in Norway's Lyngen Alps.
With its 1100 vertical meters of rock, ice, snow and no fall zones, the massive South Face, was by far the most intimidating line of them all.
'The White Giant', documents Krister's journey on this impressive mountain and his project to ride the steepest lines of his life.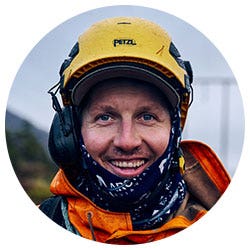 Words by | Krister Kopala
Words & images by | Athlete Name
---
Krister is a highly unique snowboard athlete from northern Norway who is dedicated to exploring big mountains, climbing steep lines and riding them back down.
Read more about Krister.