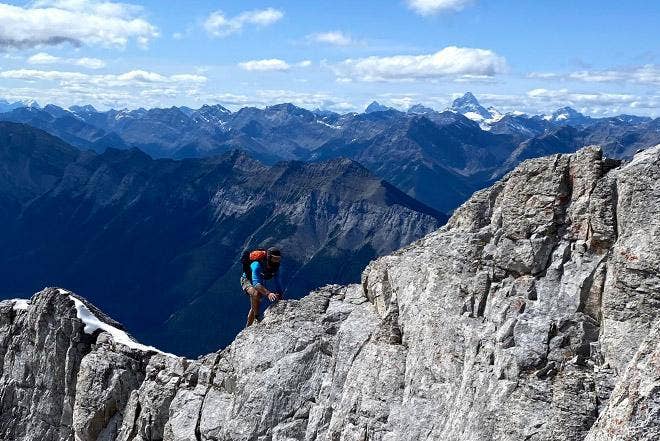 It's almost 1am, Sam and I just finished packing our bags as light as we can with all the necessary gear for our first alpine project. I set my alarm for 5am and get some instant coffee and rice cakes ready to hit the road in the morning.
The alarm goes off, and the first thing Sam says is: "Christine, did you think about grabbing your car keys?" I had. Then, again,
"Christine!"
"Yes Sam."
"Did you think about your gloves?"
Knowing that my hands are often cold in this type of weather, I smile at his attention and answer that I have a pair in the closet that I will grab, and I thank him for reminding me.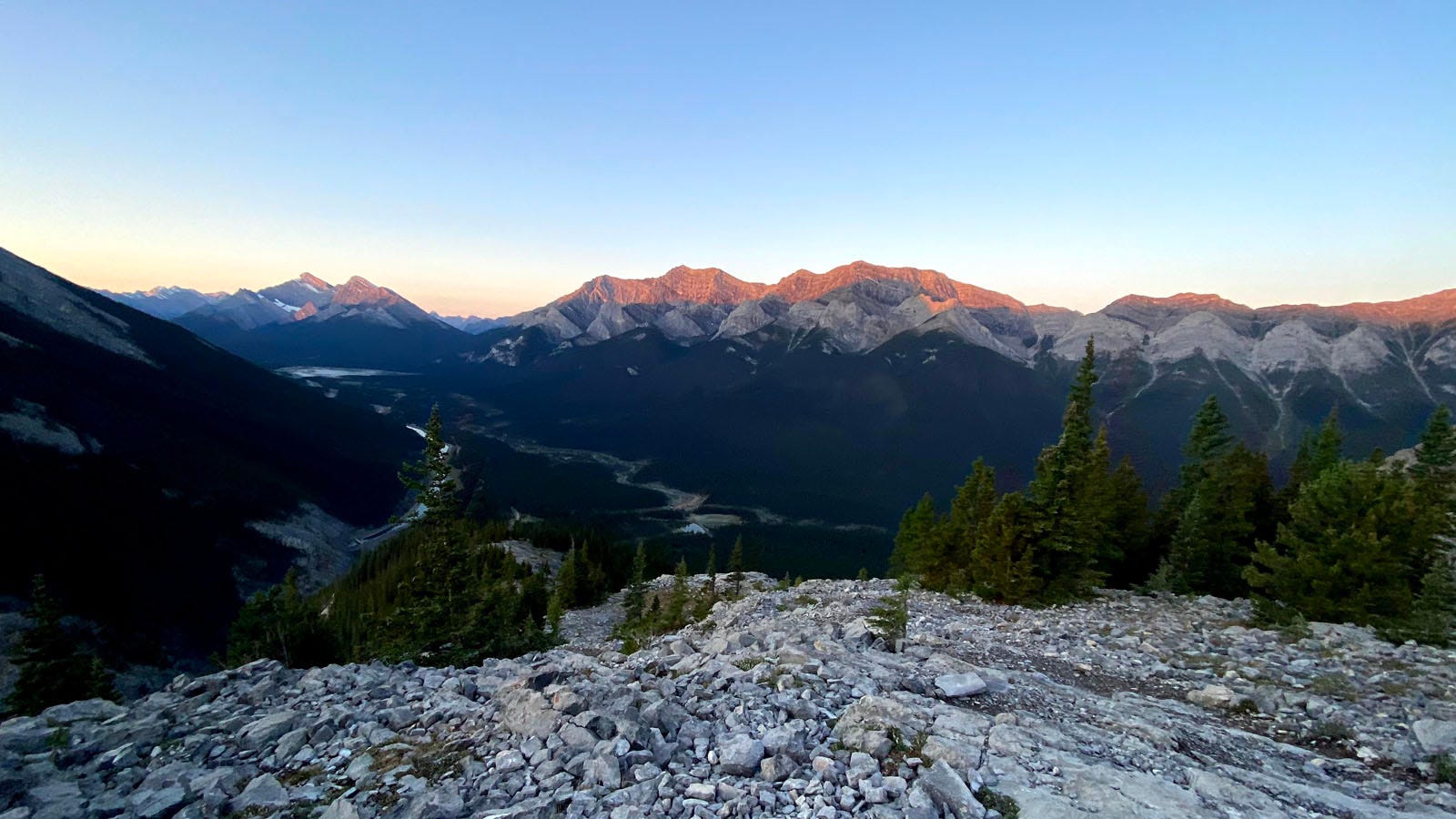 I'm a nursing student from Quebec and for the past 5 years, I've been trying to do as much as I could while trying to keep a balance between studies, work, training, backcountry snowboarding, mountain bike raids, and races. So, ultimately, I am used of getting up at 4am and finishing my days at 11pm to get the most out of a day. But since November 2020, I have been on sabbatical and have been enjoying the Rockies and the St-Elias mountains from Alberta to Yukon territory.
This is, in fact, where I met Samuel. In Haines Junction where we went for our first multisport day, last June. We went rock climbing in the afternoon and snowboarding for a sunset chase mission in the evening. I instantly knew that our passion for the mountains was comparable. This is where we started projecting some micro-adventures out in the Yukon and then in Alberta.
Samuel is a backcountry skiing guide in the Chic-Chocs and has been an outdoor passionate for now over 5 years. His main activities are backcountry snowboarding and rock climbing. He also enjoys trail running and scrambling up mountains when he is not climbing. Being in the mountains is his way of life.
The Mount Rundle Traverse is a mountaineering route that involves some class 4 scrambling, some 5.5 climbing and some rappelling. Formed of 11 peaks over 25km, with 2985m of vertical gain. On average, people complete this traverse in 2 days. Sam has been wanting to do this for a while and when he knew I was joining him in the Rockies for a few days, he asked me if I wanted to participate. I looked at this while I was still in the Yukon and was quite intimidated. But any project is enriching with Sam, because he is such a reliable, knowledgeable, and resourceful mountain partner. So, it became our first official joint project.
As planned, the wake up goes well, it's dark, crisp and cold in the camper, but we're super motivated to hit the mountain, because the sky is perfectly clear and there is absolutely no wind. I pour the coffee in a mug while Sam prepares 4 rice cakes with almond butter and blueberries to go. The drive is barely 10 minutes, so we have to finish our breakfast fast.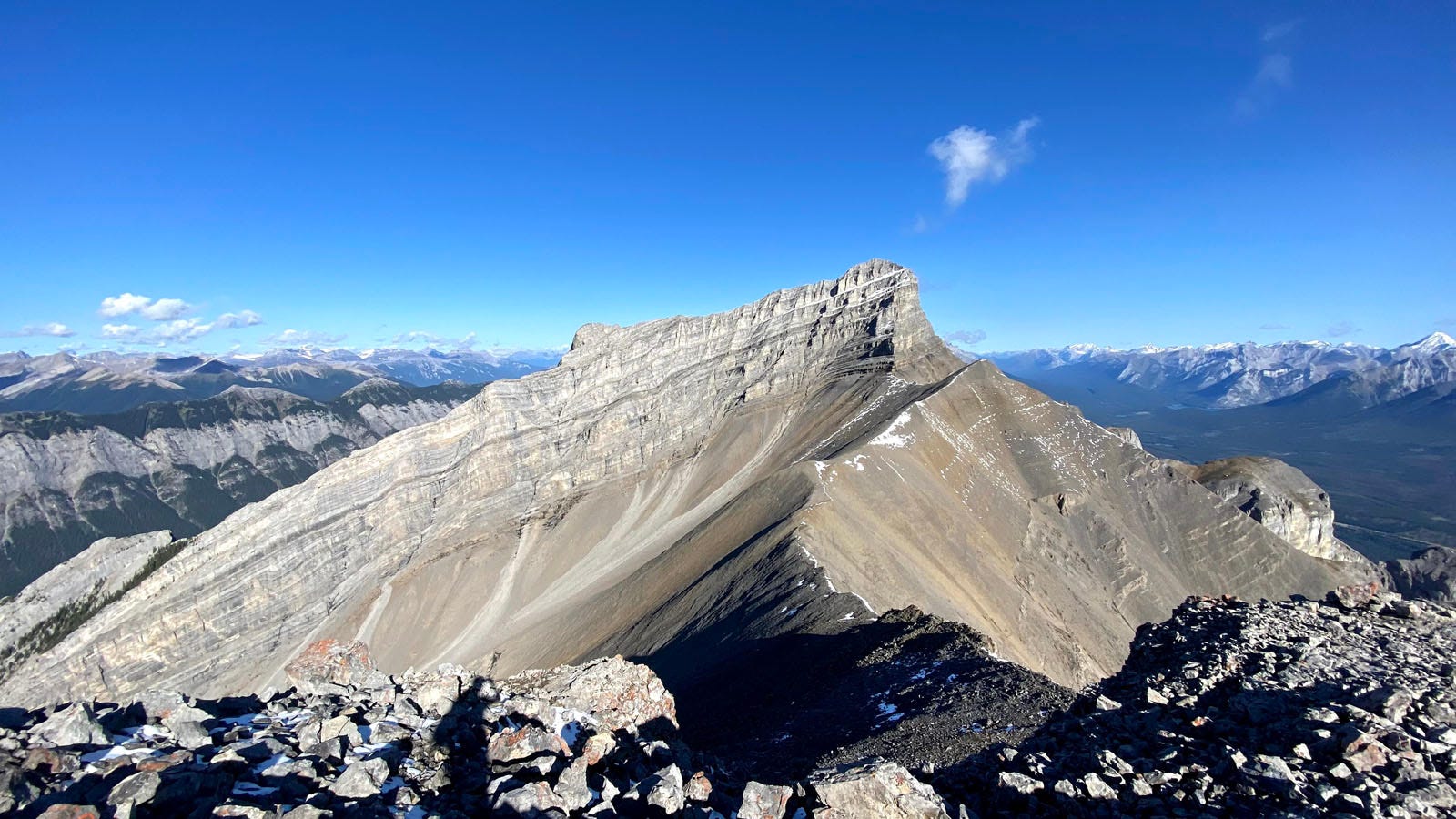 6am. The adventure begins.
As the sun rises, we hike up the East End of Rundle with a heavy step. Sam reaches the first peak, then I arrive breathing deeply and enjoy the sun rays on my face for a little less than 5 seconds, when Sam comes up to me and says: "Are we ready?". I just nudge my head meaning yes, so we start running on the first ridge that links up peaks 1 to 6. The rocks are slippery due to the frost, so every step is a little sketchy, but this makes it exciting. We now have a good look on the first crux, which is on peak 7. We finally have a seat, switch to shorts, have a little snack, and take the time to analyze our route up that first scramble. There is some fresh snow on the face.
The first crux, some class 4 scramble, went very well for both of us. We made it to the main summit of Rundle by noon. The day is going very well, better than we had expected. And energy is still high.
Then comes the first down climb, hands on, with some snow and ice as a bonus, just to turn the difficulty up a notch. My legs start feeling heavy. It is a slippery and slow down scramble, so we take our time to manage our way. Our first rappel is down the 8th peak and then 2 more on the 9th peak. In between peaks 8 and 9, I start feeling the soreness in my knees from the down climbs. They are so steep and slippery, and the lack of sleep also was starting to kick in. The pace slowed down, a lot. At about 6pm, we reach the face of the 10th peak with the last crux of the day ahead, where we have to expose ourselves to some 5.5 solo climbing. Sam had brought some gear, just in case, which reassured me. But as we approached the actual face and analyzed it, it didn't seem too bad. So, we started to solo up the it, and took different routes. We still had an eye on each other every once in a while.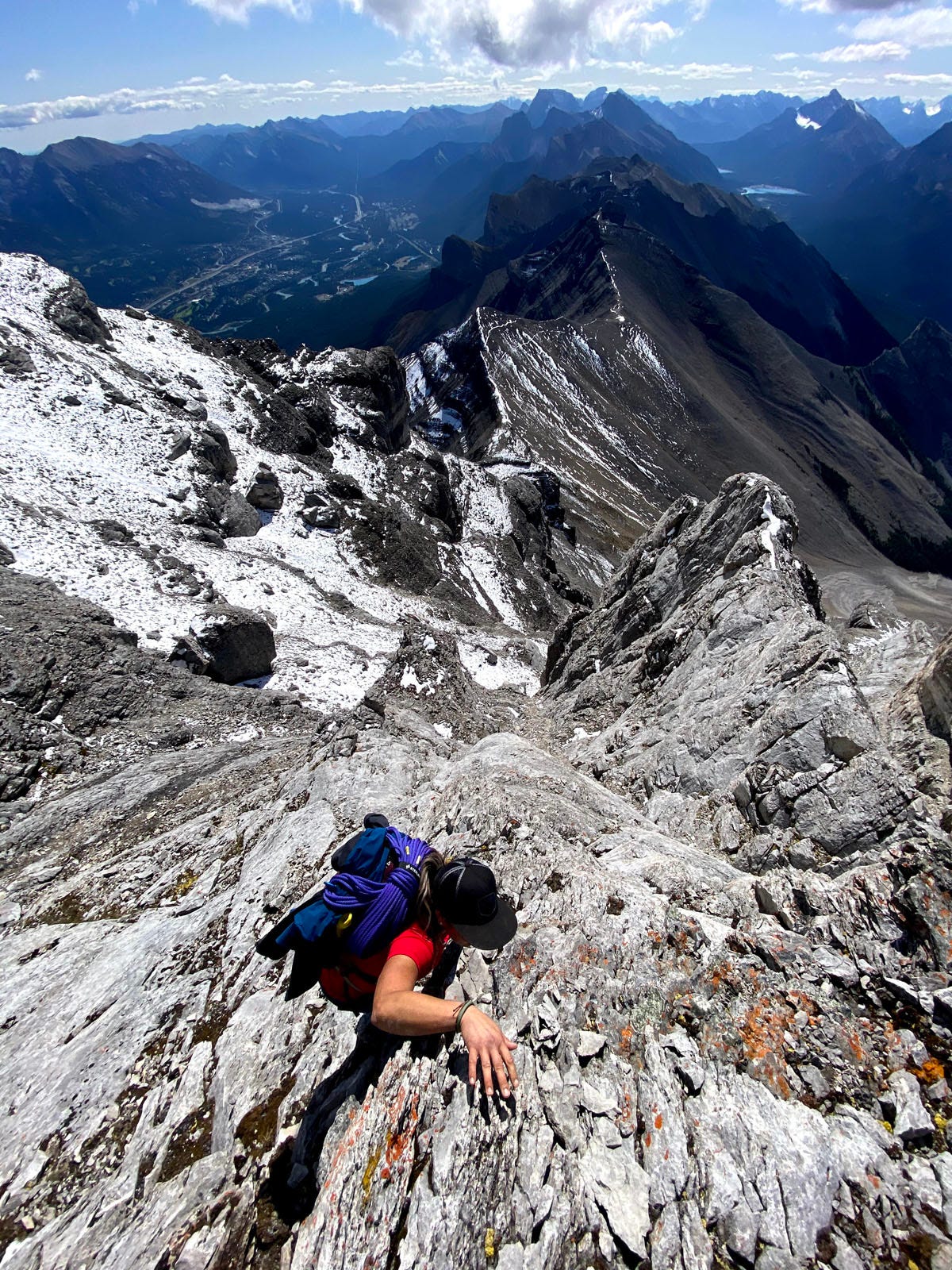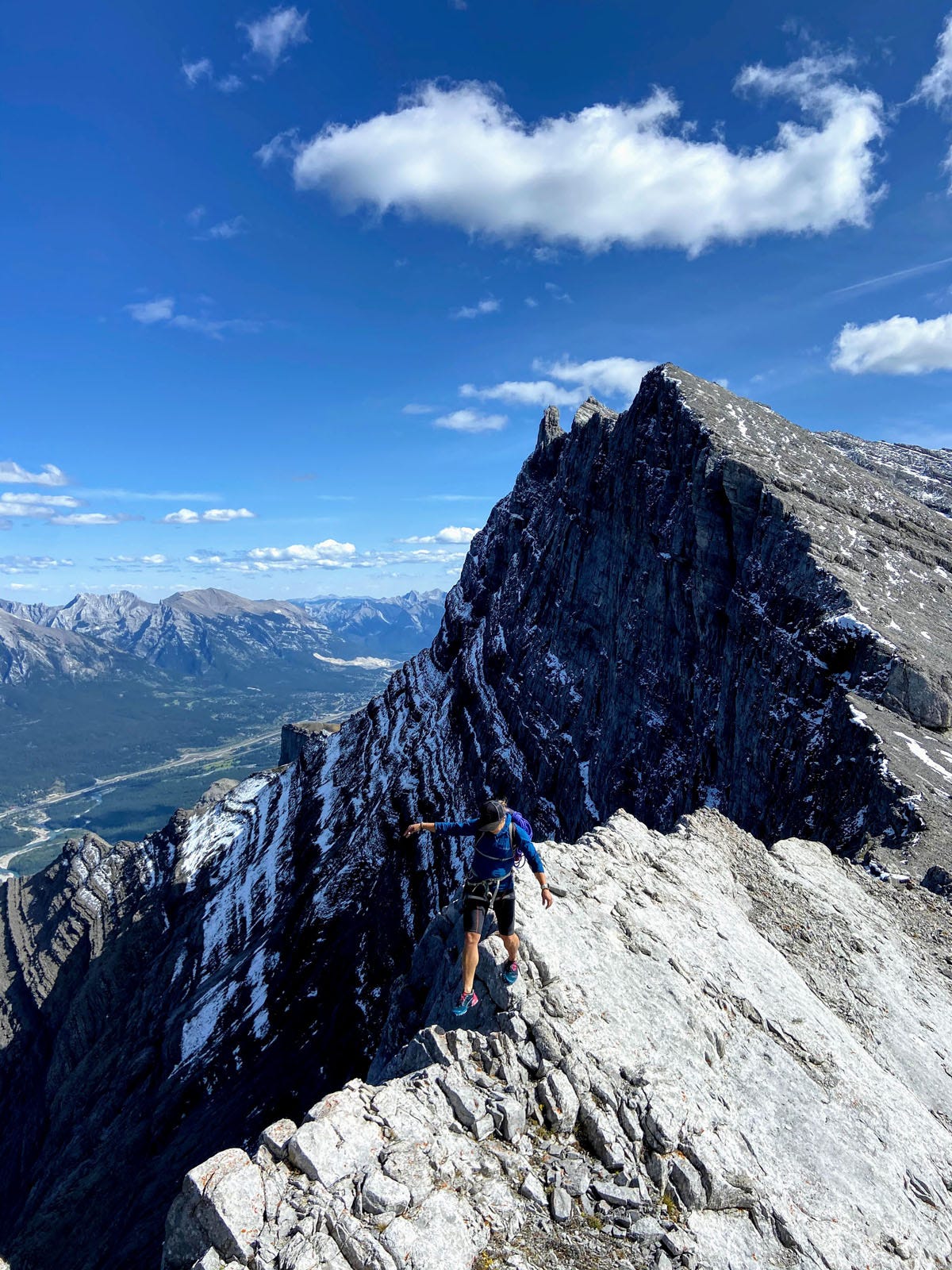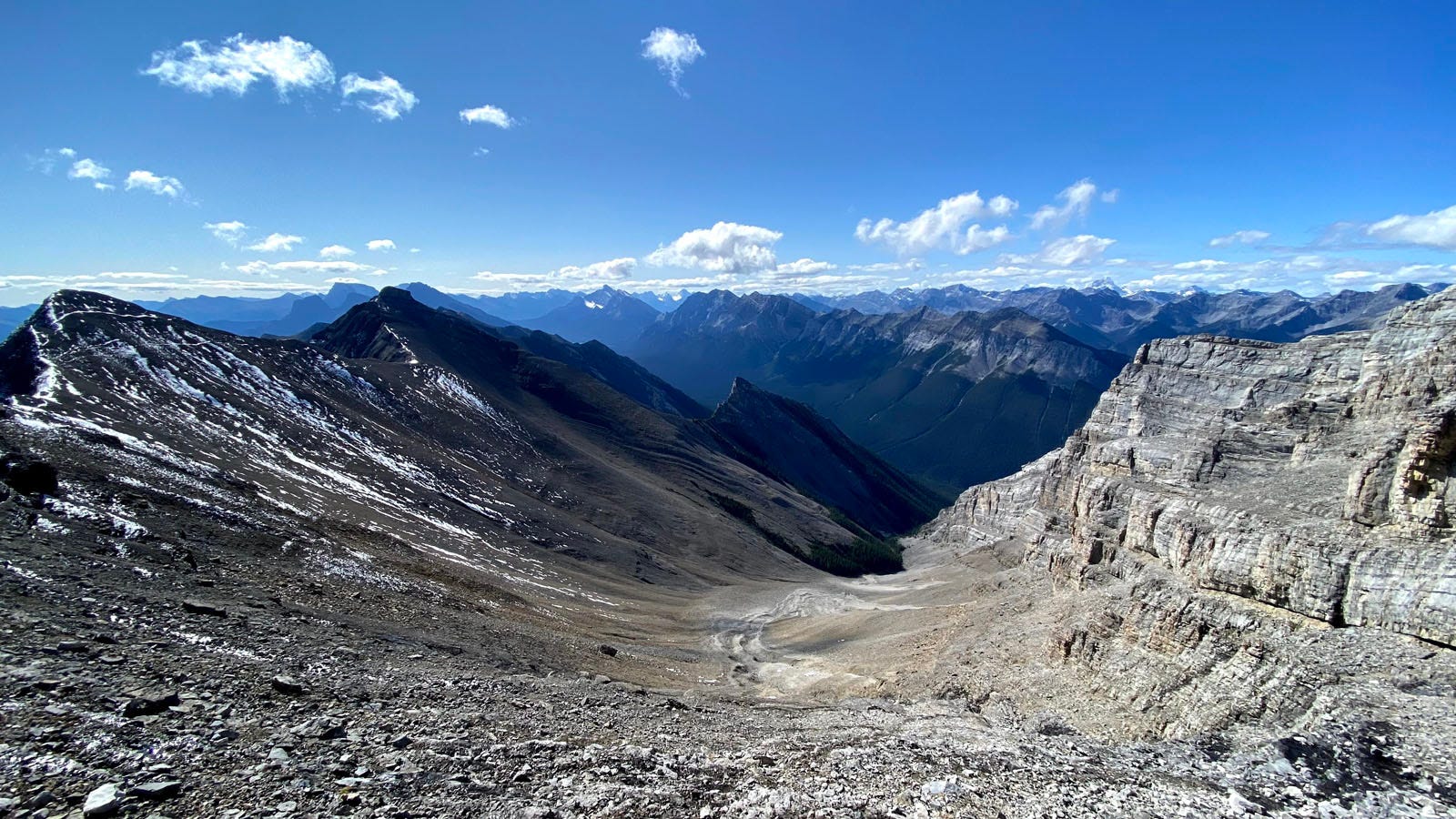 Finally, we meet up at the 10th peak, where I admit that I am super tired and that every step is a struggle. It's 7:45pm and Sam is still full of energy and convinces me that I am capable of reaching the 11th and last peak. This means that we must go back and forth to the 10th peak in order to reach the regular route down. I say yes, but that this will be a very slow last push.
"It's okay, we made it up here, we can do this", replies Sam.
As soon as I set my eyes on the last peak and realize how far it is, I get discouraged and thought that this was going to be too much, but Sam is already up ahead of about 100 meters and he was unstoppable. I push with every little bit of energy I have left, and manage to make it to the top, by 8:30pm. The sun is going down, and we have a long way down to get back to the shuttle that is left at Banff Bow Falls parking. Sam starts to worry about the time and proposes that we go down the gully that is facing us instead of going back up to peak 10.
At this point, I am just too exhausted and in pain. I trust him with route finding, and just say we must get down anyhow. We start going down that gully thinking we could reach the regular route that normally crosses this gully. Negative. We only manage about 100m in an hour. It's 9:30pm and Sam start to worry about the time so he asks me if I would be okay to go back up where we came from. He isn't too sure about this route after being faced to some cliffs. Not able to respond quickly because I have no more energy left, he decides to grab my pack and we start our way back up. We make it to the top by 10:15pm and I get a last kick of energy so I take the lead and we now descend the West End of Rundle, in a sure route. In a better state of mind, we go down with no stopping, managing to run the last 4km, and finally make it back to our car at 12:15am.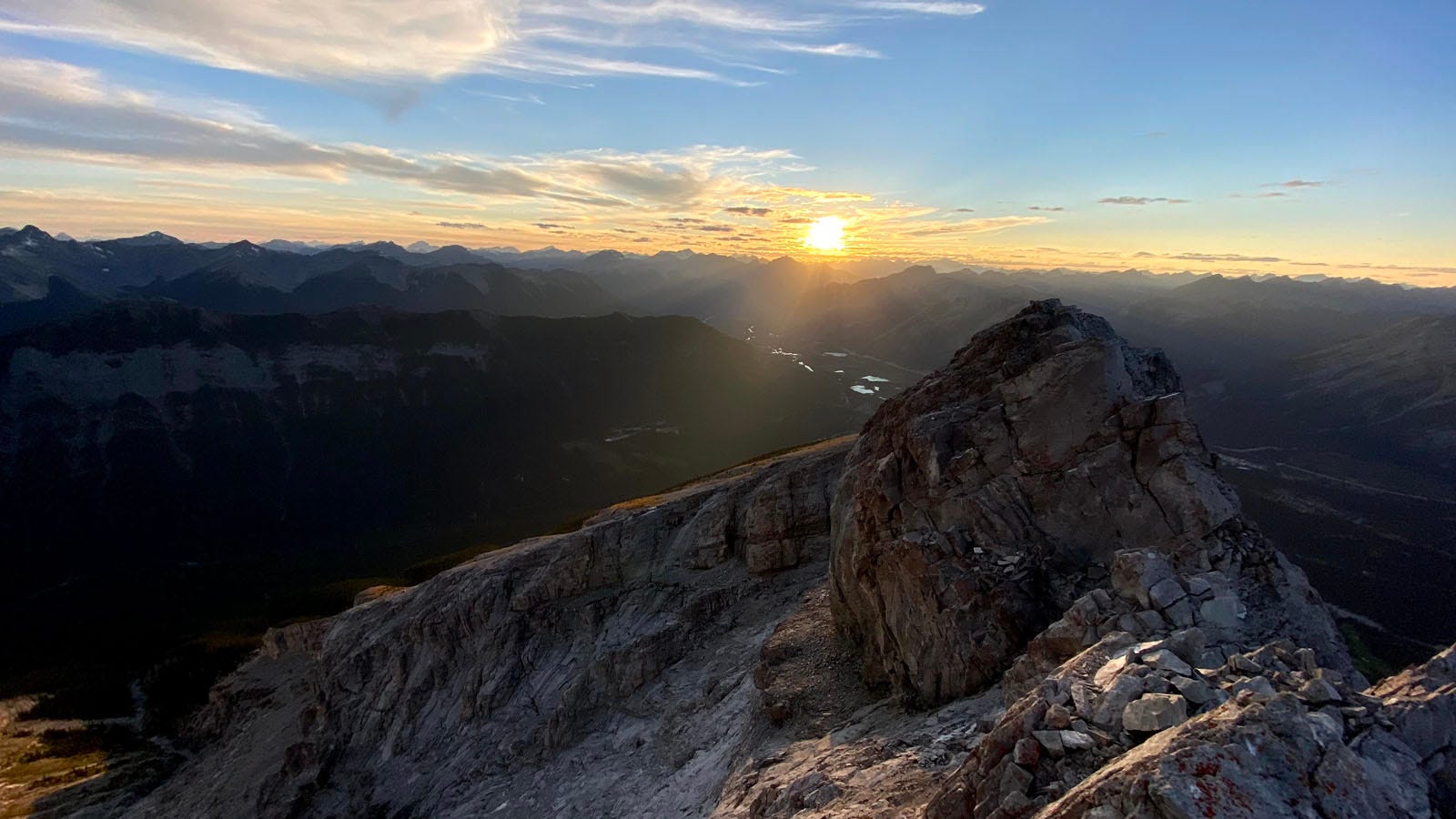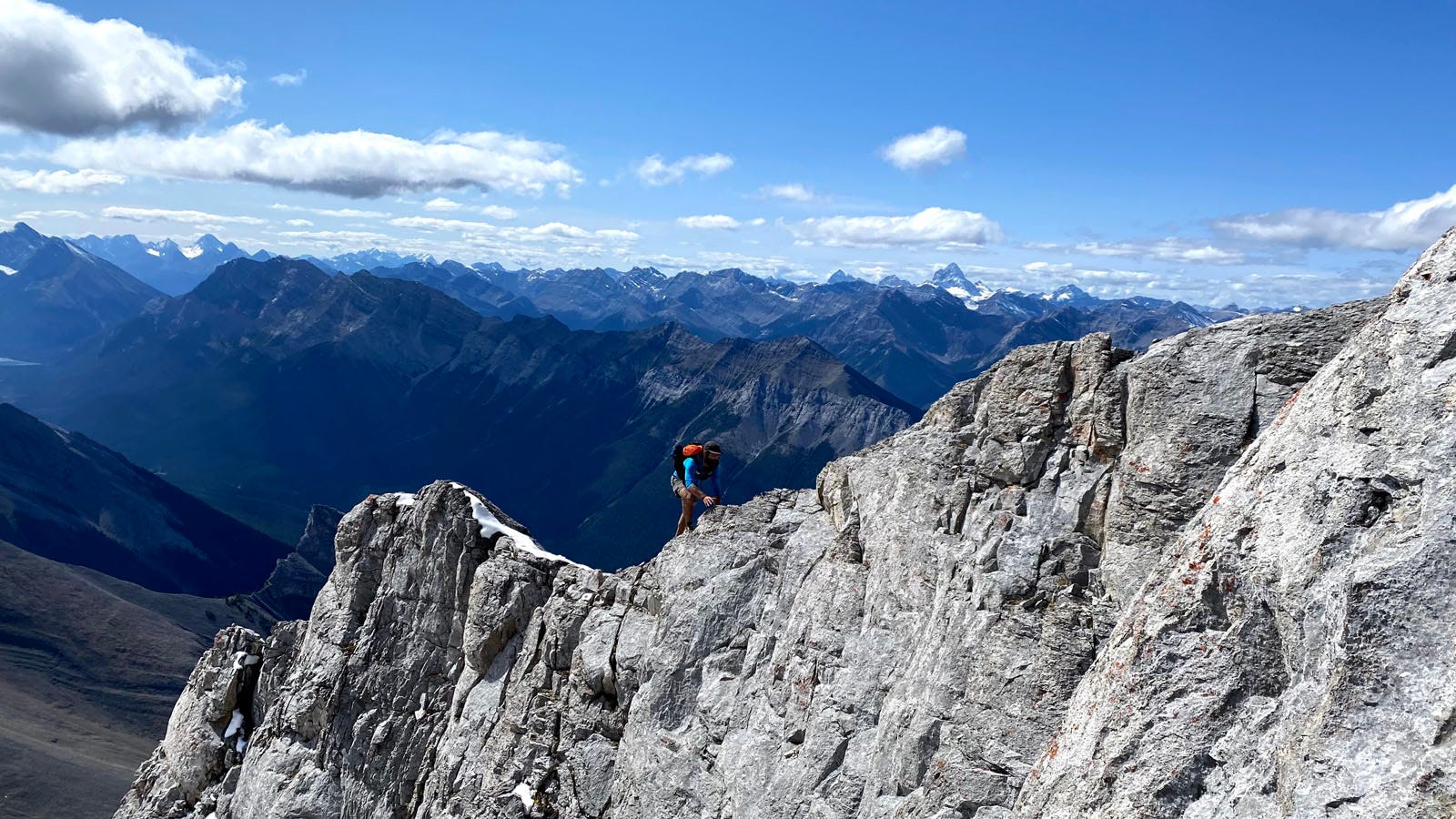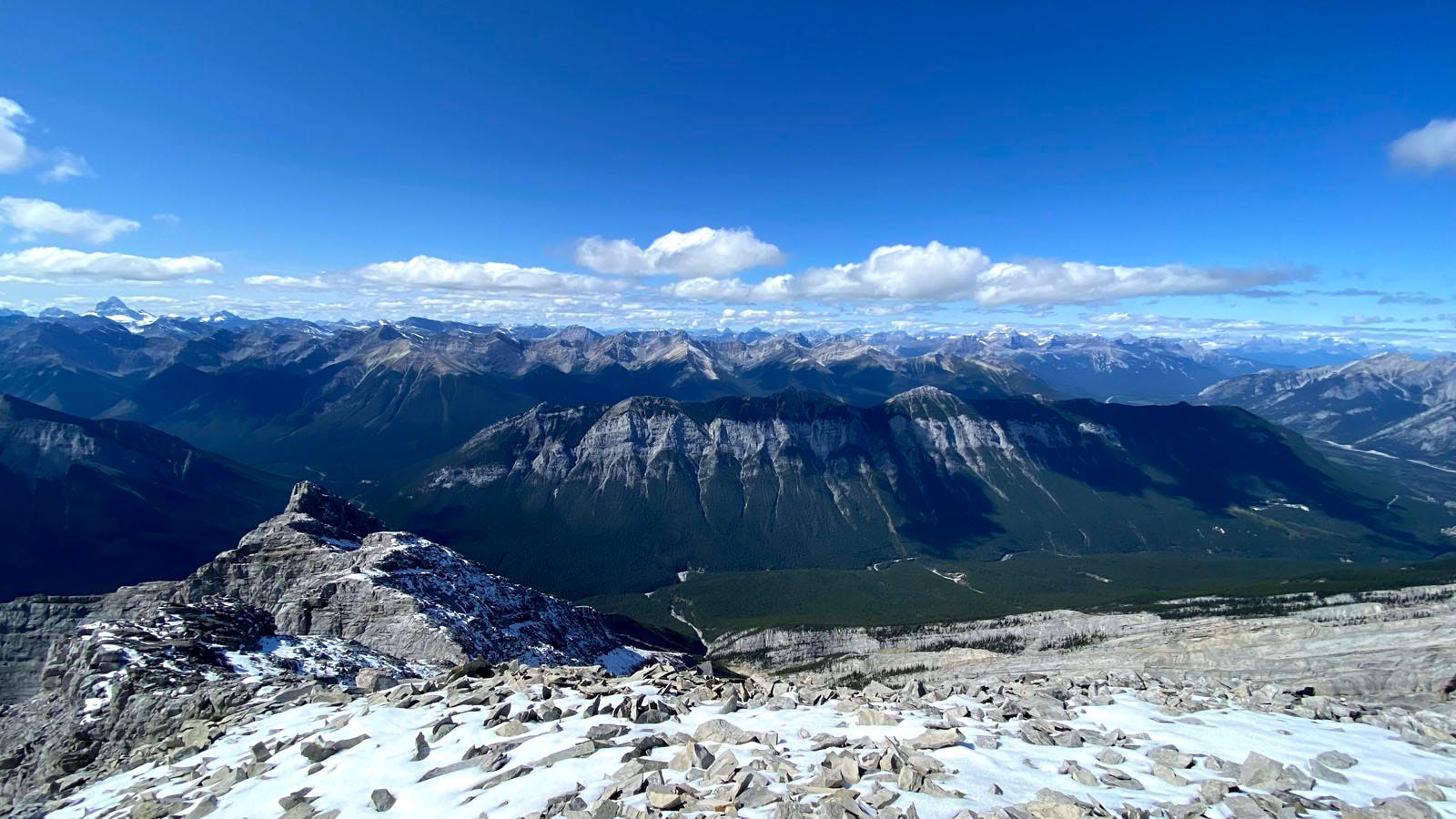 We are both exhausted, but smiling. The celebratory hug is great. I take the wheel, while Sam motivates me with the cold beers stashed up in the camper in Canmore. This was, our official couple project. There will be much more projects to come. Together, we can go far. Steady but surely.
---
Christine Bérubé-Martin, a Mikmaq first nation from Quebec, went out for her first-time backcountry snowboarding in the Chic-Chocs in 2012. She instantly knew this was going to be her "new" way of life.
Read more about Christine here