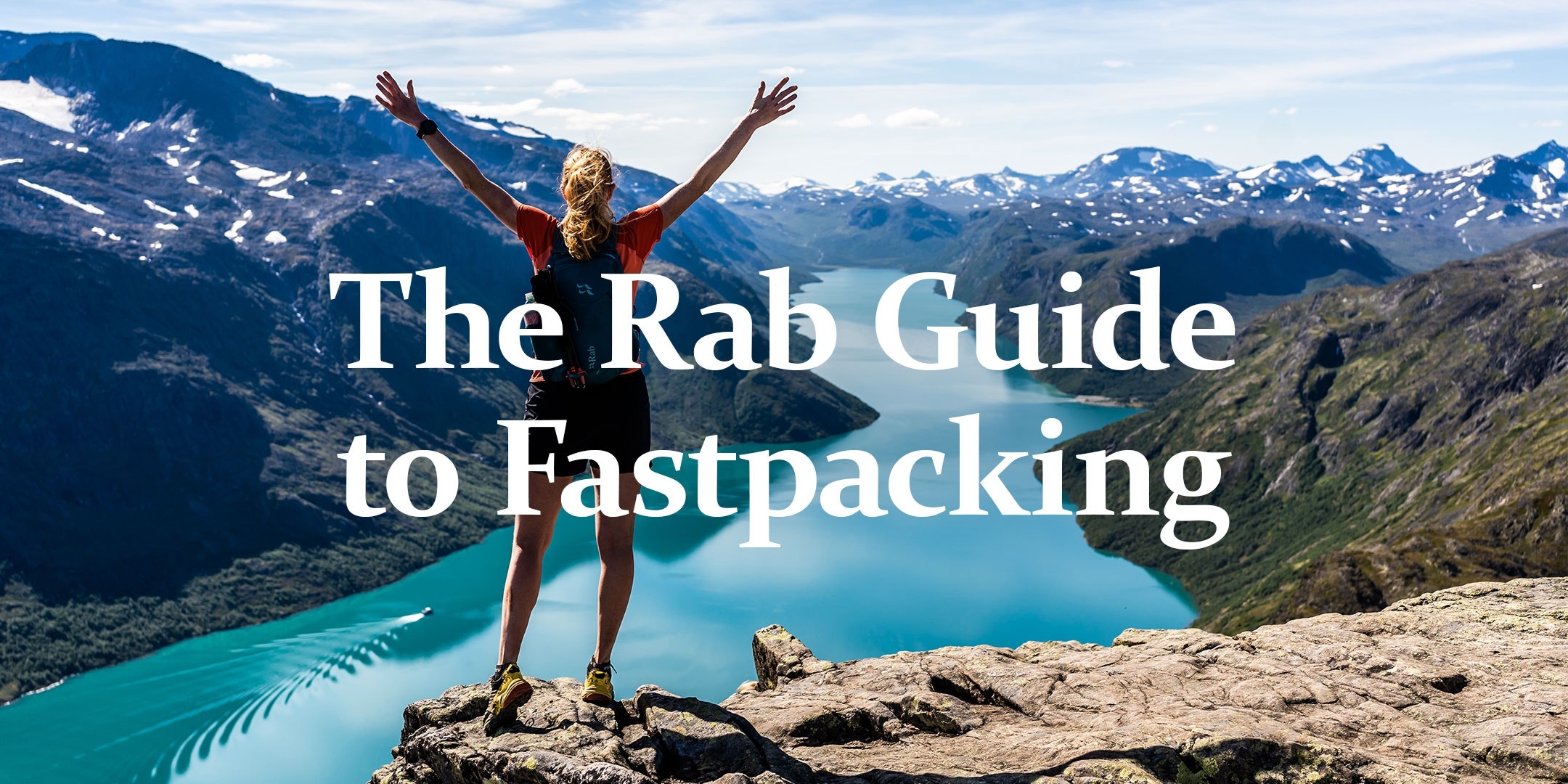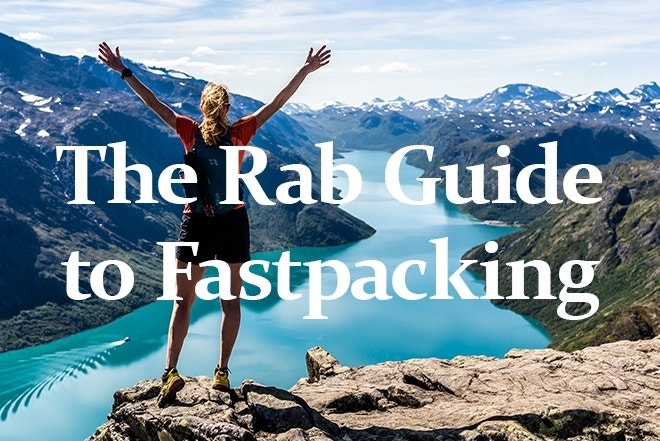 The art of moving quickly and easily on the trail over several days.
For me, fastpacking is the ideal holiday. From running hut to hut in the Norwegian mountains to travelling with a tent in my pack through forest and fields, fastpacking has given me many great experiences, and allowed me to explore wonderful places both alone and with friends.
But what exactly is fastpacking? In short, fastpacking is a mixture of running and walking over multiple days with minimal gear. By packing everything you need for several days on the move into a lightweight backpack, you open up the possibility of moving far more quickly, allowing you to experience more than if you had to return to the same base every evening.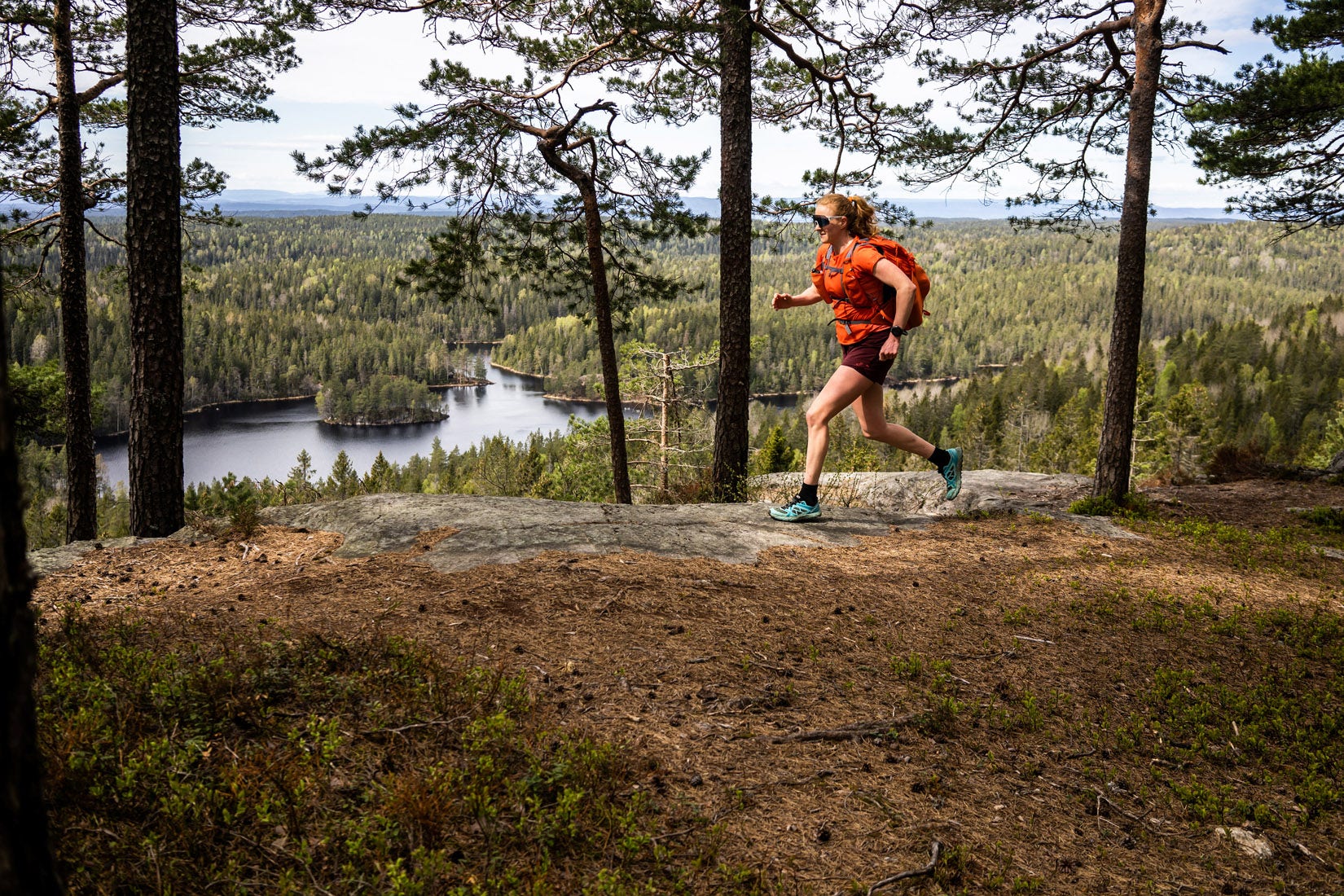 Hut-to-hut or wild camping?
Norway has a very well-developed trail network with plenty of accommodation available at the tourist association's huts. It's also possible to camp when fastpacking, but the extra equipment makes your backpack considerably heavier, especially if you're packing food for the whole journey. Fastpacking with a tent is fine if you want to run in areas where huts aren't available, or if you don't want to have to plan your route around where the huts are. Because of the extra weight it adds to bring food for multi-day runs, I don't fastpack with a tent for more than 2 days without planning in a point where I can fuel up along the way.
On my longer fastpacking trips, I pack as light as possible by staying in huts where either food is served or food storage is available. Then I don't need to carry more than today's lunch and some emergency fuel. Running in the mountains without a heavy pack gives me a real sense of freedom. At the same time, I make sure I've got everything I might need with me, including contingencies in case I'm struck by bad weather or have to patch myself up after a tumble. The focus is on the experience itself, and it doesn't matter how fast you move as long as you arrive in time for dinner at the evening's accommodation. As a result, you can adjust the stages slightly depending on how your body feels and take detours if you feel like climbing an extra mountain or two on the way.
How do you become a fastpacker?
First of all, there's some essential equipment you'll need. When fastpacking, every little gram counts. You might think that 100g here or there doesn't matter that much, but the extra 10, 20, or 50 grams all add up. Previously I've managed to get everything I need, in terms of clothes and equipment for 7 days of hut-to-hut running, down to 4kg. For two days of fastpacking with a tent, I can get by with a bag weighing as little as 6kg. The lighter your gear is, the easier it is to pack. Almost all the clothes I take with me are lightweight. And I only bring one of each thing, except for an extra pair of socks. I mostly choose wool clothing, not only because it regulates your temperature best and is clearly the safest option in the mountains where you can be surprised by a blizzard in the middle of July, but also because it stays clean and doesn't smell as bad even if you wear it several days in a row. In addition to all-weather clothing and food for the day, I bring safety equipment and a first aid kit, map and compass, mobile phone and charger, bank card, sleeping bag liner, and a few luxury items such as earplugs, Garmin watch, toothbrush (with trimmed handle) and toothpaste.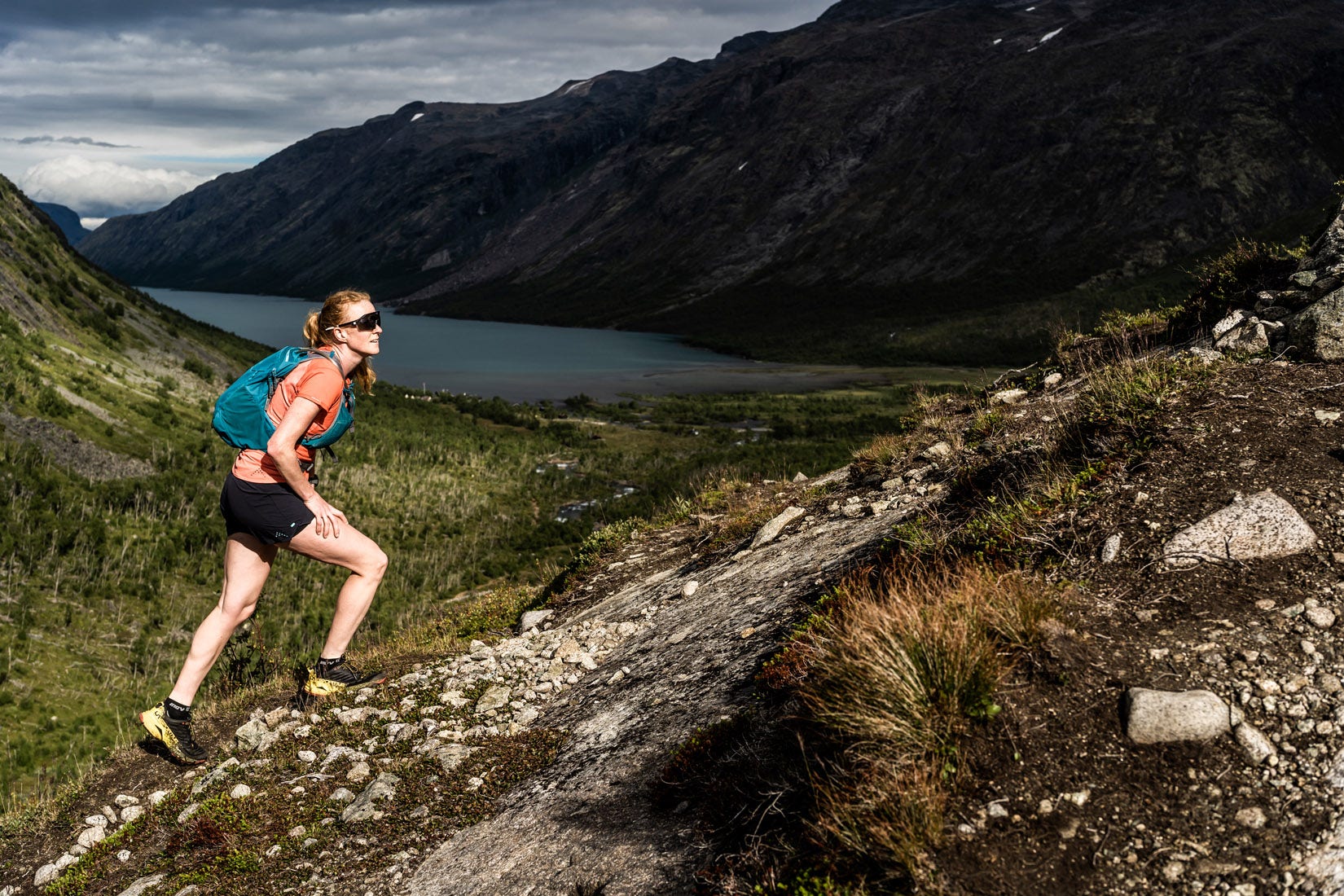 Pack like a pro
When fastpacking, it's crucial to keep your kit organised. Knowing what you have with you and where it is, and packing things efficiently, makes everything much easier. That's why I organise my equipment in clear, waterproof plastic bags with a zip lock, and my clothes and sleeping bag in a dry bag. I pack the items I'm least likely to use at the bottom of the bag, and those I know I'll need a lot somewhere I can easily reach them.
Planning and flexibility
It pays to have an idea of your route when fastpacking. In any case, it's important you know where you're going to be sleeping each day and how to get there. You can take things a little at a time, planning the next stage day by day, but it's wise to decide before you set out in the morning what the first intermediate goal will be. Especially when running alone, it's important to let someone know where you're thinking of going. If something should happen along the way, it will make it easier if people have to go out to look for you.
Be wary of mountain weather
Be prepared for all kinds of weather in the mountains. A blue summer sky with temperatures of up to 25°C can quickly become a storm. In Norway, it's not unusual to experience snow in the middle of summer, and fog can turn an otherwise easy stretch into a nightmare. So check the weather forecast before you set off and ideally check several times a day if you have coverage. I was taught that if you have two different weather reports, you should always prepare for the worst one. In Norway, the season for fastpacking in the mountains depends on the area, but is usually from around mid-June to the end of September. In the lowlands of Eastern Norway the season is longer, often from the end of March to the beginning of November.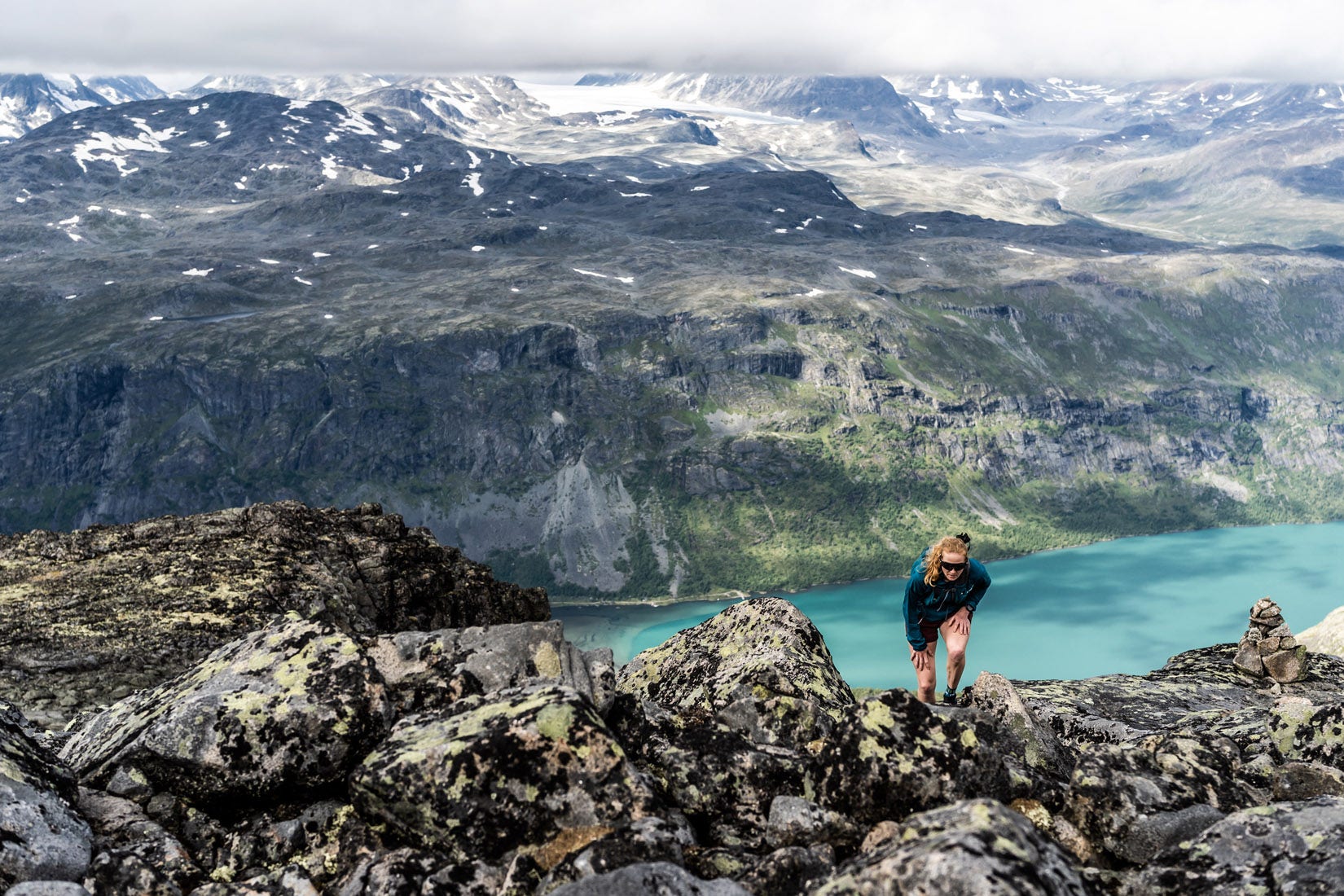 Dress for adventure
Choose shoes that give you good grip and protection for the terrain you'll be running on. Comfort is particularly important when you're running for many hours with a pack on your back. That's why it's important wear in the shoes in advance so you know they won't cause you problems such as rubbing and blisters.
Fastpacking adventures await you
Fastpacking can be done anywhere, but be aware that in many countries wild camping is not permitted and you can only camp at official campsites. You may also need to book ahead if you plan to stay in huts.
Norway is full of adventurous fastpacking destinations. My favourite area for fastpacking is Jotunheimen National Park, which is a 4-hour bus ride from Oslo. Here you can take in Norway's two highest mountains, Galdhøpiggen and Glittertind, in addition to the epic Besseggen, in 4 days. One of the unique things about Norway is that you can wild camp most places, within reason. If you want to run hut to hut, the Norwegian tourist association Den Norske turistforeningen, or DNT has a whopping 550 huts and over 20,000km of marked summer routes around Norway. The UT.no website has many exciting tour suggestions and you can often combine two or three stages when fastpacking. DNT also has tours that they call SignaTur. These are trips that DNT describes as Norway's best long-distance trips and if you embark on one of these as a fastpacker, you will be able to complete the trips in less than half the time that DNT estimates. If you want, of course. Because when it comes to fastpacking, you decide. This is your race and you choose the pace and distance.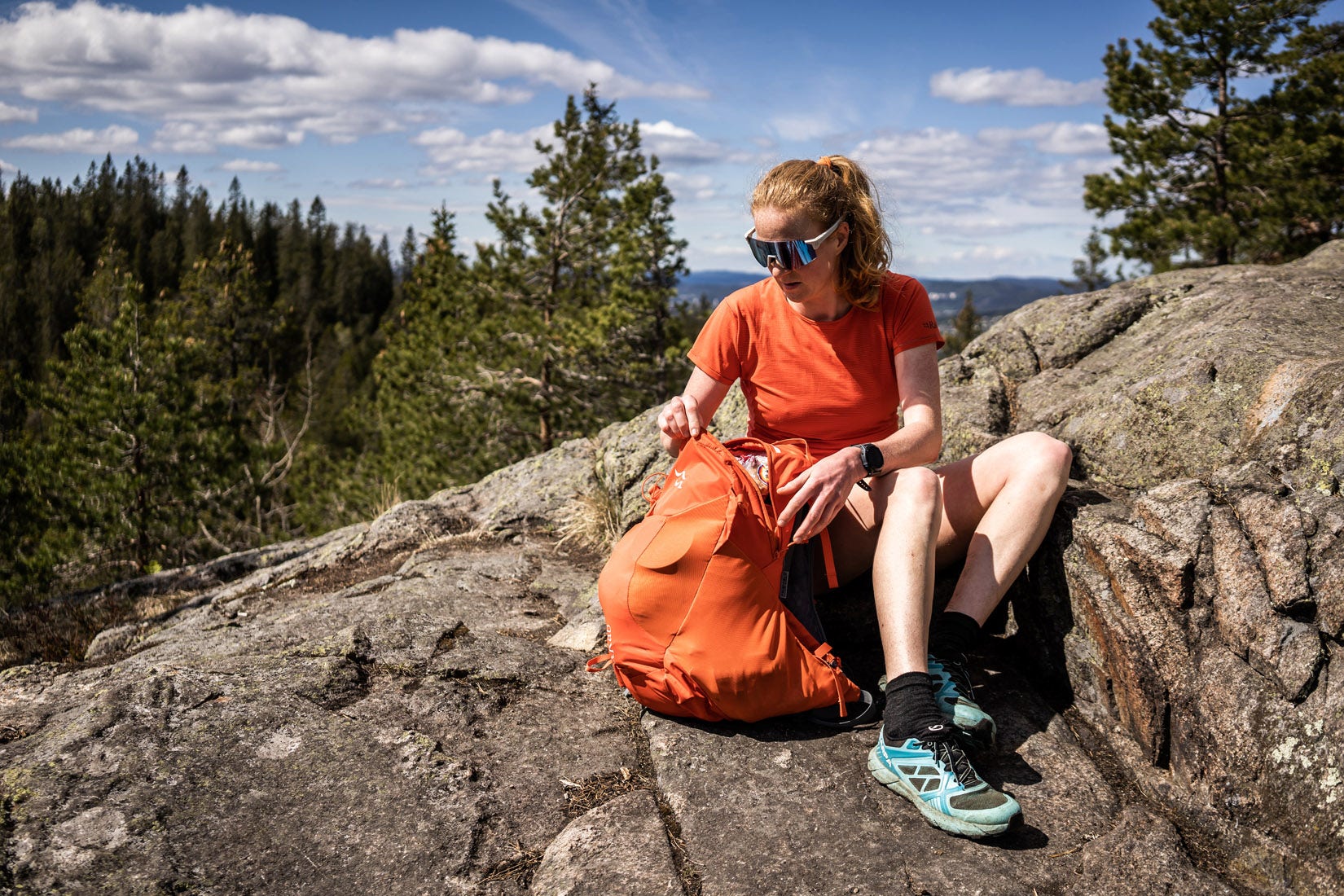 Kit list
Running vest or backpack with a 12-28L volume, depending on whether you'll be packing a tent or running hut to hut
500ml soft flask (one if you're running in an area with plenty of water available, three if you're unsure whether there'll be frequent sources of drinking water on the route)
Lightweight windproof and waterproof running jacket
Long-sleeved and short-sleeved merino t-shirts. If you're expecting cold weather, you can replace the short-sleeved ones with extra long-sleeved ones
Wool sports bra (for women)
Shorts or tights, depending on the season and weather forecast
Lightweight wind- and waterproof mittens
Two neck tubes
Wind/waterproof trousers
Lightweight down jacket (for example Rab Kaon)
2 pairs merino socks
Merino leggings
T-shirt (for camping, super lightweight)
Wool underpants
Silk sleeping bag liner
Toothbrush (feel free to cut off part of the handle, you only need 4-5cm to hold) and a small tube of toothpaste
Earplugs for sleeping
Lightweight headlamp and an extra set of lithium batteries
First aid kit: dressings, hand sanitiser, antiseptic wipes, support bandage, scalpel blade, plasters, blister plasters, K-tape, paracetamol, GEM (electrolyte mixture)
Safety equipment: Blizzard bag (survival bag), a set of heat pads (lifesaving if you are hit by cold weather or get injured and can't keep pace), waterproof matches or lighter
Mobile phone (with the apps Hjelp123, Norgeskart, DNT medlem and DNT hyttebetaling installed)
GPS tracker
Charger for your Garmin watch and phone
Bank card
Small tube of sun cream
Map and compass
Headphones so you can listen to music and audiobooks (the old-fashioned wired type. Headphones that need to be charged are not as practical on trips like this)
Chocolate, nuts, and energy bars
Optional: a small container of soap for washing clothes
Optional: poles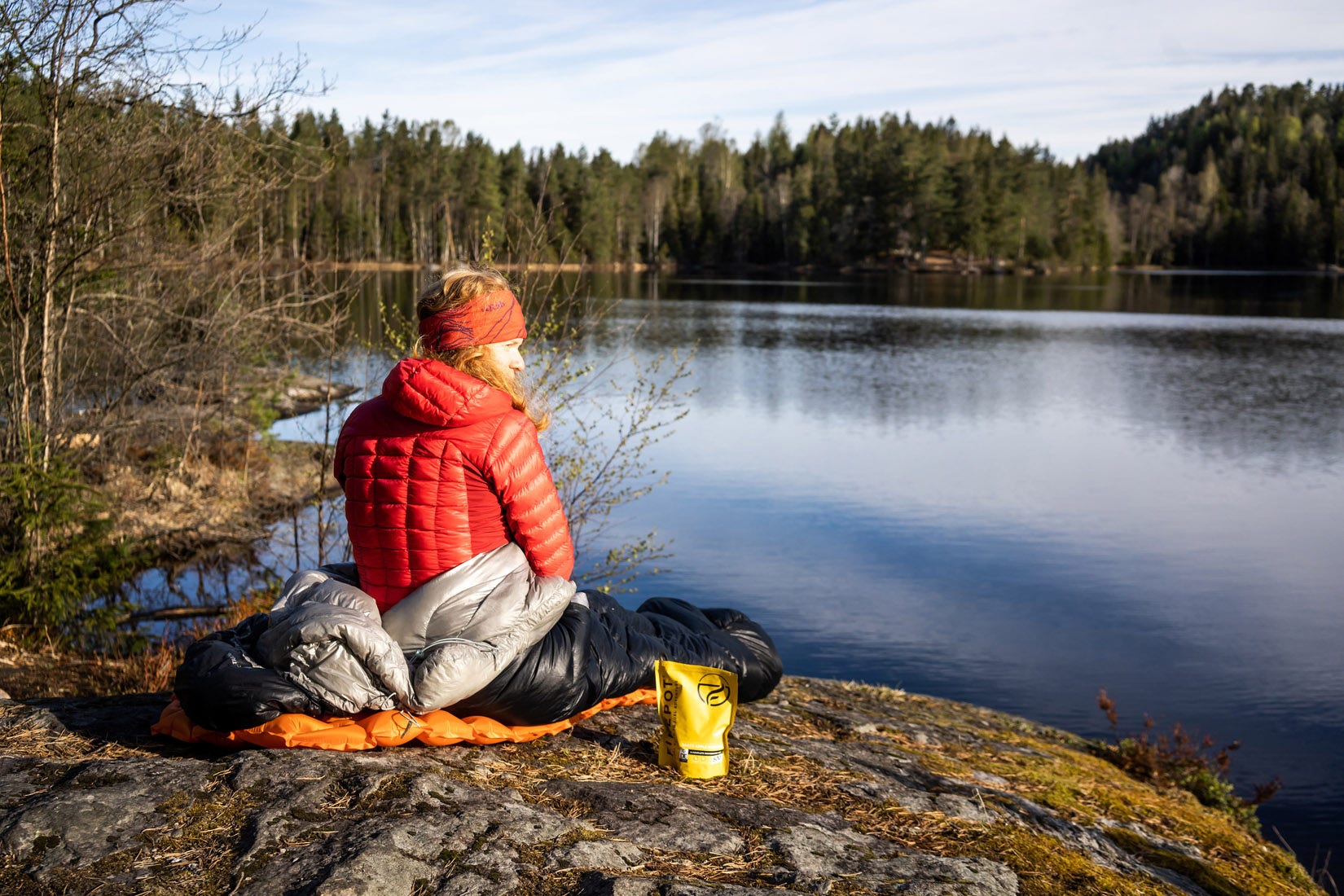 If you'll be camping, you'll also need:
Lightweight tent or bivi
Lightweight sleep mat
Lightweight sleeping bag (for example the Mythic Ultra 360 or Mythic Ultra 180 down sleeping bag)
Camping stove (for example MSR Pocket Rocket)
Gas
Freeze-dried meal (for example Firepot)
Lightweight hiking spoon
Lightweight pocket knife, or alternatively you can use a scalpel blade to save weight
Some toilet paper and small plastic bags
Recommended route in Jotunheimen
Start at Gjendesheim (there is a bus from Oslo).

The first stage goes from Gjendesheim to Glitterheim (22km and approx. 1000m).

The second leg goes from Glitterheim to Spiterstulen via Glittertind.

From Spiterstulen, the route goes straight up Galdhøpiggen and back down to Spiterstulen, where you stop for the night (30km and 2500m).

The third stage goes from Spiterstulen to Gjendebu through Urdadalen (24km, demanding with a lot of rock). You can take this opportunity to head up to Gjendetungen before dinner at Gjendebu.

The fourth stage goes from Gjendebu up Bukkelægret to Memurubu and over Besseggen to Gjendebu (26km and 1850m).
Tip: If you'd prefer a shorter route, take the boat from Gjendebu to Memurubu and run over Besseggen from there.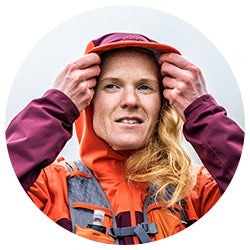 Escape is what turned Abelone Lyng to running and adventures. A young single mum of 2 living in Oslo, Norway, the world felt like a trap. Running turned out to be a release, both physically and mentally, and while 5km may not seem like a long way to the experienced, to Abelone, at first, it may as well have been a marathon.