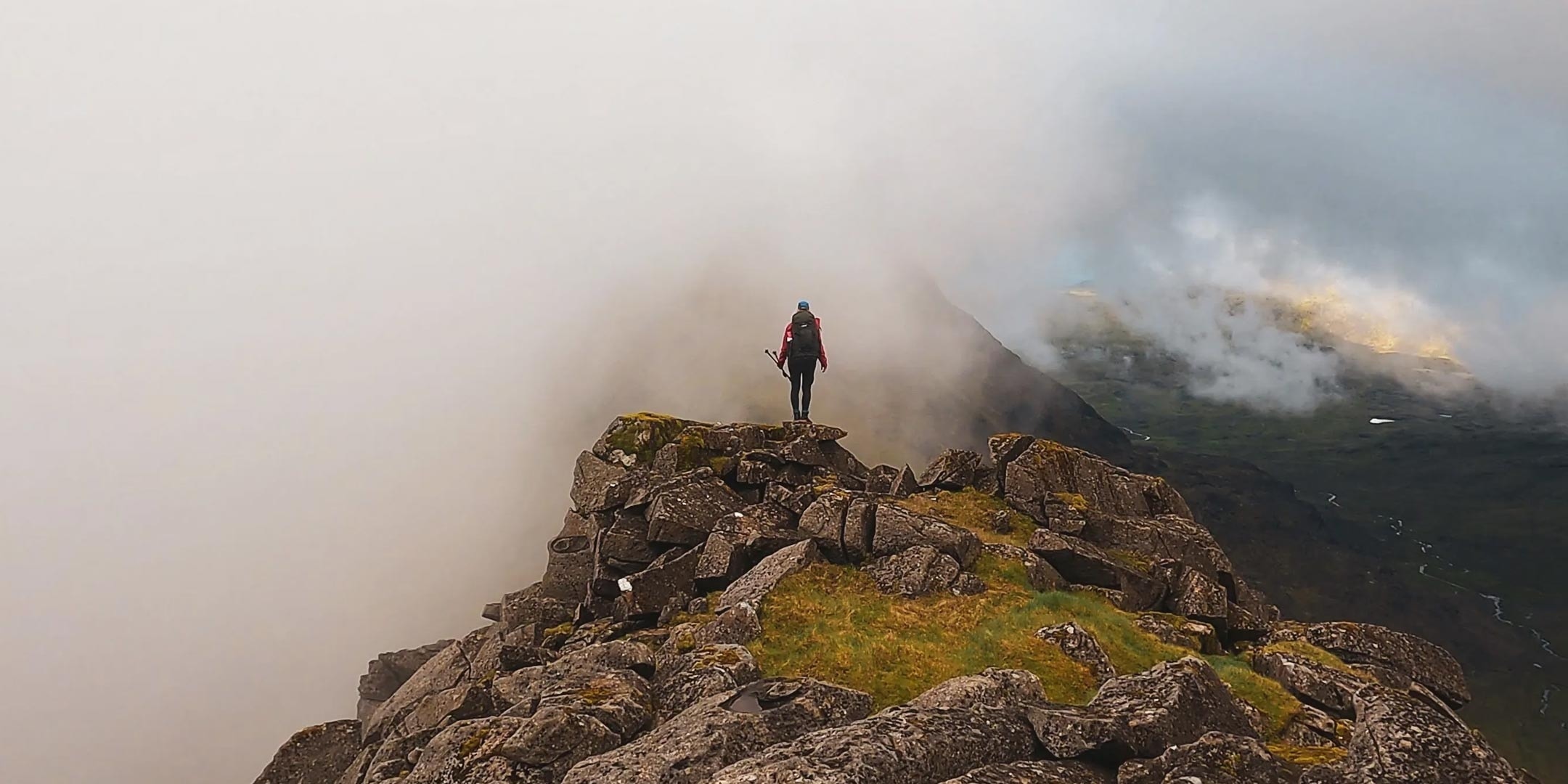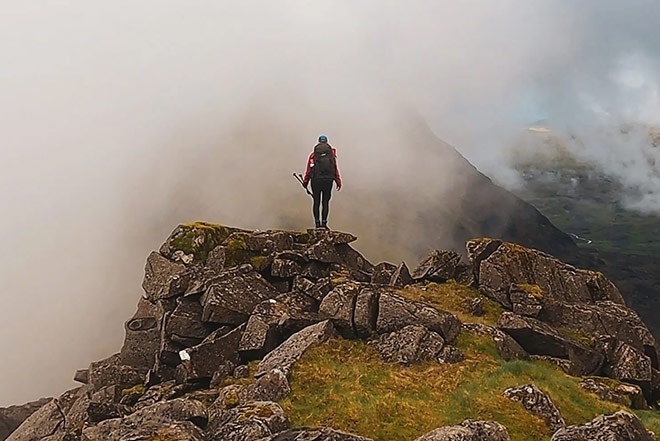 Scotland is renowned for its dramatic mountain landscapes and without a doubt Skye stands out, its serrated skyline easily recognisable when viewed from distant hills. A day on the Cuillin is a demanding one, there are 11 Munros on the main ridge and it's not unusual for these to put a little lump in the throats of those planning their ascents. It's often the only time that a Munro Bagger will wear a harness or employ the use of a mountain professional to help them.
The thing about Skye is that you always leave wanting a little more, it gets its claws in you. No sooner are you back safely in your car and you're thinking about the next trip, starting to relive the feelings of exposure and satisfaction of moving freely, using hands and feet on the rough rock often with airy drops to either side of you. Before you know it you're hatching a plan to complete the 12km long ridge in a single outing. Most summer exploration of the Cuillin takes place between May and September. April can have some stunning conditions too but you're more likely to still need axe and crampons where there may well be unavoidable snow patches. It's also possible to have perfectly good conditions in October although the chances of rain having a significant impact on plans is fairly high and the shortening of daylight can add a pressure that you don't have mid-summer.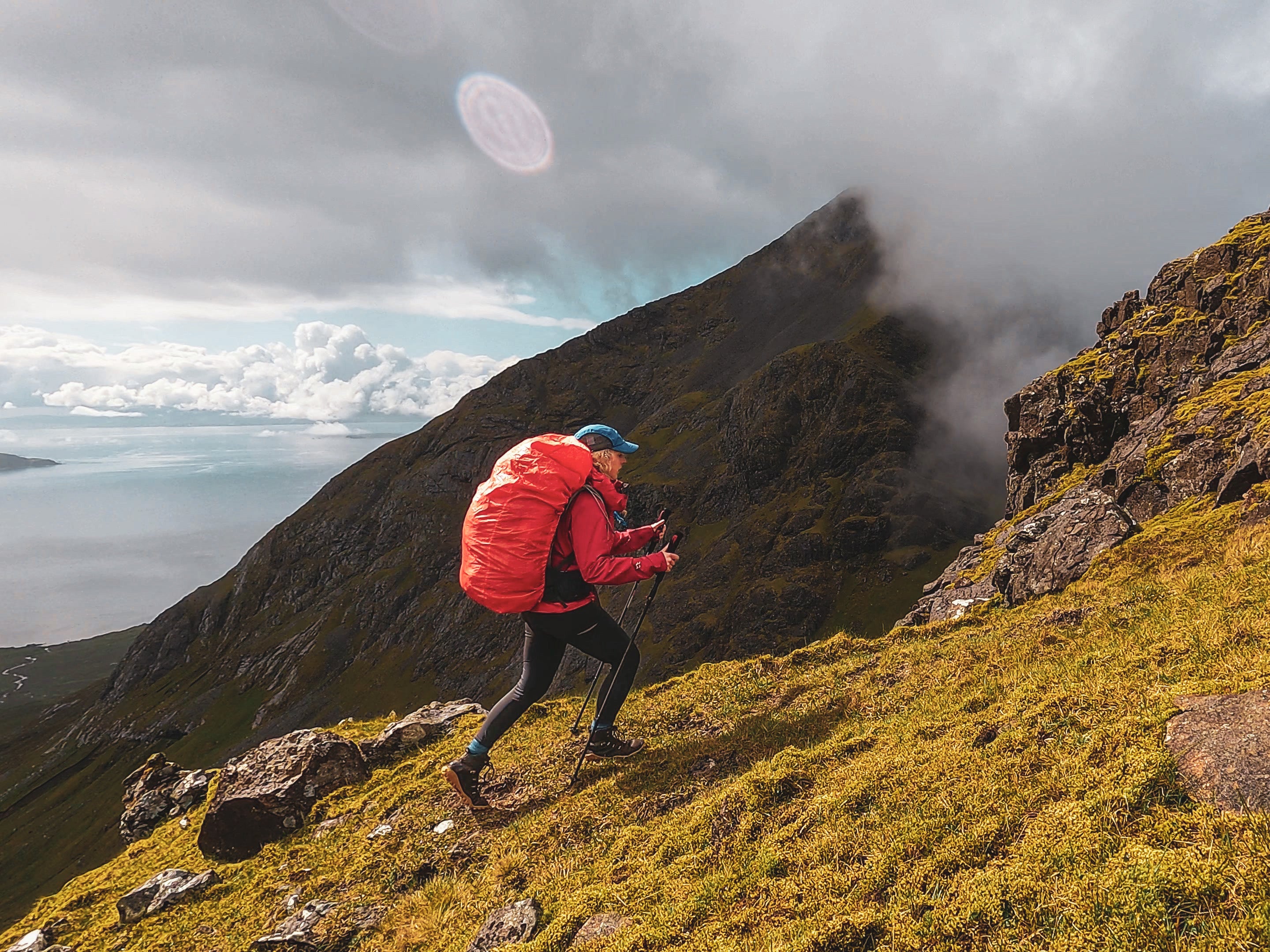 It's possible to complete the ridge in either direction, both options have their advantages, I think that the most popular way is over two days, from South to North, starting from Glen Brittle and (hopefully!) finishing at the Sligachan in time for last orders. The obvious advantage of a single day push is that the amount of kit to carry is significantly less – no bivi kit. With over 3000m of ascent it's nice to be able to have a slightly more relaxed pace and to plan a night under the stars. By dropping a stash of food, water, stove, sleeping bag and roll mat the day before at the place where you're planning to stop for the night then you'll save yourself a bit of weight on the first half. If you get there early enough, you could always collect the kit and continue on to the next bivi spot.
Gabro which makes up the majority of the rock is wonderfully rough, but there's also plenty of basalt too which is particularly slippery and unpleasant when it's wet. Picking a dry forecast will help increase your chances of success. Having good visibility will help too. Despite being a ridge, the way is often far from straight forward with plenty of twists and turns that can take time to negotiate and find the best route. A good way to help prepare for this is to explore the ridge in smaller sections and build up your knowledge.

There are various guidebooks with plenty of ideas and descriptions of popular sections: the Round of Coire Laggan, The Northern Three, Traverse of Bidein Druim nan Ramh, the In Pinn....loads....and it'll help with the fitness! Building experience on these day adventures also helps with becoming slick and efficient in the use of a rope. Ideally, you'll be mainly soloing, but it will save you a lot of time if you're able to realise when the rope is needed, and you can quickly organise a belay or abseil and store it away again when the difficulties are passed.

If the weather puts a stop to your plans there are other amazing scrambles to explore that are often significantly more sheltered from wind and rain. An ascent of the Cioch via Collie's Route, Window Buttress and The Spur on Sgurr an Fheadain are good options that can often be out of the wind, they're also good for those, often rare, days where it's too hot to have a full day up on the ridge away from regular water sources.
When at last the time comes and knowledge, weather and fitness have all aligned for you and your partner you'll have to decide what kit to take. This is where having a reliable, dry and not too cold (or too warm) weather window can help, reducing some of the warm and waterproof clothing that you'll need. Biving in the mountains is about finding the balance between comfort and weight. How light a sleeping bag can you get away with knowing that you'll still be warm enough to actually get some sleep? Is the luxury of a warm meal worth it for the extra weight of a stove or is it cold food as it's only one dinner and breakfast? One for you to decide!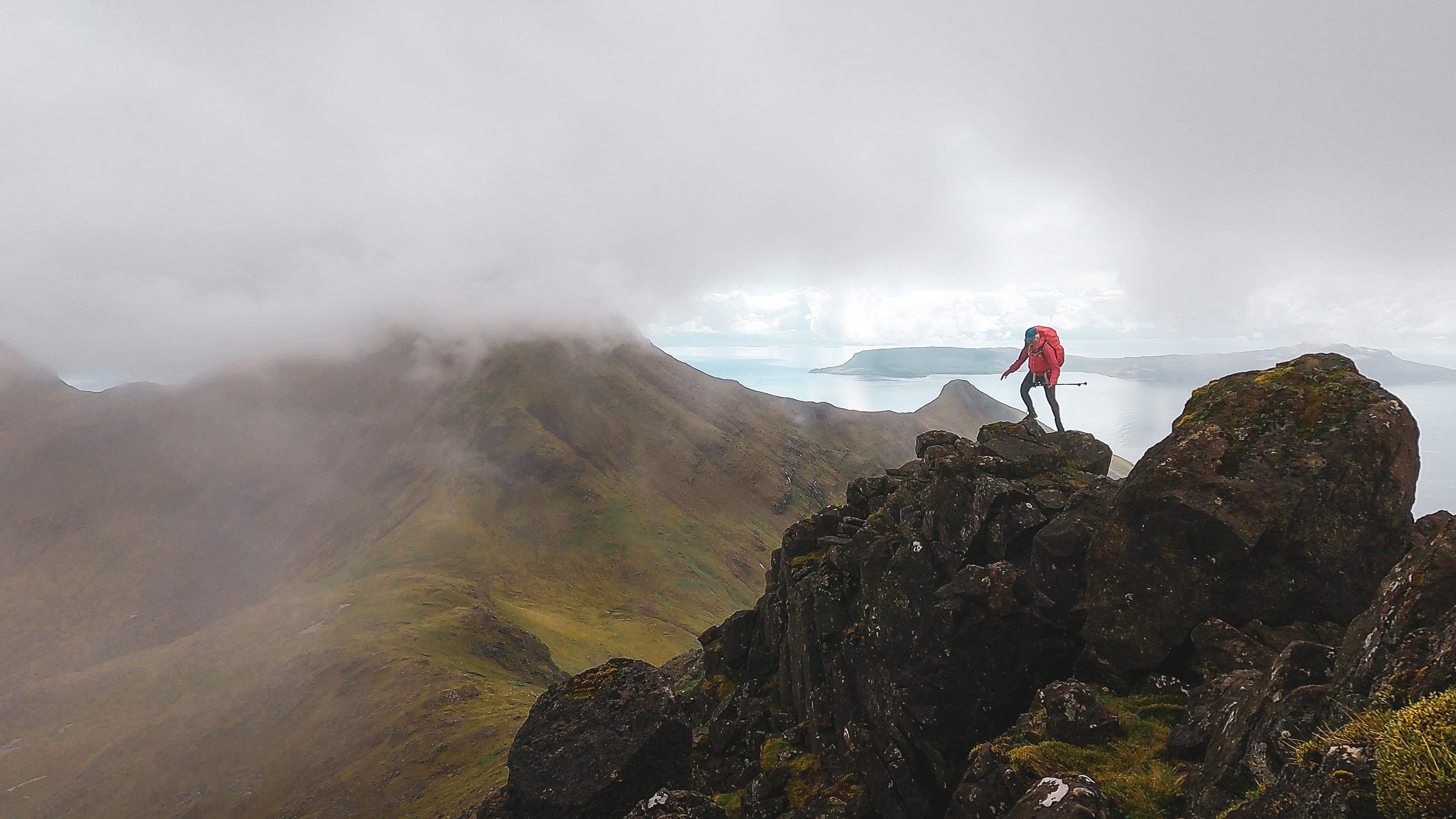 The decision of what climbing hardware to take will vary between parties but the one thing that everyone agrees on is that you'll not need or want to carry a full rack. A light 40m rope is very slightly longer than needed but is a useful length for general mountaineering, three extendable extenders, a couple of screw-gates with slings, a ¾ set of nuts, a couple of cams and a med or large hex, and prussiks, belay plate and harness should cover all bases, add or remove gear to suit yourself, just don't add much. A helmet is a must for me, light and comfortable enough that I barely notice it. Lastly, what to wear on your feet, boots or trainers? With a dry forecast lots of folk prefer the freedom and lightness of a good mountain approach type shoe and some folk will never be without their favourite boots. It's personal choice, as long as they stop you from slipping on the rock, are comfortable for climbing in and don't give you blisters on long demanding days then use what's right for you.
The Ridge Traverse is the highlight of many experienced mountaineers' careers. The fact that it might take a few attempts and is hard won makes it all the more memorable. The best bit of advice I have ever been given: make time for a stop and breathe in the views, lift your head and let the atmosphere absorb you before moving on. The memories of these days linger far longer than the taste of the inevitable cold beer at the Slig.
Want to tackle the Cuillin Ridge?
Try some of Glenmore Lodges fantastic summer trips
Are you up for the challenge of traversing the iconic Cuillin Ridge? Glenmore Lodge offers a range of expertly-led courses to guide you every step of the way. Choose from our two options:
Join our Cuillin Munros course and explore the majestic peaks with a seasoned instructor. This course offers a great introduction to mountaineering while taking you on an unforgettable journey. Click here to book.

Take on the ultimate mountaineering challenge in the British Isles with our Cuillin Ridge Traverse course. With the help of our experienced guides, you'll conquer the ridge's biggest and best peaks, leaving you with memories to last a lifetime. Click here to book.


Both courses promise an adventure of a lifetime that you won't soon forget. Book now to secure your spot and experience the magic of the Cuillin Ridge.
Quote style, bold, italic, 20px over 28px
Words by | Glenmore Lodge (Instructor Bill Strachan)
Images by | Sarah Leighton
Words & images by | Athlete Name