At the end of January, Jeff Mercier and I met up in the north of Norway for two weeks of hunting winter climbs above the Arctic Circle. Two seasons ago we did a similar trip to Senja Island, where we managed to climb a bunch of outstanding new routes and witnessed some amazing views and landscapes.
---
This time around we opted to go a touch further south but still on the coast, to the Lofoten Islands. Lofoten is another area of breathtaking beauty and is home to some amazing mountains with plenty of winter climbing potential. We didn't have any real plans or objectives, we just wanted to do lots of climbing and have a good safe trip. On the first day, we drove around looking gathering ideas for potential routes and spoke to some of the amazingly friendly locals for updates on the current conditions. This gave us a good feel for the area and we swiftly got stuck into the action in the days that followed.
There was no easing into the climbing, and on the first day, we managed to open a pretty awesome route that was home to some intricate and very testing climbing! We weren't particularly looking for something hard, but we also don't like to shy away from a challenge. We called the route 'Terrible Twos', as it was my nephews second birthday that day and the second pitch was the one that put up the fight.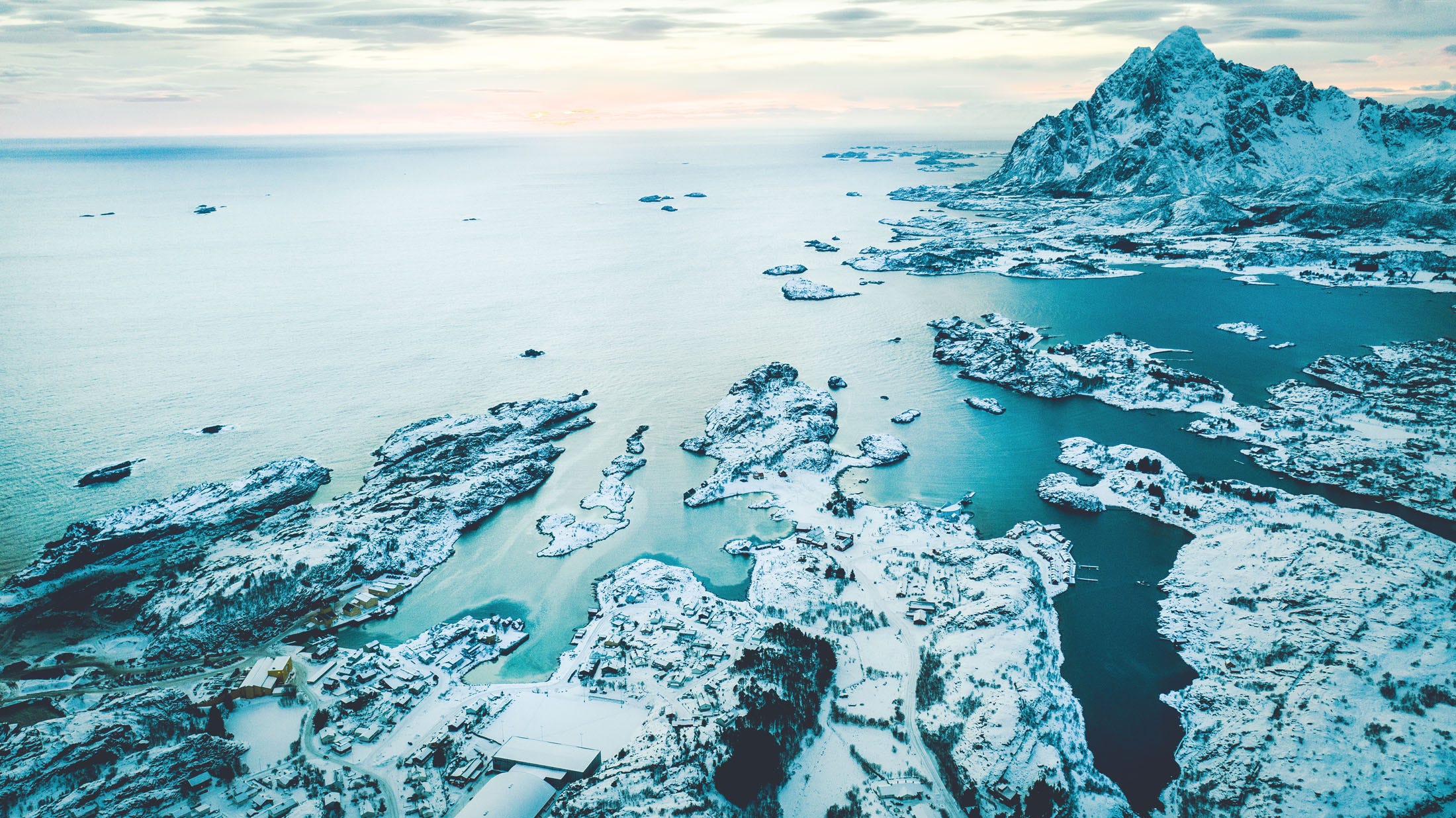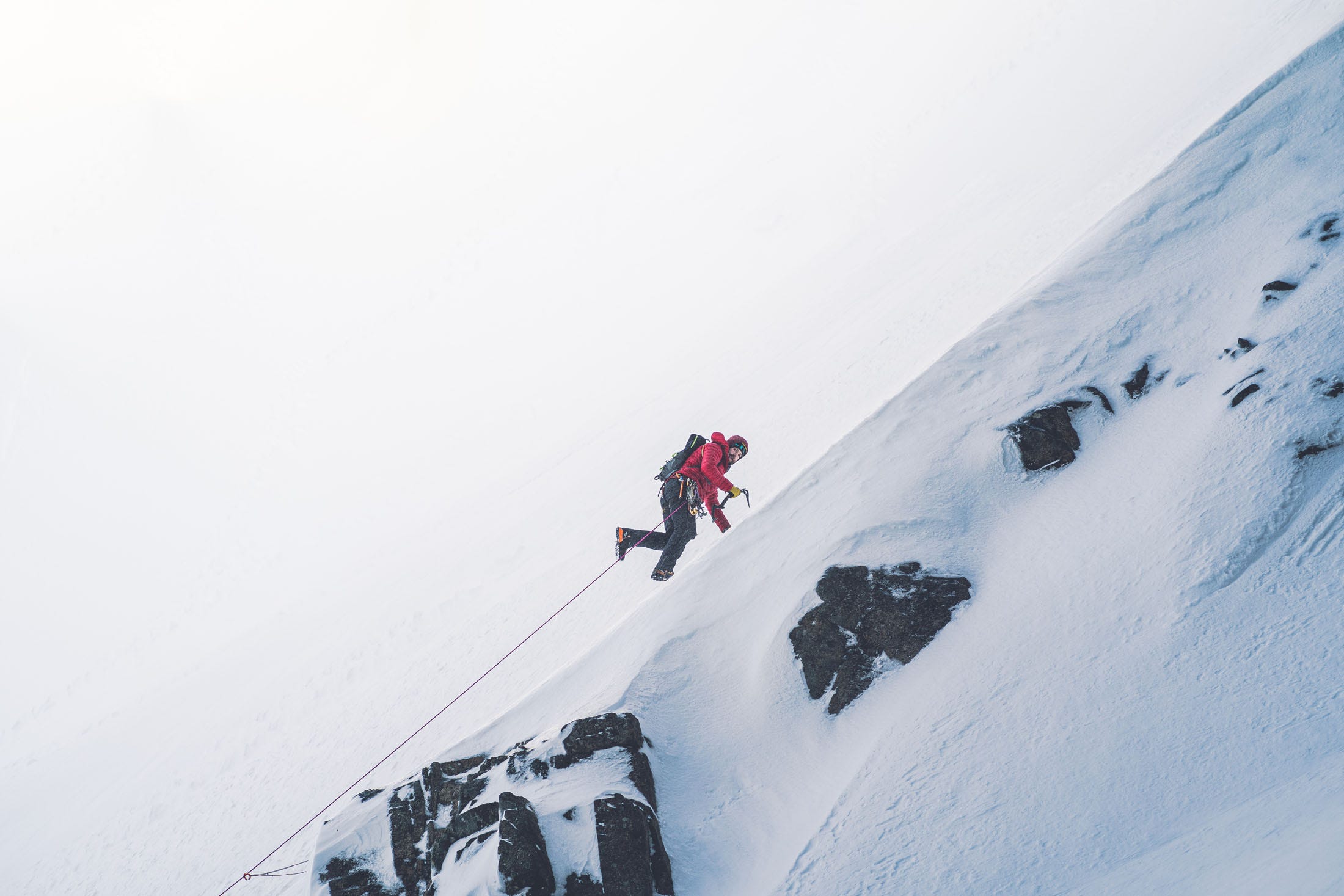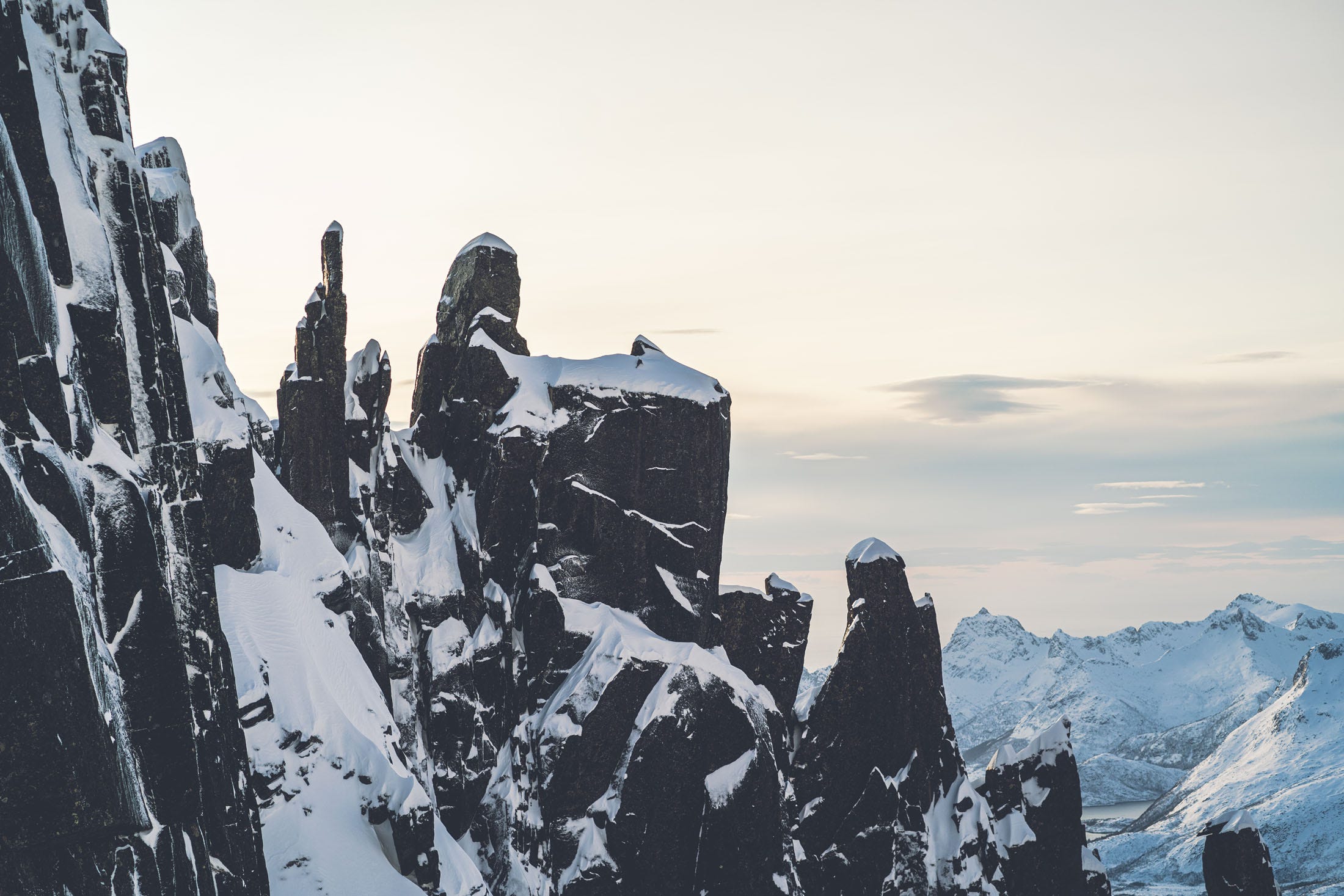 "Today was mega. We were looking for a warm-up route that wouldn't take too long, so we could put a trail into tomorrow's objective and check out the approach. We defo got warmed up that's for sure, but it wasn't the quick hit we thought it'd be! It was a three-pitch icy seam line with the crux leading to and going through the big roof, followed by thin bold climbing to regain the ice. Mega! One of the best pitches of climbing I've led in a while! No idea about the Norwegian grade, but in Scottish money you wouldn't get much change from IX 10. A good way to start the trip."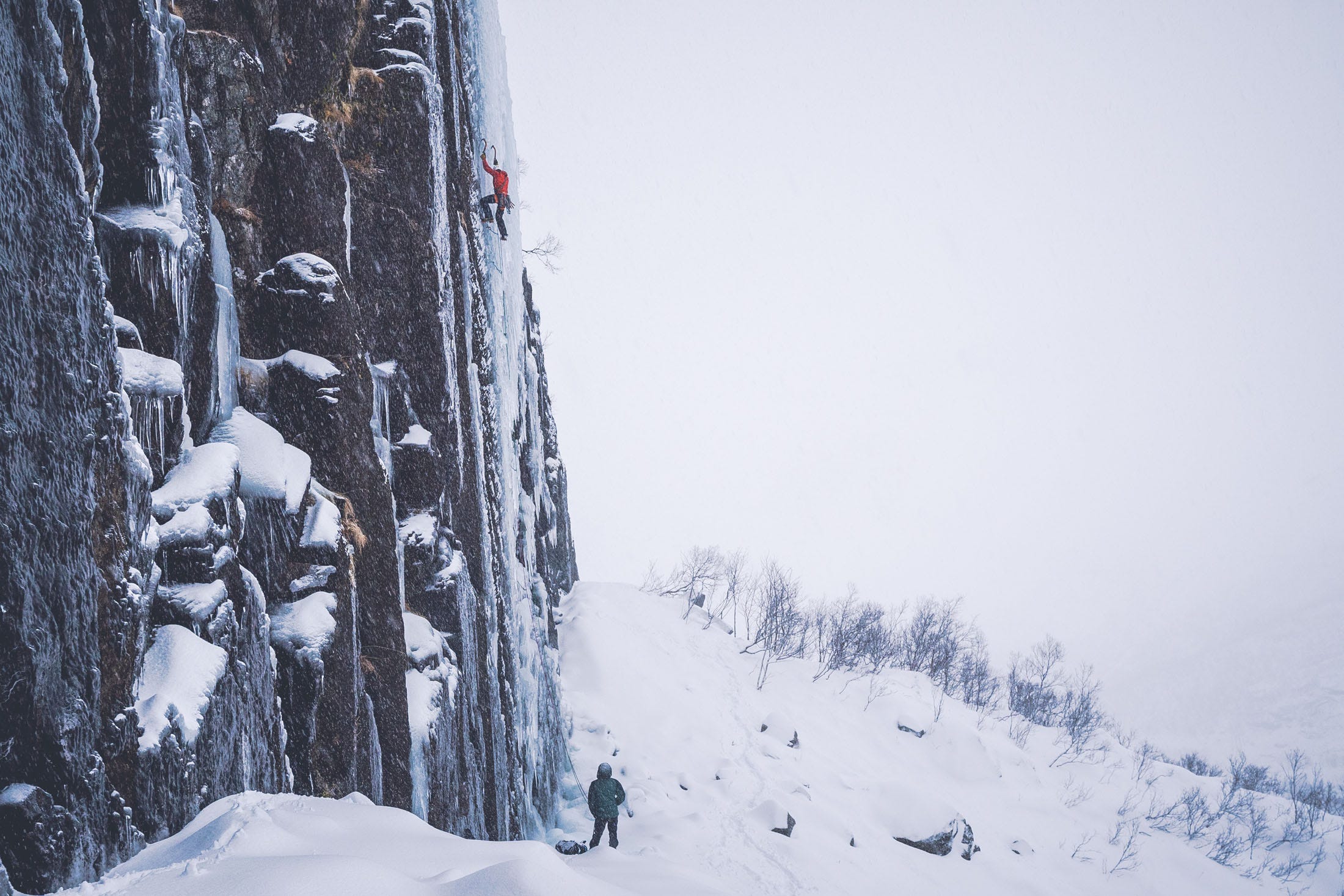 Over the next couple of days, we spent some time in the bigger mountains and despite the wind depositing snow in some scary places, we still managed to get a good amount of climbing done that wasn't too dangerous. Having said that though, we did decide to back off of one of our objectives, as the whole face was glazed in a hard layer of thin verglas ice, which made the climb too hard and dangerous to protect and stay safe. We weren't there to be heroes or get hurt, just to climb and have fun, so we felt that descending was the only option!
After this, the storms came in hard and we managed to find a fun area that had a load of unclimbed routes available to play on, but thankfully it was also very protected from the surrounding avalanches that were releasing periodically throughout the valley. Over the next two days, Jeff and I climbed two very good lines on the face. One was a steep fragile ice route that forged its way up the vertical dark wall. Jeff dispatched this will little fuss, apart from the odd grunt when the heavily dripping ice went straight down his exposed neck. I'm sure I told him to put his hood up?! He called the route 'La Tournée du Poltron' (The Tour of The Coward), a 40m WI5+.
"Today was a day for staying low! It's been drumming with snow all day, so we opted for a photoshoot session this morning (since that's one of the main reasons we're here) and we spied an awesome looking line on the drive back to the lodge. It would have been rude not to go for a look."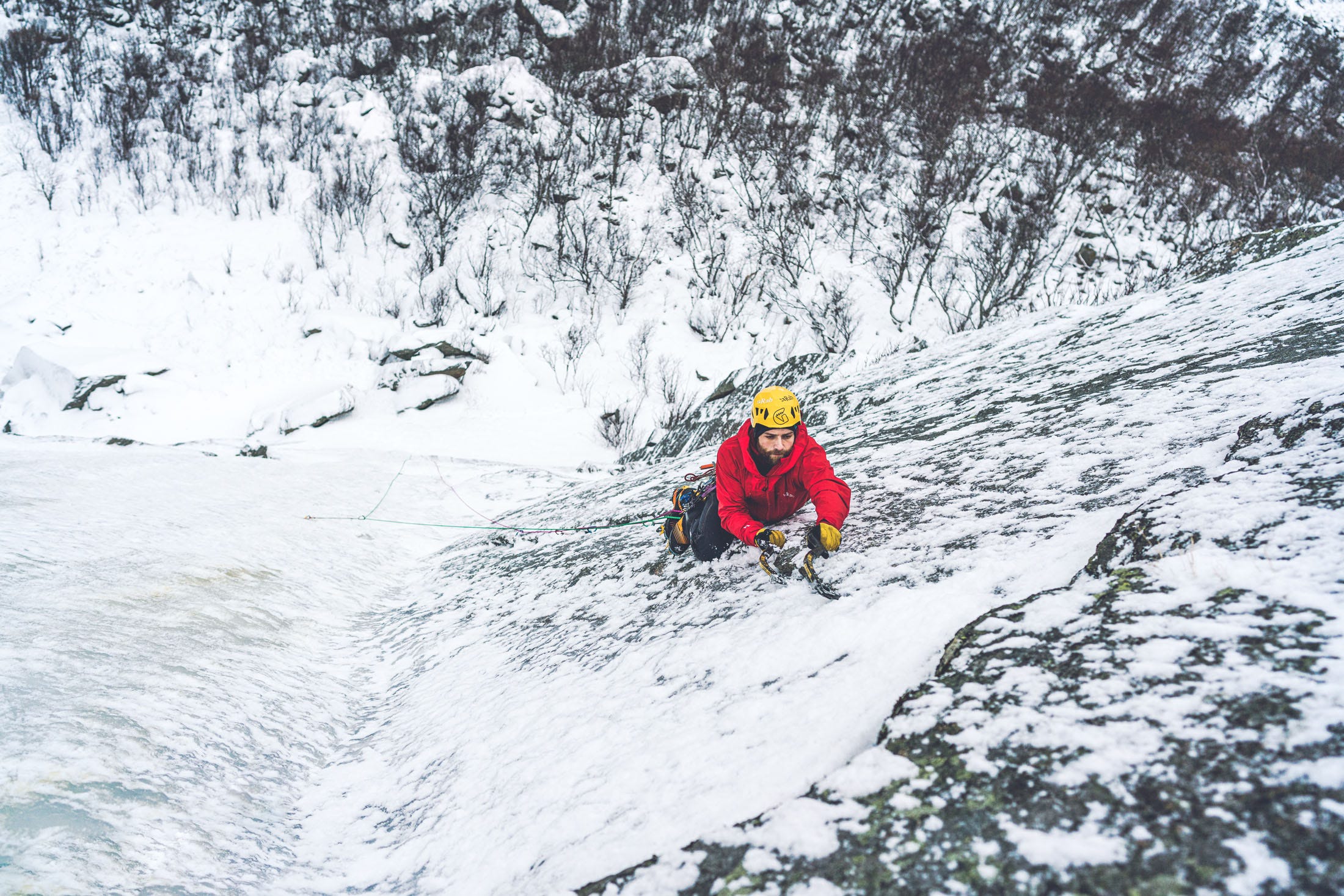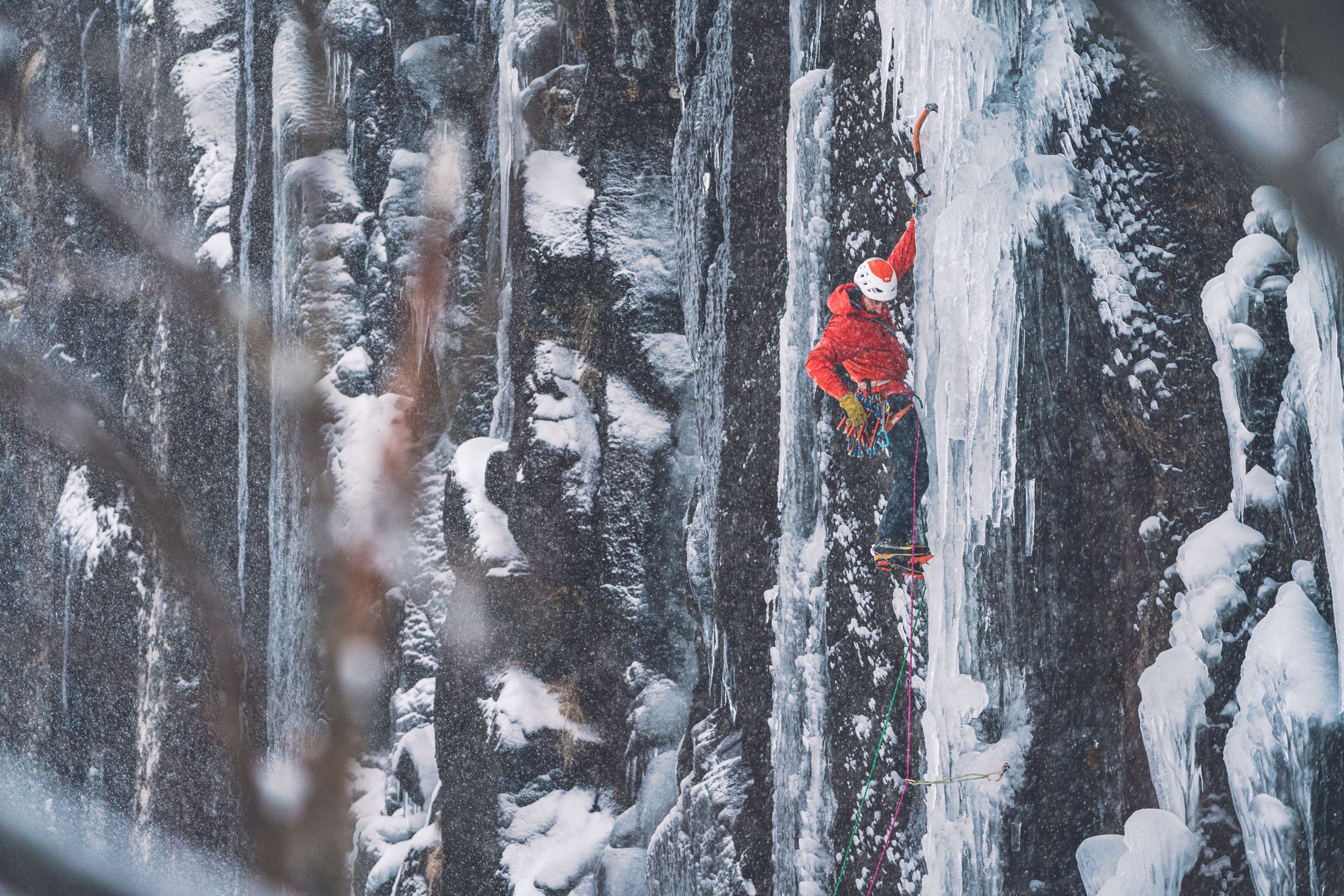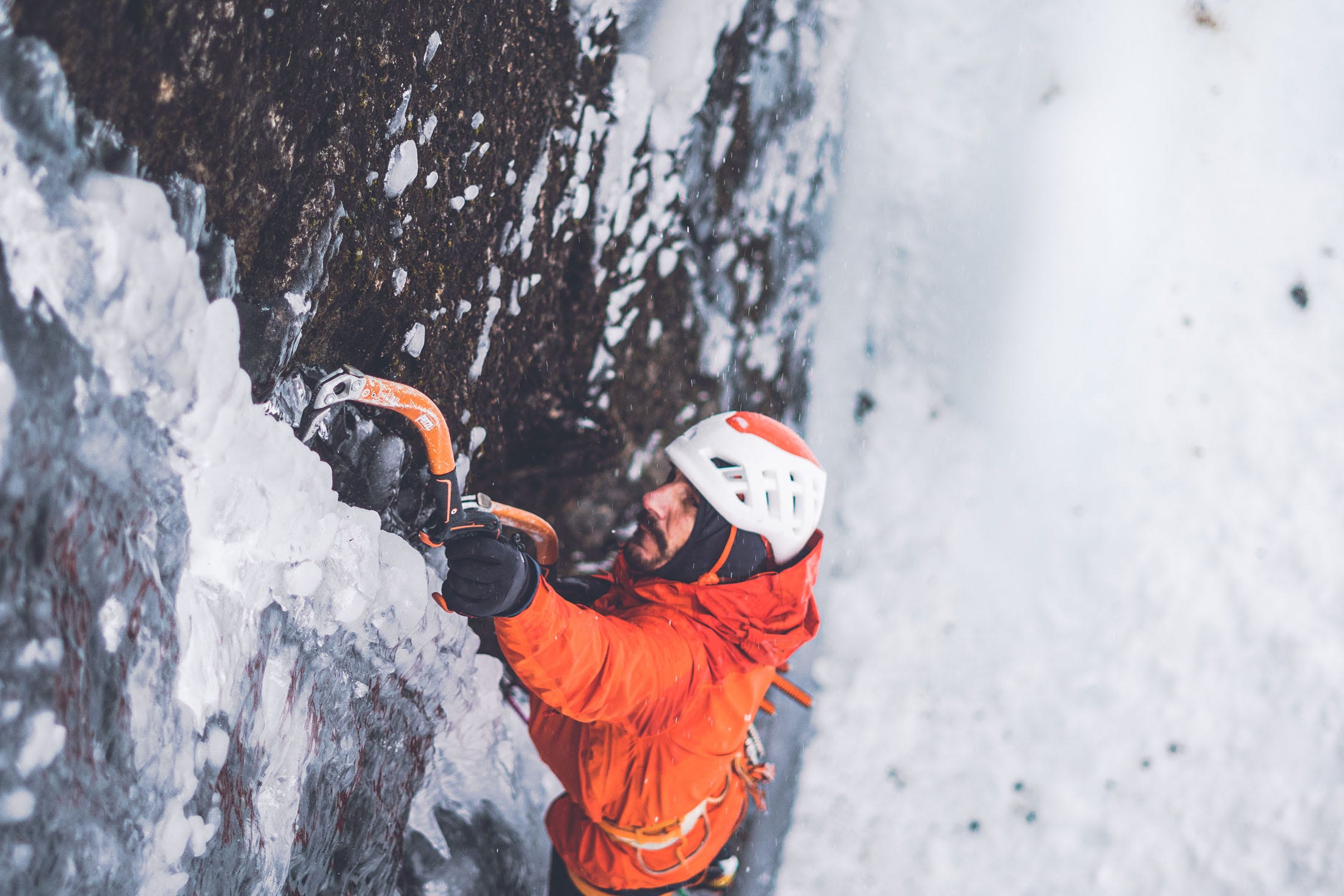 Sunset Summit
The summit feeling beats it all, especially when you have been struggling and fighting your way to the top through 13 pitches. The descent was long and mainly on foot. Upon returning to camp, we jumped into the ice-cold river nearby. The feeling of freshness from the swim, tiredness from the climb and the good sense of mastery is priceless. The best part? We could sit there watching the beautiful mountain we had just climbed.
By writing this, I could feel the deep pleasure of completing the climb, being surrounded by great views and a good friend. Nothing beats it. And it feels good to know the adventure lies out there, waiting for us to crawl out from our caves. The global pandemic situation is going to end at some point. Until then, now I have absolutely no excuses for not using the finger board…
"Today we returned to the venue we found yesterday afternoon, as the weather was really bad again and the snow was coming down hard! We knew this location was safe from avalanches and we also knew it had a crazy looking line that I was keen to try, so it was a win-win. The route turned out to be totally wild and super bold above the roof in the upper ice. I love it when you can only just piece everything together to make it possible. It really is the best prize when a vision becomes a reality...just!"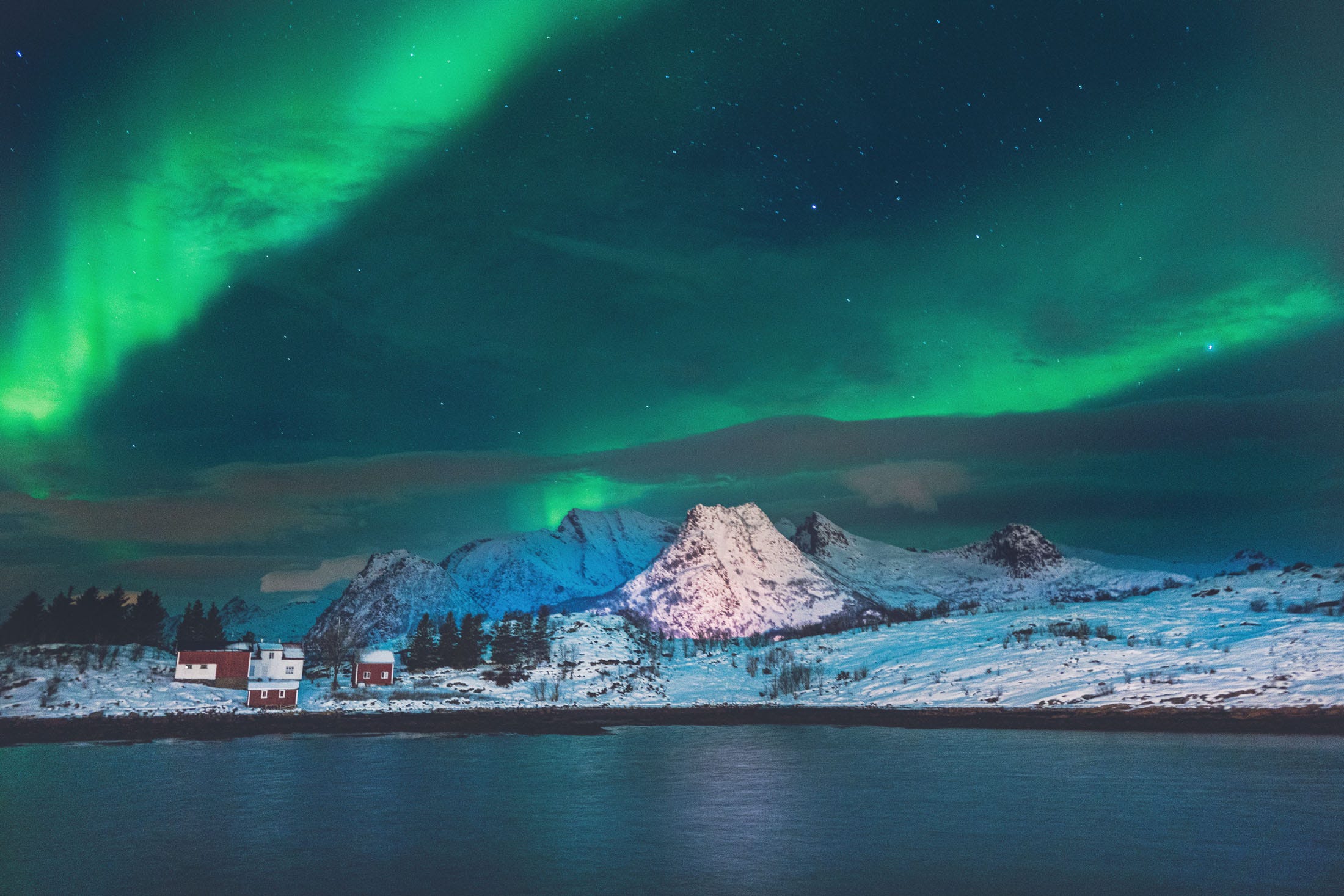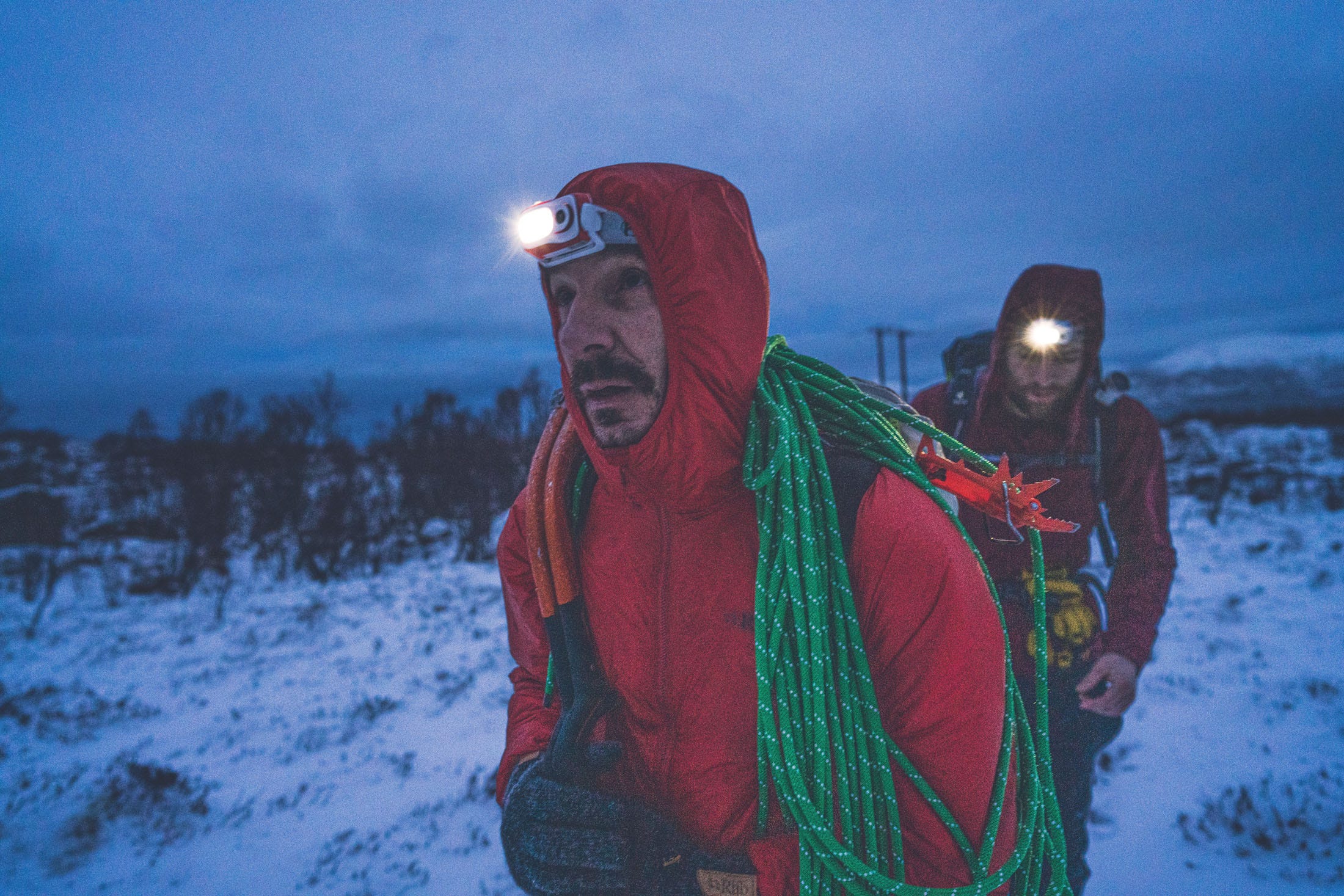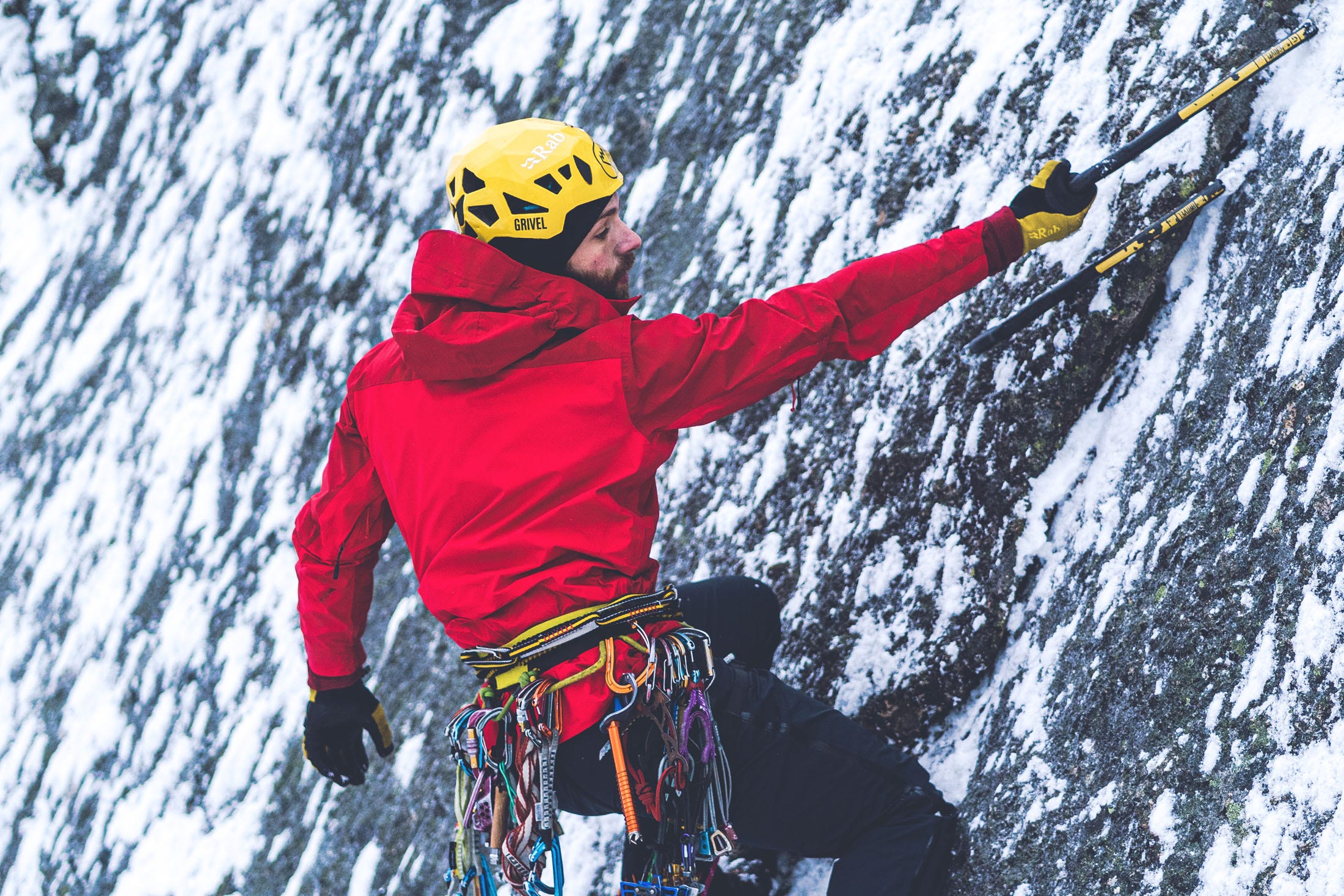 The next day we packed up our cabin at the Lofoten Ski Lodge and headed north to the area surrounding Tennevoll. This still had loads of snow every day, but it had a very different landscape and we were able to find safe routes to enjoy despite it being the most snow they'd had in 10 years. We did still need to take great care when approaching one of our climbs, as it meant crossing a heavily loaded gully. But we found a very safe process for this and felt justified in our actions and ascent. Sometimes you just have to take extra time to make sure everything turns out correctly and safely!
During our time around Tennevoll, we climbed two amazing new routes and a handful of existing steep icefalls. On the last day, we managed to finish off an abandoned local project that we had been given the all-clear to go and try. This was a formidable-looking line that packed a punch in the steep first pitch, with the upper two pitches being slightly easier but super enjoyable on the outrageously positioned ice at the very top. It truly was the perfect way to put an end to an already awesome trip!
"So today marked the end of our @rab.equipment trip to Norway. It's been an amazing adventure and we've seen and climbed some really cool stuff! After a snowy start this morning and a couple of plan changes due to daylight hours, we found and did an amazing new mixed line that didn't go down without a fight. Mega steep, techy and run-out through the roofs. The bonus was it all went on trad gear! What more could you ask for?!"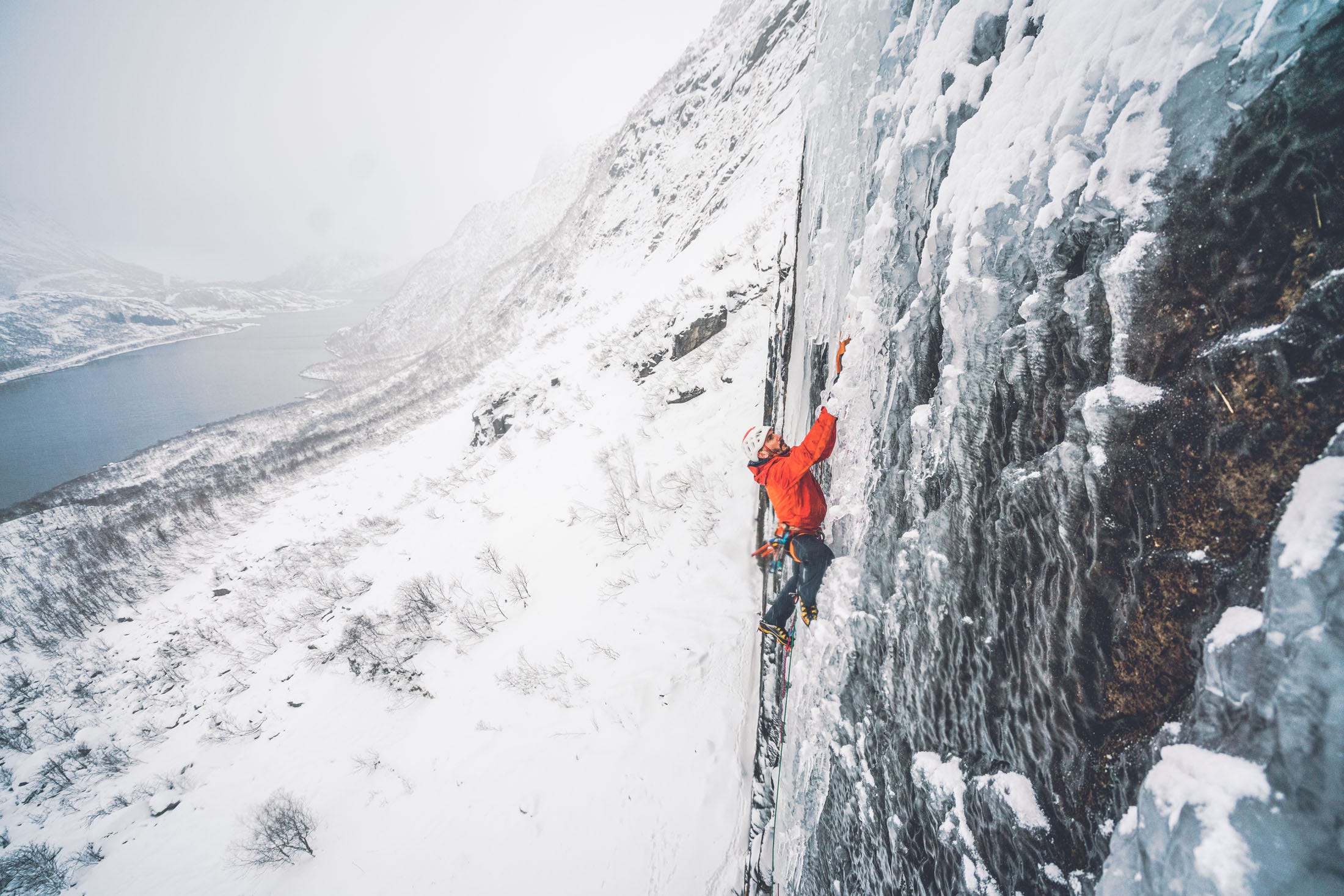 So, whether it's walking along the frozen beaches around the Fjords whilst a family of moose run off into the mist, or its cold ascents in the snowy mountains, Norway really has so much to offer for everyone. I love this part of the world and would highly recommend it to anyone who has a love for adventure and the natural beauty of the world.
Routes completed by Greg and Jeff on this trip:
Terrible Twos, 120m, IX 10 (First Ascent)
Existing Route (Name unknown), Couloir on the 'Abrahamstind' mountain
Attempt on the summer line There and Back Again on Mount Geitgaljen. Backed off after 2.5 pitches.
La Tournée du Poltron (The Tour of The Coward), 40m, WI5+ (FA Jeff)
Taking it Home X,9/WI6, 40m (FA Greg)
Existing Routes (Names unknown), steep ice above the Øvrevatnet Fjord WI3-WI6 and everything in between is available here
Nevada Wall, 3 pitches, 120m M5, WI4 (FA)
To the Right of God, This was a local project that we had permission to try. X,10/WI5. 100m 3 pitches (FA)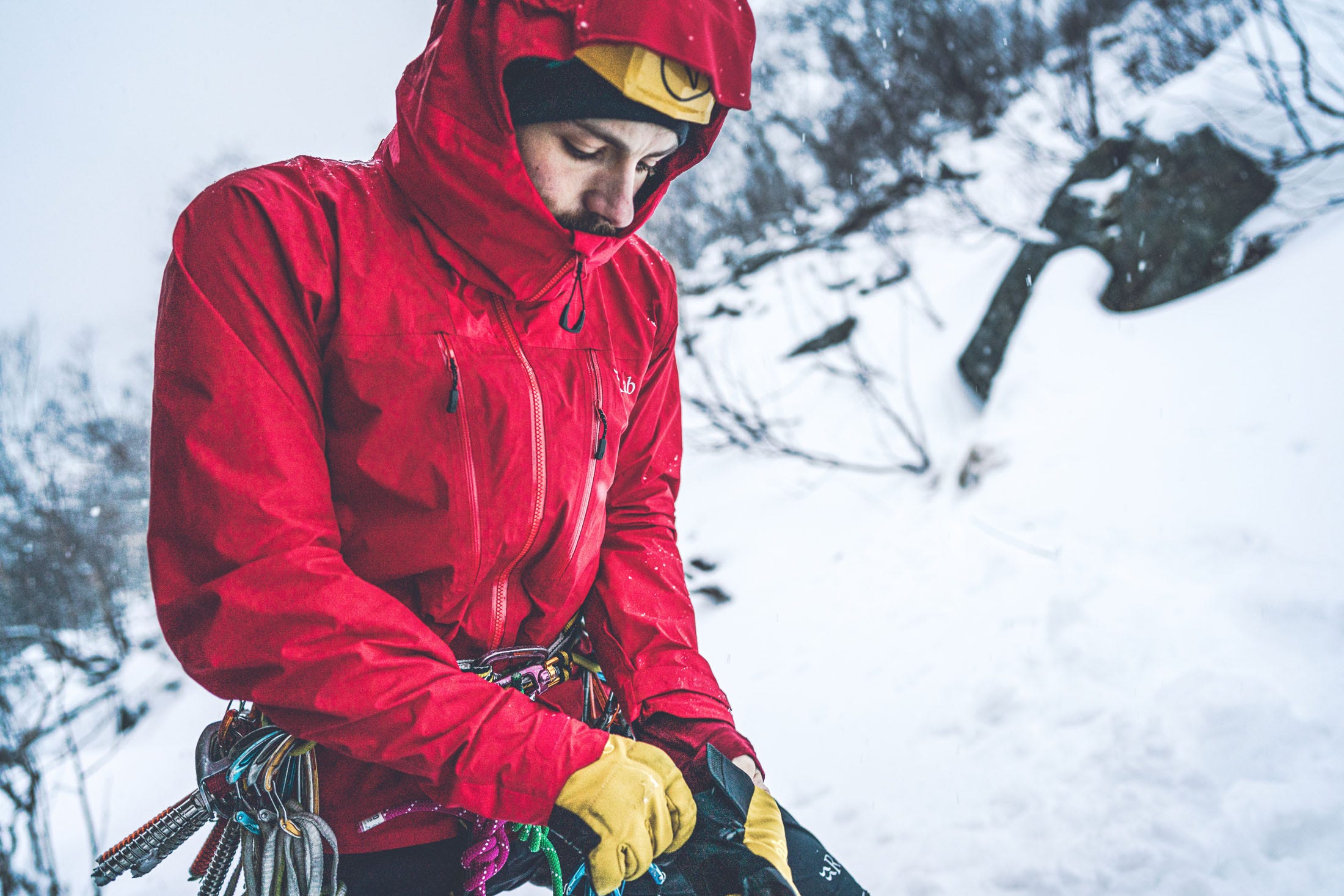 Greg Boswell Q&A
Why did you pick this area?
We chose Lofoten off the back of our previous trip to Senja, which is just slightly further north. Those coastal mountains in Norway are pretty special. They are perfect for winter climbing, but also feel almost magical, with their breath-taking beauty and landscapes. I really fell in love with Senja and I'd heard Lofoten was very similar, so we felt we needed to check it out.
What prep/training did you before your trip?
Well as winter is my busiest time for climbing, I usually try to keep myself in good form for the cold months, so I can jump on climbs or projects when or if they come into condition. So I felt pretty set for the Norway trip already. I did throw in a few extra hill runs and training sessions on the weeks leading up to our departure though, just to make sure I was mentally ready and aware of my current fitness levels. It's always good to go away on trips with a settled head, not wishing you'd done more prep.
Any unplanned difficulties?
Our only real issues on the trip were due to some stormy weather we encountered. There was a lot of snow coming down during our time there and this just meant we had to be extra careful when choosing or accessing our climbing locations. As always, we just took our time and made sure we did everything in the safest way possible, even if that meant failing on a certain objective due to the conditions. It's meant to be fun at the end of the day.
What was the most technical climbing you did? Any 'unfinished business' there – sounds like you are planning a trip back?
We did some pretty interesting climbs throughout the trip. The route we opened on the first day was actually home to some of the hardest climbing we did on the trip. But to be honest, everything we climbed was super interesting and of the highest quality. We do have lots of things that we'd like to go back for and we've got some pretty interesting plans and objectives for our next visit North. So you'll have to watch this space.
What was it like as a place – looks quite popular in summer there, is it in winter?
Both areas we visited on this trip were out of this world beautiful! The snowy mountains rising above the turquoise fjords is a magnificent sight and climbing with views like that is even better. Lofoten itself was much busier than Senja and there was a more 'less wild' feel to the islands, but none the less this didn't attract from how amazing the place is. It's super popular in summer for the rock and bouldering routes, which is understandable as the quality of both looks amazing. Obviously, it's much quieter in the wintertime, but there was still a bunch of folk cutting about looking to catch the Northern Lights. So it never felt fully deserted, unless you were in the mountains, which is just how we like it.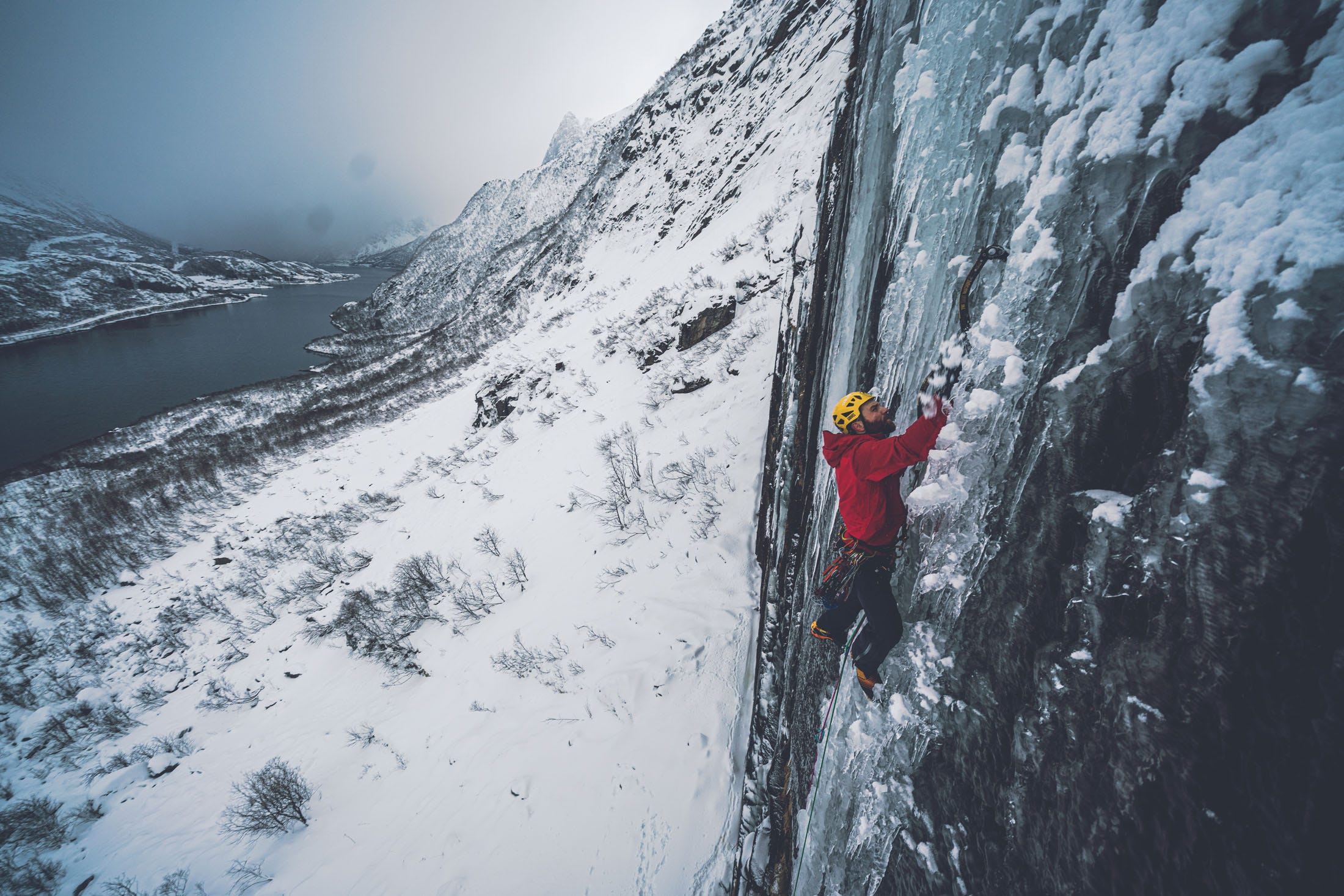 Lotofen Kitlist
Muztag GTX Jacket
"I love this jacket, as it is a proper workhorse. It can handle anything you throw at it and its super versatile for both alpine and hard steep climbing."
Shop Men's Muztag GTX Jacket / Shop Women's Muztag GTX Jacket
Muztag GTX Pants
"Again, like the jacket, the Muztag pants are my go-to pant for full-on winter ascents. You don't have to worry about the conditions, as these pants can handle everything."
Shop Men's Muztag GTX Pants / Shop Women's Muztag GTX Pants
Axis GTX Gloves
"I love these gloves for technical climbing. They are super dexterous and they offer the right amount of warmth and protection for climbing hard in the mountains. With being GTX, they are also perfect for wet ice routes and snowy mixed."
Knitted Logo Headband
"My favourite headwear under a helmet in winter is a headband. It offers the right amount of warmth but also reduces the risk of getting too warm on high-intensity climbs or approaches. The benefit of this is you can fire a hood over your helmet and lock in extra warmth if needs be."