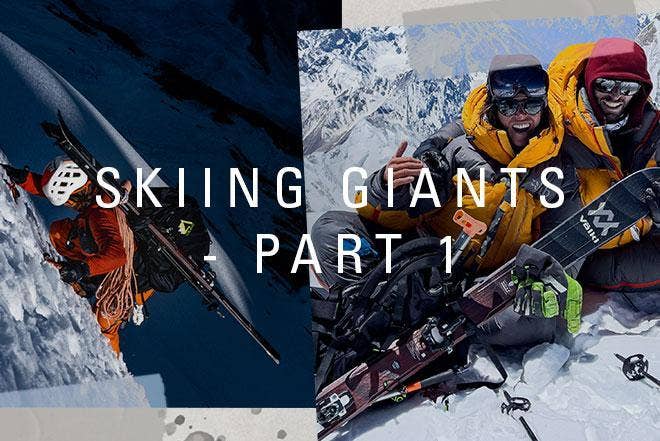 Pakistan 2021, a two month expedition with a great team. Aurelia Lanoe with her extremely strong mental game, Guillaume Pierrel who comes as strong as he is enthusiastic, and Tiphaine Duperier my sole and best climbing partner.
July 18, 2021 / 2:12 pm / 7800m / Gasherbrum 1 / Pakistan
Four hours ago, it seemed within reach.
But now, I've been staring at the same rock face for over an hour with nothing to be done. The summit does not want to come any closer! We must face the facts, we can't ascent any further, the summit will escape us.
The conditions are perfect; no wind, no risk of avalanche, there's sun and good snow. But when you need four breaks to take two steps, and even though you persist, you feel that your engine will inevitably run out of gas. Tough times for my ego, I must admit that we are not strong enough this time.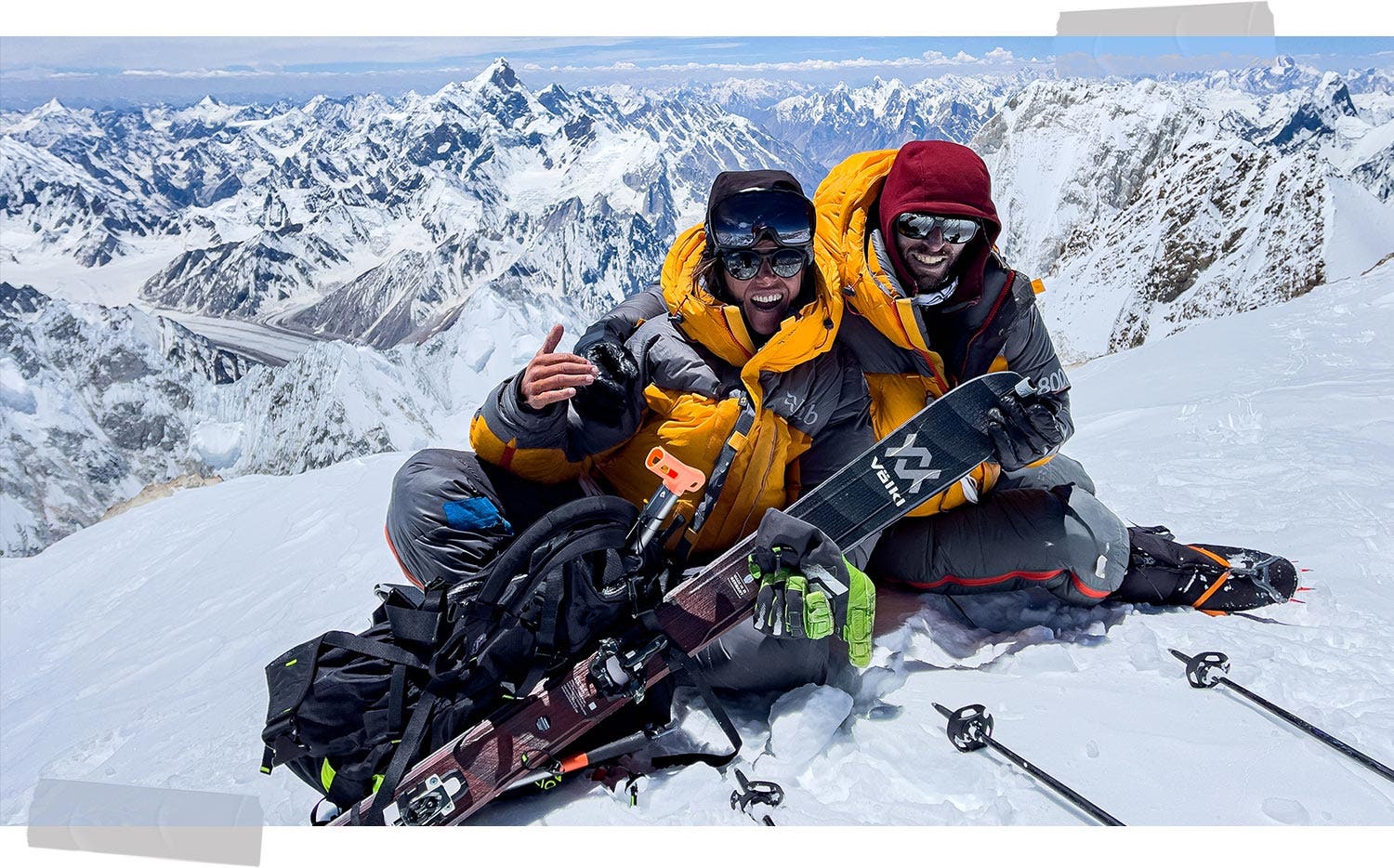 Our ascent ends here, 250m below the summit of G1. Lounging on my backpack, I have mixed feelings. We often say that what counts the most is the experience, yeah right! Only 250m from the grail, turning back hurts. My hunger remains unsatisfied. All this effort for not much; leaving at midnight, breaking trail, climbing for two days, eating awful, freeze-dried meals, and particularly, cohabiting with this unbearable body which refuses to advance, and which wishes only one thing, to go back down. The emotions only felt on a summit won't be felt. We will have to be satisfied with Google Earth images to imagine the mountains that are hidden behind the summit.
It's terribly frustrating!!!
However, even though a little broken, sitting in the sun alongside Tiphaine with the Karokaram in front of me, I can enjoy, relieved to no longer have to push myself.
After almost two months in the Pakistani mountains, our big holidays are coming to an end having collected all the necessary ingredients to live a beautiful adventure.
A little patience and a lot of perseverance!
With COVID-19 dragging on and flights to Islamabad continuously cancelled, our 15th May departure date is postponed day after day. Finally, after two weeks of waiting, we're able to join Ishaq and Nawaz, the members of North Pakistan Adventure who are taking care of our logistics in Islamabad. To continue with the theme of postponement, during our transit in Istanbul, our skis didn't make it. We had to wait another four days and numerous trips to the airline's office before being reunited with them.
Our patience and perseverance pay off in the end and the adventure can finally begin!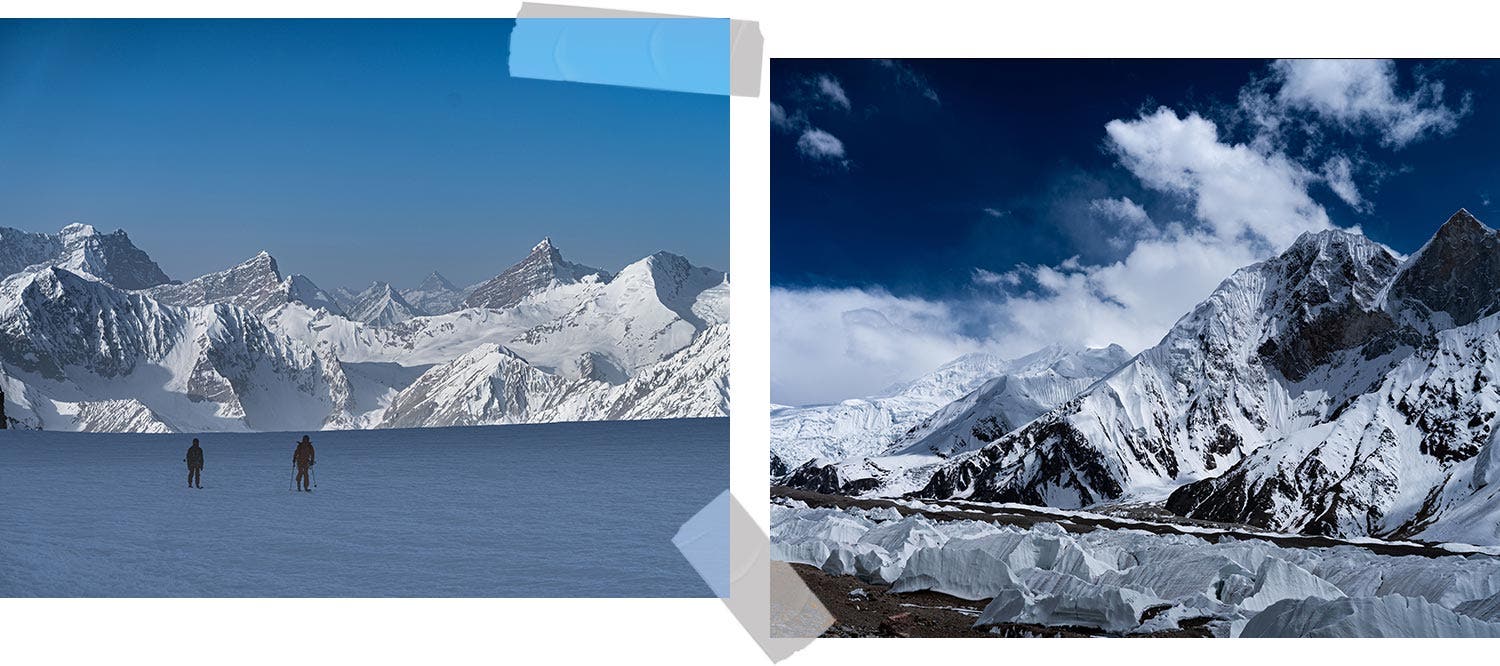 One step forward, two steps back
Smiling, we head in the direction of Darkhut valley in the Hindu Kush, and the summits of Garmush Zom. Unfortunately, we are stopped in our tracks. "Politico-religious" protests have broken out and it's impossible to go forward or backwards as protestors block the entrances to cities.
Our team is stuck.
We wait all day. And it's only in the evening that we can return to Gilgit, back to square one. The plan to head to the Garmush Zom sinks. We must find another base camp to acclimatize ourselves.
After flying over the Hunza massif on Google Earth, we decide to head for the Bargrote valley. We reach the base camp a little perplexed. The place is beautiful, yes, but it seems less suitable for big ski descents. Either there is not enough snow, or the faces are too steep, rocky or exposed, or the seracs are too scary. After a day of scouting on the summit above our camp, we finally find our salvation. Some nice possibilities emerge.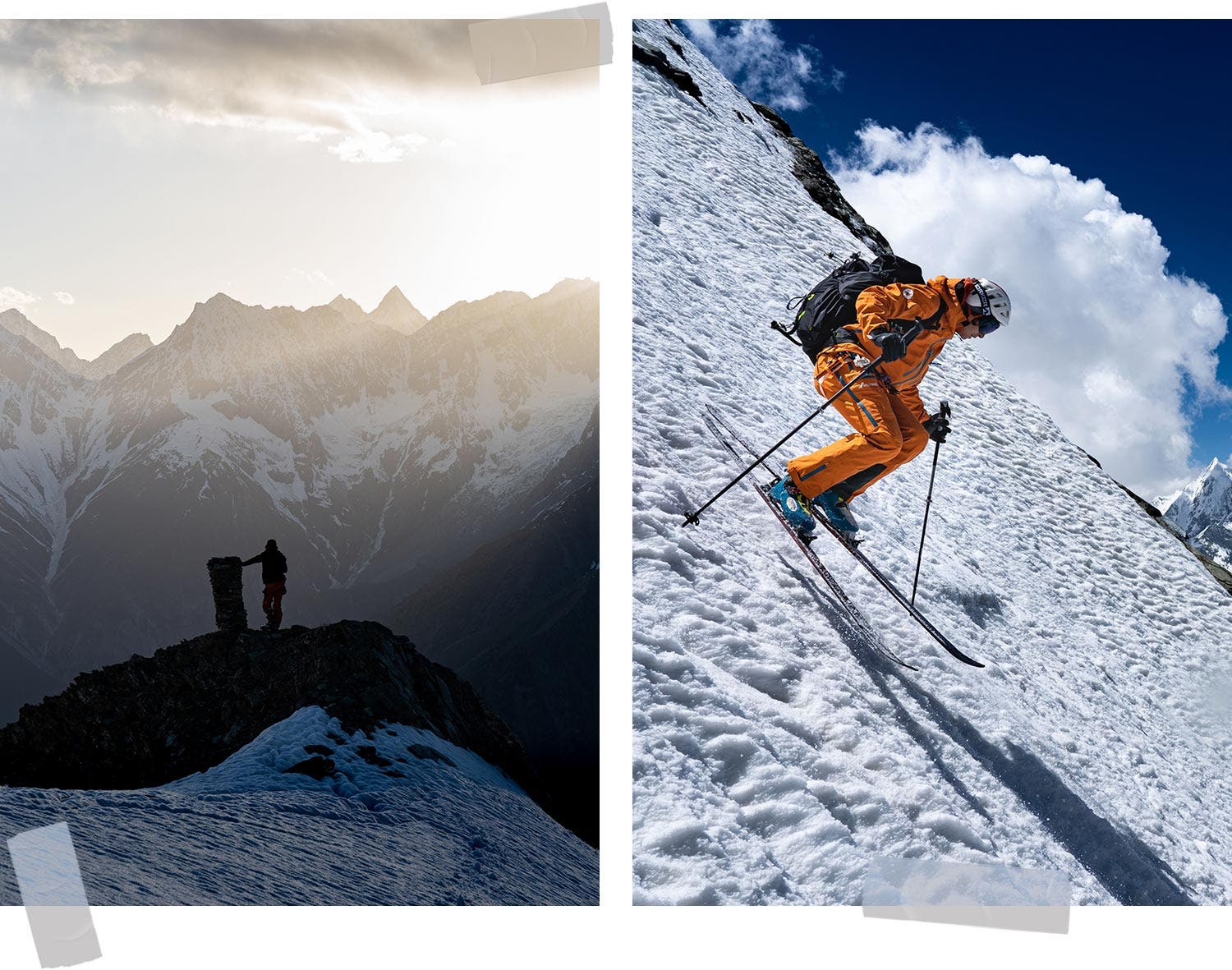 In Bargrote, the stars finally align, and our expedition begins to unfold. We enjoy two very nice descents on 5000 meter peaks, where we are most likely the first to ever have skied here.
Steep and aerial lines where we can play on the edge of the ridges. In the background, we rest our eyes on the grandiose setting of Rakaposhi, Diran, Bilchar Dobani and so on ... Within a few days, we've thoroughly exhausted the stock of this ski resort. The valley of Bargrote turned out to be a nice discovery, perfect for gentle acclimatization. And after a week under the sun, it's time to pack up. We hear that the protests on the road to Darkhut have ended, so we aim to reach the Hindu Kush.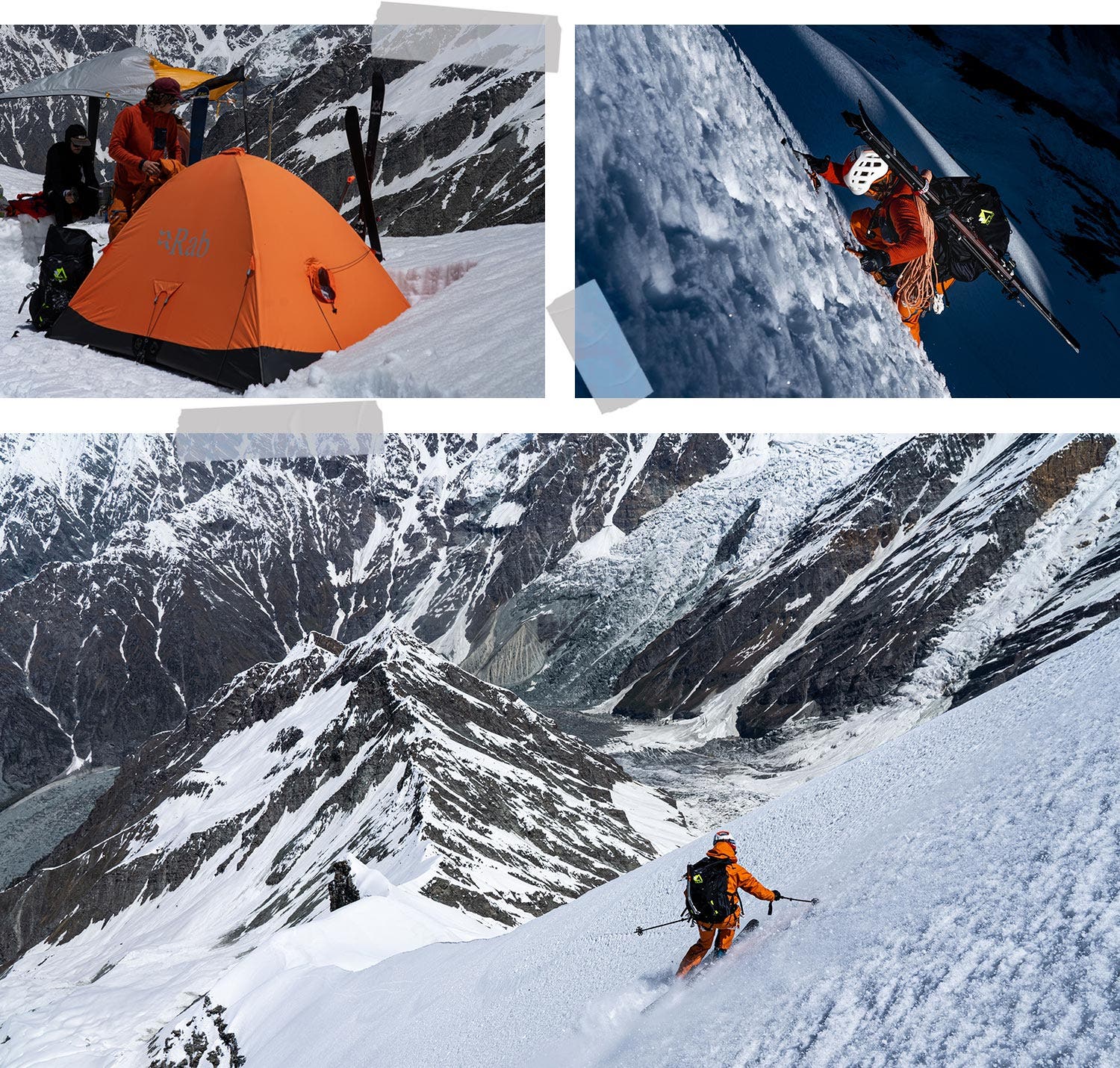 From the last village, we continue in autonomy towards the Garmush Zom, two beautiful pyramids reaching a little over 6000m. On Google Earth, two very beautiful lines jump out immediately. But even when a line seems obvious from your couch, the real world may leave some surprises.
Discovering new mountains is always a source of excitement and uncertainty. The entire face of Garmush Zom 1 and its 6220m stands before us, after a day and a half of approach. What a curtain raiser. And to our surprise, Google was right this time, IT'S DOABLE!!!

The next day, we reach the summit of our first Garmush Zom, with a breathtaking view of the huge Chiantar glacier and Afghanistan in the distance. The ski descent follows the edge of the ridge first, and then plunges abruptly into a continuous, steep slope for almost 1000m. The quality of snow is dreadful, but it's made up by the aesthetically pleasing line! You have to like ice and hard snow. Nonetheless, it's good practice to ski in these steep and technical conditions. And I love it!
A night of rest and we continue with the 1400 meters of the Garmush Zom 2 face (6180m). From the bottom, it's impossible to envision a skiable passage. It's only once we reach the top 100 meters we find the line.
Surprise, it's doable, again!
After a 30 meter climb and the final challenges, we are at the summit. The line is even more beautiful, but the snow is definitely worse than the day before!
The objectives we set for the Garmush Zom are quickly completed in two days with two summits and two firsts on skis on 6000m mountains. It's been a good way to continue the acclimatization in a wild and uncrowded place. Thus, it's with a little pride that we return and head in the direction of the Baltoro.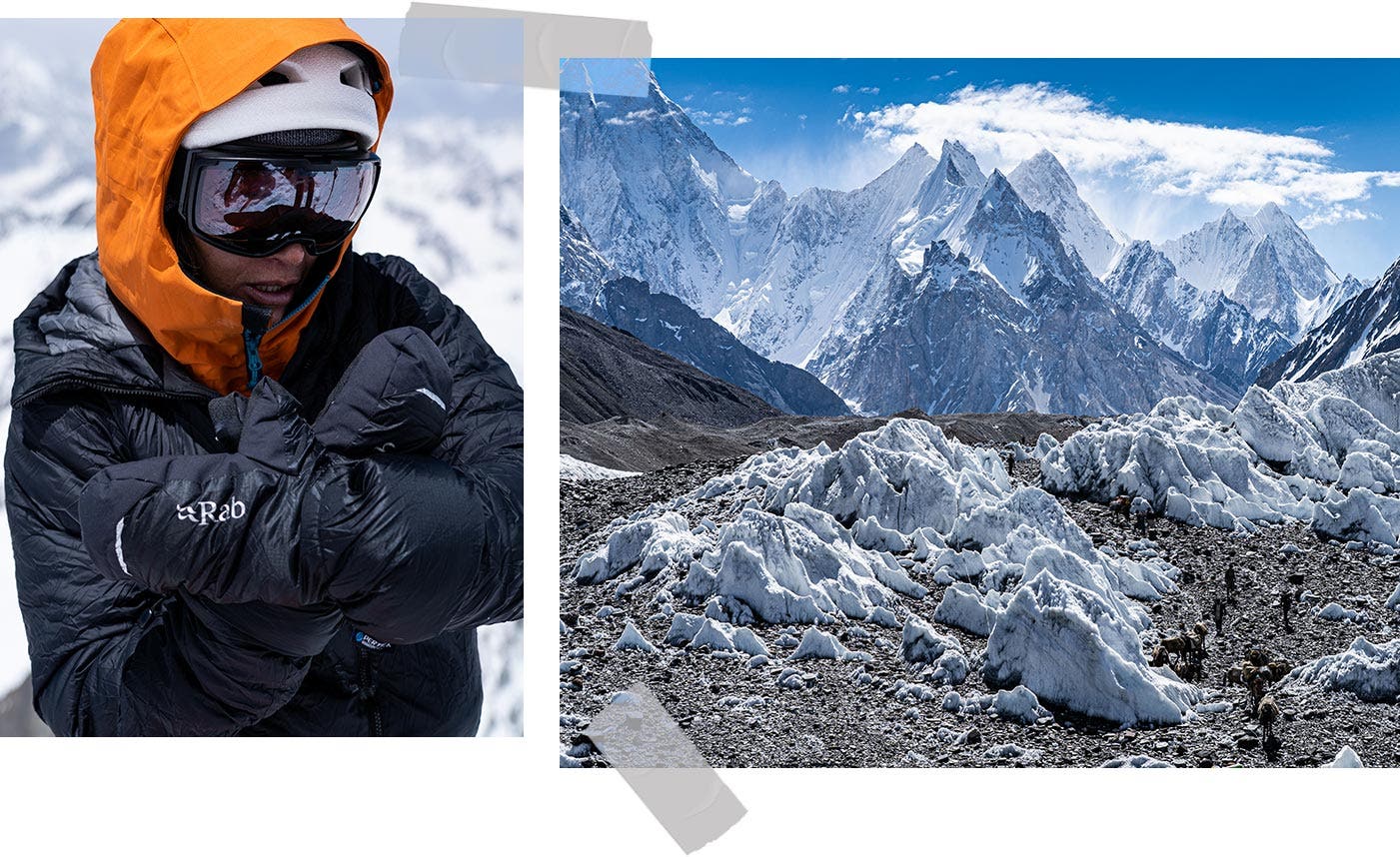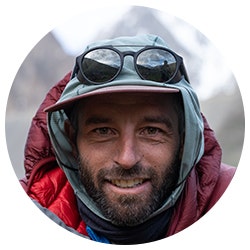 Words by | Boris Langenstein
Images by | Tiphaine Duperier & Boris Langenstein
---
Lachlan Gardiner has quickly established himself as one of Australia's leading adventure photographers with an eye, not just for action, but the human relationships and divergent cultures that make climbing and mountaineering expeditions such unique, rewarding experiences.
Read more about blank here