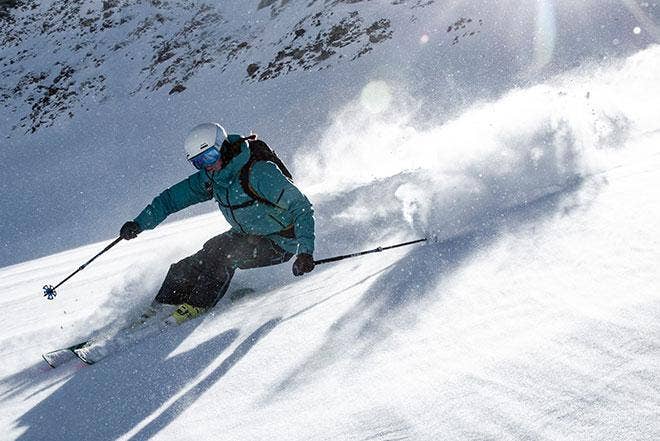 From our birthplace in the Scottish Highlands to our playground in the mountains of the world, we thrive in the worst that mother nature can dish out. With our Khroma collection, we've taken our years of experience, skill and knowledge in making mountain clothing that performs in all conditions and applied that to ski mountaineering apparel.

---
We are incredibly proud to work on this with some highly talented skiers and ski mountaineers around the globe. Sharing the same passion for those epic days out in the backcountry and the desire for exploring the unknown is the bond of our friendship.
Amy Jane David, United States
Amy is a professional skier and mountain athlete. Her skiing pursuits range from hitting massive cliffs, throwing backflips, and navigating big lines deep in the backcountry with a focus on film, photo, and earning an AMGA Ski Guide certification. Previously the on-camera field announcer for the Freeskiing World Tour, in 2015 she transitioned to competing as a skier and placed 3rd in her first FWQ big mountain event in Verbier, Switzerland. In 2006, Amy was one of the youngest people to present original research on glacial recession at the International Snow Science Workshop, and her curiosity for snow science has continued through her work as the Media Coordinator for the Friends of the Sawtooth Avalanche Center and becoming an AIARE instructor. Her ski career strikes a balance of high action adventure with an academic twist.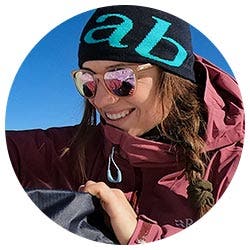 Amy's favourite Khroma pick:
"The Women's Khroma Kinetic Jacket won my heart as a 'soft' and pliable waterproof hardshell that is breathable for climbing up the skin track while also maintaining technical performance for shredding non-stop during big storms. This shell layered with a light insulation layer is my go-to for big days in the mountains."

Krister is a highly unique snowboard athlete from northern Norway who is dedicated to exploring big mountains, climbing steep lines and riding them back down.
Growing up in the town of Tromsø, where winter lasts nine months, Krister started snowboarding at the age of five and spent nearly every afternoon and weekend in the local lift system riding side-hits and practicing his 360s.
As he got older, Krister realised that there was far more to the sport than only hitting big kickers and riding fast in the slopes. He found himself increasingly attracted to the combination of alpinism and snowboarding, and now spends most of his time in the mountains in pursuit of demanding lines. His ever-growing passion for exploring alpine terrain and riding untracked couloirs has taken Krister to the wildest places, and also led to appearances in a large number of film projects.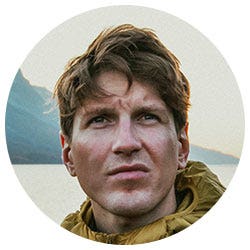 Krister's favourite Khroma pick:
"My favorite items from the Rab Khroma collection are the Khroma GTX Jacket and Pants. Because of the rugged and breathable fabrics it's my number one choice for big missions. It allows me to move freely and I'm confident that it will keep me warm and dry no matter what the weather looks like."

Mark Morris, United States
Mark Morris grew up in the mountains of Clear Creek County, Colorado. He started skiing at age 2 and learned the fundamentals of ski racing at Loveland Ski Area. He quickly changed his focus from racing to backcountry skiing at age 13 after his first helicopter skiing experience in Valdez, Alaska.
After high school, Mark moved to Crested Butte, Colorado, where he continued to learn the important balance of pushing personal limits while respecting backcountry safety. During Marks college years he competed in the IFSA throughout Canada and Alaska. Mark has skied across the world as a freerider and specializes in taking big air off large cliffs. Mark has redirected his efforts in skiing from competing to creating artful images with his favourite photographers, in his favourite places on the planet. When Mark is not skiing, he also travels the world as a musician, in pursuit of promoting life happiness.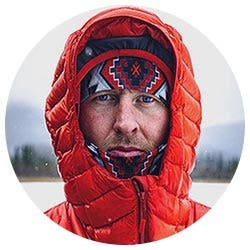 Mark's favourite Khroma pick:
"My favorite piece in the new line is the Khroma GTX Jacket. Never have I been so dry, warm, and able to explore the mountains with such breathability in all conditions."

Thea is a highly versatile and passionate mountain guide from Norway that spends her time off exploring steep ski lines in the Lyngen alps or climbing the perfect granite in Lofoten, Tromsø and her home mountains, the Jotunheimen.
Growing up in a small valley surrounded by high peaks with a father working as an IFMGA mountain guide, she was lucky to get a taste of mountaineering from a very early age. For Thea, time spent trad climbing, ski touring, ridge scrambling, ice climbing, glacier travel and running in the mountains is a way of life.
When she was 17, Thea started working as a guide on a glacier located 40 minutes from home. Since then she has worked as a ski and climbing guide alongside her studies at the University of Tromsø. Today, Thea is a certified guide through the Norwegian NF system (Norsk Fjellsportforum), but the goal is to follow in her father's footsteps, becoming an IFMGA certified mountain guide.
What she loves most about taking people into the mountains is the look on their face when they achieve something that they never thought would be possible.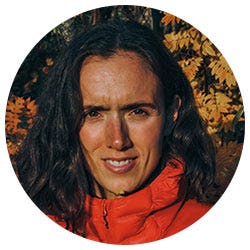 Thea's favourite Khroma pick:
"My favorite Khroma product is the Khroma Kinetic Pants. Working long days in the mountains often involves both demanding ascents and descents. Whether I'm skinning, climbing or skiing, the Khroma Kinetic Pants are flexible and breathable enough no matter the situation."

Annika Schlachter, Germany
23-year-old Annika Schlachter, originally from Allgäu in South Germany, is a multi-talent in the mountains. She is especially known for her fast turns off-piste and letting the boys only see her spray while freeriding. At the age of 2, she already had her first experiences on skis. While in school, Annika focused on ski racing and participated in several FIS races. However, she has always had an eye on the "real" mountains and possibilities apart from the slopes. Thanks to her family, she had the opportunity to explore the mountains around her. With the help of her brother and her dad, who are part of the ski mountaineering scene, she gained experience in ski mountaineering and discovered her love for it. After finishing school, she accomplished the education for the Level 4 ISIA ski instructor. Lately, freeriding and steep couloirs got into her focus and that is where she feels home.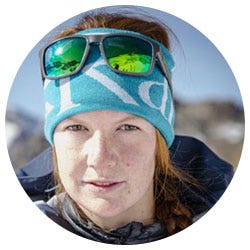 Annika's favourite Khroma pick:
"I simply love the new Khroma GTX styles, particularly all these nice little details that make skiing just so much more fun, such as the Khroma GTX Jacket's many pockets for everything you need on a long day out and its large and protective hood, or the Khroma GTX Pant's removable bib that keeps my back warm and the snow out."

Boris Textor, The Netherlands
Boris Textor was born and raised in the Netherlands and is now living in Innsbruck working as a fully certified IFMGA Mountain Guide. At the age of 13, Boris' sports teacher introduced him to sport climbing, and that is when his passion for the outdoors first began. From sport climbing, he developed to an all-round alpinist and skier. These became his new passions and ever since, Boris combined mountaineering and skiing. He did the Royal Traverse from the Mount Blanc on skis. He also opened a new steep line in New Zealand Couloir Ademlos by Mount Cook Aera. Furthermore, he travelled to Iran, Japan, Kazachstan, Lebanon and Morocco. In the Alps, Boris skied various North faces, e.g. at Mönch, Lenzspitze, Presanella, Cima Tosa, Taschach, Petersenspitze and many more.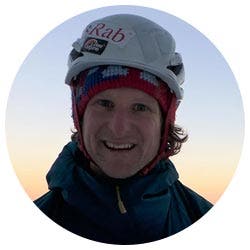 Boris' favourite Khroma pick:
"I love the Khroma Freeride GTX Mitts! I always have trouble with finding the right gloves, but I was flabbergasted as I first tried this one."