Fulcrum Gore-Tex® Handschuhe
Die Fulcrum GTX sind leichte und wasserfeste technische Kletterhandschuhe für den Winter. Sie schützen deine Hände auf herausfordernden Routen und bieten angenehme Bewegungsfreiheit.
Mehr lesen
Description
Die vorgeformten Handschuhe mit wasserdichter GORE-TEX-Grip-Technologie und robustem Stretch-Außengewebe bieten auch bei technisch anspruchsvollen Kletterabenteuern hervorragende Griffsicherheit. Die Fulcrum GTX mit 3D-Konstruktion für gute Bewegungsfreiheit und Elastizität werden von der PrimaLoft®-Gold-Isolation und Handflächen mit PrimaLoft® Grip Control abgerundet
Mit der Knöchelverstärkung, dem Lederaufsatz an Handflächen und anderen hoch beanspruchten Partien sowie dem Nasenputztuch sind die Fulcrum GTX die idealen leichten, wendigen Winterhandschuhe für Klettertouren.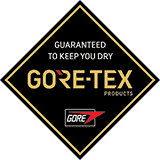 Made with GORE-TEX Grip
For maximum control.
Learn more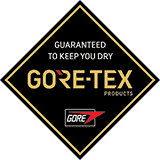 Made with GORE-TEX Grip
Gloves made with GORE-TEX Grip are designed for better grip and high levels of tactility. Layers within the glove that are normally loose are bonded together, providing more control, better support and greater confidence.
Optimal Grip
Grip is as much about fit as surface texture. The layers in GORE-TEX Grip gloves are bonded tightly together, so there's no movement between them.
Langlebig und wasserfest
Dieses Produkt schützt dich mit dem GUARANTEED TO KEEP YOU DRY™-Versprechen und hält dich selbst bei sintflutartigem Regen und im tiefsten Schnee trocken.
Absolut windfest
Cold wind removes the warm air between your skin and clothing. Products made with GORE-TEX are totally windproof, so you stay comfortable for longer.
Extrem atmungsaktiv
Bei intensiven, körperlich anstrengenden Aktivitäten ist es wichtig, dass Schweiß verdampfen kann. Dieses Produkt bietet hervorragende Atmungsaktivität, die dich stets angenehm trocken hält.
Key Specs

Weight

:168g / 5.9oz

Fabric Inner

:Fabric Inner - Pittards®:,

Outer Fabric

:Fabric Outer - GORE-TEX®:,

Product Code

:QAH-59
Features

PrimaLoft® Grip Control 60g/m2 Palm
Tiefer doppelter Stretchbund mit Elastikanteil und Schnürzug
GORE-TEX® Grip waterproof technology
Durable stretch outer
High Pre-curve for tool grip
Knuckle reinforcement
Mapped 3D construction for high dexterity and suppleness
Pittards® Armortan leather palm and nosewipe
Pittards® digital leather reinforcement in key wear areas
Soft Bemberg lining
Low profile bonded cuff
| | Hand Circumference | Hand Length |
| --- | --- | --- |
| XS | 16.5cm-18cm | 15.5cm-16.5cm |
| S | 18-19cm | 16.5-18cm |
| M | 20-21.5cm | 19-20cm |
| L | 23-24cm | 21.5-23cm |
| XL | 24-25.5cm | 23-24cm |
| XXL | 25.5-26.5cm | 24-25.5cm |
| | Hand Circumference | Hand Length |
| --- | --- | --- |
| XS | 6.5-7in | 6-6.5in |
| S | 7-7.5in | 6.5-7in |
| M | 8-8.5in | 7.5-8in |
| L | 9-9.5in | 8.5-9in |
| XL | 9.5-10in | 9-9.5in |
| XXL | 10-10.5in | 9.5-10in |
N.B. The table above shows body measurements not garmernt measurements.
Hand Length is measured from the wrist to the end of the middle finger.
Hand circumference is measured around the knuckles.
Versand
Rab ships throughout the EU Europe via DPD. Orders over €50 qualify for Free Shipping, otherwise, a flat rate of €8.00 will be charged per order under €50. We will aim to ship orders placed Monday - Friday before 1:00 pm the same day, although this is not guaranteed. Orders placed on weekends will ship on the following Monday
For more information regarding shipping, including shipping charges and estimated delivery times, please visit our help centre.
Rückgaben
If you are unhappy with your purchase, please return it to us within 28 days of receipt. The item(s) must be in resalable condition with tags attached. We are currently unable to exchange items and will refund products returned to us under the policy above.
Bitte beachten Sie, dass wir Unterwäsche nicht zurücknehmen können, außer sie wurde fehlerhaft oder defekt geliefert. Wir empfehlen, einen Kurier- oder Transportdienstleister für die Rücksendung zu nutzen, da wir nicht für auf dem Versandweg verlorene Artikel aufkommen können.
Für weitere Informationen zu Rückgaben und Gewährleistung sehen Sie bitte Hilfe-Zentrum help centre.
Fulcrum Gore-Tex® Handschuhe Reviews