Our gear is built to last, but it's not indestructible.
In our Service Centre we repair, patch, and wash your kit to ensure it keeps going for as long as possible. When it's time to part, if it's still useable, find it a new home. Donate it to a friend, a charity, or someone in need.
All good things must come to an end. Outdoor gear is no different.
We save what we can. Stripping items for zip pulls, toggles, spare stuff sacks. Washing and drying them, ready to re-use on repairs. For the bits we can't reuse, we're exploring a range of end-of-life options. Including down recovery and recycling, repurposing fabric, donating, and more.
We're also designing products with their end-of-life in mind. Like the Downpour Eco. Read more about that here.

At the end of the year, we parcelled up the collected down, almost 200kg, and shipped to our down processor Minardi Piume, in Italy.
In May 2021, we started collecting down. It started with one down bin at our HQ in Derbyshire, UK. Local customers, staff and stores brought old down jackets and sleeping bags to be recycled. In the summer, we went "on-tour". We visited outdoor festivals, film events and trade shows. Spreading the word far and wide. Gathering plenty of down products along the way.
We recycle:
• Down Jackets
• Down Sleeping Bags
• Down Pillows
• Down Duvets
If you've got old down products you want to recycle, you can find out more about recycling it online, here.
Our first shipment has been recycled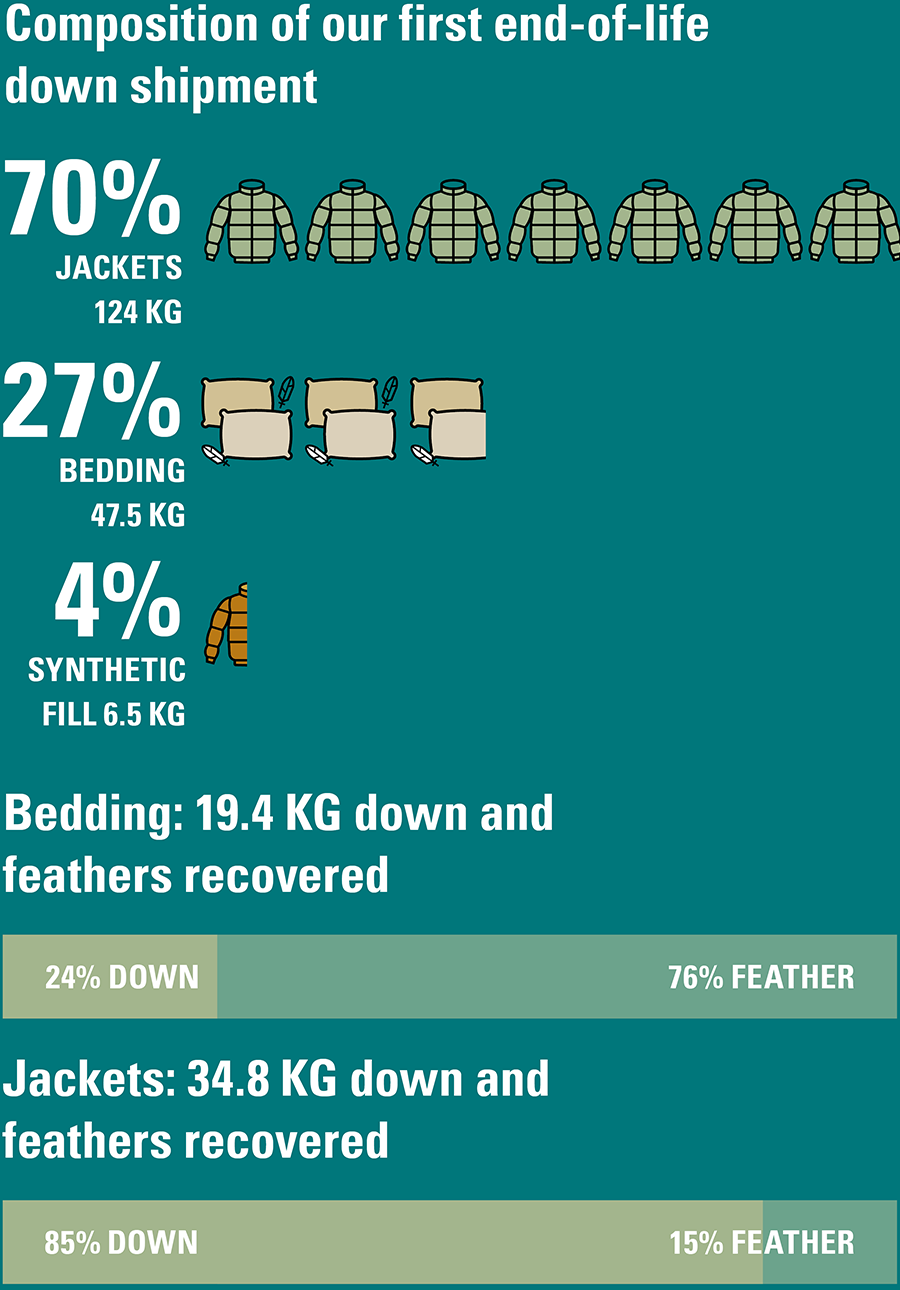 Down. Reborn.
After being washed, treated and graded for quality, the down can be used for new technical products. Other materials from the collected items are processed and recycled offsite.
Only end-of-life products are processed through this recycling stream.