As your first layer of clothing, baselayers are arguably the most important factor when it comes to regulating your body's temperature. If you start with the correct baselayer, you establish a foundation from which to build upon with further layers. Get this wrong and all the most expensive, technical outerwear in the world won't help you keep warm, dry and ultimately safe.
Introduction

Why baselayers are so important, the dangers of not using them, capillary action and the different fits within our range.
Synthetic Baselayers

The different synthetic fabrics within our range, anti-odour treatments and an overview of the Rab synthetic range.
Merino Baselayers

The origins and history of merino wool, its benefits, the production process and overview of the Rab Merino range.
In this guide we will explain why baselayers are so important, discuss the two different categories of fabric used and talk you through each garment in our range so that you can easily decide on the best baselayer to suit your needs.
Surprising as it may seem, baselayers are often overlooked when it comes to layering systems. Walkers, climbers and even mountaineers frequently focus on insulation or waterproofing pieces when, in fact, many of the most important issues they face can be combatted by a good baselayer. Whether you're working hard on an alpine North face or just out for a stroll in the hills, moisture management and temperature regulation are key to keeping you comfortable and safe.
Dangers of not managing moisture
Being able to manage moisture when taking part in activities is extremely important. If your baselayer retains moisture in cold weather, it will begin to cool your body's core temperature during periods of rest. Left damp, this could ultimately result in the onset of hypothermia. Conversely, in warm and hot environments, a damp baselayer can be extremely uncomfortable and result in unnecessary rubbing and chafing, leading to abrasions and sores. This could potentially be dangerous in hot and humid conditions, resulting in infections.
Temperature Control
Baselayers are the first clothing layer next to your skin and therefore play a pivotal role in helping to manage temperature. As well as managing moisture, in warm conditions the correct baselayers can help to keep you cool and provide an all-important layer to protect from UV. Baselayers designed for use in colder conditions will provide you with an initial layer of insulation, with fabrics such as Merino trapping small amounts air between the fine wool fibres, providing a level of warmth. The amount of insulation is typically linked to the weight of a fabric, with our Merino 160 fabrics being warmer than Merino 120 fabrics.

Wicking
Wicking, otherwise known as 'Capillary Action', is the process by which liquid naturally moves through narrow spaces, such as between the yarns of a fabric, even in opposition to external forces such as gravity. With regards to technical baselayers, this means that we produce fabrics that can 'wick' sweat away from your skin to the outside of the fabric, where it can spread out over a larger surface area, speeding up evaporation. The end effect is that your body is kept moisture free. In warm conditions this helps to keep you cool and prevents overheating, as well as keeping you comfortable and dry. In cold conditions the wicking action means that there is relatively little moisture held next to the body. It is this moisture that would otherwise chill you rapidly when you stop moving. Moving it quickly, away from the body helps to reduce this risk.
At Rab, our Synthetic and Merino baselayers each have a specific fit.
Our synthetic baselayers are regular fit, designed primarily for spring and summer use in milder conditions. The regular fit enables evaporation by way of a bellowing motion, allowing more air to circulate between the fabric and your skin. On the other hand, our Merino garments are slim fit, trapping air between the fabric and your skin in order to provide insulation, whilst enabling the merino wool to wick and absorb moisture away from your body. Our Merino baselayers are best suited to colder environments, however they still perform excellently in milder conditions due to merino wool's natural ability to regulate your body's temperature.
Rab's synthetic baselayers are designed primarily for mild and warm spring and summer conditions, but they work equally well as the baselayer in a layering system for cooler environments.
Their fit is looser than our Merino range, encouraging airflow between your skin and the fabric in order to speed up evaporation and keep you cool. Rab uses MOTIV fabrics for our synthetic baselayers which are designed to be lightweight, fast drying and durable. We use two slightly different MOTIV fabrics, MOTIV-G and MOTIV-H, each with its own characteristics.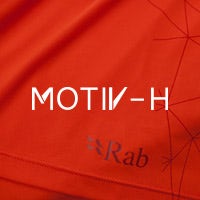 Motiv-H is a very lightweight, "high gauge", technical fabric weighing only 80g/m. It is knitted with a high number of needles for density and durability, while remaining very soft and supple. Rapid wicking technology moves moisture off the skin to keep you dry and comfortable when active. Motiv-H fabric dries very fast. Permanent Polygiene anti-odour treatment is added to the fabric, extending the time you can wear the garment between washes. Motiv-H fabrics are used in our Aerial Tees.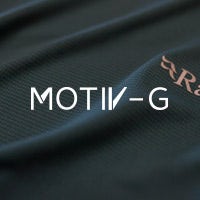 Motiv-G is an even lighterweight, technical fabric, weighing in at only 78g/m. It is knitted with a subtle 'grid' visible on the surface and is soft, supple and durable. Rapid wicking technology moves moisture off the skin to keep you dry and comfortable when active. Motiv-G fabric dries very quickly. Permanent Polygiene anti-odour treatment is added to the fabric, extending the time you can wear the garment between washes. Motiv-G fabrics are used in our Interval Tees.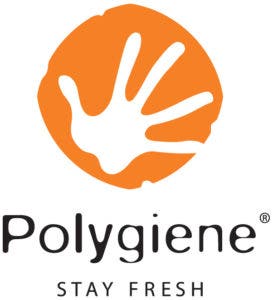 Unlike Merino fibres, synthetic fabrics do not posses natural odour-control characteristics. In order to control odour, we add Polygiene Stay Fresh technology to the surface of our synthetic baselayers. The active ingredient is a silver salt, which is a highly effective, naturally occurring antimicrobial agent. Sweat itself is odourless, but it creates an environment for bacteria to thrive. Polygiene odour control treatment reduces odour-causing bacteria by more than 99%. The odour-inhibiting effect lasts for the life of the garment and keeps your clothing fresh. In addition, Polygiene is bluesign approved and on the Oeko-Tex list of approved products as a safe and ecological fabric treatment.
Rab's Merino baselayers are made from more than just Merino wool. They're a careful blend of superfine Merino fibers with a small amount of synthetic fibers, treated with 37.5 technology, woven in. This means that in addition to the warmth, breathability and odour-control offered by merino wool, our Merino baselayers have the added benefits, often not found in Merino layers, of increased durability and fast dry times.
Benefits
Merino wool fibres are able to absorb up to 35% of their own weight in moisture without 'wetting out', i.e. it doesn't feel wet to the touch. This means it is excellent at regulating your body's temperature; when you are active and producing sweat, the fibres wick and hold moisture away from your body so you don't overheat and become uncomfortable. When you are stationary the fibres release that moisture and keep you warm. In addition, merino wool is naturally anti-bacterial, meaning that your sweat does not attract bacteria which in turn helps to keep your merino layers odour free. It does not itch or crease, and it is lightweight and completely natural, meaning that it is highly sustainable.
Sourcing
Wool in all Rab Merino+ products uses fully traceable superfine (15–18.5 µm) merino wool from Australia. The wool is certified non-mulesed, meaning the sheep do not have their skin removed in areas where flystrikes can occur. This is a common practice in the merino wool industry, but it has been labelled as cruel for the animal and as such we have taken the decision to only source Merino wool from non-mulesed certified farms.
All Rab Merino garments are blended with 37.5 Polyester Technology in order to speed up wicking and the removal of moisture, moving sweat from the inside of the garment to the outside where it can evaporate.
With 37.5 Technology, patented active particles permanently embedded at the fibre level capture and release moisture vapour. Not only do these active particles provide 800% more surface area to the fibre, they also provide a unique driving force to remove moisture vapour unlike any other technology. By actively responding to body heat, the active particles use this energy from the body to accelerate the vapour movement and speed up the conversion of liquid to vapour, significantly increasing drying rates.
Now that you have a better idea about our baselayers technology,
why not view our full range?