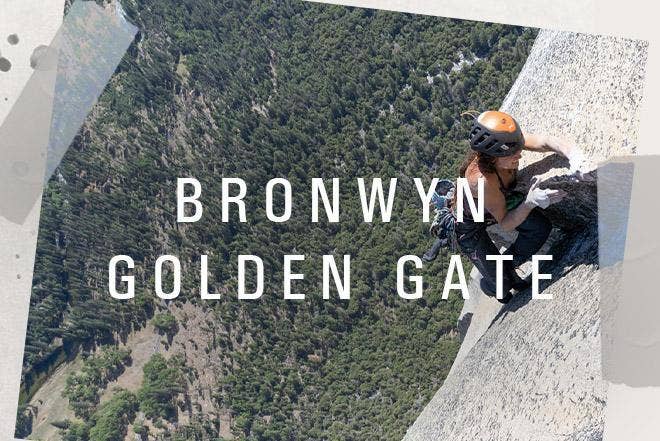 I lay awake unable to sleep, gazing up at the moonlit face looming above us. Danford slept soundly beside me. It was our third night on the wall and although we'd already covered half the height of the mountain, I knew all the hard pitches lay ahead. Our ropes were fixed fifty metres up from our camp to the start of Golden Gate's first crux: The Downclimb.
The Downclimb was the biggest unknown — a perplexing slab down-mantel located smack in the middle of the wall. I'd tried the pitch earlier that evening and was dismayed at the difficulty. I'd barely managed to do each hard move in isolation and had made no links whatsoever. Was THIS in fact the true crux of Golden Gate!? I regretted not rehearsing this pitch more in the weeks prior, but I had to shove those negative thoughts aside and try and get some sleep.
Conditions felt cool and crisp as we ascended our ropes the next morning. Emily's advice was running through my head: "It's a short pitch, just keep trying it from the start until you do it." I pulled on and climbed down into the crux. I fell, shook out, pulled back up and started again. And again and again…
I stood balanced with both feet on the foothold, the only hold in a sea of smooth granite. I let my right foot hang loose and performed a controlled inverse pistol squat until I could match my left fingers next to my left toes… Sh*t! I craned my neck to look down at my left foot: I hadn't left enough space for my fingers! Do I give up now and try again? No. Just do it anyway. And try really really hard! I stuffed my fingers against the toe of my shoe and pressed down as hard as I could. I released my left foot…
How am I still on!?? I was suspended between a right thumb crystal, my squashed left fingers and a horrible right foot smear. My core was so tense I couldn't breathe. I dared not move a muscle for fear of slipping off. Then, ever so delicately, I shifted my weight to the left, dropped my left foot onto the blind edge below and brought my right hand in to match the hold…
…I could breathe again! I've never tried so hard in my life on a single move. Clipping the anchor felt like waking from a dream. I looked above me at the smooth grey wall dotted with my own chalk ticks. Had that really just happened?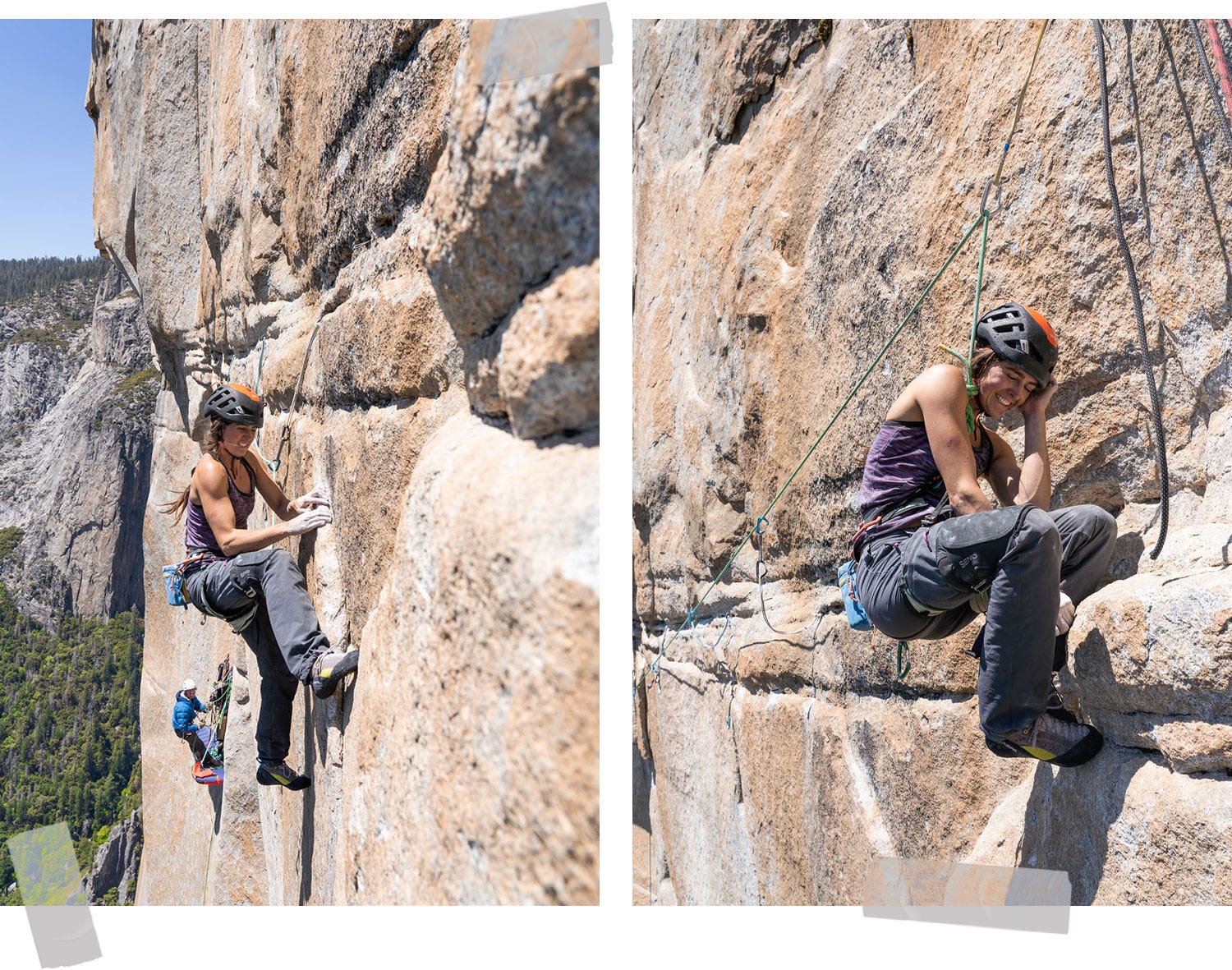 The next day we climbed and hauled through the traversing zig zags, with all our gear, food and water that weighed nearly as much as I did. Moving camp in the vertical is slow and exhausting. All day I focused on expending only as much energy as absolutely necessary. I had to save myself for the next crux — The Move. At the anchor below The Move we were still baking in the afternoon sun, so we took our time constructing an elaborate sun shelter at our hanging camp. We got out snacks, electrolyte water and hand balm — our recovery tactics were getting slick! At dusk we packed away the tarp and pulled out the mini hangboard. Could I perform under all this pressure? Yes you can, I told myself. You've been practicing this all winter. You're good under pressure, that's your superpower. Believe it.
I sent the pitch second attempt by headlamp, in a magical flow-state daze. With the two hardest pitches behind me, the realization that I might actually pull the whole thing off was suddenly all too real. Two crux pitches still to go, but I was starting to get a little giddy with excitement. I slept deeply that evening.
In the morning we climbed four pitches up to Tower to The People, the only natural ledge in the entire upper half of the route. Our pace had certainly slowed as the exhaustion of the wall was catching up to us. "Is this day 5? Or 6??" We counted back and realized it was in fact day 6! Sitting on the tower, we could lean out and see our entire line up the mountain. Another route, El Corazon, joined us here and the two lines share the final seven steep pitches to the summit.
The Golden Desert stretched above us — a beautiful finger layback weaving through a series of stepped roofs. I was nervous. Under the fading pink light, I began punching through the tips layback. Punching? That's what I was expecting: a fight to the death against the enduro pump monster. But instead I felt light and nimble. I danced up the corner, trusting my feet on terrible footholds, sometimes stemming, sometimes jamming, always dancing upwards until suddenly my fingers slotted into the bomber lock under the roof.
I snapped out of the trance. I was through the crux! Keep it together. As I clipped the chains I let out a celebratory yelp into the darkness. Then I looked directly to my right at the A5 Traverse, the final crux between me and the Golden Gate summit. I knew that pitch had stopped strong climbers in the past. I couldn't celebrate prematurely.
The next morning I felt tired and achy as I warmed up on the hangboard. I tried not to let myself get overwhelmed. You have time for multiple attempts, I assured myself as I strapped on my knee pad and laced up my shoes. I climbed up to the roof and felt immediately flash pumped. Yikes! "Just lower me, Danford."
15 minutes later, I climbed up into the knee bar at the roof and clipped the first peg. From there it's a ticking clock: can I make it to the finish before pumping off the wall? This is totally my style. I love this stuff! But I was tired. I made it within several feet of the anchor when my elbows started to chickenwing. I could hear Danford cheering, but my fingers were already peeling off the rock as I swung onto the rope. So close! I had time. Stay positive.
My energy tank was much smaller today, so I decided to rest an hour and then warm up again. Danford and I sat on G7 Pods with snacks and water, soaking in the view. What an outrageous place for two humans to exist! I closed my eyes and visualized the traverse, move by move.
And then it was real. I made my way across the horizontal dyke, each movement quick and precise. Halfway along I swung my heel up to take and relieve my fingers for a moment, then I swung it back down and raced along the crimps to the finish. I clipped the anchor and collapsed onto the rope. I covered my face with my hands, overwhelmed with emotion. I took my hands away and looked across at Danford who was shouting congrats. I was lost for words, and buried my head in my hands again. I'd done it. I'd sent the last crux on Golden Gate!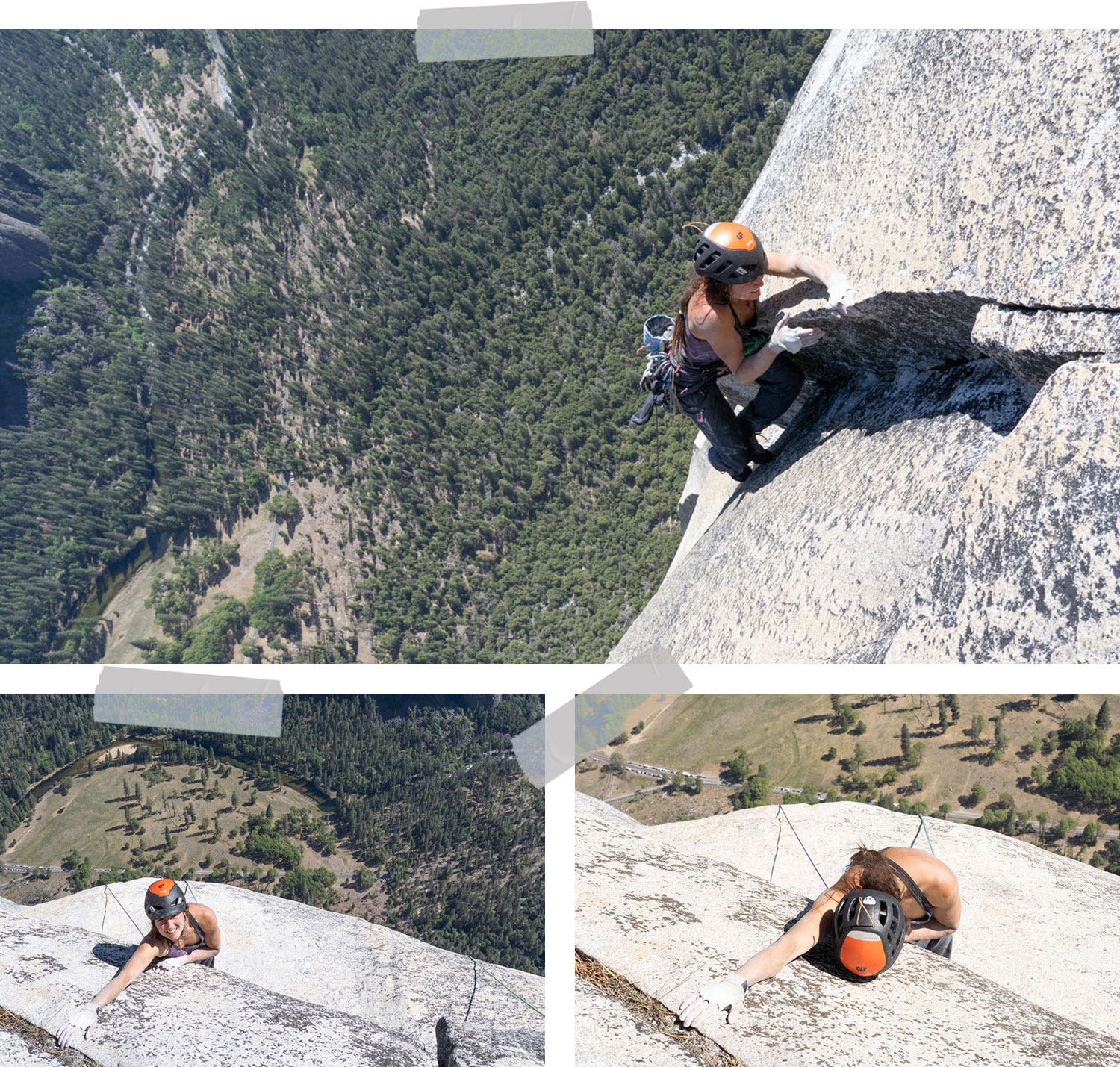 It took Danford and I all day to climb and haul the final five pitches. Late afternoon of day eight, I hoisted myself over the rim: "Off belay!" I belted, and I heard a faint reply which acknowledged the call. On auto pilot I attached the lead rope to the anchor and loaded the haul rope onto the traction. Only then did I pause to look around. I wanted to soak it all in; the Cathedral cliffs across the valley, the blue sky stretching toward the Pacific Ocean…
Danford joined me at the anchor and it was another hour of bag wrestling up low angle slabs until we could collapse under the shade of a gnarled pine tree. I felt a surge of appreciation toward his willingness and eagerness to come support me last minute on this crazy goal. I'd certainly been sent a stroke of luck this season. I thought of all the friends who'd helped me in one way or another, and felt privileged to be surrounded by such a supportive community.
Golden Gate turned out to be the perfect goal. In the end, the outcome is secondary. What I'm most proud of is that I stuck to it, no matter how many doubts crept into my mind. I dedicated myself to the training and preparation and then gave the wall everything when the pressure was on. Belief is a powerful tool. Although there was uncertainty to the very end, deep down I believed it was possible and that kept me fighting. Only by challenging myself to my very limit was I able to discover what I'm capable of.
Lightweight, technical climbing pant for cool comfort on multi-pitch routes.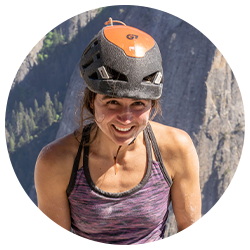 Words by | Bronwyn Hodgins
---
Bronwyn is a professional rock climber and guide, based out of Squamish, Canada. Originally from rural Ontario, she grew up canoeing, hiking and skiing with her family. She started climbing at university and immediately fell in love with the sport.
Read more about Bronwyn here