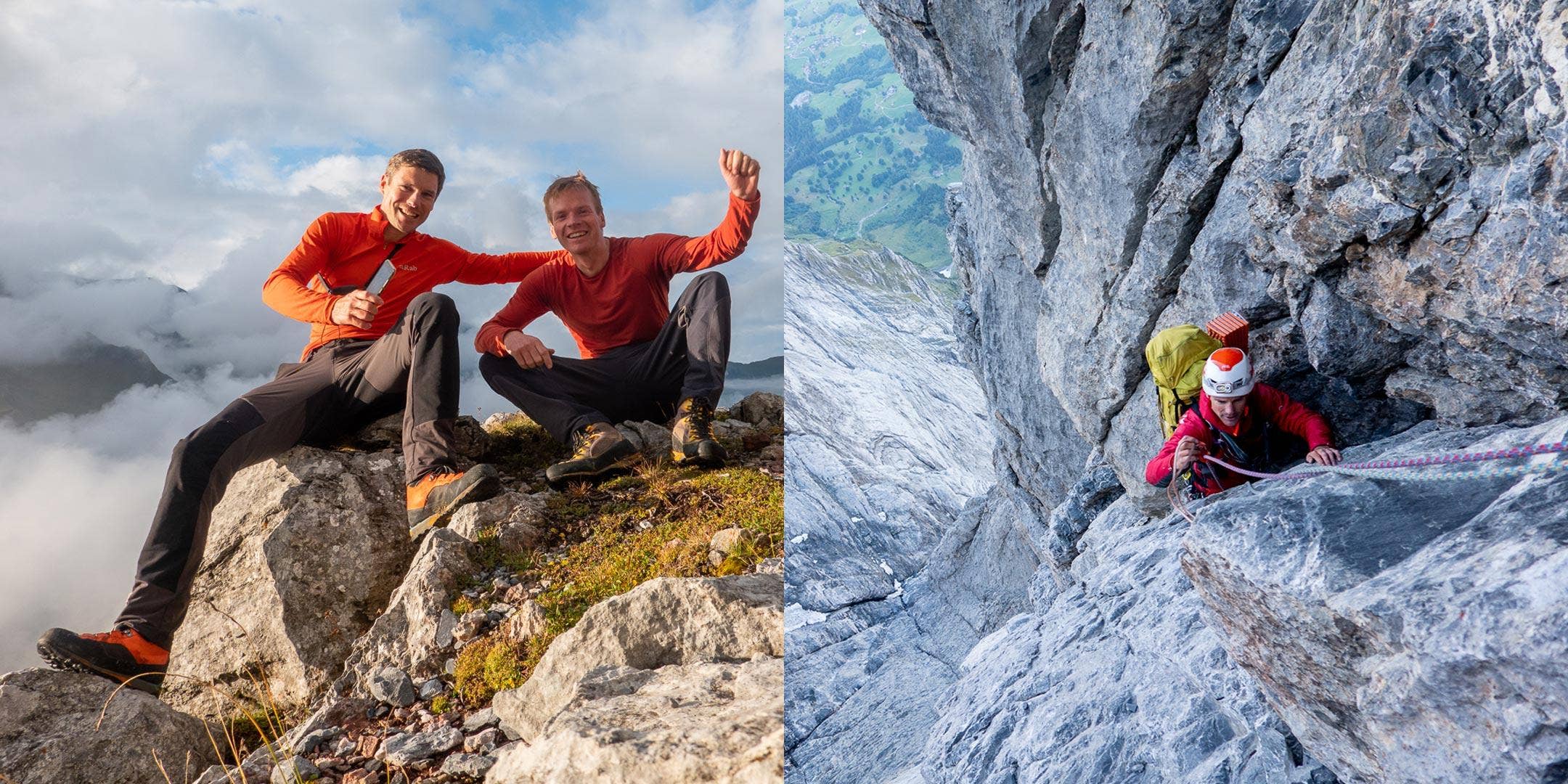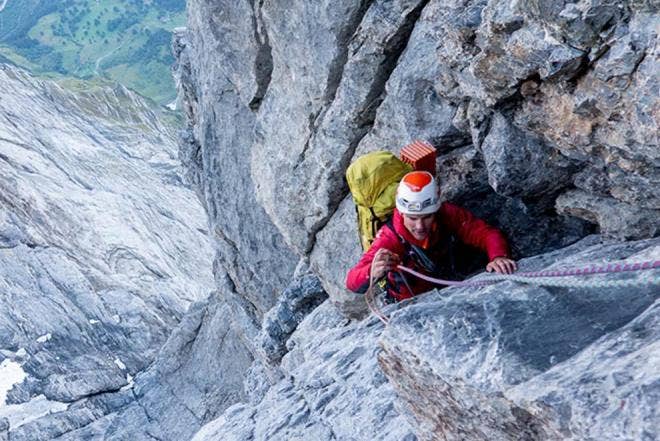 'Daaaaaaa-dooooooo-daaaaaaa-dooooooooooh!' The sound of the Grindelwald Postbus horn is echoing in my head. We are high on the West Pillar of the Scheidegg Wetterhorn. Alone on the wall. The busses, tourists, the farms – they seem to belong to a different world. We are absorbed by the serious and exposed climbing, needing all of our focus and skills.
Our only connection to civil society is the horn from the postbus we hear every 15 minutes, warning other car drivers on the small road. It becomes hard to distinguish if there is an actual bus or not – I just keep on hearing the sound, like a silly song that keeps going in your head. The echo accompanied me for the next three days as we ascended one of the wildest routes of Berner Oberland.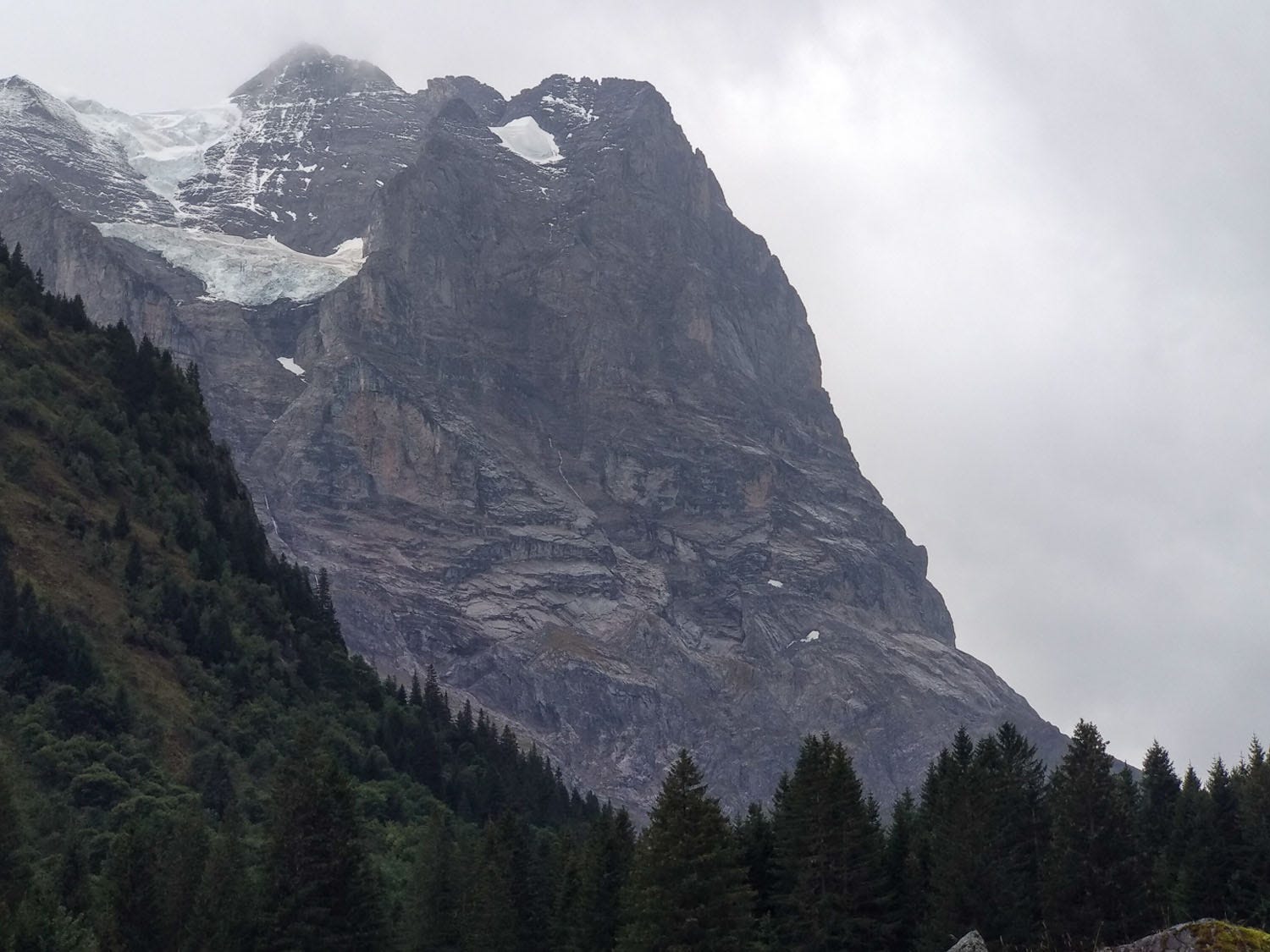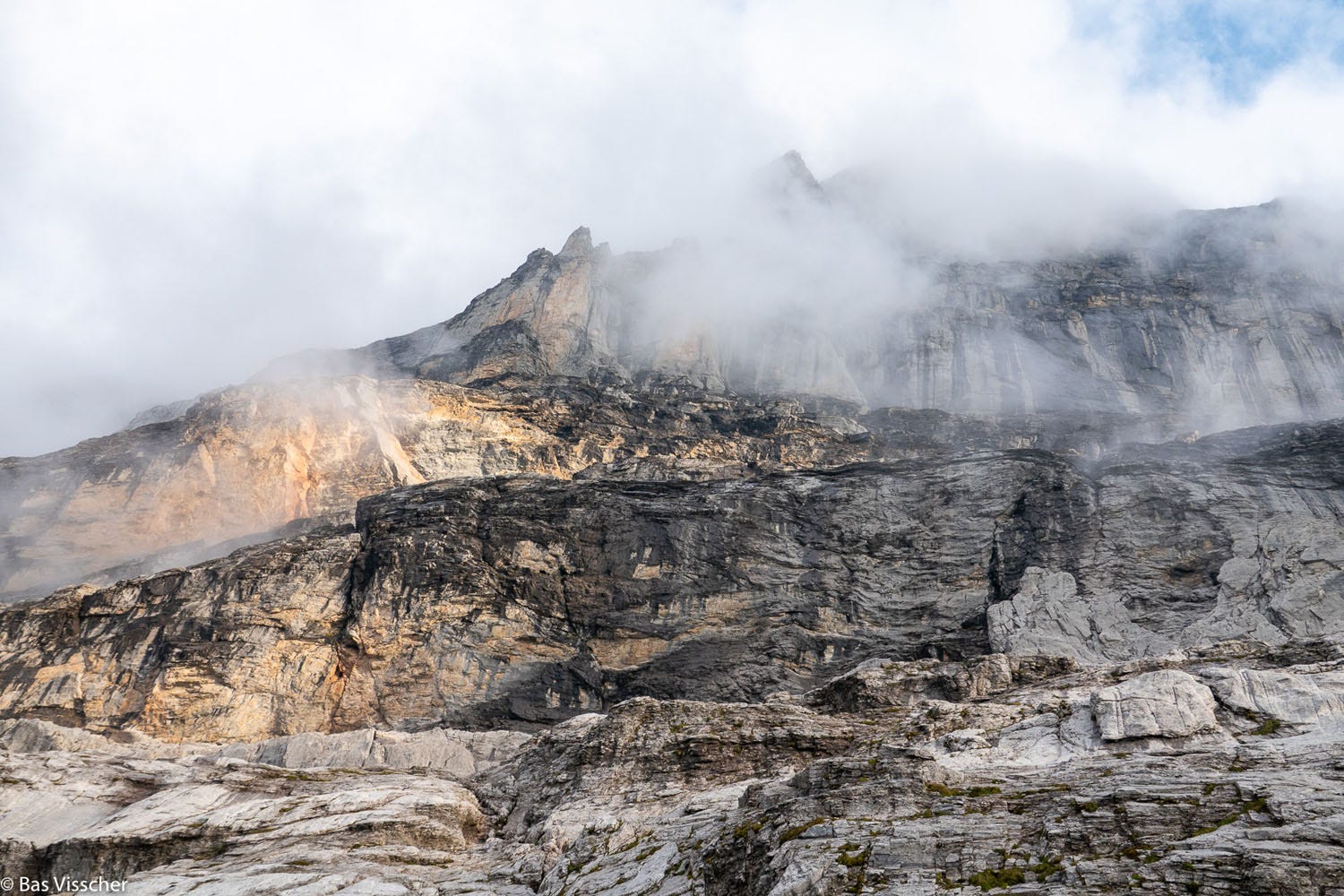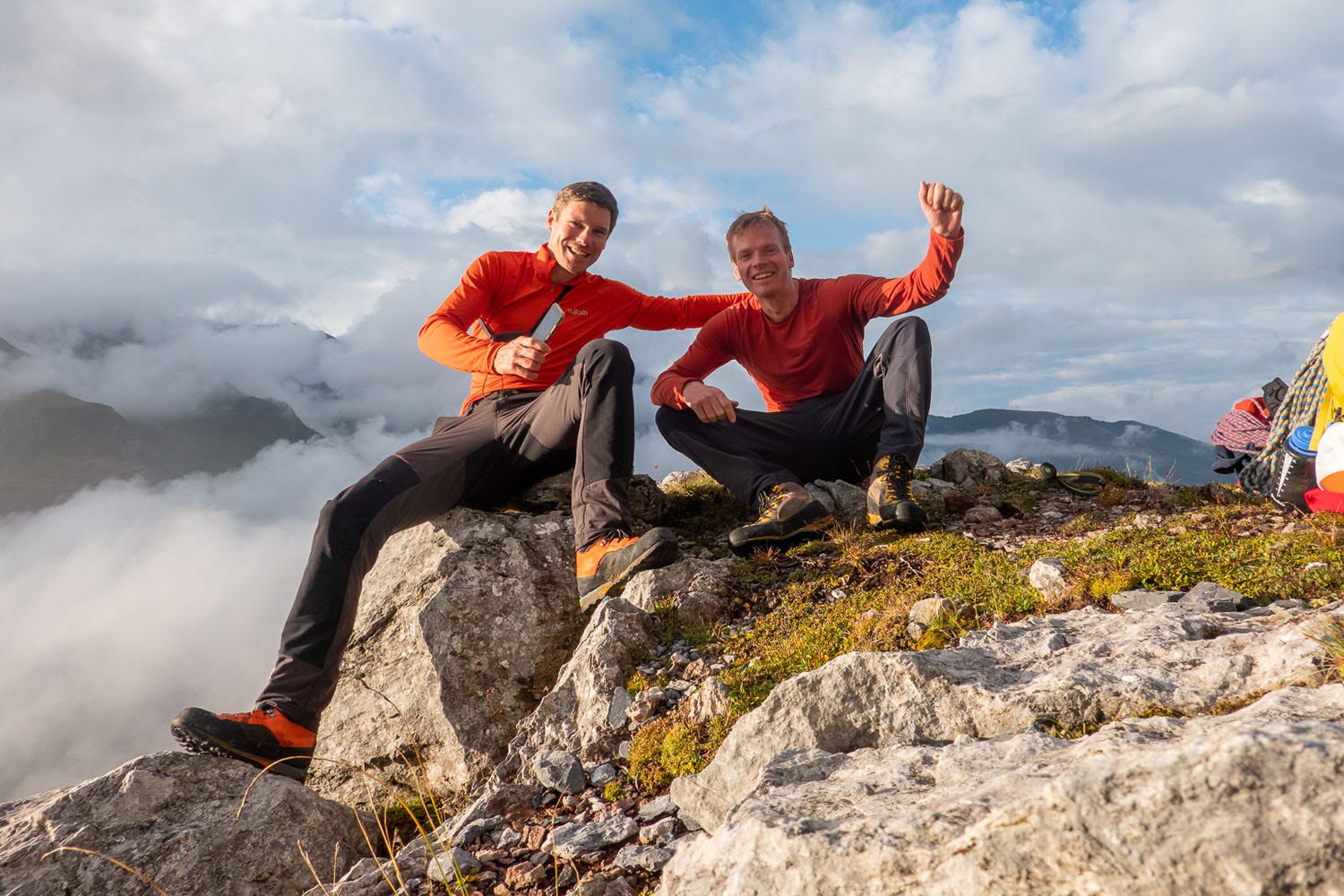 It's 12 September 2021, about 5.30 in the morning. Danny and I leave our little bivy spot under the massive north face of the Scheidegg Wetterhorn. It's my 35th birthday, but there will be no cake today. Instead, a very heavy backpack is my present. We carry everything for a multi day climb: 4l of water each, food, bivy gear, crampons, a light axe and such. Under this load the scrambling feels awkward – how will it be if we are actually climbing? Close to the start of the route, we need to pass a narrow and slimy 3B chimney. I hesitate a little, but there is no obvious way around it. I work myself through it, and I struggle with the big backpack. I manage, but afterwards my Borealis jacket looks more black than red and I smell like I have just fallen into a ditch. Ah well, I wasn't planning on giving a birthday party tonight anyway…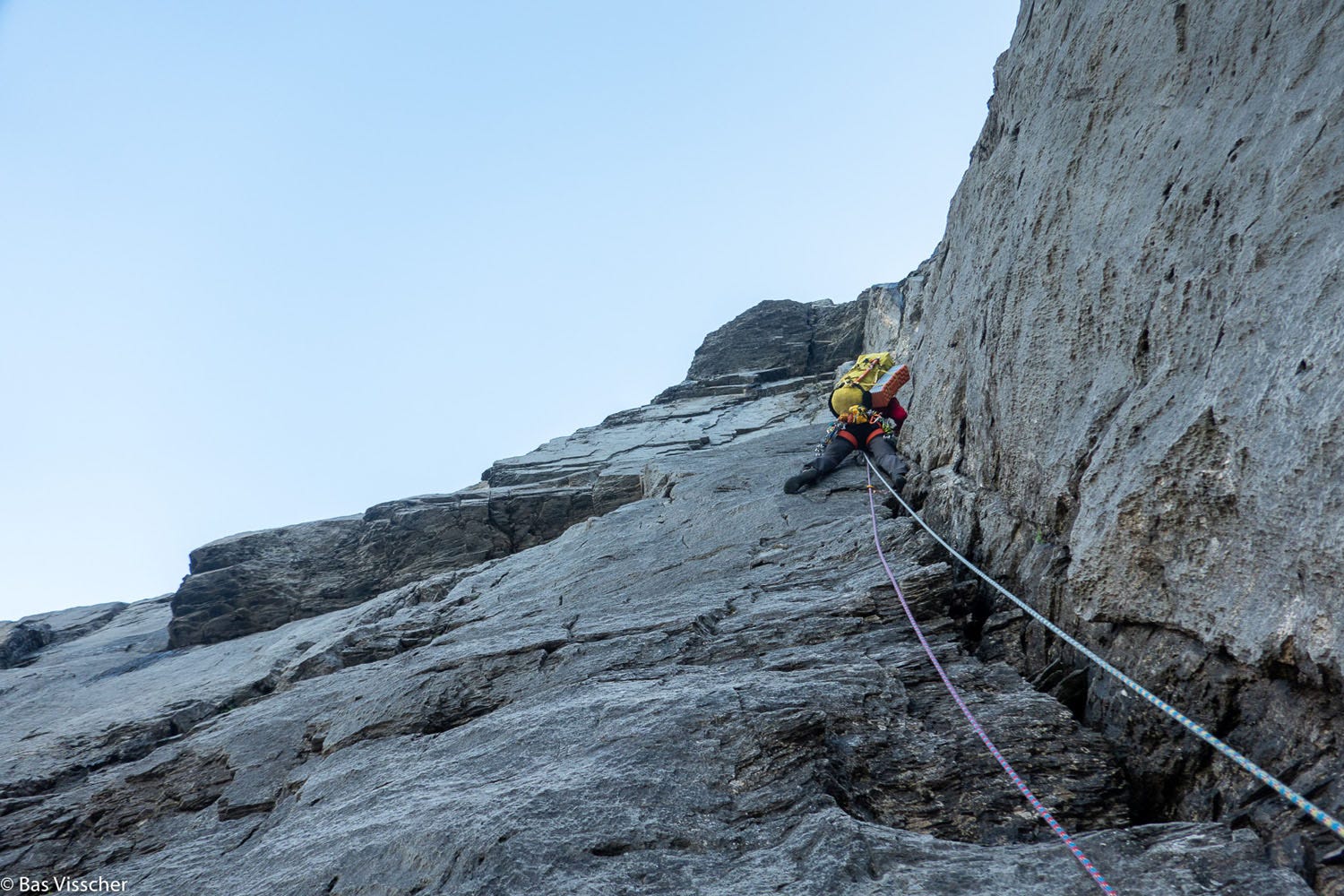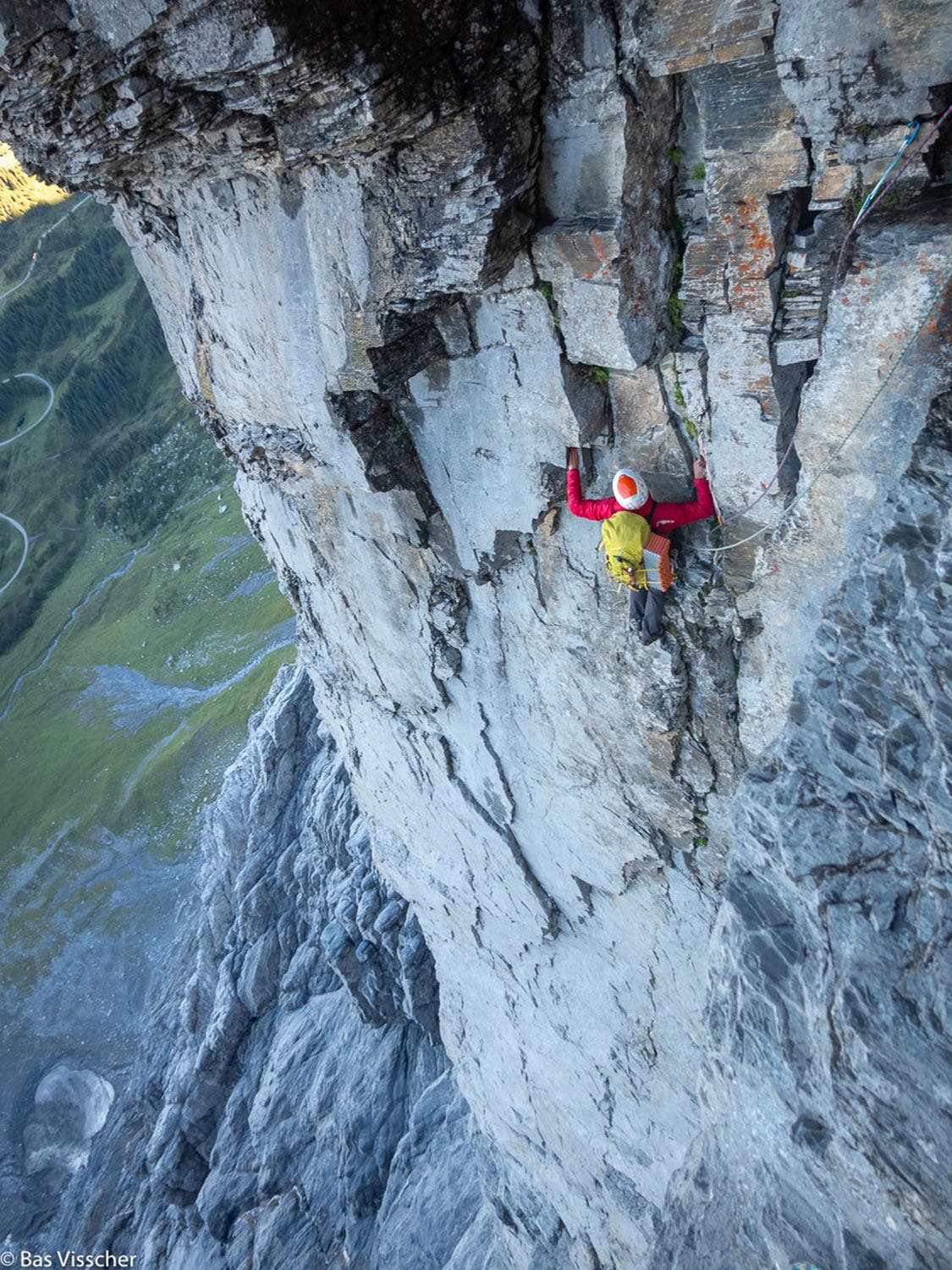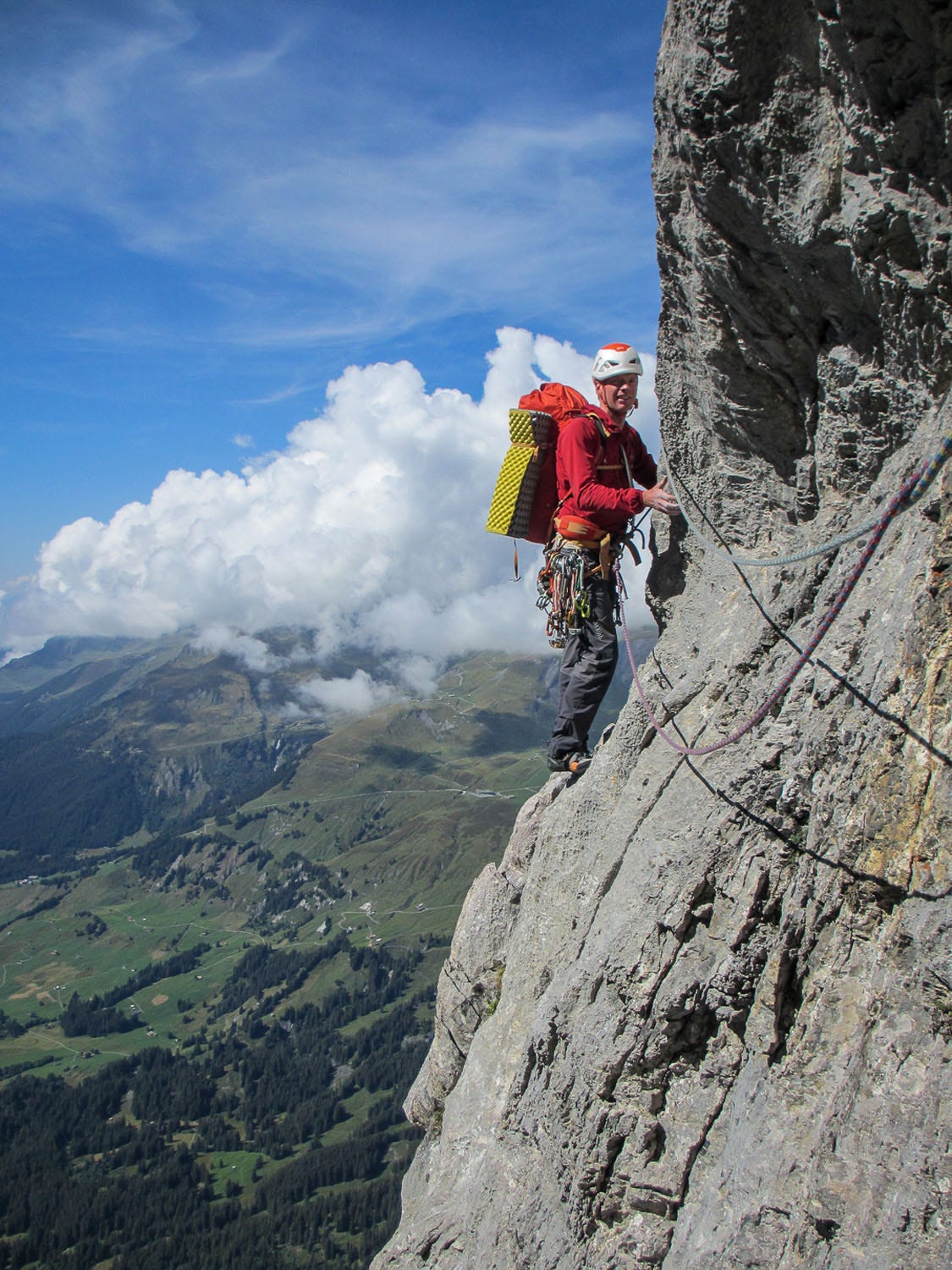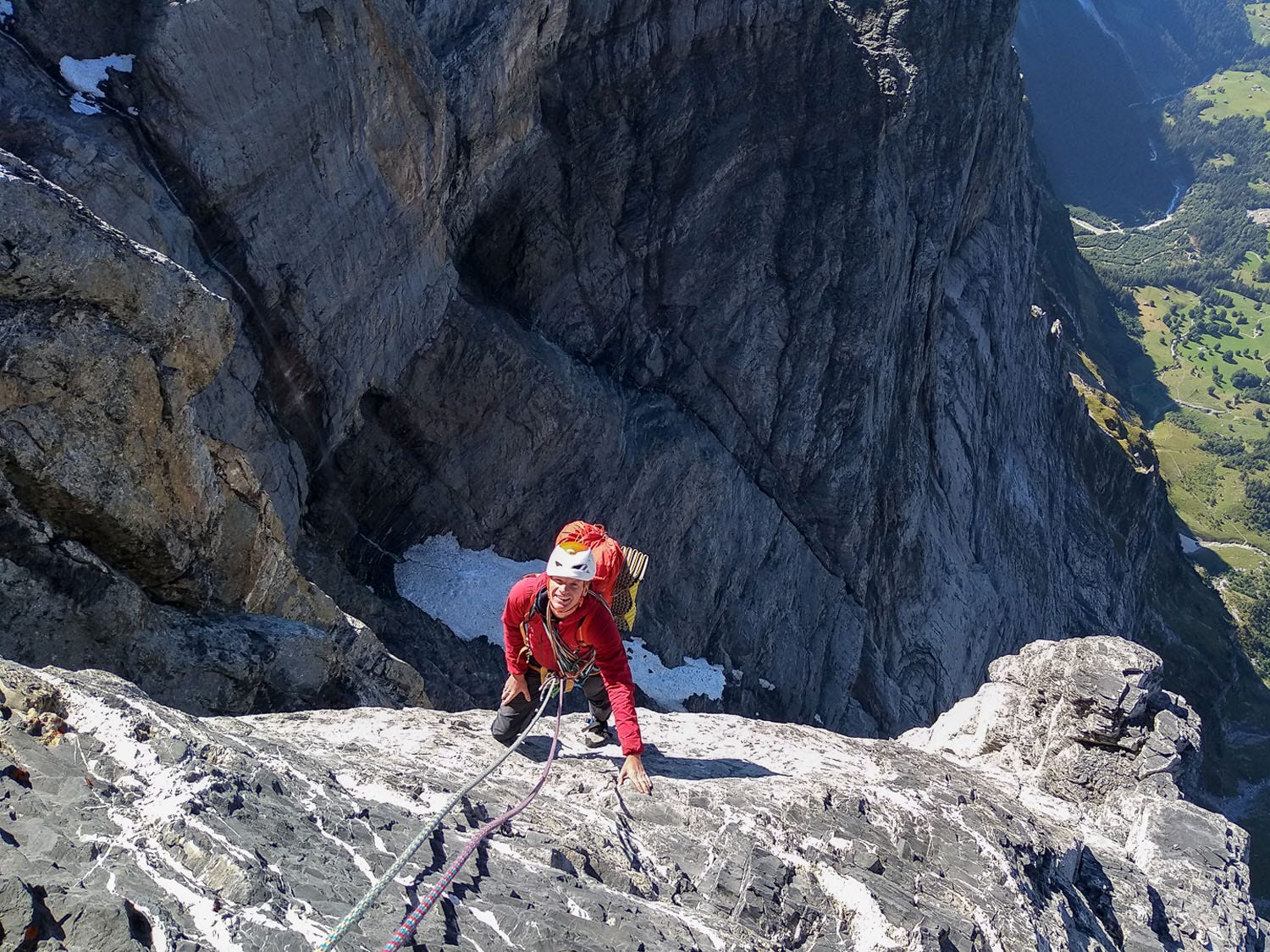 The first pitches immediately show us why the route has such a serious reputation.
Our heavy backpacks are weighing us down, the rock is sometimes wet, and the slopy limestone requires careful climbing. The roof traverse at the end of pitch 4 is only graded 5b, but I need some aid to pass the airy and wet section. A few pitches later I decide to climb a steep section without my pack as it feels too insecure. We thought that hauling would help speed us up, but packs get repeatedly stuck on the raw limestone. Danny helps me get my backpack to the belay. What a struggle…
The sun hits the west face as the hours pass by. I lead a sustained 6a pitch, protected by some pitons and mental C3 cams behind thin flakes. Without the backpack and with bolts it would not be a great deal. But now it feels serious, and scary, and we have a long way to go still.
While belaying there is time to think. My thoughts go everywhere, but mostly I feel very aware of our situation. There is nothing wrong, but I can't say I feel very confident either. Even the 5a and 5b pitches felt pretty demanding.
"Will the upper part be even harder?"
Below me I see Grindelwald. Yesterday, two friends ran the Jungfrau Marathon in a mass of people. We are the only climbers on this huge and serious wall.
"Is this what I really want?"
Usually, when I am in the valley, the answer is, "yes". But now, with our slow progress, I am not so sure if this is the place where I really want to be. Just keep going, I tell myself.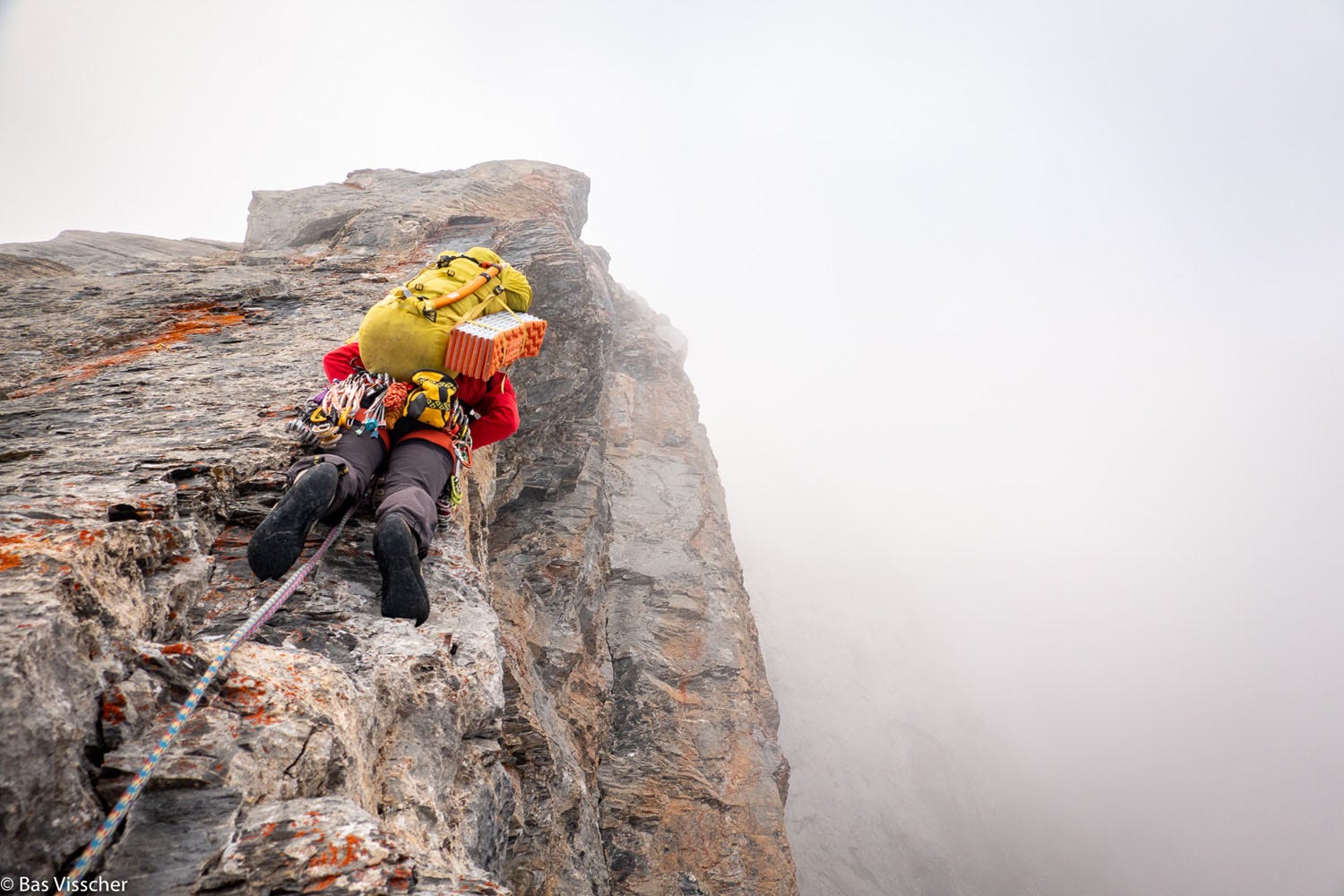 We climb in the last daylight. The Pargatzi shoulder after pitch 16 is our intended bivy spot. Danny does a great lead on an airy 6a ridge and brings us to this very comfortable ledge.
Finally! We relax, chat and enjoy our time on the mountain. When I take out my phone, I read my birthday messages. Most friends don't know where I am right now. We wonder about tomorrow. Retreating is not really an option anymore. We need to finish this climb. Today was really demanding, and tomorrow is not going to be different.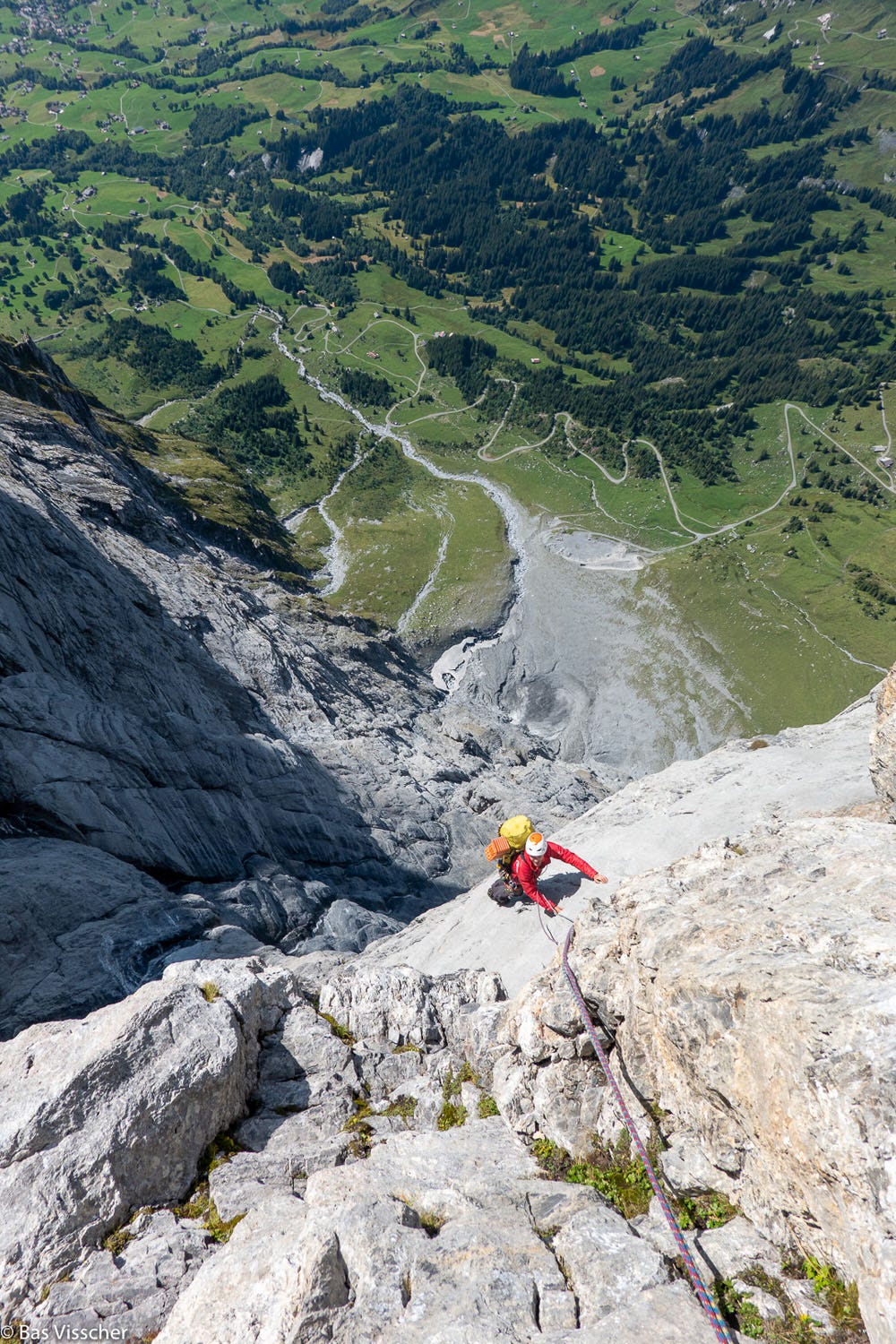 5 am. The alarm rings.
As I wake up, I slowly realize I'm still on the Scheidegg Wetterhorn. A small rappel leads us to a difficult chimney system, consisting of five 5c/6a pitches. We work ourselves to the infamous Pargatzi-chimney, a poorly protected 5B pitch where legend says a climber took off his helmet and placed it as protection. Danny starts the pitch without a backpack, so he fits inside the chimney. There are 2 pitons after 15m, and then he climbs the chimney without protection. What a memorable pitch!
Afterwards another 6a chimney for me. For some reason this pitch feels so much easier - there is good protection and plenty of nice holds. We haul my pack, which is looking pretty damaged now. Then Danny leads us into the warm sun. Now we have passed this section, it's really a matter of staying on the right route. Pitch after pitch follows, and more importantly, we feel more comfortable about our progress. The packs are a few kilos lighter and the climbing is easier. But there is a lot of terrain waiting above for us.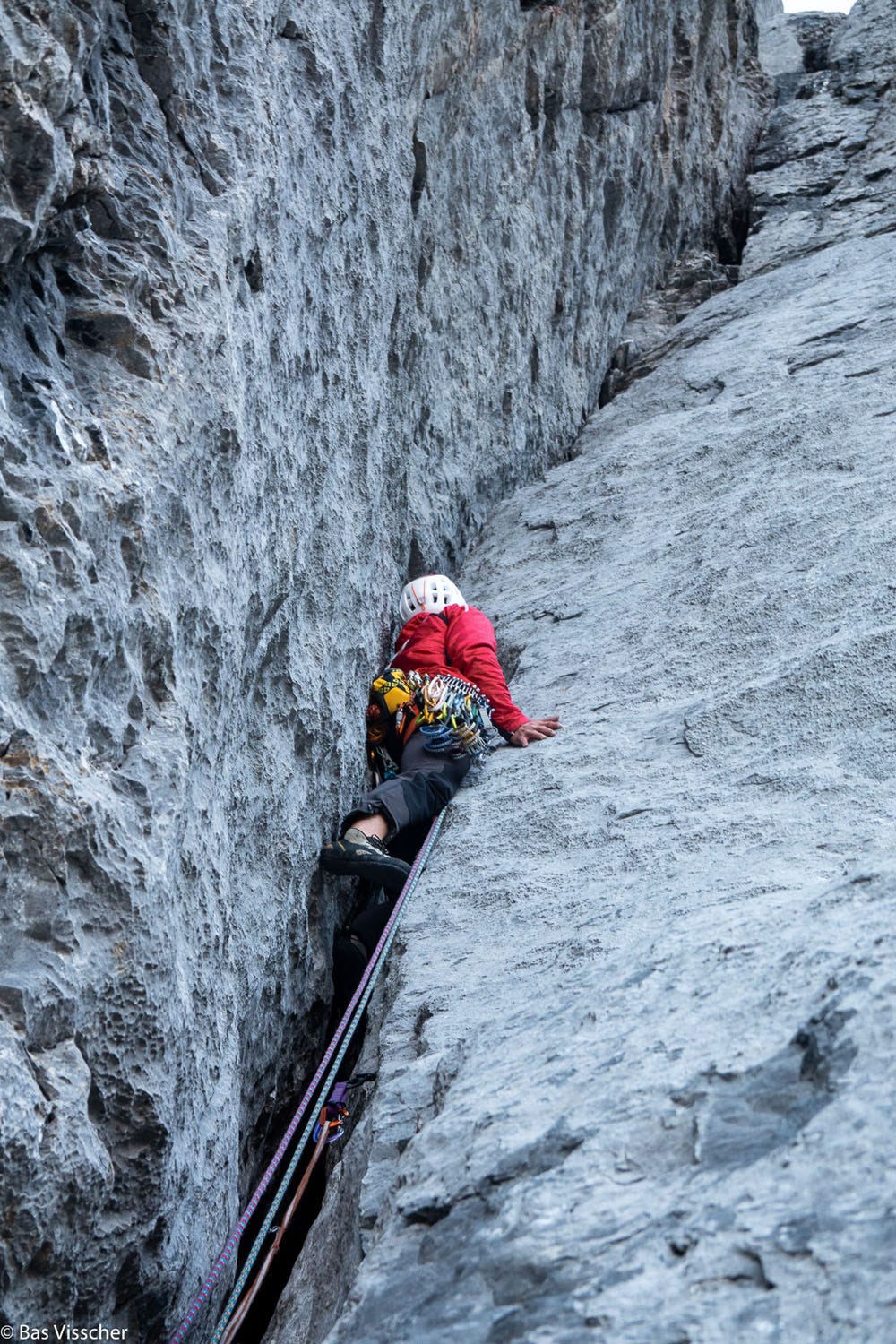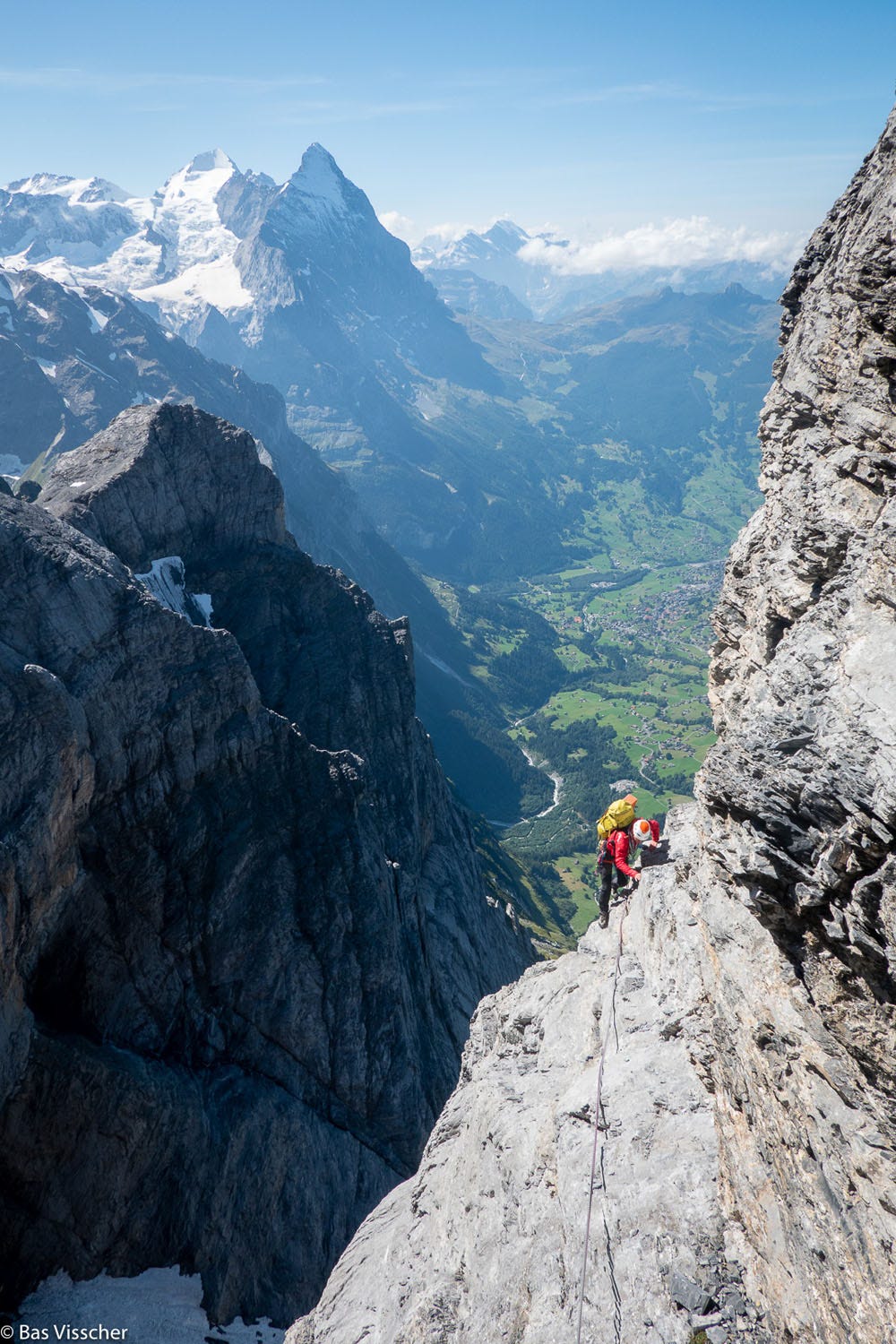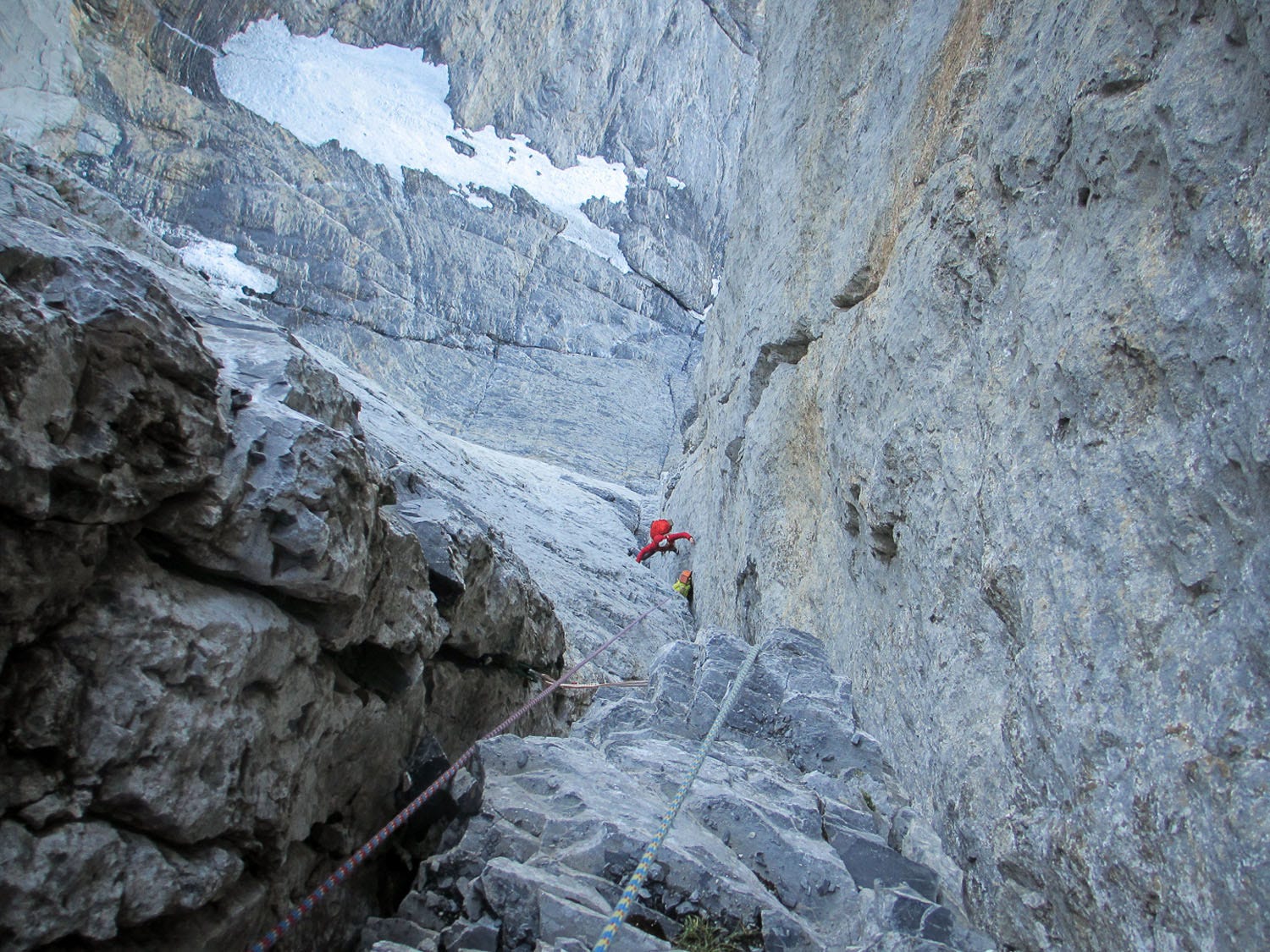 Then the clouds roll in, creating a spooky atmosphere. Noise comes from 1000m lower, far, far away. When will we return to the valley? Not today, that's for sure. The last time I felt so distant I was also with Danny, in 2018, when we tried the unclimbed Kachqiant (6015m) in Pakistan. The snow conditions were really difficult, but on the very last day of the expedition we managed to reach the summit. It was an intense experience and we pushed ourselves to the limit. The good thing was, we really enjoyed climbing together, which is more important than reaching a summit.
We are getting closer, but the last pitches are difficult. Sometimes we're hesitating about our route finding, but eventually we reach the final difficult section. Luckily, we find a good belay on pitons. Our German topo mentions an overhanging yellow 5C+ crack, and we realize this must be their exit. The rock turns out to be very brittle, and so Danny switches to aid climbing. We're both knackered and it takes Danny a while to get through. Meanwhile I am freezing in the wind. With some power-screams Danny pulls himself through. The end of the difficulties - what a relief!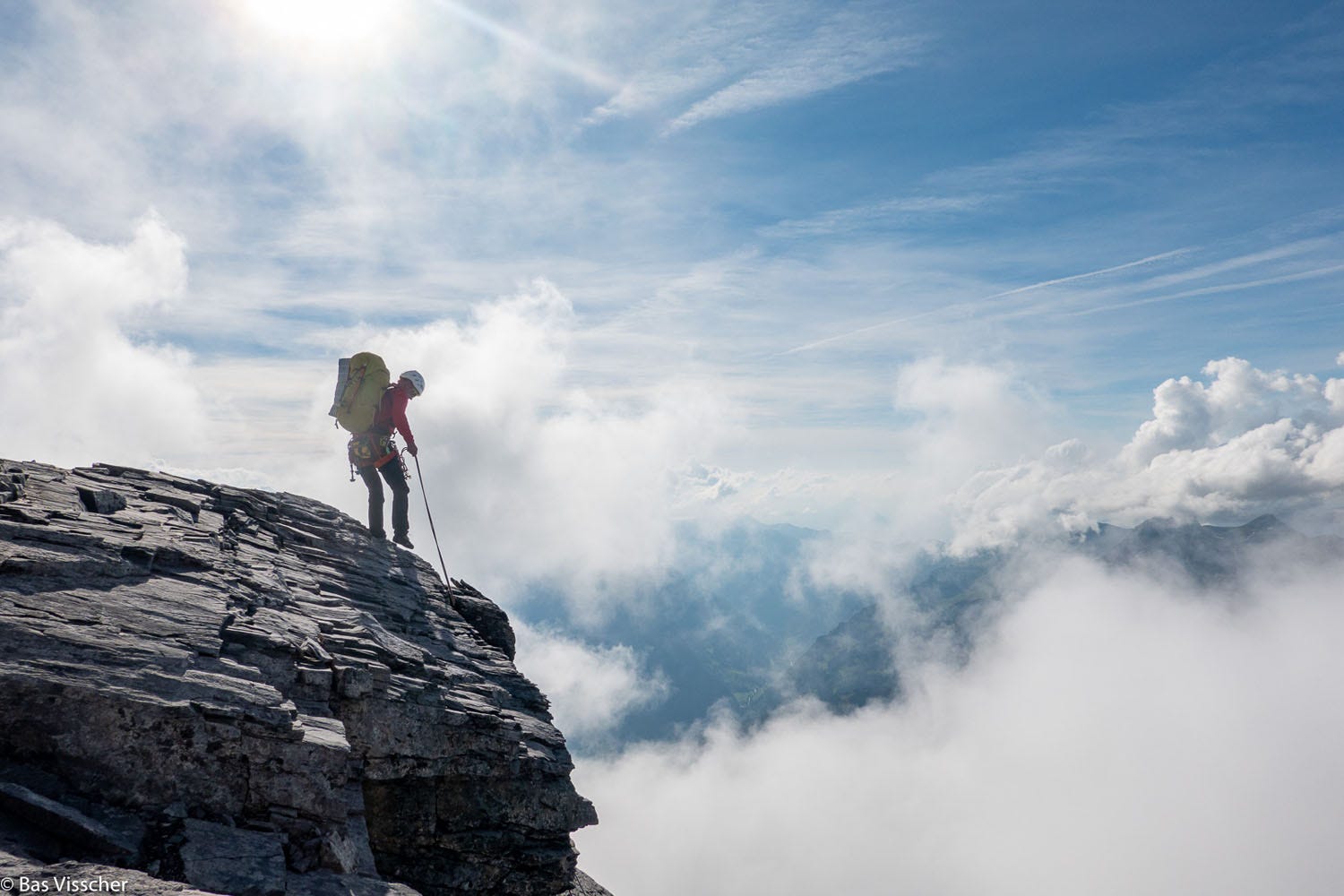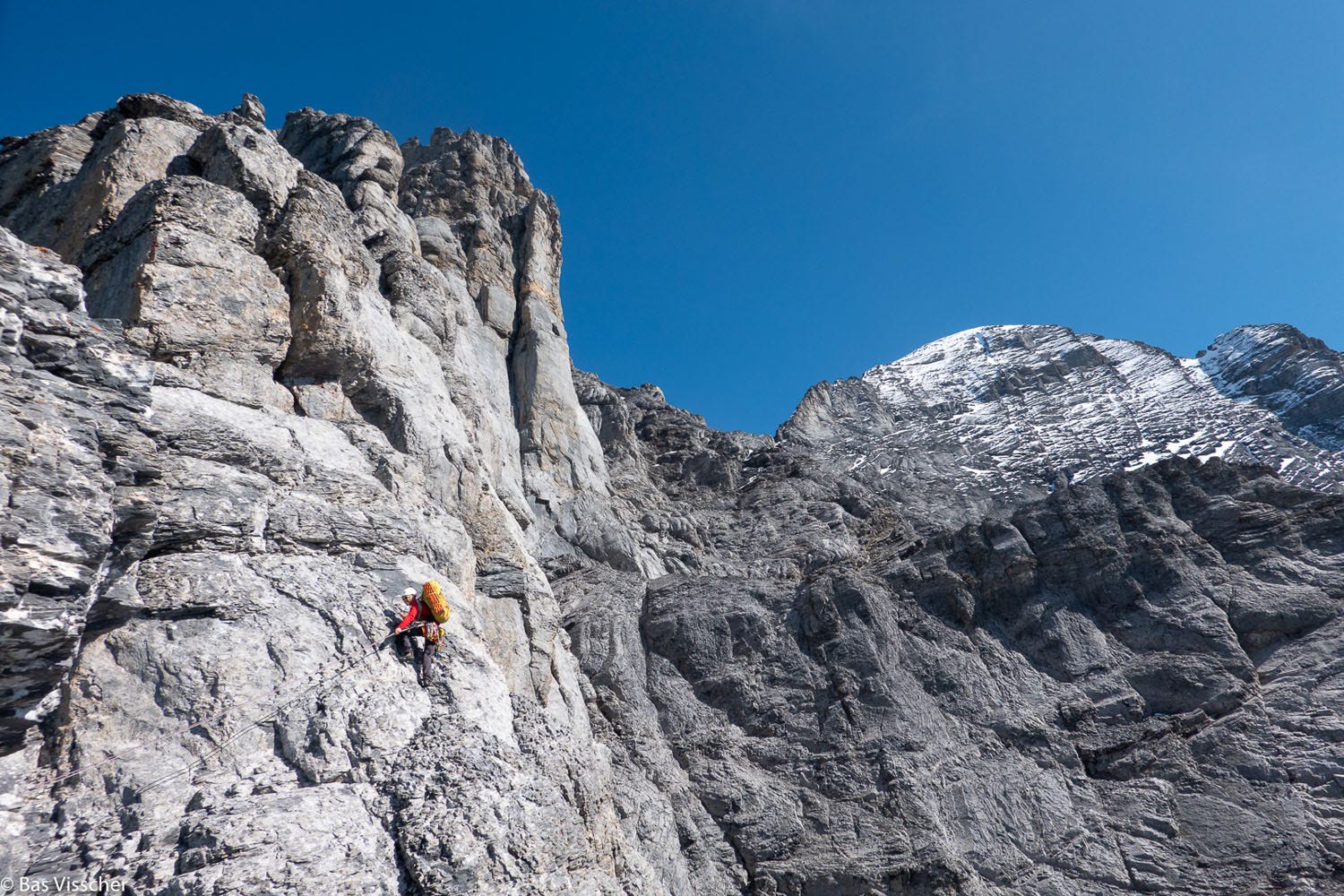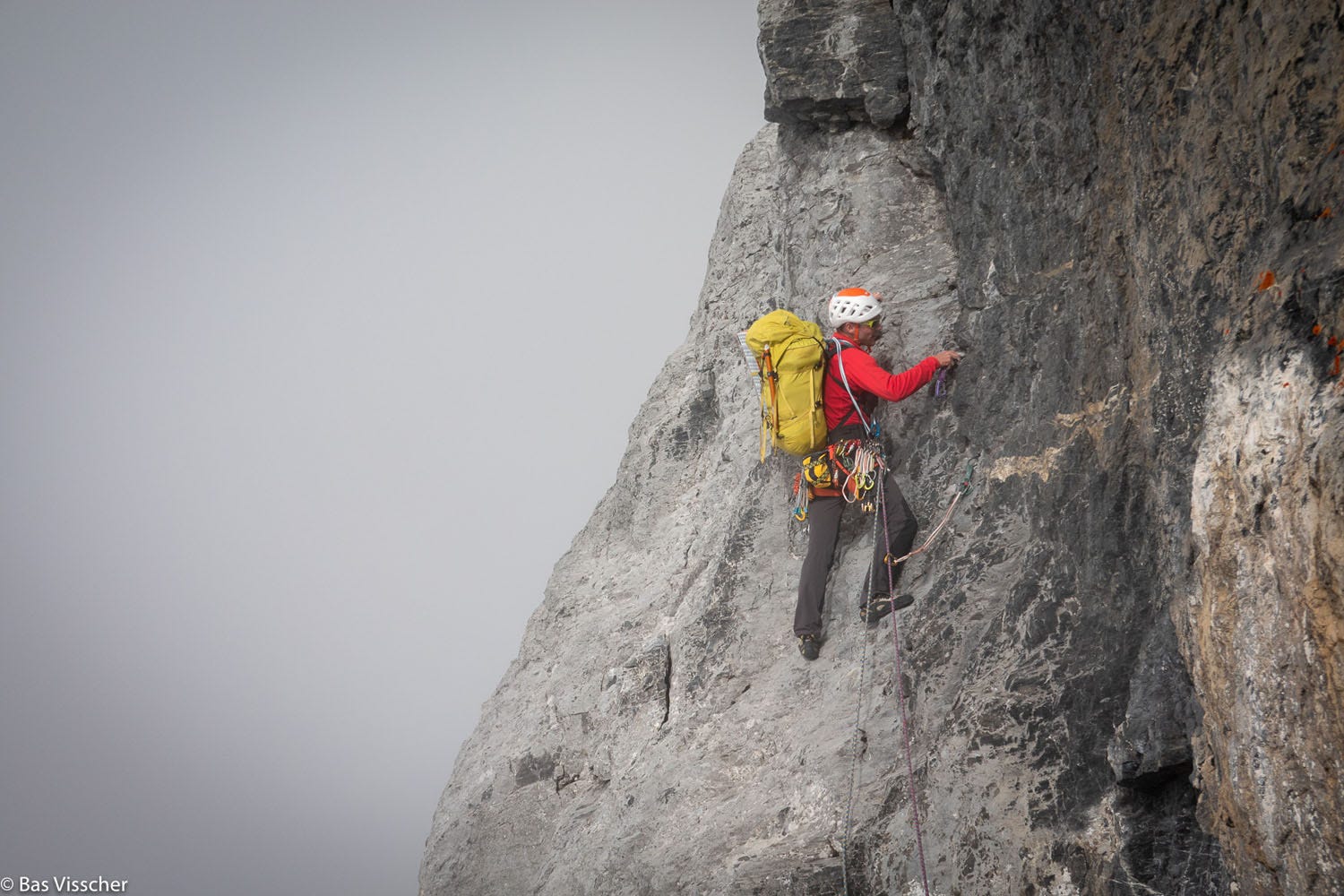 But we are not on a summit, not even on a pre-summit. We are, however, glad to know we have finished the hard climbing. Tomorrow we will reach 3400m and then start the descent. The Scheidegg Wetterhorn is just a small point on the ridge leading to the Wetterhorn (3692m), but everybody seems to skip the main summit. For now, we decide to hunker down for the night. We have found a flat spot and it has been enough after these two exhausting days. Daylight is fading and we enjoy the view on the Eiger, Monch and Jungfrau. Below us are the lights of Rosenlaui and Grosse Scheidegg. It's silent and quiet. The postbus finished its last ride a few hours ago. With the peaceful surroundings my mind slowly comes to rest. I feel relieved, tired, and privileged to sleep at this very unique spot.
The next day we reach the Glecksteinhut around 17:30. Happy and exhausted. It's all over. I feel at peace, happy to be off the mountain. But I know this feeling won't last long. There is always a moment when the mountains call me back. A luring call that can't I resist.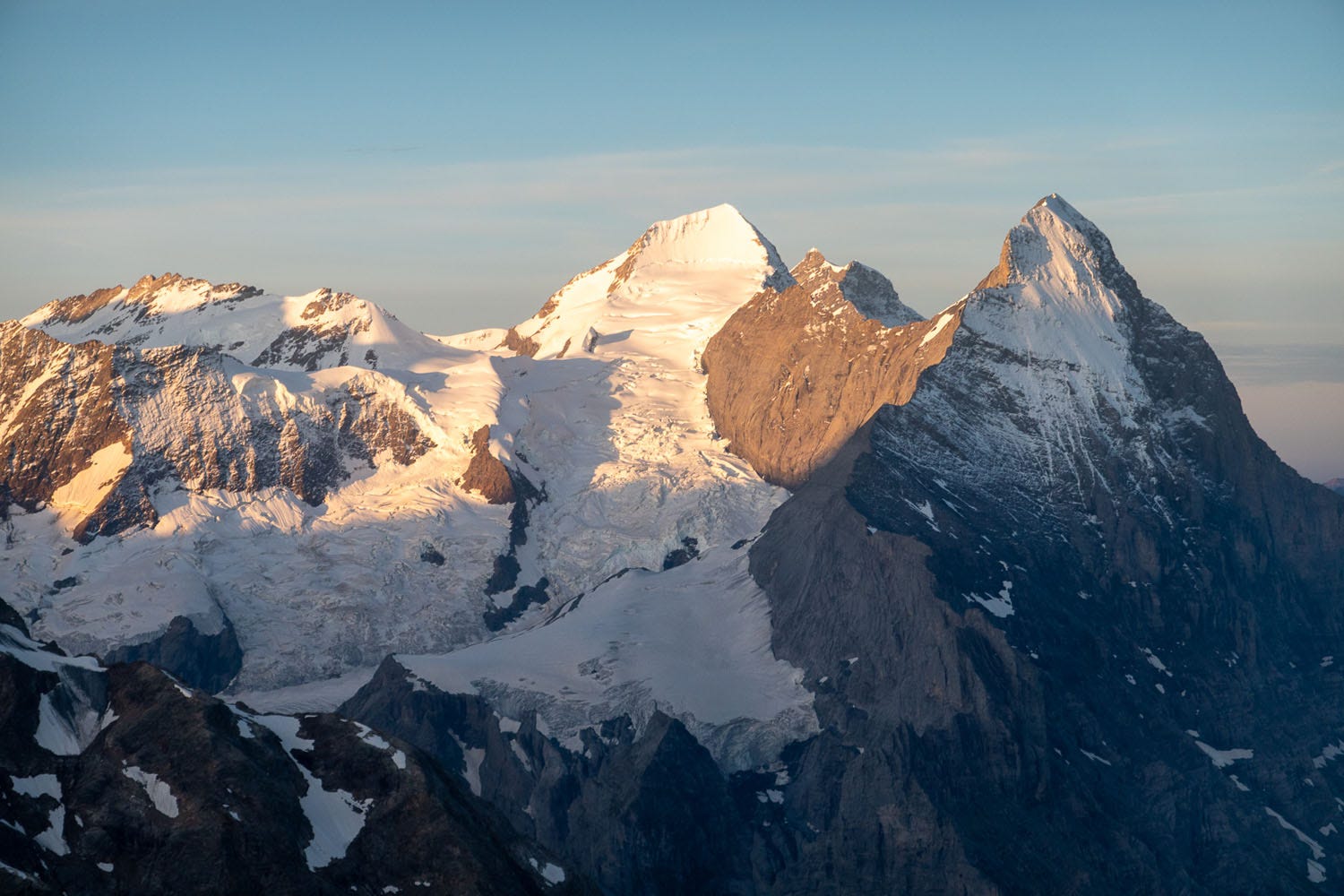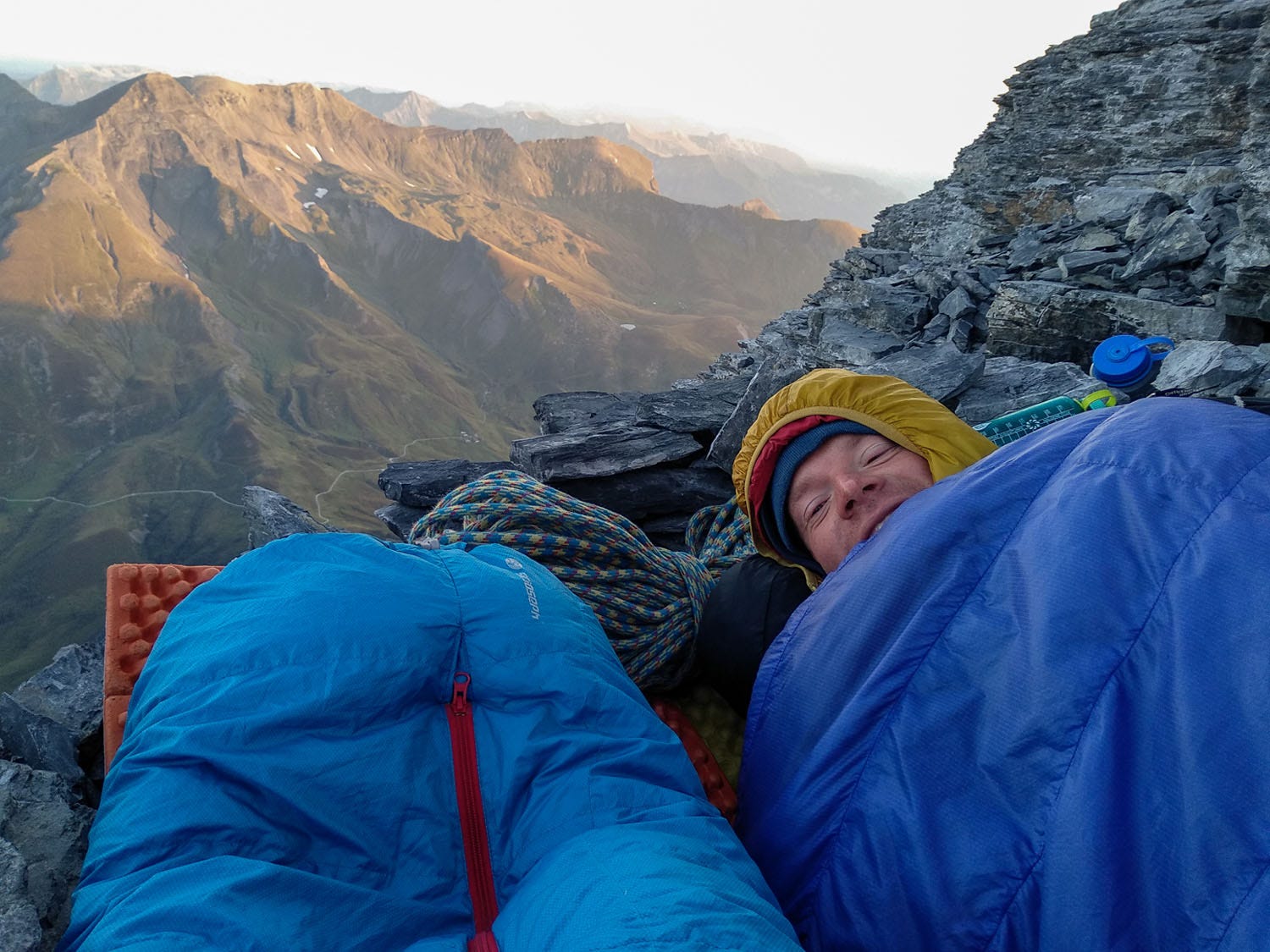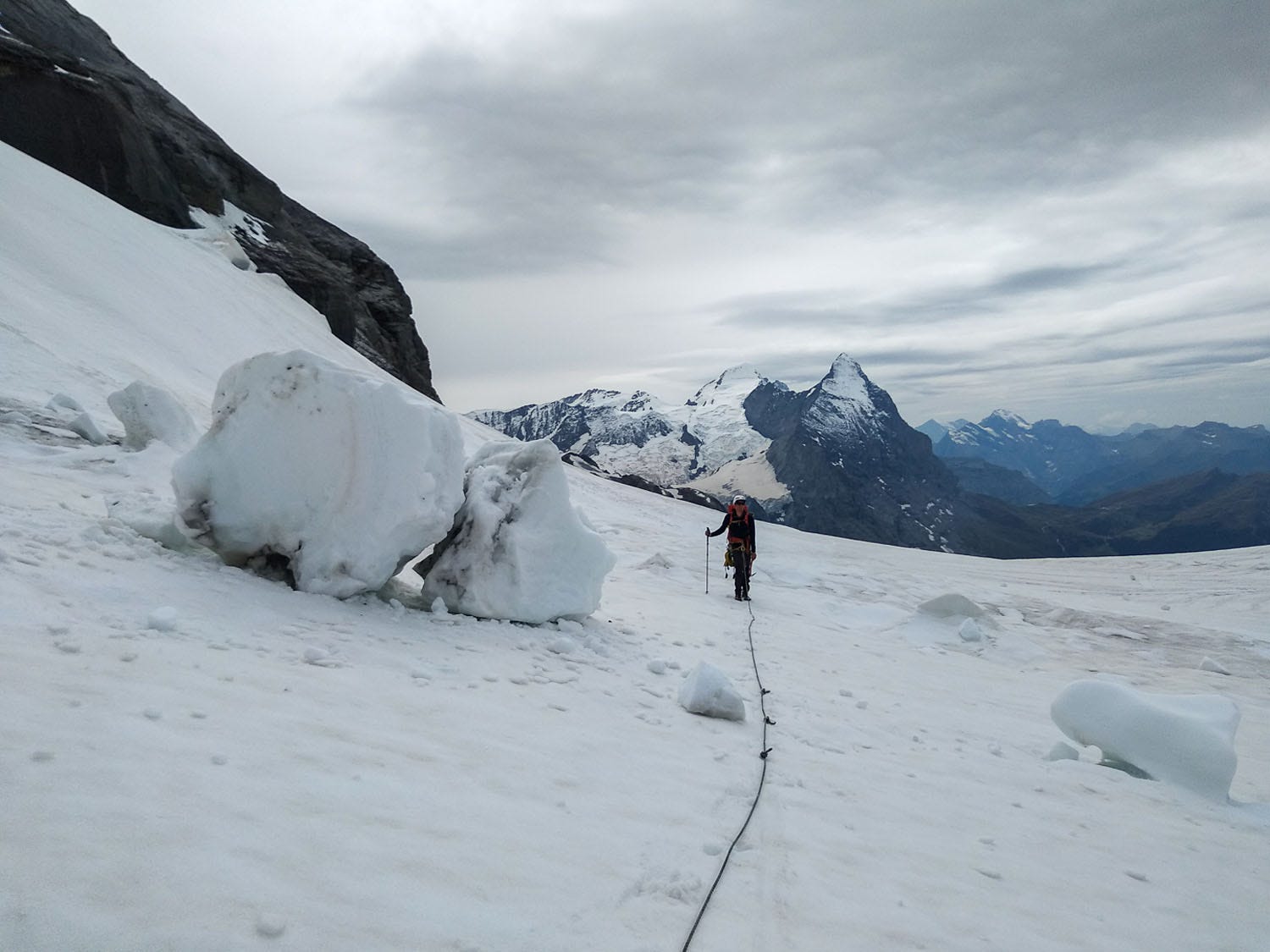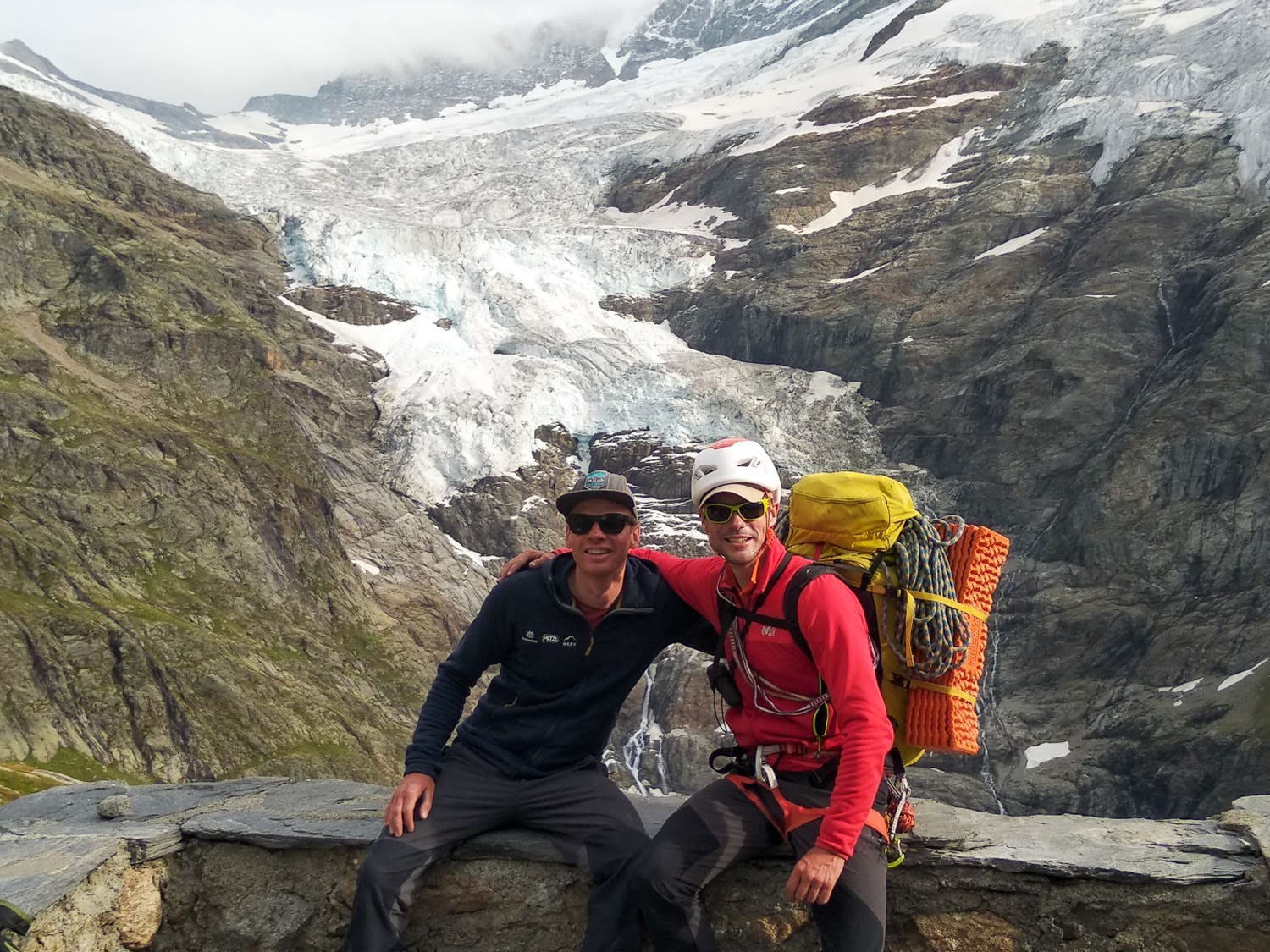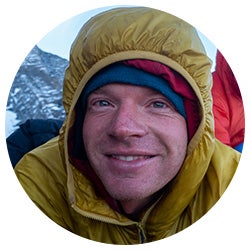 Words by | Bas Visscher
Images by | Bas Visscher and Danny Schoch
---
First ascent expeditions, classic north faces or technical trad-climbing - Bas likes it all. He is coach for the Dutch NKBV Expedition Academy and works as climbing manager for the University Sports Centre in Amsterdam.