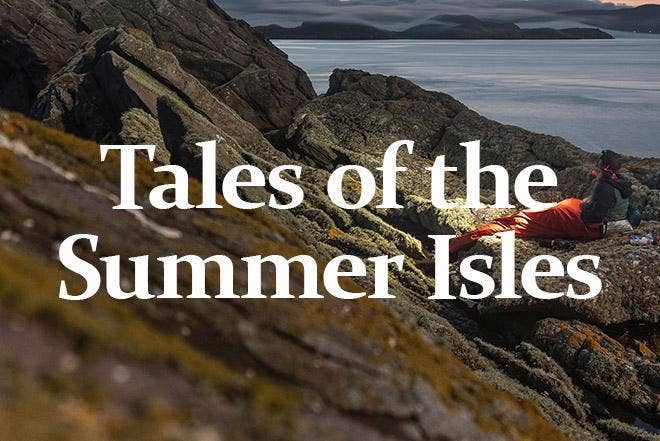 The Summer Isles lie not far from my home in Ullapool. They are a small archipelago consisting of approximately 33 islands and rocks. Carved by ice, wind, and waves they are a spectacular area to explore. It is here I operate a kayak business, taking eager guests to explore the many caves, archways, and beaches along the coast.
A rugged mountain skyline surrounds us, stretching all the way from Coigach to Skye, on a good day we can even see the tops of the Hebrides. Over many days in my mid-twenties, I stood atop each one of those distant lumps attempting to gain a fresh perspective of the land I love. For me, it is this gaining of new perspectives that is the essence of a true adventure.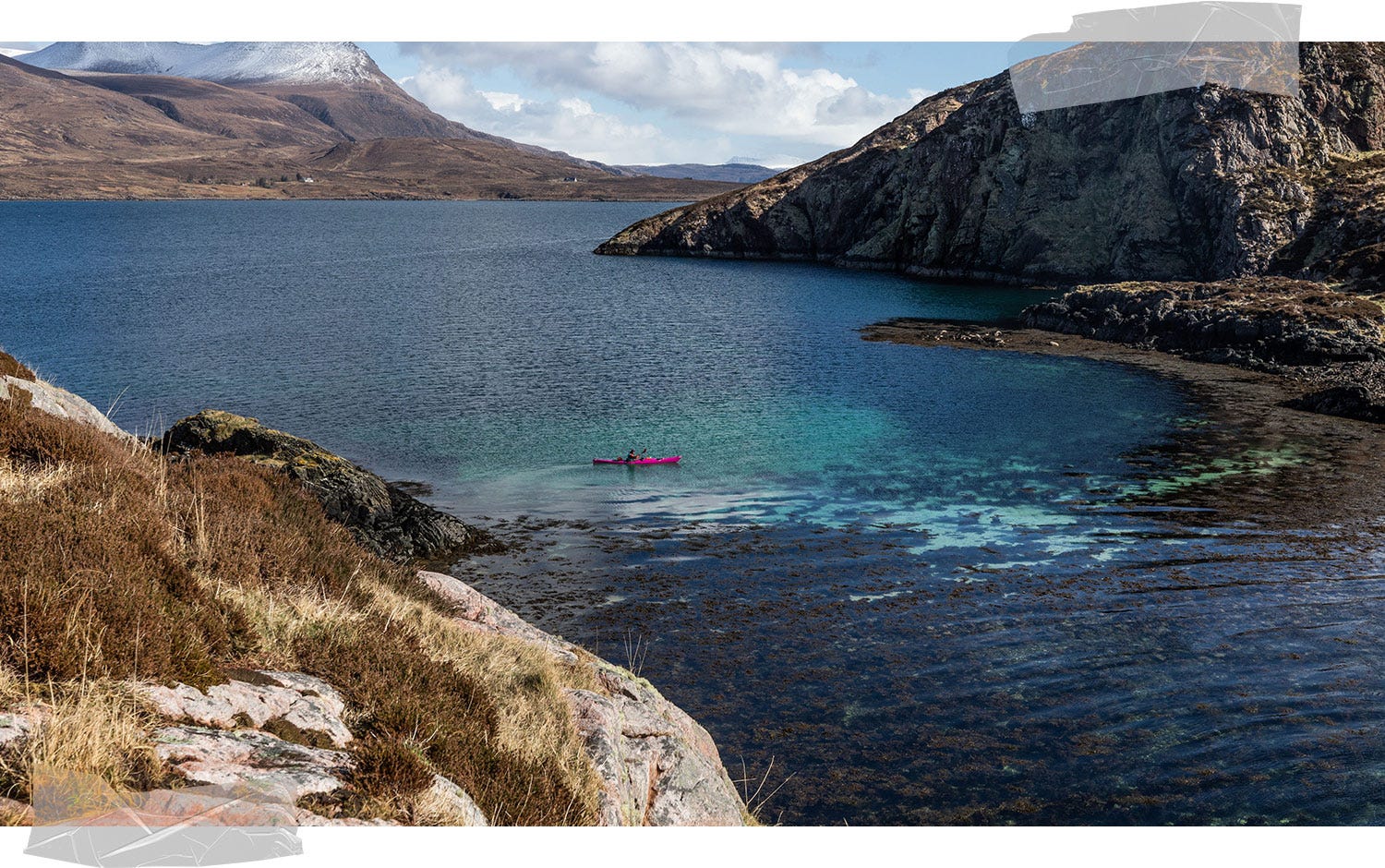 With our skyline now complete, I've turned my recent focus to these islands which I pass by in my kayak each day. What better way to truly immerse yourself within a place than to stay a night upon it? And so the "Summer Isles Sleeps" project has begun. It's a simple idea, I'll camp atop each island over the course of the busy summer season. That includes all the small rocks and skerries with barely enough space upon them to camp, and those which pose a very challenging landing. It is in essence a series of micro-adventures, where I will steal the last hours of the day after saying farewell to our guests to then paddle back out and enjoy a night of personal adventure. There is no set goal to break records. I simply plan to imbed myself into a landscape that I love. There is no greater way to gain intimacy with an environment than to spend a night amongst it.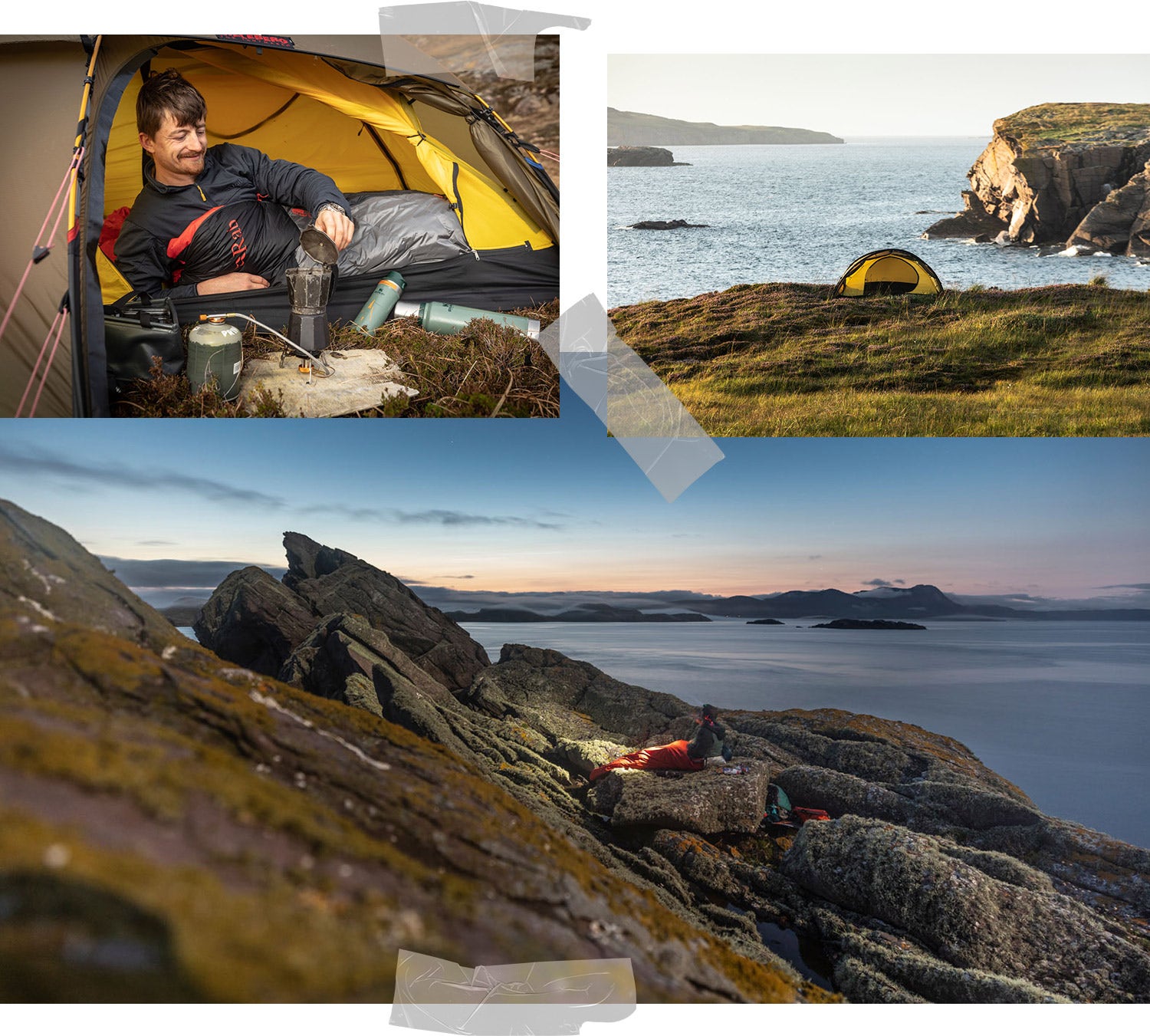 To begin this journey, I aimed for perhaps the hardest of them all, Stac Mhic Aonghais. 'Stac Angus' is a sharp rocky outcrop, jutting from the sea like the spine of a giant mythical beast. It's western side, a 30m high cliff, rises directly from the waves. There is no grass or green on top, except for the odd algae filled tidal pool. A legend was born here too, which is how the island reportedly gained its name. A young lad named Angus was rowed and imprisoned here, left for three days as punishment. When his captors came to find him, they discovered he had gone!
Landing upon the rock, they searched to no avail. But then, from a crack, Angus leapt, stealing their boat and rowing north 40km to Stoer Head Lighthouse and to freedom. A tall tale perhaps, but there seems to be at least some slices of truth amongst local consensus.
The day I headed for the Stac I left late from the beach, paddling hard to beat the fading light and hoping I could find an easy landing. This journey was solo and in a fibre glass kayak - my greatest concern was extracting the kayak on the steep rock slabs.
Reaching the island with just 40 minutes of light left, I paddled around searching for a sheltered spot to step ashore and scramble upward. A tiny ledge covered in barnacles was good enough. With a heave, I pulled the kayak, kit still inside, onto my shoulders and slowly, carefully, scrambled up the slab. Each step felt at the very edge of my rubber boots' friction.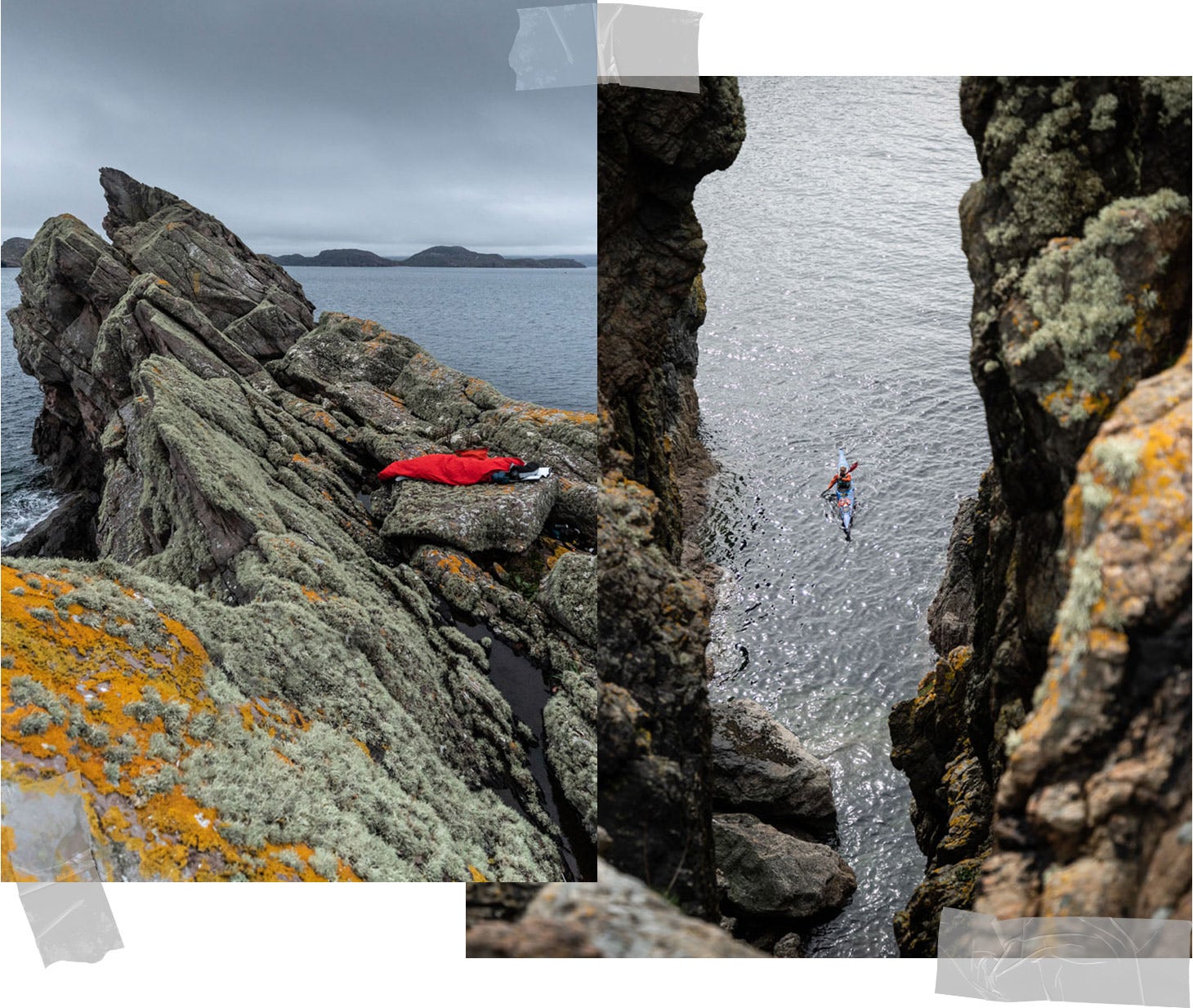 On first inspection poor Angus would have had a hard time sleeping on this rock. Sure enough, there were cracks to hide in and even water to drink where rain had collected, but to sleep… Options were limited. I chose a single table-like rock to sleep on. Unnervingly reminiscent of some kind of sacrificial alter.
Overnight, the wind stayed still. I woke to the sound of seagulls overhead, unsurprisingly bemused by my presence on this lonely rock. The moon was large, illuminating the sea through the night, giving a silvery glow and an ethereal feel to the water around me. The swell to the west rumbled rhythmically. Around 2am a loud 'Pssshhhhtt' of what I presume were dolphin passed by beneath, or perhaps it was the whispering of the legendary Angus.
As dawn began to glow from the dark, I scrambled down from the rock, repacked, and returned to shore. A quick unpack and coffee at the car and before long I was meeting my guests, ready for a day of work. Feeling smug, I reveled in my secret overnight adventure.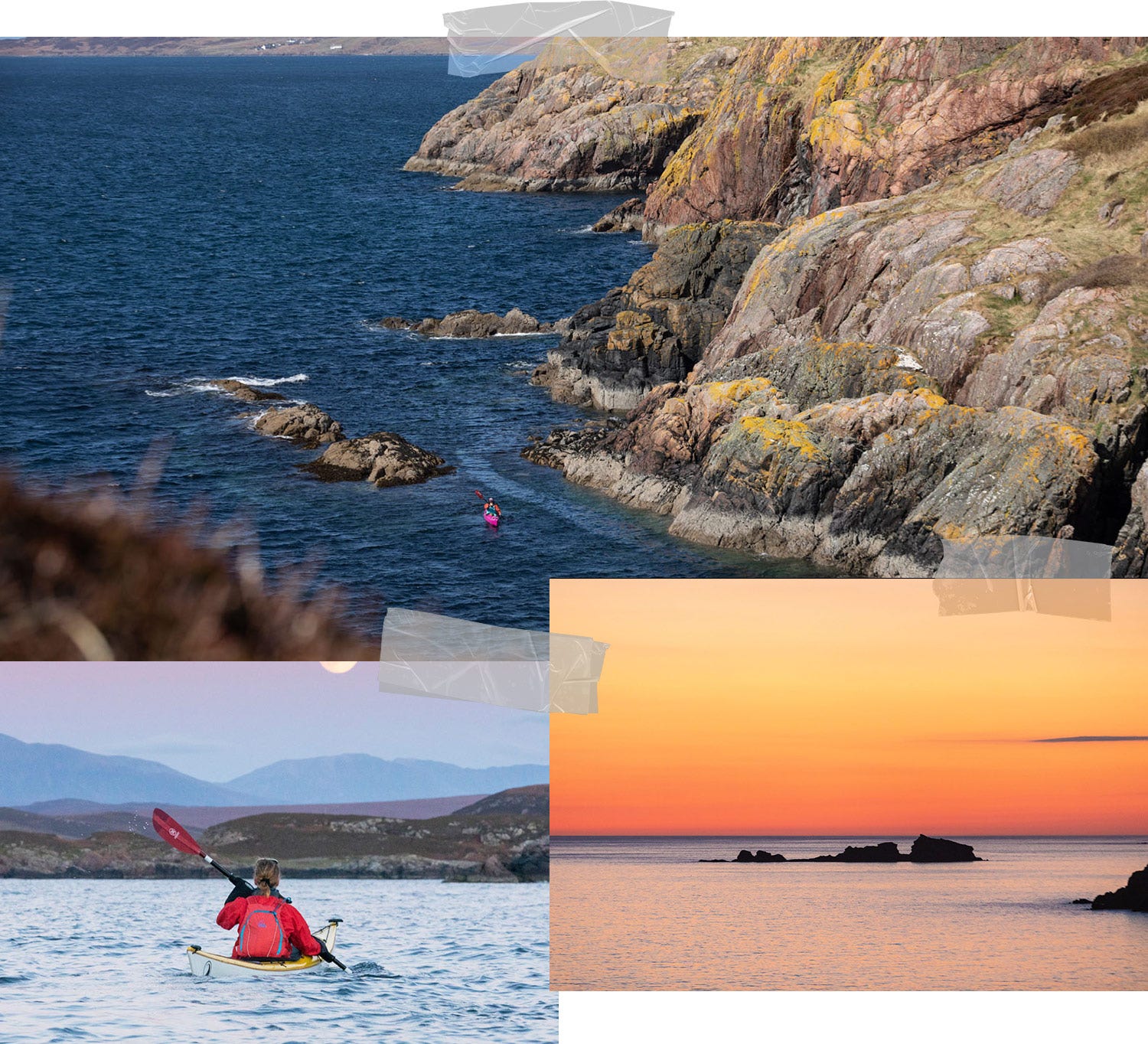 Since then, I've been steadily ticking off islands and I'm now around a third of the way through with more planned over the upcoming weeks. Some I've achieved with guests on overnight trips, others with my girlfriend and some alone. My personal favourite so far has been Eilean a Char, on which I've now spent several nights with guests. It boasts one of the finest mountain views in Scotland spanning over An Teallach all the way to Skye. Horse Island came early in the spring with an easy landing and tropical sandy shallows to swim in despite the snow still cresting the summits surrounding us. It was here that summer felt just around the corner, I was hopeful for warmer nights.
I'm learning that each island has its own distinctive character. Whether that's the rocks, the local wildlife, or the view. It's also been a pleasant surprise to find that most have some kind of space to kip on. Now, each time I pass an island where I've spent the night, it feels different, like a friend more than an inanimate lump adrift in the ocean. For the remaining Isles, I can only look forward to meeting them in nights to come.
Large subhead (32px text, 38px line height)
Small subhead (20px text, 28px line height)
Quote style, bold, italic, 20px over 28px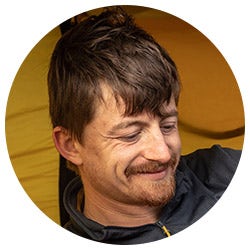 Words by | Will Copestake
Words & images by | Athlete Name