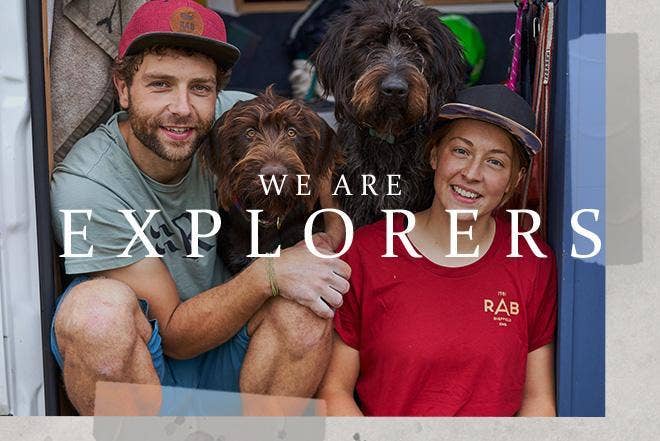 Follow Rab athlete Greg Boswell and Marz McInnes (plus Floki and Kida) as they chase a spell of unusually good weather around the Highlands, and experience everything that Scotland has to offer.
---
Day 1: Location - Ballater
A decent dog walk is how we start every day; getting the legs moving and the blood flowing is a good way to kick start the brain and the body. The best plans are always made when pacing through the woods watching the dogs go wild. The dogs are a big part of how we structure our days and our adventures, whether they are a part of them or not.
On this day, Floki came with us to the crags at the Pass of Ballater for some trad climbing. She was the perfect companion, dotting about the hillside in the sun while we scoped out the routes. We had a chilled day in the strong September sun and climbed some awesome routes at varied grades until it was time to meander back to the van to check on Kida.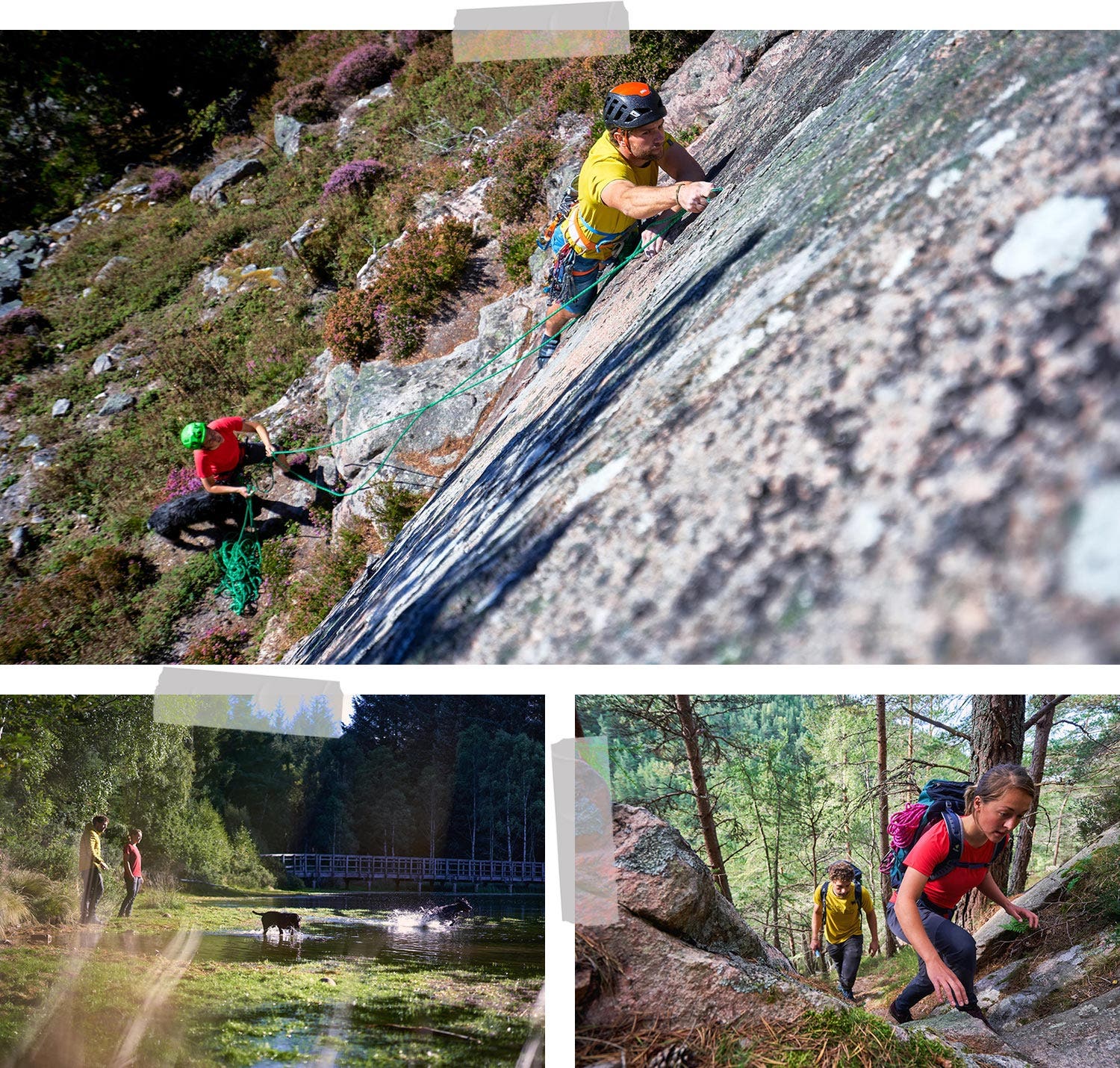 Day 2: Location - AM: Ballater, PM: Loch Garten
The sun at the Pass of Ballater gave us the bug for some more warm climbing, so we headed up to a quarry we had heard about at Cambus O'May forest. It is well away from any roads so we could bring both dogs and let them romp around together in the undergrowth. The man-made shape of the massive quarry in the hillside was strange, with the three flat sides of the quarry stretching up around us. It was almost imposing! We got some cool routes done before the sun disappeared and the midges chased us away.
When we got back to the van we thought the dogs would be flat out for the rest of the day but Floki was eager to make some more plans for the afternoon!
Greg squeezed in a quick campus board session before we moved on to Loch Garten for some evening slacklining. But finding a good spot can be tricky! We needed some clear, flat(ish) ground and two decent sized trees at the right distance apart. After a lot of searching through the woods, we realised that the thick heather made a decent landing mat (even if it was a little scratchy!). It also added the comforting illusion that the ground was actually closer than it was! We messed about on the line until the light began to fade and our stomachs were rumbling.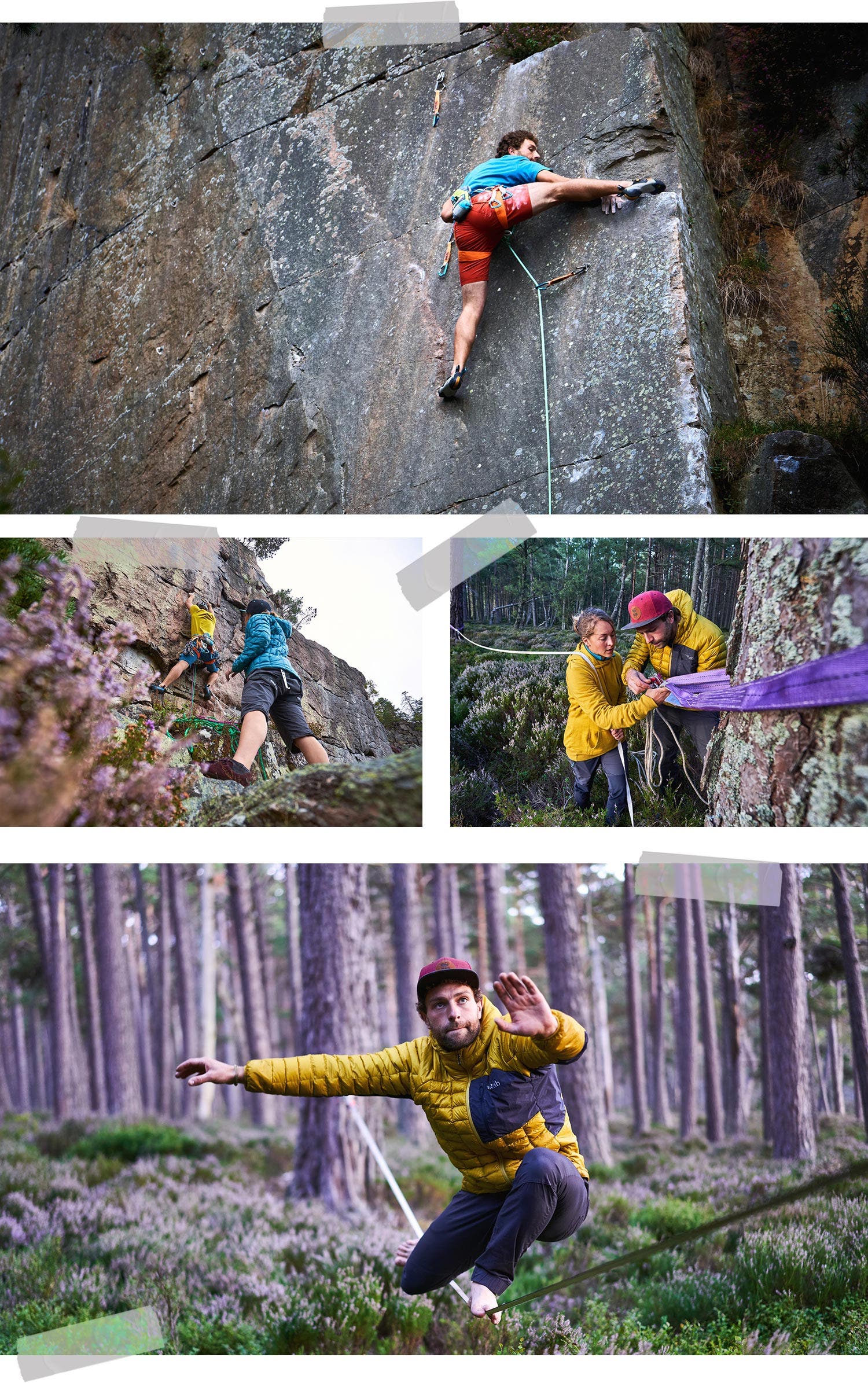 Day 3: Location - Loch Rannoch
We chased the good weather towards Loch Tummel and Rannoch in search of some dry tarmac. We had a road-biking route planned that stretches around the shores of Loch Rannoch and then up a decent climb on the base of Schiehallion. It was awesome to have enough room in the van to have both sets of bikes with us all the time - ready for any opportunity! The route turned out to be a fun loop with lovely views but also a brisk wind that made us happy to have brought some extra layers along for the ride.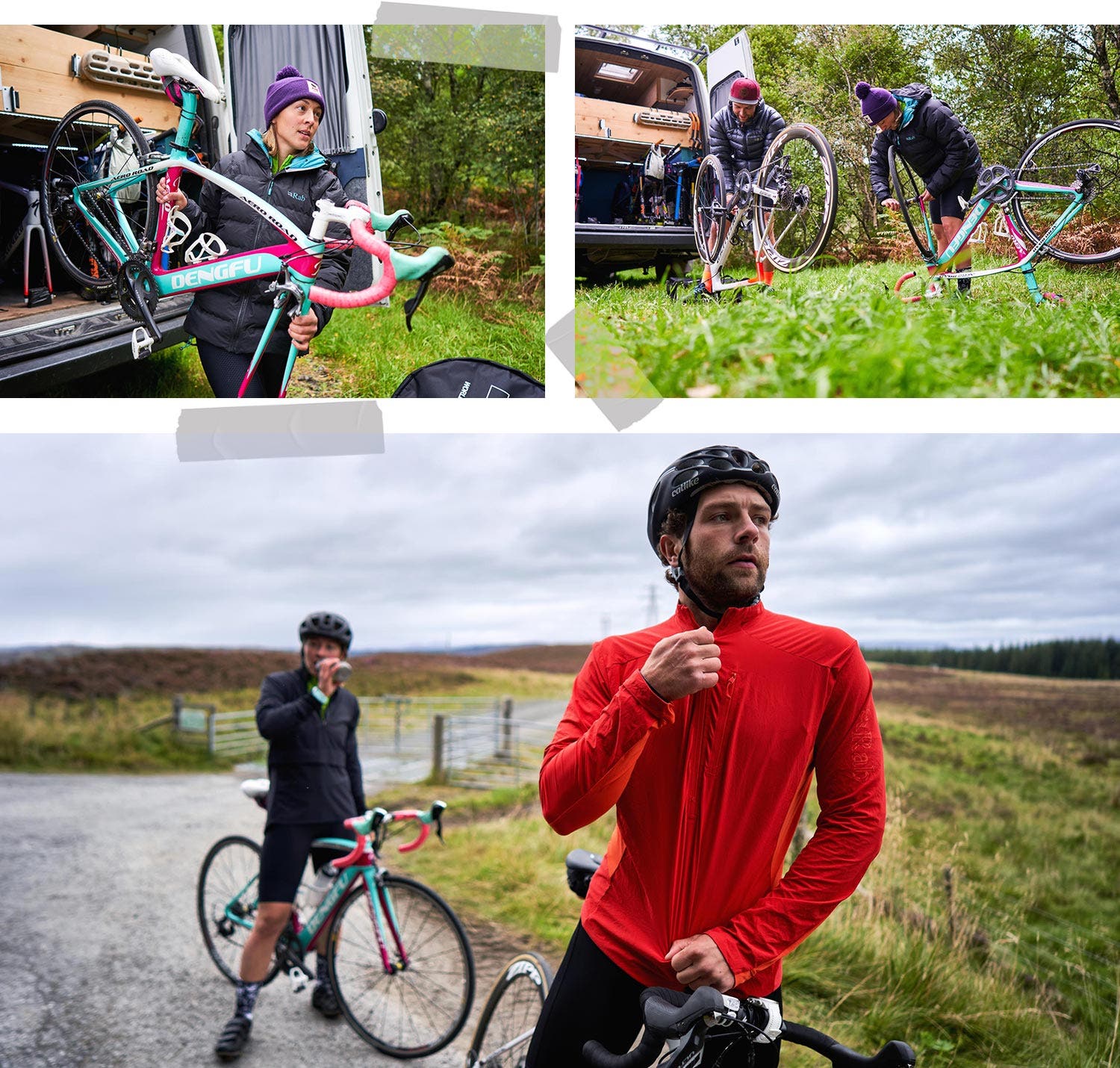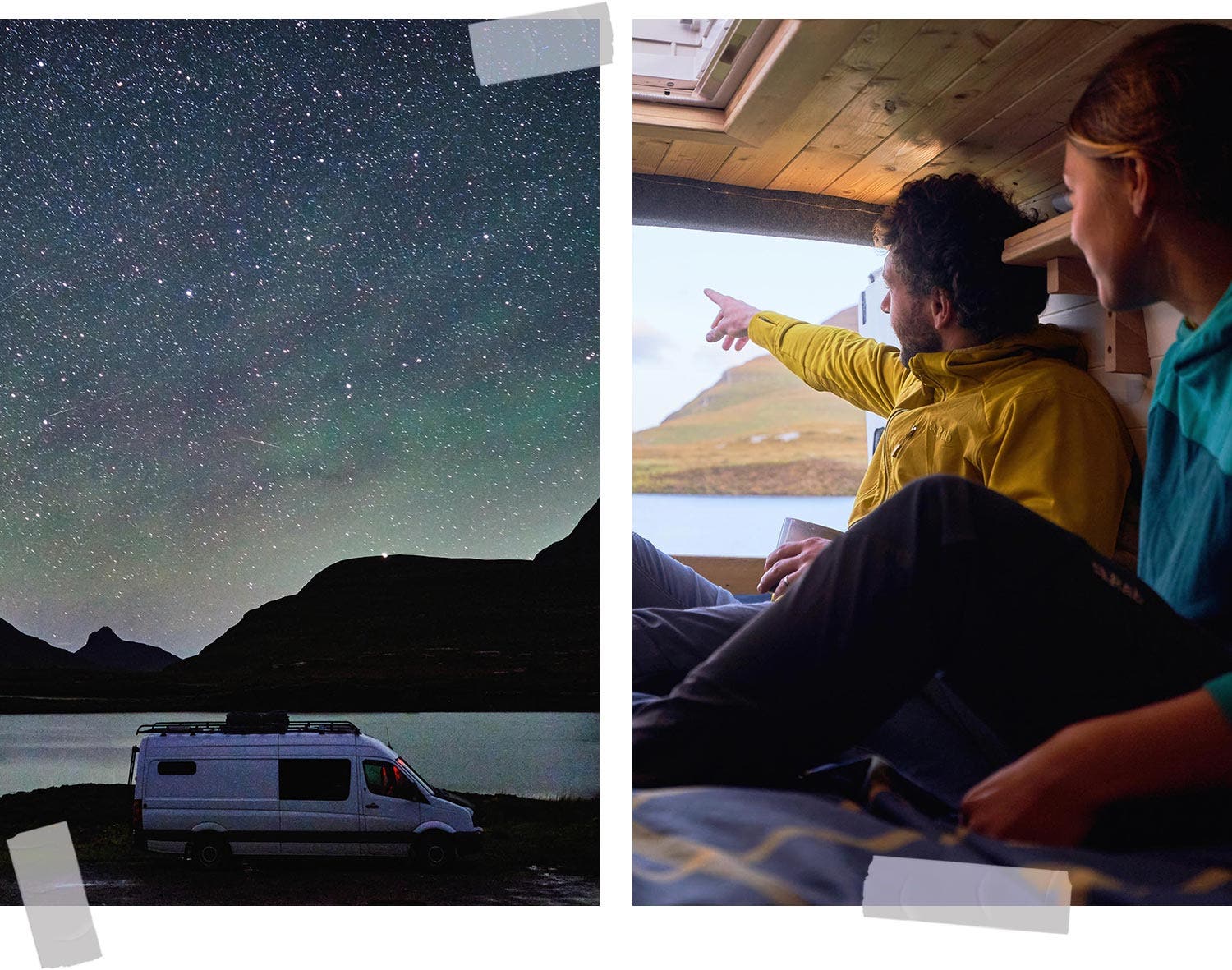 Day 4: Location - Assynt
Arriving in the Assynt hills late at night made for some spectacular starry views looking out towards Stac Pollaidh. We looked out of the back of the van at the same skyline in the morning, planning a run up Cùl Mòr in search of some cool rock formations we'd seen in pictures.
After a lunchtime training session from the van we headed into the hills. As we ascended there was some strong winds blowing heavy cloud over the high point to the summit, but once we dropped back down and out of the fog, we were blessed with some cool looking rock features and even better views of the setting sun over Suilven. You couldn't ask for a better mountain experience, which we glowed about as we smugly trotted back to the van with Floki dotting about around us.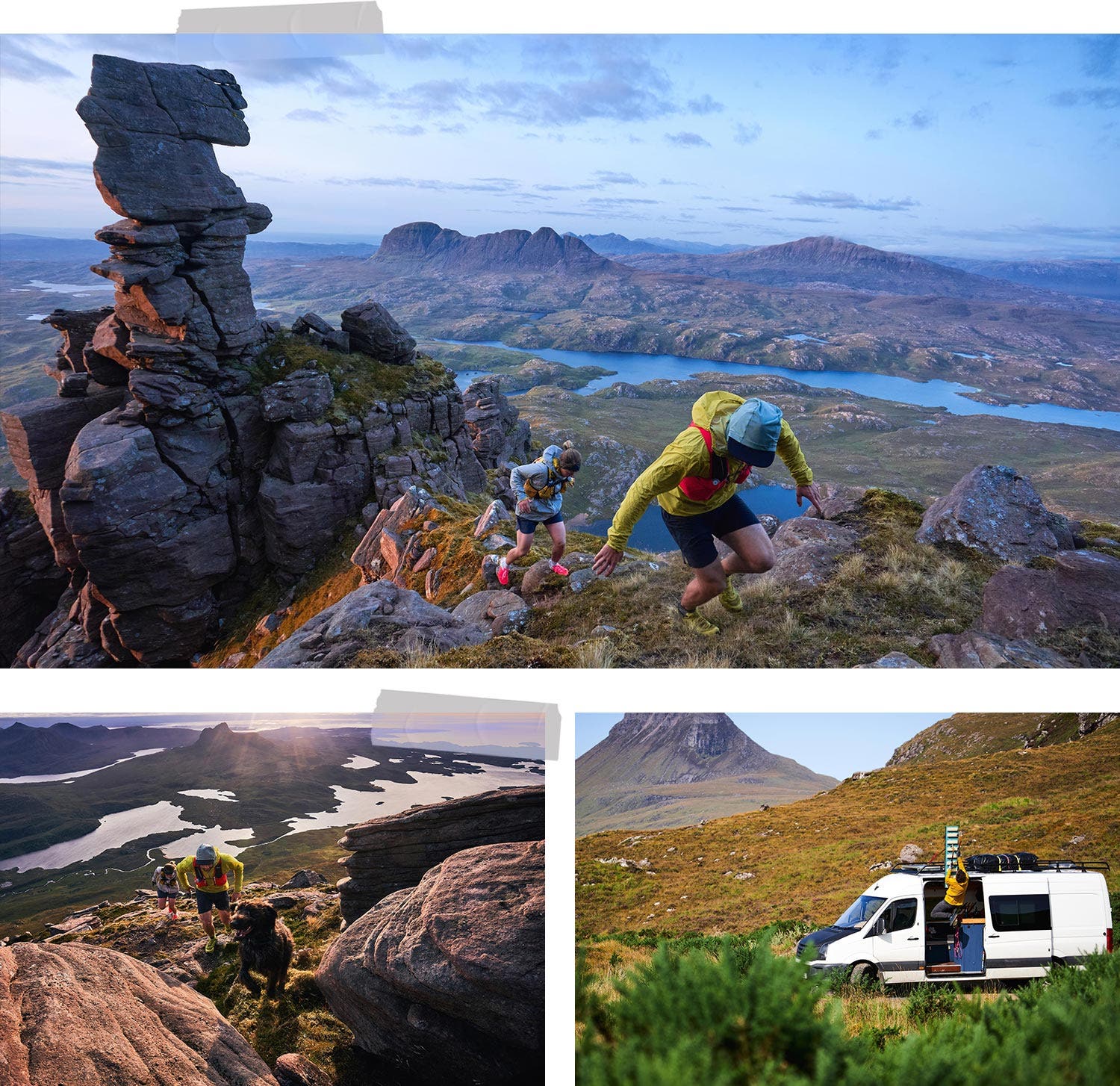 Day 5: Location - Coigach
A chilled day of dog cuddles and more coffee lead to an evening of paddle boarding and open-water swimming in the cold Loch Lurgainn as the sun went down behind Sgurr an Fhidhleir. The best thing about basing ourselves from the van is that even on the days when you don't get up to much, you can be surrounded by breathtaking views and lose hours just gazing around and taking in the landscape.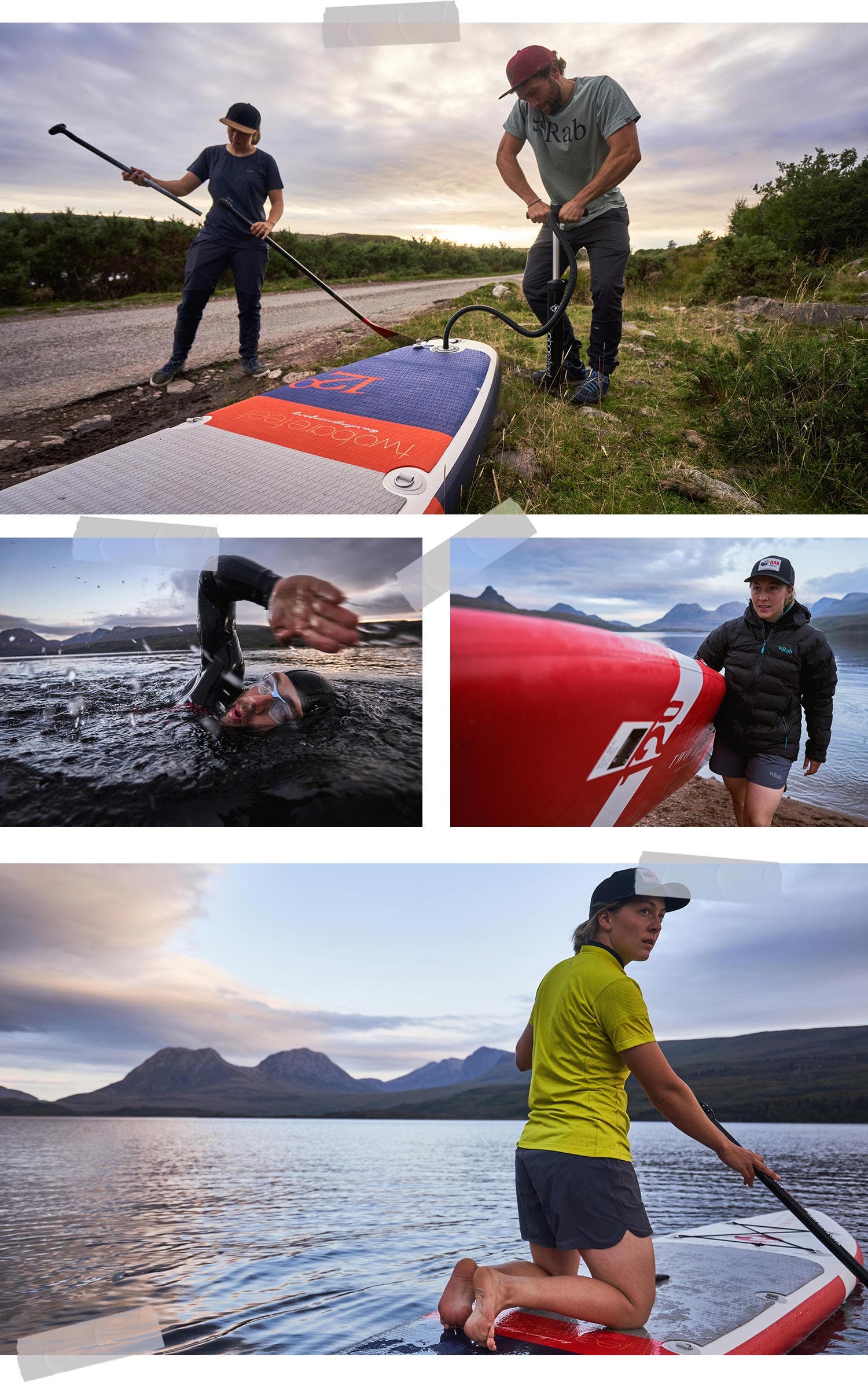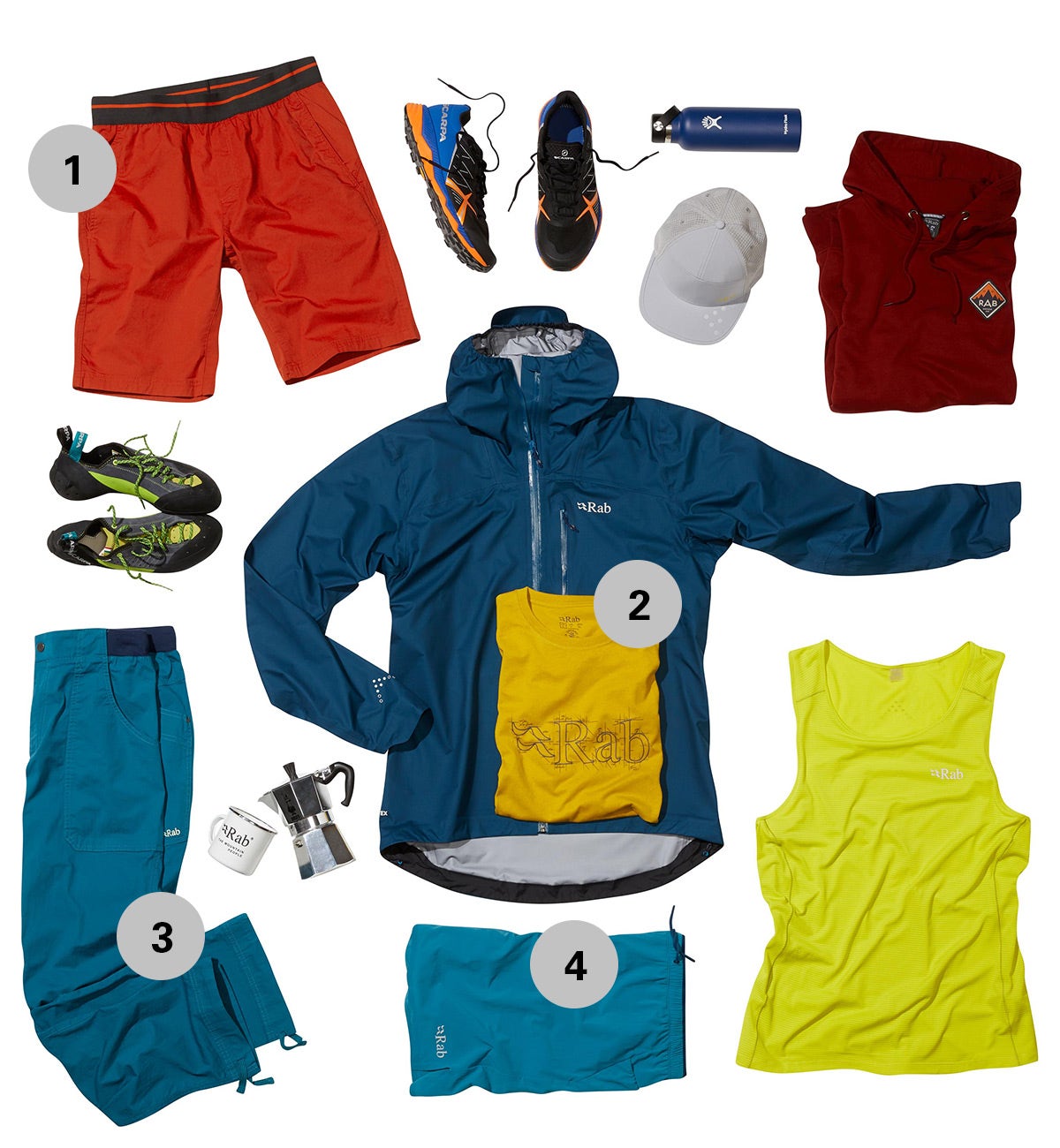 1. Crank Shorts
Comfy, relaxed fit, hard wearing and great colours. What more would you want from an all-round active cragging short?
2. Stance Tee
My go-to tee for comfort and style. This relaxed fit tee comes in awesome colours and logo styles that pop well in the pics and it doesn't restrict you when you feel the need to bust out some cartwheels in the park.
3 .Tangent Pants
Again, I'll use the words "my go-to" when describing the Tangent Pants. Living in the van we have to choose multifunctional kit and the Tangent Pant ticks all the boxes. I love sticking these on in the morning, as no matter what I decide to get up to, I feel comfy doing it in them. Impromptu training sessions, dog walks or evening slacklining, the Tangents are non-restrictive. Plus, they look great too!
4. Talus Short
Rab's best running short to date, in my opinion. These stretchy thigh length shorts are mega nice on long hill runs, with zero bells and whistles to add any bulk. They are super fast-drying but even when sodden with sweat on those hot sunny runs, they don't restrict any movement or chafe at all.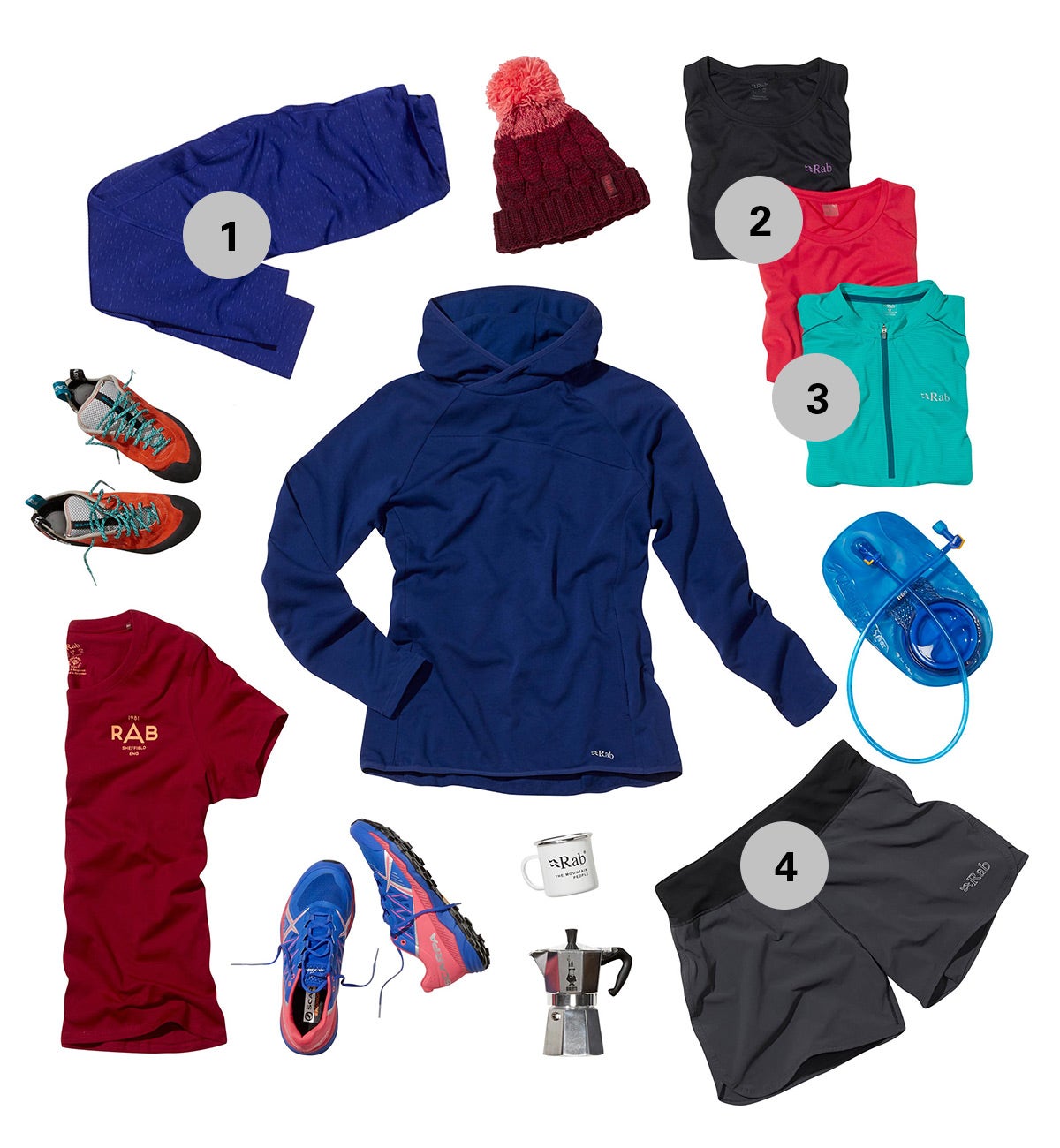 1. Flex Leggings
High-waisted and stretchy, the Flex Leggings are great for everything: climbing, hiking, or even just lounging around in after a long day on the hill. They feel soft to touch, don't restrict your movement and look great too!
2. Force SS Tee
This Tee feels super light and airy on your skin which makes it ideal for any activity in the warm weather, especially crag climbing in the sunshine. It has a nice fitted shape to it but also feels comfy and stretchy when you need to be flexible on the crag or fancy bustin' out some moves for a warm up! The neat fit also makes it a good base to build up layers without getting too many un-comfy folds and creases. My go-to tee for comfort and style.
3. Sonic SS Zip Tee
This is my new favourite tee for any fast-paced activity! I love the tangy yellow colour and the half zip design. It feels really lightweight, and the zip lets you get that extra breeze on your skin when you need it most. It's also really quick drying which stops me getting chilled when I get a sweat on!
4. Momentum Shorts
The length and fit of these shorts works really well for me and I can go for hours without any chaffing or thigh rub. I really like the length of the fabric as they keep the wind chill off my thighs, unlike those really short running shorts that are a bit too breezy for me! I also find the waistband is just right for keeping the shorts in place without being so tight that it gives me stomach pain.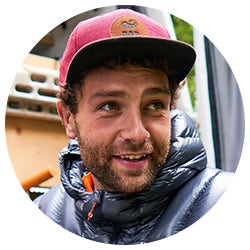 ---
Greg Boswell is at the cutting edge of Scottish winter climbing and has been consistently pushing the boundaries, season after season. As well as being well known for his serious training regime, he is no slouch during the summer, climbing hard in almost every discipline.
Read more about Greg here.