Combining our expertise and experience with down and the exceptional performance of GORE-TEX fabrics, our range of down jackets built with GORE-TEX INFINIUM™ offer total windproof protection and high levels of comfort even in cold and windy conditions.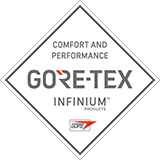 Working together with GORE-TEX for the first time, we are committed to making sure your clothing stands up to all the challenges the mountains present. In unserer ersten Zusammenarbeit mit GORE-TEX haben wir uns verpflichtet, dafür zu sorgen, dass deine Bekleidung jeder Herausforderung in den Bergen standhält. En travaillant en partenariat avec GORE-TEX pour la première fois, nous nous engageons à fabriquer des vêtements à la hauteur de tous les défis que la montagne peut réserver.
Learn More
Mehr dazu
En savoir plus
Providing specialist protection for those facing harsh conditions, the Infinity Jacket combines a weather-resistant GORE-TEX® INFINIUM™ outer and 800...FP R.D.S Certified Goose Down to maximise warmth in cold, damp environments.