In this series of profiles, we aim to bring you closer to the people that make up the Rab family; the characters that have shaped the history of the company and those who are driving us forward into the future. What inspires them? How has working for the company influenced their lives? We will bring you profiles from across the Rab staff spectrum, from designers with the vision of tomorrow's products to the warehouse staff who ensure your local Rab stockist receives their deliveries on time and in order – everyone has a story, and through this series, we want to tell it.
This month we sit down with Kate Ennis, Rab's newly promoted Senior Designer, to discuss her path into design, what it takes to become a skilled designer in the outdoor clothing industry and how her passion and dedication to climbing shapes her approach to design.
---
When did you first become aware of the brand?
I'm from Ambleside, in the Lake District, so obviously I've always been surrounded by the outdoors and I've worked in outdoor shops; my grandma worked in an outdoor shop too. She worked in the first outdoor shop in Ambleside, which is now Adventure Peaks. So I always knew about Rab but I didn't have any Rab products when I was younger. The first time I bought a Rab jacket, it was an Ascent down jacket, all my family had that jacket. I loved it, I thought it was the best thing ever. I've been working for the company for six years now.
So what led you to become a designer?
I studied fashion design with business down in Brighton, but it was a very avant-garde, conceptual degree. It wasn't commercial in terms of fashion, it was very whacky, anything went really. That was really cool, only 15 of us on the course, and I think when I was doing that I always thought I'd become a little designer in London doing one-off things. But then, after uni, I went off travelling with my boyfriend around the world for two years climbing, living in vans. So after that, the ideals of this niche designer idea didn't really fit into my lifestyle anymore. Why would I wear a pretty little dress when I lived in a van?!
We got back and I decided I wanted to design my own climbing trousers, I felt there was a bit of a gap in the market, so I set up my own climbing brand called 'Godsrock'. I think maybe in hindsight it probably wasn't the best name, people thought it had religious connotations! But really it was about Gods own rock and living in Yorkshire, climbing on the gritstone. I had a small range and a website and sold it in a few places. I was doing the designing, producing and selling of it, just me. It was hard! I decided I needed some more experience, so I got a job working for Tog24 which was quite local to where I was living at the time. They had the production on site which was great, you could see the whole process; you could do the design, make a pattern for it and work with someone to make a sample. I then jumped at an opportunity to work for Lowe Alpine which came up, back when they were producing clothing, and after three years there I moved over to Rab.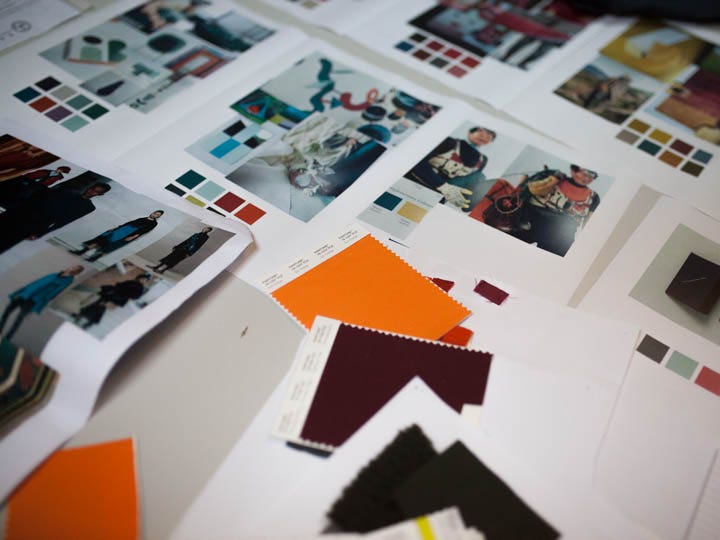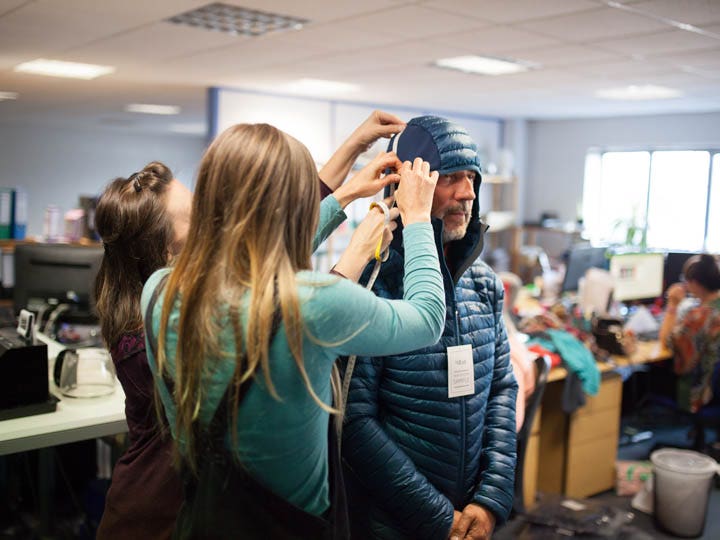 Can you explain the process from idea to production for us?
Right now we're looking at the range for spring summer '19. Initially we'll decide what we're missing, what hasn't worked and what new products we want to introduce. After this we divvy up the products between the design team. Then we'll move on to fabric, any developments and innovations we want to introduce. At the same time as this we're looking at colours, deciding our pallet for the season. These colours need to be lab dipped. That's the process whereby we ask the fabric mills to colour match our fabrics to our new colour palette. Colour's react differently when they're dyed on different fabrics, so sometimes it takes a couple of dips to get it right. For example, a nylon and cotton would react very differently to one another when they're dyed. Following on from this we work out specifications and send these to the factories which involve size charts, all the details drawn out in illustrator. They then produce a prototype sample, which we will review, doing fittings on models and making various comments which get fed back to them.
The next stage after this is actually going out to the factories and talking face-to-face with them, because a lot can be lost in translation. It's really good to actually meet the people you've been in communication with. We'll see the second prototypes when we're there and we'll make comments at the time. A few weeks after getting home we'll receive the final prototype sample. Finally we do the trim. So that's deciding on all the zip and cord colours, because these are coming from specialist producers, not the factories. Once that's all done, hopefully you'll receive a box containing a shiny new salesman sample that all the sales reps can show to our retailers. That's where our role finishes in the process and we hand it over to the garment tech team. So it's about a six month process to when we hand it over to them, about a year and a half ahead of products being in store.
Is there a product that you have designed that people who are reading this might own? Is there a product you are most proud of?
Well it's quite a collaborative process within the design team. But I have managed the rock climbing range because it's something I'm really interested in. I've been wearing the Asylum Jacket which I think is the perfect bouldering jacket. Also the Gravity Pants, I'll wear them whatever the weather. In terms of other products that have been designed within the team, I love the Flashpoint Jacket, it's so light I wear it all the time, and also the new Photon X belay jacket which is redesigned for this season.

So do your own experiences on the hill, at the crag, shape your approach to design?
Oh yeah, definitely. I regularly take prototypes down to the wall to test. I get obsessed about fit when I'm climbing, so my experiences definitely shape the products. The Asylum jacket came about because I felt like everything on the market was going super, super lightweight, and it wasn't what I needed. For alpine climbing obviously lighter but warmer is what you need, but for bouldering you want something that is super-durable. Weight doesn't really matter. Boulderers want something that will last. That's the same for the new Kinder Smock, it looks great and it's really durable.
Sometimes you have to temper your own experiences though, you still have to be aware of what's going on in the market and not just focus on your own opinions. For example, I don't wear leggings, but they're a massive trend within the market right now.
It's really satisfying being down at the wall and having people comment on the prototypes, saying 'oh those are nice' and 'oh, where can I get those from'. I've just been to the Women's Trad Fest and it was great to see so many women in our gear too, there's a lot of respect for the brand.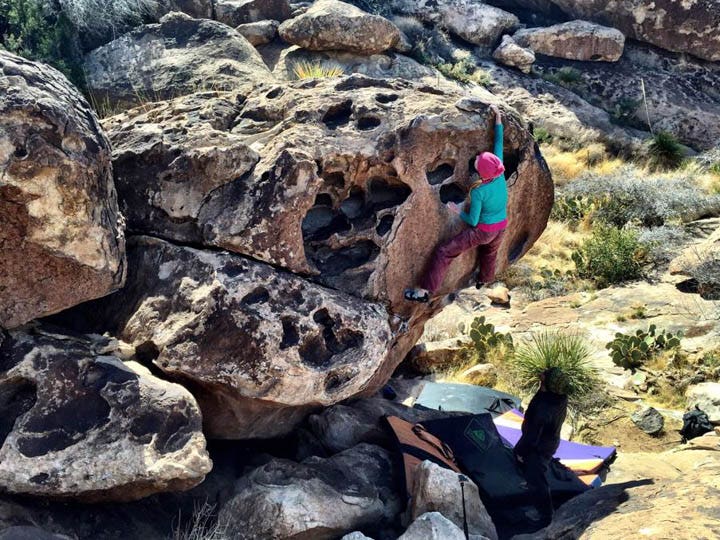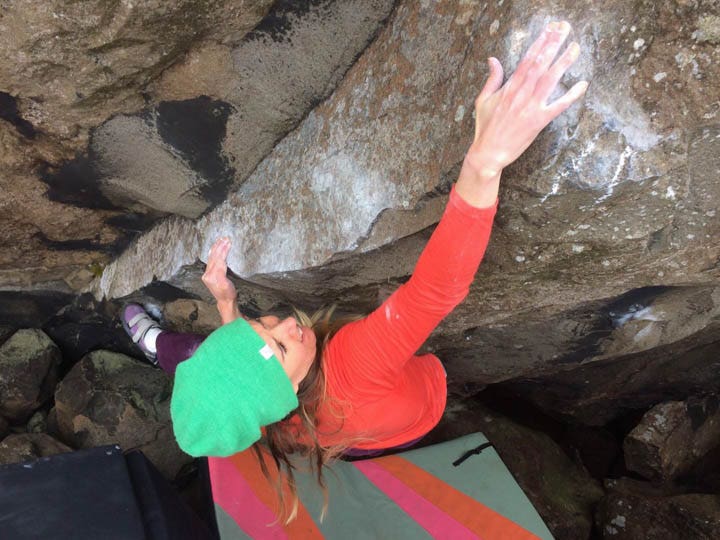 So you've climbed extensively?
Even though I'm from the Lakes I haven't actually climbed there that much. My first real experience of serious climbing was after uni when we went away for those two years. I learned to sport climb in Canmore in Canada, shortly followed by Thailand. Really local! Now I've climbed all over the place. We go on holiday to climb, but mainly bouldering. Rocklands in South Africa, the States, Switzerland, Fontainebleau loads of times, going down the list of classic locations and ticking them off. Locally, we live in Skipton, so we go on the grit, Almscliff for example. We get out as much as possible when the weather's dry.
Finally, how do you see the future of outdoor clothing developing?
The future for us at Rab, well we've got loads of exciting new products of course! (laughter) We're just trying to constantly improve the products. We want to remain authentic to our brand and we re-work our products; we make them better, lighter and more durable. We're looking for any new developments, any new exciting technologies and trying to incorporate those into our range. In terms of trends, bouldering is a massive rising market, whereas trad climbing is becoming less and less so. That's why the Women's Trad Fest is so important I guess. There's bouldering specific gyms popping up all over the country because they are so accessible; they don't cost very much and you don't need much equipment. Little kids can go, and with the Olympics coming up with the inclusion of bouldering, sport climbing and speed climbing, there's going to be a real push to get more people into climbing.