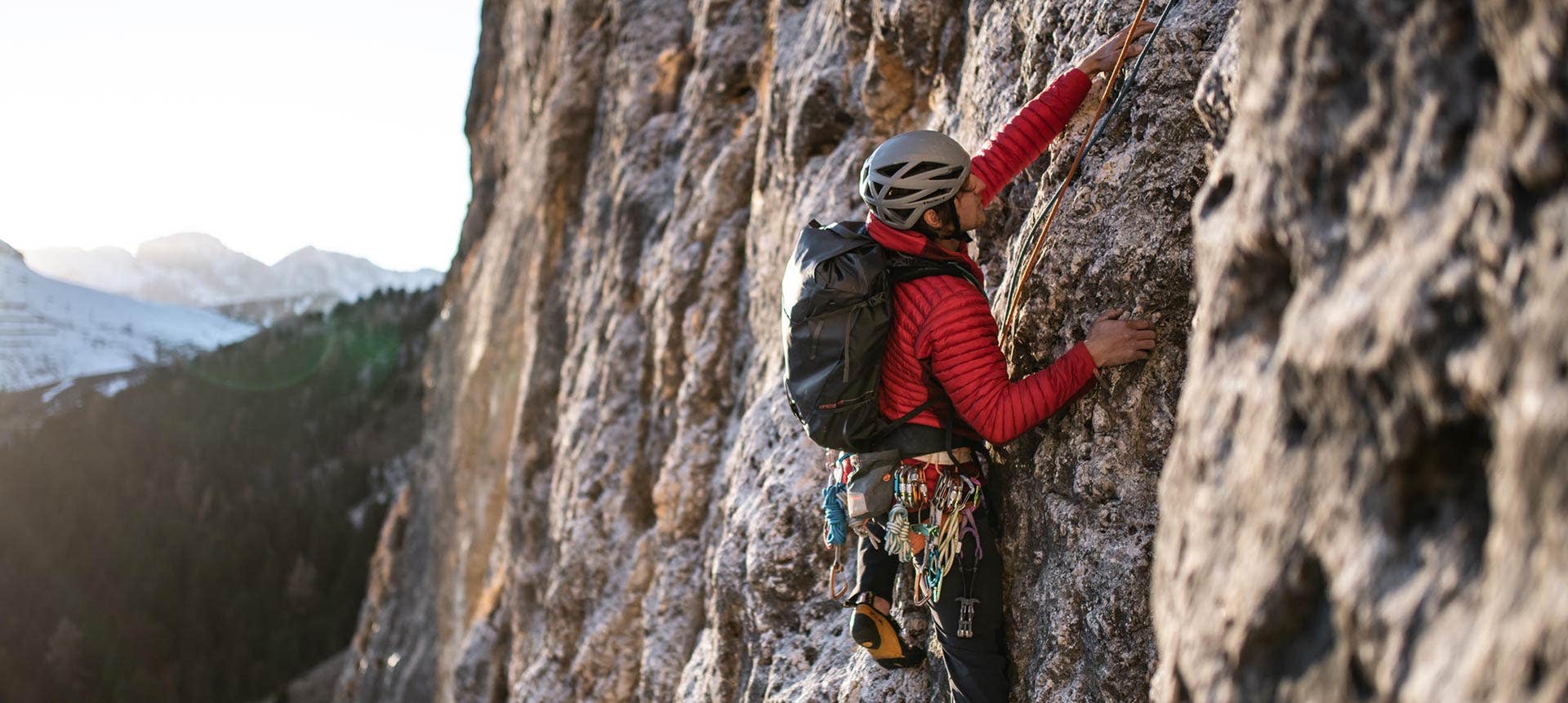 Ask any climber, and they'll tell you that the one thing men's climbing clothing needs to have is freedom of movement. The last thing any climber wants is their clothing to inhibit them when out on the rock. Whether you're trad climbing, bouldering or sport climbing, your clothing needs to move with you.
The Rab® range of men's climbing clothing and accessories has been designed with climbers in mind. That means that whether it's our men's softshell jackets, or durable waterproof jackets with hoods to fit a climbing helmet, through to our more relaxed Rab® hoodies and climbing shorts, what you'll get from Rab® climbing clothing is durability and ease of movement. Whether you're out on the rock face or relaxing after a day of climbing, we've got you covered.
All-day mountain softshell comfort with hardshell weather protection.

Stretchy, breathable, waterproof jacket with softshell comfort and hardshell protection.

A true all-mountain fleece. Built as a breathable midlayer for high-energy cold-weather use.

Lightweight hybrid synthetic insulation for mountain-friendly layering.

Built from rugged GORE-TEX® Pro. The ultimate waterproof shell for exposed mountain conditions.

Fully-featured specialist GORE-TEX® jacket for harsh, hostile weather. Lightweight but durable.

Engineered for elite winter mountaineers and outdoor professionals.

Synthetic insulated jacket for lighter, warmer, more flexible layering.

Designed for alpinists and progressive climbers operating in harsh, wet conditions.

Invest in versatility with a warm baselayer pant that doubles as a lightweight legging.

Durable, lightweight do-it-all mountain pant for ultimate freedom of movement.

Lightweight, technical climbing pant for cool comfort on multi-pitch routes.

Breathable waterproof shell pant for light, fast alpine adventures.

Lightweight and flexible stretch-cotton suited to indoor climbing and summer cragging

Built to keep you comfortable and organised on long, fully loaded approaches.

A mountaineering pack is made to carry all the kit you'll need on longer mountain trips.

Alpine mountaineering pack has everything you need for a day moving in the mountains.

A large volume alpine climbing pack big enough to carry everything you need on multi-day routes.

A climbing and mountaineering pack perfect for gram counters who value robust design and a comfortable carry.

A no-fuss, small volume alpine climbing pack perfect for ultra-fast summer alpine link-ups.

Climbing and bouldering chalk bag, specifically designed for easy one-handed access.

Technical softshell fleece with high levels of wind and weather resistance.

A next-to-skin technical long sleeve tee, designed for comfort and freshness.

A next-to-skin technical short sleeve tee, designed for comfort and freshness.

Mid-weight cotton-stretch shorts are tough, technical and built for climbing.

Lightweight baselayer boxer shorts optimised for comfort and odour control.

When protection is paramount. Built for extreme ascents, big boots and brutal weather.

All-weather synthetic insulation delivers warm, waterproof protection for the worst the mountain can do.

Built to keep you fast, dextrous and accurate on technical mountain routes.

Easy-pack pull-on. Practical both as a midweight baselayer and a lightweight fleece.

Lightweight, fast-wicking fleece midlayer for steep alpine ascents and Big Mountain adventure.

A fast-wicking technical midlayer that is purpose-built for active mountain use.

Versatile mid-weight technical fleece, perfectly suited to high-intensity mountain use.

Ideal multi-application stretch fleece midlayer. Flexible, low-bulk winter insulation.

Practical freestanding bivi for flexible backpacking and bikepacking tours.