GORE-TEX® Infinium Windproof Convertible Mitt
Warm and windproof, the Infinium Windproof Convertible Mitts are a versatile addition to any mountain enthusiast's wardrobe that offer welcome protection on cold windy days.
Read More
Description
Made with GORE-TEX® Infinium fleece that blocks out wind and retains warmth, this fold back mitt is a highly versatile piece for adventures out on the hill. The Infinium Windproof Convertible Mitt also features a suede leather palm and touchscreen compatible thumb.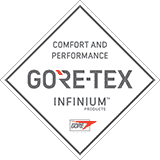 Made with GORE-TEX Infinium WINDSTOPPER
For versatile comfort.
Learn more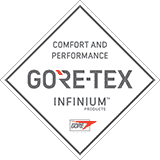 Made with GORE-TEX Infinium WINDSTOPPER
Products built with GORE-TEX INFINIUM™ WINDSTOPPER® are totally windproof, water resistant, and very breathable. While not fully waterproof, they offer an outstanding combination of performance, blend and comfort.
Protected Insulation
The down insulation is protected from light rain and snow by using a durable light rain-resistant membrane and a water-repellent outer fabric treatment.
Totally Windproof
The membrane integrated into these jackets blocks all wind, keeping you warmer and more comfortable for longer.
Maximum Breathability
Moisture from sweat vapour can easily escape through the innovative membrane, ensuring your body temperature is properly regulated and you stay dry and comfortable.
Key Specs

Weight

:77g / 2.7oz

Outer Fabric

:Fabric Outer - GORE-TEX® INFINIUM™WINDSTOPPER®:,100% Polyester with ePTFE membrane,56g/m²

Product Code

:QAH-73
Features

Suede leather palm
Flip down windproof protection
Gore-tex® Infinium windproof technology
Touchscreen compatible thumb
Pull on tab and pull off loop
| | Hand Circumference | Hand Length |
| --- | --- | --- |
| XS | 16.5cm-18cm | 15.5cm-16.5cm |
| S | 18-19cm | 16.5-18cm |
| M | 20-21.5cm | 19-20cm |
| L | 23-24cm | 21.5-23cm |
| XL | 24-25.5cm | 23-24cm |
| XXL | 25.5-26.5cm | 24-25.5cm |
| | Hand Circumference | Hand Length |
| --- | --- | --- |
| XS | 6.5-7in | 6-6.5in |
| S | 7-7.5in | 6.5-7in |
| M | 8-8.5in | 7.5-8in |
| L | 9-9.5in | 8.5-9in |
| XL | 9.5-10in | 9-9.5in |
| XXL | 10-10.5in | 9.5-10in |
N.B. The table above shows body measurements not garmernt measurements.
Hand Length is measured from the wrist to the end of the middle finger.
Hand circumference is measured around the knuckles.
GORE-TEX® Infinium Windproof Convertible Mitt Reviews