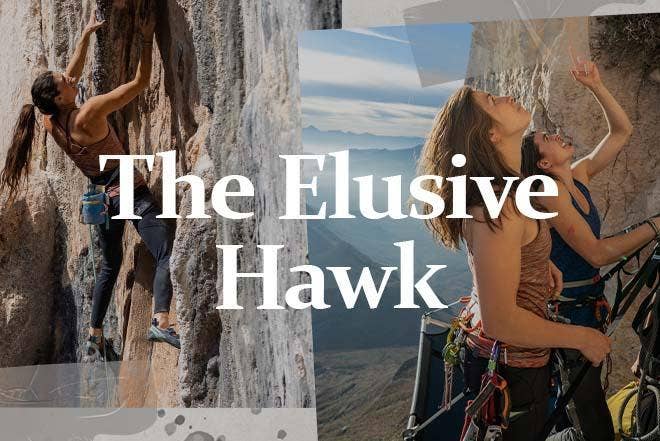 In December 2021, Canadian climbers Bronwyn Hodgins and Kelsey Watts made the first female ascent of El Gavilan (300m, 13a) in Mexico.
Their ascent was the final step in Bronwyn's multi-season effort to re-bolt the original 1990s Jeff Jackson line, to make the route safe and accessible for future climbers. Since its birth, El Gavilan went nearly three decades with only a single successful repeat (Alex Honnold, 2013), despite attempts by world-class climbers such as Leo Houlding. What's more, the cliff seems to be shrouded in mystery, with stories of shape-shifting horse people and weird lights in the night…
"Follow the dirt road north, past the tiny village of Los Remotos, to the end of the road. You'll find an elderly hermit there by the name of Luciano. He'll sort you out with a donkey and show you the way. But be warned, strange things happen out there in the desert. Legend tells of shape shifting horse people — The Nahuales — horses by day, human by night." Homero points Jeff Jackson to the north and bays him good luck.
Jeff finds the hermit, as Homero had described, and that evening he and his partner Ben Fink set up camp among giant boulders. The 1000ft orange wall looms steeply above them, as they excitedly drift off to sleep. What's that? They wake in the night to see the hillside speckled in lights. Peering through binoculars, it looks like people carrying lanterns? Spooked, they cower in the boulders all night barely sleeping a wink. In the morning the hillside is filled with grazing horses… (The Enormocast, 2012)
I first heard about El Gavilan (Spanish for "The Hawk") from the Jeff Jackson episode on the Enormocast climbing podcast. An outrageously steep 300m limestone wall out in the Mexican desert. Why had this impressive line not seen a free repeat? And what was the deal with all the strange sightings?
It was another seven years before my husband Jacob Cook finally made it to El Gavilan with Tony McLane. The pair made a (mostly free) ascent of El Gavilan and a few weeks later they established ground-up a new mixed line on the cliff: "Super Blood Wolf Moon 5.11+." Upon return, Jacob excitedly told me about their adventures: "El Gavilan is incredible! Overhanging the whole way with tufas and kneebars, you'd love it. But the bolts are ancient and I was scared to fall, we ended up aiding through parts of it."
The following winter I arrived in Mexico with Savannah Cummins, minds set on re-bolting El Gavilan and then having a go at the first female ascent. As it seems with every climber's experience on this elusive desert cliff, things did not go exactly to plan.
We teamed up with Josh Janes, who had generously been given bolts by the ASCA to re-equip the route, and on our first mission out to the cliff we managed to replace about half of the old bolts. Sav and I returned alone to continue the work, but the temperature dropped to near freezing and a thick fog moved in. Wandering around on the summit trying to find the top-out, we heard the snap of twig. We paused. I looked to Sav, eyebrows raises in curiosity. We could just make out a dark body in the mist. As we followed it, the fog lifted slightly and revealed a herd of about 20 wild horses! We stood mesmerized, watching the elegant beasts graze in the eery dim light.
I soon returned to start rehearsing the moves; I knew if I wanted to send all these burly pitches in a row I was going to have to practice them first. A gale-force wind meant I barely slept the night, and a late descent meant I very nearly missed my ride back to town.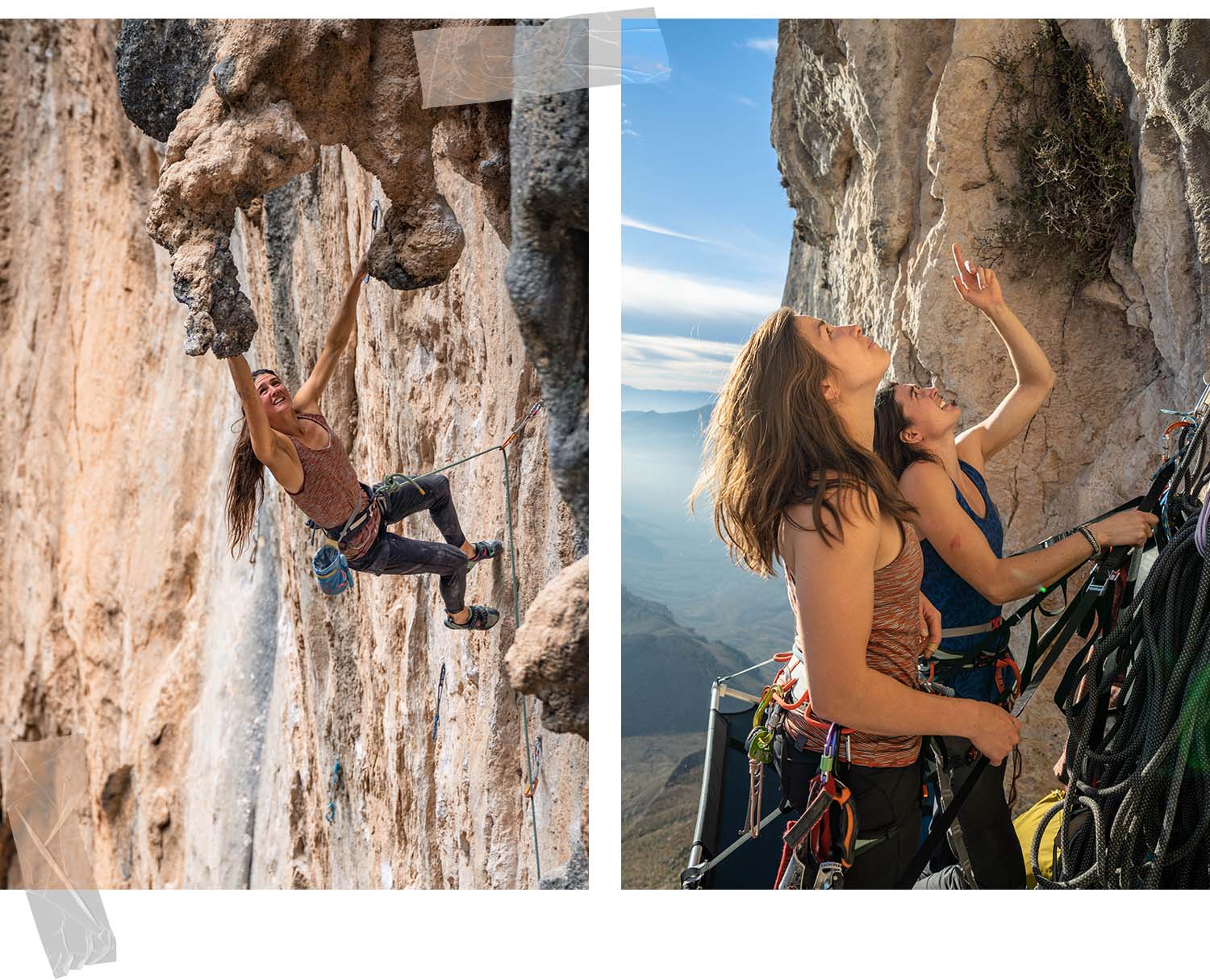 We'd been warned not to drive out there after dark, "Bad people from the city hide in the desert there. It isn't safe." We should have listened.
Several days later I headed back, this time with Savannah, Kiersa Koepnick and Nolan Smythe. With Grade 7 Pods (inflatable porta-ledges), Nolan and I would attempt El Gavilan over two days. An hour into the dirt track we got a flat tire. No problem, we had the tools! Or so we thought… The wheel had one lug nut that could only be removed with a specific key. We checked our phones: no service. It was well past dark. I suddenly felt very scared and helpless. What do we do? We tried for another hour to pull the lug nut off with a wrench, but it was no use. Left with little choice, we open bivvied beside the road.
"CARRRR!" I woke abruptly to Kiersa's shout. They stopped 100m short and then a dozen men with machine guns slung over their shoulders were moving through the cactus toward us.
Nolan thrust his hands above his head. "Amigo, amigo!" he stammered. I did the same. A man who seemed to be in charge spoke in broken English, "Not safe here." I felt a small wave of relief, they want to help us. We learn that the officers are on a call for further up the road. "Is it a fight?" We asked. "Bigger," he struggled to find the words, "bigger and guns." The officer agreed to drive us to a nearby farmhouse to use the landline.
Sitting in El Potrero the next day I felt distraught. I was scared and ashamed of ending up in what could have become a much worse situation. Why hadn't we brought the InReach? Why hadn't we noticed the lug nut key was missing? Why had we driven out there at night? Why am I risking this to climb a cliff!?
I had a flight booked home to Canada in four days, but all I could think about was El Gavilan. Was it possible to squeeze in one final attempt? I knew of one person who might be down. I sent him a text. Am I being crazy?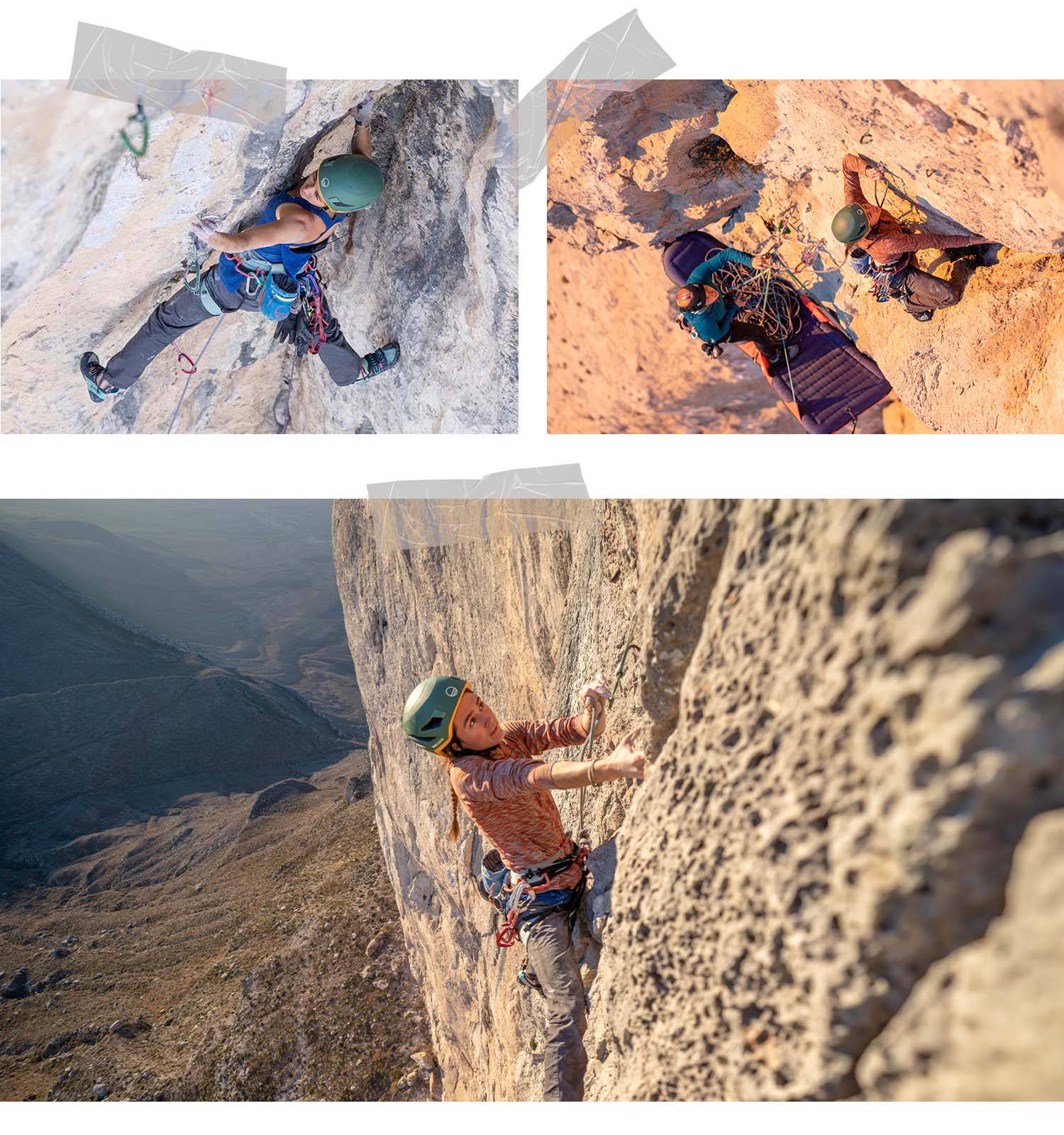 Drifting off to sleep at the base of El Gavilan with Ben Perdue, we noticed faintly flickering green lights dancing on the cliff above us. They lasted about 20 minutes. I recalled the words of American climber Andrew Bisharat who, in an article following his attempt at El Gavilan, wrote of a strange light: "whiteish-blue, bright and hovering. Suddenly, it jumped across the zenith, stayed there for a bit, vibrating dementedly, and zipped back to its original spot. It came back each night, we called it The Visitor." (Rock and Ice, 2009)
Over two days I climbed El Gavilan with Ben jugging faithfully behind me. Part of me knew this mission was crazy. I was exhausted from the get-go and I'd have to lead several of the pitches on the old rusted bolts. My arms failed me at the final roof. I hung on the rope utterly defeated. It's over. I can't do it, not this time. I'll aid through and get us to the summit. On top it was cold and had started to rain. My watch read 1am. I looked over at Ben and started to laugh, then I gave him a big hug. Let's get the hell outta here!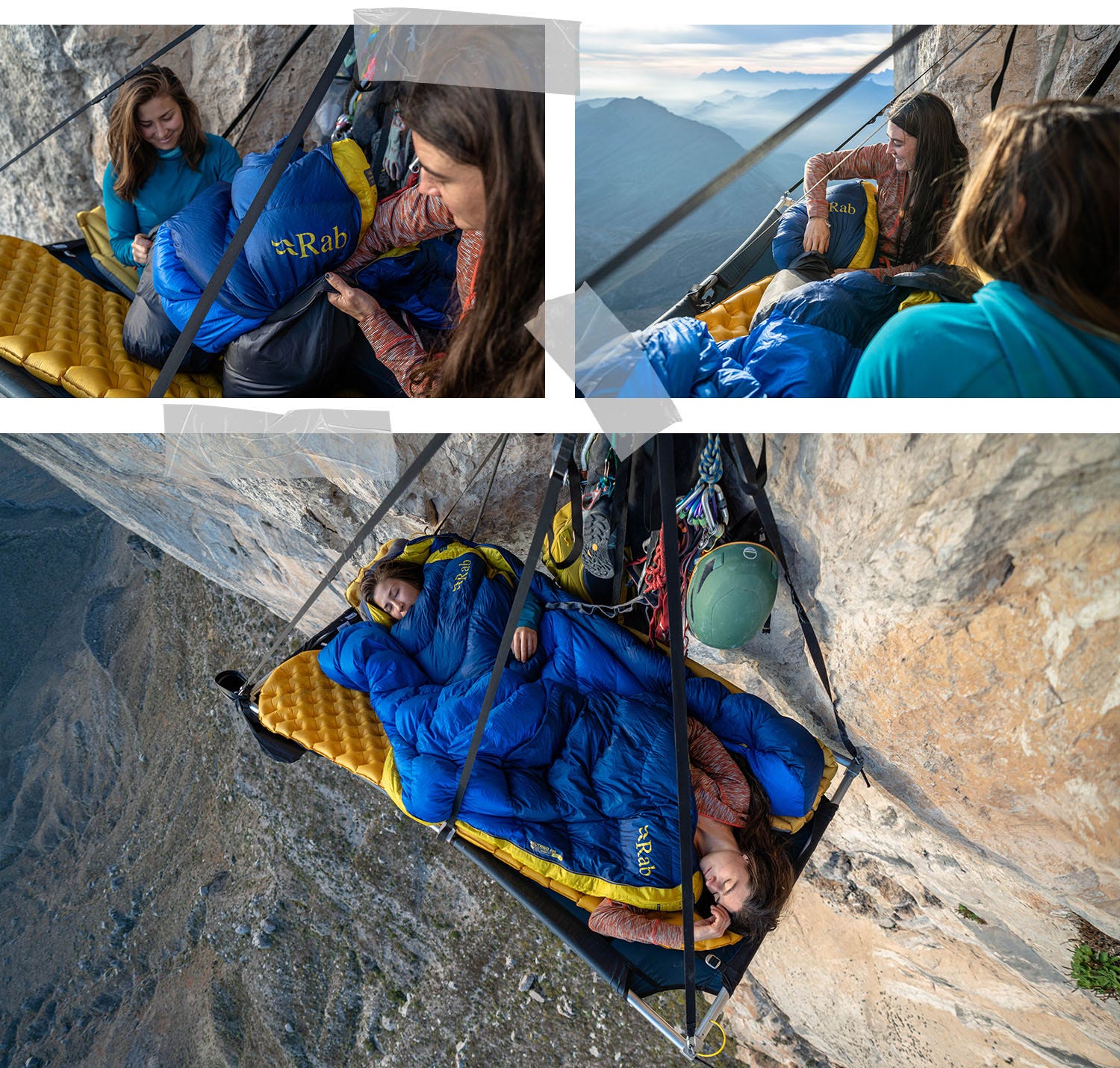 Two years later I returned to El Gavilan. This time with a solid team, more experience, and superior tactics. For the better part of two weeks we camped out at the cliff and finished replacing the bolts, removed all of the old bolts and established a new access trail.
December 21st-22nd Kelsey and I made the first female ascent of El Gavilan, swinging leads with no falls for either of us! I belayed Kelsey up to the summit at sunset, smiling from ear to ear. What a perfect conclusion to this epic saga, and I couldn't wait to share the beta so that more climbers could come have their own adventures on this now-not-so-elusive cliff!
Quote style, bold, italic, 20px over 28px
---
Bronwyn is a professional rock climber and guide, based out of Squamish, Canada. Originally from rural Ontario, she grew up canoeing, hiking and skiing with her family. She started climbing at university and immediately fell in love with the sport.
Read more about Bronwyn here