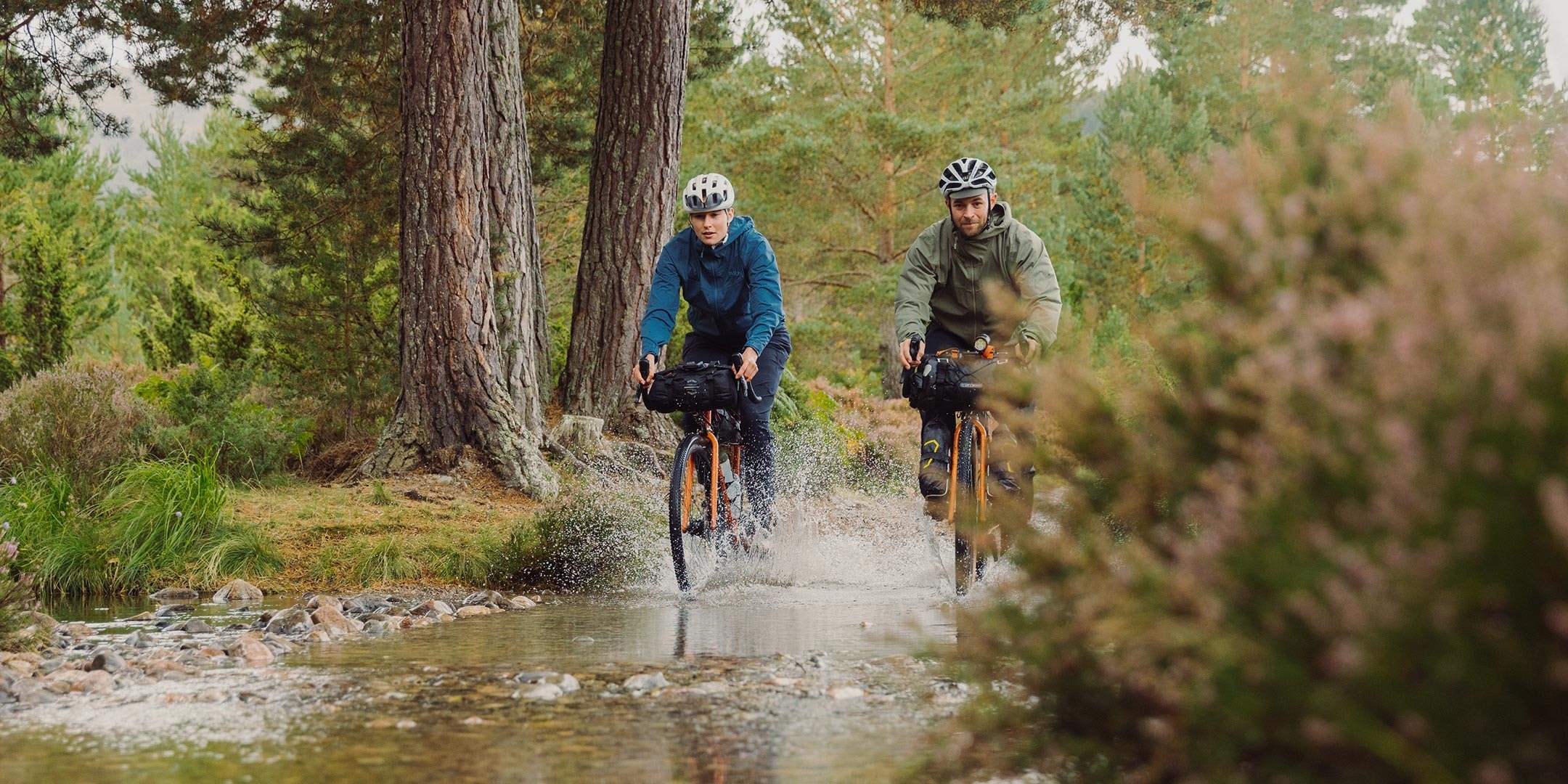 How to get started on your next two wheeled adventure
Launching yourself away from the start, with a rig loaded with gear, and a smile on your face as you head into the unknown is an incredible feeling.
Getting to camp and realising you left your gas canister at home is less of an incredible feeling. Those ramen noodles may need an hour to soak before you can chew through them, and you're already hungry.
Through bikepacking you are free to explore further, longer. A day of riding can turn into a weekend, a week, or even months of riding away from tarmac and traffic.
The idea of bikepacking is simple. Carry only what you need, but with perhaps a few handpicked luxuries. Pick a destination, carry a map, and follow your nose, camping where you choose.
Bikepacking is not about making the destination in the fastest time or chewing up as many miles as your legs will allow. Sure, there are elements of that in races or events, but it is about immersing yourself in nature, being curious about your surroundings, and enjoying traveling on two wheels.
We only hope that our guide to bikepacking provides you with everything you need to helmet up, and set off on your first bikepacking adventure.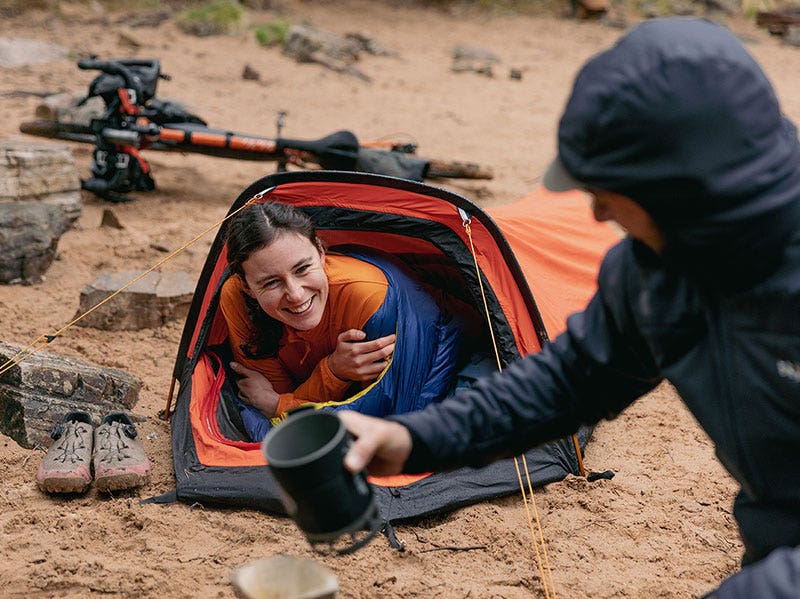 If you have come here as a novice to bikepacking, then this paragraph is for you. Bikepacking is a means to travel further on mixed, often mountainous terrain by bike, carrying what you need as you explore.
It's not about reaching your destination in a record time, but instead about immersing yourself in your surroundings and adventuring by bicycle.
We look at bikepacking in more detail in our Guide to Bikepacking.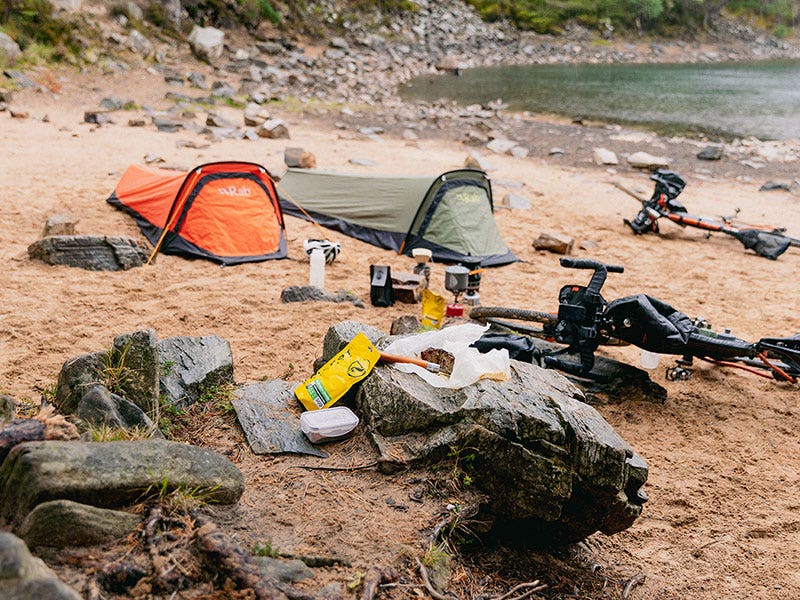 Layers
Baselayer / cycling jersey
Midlayer
Shell layer
Insulated layer

Cycling Essentials
Helmet
Bib shorts
Cycling shoes

Accessories
Gloves
Hat
Socks
Evening shoes

Camp
Sleeping bag
Camping pad
Shelter
Pillow
Headtorch

Cook
Stove
Cutlery and bowl
Food
Water
Coffee

Luggage
Stuff sacks
Bike bags

Bike Accessories
Bike repair kits
Gear repair
First aid kit
Power bank
Map (or mapping software)


1. Finding a bikepacking route
We are lucky to live in a time with an abundance of online tools at our disposal to search for routes.
There are endless sources of information and inspiration for routes. Blogs, apps, guidebooks, YouTube videos, and magazines all share ideas on where to go. Here's some ideas to get you started: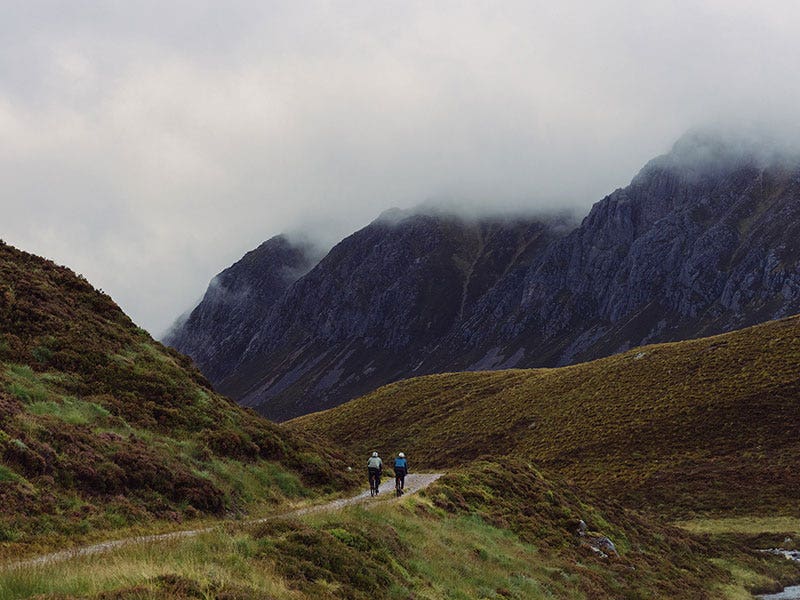 Guidebooks
There's an abundance of guidebooks for bikepacking. Most contain high quality descriptions, accommodation options and the local history to help to build a narrative to your route.
Guidebooks can be readily purchased on Amazon, but we recommend visiting your local independent retailer or outdoor store who can offer advice on a suitable route.
Forums and Groups
Forums and Facebook groups are a great resource for learning about new routes. Expect some information overwhelm with the number of enthusiastic replies you receive. However you will get great local advice from the ground and even ongoing support when you are on the trail from the right community.
Applications
Outdoor Apps have boomed in popularity in recent years. Many are fantastic in helping you find routes and connect to other likeminded outdoorsy folk. Some even help you navigate. Don't forget a backup map, and power bank for your phone.
There is a downside to so many options for finding routes.
Analysis paralysis.
Where do you start when choosing a bikepacking route?
The answer is simple. Go local.
If this is your first time bikepacking it makes sense to choose a local route and explore the countryside on your doorstep. You may be surprised by what you find as you pedal away from the urban sprawl, into the suburbs and beyond. You will be amazed by what you will discover locally when travelling by bike.
Regardless of your route, there are some simple tips that will help to make your first ride out a success:
1. Time & Distance
Carefully consider how much time you have to complete a route. Perhaps you have a weekend, or a week or two. Consider how far you can comfortably cycle each day, the extra weight of your gear and the prospect of cycling for multiple days in the row.
This information should help you to choose a route that fits into your schedule.
2. Public transport
Circular routes should allow you to park your car or get public transport to the start and the finish back where you started. Linear routes often require a more planning, such as using public transport or parking a car at each of the route.
Knowing these things before you arrive will help your trip to go smoothly and save any stress when returning home.
3. Time of year
Mountainous regions in the middle of winter may not be an ideal place for bikepacking with increased wind and snow. You may also find that camping amongst the midges during late summer in Scotland is an experience worth avoiding. Picking the right time of year is essential for the enjoyment and the success of your trip.
2. What is the difference between bikepacking and cycle touring
Bikepacking, and cycle touring are similar. Both involve carrying your gear over multiple days however they have subtle differences that set them apart.
Bikepacking, like cycle touring is a self-supported style of travel by bicycle. However, bikepackers typically do not carry panniers, and instead use bike bags such as frame bags, handlebar rolls, backpacks, and seat bags. Bike packers often use wider tyres, and tend to travel lighter, and spend more time off roads than on them.
Cycle tourers can of course access offroad terrain, yet with a heavier load, and the extra weight of the panniers and rack alone it's going to be harder.
Bikepacking is lightweight offroad bicycle powered adventure.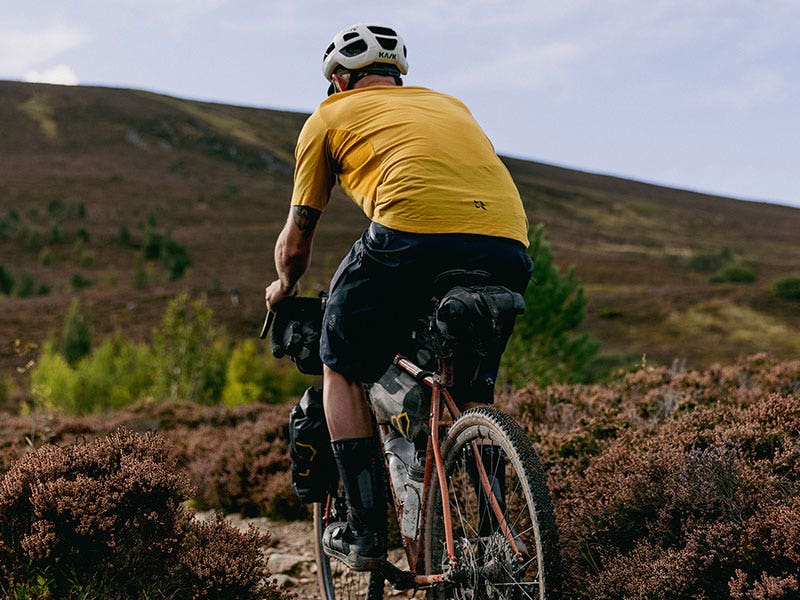 Before we go into the types of bikes suitable for bikepacking it's worth noting that the best bike is the one you already have.
Whether you own a 30-year-old Reynolds steel frame bike, or a entry-level mountain bike. With the correct tyres (thick, and able to withstand the knocks and bumps of the trail) most bikes are suitable.
Because bikepacking involves carrying less kit than cycle touring, you don't need to worry so much about overloading your wheels weight capacity or frame strength. Unlike panniers bikepacking bags attach to your seat post, frame or handlebars meaning they can be attached to bikes without pannier mounts. So, with a quick tyre change, and a spray of oil, most bikes are good to go. If you are shopping for a new bikepacking bike, here's some suggestions.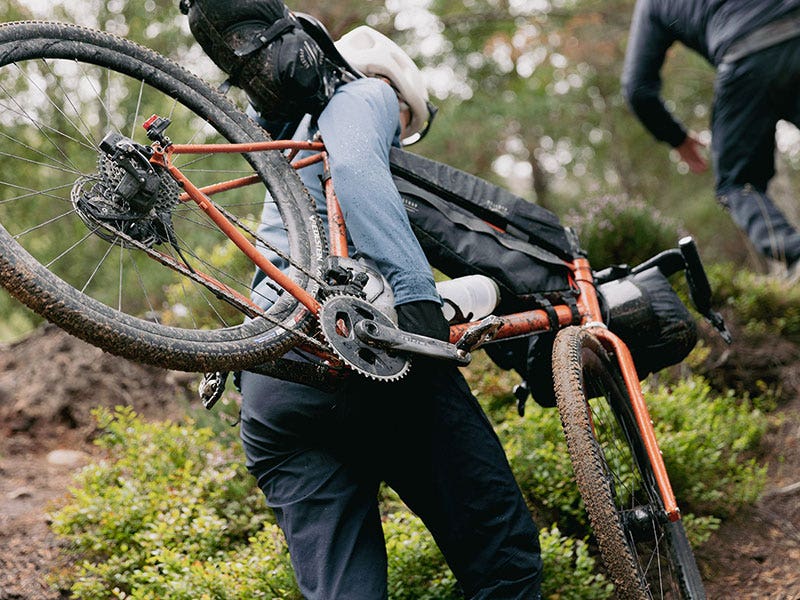 1. Hardtail bikes
Hardtail mountain bikes are well suited to bikepacking and excel on muddy, wet and uneven terrain. If you are without a bike, hardtails are inexpensive, especially alloy models. You also benefit from a wider tyre, giving better grip, and front suspension giving you a comfortable ride.
2. Gravel Bikes
To the untrained eye, gravel bikes look like road bikes, but with burlier tyres. Yet it's the little things that help gravel bikes perform well offroad.
Lower gearing, wider tyres, off-road frame geometry all help to make a capable hybrid machine. Gravel bikes are perfect for taking on a selection of offroad tracks but may struggle with ascents or descents where the terrain gets particularly gnarly.
Then again. There's no shame in carrying your bike when the road runs out.
3. Specialist touring bikes
For longer bikepacking trips and traveling overseas, a specialist touring bike may be the best option. These bikes are often constructed with steel or titanium frames, making repairs away from home possible, and are often designed to run larger volume tyres than the bikes above. When riding in snow, or sandy environments wider tyres are useful as they add comfort and suspension without the extra breakable moving parts such as air shocks, or a fork.
Despite the frequent use of the word 'lightweight' in this article, don't be under any illusion that you need to spend a fortune on ultralightweight gear to get started bikepacking.
Yet, there are still some essentials you need to make your time on the trail comfortable, and of course, safe.
We strongly advise not rushing into buying too much at first, as it's best to figure out what you need, what you already have that can be used, and what needs upgrading. Short weekenders, and local rides are an excellent way to learn about what works, and what does not.
As with most outdoor activities, one of the greatest joys is sleeping in nature. The equipment you already use for camping will probably be perfectly suited to bikepacking, but there are some exceptions.
The limited space available on your bike, over what you may have in a large backpacking bag will force you to think about what you actually need for your trip. Do you really need to carry 3 novels with you, and a set of travel speakers?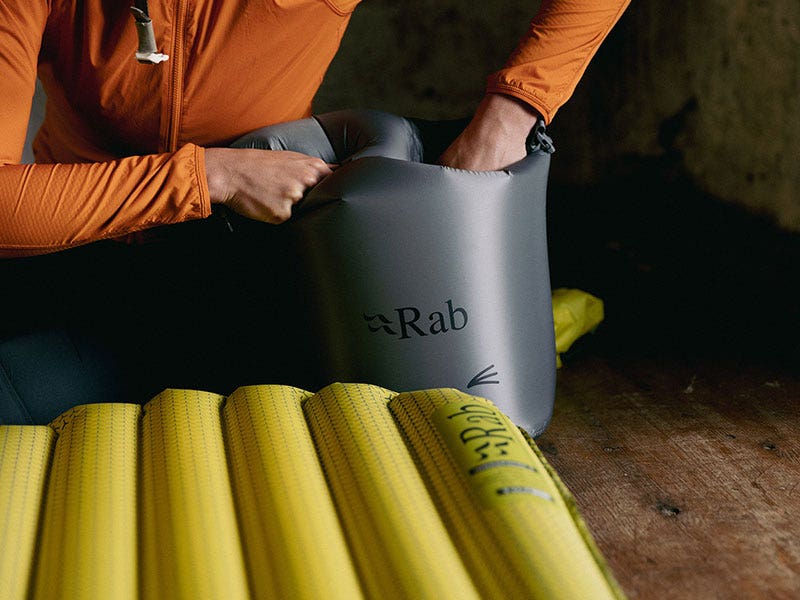 Bike luggage
Bike bags over rack mounted panniers are part of what defines bikepacking over cycle touring. As bikepacking's popularity has exploded in recent years, so has the availability of bike bags, and at a variety of price points.
Bigger luggage brands such as Ortlieb sell a range of sturdy bike packs, with clever mechanisms to secure them to your bike, and keep the ride stable even when loaded. Other dedicated brands such as Restrap have come into the market with beautifully crafted bags, with a range of carefully considered features and elegant finishes.
Investing in a set of quality bike bags is a foundation to bikepacking. Your luggage should be able to keep your kit dry, but also take the scrapes and bumps of the trail, while be stable and well secured to your bike.
Shelters
Many bikepackers opt for a bivi style setup, which is affordable, lightweight and can be put up using your bike, and bike wheels as support to hold up the tarp.
Tents are also another choice, giving you the flexibility to comfortably camp anywhere regardless of the conditions. Tents tend to be the heaviest choice of shelter but are self-contained in a bag, which can be strapped to your handlebars.
Hammock camping is also increasingly popular amongst bike packers due to the minimal gear required, and maximum comfort it offers. Trees are an essential requirement for hammock camping, so you will need to make sure your camp is somewhere with tree cover.
A good quality sleeping bag keeps your top and sides warm, but what happens to the bottom of the bag that's compressed between you and the surface you're lying on? If your camping pad isn't fit for use the cold will go straight through it, through the compressed down and leave you feeling cold throughout the night.
Therefore, a suitable camping mat is a gear cupboard essential for your bikepacking trip.
Sleeping bag
Having a sleeping bag that's the right temperature for the time of year you are traveling is essential. Duck and goose down bags are usually lighter, and warmer for the weight than synthetic counterparts, and therefore take up less room in your luggage.
Camping mattress
A quality camping mattress insulates you from the cold ground while providing you with a stable and comfortable platform to sleep on. Camping mats can come in many shapes and sizes and it's worth lying down on some in a specialist camping retailer to see what feels good.
Cooking & food
The cooking equipment you bring will depend on what you want to cook.
If you value high quality camp meals made from scratch, you will need to pack more cooking equipment and ingredients to help prepare your meals. Many bikepackers opt for a simple stove that heats up water so ramen style noodles, or specialist dehydrated meals can be consumed.
Most dehydrated meals taste surprisingly good these days and have come a long way from their roots as military grade rations of years gone by.
Don't forget to factor the extra weight of water into your overall load. Water filters are a great way to keep the weight of water down as you can pull water from rivers and streams when you need it.
Bike maintenance kit
As you will be travelling by bike, you will need to prepare for the possibility of punctured tyres, gears slipping out of alignment and broken chains. You can't carry a whole bicycle mechanics kit, but you can carry a cycling specific multitool and a few spares to keep you moving.
Clothing
All mountain pursuits are made more comfortable with the right clothing and layering. As you will be exploring remote, and elevated terrain it's important to be prepared for wet and cold weather.
You can use any of your normal outdoor clothing to keep you warm and dry, but it's advisable to purchase essentials such as windproof gloves and a cycle bib to keep you comfortable on the saddle.
And don't forget your helmet!
From Spring 2023 Rab is introducing a range of clothing for those exploring offroad by bicycles. You can explore the full range of clothing here.
5. Bikepacking events & communities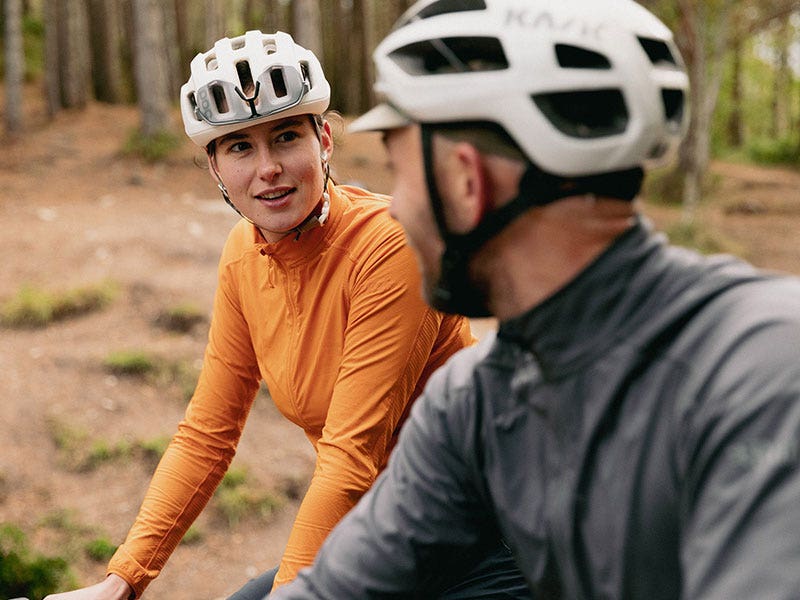 If planning your own route and going at this alone feels a bit too much to start, then you may consider a bikepacking event or group trip.
There are some fantastic businesses running a range of events and trips from weeklong challenges in remote landscapes, to unhurried adventures with a pack of other likeminded bikepackers.
Here's some suggestions to get you started.
Pannier.cc
Pannier.cc is a long-time friend of Rab and a stockist who curate bikepacking trips for small groups. Their 'Pannier Escapes' take place all over the UK and occasionally overseas in areas like Scotland, the Peaks and even Kyrgystan!
Their 'Highland Drover Tour' sounded good to us, with a mix of road, gravel and Munroe mountains topped with whiskey distillery tours.
Be quick as their tours fill up quicky!
Wildcycles
Wildcycles specialise in bikepacking tours, complete with comfortable glamping style accommodation, and bike hire (if required) on established cycle routes such as the Ridgeway, and South Down's Way.
Dirt Dash
Dirt Dash is a self-supported bikepacking event that takes place on the Cowal Peninsula near Glasgow. The race takes place over two days and includes an overnight camp. It's a fantastic way to experience bikepacking in Scotland, and to meet other members of the bikepacking community.
6. Five tips for your first bikepacking trip
We are giving you a helpful little push on your new loaded bikepacking setup with 5 tips.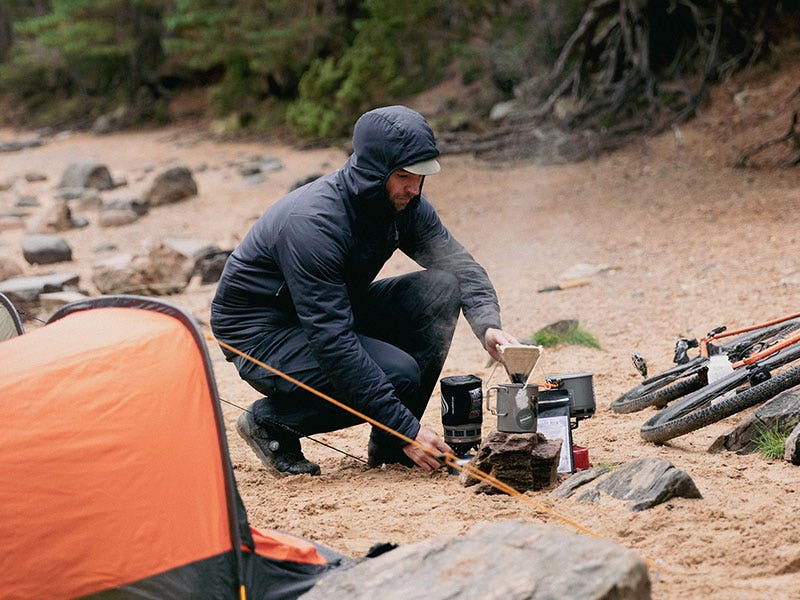 Shorten your milage expectations
If you are comfortable with 50-mile days, plan for 30-40 miles a day when plotting your route. Why? You need to factor in a few things, such as stopping to enjoy the view, or brewing up, the additional weight of your rig, and the fatigue that comes from riding day in and out.
Preparation is essential
Spending time laying out your gear and choosing exactly what you need, while ruthlessly eliminating anything you don't will pay off later. Exploring ways to properly pack your gear and distribute the weight on your bike really helps to create a stable ride, but also pays off when you pack up camp each morning as you know exactly what goes where.
Plan for food
If you are bikepacking in the UK, or Europe you can plan for resupplies at local shops, even in rural places. Having an idea of where these are, and when they are open is essential to ensure you don't run short of nutrition.
Bring camp shoes
Pack some minimalist or lightweight shoes for wearing around camp and town in the evenings. Your feet will thank you for it after being in your cycling shoes each day!
Invest in a saddle
Having a comfortable saddle can make the difference between an enjoyable ride, and days of discomfort and misery. It's worth spending some time in store to try on some saddles.
Above all the information within this guide, go out, have fun and enjoy your bikepacking adventures without expectation, but with good planning. Take it easy to begin with give your confidence time to grow. As with any outdoor activity, bikepacking can come with highs, lows, and unexpected challenges. Enjoy the trail ahead.