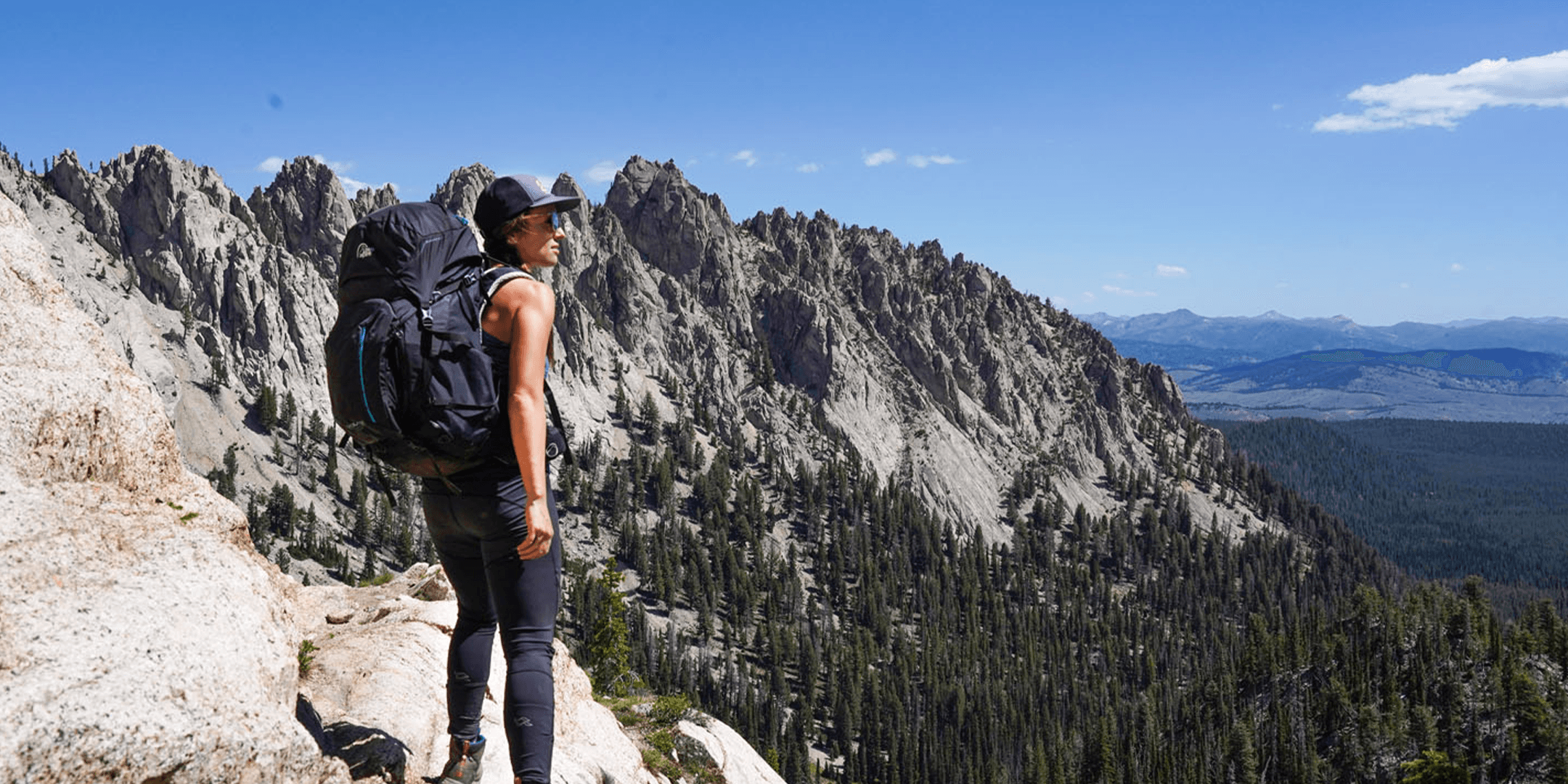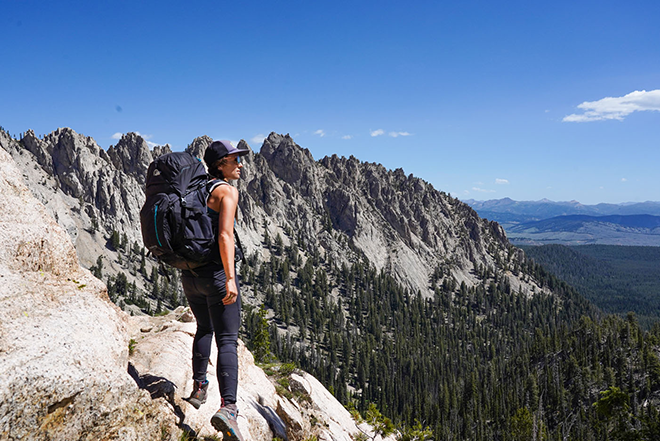 All You Need is Between Your Hat and Your Feet to Go As Far As Your Soul Can See.
In comparison to the high adrenaline, cliff hucking, speedy descents and precarious climbs of my life on skis in the winter, the pace of summer backpacking may appear uncharacteristically slow paced. One foot in front of the other, down the trail around the bend, a heavy pack, over the river and through the woods...or is it through the river and over the pass. Suddenly, you've reached a depth of the wild that can't be accessed without the effort and determination of your own body and mind.
I crave the simplicity of backpacking. All you need is what's between your hat and your feet.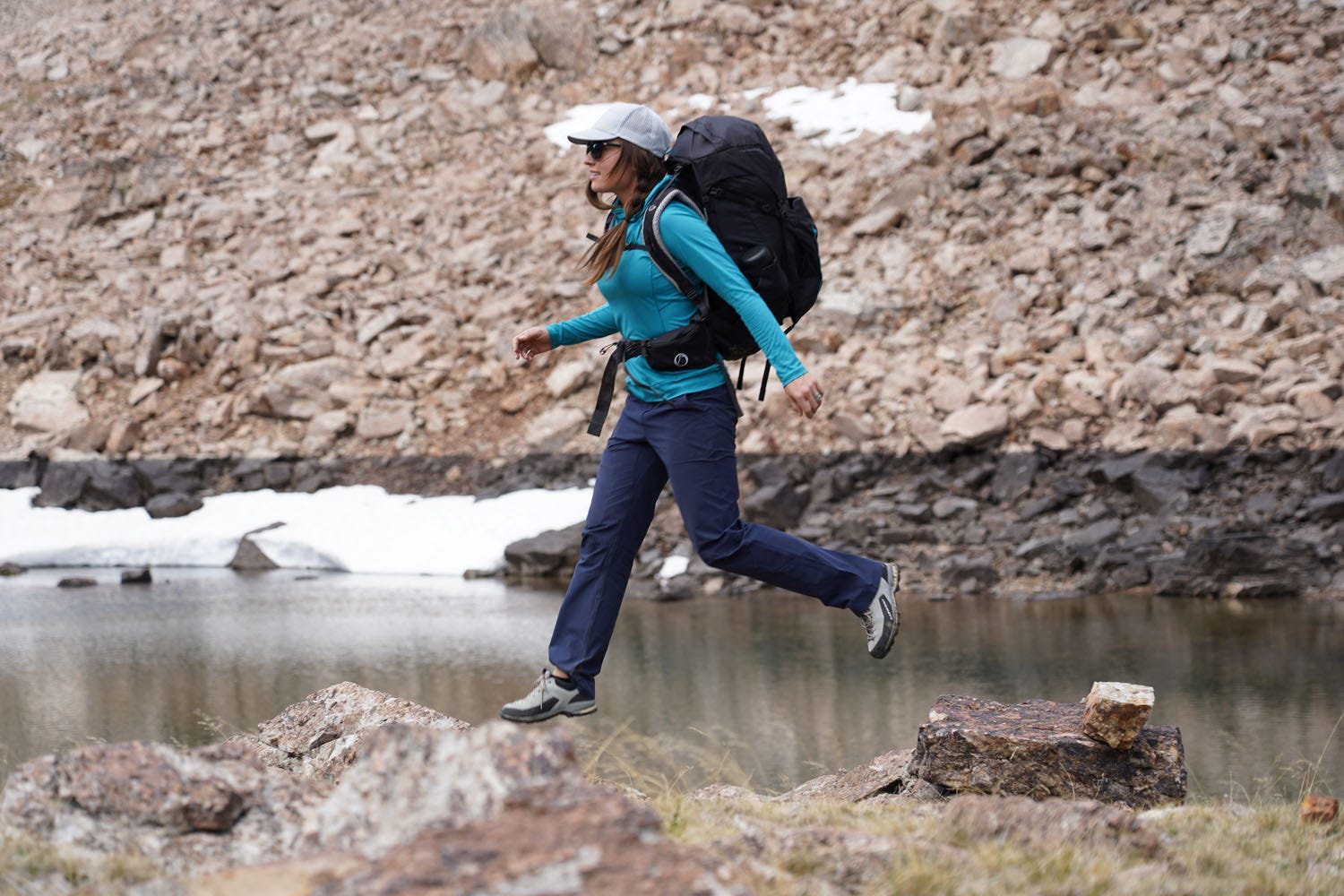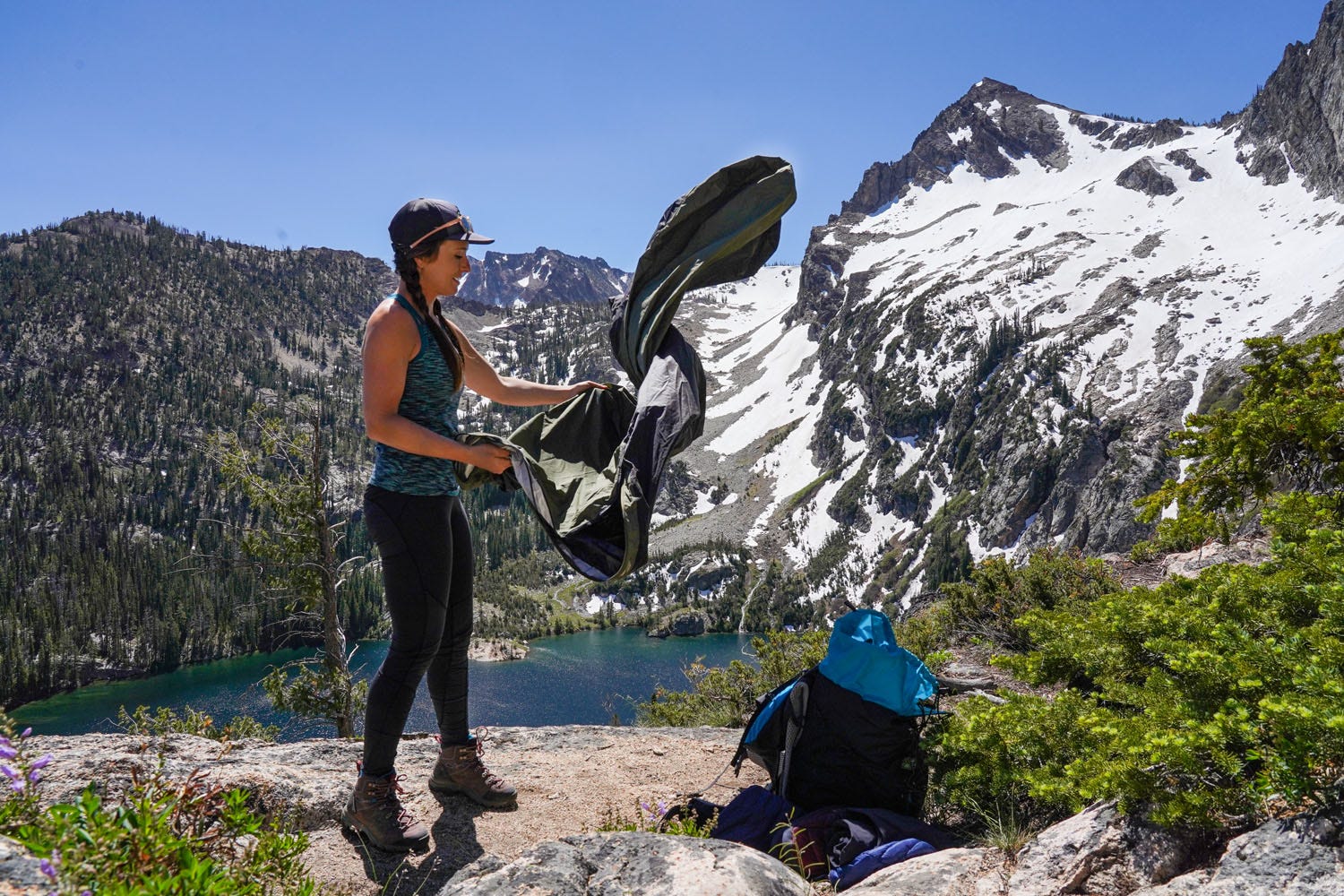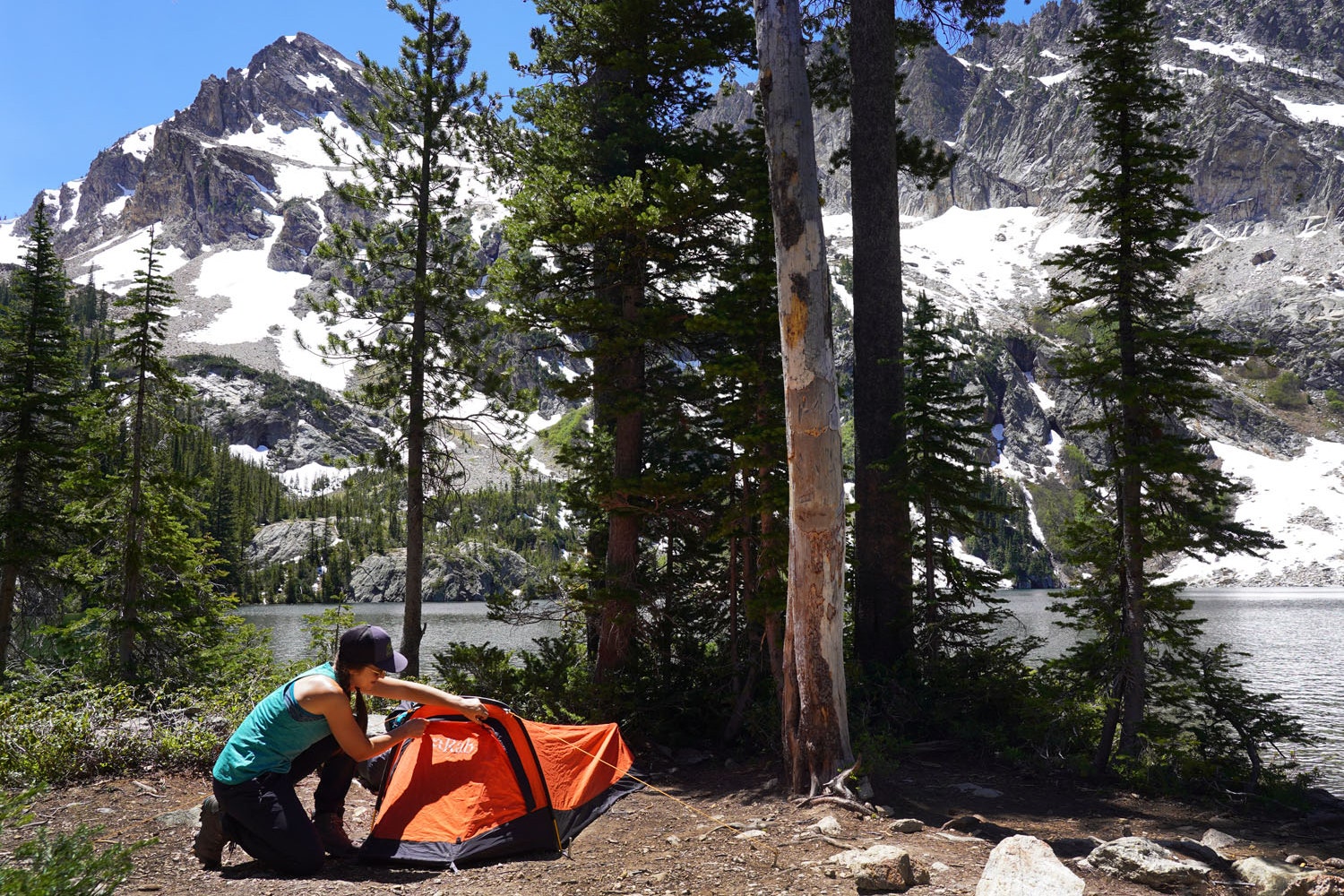 Ideally while packing, you remember to use what's between your ears, too. Limiting the excessive clutter in our daily lives can be a challenging task, but once your feet hit the trail, life becomes more clear. There are a few tactics and gear preferences that make this experience much more enjoyable.
At the end of this blog, take a peek at what's in my kit for multi-day backpacking adventures.
Backpacking is hiking with all the gear you need on your back to camp for multiple nights. Often the camp locations are miles apart, creating a journey covering lots of terrain. Not much beats diving into a pristine alpine lake surrounded by granite spires after trekking across mountain passes all day.
As a child, my family took us camping and on multi-day horse pack trips in the Wind River Range, but I did not backpack until I was in college. At Westminster College in Salt Lake City, Utah, I decided to earn a minor in Outdoor Education & Leadership. During the various courses from outdoor leadership, trip planning, experiential education, and wilderness education, the class applied the skills we learned each semester on a backpacking trip in the southern Utah desert. I remember those aches in my back, bruises on my hips, rub marks on my shoulders. While simultaneously glowing in awe of the sandstone landscape, gut wrenching laughs at the silly games we played, cooking unnecessary gourmet meals from scratch by headlamp in dirt. The list goes on. Every backpacking trip, I returned to the dirty face, salty hair, wild eye exterior with the veracious internal existence. It's just you, mother nature, and how you choose to authentically show up out there.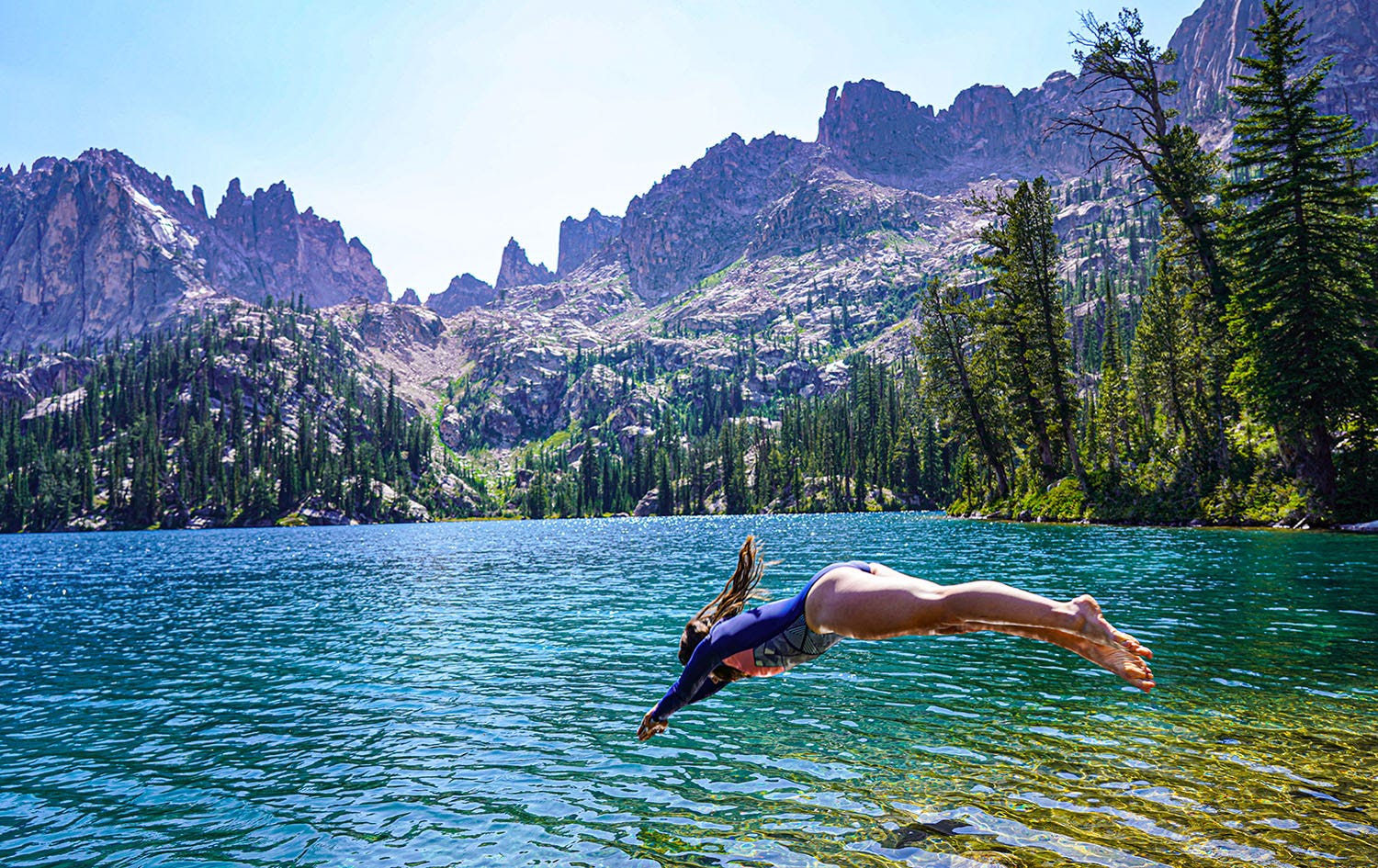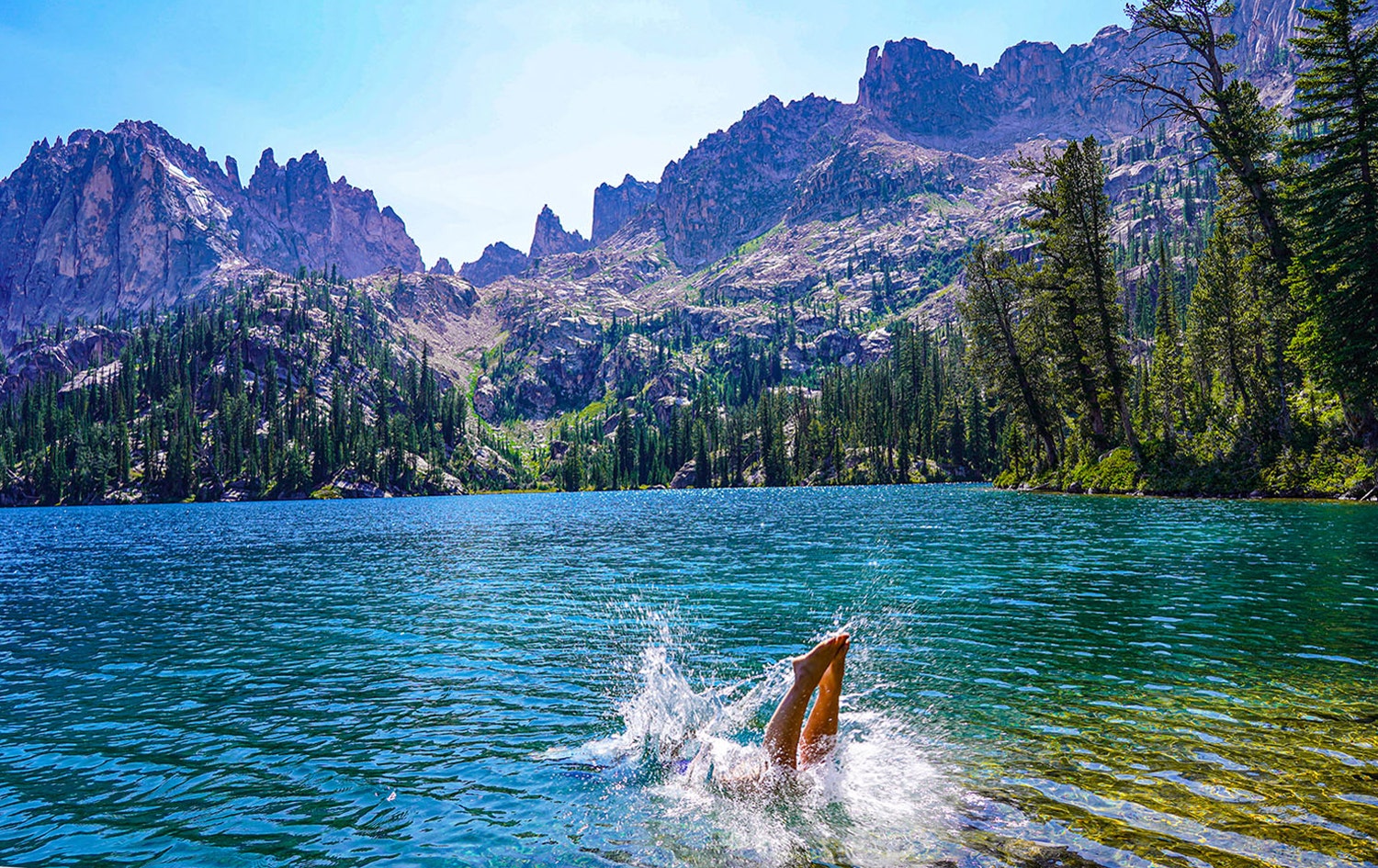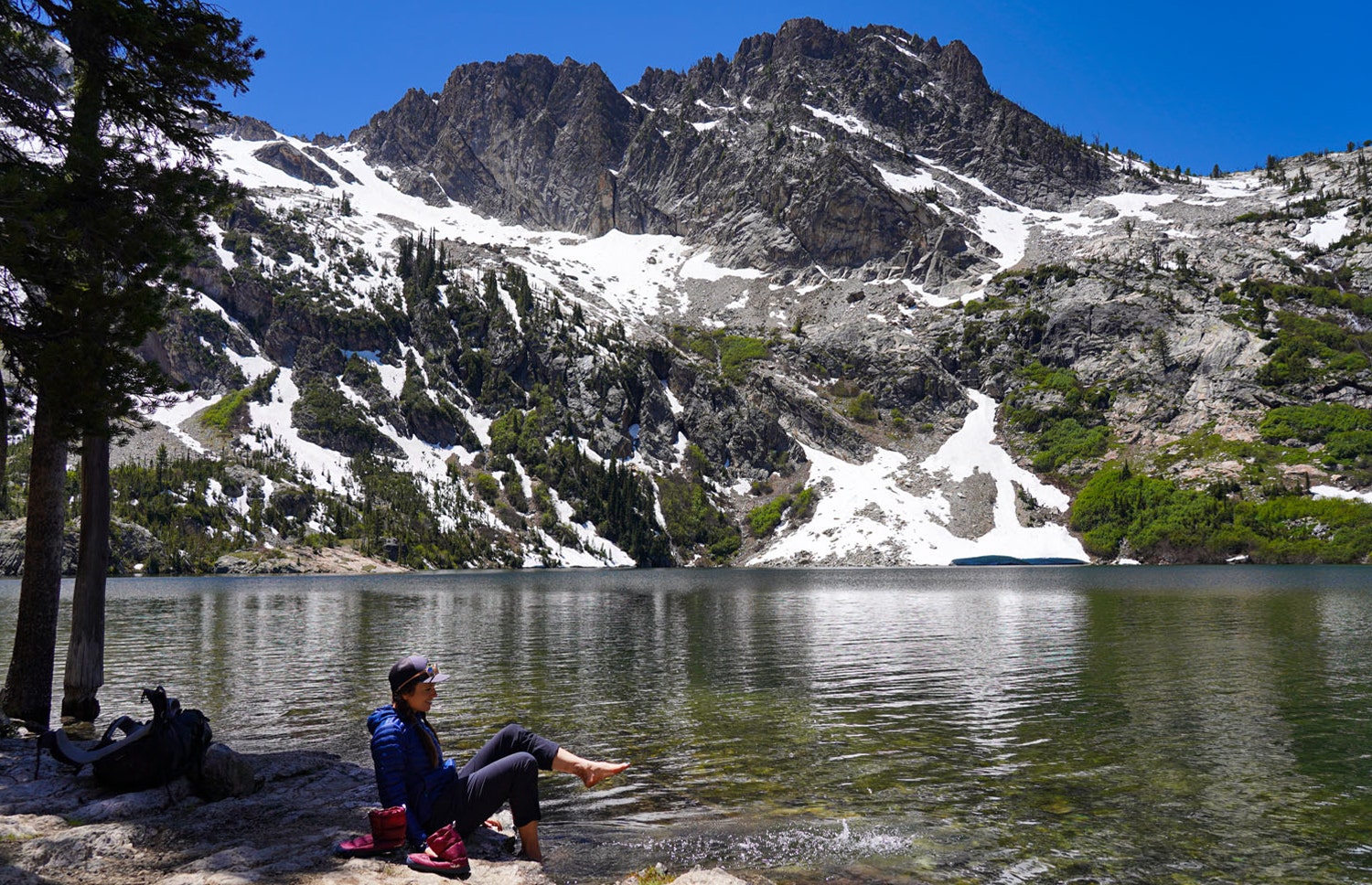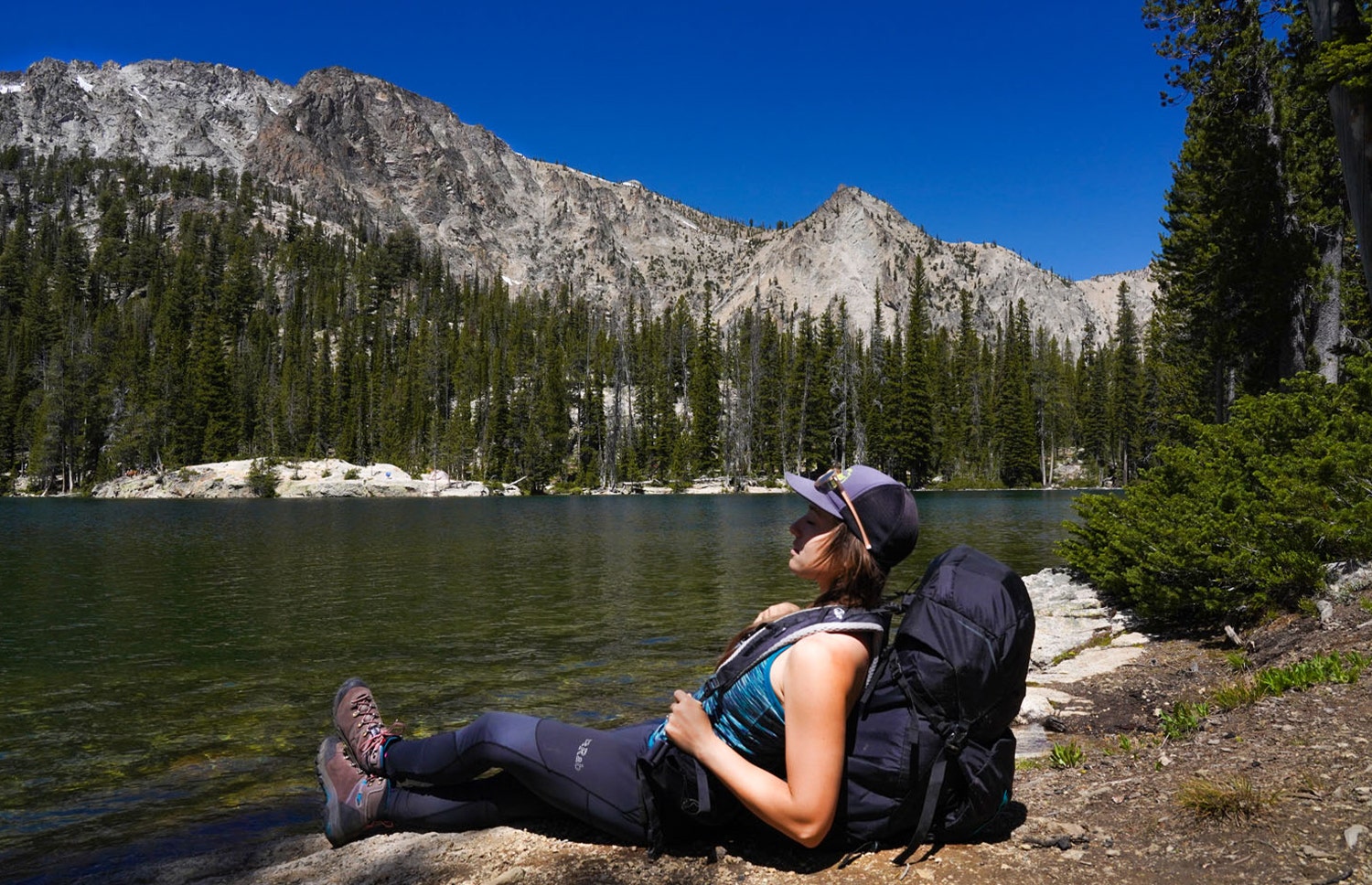 After college, backpacking became a summer ritual for me, with personal adventures and working as a guide. On personal trips, my focus ranges from exploring new places, physically challenging myself, and balancing the healing tranquillity of nature while at camp. When I'm guiding, I love teaching navigation and backcountry cooking. I challenge myself to learn more about an area to share the history, geology, and plants with my clients.
Since 2016 I've led all-women wilderness backpacking retreats. We take about 10 women from across the country on a five day trip teaching them everything to be self-sufficient on their own future trips. The retreats have been in the ancient sandstone canyons of southern Utah, the mystical Wind River Range and in the Sawtooths of Idaho. Trekking adventures are accessible in the sense that 'walking' evens the playing field; we can all go at our own pace to get from point A to B with our own human power. It's an empowering feeling to have self-reliance while surrounded by supportive like-minded people. I've witnessed many women overcome personal challenges simply through their experience learning to backpack in the mountains - whether it's jumping off a cliff into a cold lake for the first time or having several hours to think quietly while walking through the woods.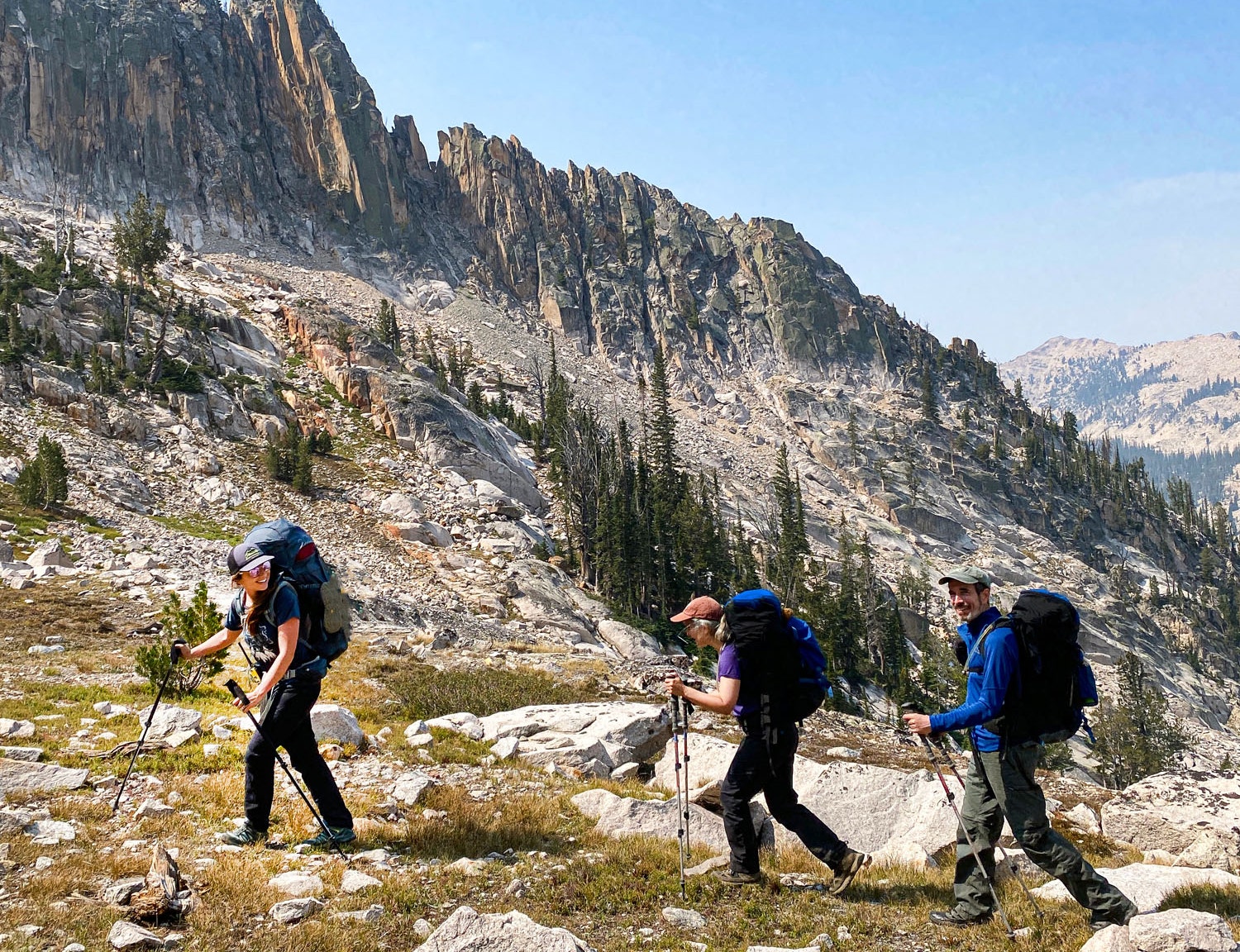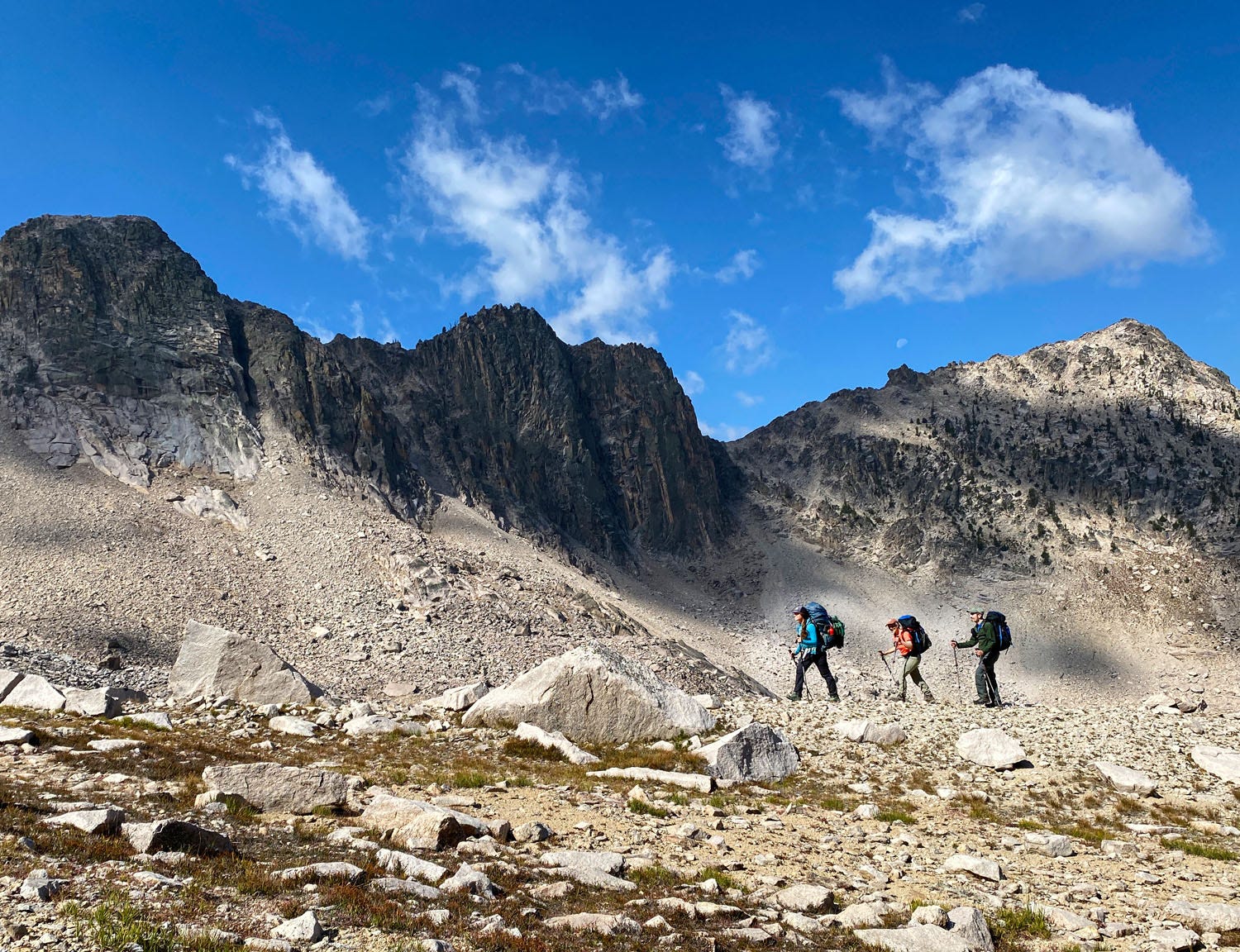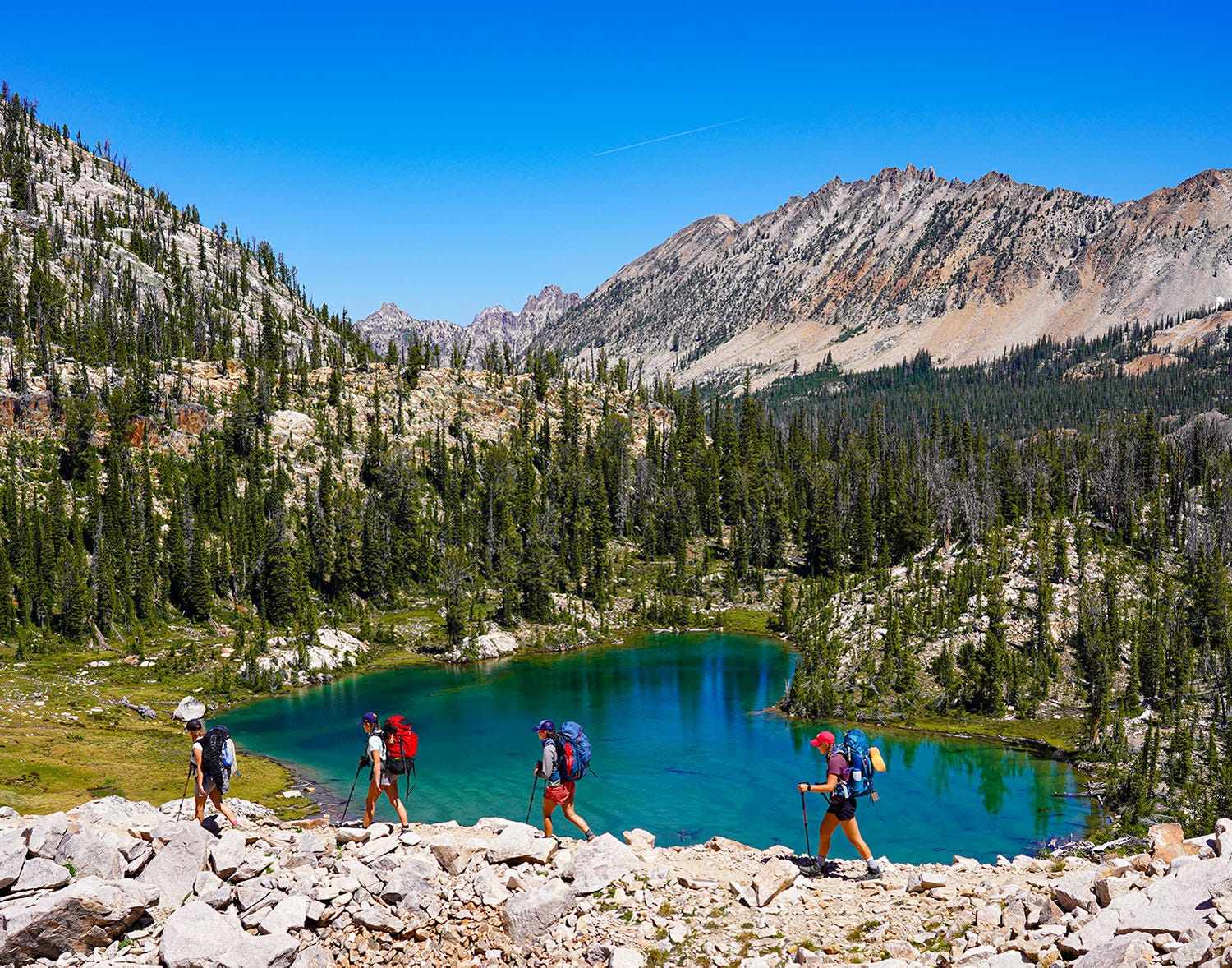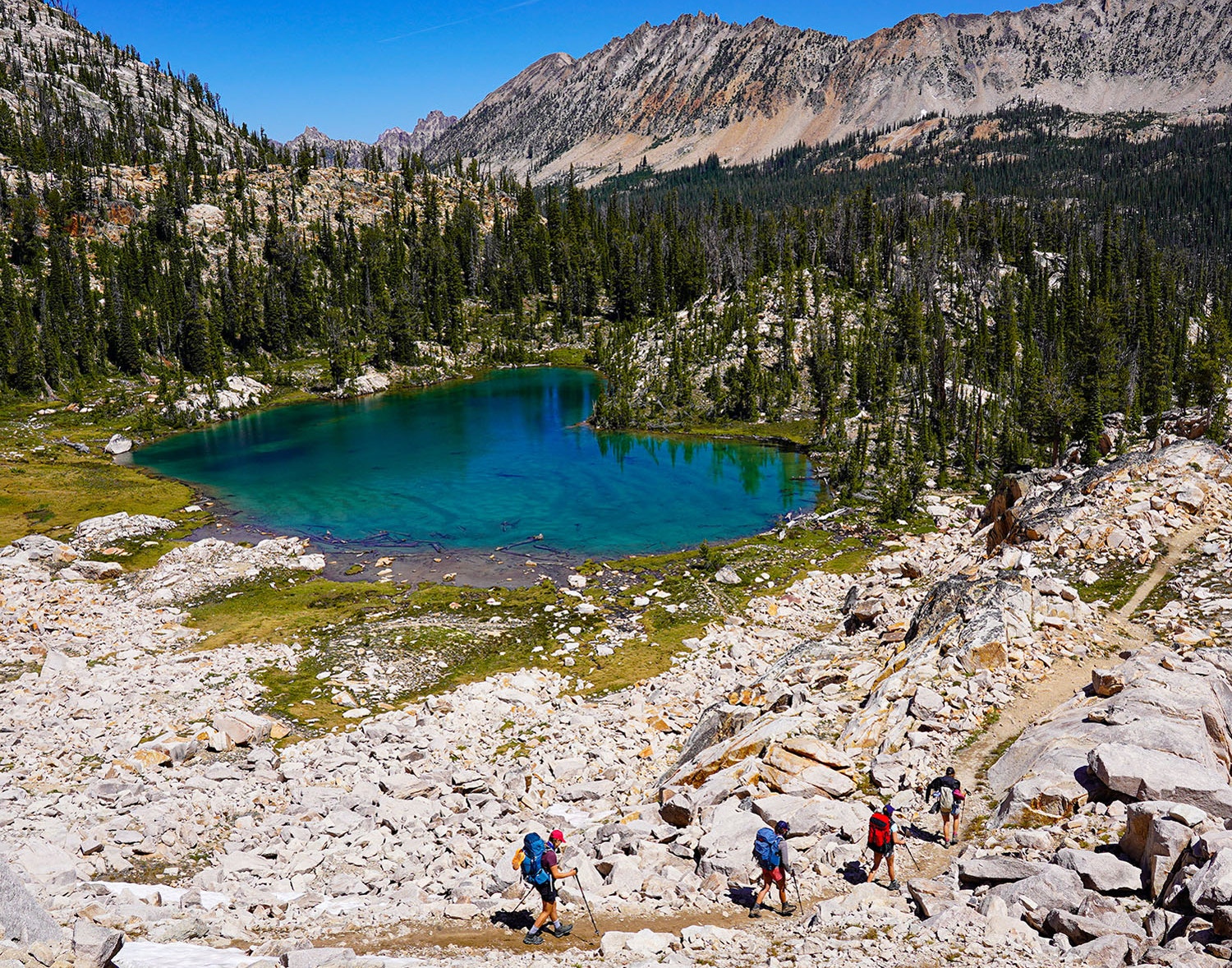 Currently, I live and work in the Sawtooth Valley of Idaho. It's remarkably stunning with jagged dramatic peaks. It reminds me of the Chamonix valley, but with more cattle ranches and less charming cafés. As many hikers, climbers, and skiers who are drawn to the Sawtooth area would agree, part of the allure of this place is the lack of information. While today the summer hot spots have been divulged on the internet, much of the off-trail adventure and backcountry skiing is left for you to figure out. That sense of exploration and intellectual challenge is something I love. Many climbers call this the Sawtooth Ethic - keeping a quiet spirit of pioneering.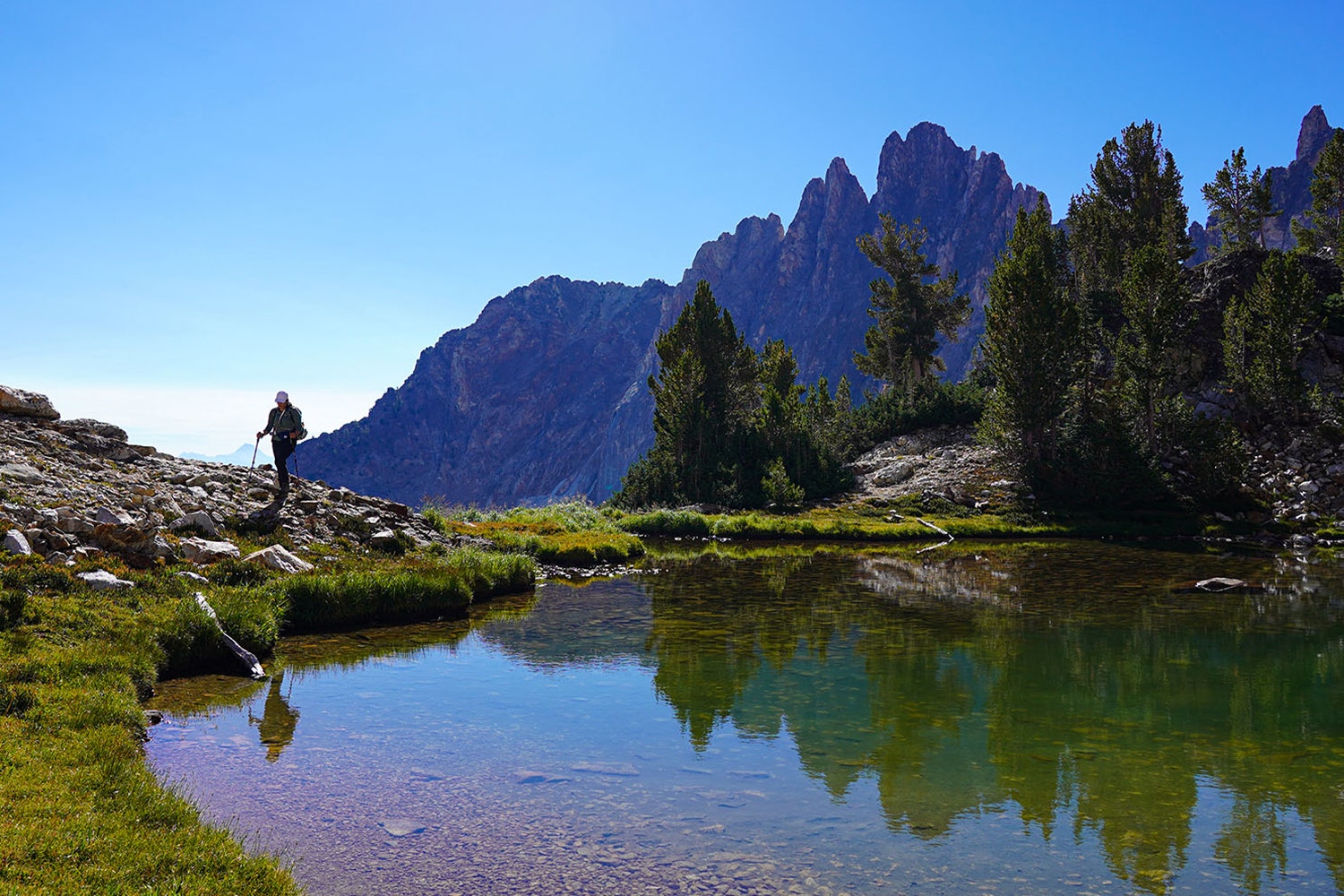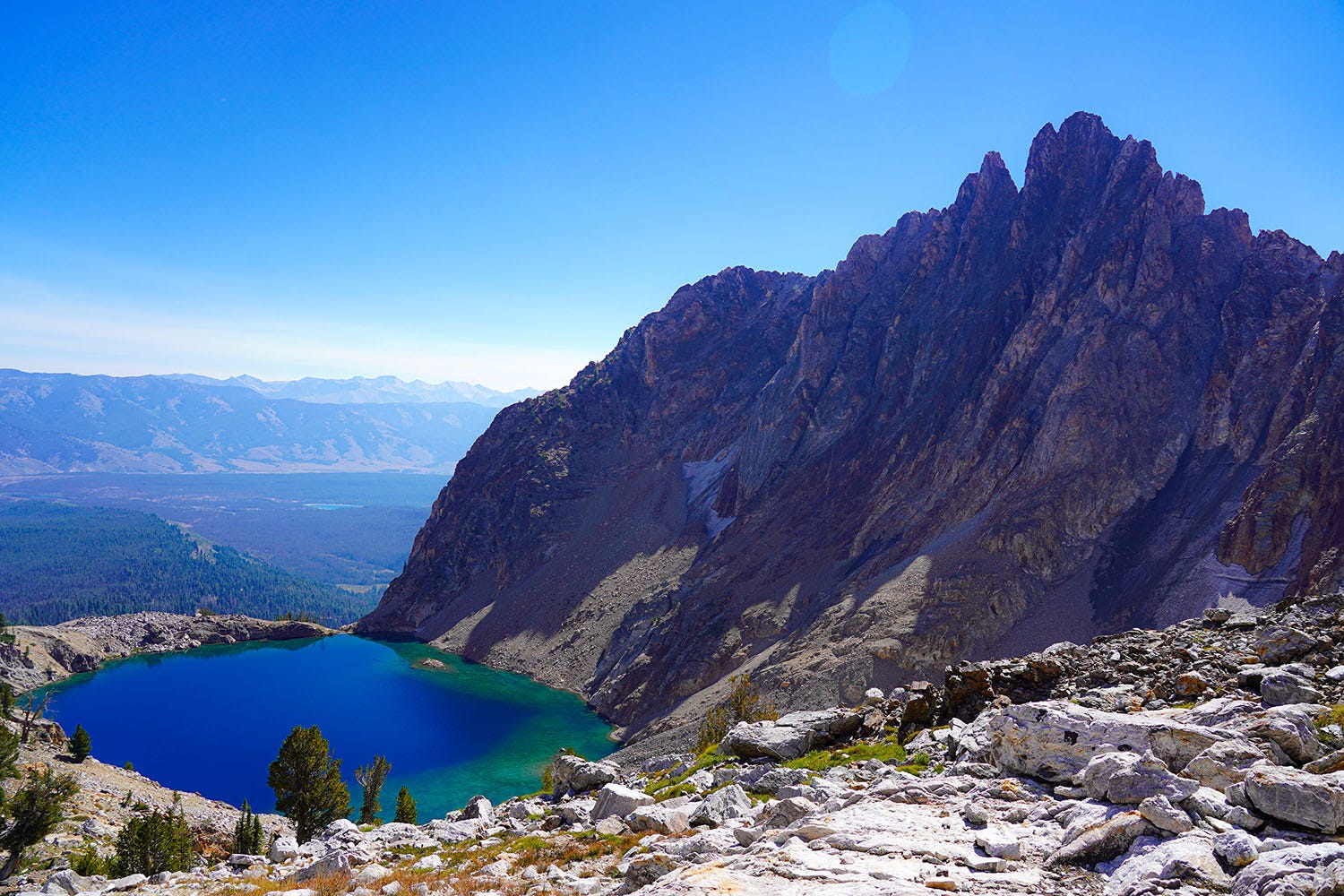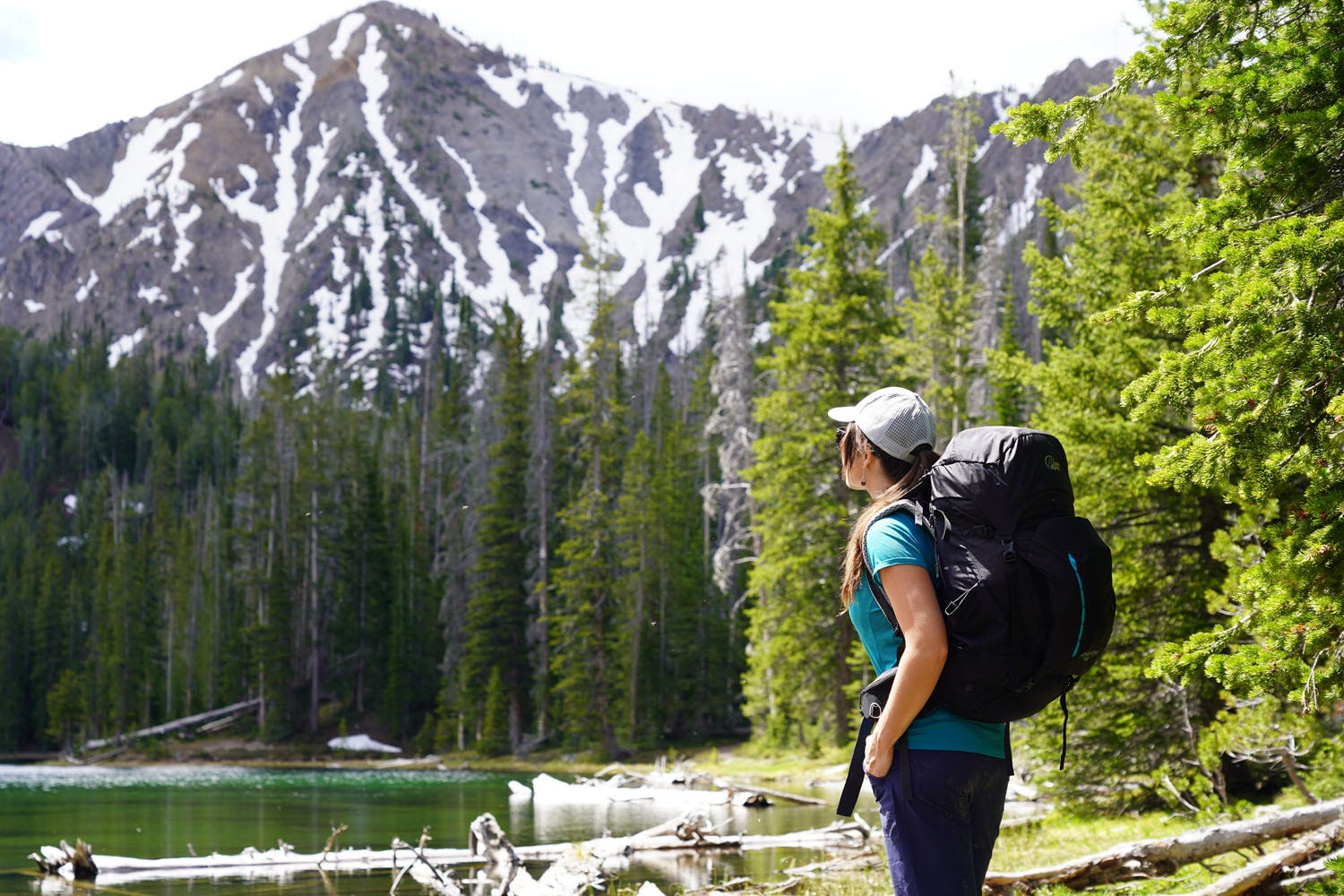 Pre-1800, the Shoshone- and Paiute- speaking native tribes occupied central Idaho's rugged mountains for thousands of years prior to the exploration of the West. Specifically, the small Sheepeater tribe inhabited the high peaks of the Sawtooth Mountains travelling by foot through the rugged terrain. During the 1800's, the first expedition to hit the Sawtooth Valley was led by Alexander Ross and also the American Fur Company. By the late 1800's, the mining era divulged with the first discovery of gold along Valley Creek at the foot of the Sawtooth Mountains. Mining of all types took over the area developing roads over passes, and pack trails through the mountains. After mining started to shut down, a new type of explorer ventured to the Sawtooth region. These people ranged from geologists, Salmon River scientists, ranchers looking for livestock grazing, and early recreationists.
Because of people who took action, we have access to pristine landscapes with world class climbing, multi-sport use, and healthy ecosystems for wildlife to thrive in that are protected from human development. In 1905, the Sawtooth National Forest was created in contrast to a National Park which would have brought endless amounts of traffic. While these rural areas are still becoming overpopulated (likely due to internet hype), protection like the Wilderness Act of 1964 continue to preserve delicate habitats.
The Federal Wilderness Act was passed in order to protect public lands "where earth and its community of life are untrammelled by man." In 1972, a primitive area was reclassified as the Sawtooth Wilderness within a larger boundary of the Sawtooth National Recreation Area. Essentially, this protects the landscape from being developed, mined, and encourages conservation of the ecosystem while also maintaining the trails and managing the impact made by the people who recreate.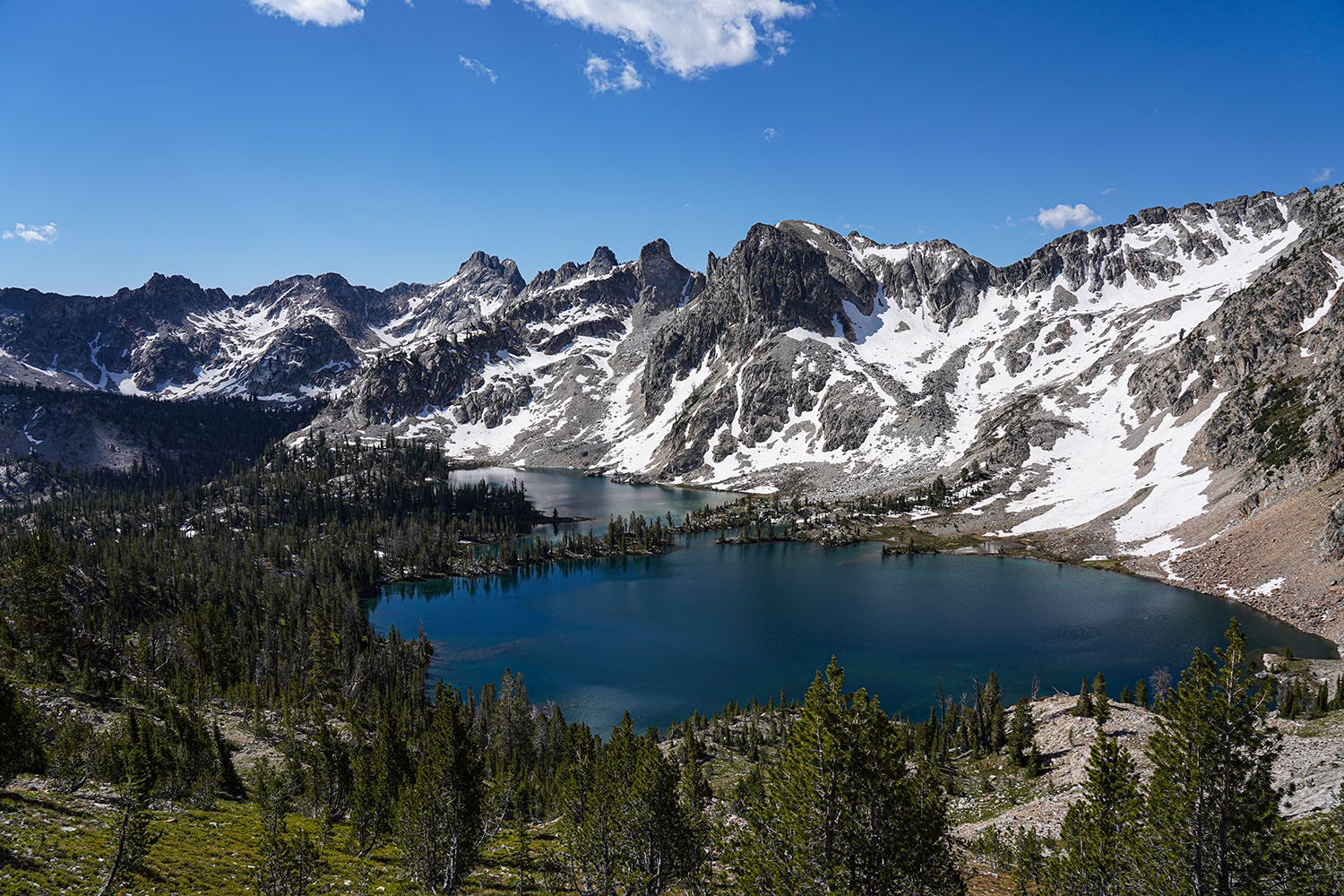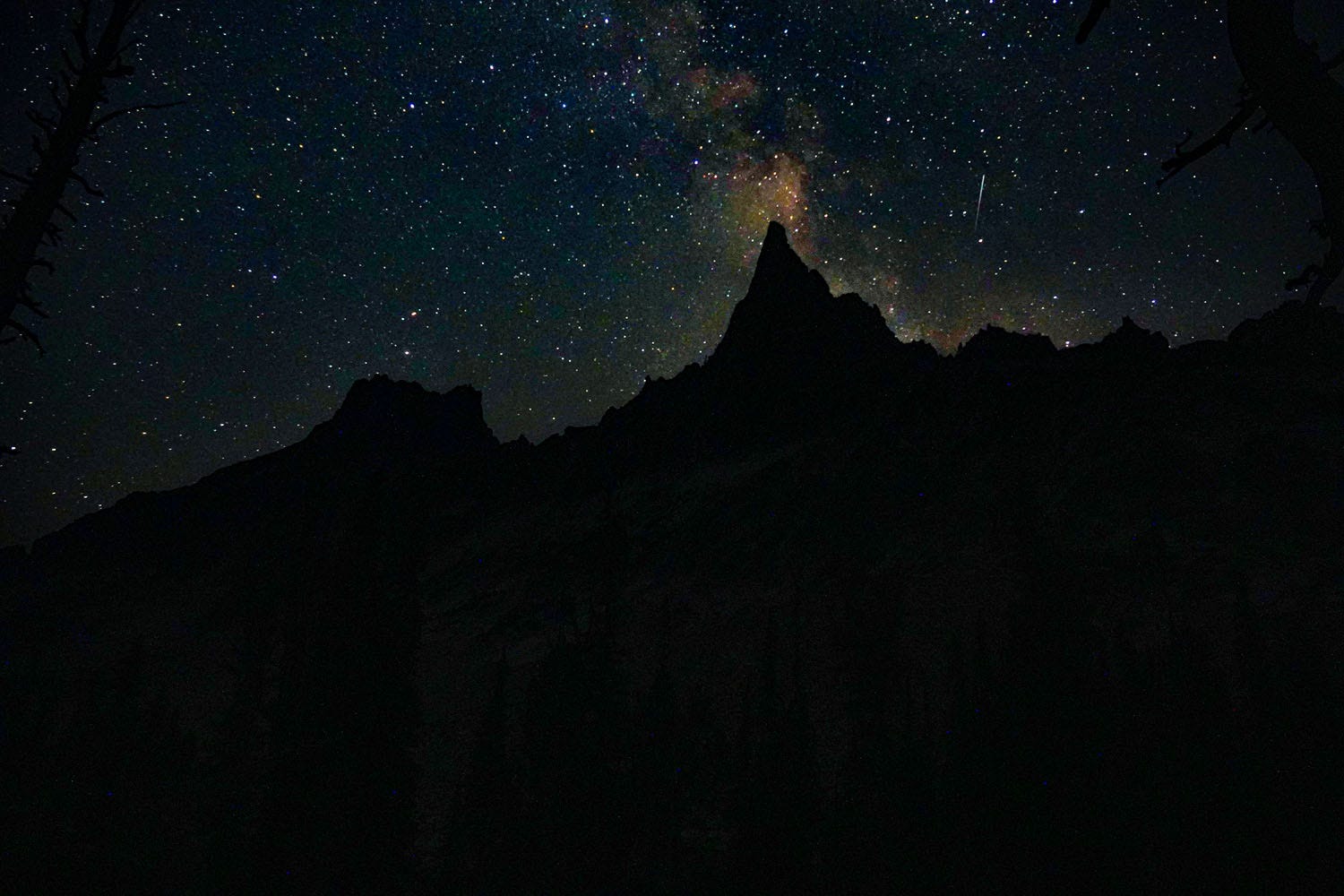 One of the most memorable backpacking trips I've guided for Sawtooth Mountain Guides was a seven day traverse of the Sawtooth Mountains from north to south. I was guiding Darcy Williamson, her brother, and apprentice Wendy. Darcy is known as a legendary herbalist who has written many books about medicinal plants in the Idaho Rocky Mountain region. In an effort to be a good guide, I spent the previous summer memorizing names of local wildflowers; however, within the first miles of this trip, I knew I was in for a lesson of a lifetime on mountain plants! What Darcy taught me was invaluable. Instead of simply memorizing the plant names, she encouraged me to kneel down at eye level with the plant, get to know what it looks, feels, and smells like. We even tasted a few.
If you can identify what the plant's purpose is beyond its name, that's more valuable.
I'll never forget the plant root that works as a blood clotter, because she gave me a taste and it immediately sucked all the moisture out of my mouth. If you're interested in learning the natural gifts of mother nature, I highly recommend Darcy's book Plant First Aid.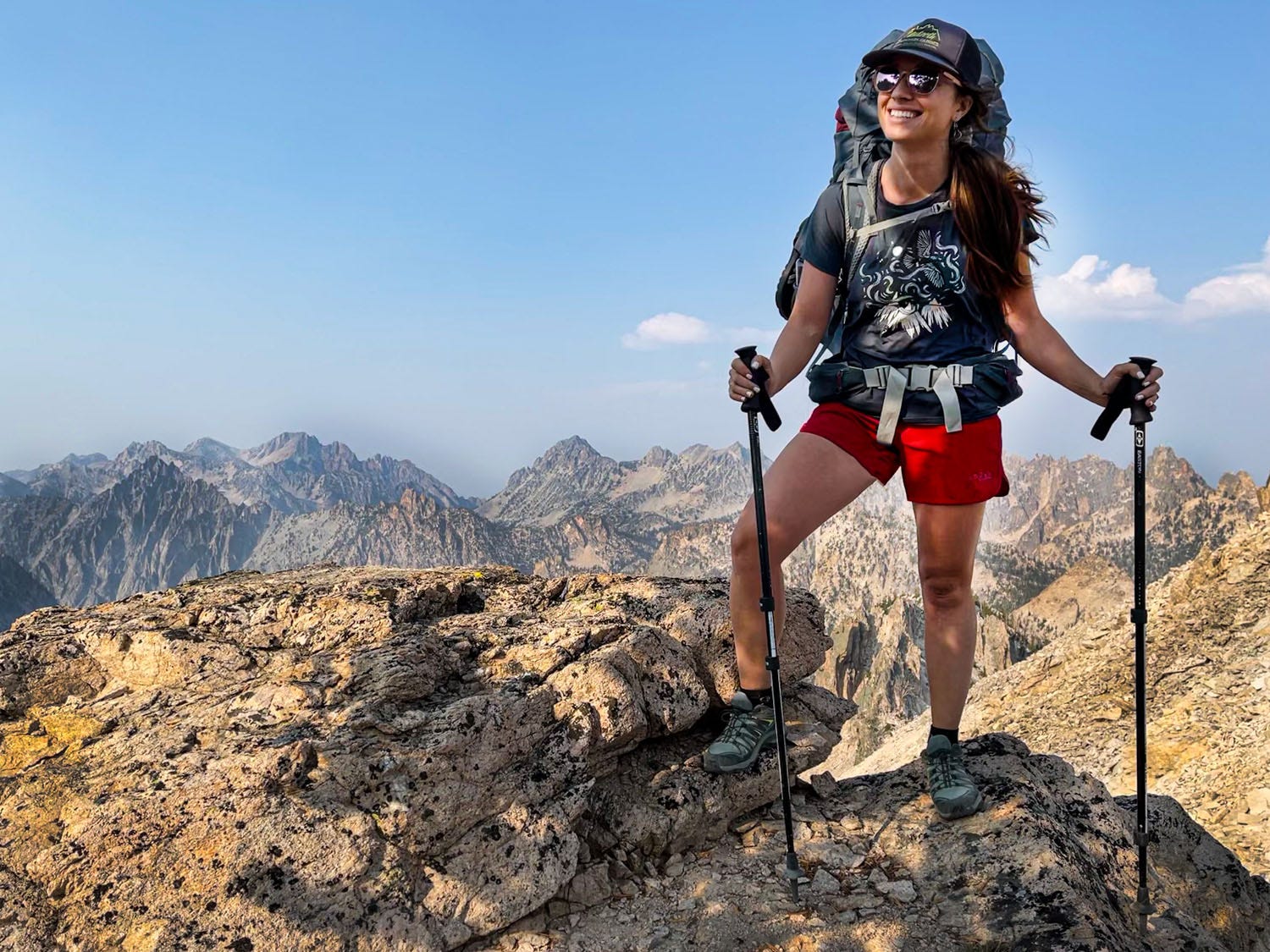 And so, that leads me to what items are in my backpacking kit when I go out.
First aid kit and the skills to use it if necessary. I recommend a Wilderness First Responder or Wilderness First Aid course. That's a REC, Remote Emergency Care, course if you're in the UK.

Navigation: I prefer the Gaia phone app, which pulls USGS topo maps with GPS tracking. Caltopo, onX, and good old-fashioned paper maps and a compass work too.
Emergency communication device: It's pricey, but worth it if you need to call for emergency rescue. Examples are Garmin InReach, Spot, Globalstar satellite phone
Backpacks can make or break your experience. Moving your world on your back requires enough volume, structure and quality material. Organized compartments are helpful. For shorter personal trips, I prefer the 40-50L packs and for longer guided trips I use a larger volume 60-80L pack.
When I'm packing each morning, I organize my gear based on the ABC's. A is accessibility. Put items you may want on the trail in the outer pockets, and items you don't need until camp deeper in the pack. For example, I keep a rain jacket, lip balm, sunscreen, water filter, snacks and my phone in outer pockets. B is balanced. Walking with weight for miles can affect your body. Balance the weight in your pack so the heavy items are low and centred. C is compact. After stuffing all the nooks and crannies, pull the compression straps tight, so the bag is a tight package against your back. Bonus is D for dry. The rain cover is accessible to keep your gear dry while you're on the move if it rains.
A lightweight sleeping bag with quality insulation is invaluable! If you're out in the summer months, a Neutrino Down Sleeping bag is a great choice.
Sleeping Pad
This is more important for insulation from the cold ground at night, but comfort is always welcome.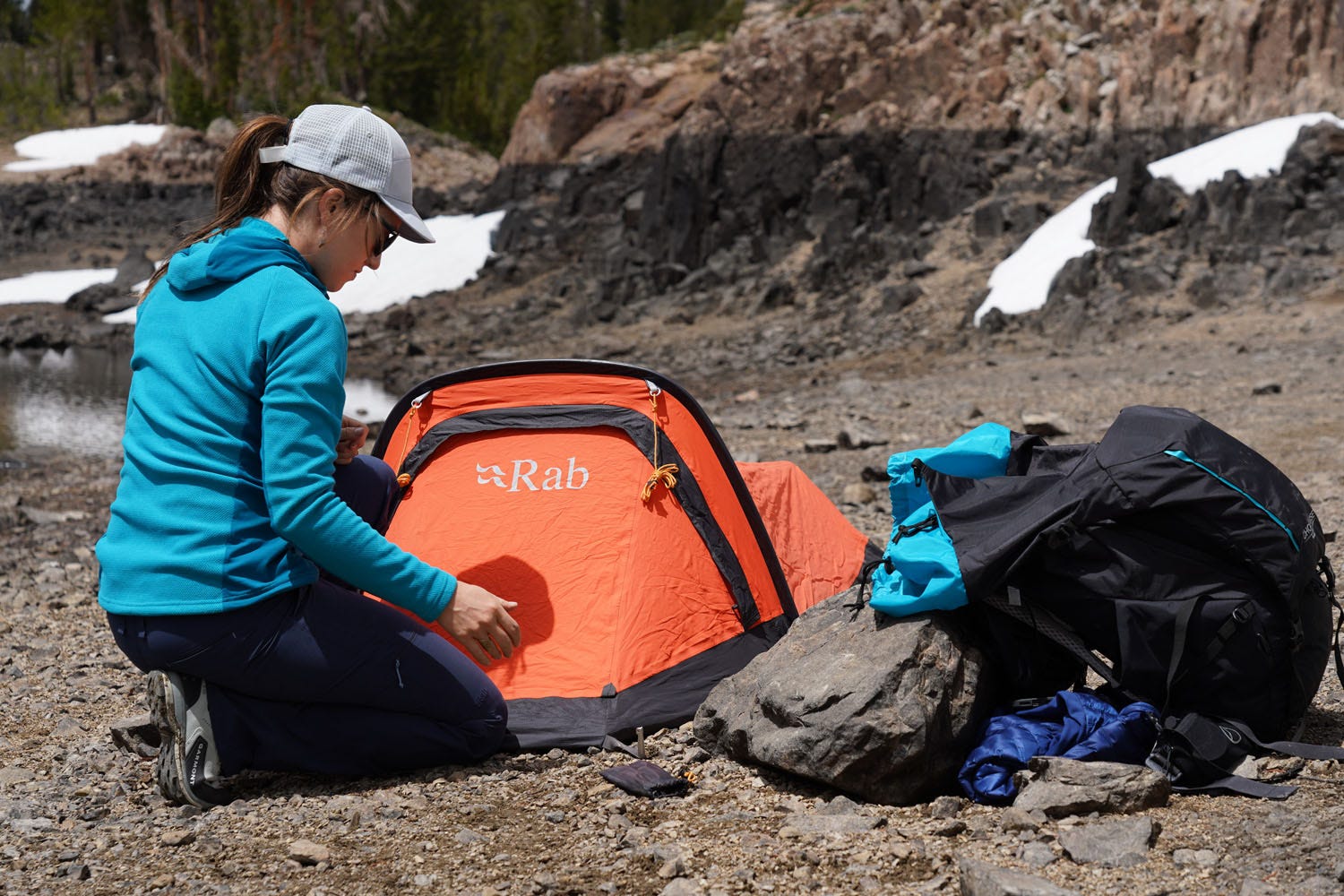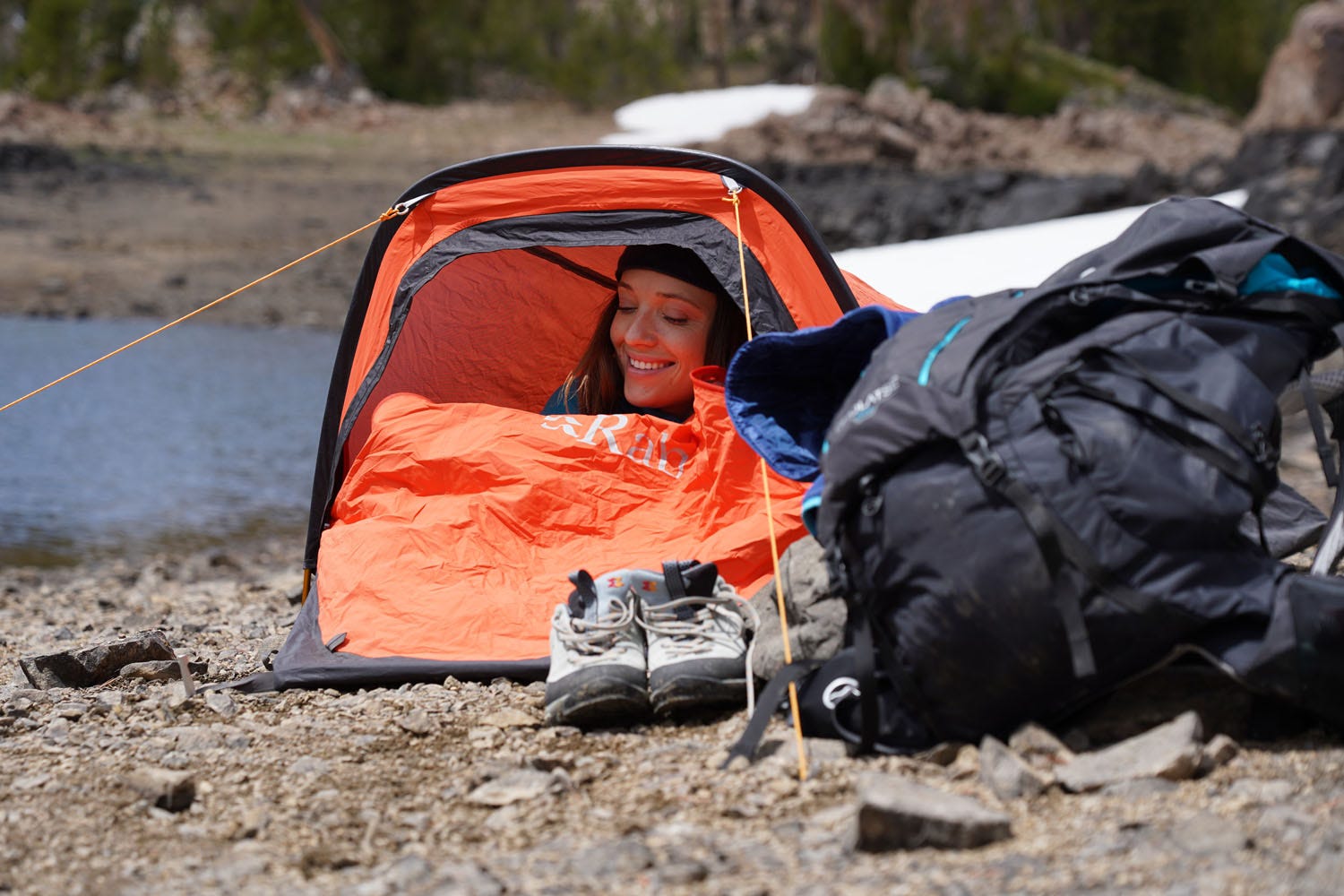 - Sawyer Water Filter and water bottle
- Hiking boots
- Socks + Underwear
- Navigation / Maps
- Headlamp and Batteries
- Toiletries
- Gear repair kit
- Book
- Food: For quick trips I go with freeze-dried meals like Good To Go. For more relaxed trips, I pack my own food to cook from scratch.
- Coffee or tea. I also add turmeric supplements from HANAH to my coffee for anti-inflammatory benefits. I often use Alpine Start instant coffee, but also enjoy a quality pour over.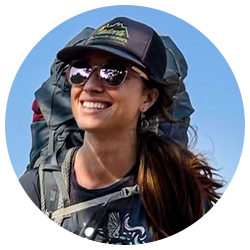 Words by | Amy David
Images by | Jeremy Lato and Amy David
---
Amy is a professional skier and mountain athlete. Her skiing pursuits range from hitting massive cliffs, throwing backflips, and navigating big lines deep in the backcountry with a focus on film, photo, and earning an AMGA Ski Guide certification. Previously the on-camera field announcer for the Freeskiing World Tour, in 2015 she transitioned to competing as a skier and placed 3rd in her first FWQ big mountain event in Verbier, Switzerland.
Read more about Amy here | Follow her on Instagram @amyjanedavid