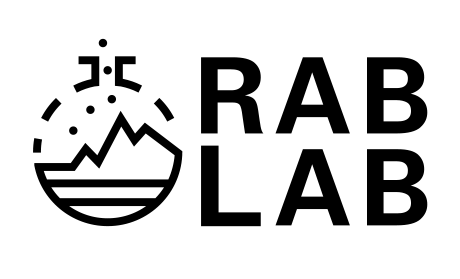 How we build a sleeping bag?
There are different ways to build a sleeping bag. Its construction and type of insulation tell you a lot about its potential to keep you warm and the environment it's intended for.

All down bags need baffles. These fabric chambers hold the down in place and stop it migrating to one end of the bag, just like a duvet on your bed. Baffles can be stitch-through or boxwall. Almost all of our bags use boxwall chambers as this is the best construction method to minimise heat loss.

In down sleeping bags we talk about Baffle Height and Baffle Offset.
The baffle height is the height of the internal mesh separating the inner and outer fabrics of the sleeping bag and baffle offset is how much the mesh is offset in a horizontal direction producing a trapazodial chamber shape.
VOLUME
We calculate the precise volume of down required within each individual chamber (or baffle) and ensure this is accurate to the gram when filling our down bags at our own Derbyshire factory.
BODY MAPPING
More down around the torso and foot box is an efficient way to keep you warm and optimises the warmth to weight ratio.
GENDER
Men and women lose heat differently, with women requiring an extra 2.5°C to maintain the same core temperature. Our women's down bags are cut shorter with narrower shoulders but filled with the same volume of down to accommodate this.
COMPRESSION
When you lie down in your sleeping bag, the base of the bag is more compressed but the upper has better lofting potential. We distribute a different proportion of down on the top and base to make the most of the upper's ability to loft.

Synthetic Specifics
We use a couple of clever construction techniques to get the most out of the synthetic insulation we use in our sleeping bags.

CONCERTINA CONSTRUCTION
Single, dual, or even triple layers of synthetic sheet insulation are arranged in a concertina shaped structure to maximise air trapping and improve heat retention.

OFFSET LOCALISED QUILTING
This means the stitching that holds the insulation in place has been minimised to reduce cold air creeping through.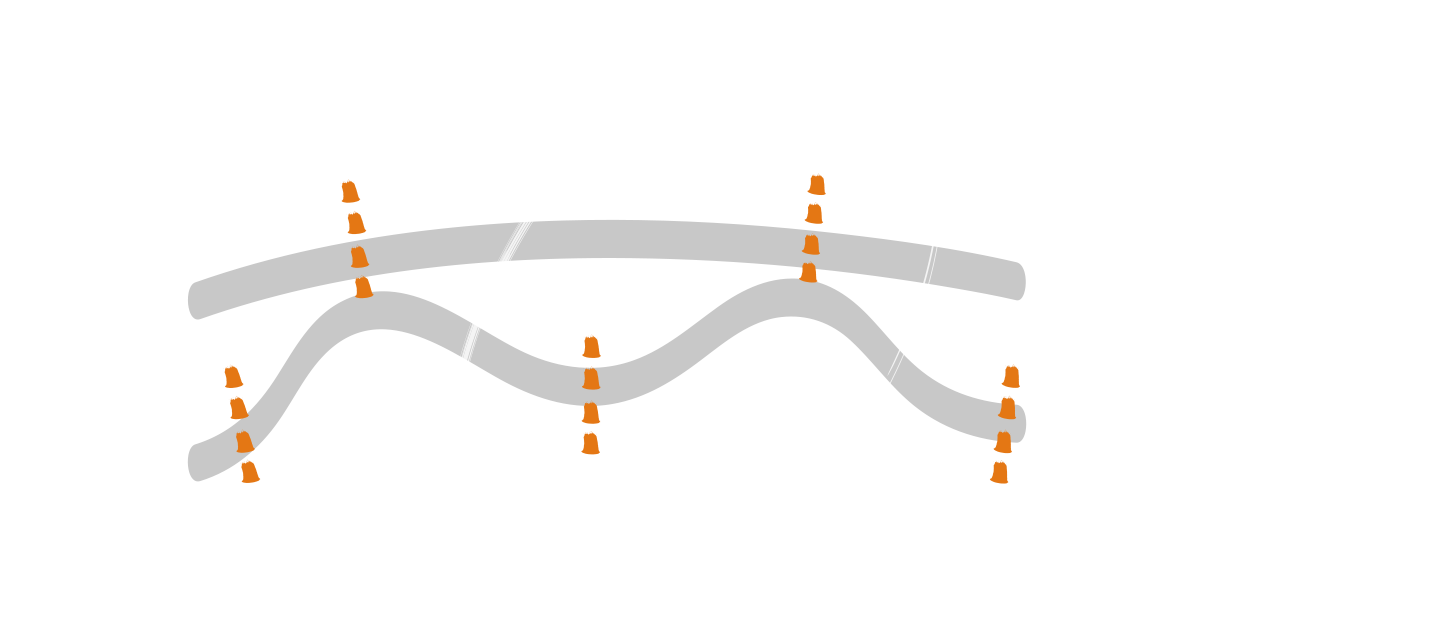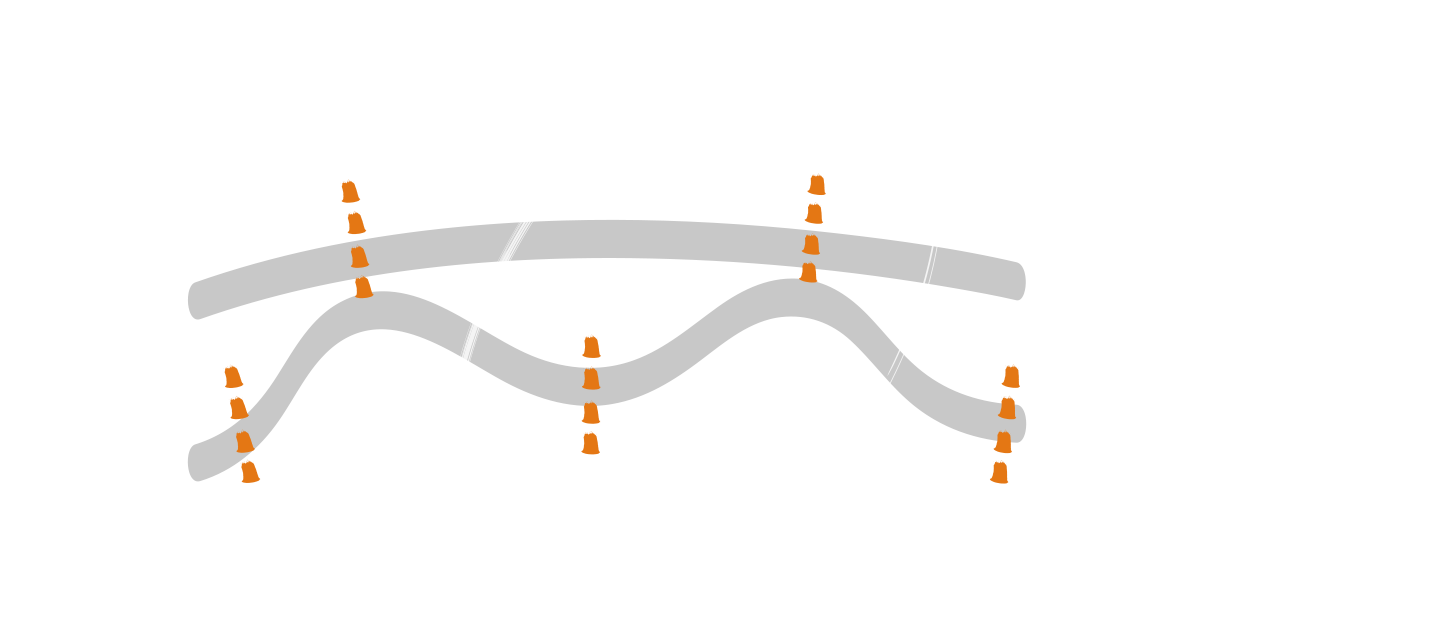 Dual Layer Concertina Construction example
By offsetting the quilting of the insulation in this way between the outside and inside of the bag, we reduce the cold air that can find its way into the bag down the stitch lines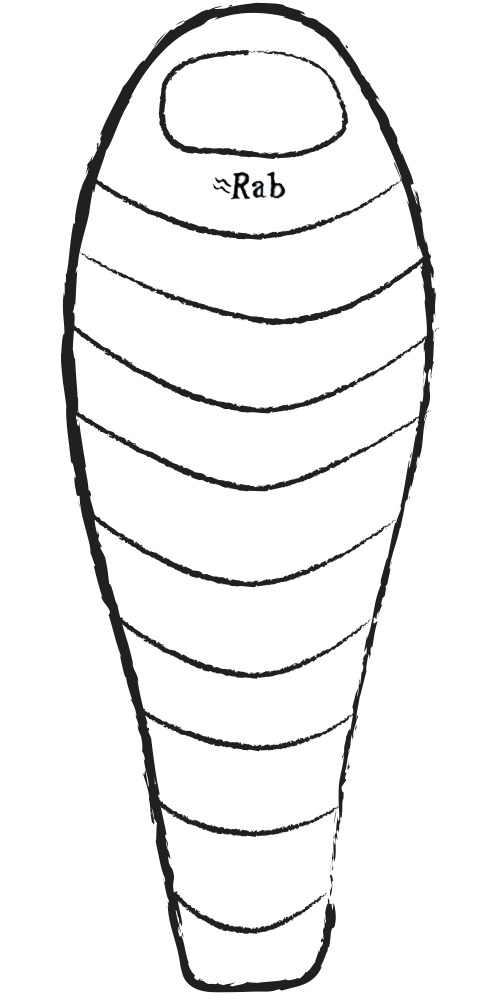 MUMMY TAPER SHAPE
The narrowest of our bags, it eliminates 'dead space' making it as thermally efficient as possible. This cut will generally mean that the bag will roll with you while you sleep. Although compromising on space, this shape will maximise performance and keep pack size and weight to a minimum.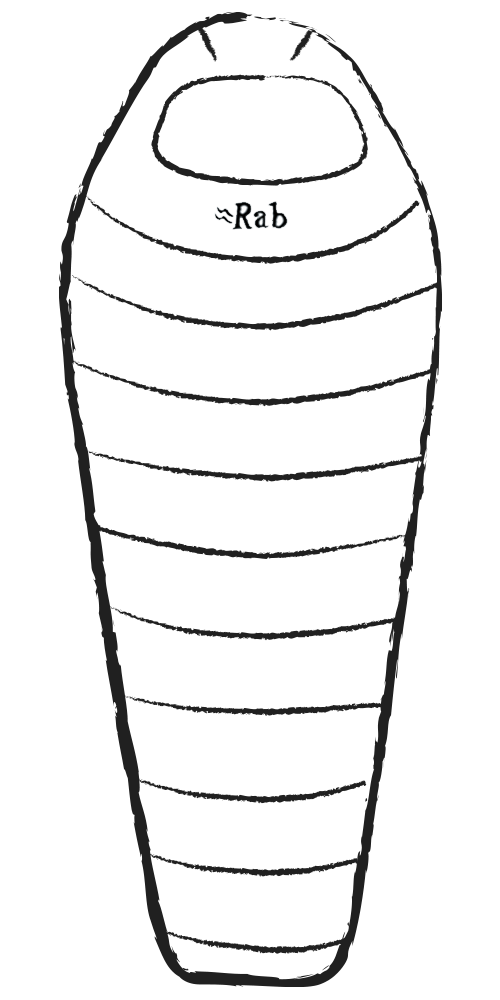 WIDE MUMMY SHAPE
A more generous cut for added comfort while you sleep with space to move your legs. These bags will increase in bulk and weight but allow a more relaxed sleeping position.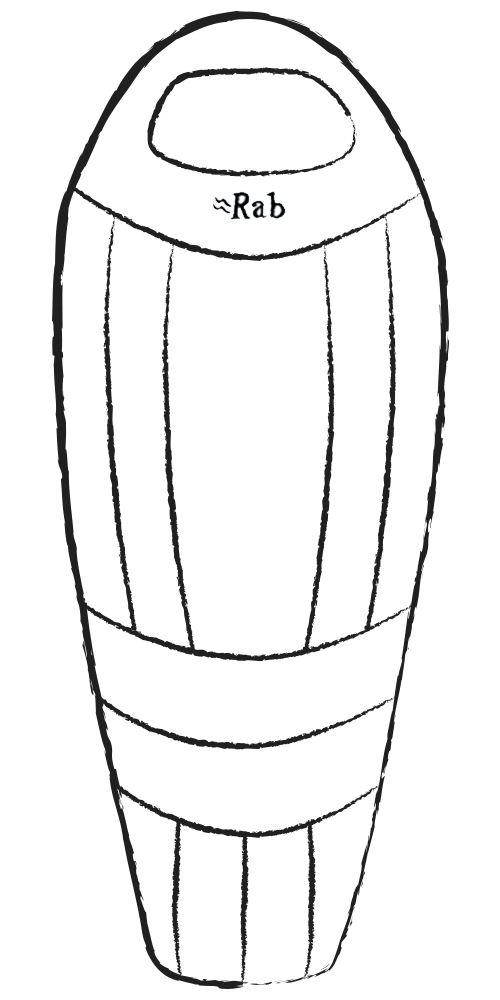 EXTRA WIDE MUMMY SHAPE
These bags are generally a lot larger than the rest of our bags. Mostly these allow you to sleep in extra layers, such as in our Expedition Bags designed for extreme cold environments.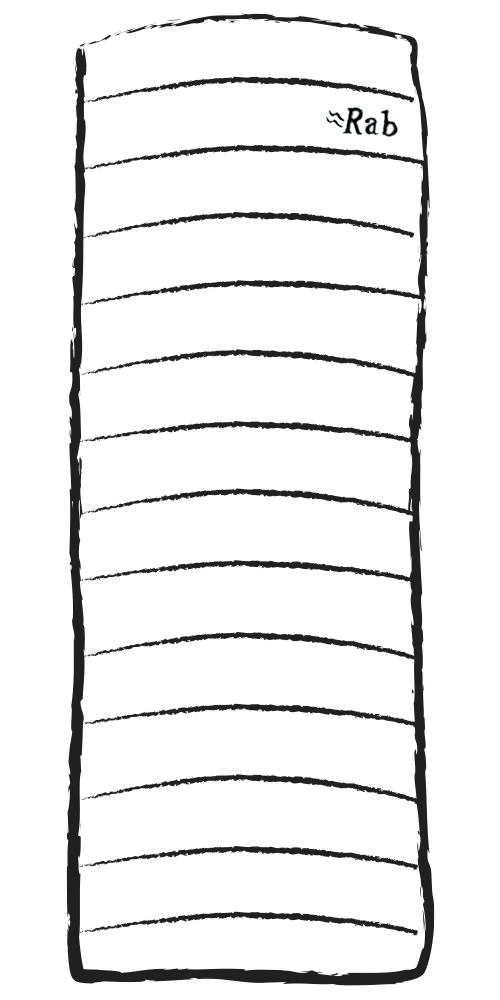 RECTANGULAR
These bags are rectangular in shape and often have an L shaped zip. This allows these bags to be opened up into a quilt, or zipped together to form a double sleeping bag. These shape bags are all about comfort, space and versatility.
Some extra things to consider…
Regardless of fill power or fill weight, if a sleeping bag is too big for you, you will lose heat. Some of our bags come in more than the standard size, we offer a women's fit, extra-wide and extra-long styles to help accommodate different body sizes. Our Expedition series are over-sized to accommodate the bulky insulated clothing required in extreme environments. Just like buying a jacket, the best way to make sure a sleeping bag is right for you is to try it out for size as each model will fit slightly differently.
What does differential cut mean?
Differential cut is the difference in size between the inner and the outer shell of the sleeping bag. On some bags, such as our Ascent range, the inner shells will quite often be the same size across the range, while the outer shells increase in size to accommodate more down.
We use differential cut in conjunction with baffle height to scale the size of bag chambers across a range. A higher fill weight, or higher fill power of down needs more space to loft.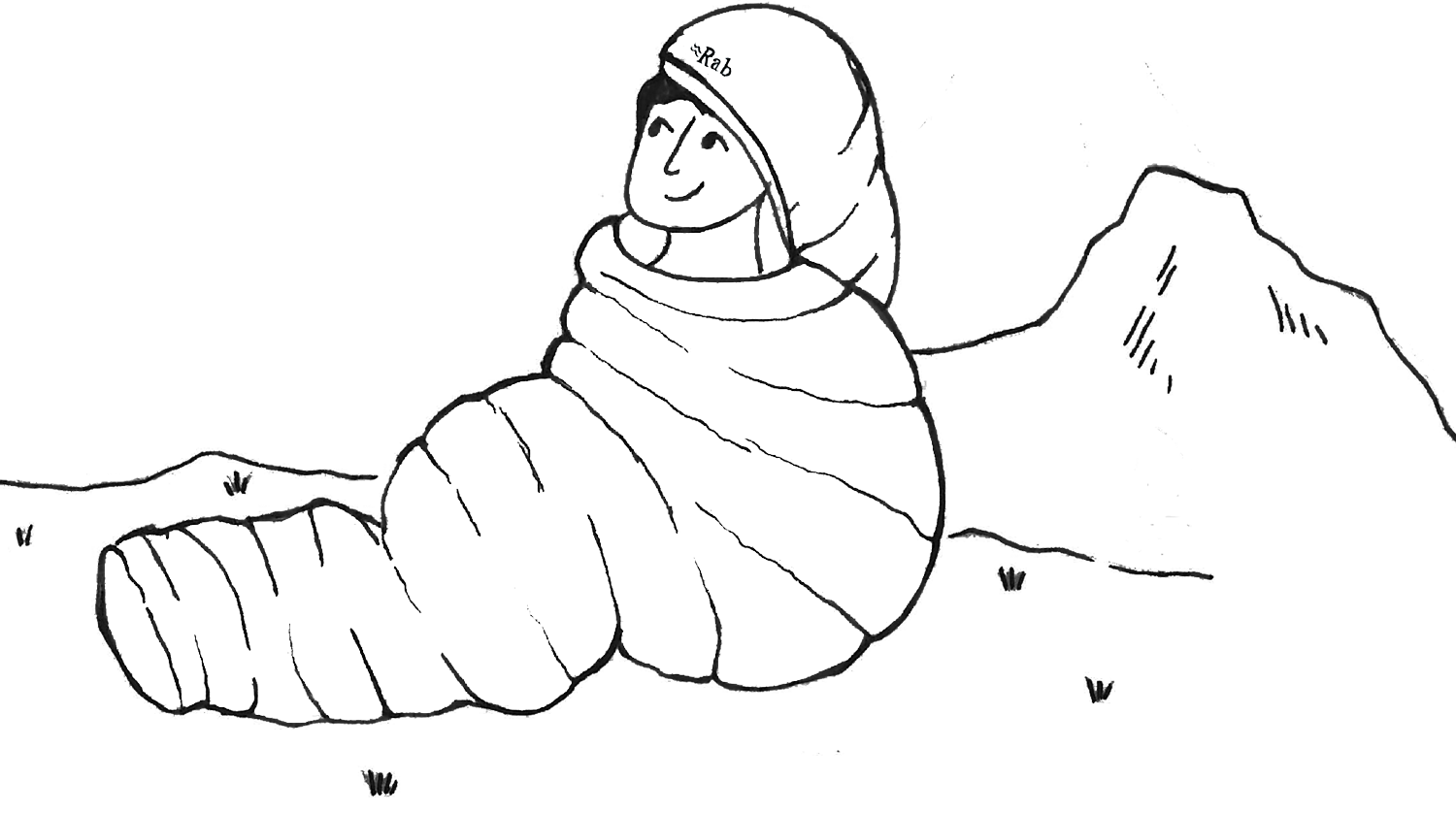 We believe we use some of the largest differential cuts in the industry, allowing our bags to loft more than our competitors.
A hood cinch cord means you can seal in the heat and stop it escaping out the top of your head whilst keeping the face open to breath comfortably.
Elasticated internal quilting (or stitching) draws the insulation towards the user to eliminate cold pockets of air.
An angled (or shark's fin) foot box offers a comfier position for your toes and minimises the chance of down migration and cold spots. Neck and shoulder baffles with an adjustable drawcord achieve a perfectly snug fit and keep the heat inside the bag.
Internal zipped pockets keep batteries or phones warm and within easy reach - so you can still hear your alarm on an early alpine start.   
It's also useful to know that all our bags have their statistics printed on the inside of the zip baffle so you can always remind yourself which temperature range your bag is designed for.



EN Testing – Lab Temperature Testing
At Rab, we use the EN ISO 23537 standard to rate most of our sleeping bags. This standard is in place to help give baseline temperature measurements of sleeping bags across the industry. The EN ISO test produces a series of temperature limits which are described as:
How does it work?
A thermal mannequin is placed into the sleeping bag on test on a standard foam roll mat. A series of measurements are taken to see how insulating that sleeping bag is in various temperatures.
The Comfort Rating indicates the minimum temperature where an individual can sleep in a relaxed position and get a good night's sleep. 
The Limit of Comfort Rating is the temperature range where an individual sleeping in a curled position and fighting against the cold can still sleep through the night.
The Extreme Rating is for an emergency scenario – it's the minimum temperature a person can remain in the sleeping bag for up to six hours in a curled position while really fighting against the cold. It's worth bearing in mind that frostbite at these temperatures is very possible.
The Rab Sleep Limit – Real World Temperature Testing

Temperature ratings on sleeping bags can often be a primary concern when buying a sleeping bag, but both the weight and pack size should be considered in the selection process. 

If you are arriving at the camping location by car or setting up a basecamp, then a larger or heavier bag may suffice and be more comfortable. However, when carrying gear in the mountains, often every gram is important. 
Generally, bags with a high fill power will be lighter for the same warmth than those using a lower fill rating or even synthetic. 


Introducing TILT Technology
We've spent decades refining our sleeping bag construction. Exploring insulation and honing our technique, but we knew there was more to be done. Our goal was to find a way to significantly improve heat retention without compromising weight, breathability or pack size.
Taking our inspiration from technology used in space exploration and emergency blankets, we created TILT (Thermo Ionic Lining Technology). The fibres of the fabric are coated with vaporized metal particles which reflects the heat back towards the body with incredible results.
LINING
In our down bags, TILT is applied to the lining fabric, keeping it as close to the user as possible and maximising its effect. The silver sheen of the titanium particles used is physically visible on the inside of the bag, yet the fabric remains as soft and light as any other down proof material.
BUILT IN
In our synthetic bags, we use aluminium particles to coat an ultra-thin, gauze-like layer (scrim) that is part of the bag's construction. It is positioned as close to the body as possible, sitting just behind the lining, to improve its efficiency.
From construction, insulation, and design, to weight, packability and temperature ratings. There's a lot to unpack when it comes to sleeping bags.
Next time you're considering buying a new sleeping bag, make sure look out for the Rab Sleep Limit, and consider the reasons why one bag might offer higher performance than the other.