Maud is a mountain guide, traveler, alpinist, skier and also a social sciences researcher on risks in her sports. What she loves the most is to go on long, adventurous trips on mountains far away or close to home. The important is to enjoy the journey mountains always take us through!
---
Originally from the countryside near Lyon, she moved closer to the mountains as soon as she could. Maud is now based in Vallorcine above the Chamonix valley in the French Alps, a good base camp to share her time between local and far away mountains. She is an IFMGA mountain guide which allows her to pass on her passions for the mountains and her vision for them, especially through education. Her focus is on teaching teams of young alpinists and women alpinists. She likes to build strong relationships and to share climbing techniques as well as emotions, feelings, joy, fears and beers!
After being part of the French National Women Team of Alpinism, she is now passionate about foreign expeditions.
To associate reflection to action, she is also a PhD student in social sciences of sport, about risk taking and risk management in mountaineering. It is not always easy to find the balance between body and mind stimulation when the call for travelling and mountains is so big but she is working on it!
Besides climbing in the Alps, she's recently been to Patagonia, Peru, Canada, the USA, and the Indian Himalaya.
"For me climbing is about adventure, exploration, wild places and emotions! I think mountaineering is a metaphor of our every day's contradictions: we need to approach risk to come back more alive. Alpinism is for me an enhancer of life"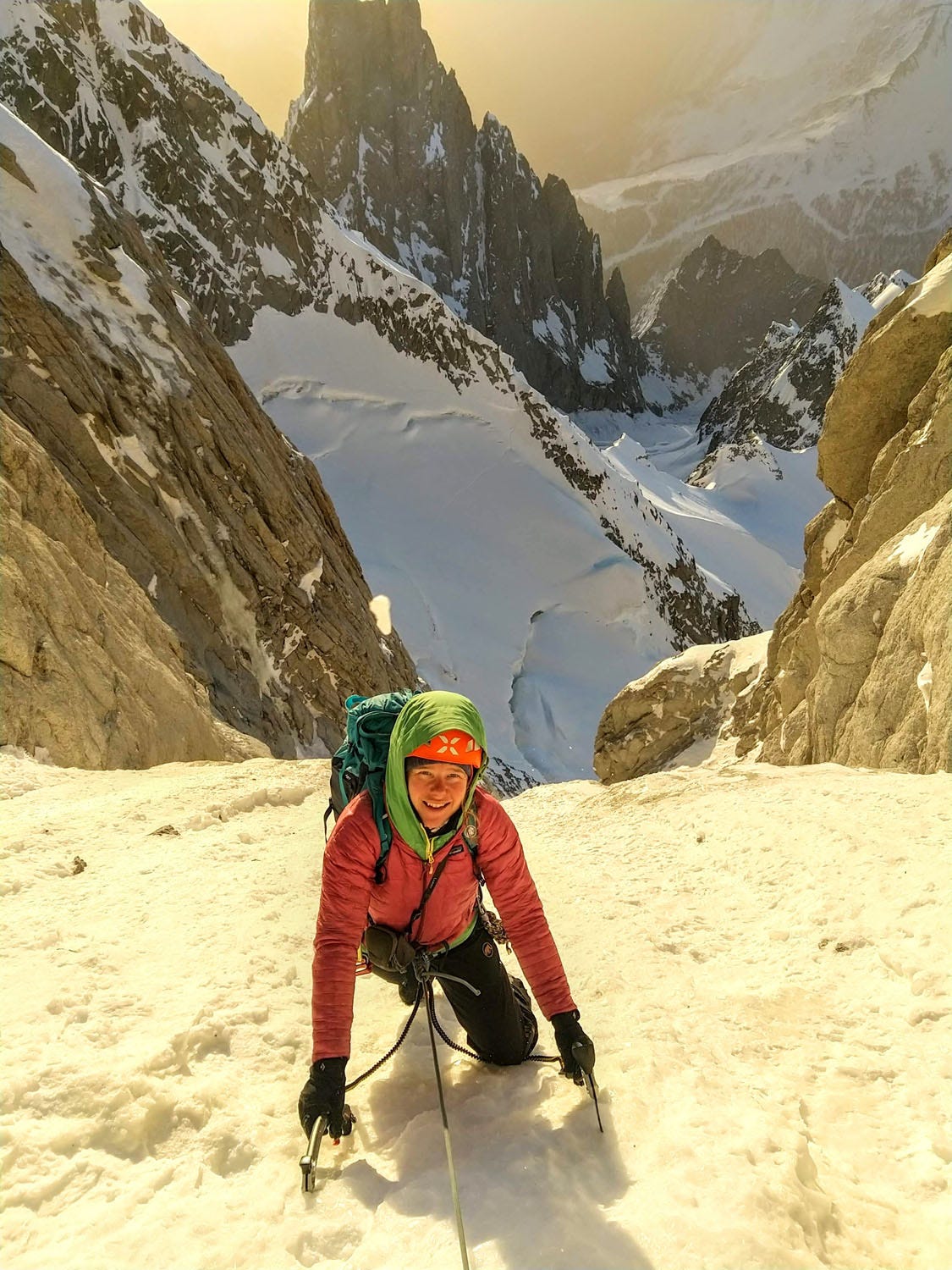 Notable Ascents
The Alps
Mont-Blanc: Hypercouloir du brouillard and summit in winter 2021;

Aiguille des pèlerins, Beyond good and Evil 02/2020

Grandes Jorasses, éperon Walker in winter (2019)

Les Drus: Face Nord, voie Pierre Allain in winter 2017 , Directe Américaine, Juillet 2018
Steep skiing
Mt Buet, East face, Mt Oreb, aiguille du Pouce, couloir du Gypaète, Dolomiti di Brenta Canalone Neri
Canadian rockies
Aemmer's couloir (Mt temple), Skyladder (Mt Athabasca), Mt Robson, …
United States
Mt Watkins, Yosemite, South Face - 2016
Expeditions:
Patagonia, 2015, 2017, 2018, 2020: Aiguille Poincenot, Whillans-Cochrane , Aiguille St Exupery, pilier des Italiens in Fitz Roy Massif ; 2nd repetition of « Buhler-Sole » on Cerro Castillo in Chilean Patagonia.

Cordillera Darwin, final expédition of l' Equipe Nationale d'Alpinisme Féminin (FFME). 1st accents of Cerros Nylandia and Akila;

Argentina, Chañi Chico (5570m), 2017: Openening routes « coca, hypoxia y Carnavalito »(600m, 7a) et « Bebe condor Vuela » (500m, 6c)