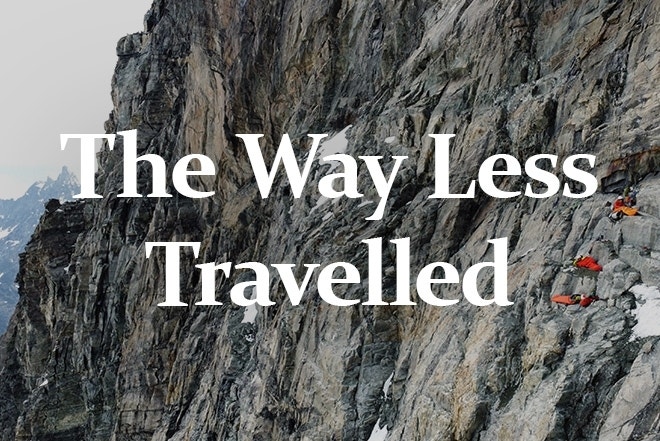 Angus Kille, Calum Muskett and Jon Gupta set off on an esoteric Matterhorn route , with all the ingredients of the proper adventure; fatigue, doubt, risk, mistakes and of course Jon's self-proclaimed good looks and banter.
I lifted my head out of the bivi bag as if I hadn't been asleep. It was the middle of the night but I could see Jon clearly – everything was moonlit in a sort of blue-white monochrome.
"Your feet are hanging off the ledge, mate," Jon said. "Looks like your legs are about to go."
We were lying top-and-tail on a narrow ledge on the south face of the Matterhorn, trying to sleep without moving or changing position in the night. Stones whistled down from the sky from time to time and pummeled the rock near my head.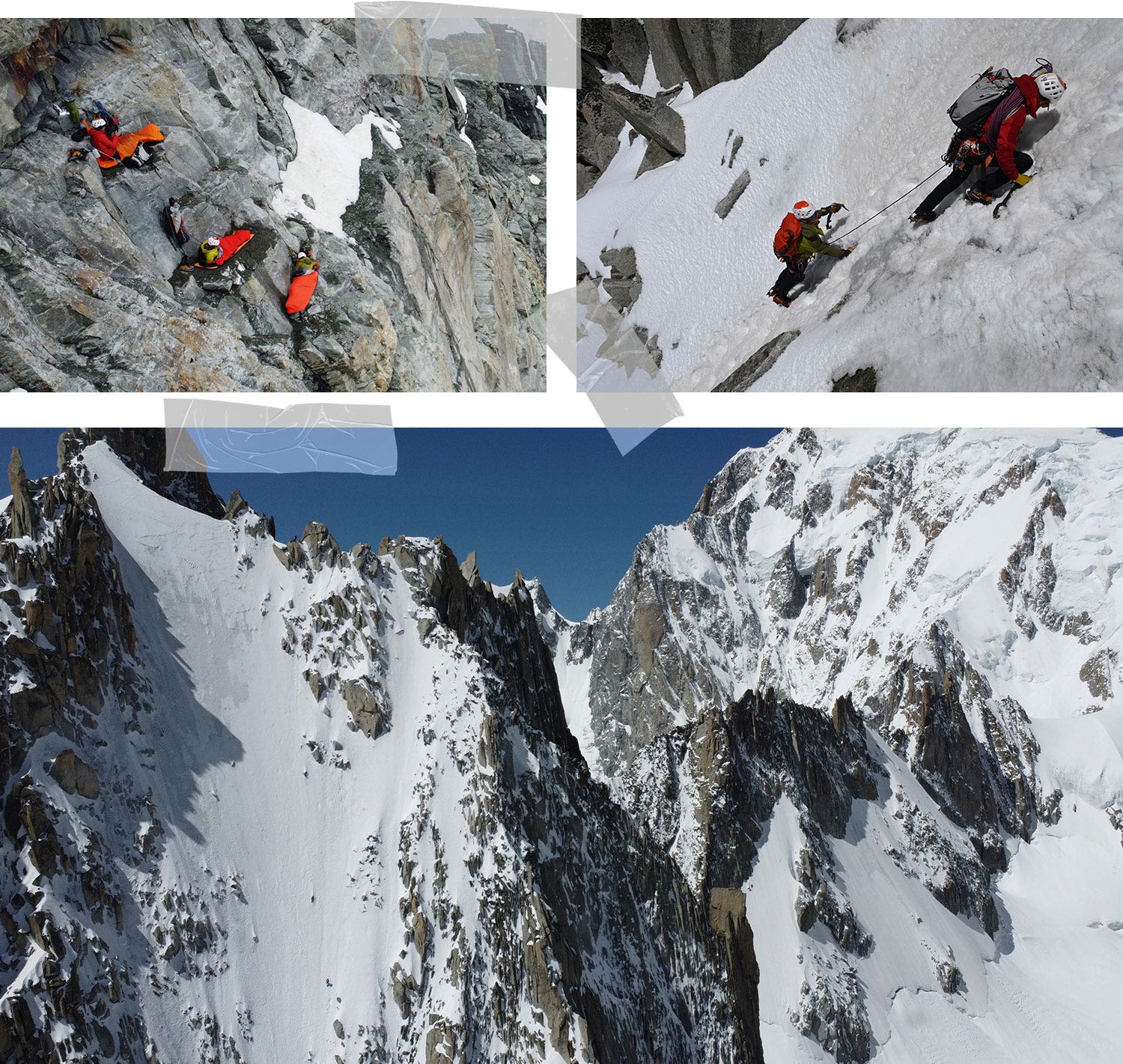 We had come for an adventure. Jon and Calum are experts in the mountains and suggested, with only a little irony, that I'm a good enough rock climber to make us a strong team on a big Alpine rock route. We had just under a week in the Alps and with weather looking stable around the Matterhorn we headed to its Italian side. The mountain is usually climbed by the ridges or the north face, so there is little information and a mysterious air about its impressive south face.
Calum and Jon had each returned from high altitude mountaineering in the Himalaya and decided that Welsh sea-cliff climbing probably wasn't enough to acclimatise me for an 1800m rock route on a 4400m peak, so an acclimatisation day in the mountains was in order. We took the Helbronner lift out of the warm valley into the crisp air of Col des Flambeaux, roped up and wandered over the glacier to the Tour Ronde to take the classic D route up its north face, swinging axes and moving together over steep snow and ice. As we arrived at the ridge, I peered over to the spires of rock standing in precarious, elaborate formations over snowfields and glaciers.
"It's like the Glyderau isn't it?" I said, nodding to the towers.
"More or less." I was blown away by the stark contrast to North Wales scenery and although the climb had only taken a few hours it was a rewarding summit, more than enough to give me an altitude kick.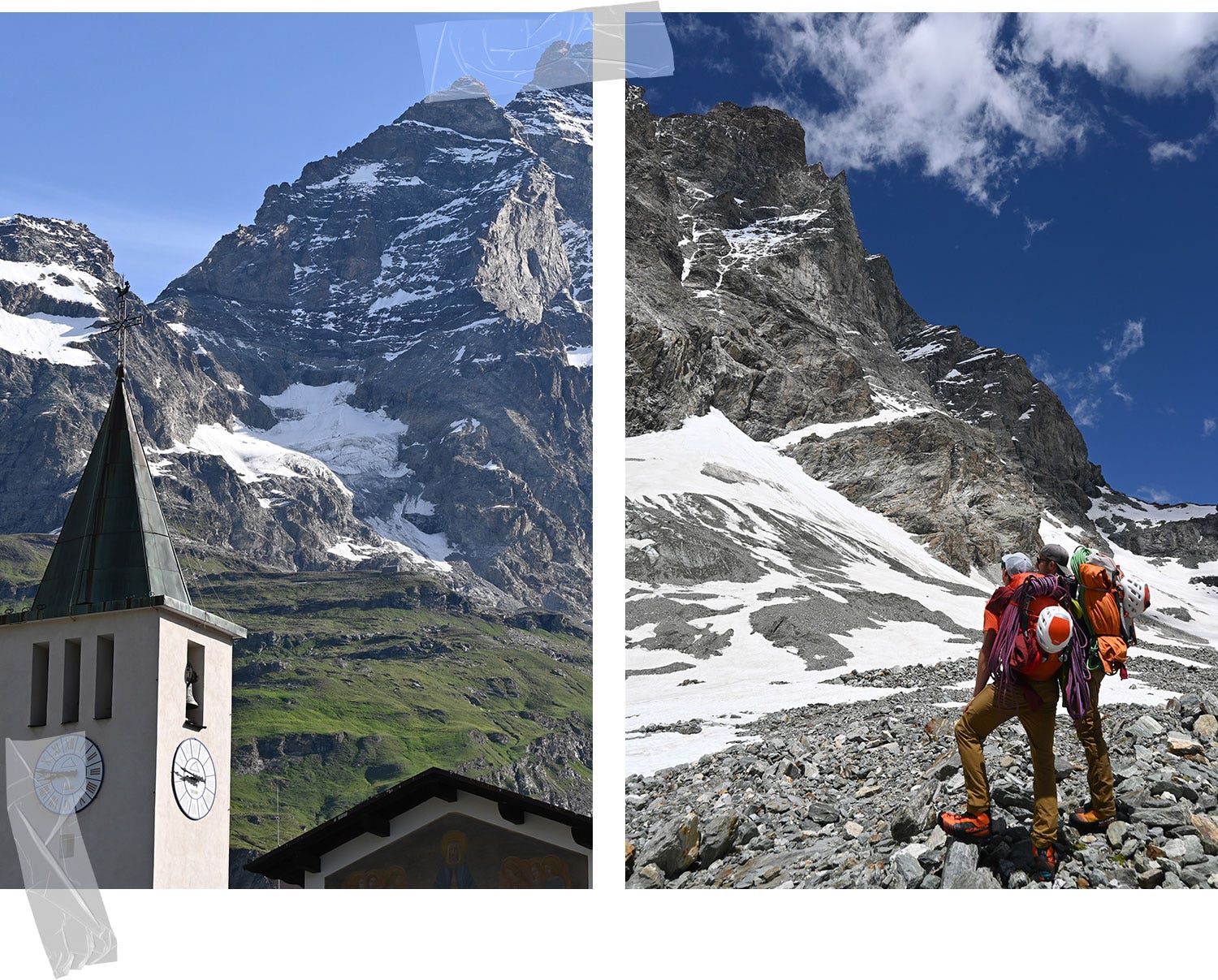 The following day we were looking up at the Italian side of the Matterhorn, Cervino. This mountain can't be ignored. It looms impressively over the village and its various towers and walls stood out more clearly as we walked up to bivi beneath it. We checked our kit: Crampons and axes, nuts and cams, down sleeping bags, food, gas and three ropes should be enough to get us up the mountain.
"It wasn't on the list, but I've brought good looks and banter," Jon said.
We spent one night beside the glacier with the pitter patter of unexpected rain on bivi bags before Calum led the charge up the snow slope in the morning. Jon and I seconded Calum as he hauled the heavier kit up the wall , staying clear of the loose rock it released. Every pitch was fifty metres long and for two low-angle pitches I had to carry the 30kg haul bag like a mule in tight rock shoes to save dragging it over ledges.
We reached a broken ledge system by mid-afternoon and realised it would be another ten pitches to the next known bivi ledge. We reasoned that feeling around in the dark for somewhere to sleep after that much hauling and climbing would be too desperate. We opted for the sloping rubble-strewn ledge system and picked out three places that would make passable bivi spots after a bit of work. Jon and I were just changing into mountain boots and down midlayers when we realised Calum was peeing on the higher bivi spot. That left us with two spots for the three of us.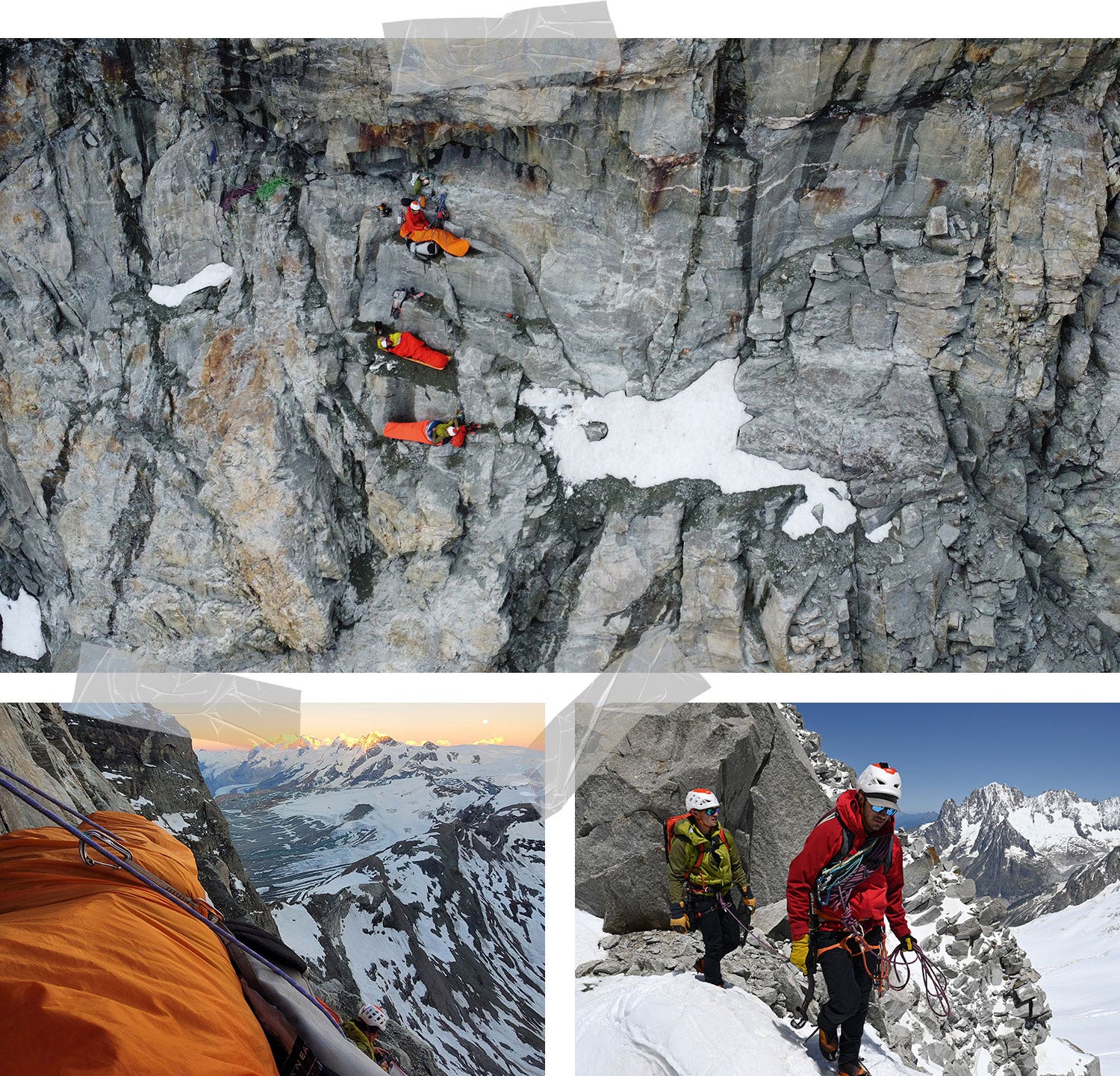 Calum was made to fashion a ledge by sleeping half on the haul bag suspended on our safety line. I built-out a half-decent ledge after a good hour of landscape gardening and lay my sleeping bag out into quite a cosy bivi. I was actually quite comfortable before rocks came raining from the sky. The whistling sound of them when they're still a few hundred metres above you awakens an instinctive sort of terror which only grows as they accelerate towards you.
I moved up to Jon's ledge, which was too small for two but slightly closer to the protective rock wall above. We lay top-and-tail with me perched precariously on the outside, my rucksack hung from our safety line so I had something to cower under during rock fall. Jon produced a bag of pistachios and a tube of Pringles, which I accepted, equally impressed by his packing skills and his hospitality.
A shard of rock landed between us on our bivi bags and I almost fell off the ledge as I flinched. Looking up at the sky to where it came from, we saw only Calum's delighted face.
"Got you there, boys!"
While the sky darkened, the moon rose and settled between layers of pink and violet that stretched across the sky above the Monte Rosa Massif, now lit with alpenglow. We could see the Matterhorn's shadow on the band of clouds in front of us. We slept in our helmets, curled up trying not to roll off the ledge in the night (falling onto the safety line would be a rude awakening). Looking around after the whistling missile, with Jon pulling my feet onto the ledge, our bivis and the features of the wall above brightly lit by the full moon it was as if I was still in a weird dream.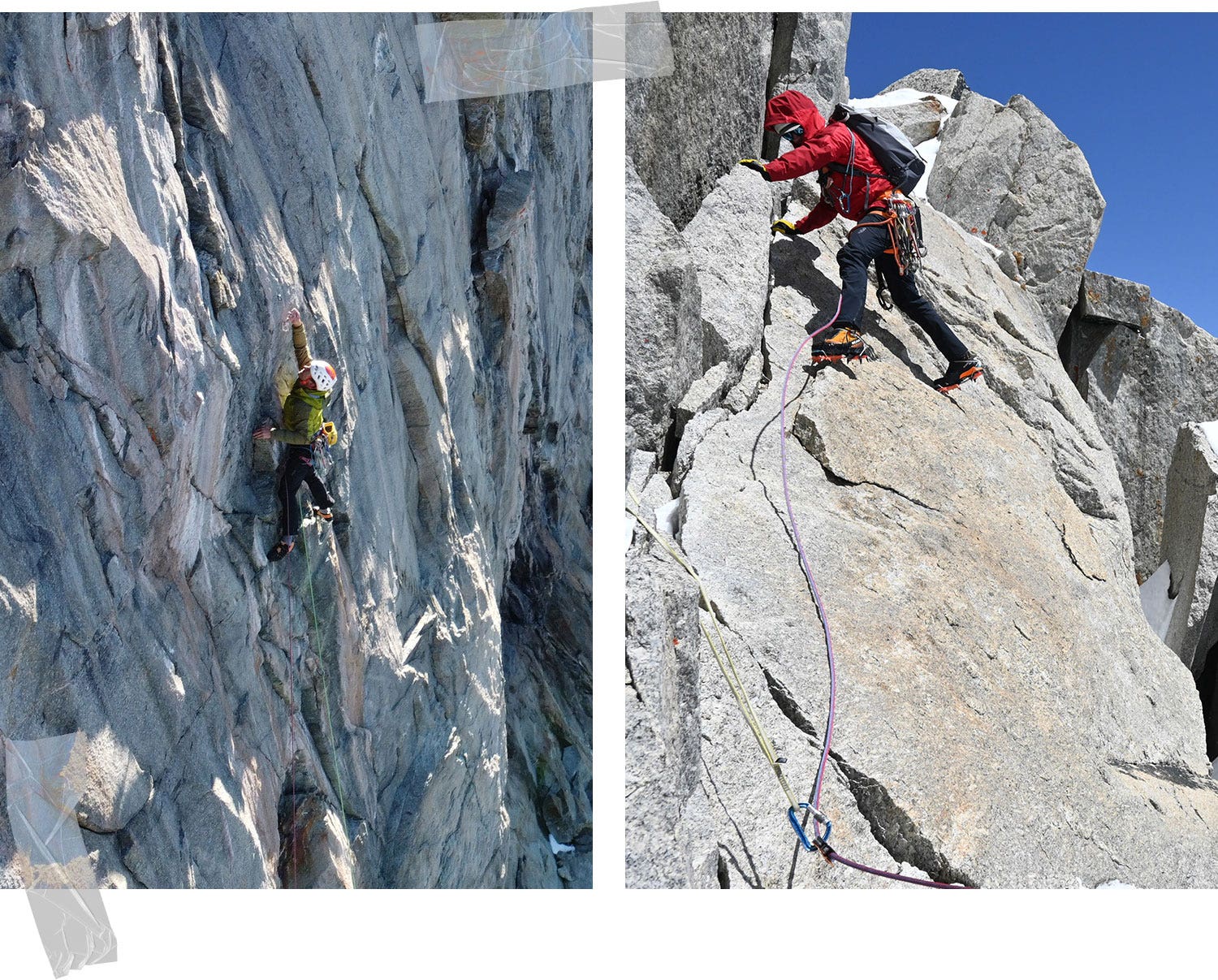 The morning alarm came in the form of substantial rockfall which got us moving within minutes. Jon was hit by a ricocheting rock and another landed where my head had been all night. I was tied-in for the next pitch before I had had my tea or breakfast and tip-toed unsteadily over icy footholds. More pressingly, I wasn't brave enough to squat for a morning poo amid the rockfall and was struggling to climb, painfully aware that my rock climbing ability was all I brought to the team.
"This 5b isn't easy," I called down.
"You're definitely on the 6c pitch Angus." Apparently, I had run pitches together in my fear and confusion.
It was the crux of the Padre Pio route and probably the best climbing so far. We felt that we had earned the steep, solid climbing after all the hauling and slogging, but the sun was releasing all sorts from the upper walls of the mountain which quickly wore down our motivation. Nothing seemed worth a rock to the head... Perhaps this is why no-one climbs here?
We retreated from the wall with impressive speed, retracing our steps through belays we had passed too quickly to remember. At this point Jon donated his belay plate to the mountain and it rang ceremoniously as it bounced down towards the glacier.
"It's a good job we're not in a rush," said Calum, unravelling the ropes that Jon's improvised Italian hitch had turned into knitting.
It was a relief to be out of reach of the crumbling south face, to take our harnesses and helmets off and finally squat behind a rock, but it was a shame to cut the climb short. In the end, all of the ingredients of a good trip were there: fatigue, doubt, risk, mistakes and of course Jon's good looks and banter. We took that route because no-one seems to go there, and I think we found out why. If a good trip needs a summit then perhaps we should have taken the ridge, but we had come for an adventure and that's exactly what we got.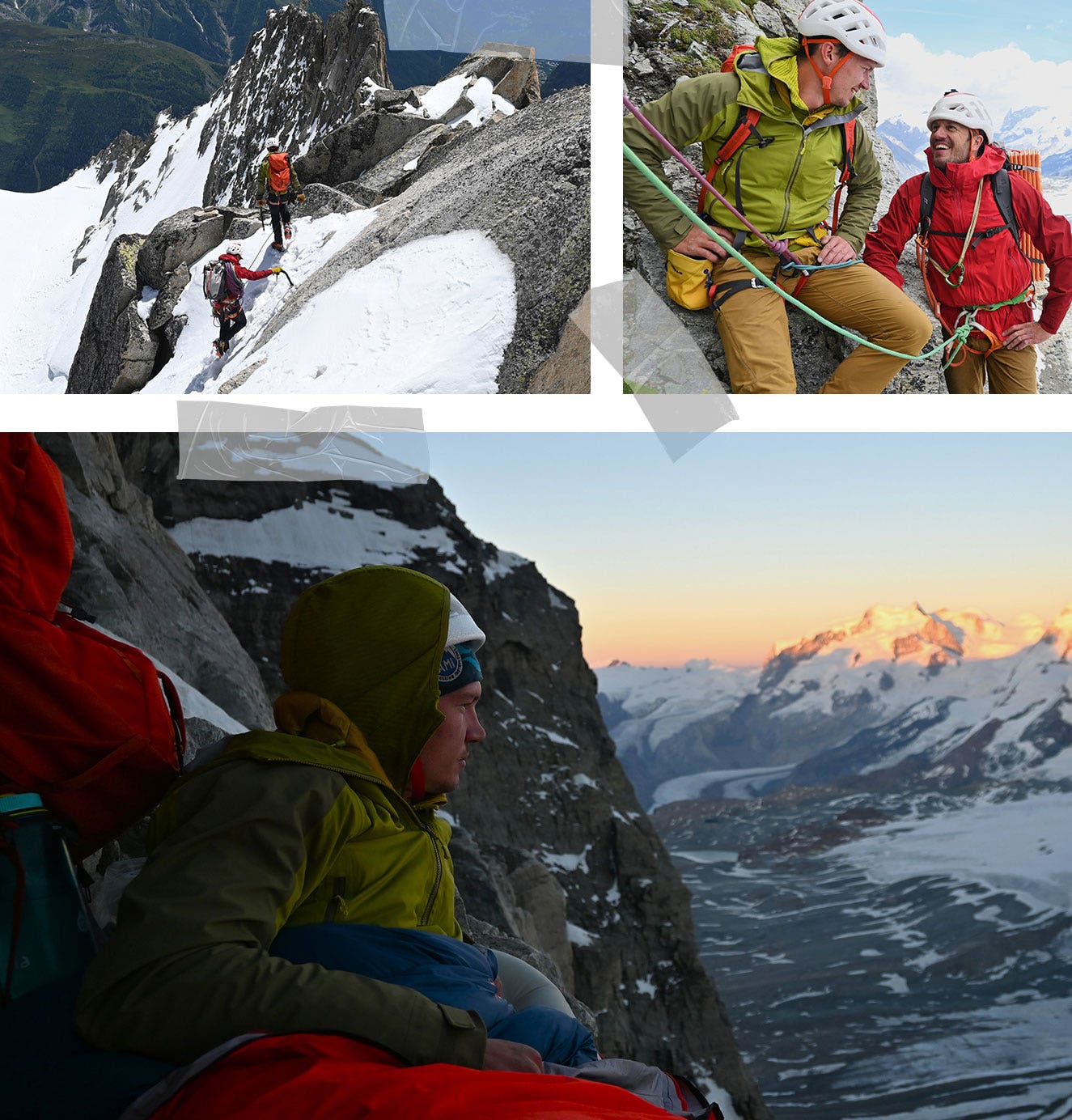 Large subhead (32px text, 38px line height)
Small subhead (20px text, 28px line height)
Quote style, bold, italic, 20px over 28px
---
Angus spent much of his childhood walking in the hills and mountains, but at the age of fourteen, he was taken out rock climbing for an afternoon on Welsh sea cliffs and realised instantly that he was a climber.
Read more about Angus here