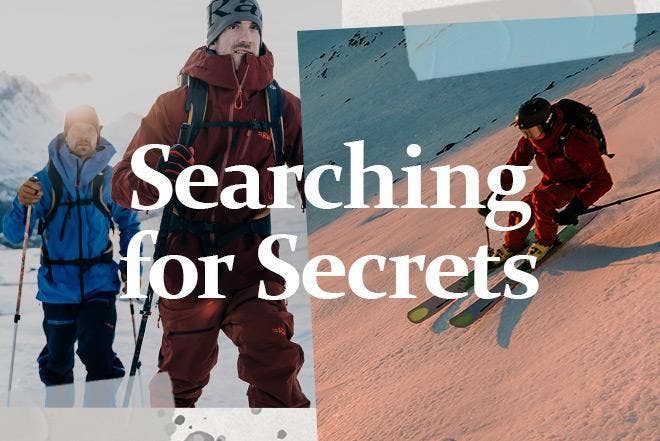 It happened again. Just before getting to the top of the short slope, my skins lost contact with the snow, and I start sliding backwards. I tried slamming my poles into the snow, but it was too late. All forward progress was lost, and I had to start upward again – for the third time.
It's mid-December in the ski touring paradise of Romsdal, Norway, and while the snowpack is shallow, hard as a rock, and not so great for skinning. It doesn't really matter, I am here with two good friends slowly making our way up into the mountains with a unique plan.
Typically, my ski-touring trips are highly focused on hunting for the best snow or the most unique summits. But knowing full well that conditions in Romsdal were far from perfect, my friends Sebastian and Anders posed a different idea – one inspired by a very cool book called Hemilge Hytter (Secret Cabins) by Marius Nygård Pettersen.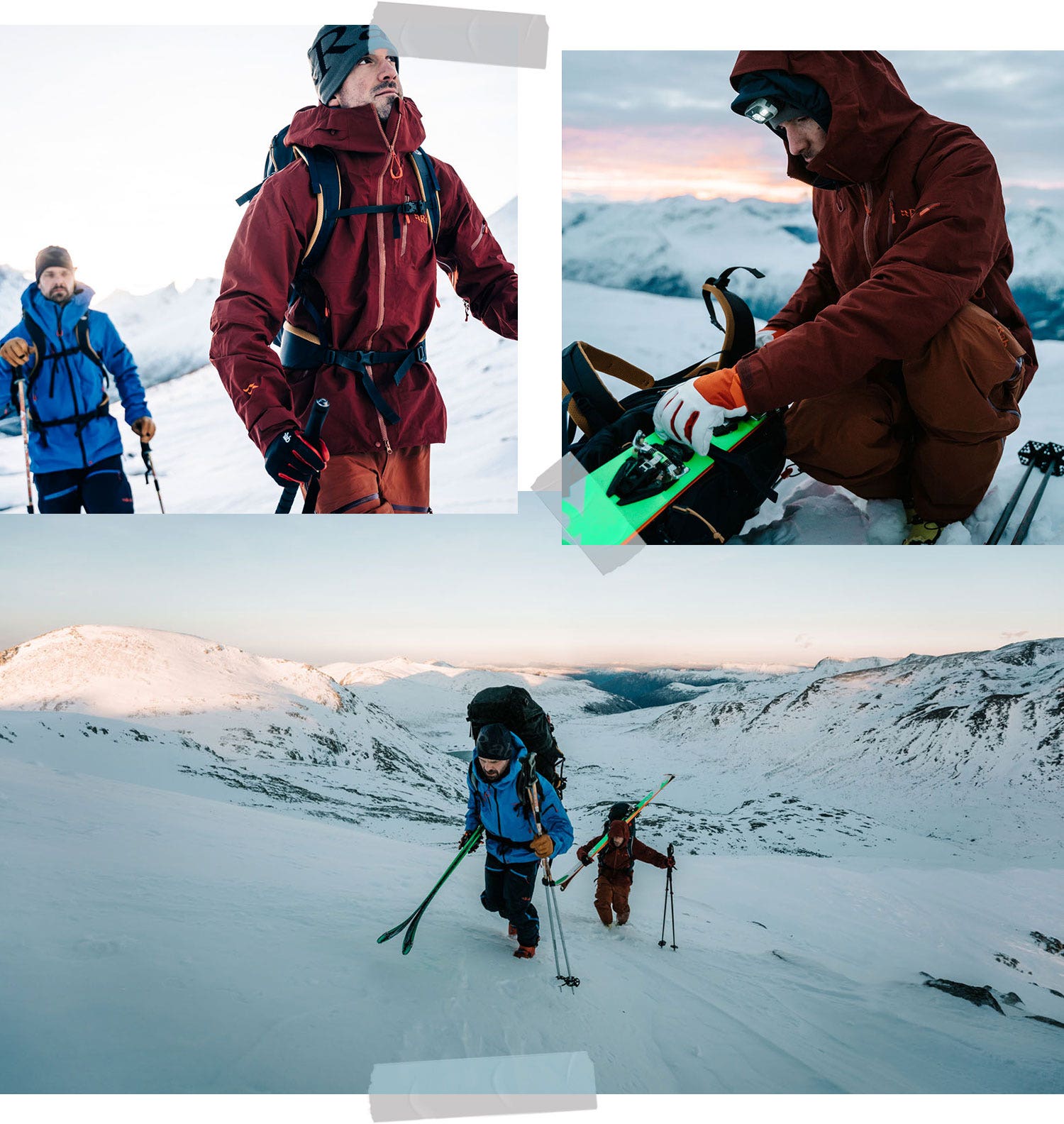 Our destination was just that, a "secret" stone hut located on the top of a mountain surrounded in every direction by the most incredible ski terrain. Anders had heard of the hut, and while locals would argue it is not really a secret at all, to us Oslo based skiers it held some allure. Apparently, it was built back in the early 90s by a group of friends that wanted a unique base for hunting, hiking, and skiing. They used stones from the ridge to build the main structure and brought all other materials, including roof beams, windows, tables and much, much more, by foot from the valley 1200 meters below. It took them 5 years to complete – and they never asked for permission …hence the designation as "secret".
Due to the lack of information that we had at the time, we really did not know what to expect. Will it be super primitive? Or, will it be super cosy? The weather forecast was clear, but cold and extremely windy. So, in case we did have to bivi on the ridge, we packed tons of gear.
The first strides on the skin track felt better than ever, however, the incredibly icy conditions and overfilled packs soon took their toll. Very quickly, the journey upwards turned into, well, a complete and utter slog. Albeit a slog in an amazing location.
Once we reached tree line and entered the alpine, things got a bit easier, and we even found a few patches of soft snow to glide across. Soon enough, the ridgeline appeared in front of us, and we could just make out the shape of a hut. The last steeper pitch went quickly, that is until we obtained the ridge and a blast of wind hit us. Turns out, the wind was here to join us for the entire weekend.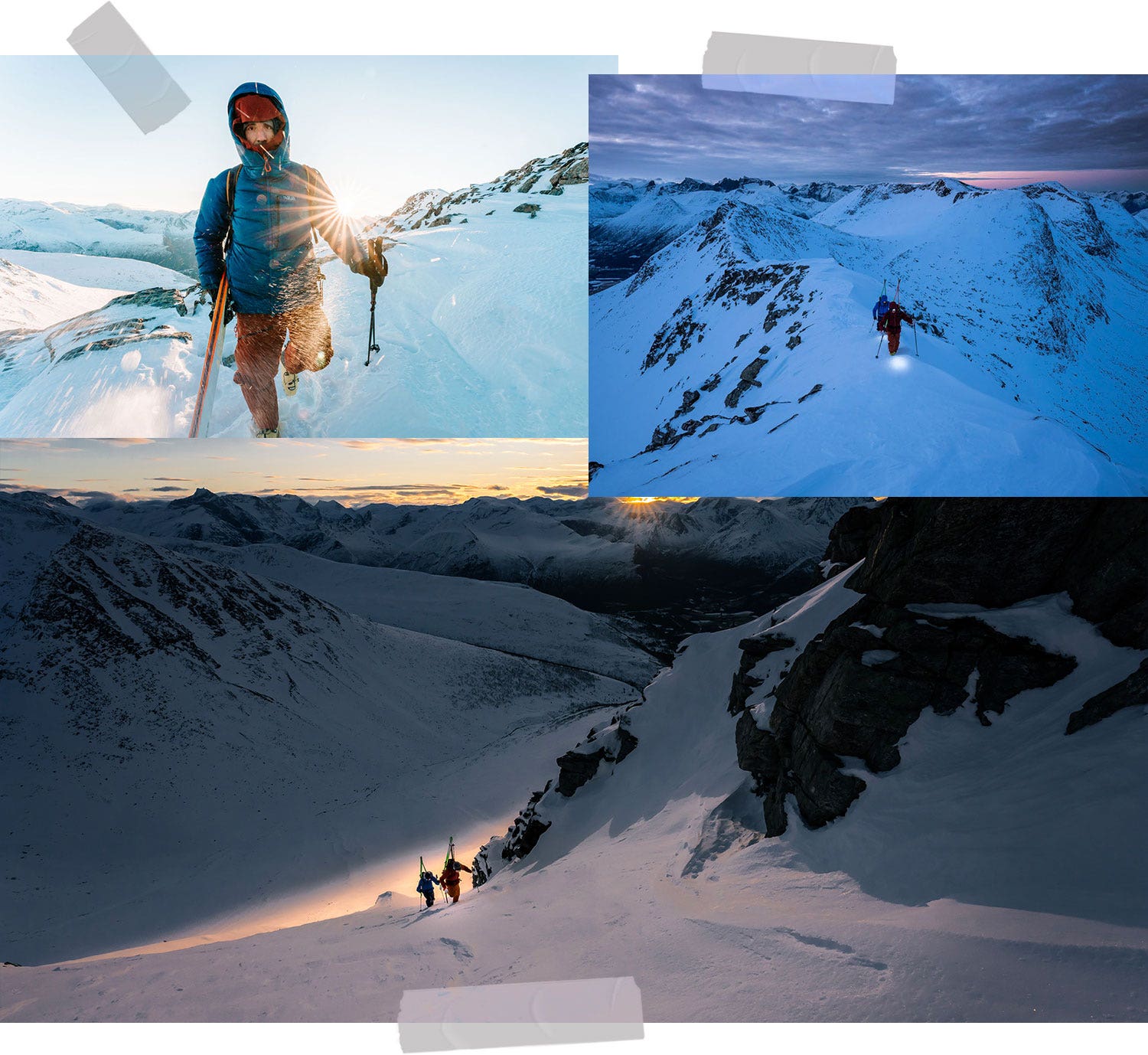 Suddenly, our destination was right in front of us. The secret stone hut. It was quite an incredible sight and feat of engineering considering how many stones had to be puzzled together to create such a solid structure. There was even a reindeer antler on the gable.
The wind made things very cold, very quickly, and we all crossed our fingers that, one, the door to the hut would be unlocked; and two, that the hut would actually provide some shelter from the weather. We dusted off a snow drift then pushed the door open to reveal an amazing sight; a small, but extremely cosy and well-appointed cabin with space for four to sleep relatively comfortably.
There is not much daylight this time of year in Norway and darkness quickly descended. We brewed tea, made some food, played some cards and sipped some whiskey – which, of course, was brough purely for its antiseptic properties.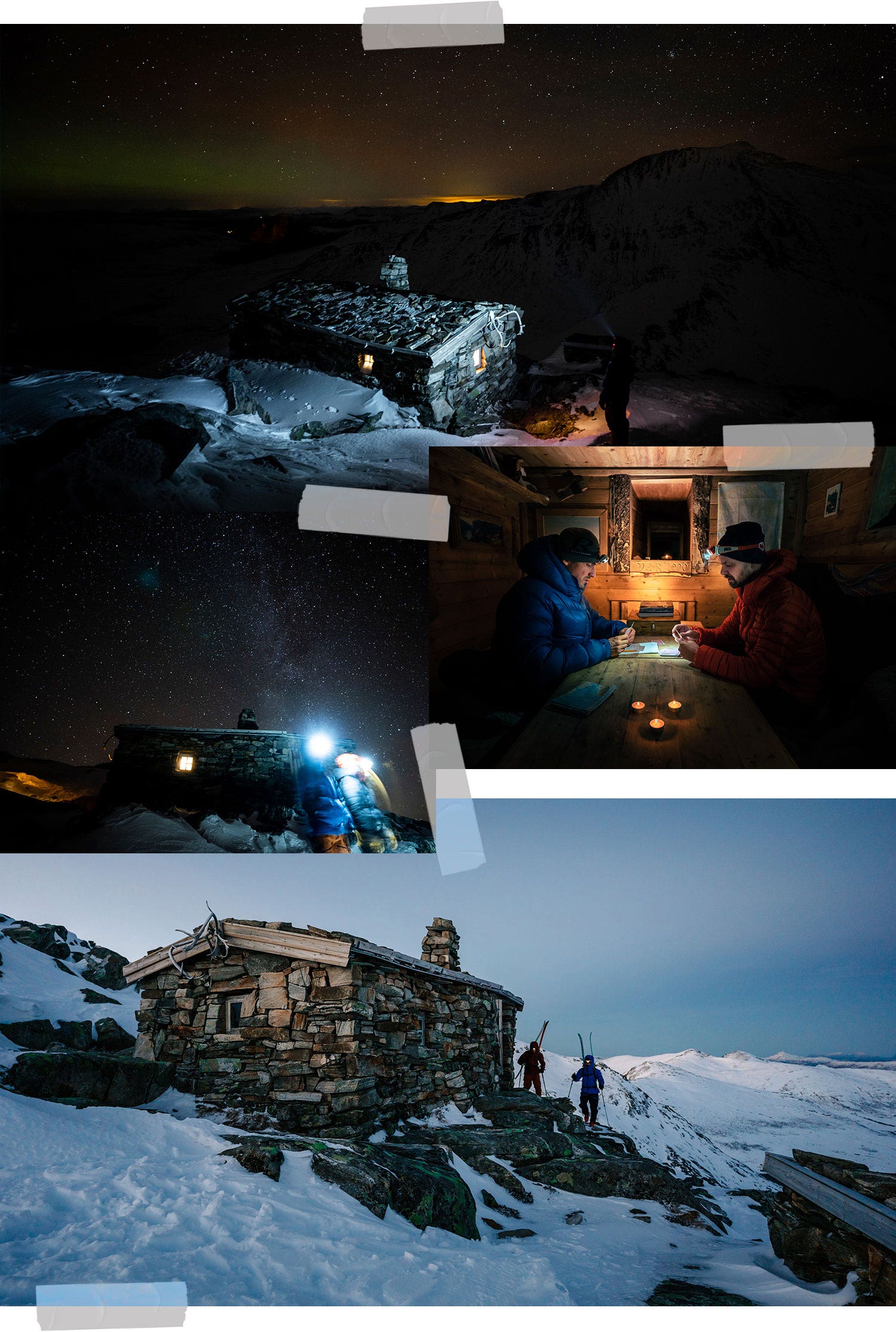 Later in the evening, Anders was the first to head outside for a trip to the frozen snow-loo. Bursting in through the door upon his return he was way more excited than one should be after having to drop trousers in the cold. Turned out it was an amazingly clear night sky with a meteor shower underway and the northern lights at the same time. We all headed out to watch the incredible show, then spent the rest of the evening talking skiing, photography and sharing stories about all the backcountry huts – both secret and well-known – that we have visited over the years.
Next morning's, plan was an alpine start to travers and ski some lines off a ridge in the first rays of sunlight.
Cold temps and slightly less wind greeted us along with an amazing mountain vista with skies turning from a dark purple to orange as the sun approached the horizon. We started traversing the ridge with skis on our packs, scoped entrances to our descent, and discussed avalanche conditions, (danger was low with a shallow, but very well bonded snowpack).
One of the benefits of skiing with a professional photographer is never having to worry about remembering to take pictures. Anders had it covered. He had seen our chosen line from the valley below the day before and knew exactly where the sun would hit once it rose above the horizon. He set up the shot and then we waited.
A soon as a golden-red light lit up the slope, Anders yelled go and I was off making the first turns of the season. Really, really good ones. While still firm, there was a thin layer of snow that offered just enough softness for some decent skiing. My legs started to remember what this skiing thing was all about, and I started cranking up the speed. That is before spotting some sharky looking rocks lurking not far below me and coming to my senses. No need to blow a knee on the first run of the season!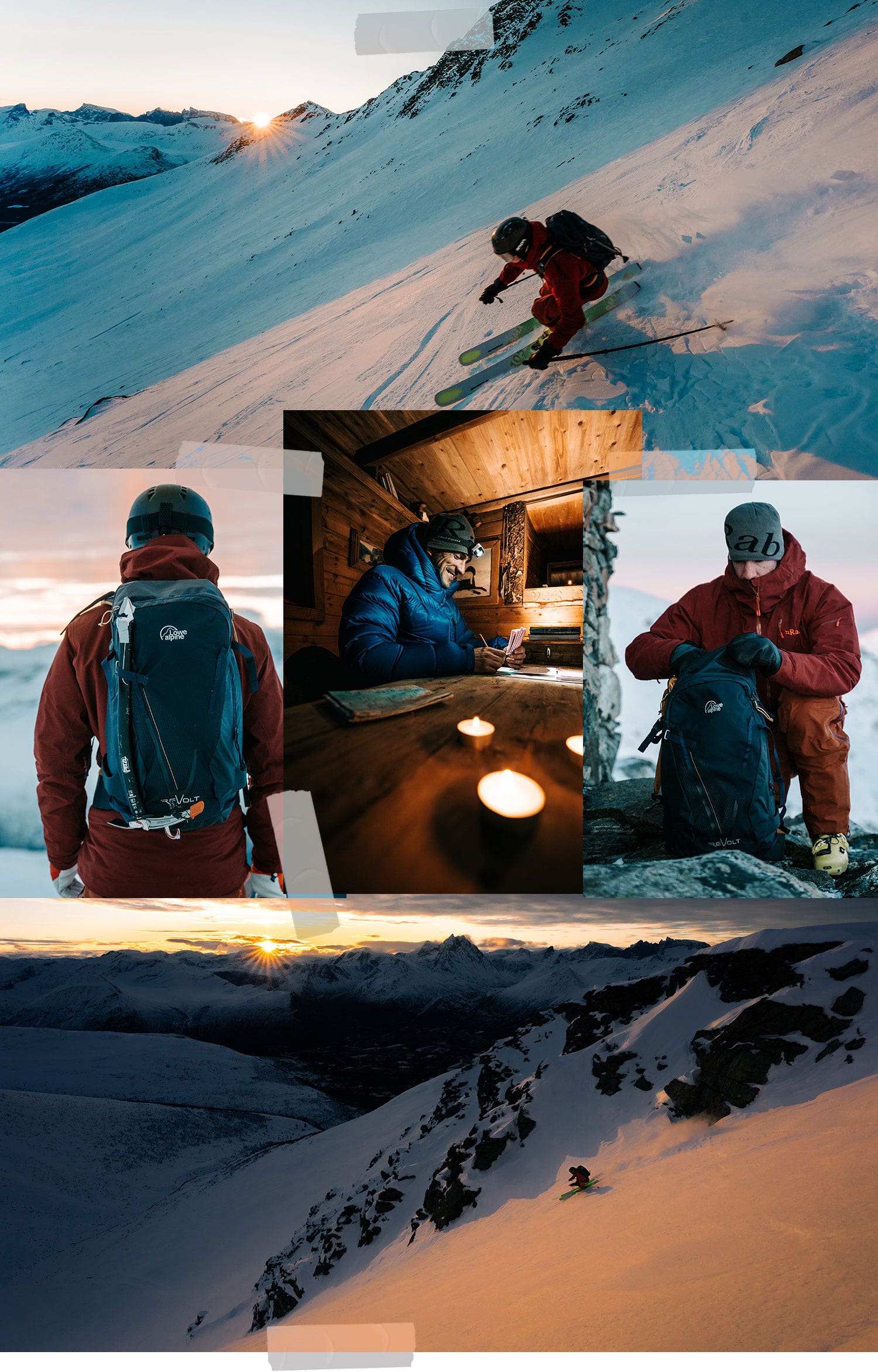 After multiple laps and photo stops, the sun was getting low and we headed back to the cabin to load up the unused gear and say our secret cabin goodbyes. We vowed to be back one day when there was more powder to be had.
The way down was a very different story than the way up. Temperatures further down had risen making the ski back to the car a wet and sloppy mess and a horrible leg burner.
Upon reaching the car, Sebastian summed things up by saying, "I've skied a lot of bad snow in my life, but I think this is the first ski tour where the skin up was far better than the descent back down."
Well put.
However, in the end, skiing was just a secondary focus for this trip anyway. The whole weekend was a success. And a good reminder that when it's dark, cold, and the skiing options are limited, there are still plenty of ways to get outside and have a memorable and inspiring time in the mountains - secret cabin or not.
Insulated 2-layer GORE-TEX jacket designed for deep winter skiers.

A breathable and ultra-lightweight jacket with body mapped synthetic insulation.

All-weather warmth with premium dexterity and grip for the ultimate off-piste freedom.