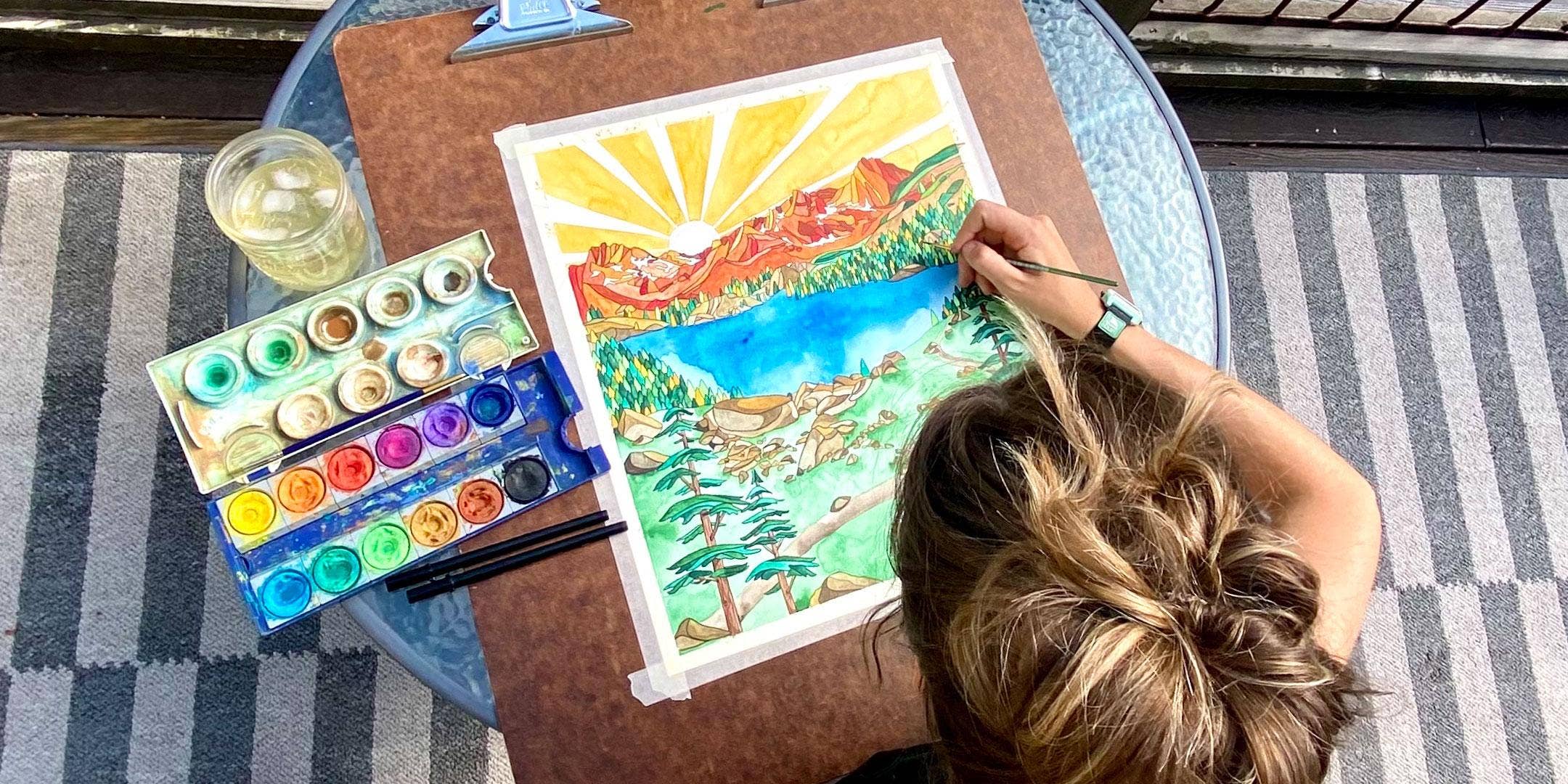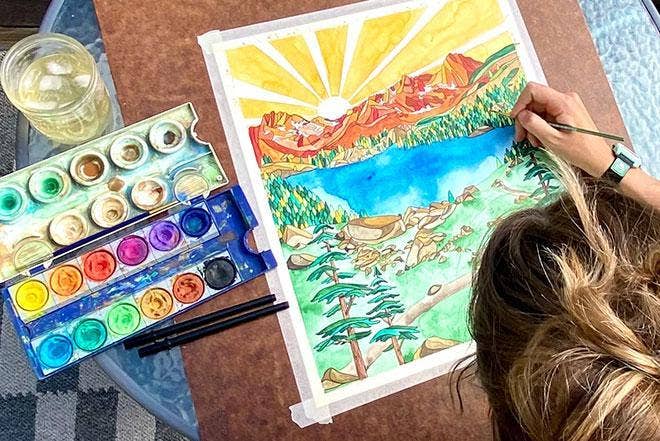 For the 2021 Banff Film Festival we put a call out to find a new artist to work with. This artist needed to capture the essence of Banff, the mountain environment, and show the deep connection with the outdoors we all feel.
We had so many applications. It was a truly huge task to choose one artist from all the amazing artists that put their name out. But one stood out to us.
We caught up with Bryn Merrell to see how she's getting on.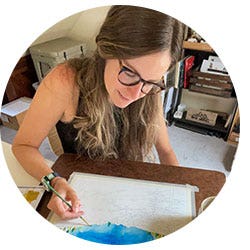 As an independent artist, it is my goal to work with like minded companies and organizations. The Banff mountain film festival is something I look forward to each year, and I always feel refueled and refreshed after the festival concludes. That is why I had such a high interest in entering into this year's artist search.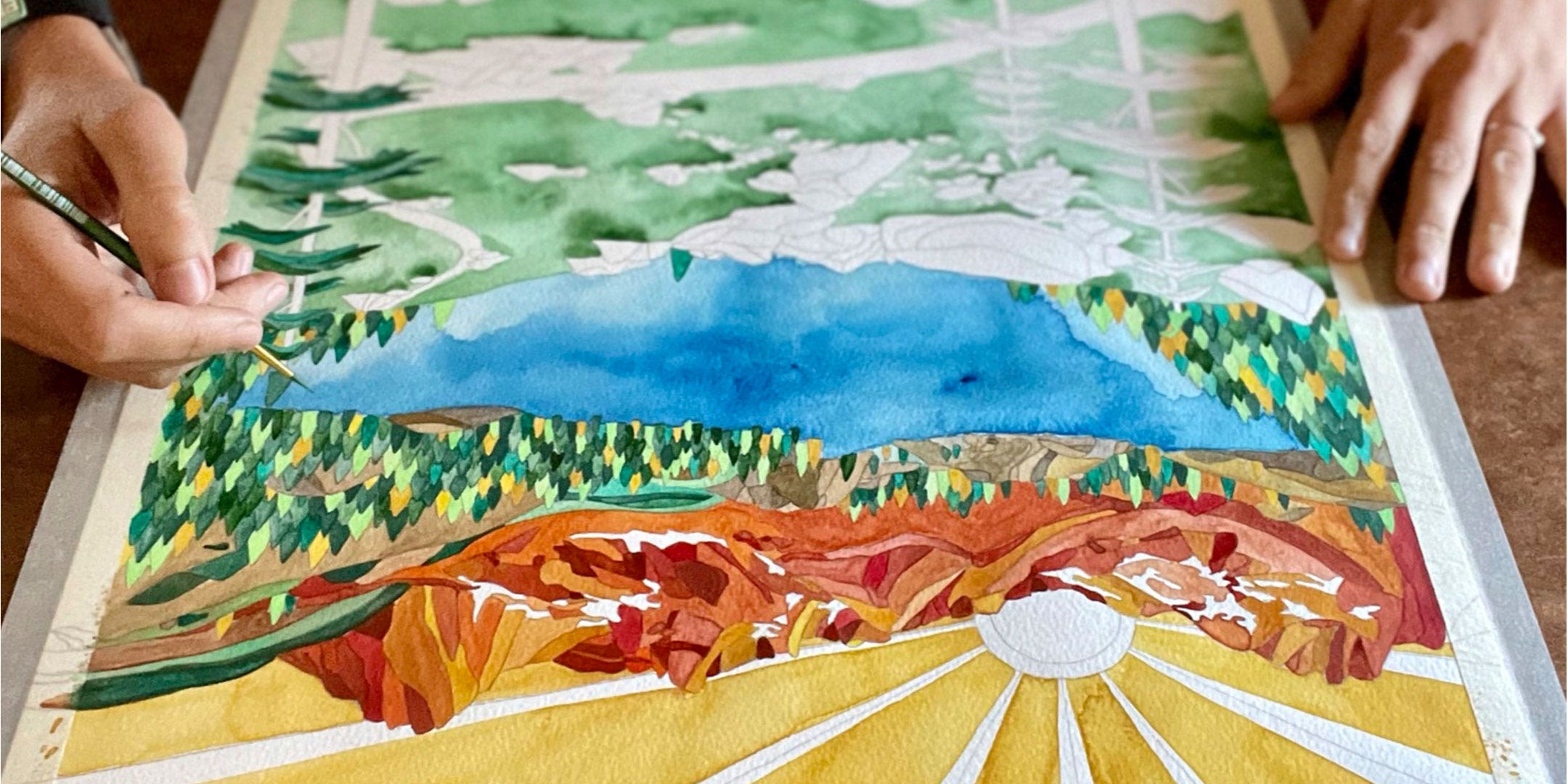 Tell us a little bit about yourself and your journey as an artist?
Like most passions go, my journey as an artist has had its ebbs and flows. I was pretty creative as a kid and young adult, but for a portion of my life, I somehow lost the time for creative outlets. In 2011 I began working seasonally in Alaska, and that is where the spark came back to me. I finally found the time to pick up a paintbrush again, and have been creating even more now than before.
Where do you draw inspiration from?
I draw most of my inspiration from personal experiences outside. When I am not painting or sketching, I can often be found mountain biking, watching animal videos, backpacking, and/or skiing. I love to explore a new area and take note of what makes my surroundings unique, especially the colors found in the area. I remember my first time visiting Banff and Jasper, I fell head over heels for the bright contrast of the larch trees sprinkled in with the evergreens. That shade of yellow was my most used color for the remainder of the year!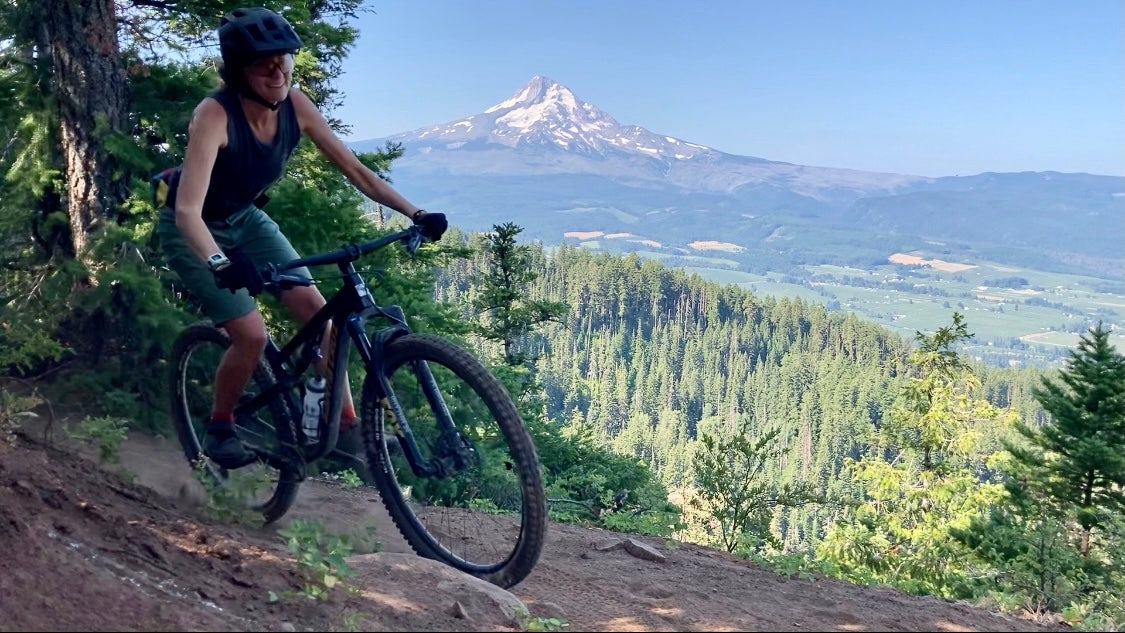 It seems like you get a lot of inspiration from your natural surroundings and being outside. Has it always been nature that has fueled your inspiration?
I used to love drawing figures and more specifically hands. I spent a large portion of my youth in Las Vegas so back then I saw more people than nature, which explains the shift in content. Now that I am living in a small mountain town, I can't seem to stop drawing landscapes!
I've noticed you always have a little adventure buddy, what's your dog's name? Does she always adventure with you?
That's Sheila (otherwise known as, Queen She, Littlefoot, or Stumbleweed). She is our 14 year old blind cattle dog and my best friend. She progressively went blind over the last 3 years, but we have been able to adapt our adventure rigs to make sure she can still come with us wherever we go. (I can send over a trailer picture if you'd like!)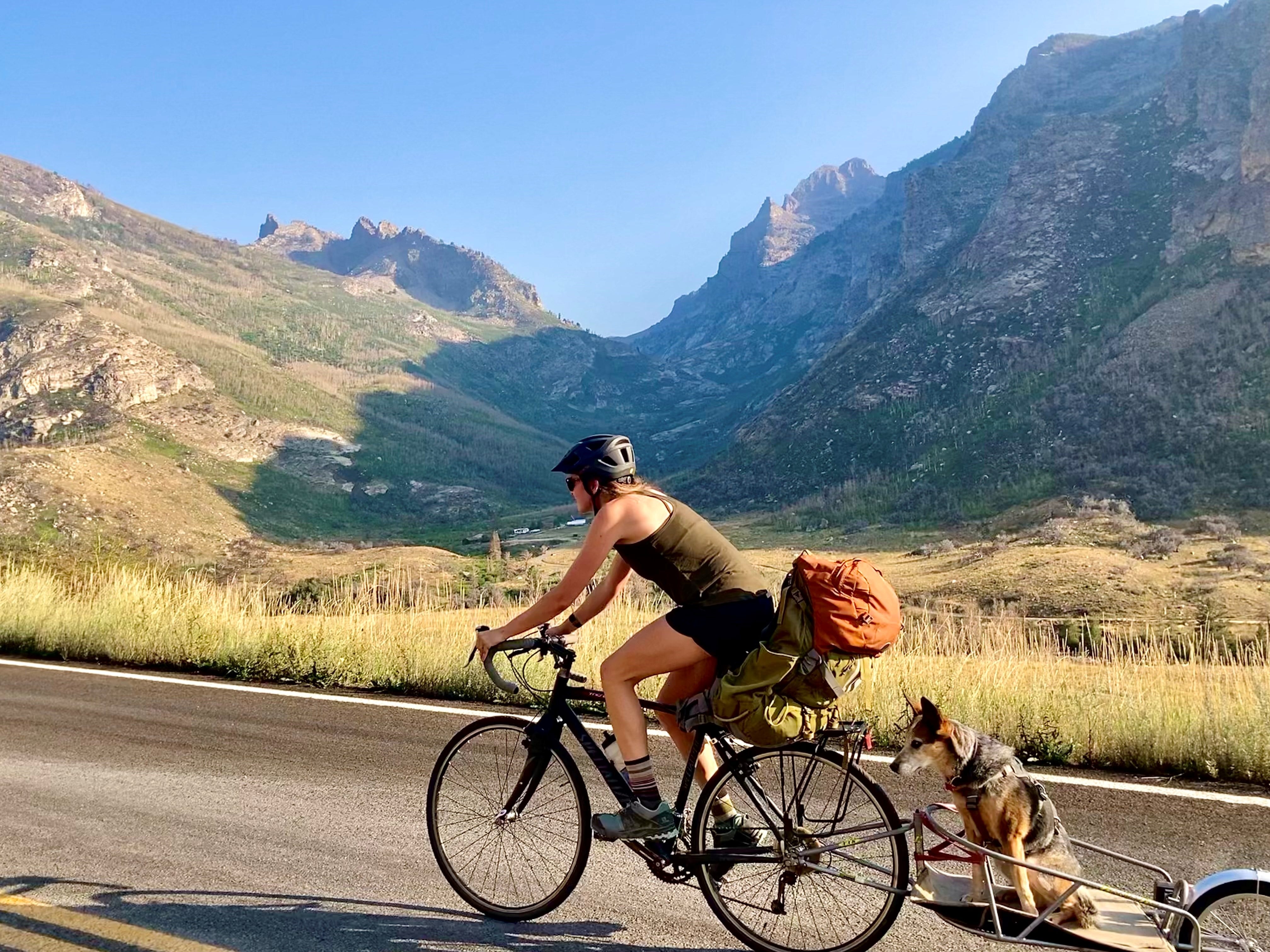 What made you want to put your art in the running for the Banff Artist Search?
I learned about the artist search from a social media post by John Fellows. I was sitting in a sliver of shade in a used car lot with Sheila, putzing around on instagram until my husband, Michael came back. I saw the posting and thought there was very little chance I could be selected, but better to throw my hat in the ring. I actually thought I got a spam email from a fraudulent Rab account when I received the congratulatory email! It wasn't until further investigation that I realized it was real!
Can you take us through the steps you use when creating a piece of art?
The first step for me in the creative process is sketching and inspiration. I look back on previous trips or explorations to the areas of interest and begin sketching a concept of where I want to take the piece. This is definitely the hardest part of the process for me. There is something so intimidating about a blank piece of white watercolor paper.
Once the sketching is done, I go in and add some color. I generally have an idea of what colors I wasnt to use, but I almost never make a solid palette. I'll generally go color by color. So if I am starting with green, I'll go through and add all the green areas that I want on the entire piece. I love letting the color get a little wild which often creates a bold look. It leaves an unpredictable nature to the process which I love but doesn't always end up in my favor. My favorite part of the coloring process is adding layers of color. I love making small details in these layers, and can spend all day on it.
The finishing touch is usually either adding ink detail or removing the watercolor gum if I am going for a negative space look. I'll often declare it as 'done' but then end up adding more detail the next day!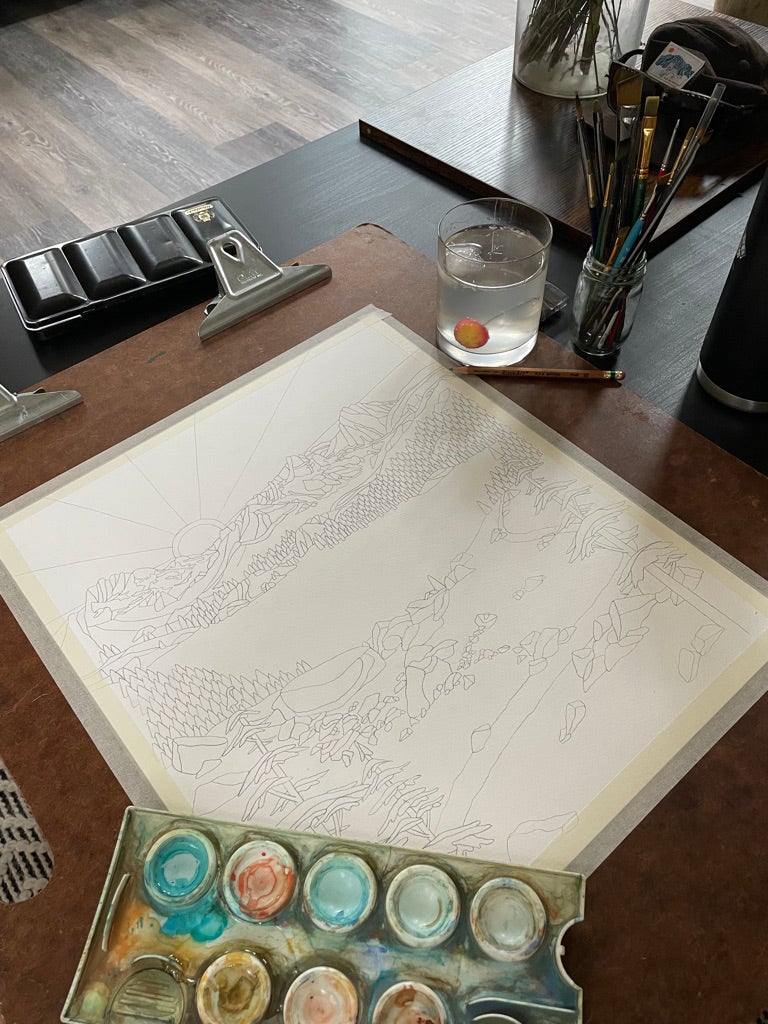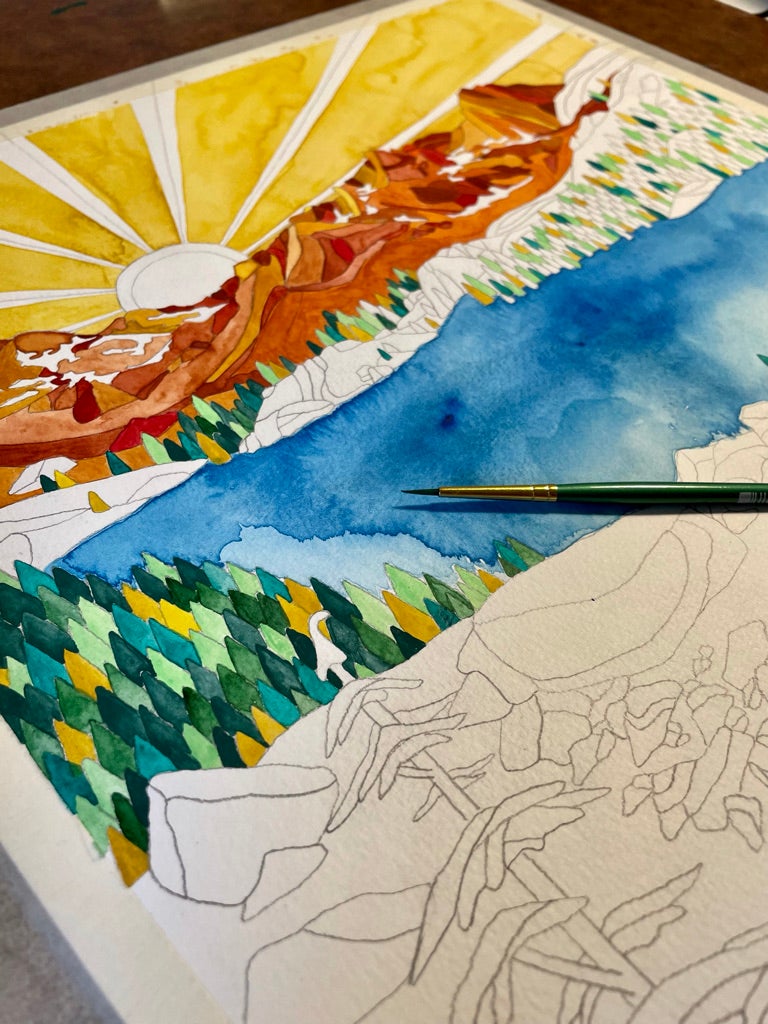 When you get stuck on a project, what are some steps you take to help yourself work through it?
When I am stuck on a project, I try not to jump ship, which I often want to do in the beginning stages. What seems to help me is leaving it alone for the day to let it 'rest' and coming back to it in the morning to add more layers. Watercolor is not very forgiving, but you can always continue to add in details to get it to morph into something you're proud of. This took me a couple years to get comfortable with, and now it is my favorite part of the process!
Can you tell us about the piece you created for the Banff Mountain Film fest?
The Banff piece is one of my more complete concepts. It was fun to get out of my comfort zone a bit and create a piece that goes beyond a mountain range. The main goal for the piece was to allow enough room for viewers to create a connection with it in some aspect. Whether that connection is a fond memory of a past adventure or inspiration for a trip to come, my hope is that this piece will help to treasure those connections.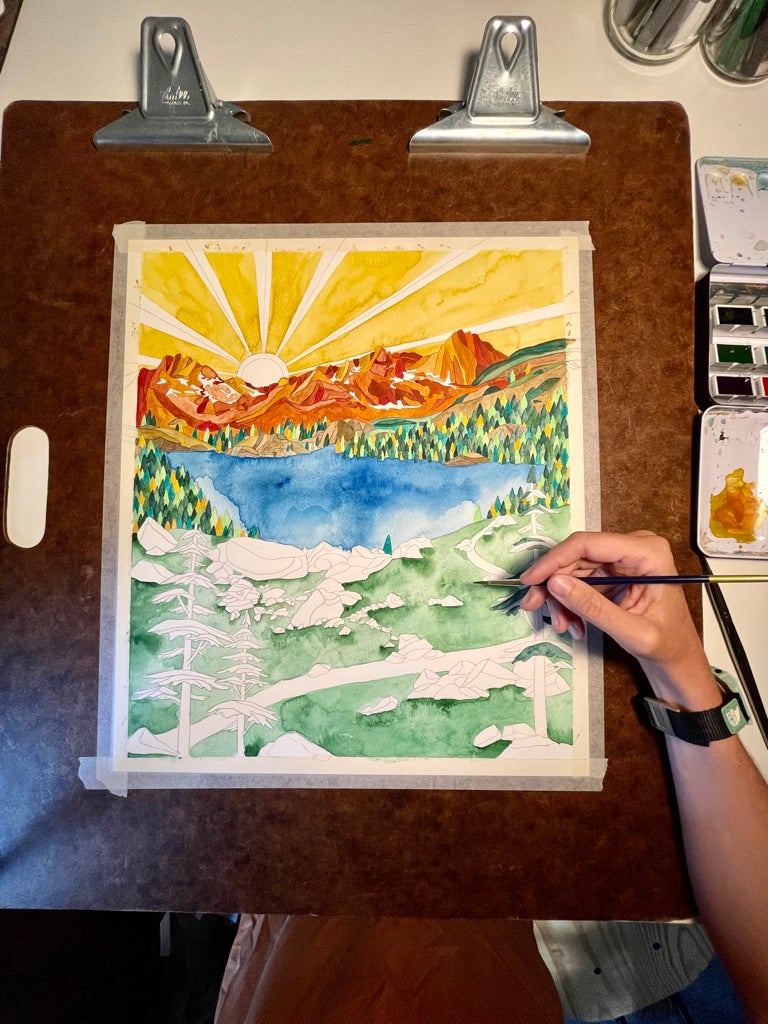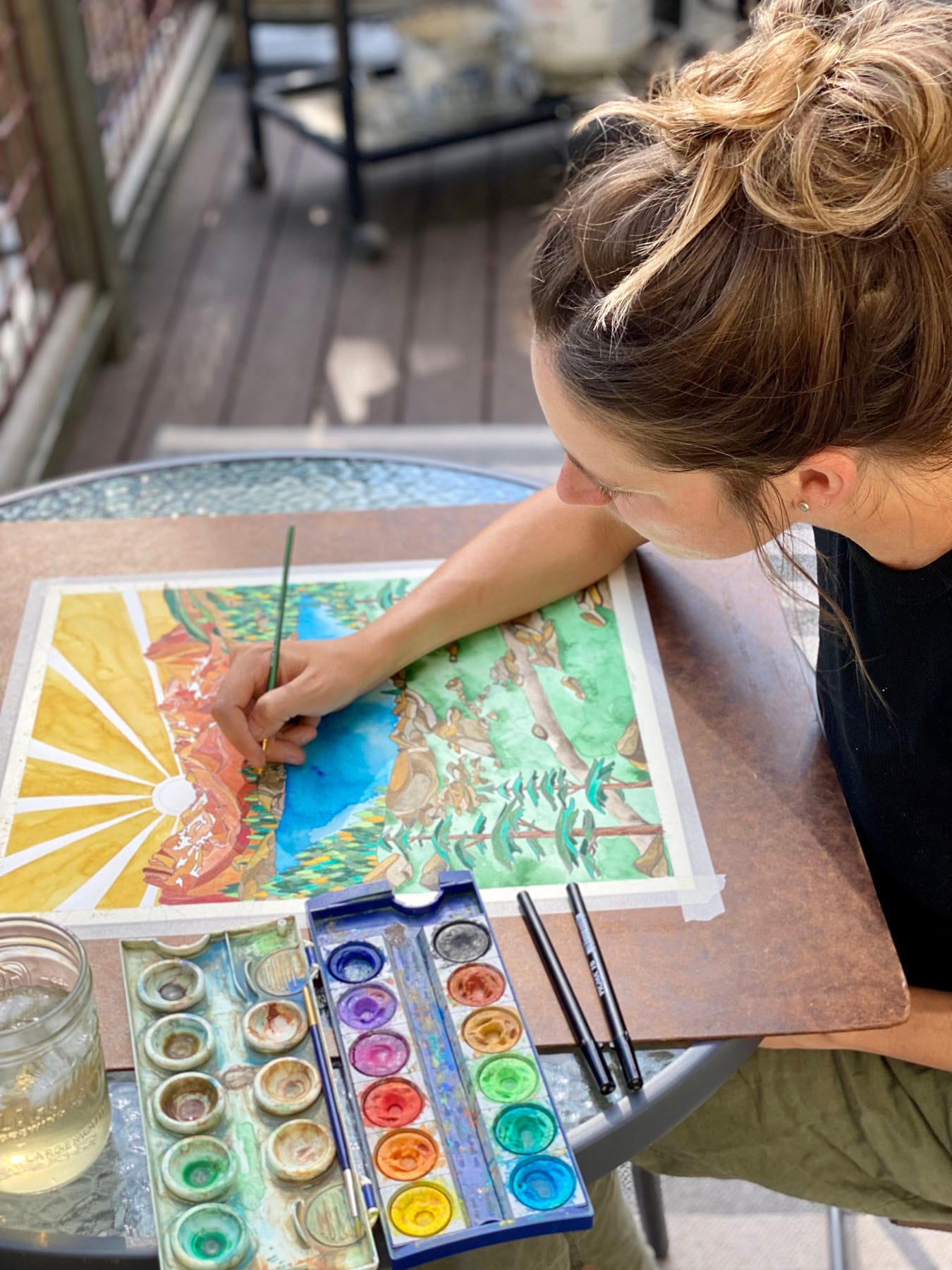 Do you have any big projects coming down the line that you're willing to share about?
I've got many passion projects that I am hoping to make some time for as the year comes to a close! One of which is creating a map of one of my favorite areas, the Ansel Adams Wilderness and John Muir Trail.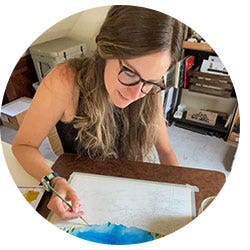 Words & Images by | Bryn Merrell