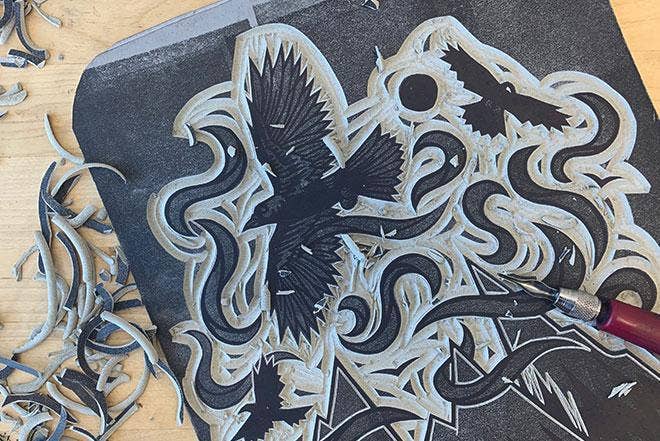 As title sponsor of the Banff Film Festival, Rab has worked closely with John Fellows for the past three years to create bespoke designs for the official festival t-shirts. We wanted to find an artist who would capture the same feeling and connection to the outdoors we all share while experiencing the stories that are told during the festival.
---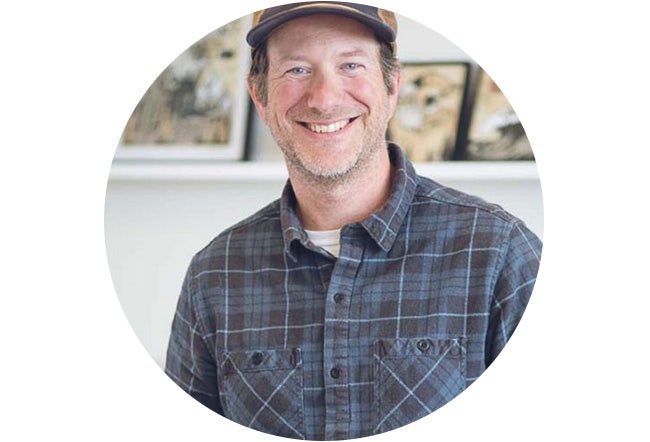 John Fellows' has a signature "contemporary folk" style of using graphic block prints on a variety of repurposed papers. In his work he creates a unique simplicity while also reflecting on his personal experiences. Looking at John's art is like a brief glimpse into someone else's story. We agreed that Fellows unique style and ability to create stories within his art reflected the kind of depth and simplicity we were looking for in an artist.
Designing Rab Banff 2020 tee artwork
"This year's artwork was inspired by my time in Banff (as well as the Alps) where ravens are a constant presence in the skies. In many cultures there's the belief that ravens and alpine crows carry the souls of skiers and climbers that lost their lives in the mountains. They fly above us, watching over us as we venture into the high alpine."  -Fellows
Idea collaboration and sketching
When it came time to start working on this year's art direction, Rab US Country Manager Jon Frederick and artist John Fellows decided they wanted a design which continued themes from previous years while telling a unique story. John's idea was to feature a raven as they hold a significant place in mountain culture. Below is a snapshot of how the idea evolved and John's process of creating the print.
"What do you think of the attached initial design? Graphic, has movement, doesn't use bright colors (which I prefer) and is similar in style but very different than the two previous years…. I wanted the raven to be the main focus and the wind be secondary. If I made the swirls too light, then then dominate the raven. I'm currently trying to think if I can somehow include a small mountain range somewhere in the design as well to at least have a "call out" to the location." -Fellows
"The raven needs the context of the mountains, so it fits the 'mountain culture' element of the fest and does not have people guessing. Ideally the main raven would be smaller and there would be 2-3 smaller more abstract ravens added to the design along with a simple mountain element. " -Frederick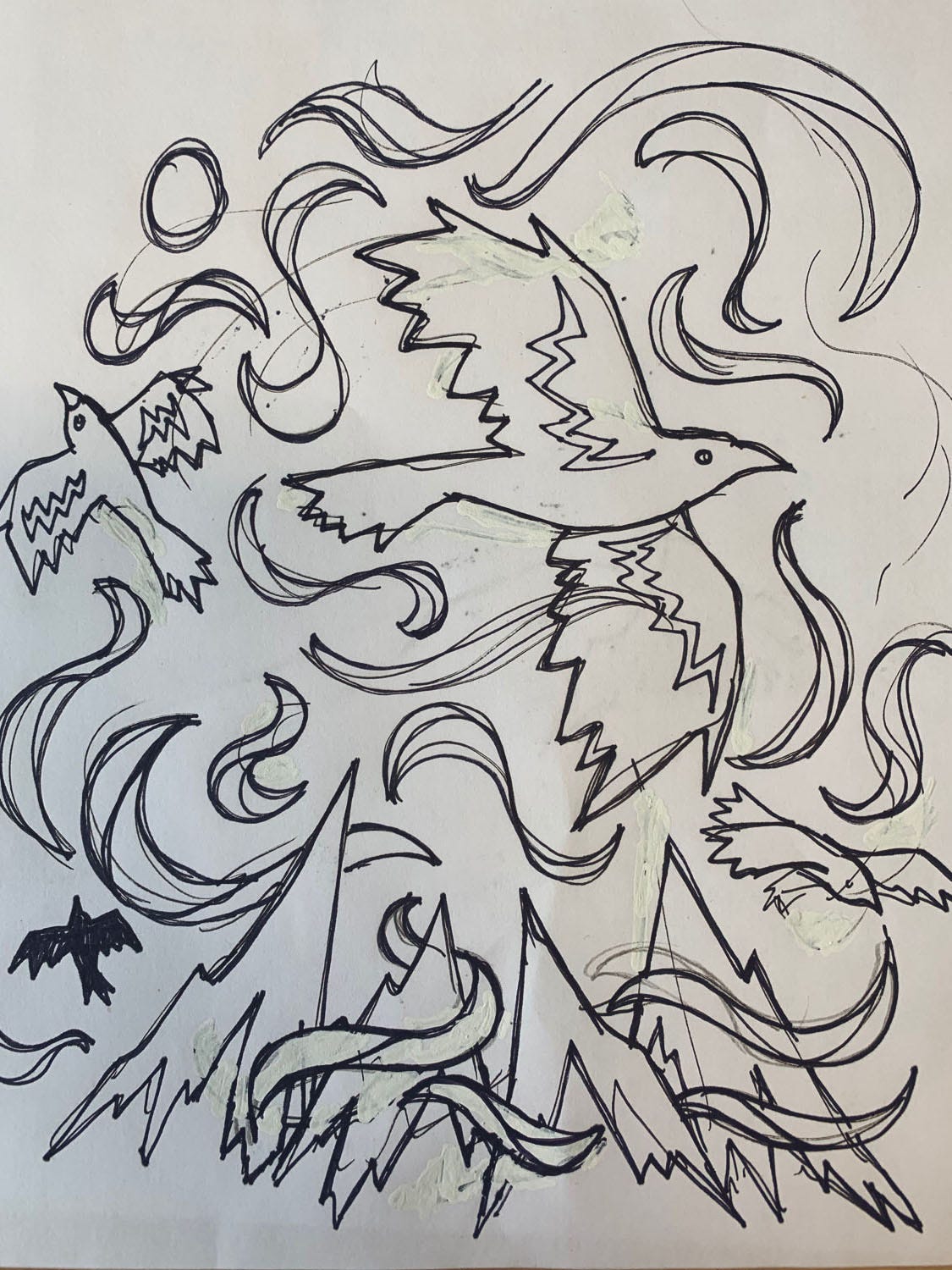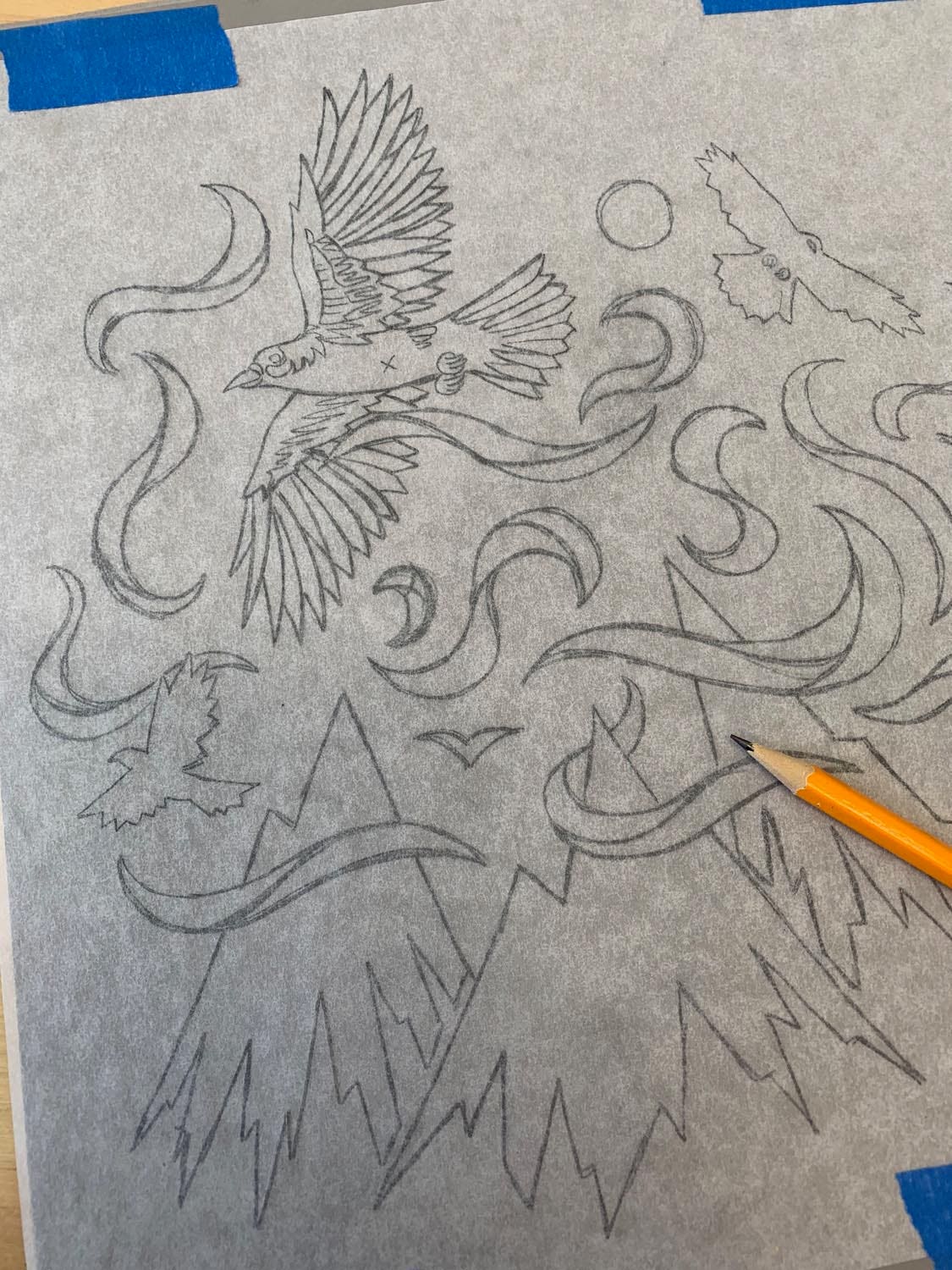 Carving
After working through more details, Fellows started making the linoleum carving he would use to make a block print.

The finished lino carving