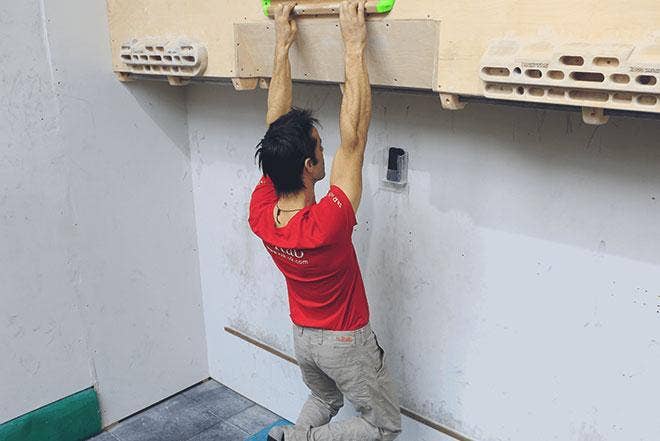 Since getting out to the crag or your local climbing wall isn't possible at the moment, we've compiled some of the great climbing training videos produced by our friends at Lattice Training which cover a series of exercises you can do at home.
---
This time around we opted to go a touch further south but still on the coast, to the Lofoten Islands. Lofoten is another area of breathtaking beauty and is home to some amazing mountains with plenty of winter climbing potential. We didn't have any real plans or objectives, we just wanted to do lots of climbing and have a good safe trip. On the first day, we drove around looking gathering ideas for potential routes and spoke to some of the amazingly friendly locals for updates on the current conditions. This gave us a good feel for the area and we swiftly got stuck into the action in the days that followed.
There was no easing into the climbing, and on the first day, we managed to open a pretty awesome route that was home to some intricate and very testing climbing! We weren't particularly looking for something hard, but we also don't like to shy away from a challenge. We called the route 'Terrible Twos', as it was my nephews second birthday that day and the second pitch was the one that put up the fight.
How to Warm Up for Climbing at Home
To avoid injury and make the most of each session, it's essential to warm up before undertaking any training workouts. This video covers a combination of full body exercises, as well as some more specific shoulder and finger exercises to get you warm for a fingerboard session at home.
Climbing Training at Home
In this video, Tom Randall provides insight into a range of hoe training topics including how to adapt your normal training sessions to home sessions, what grip positions are best, and showing some examples of specific exercises you can do from home such as dumbbell curls and finger curls.
6 Minute Home Climbing Workout
This six-minute video covers a series of conditioning exercises that can be done from home. You can stack the exercises on top of each other to make a circuit session, or complete them in one go as a standalone six-minute workout. All you need is a pull-up bar and some floor space!
Lattice 6 Minute Core Workout
This video runs through a six-minute core workout you can follow along with and do from home, with minimal equipment required – just a mat and a few weights.
Home Training Work Out – Minimal Equipment!
Not all of us have dumbells or weights to hand, so in this video, Ollie Tor runs through a number of creative exercises you can do with everyday home equipment.
Check out Lattice Training and their Crimpd training app for more training resources, assessments and climbing training plans.