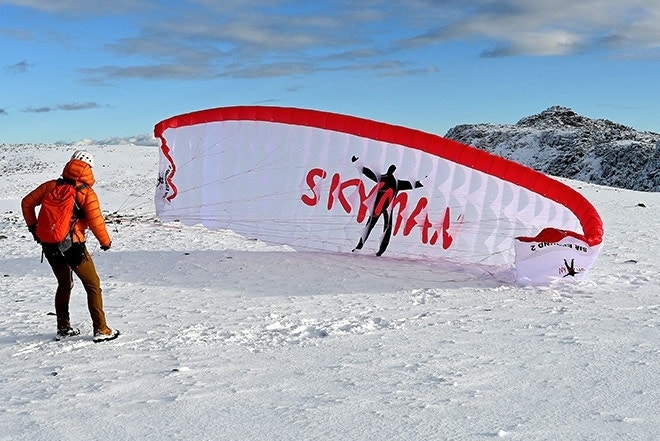 A gentle breeze ruffles the light fabric of the glider, as I unfurl it on the soft snow on Carnedd Dafydd. It's mid-afternoon, and my legs are tired from the exertion of early season winter climbing, as my ice axes and crampons replace my paragliding harness inside my rucksack. Conditions have been excellent all day, with blue skies and a gentle breeze, perfect for launching my paraglider.
After a brief pre-flight check to make sure my lines aren't twisted, I launch my wing and quickly climb along the ridge of Ysgolion Duon towards the summit of Carnedd Dafydd. A cold north-easterly breeze pushes air up from the line of cliffs I've just climbed, creating a soaring band for my glider to ascend in. I lose this rising air just below the summit and glide down the north ridge to land just above Bethesda, only a few minutes' walk from home.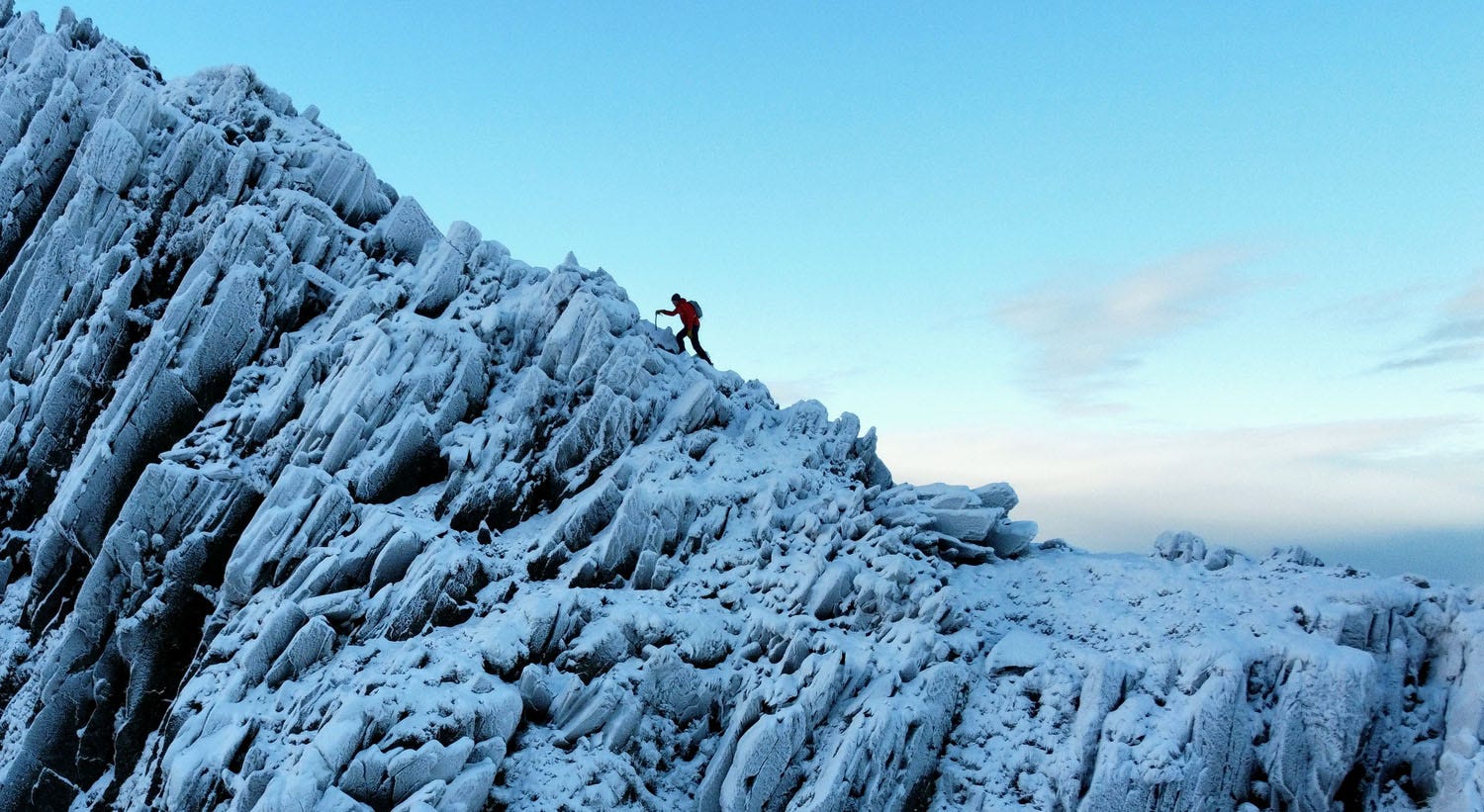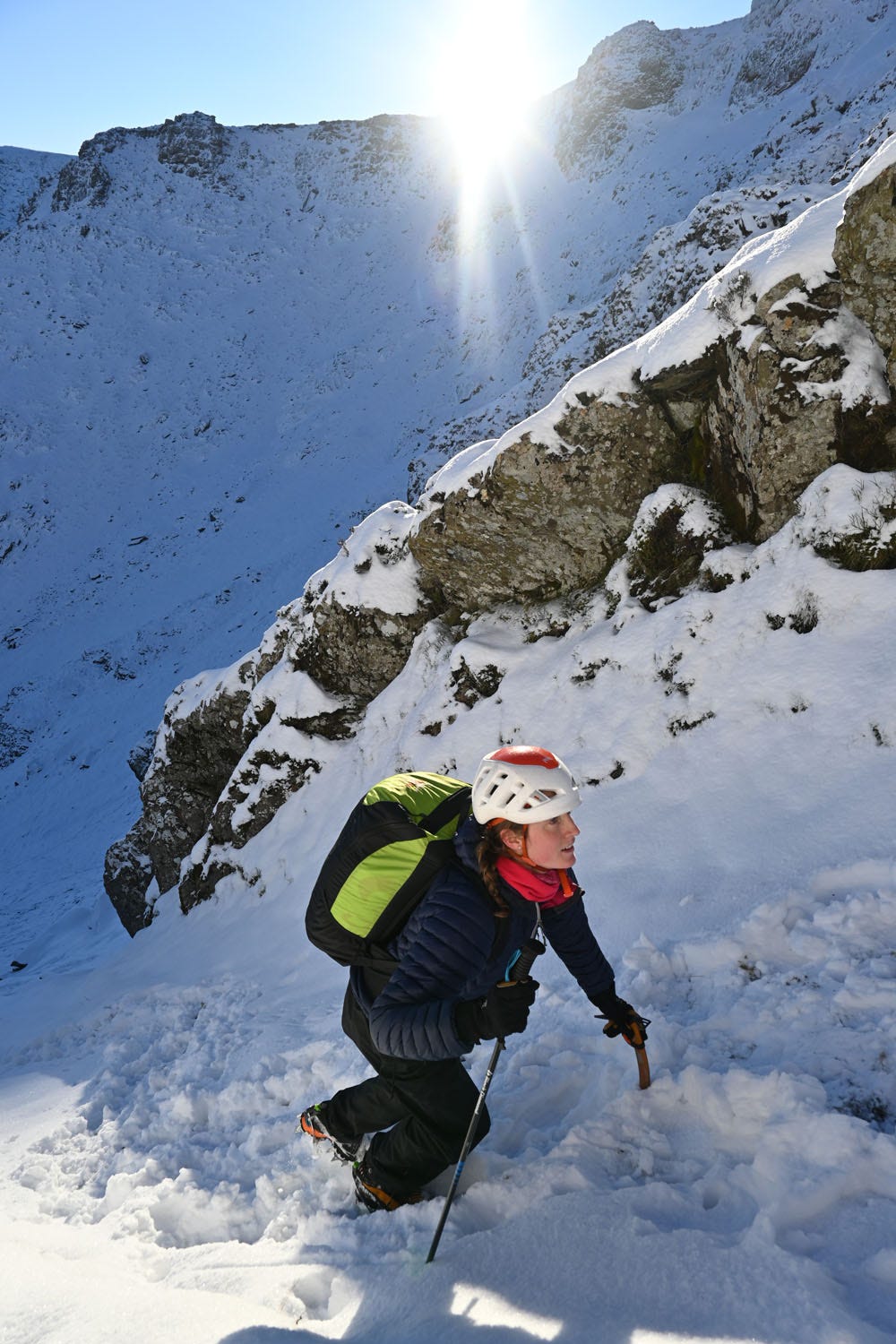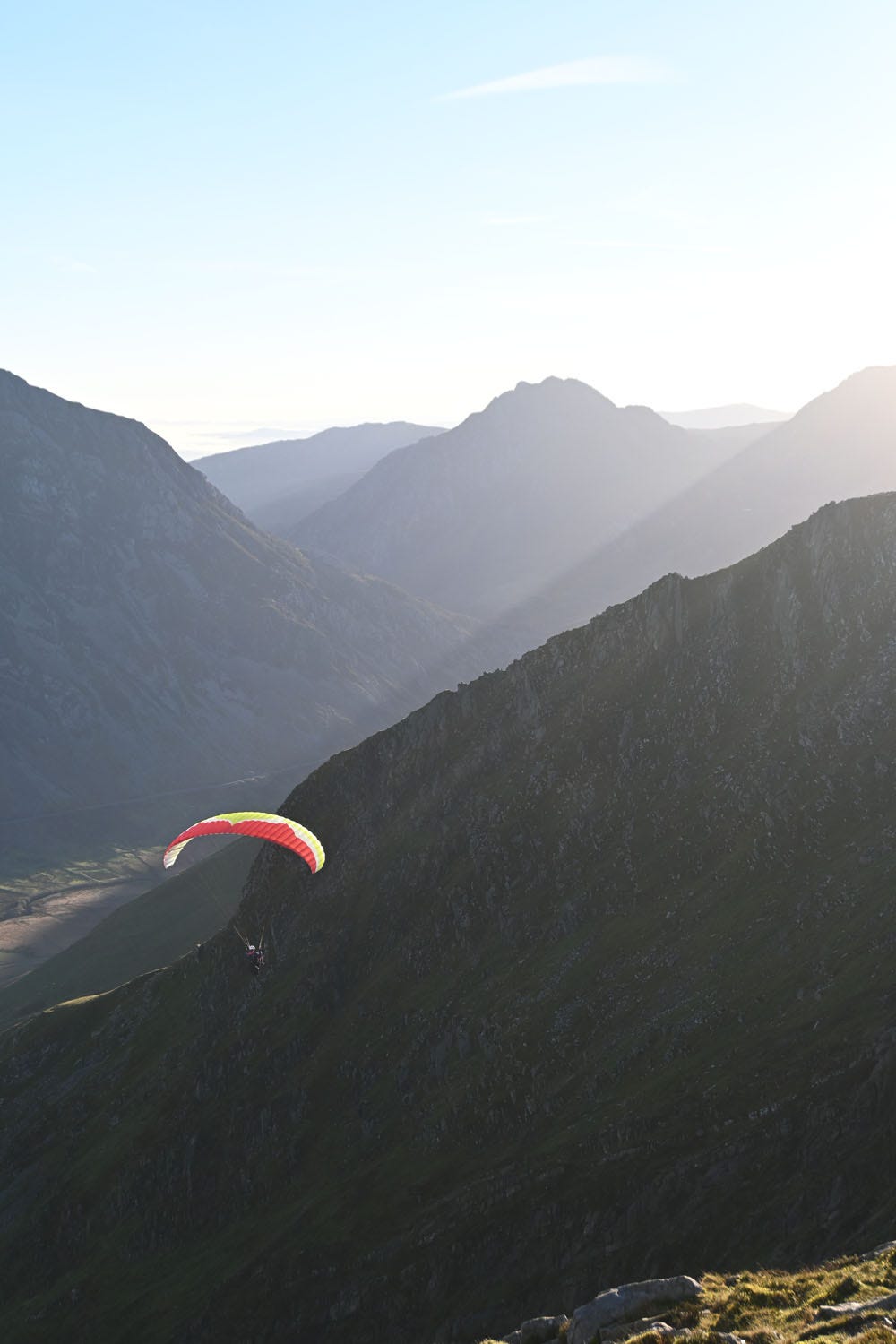 Several years ago, I learnt to paraglide whilst living in the French Alps. My intentions for learning were always to combine paragliding with climbing and mountaineering. It seemed like such a neat concept, to climb up a mountain and fly back down. In the Alps the concept is particularly relevant, with huge descents covering awkward glaciers and often requiring abseils down cliff bands. Descents that took hours of concentration, not to mention significant risk, could be shaved down to only 20 minutes of enjoyable sightseeing. With paragliders weighing as little as 1kg nowadays, the option of a flight down has become more and more appealing, adding only a little extra weight and bulk to your pack.
Back home in Wales, paragliding has been enjoyed for decades and cross-country flying is the most popular activity; using thermals to propel you from one mountain to the next. It's only more recently that paragliding technology has advance far enough that lightweight 'single-skin' paragliders have become small and light enough to be practical to carry up rock and winter climbs. Whilst the time saving benefits of climb and fly are not quite as relevant in Eryri as they are in the Alps, where the height difference is much greater, it is the concept that makes the activity so enjoyable. Combining two of my favourite sports in a time efficient manner, whether that involves soloing up easy scrambles or doing roped climbs. In 2021 I became a father, and with free time being much more limited, I've found that being able to combine running and scrambling with paragliding has been able to provide me a dose of fresh air, exercise and adventure, in as little time as an hour and a half car-to-car.
Whilst conceptually the idea of climb and fly is an excellent one, it can also be difficult to put into practise. Wales, and the UK in general, is often on the receiving end of strong wind speeds high up in the mountains, and when the wind speed begins to exceed 15-18mph it can become quite dangerous to launch a paraglider. It's also important to get the wind direction right, as you always need to launch your paraglider into the wind. For that reason, patience and having different flying options up your sleeve are paramount to a successful outing. Beyond that, it is also important to make sure you have landowner permission, where necessary, to launch and land your paraglider, and you can find this information with the local BHPA flying club.
Whilst the activity is still somewhat niche, it is becoming increasingly popular in and around the mountains of Llanberis and Ogwen, and the sky is the limit as far as climbs and enchainment's go. Below, I have listed a few of my favourite climb and fly circuits, to be enjoyed with or without a rope as you please!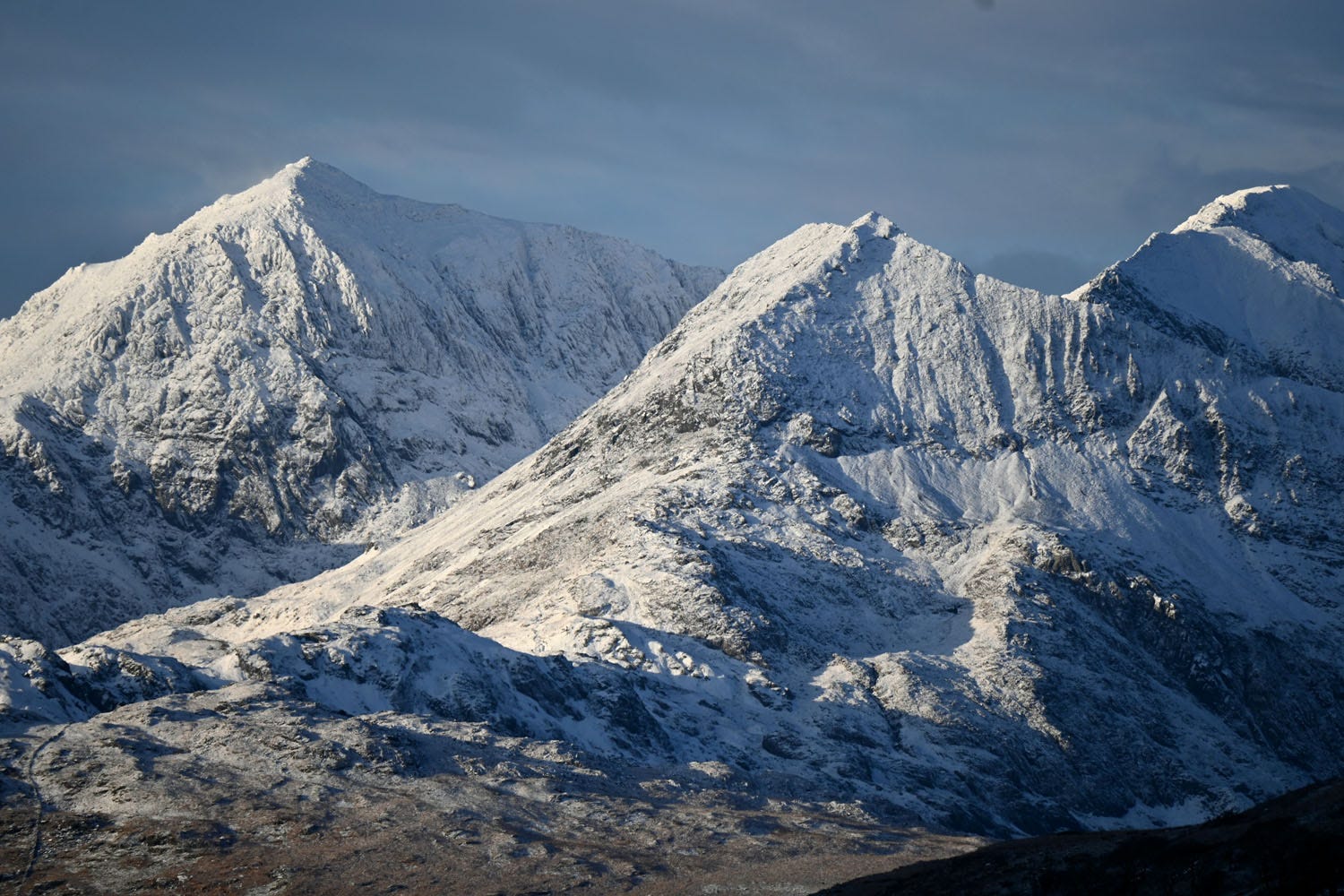 Central Gully on Ysgolion Duon
The Ysgolion Duon, situated between Carnedd Dafydd and Carnedd Llywelyn, are amongst the longest and highest cliffs in Eryri. Its vertiginous heights are dripping with flora, making it one of the most biodiverse cliffs in Wales and a fascination to botanists. It was one of the earliest cliffs to be explored by climbers in the UK, who could reach the quarry town of Bethesda by train at a time when the Llanberis valley was less accessible, but nowadays it's rare to find a rock climber in and amongst its flanks, even during a fine sunny spell. The cliffs summer solitude is broken in the winter, when, during a good freeze, these walls are a playground for ice and mixed climbing, with routes like Western Gully and Flanders amongst the finest in the UK. Central Gully, provides the line of least resistance up the cliff, providing a surprisingly straightforward passage up a snowy gully, to navigate a short step of grade 3 winter climbing to the left of the steep chimney (this is also a passage of grade 3 scrambling in summer), before returning to the gully followed shortly by the top. Good grassy launch sites abound at the top of Ysgolion Duon, and a north or north-easterly breeze will provide the best flying conditions to soar along these impressive cliffs and above the summit of Carnedd Dafydd. Whilst little frequented by paragliders, it is perhaps the finest soaring spot in Eryri.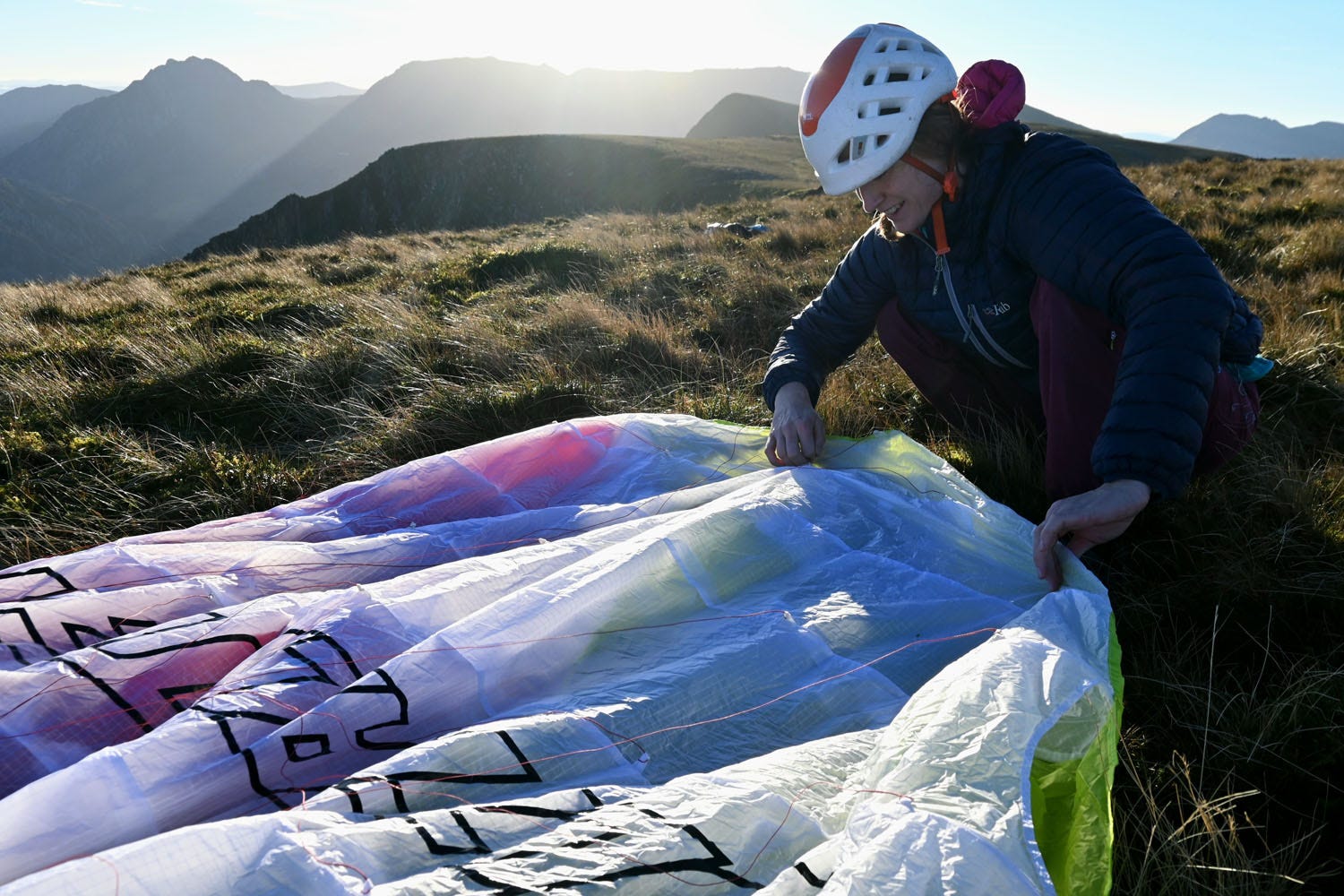 Left Edge on Carnedd y Filiast
This climb and fly combination provides quick vertical access from the valley to the summit of Carnedd y Filiast via a delightful V Diff up the Atlantic Slabs. It's one of the best routes at its grade in Eryri, traversing the edge of a friction slab for some 200m, but despite its quality it is little travelled. The summit plateau provides an excellent flat and grassy launch site where you can launch immediately over the cliffs you've just climbed, made all the better by the fact you don't have to make your way on foot down the awkward descent path! The main take off is easterly, but launches can be found that work from south through to north in the vicinity. It's worth knowing that the Ogwen valley forms part of the Mach loop for fighter jets, and whilst there is nothing to stop you from flying there, prudence may advise not flying across the paths of these impressive jets! It is possible to contact RAF valley if there are a large group of paragliders (5 or more) to make them aware that paragliders are in the area, but perhaps better to fly on weekends, when the jets aren't in operation!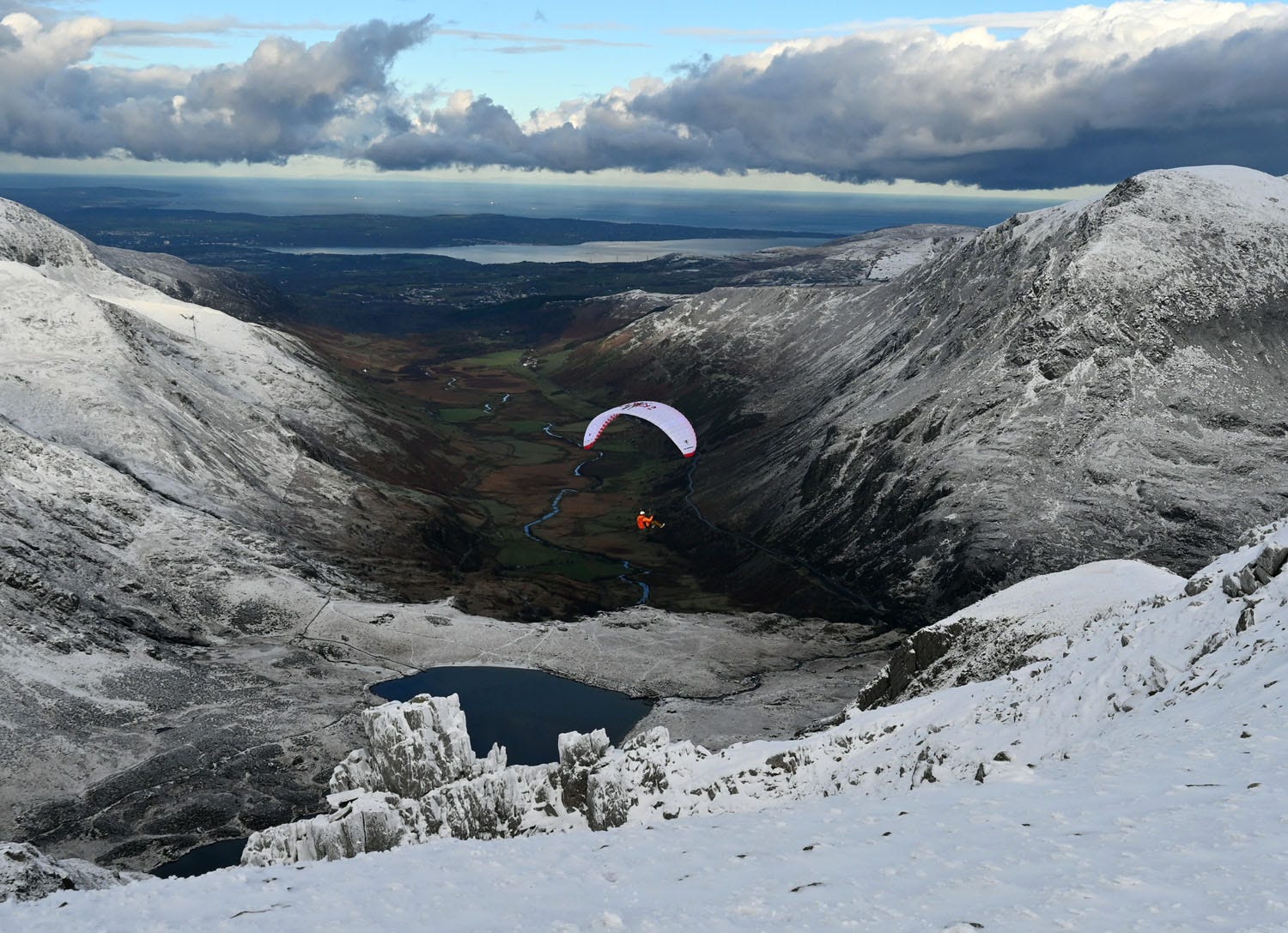 Sub-Cneifion Rib – Cneifion Arete above Cwm Idwal
A classic combination of routes leading up Glyder Fawr and a regular circuit of mine from my home in Bethesda. Sub-Cneifion Rib is a wonderful feature in Cwm Idwal and less busy than its neighbours on the Idwal Slabs, retaining some good friction climbing and a bit of solitude for the valley. A short traversing footpath leads to the foot of the ever-popular Cneifion Arete, a fine climb with great positions on the upper arete. A launch is possible from the large 'field' above Cneifion Arete, ideally in northerly winds, or continue to the summit ridge where a launch is possible from the very head of the cwm above Idwal. It is also possible to launch in a south westerly direction towards Yr Wyddfa.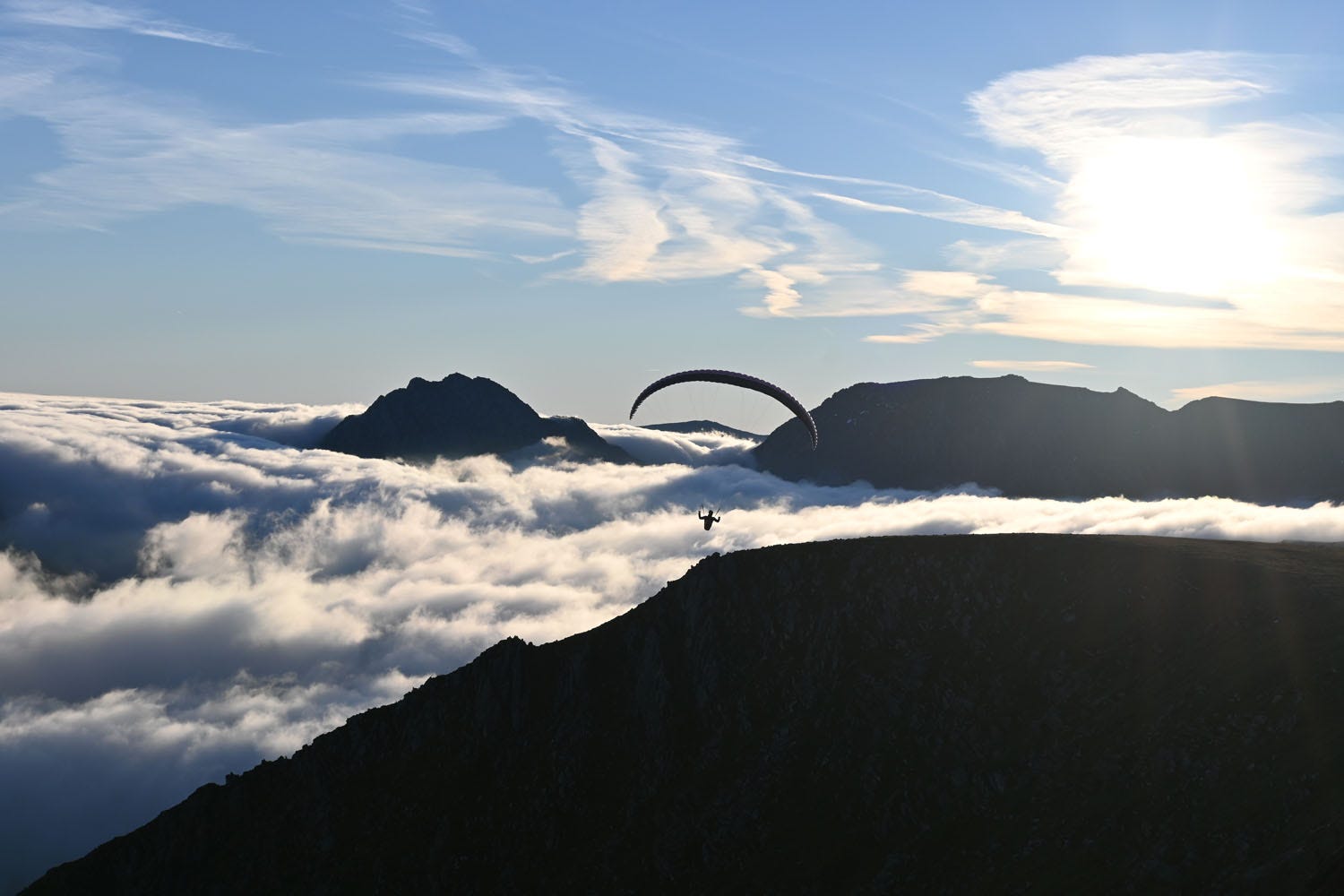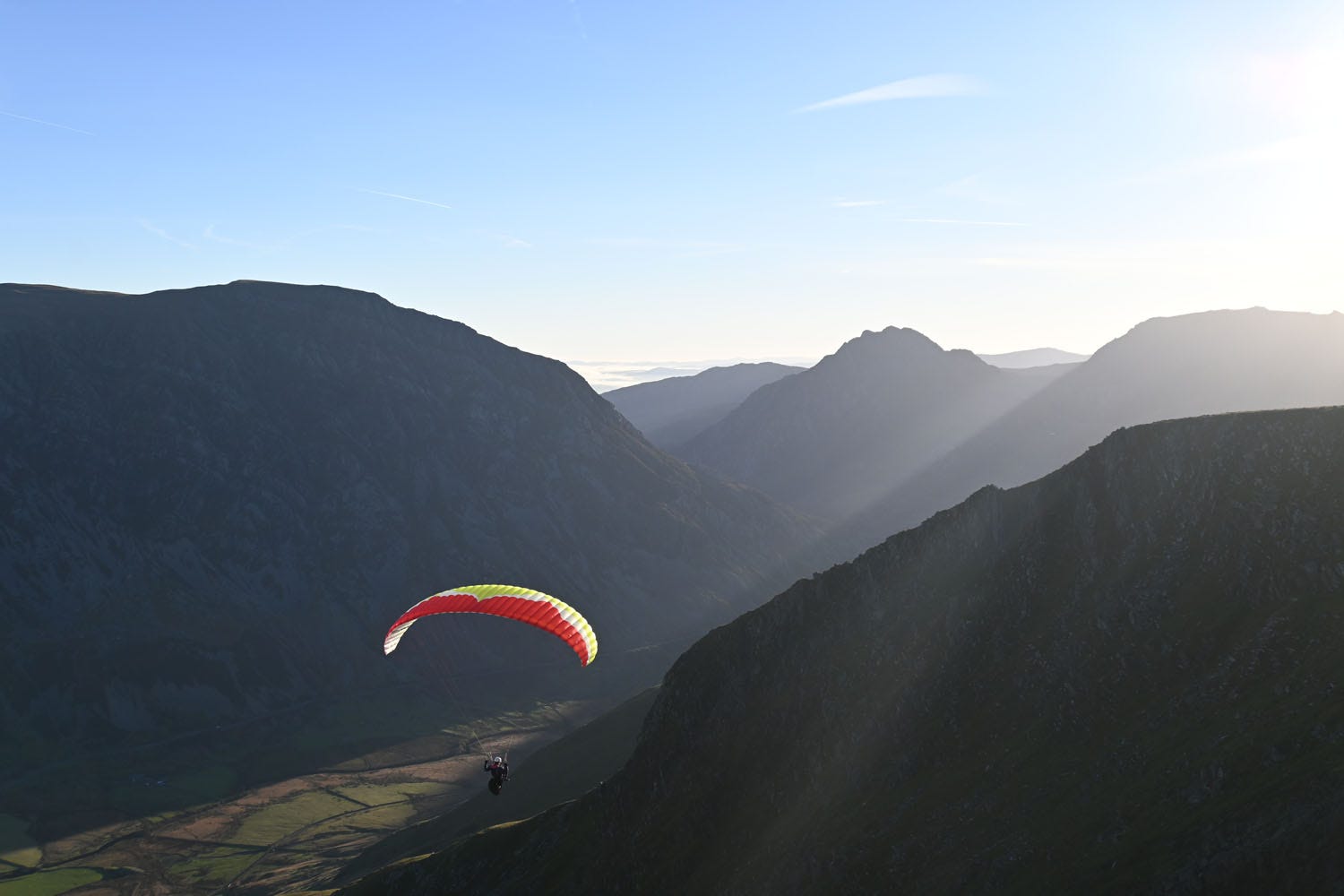 Avalanche – Red Wall on Lliwedd
A real mountaineering classic, with sustained and enjoyable climbing and plenty of interesting route finding along the way. A route that shouldn't be taken too lightly despite its low grade, as many climbers have had an epic whilst route finding and struggling to find good belays, pushing them into darkness before they reach the summit! Lliwedd is a magical place to climb, well worth the extra effort and with some fantastic history from its pioneering first ascents in the early 1900's which must have felt very adventurous without a guidebook or modern equipment. There are limited and small launch sites near the summit but descending slightly to the south leads to plenty of grassy bays where you can launch easily.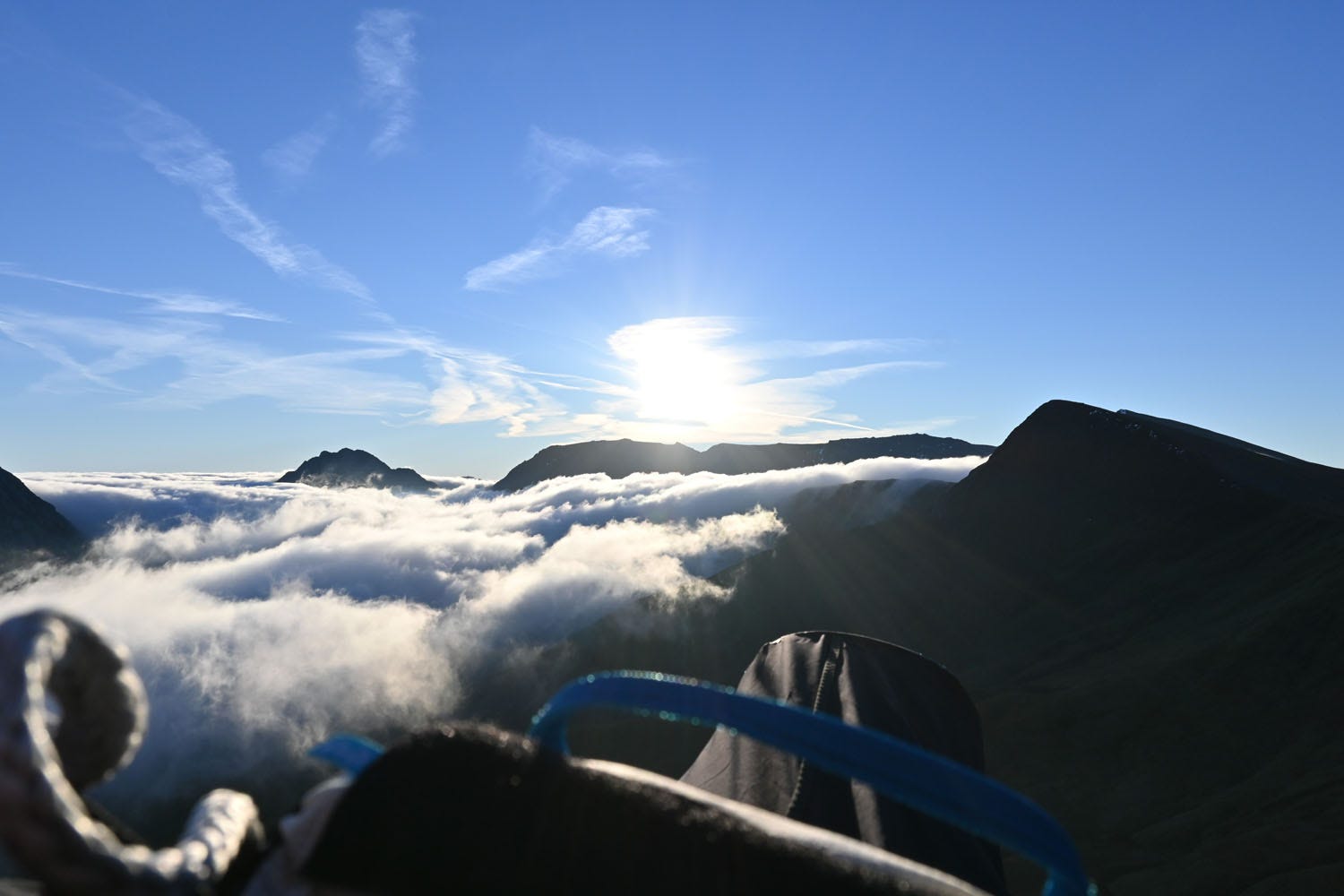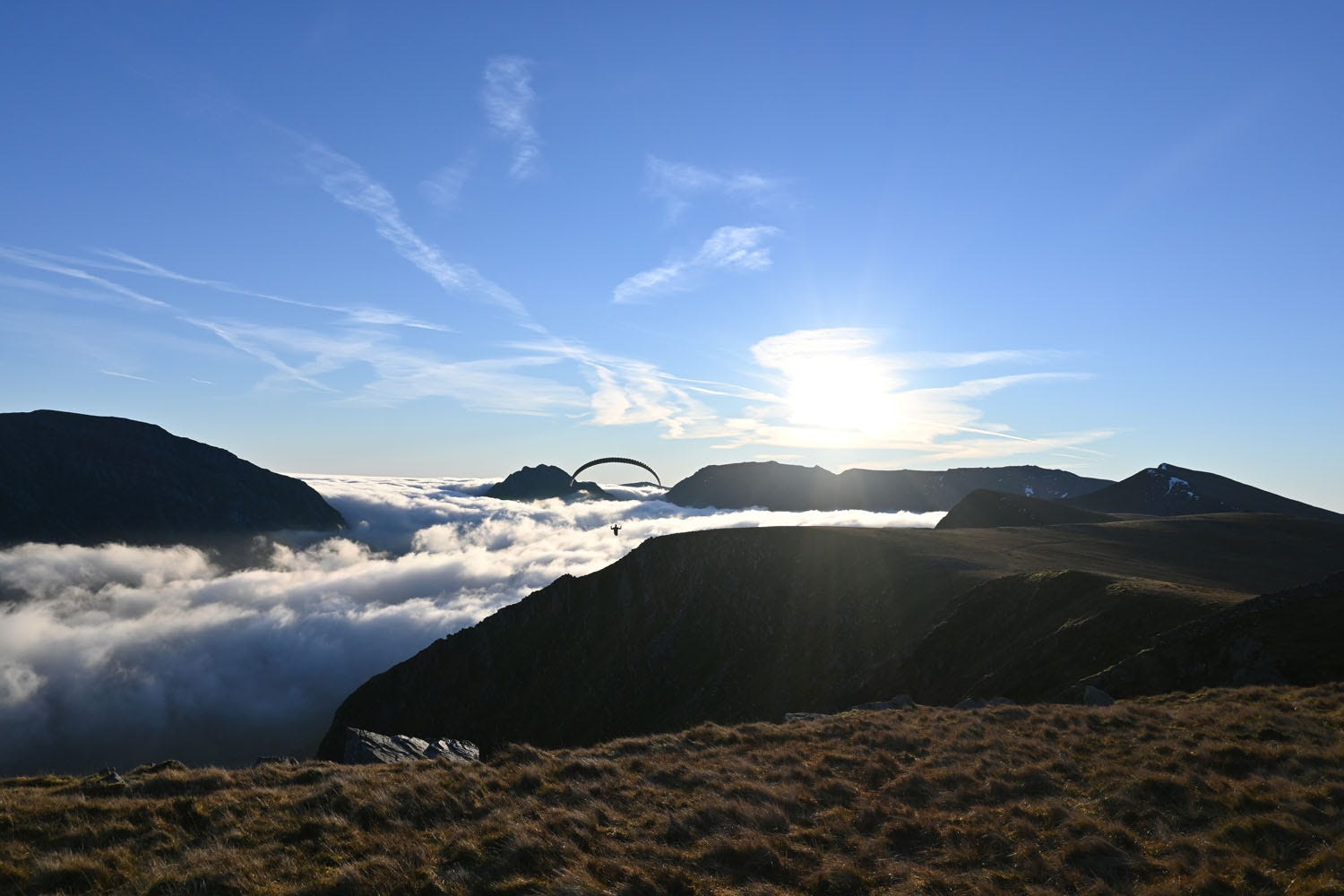 Main Wall – Crib y Ddysgl (Garnedd Ugain)
Main Wall on Cyrn Las is a long and classic Hard Severe and the most popular route on the crag. With some interesting route finding and fantastic exposure for the grade it is a true test of mettle for a climber operating near their limit. From the top of Cyrn Las, a scramble leads after a little while to the summit of Crib y Ddysgl, between Crib Goch and Yr Wyddfa. You can launch from very near to the summit and with a reasonable glide ratio and low wind can make it all the way to Llanberis. It's well worth popping over the ridge into the Llanberis valley to make the glide to Llanberis as you'll struggle to make it along the ridge without having to land short. This also provides an opportunity to land in Nant Peris if you don't think you have the altitude to make it to Llanberis.
Resources
The local paragliding club is Snowdonia Sky Sports and they will be able to help answer any questions on flying in Eryri.
Snowdon Gliders is the local BHPA flying school and can help you with your first steps in paragliding through to cross country flying.
It's also possible to learn to paraglide with BHPA schools abroad for more reliable weather, such as Fly Chamonix and Fly Spain.
Some of the best available paragliding kit for climb and hike and fly are currently the AirDesigns 'UFO2' and the Skyman 'Sir Edmund 2'; both are near the lightest gliders on the market but also benefit from good handling and easy launch characteristics, perfect for getting away in a tight spot! To learn or improve your climbing and scrambling skills in the mountains, consider hiring a British Mountain Guide (BMG) or Association of Mountaineering Instructors (AMI) instructor. There are many introductory and intermediate courses available and bespoke options for small groups.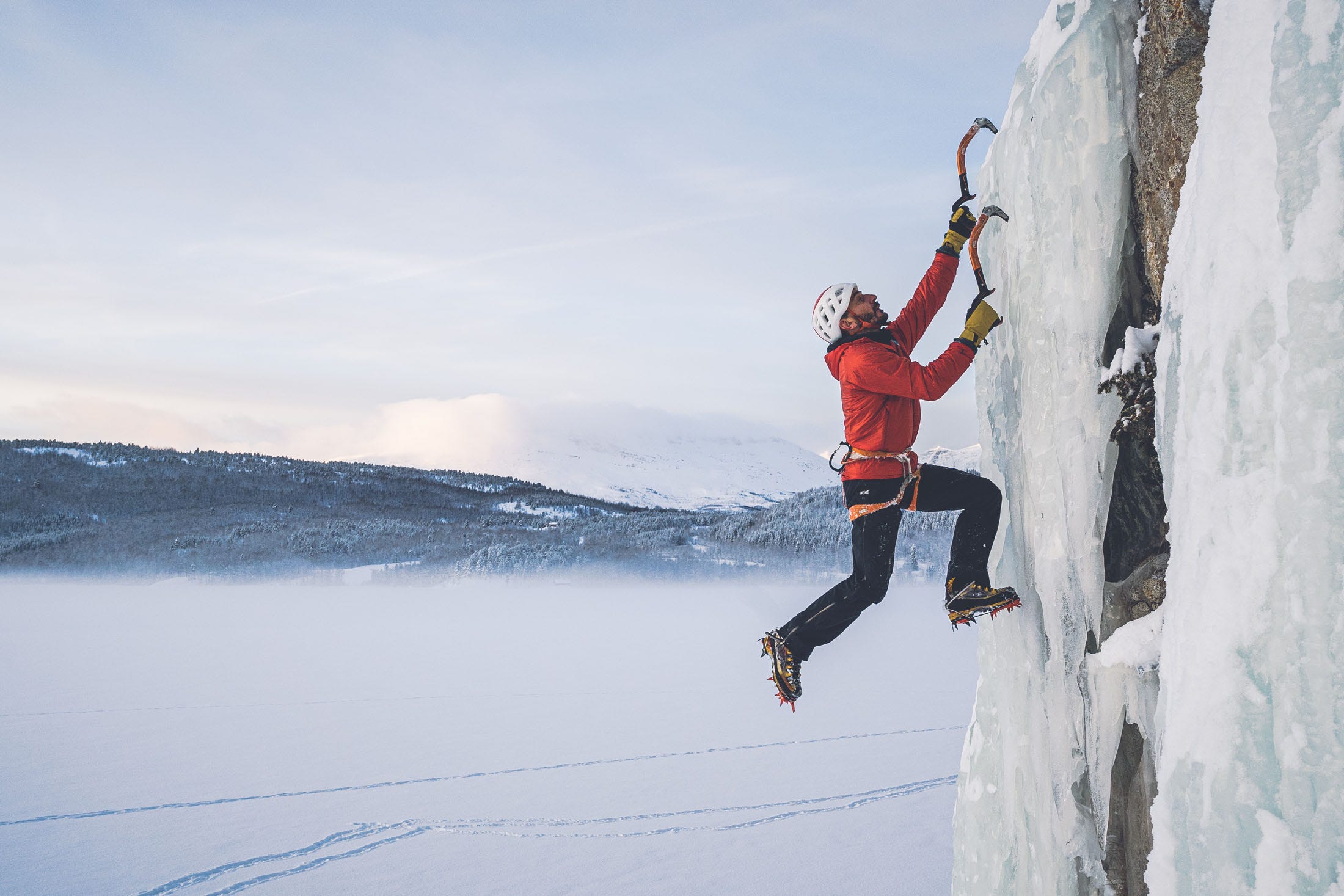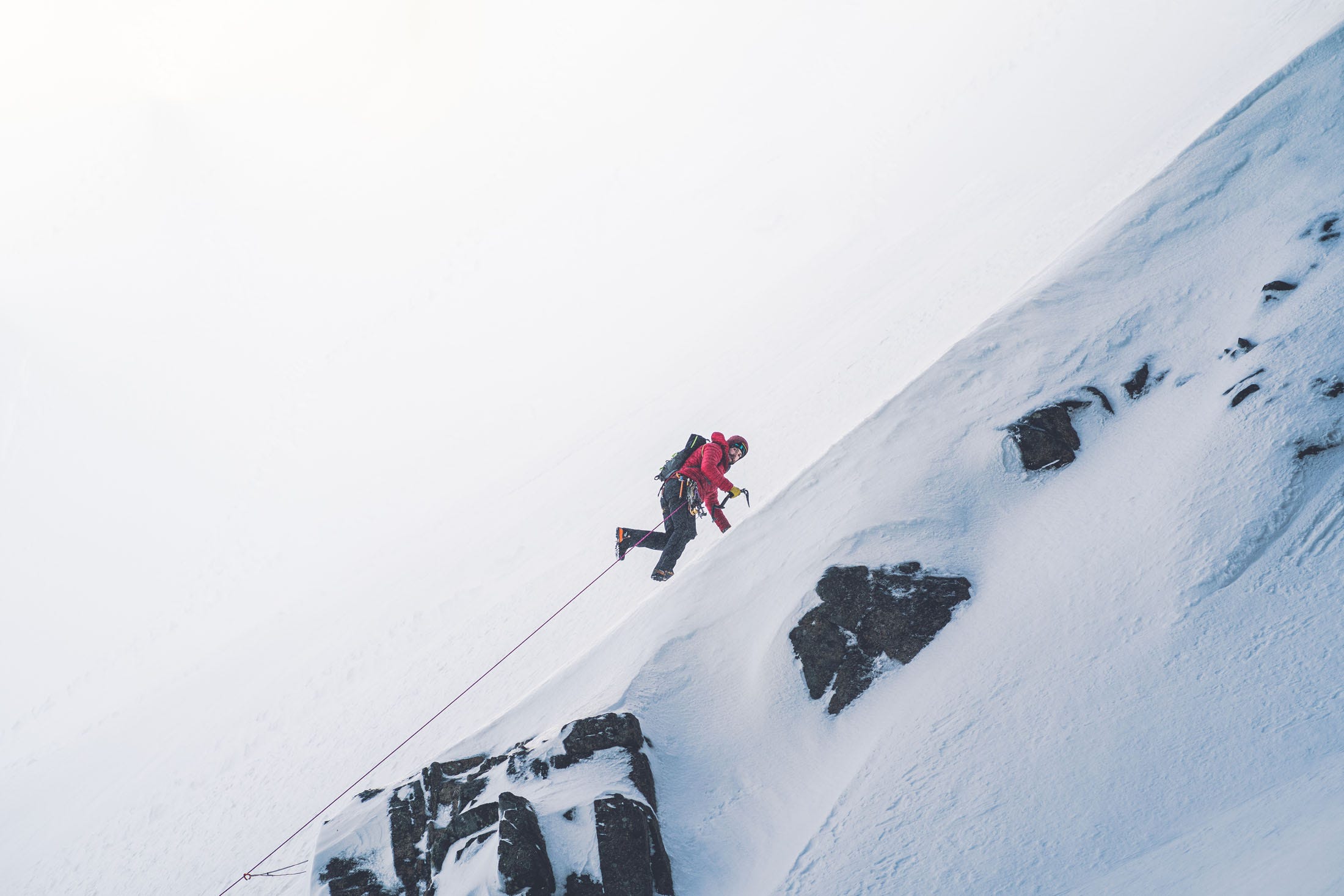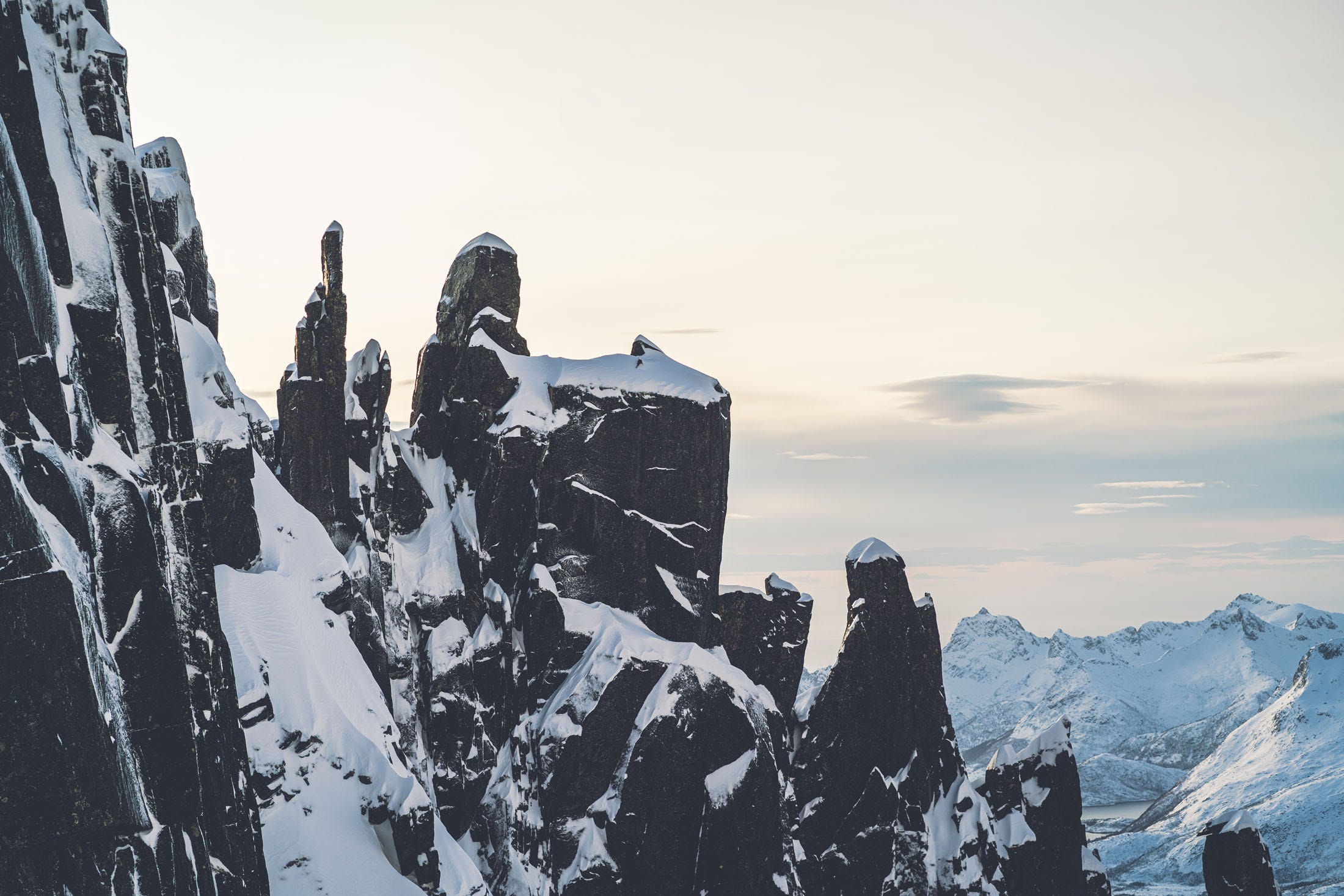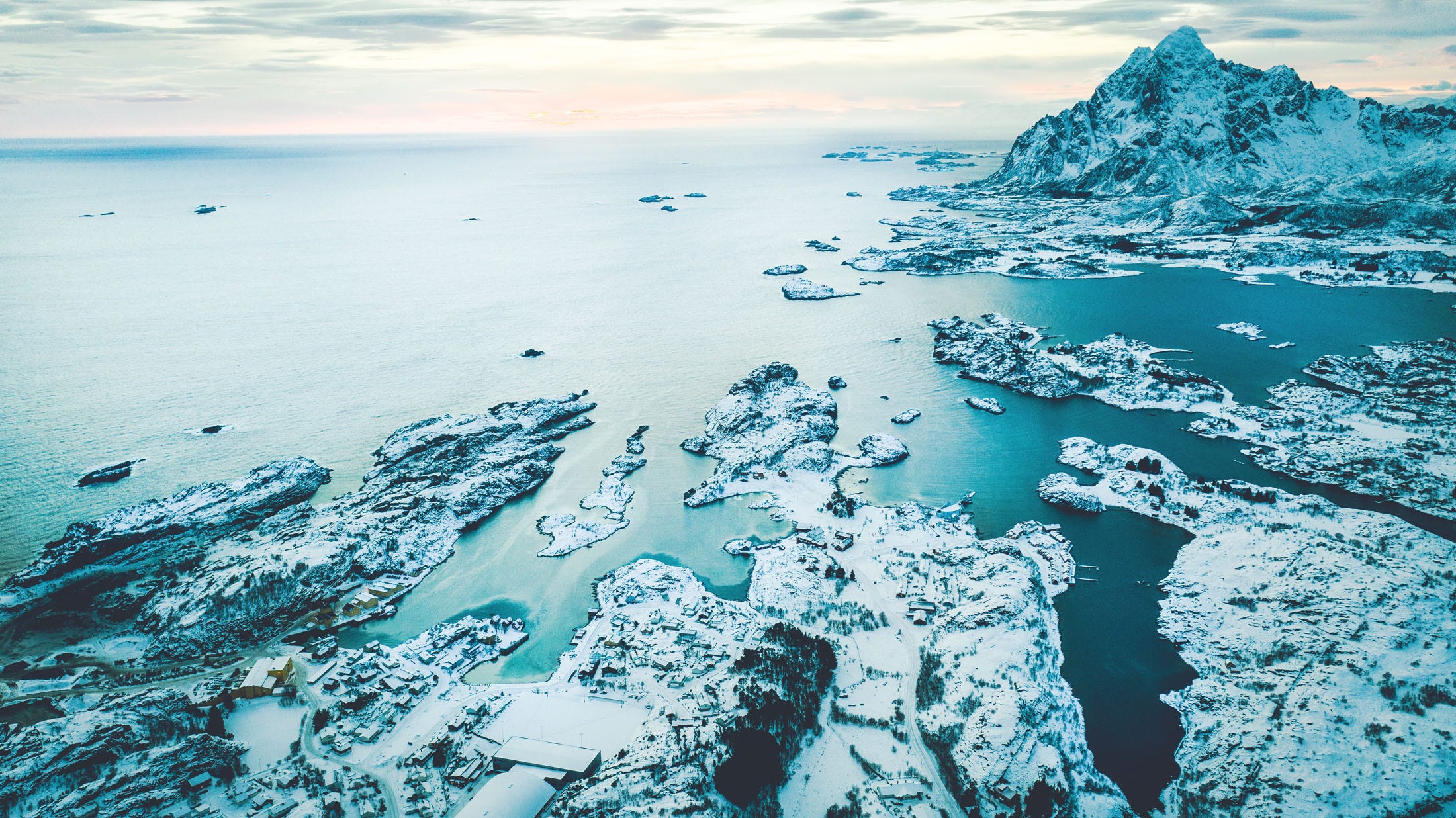 Large subhead (32px text, 38px line height)
Small subhead (20px text, 28px line height)
---
Calum has known the hills and mountains of North Wales since his earliest days and they have shaped his love of the outdoors and of mountain sports in particular. Working as an IFMGA Mountain Guide, Calum splits his time between Wales and the French Alps.
Read more about Calum here