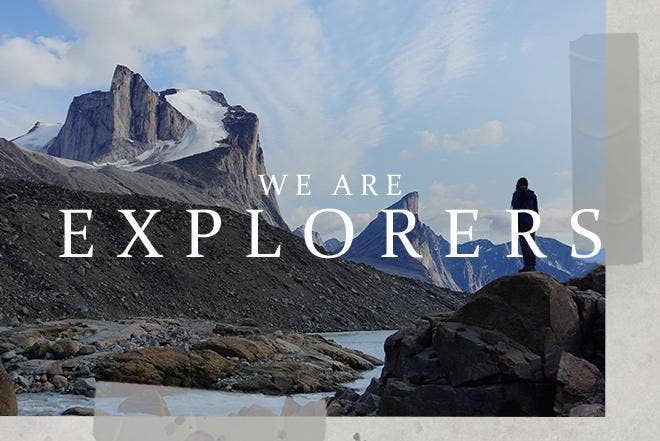 We charge downstream in our little red packraft. The water is churning, pumping! I'm in the stern; Jacob kneels in my bow. It's tough to see the line as we race along, dodging rocks and waves. Focus.
---

July 20th: The River
We charge downstream in our little red packraft. The water is churning, pumping! I'm in the stern; Jacob kneels in my bow. It's tough to see the line as we race along, dodging rocks and waves. Focus. I keep track of where we are in the set, taking note as we zip past each landmark that I'd picked out from the shore. I feel good, we are nailing the line. We sneak to the left of the final obstacle - a big curling wave - and then beach ourselves on a gravel bar.
Where are they? Thor and Zack had been right behind us. I can't see them. I start running up the shore. Then I see them rip around the last bend, "WOOOO!" I start to cheer. But they are headed straight for the curling wave… and suddenly the boat is upside down… they're swimming! I stop cheering and start running again. Before I get there, they've already scrambled onto the gravel bar. Thor is reeling in the boat, using the northern rescue system we'd pre-rigged. They're safe and we aren't about to lose half our gear, awesome.
But the water is frigid, they'll be cold. I quickly help drain the boat and then we all ferry across to the main shore. The two of them change into dry clothes. Everyone is in surprisingly high spirits - of course, it is Thor and Zack after-all!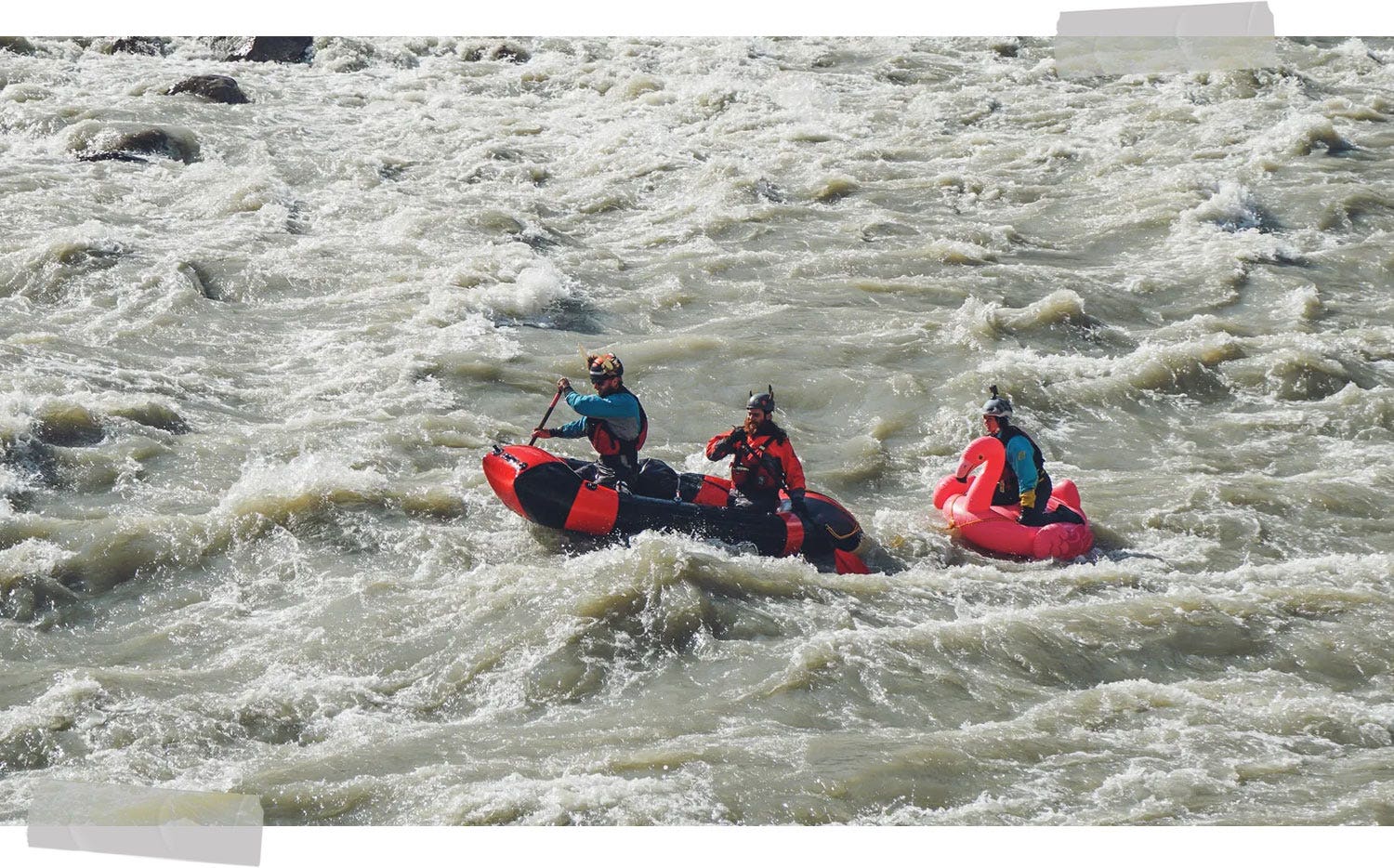 July 24th: Beach Day
Thor lounges on a sandy spit by the river, wearing his Hawaiian shirt and a straw sunhat with a fuzzy flamingo decor set above the brim. He sips whiskey from a blue mug with a pink cocktail umbrella. A flower lai drapes haphazardly around his neck. He looks up and laughs, his eyes sparkle from behind pink star-shaped spectacles.
Today is a day to celebrate, and especially for Thor! Yesterday all four of us had climbed his namesake mountain, and now he is basking in the glory! 1500m up and down (mostly scrambling with about 300m of simul-climbing up the exposed upper ridge) we had succeeded in our major trip goal to climb Mount Thor with Thor! The view from the summit had been otherworldly! After some tense moments navigating several rappels in a complete whiteout of thick fog in the early hours of the morning, we'd returned to camp after 21 hours on the go.
Standing on the beach, I pull my paddling jacket over my head and tuck it into my dry pants. life-jacket on next, I clip my quick-release tether to the bird, I don't want to lose it if I flip! I grab my paddle and push off into the current, riding the inflatable flamingo like a kayak. I aim for the waves in the centre! This is the type of low commitment fun activity I craved.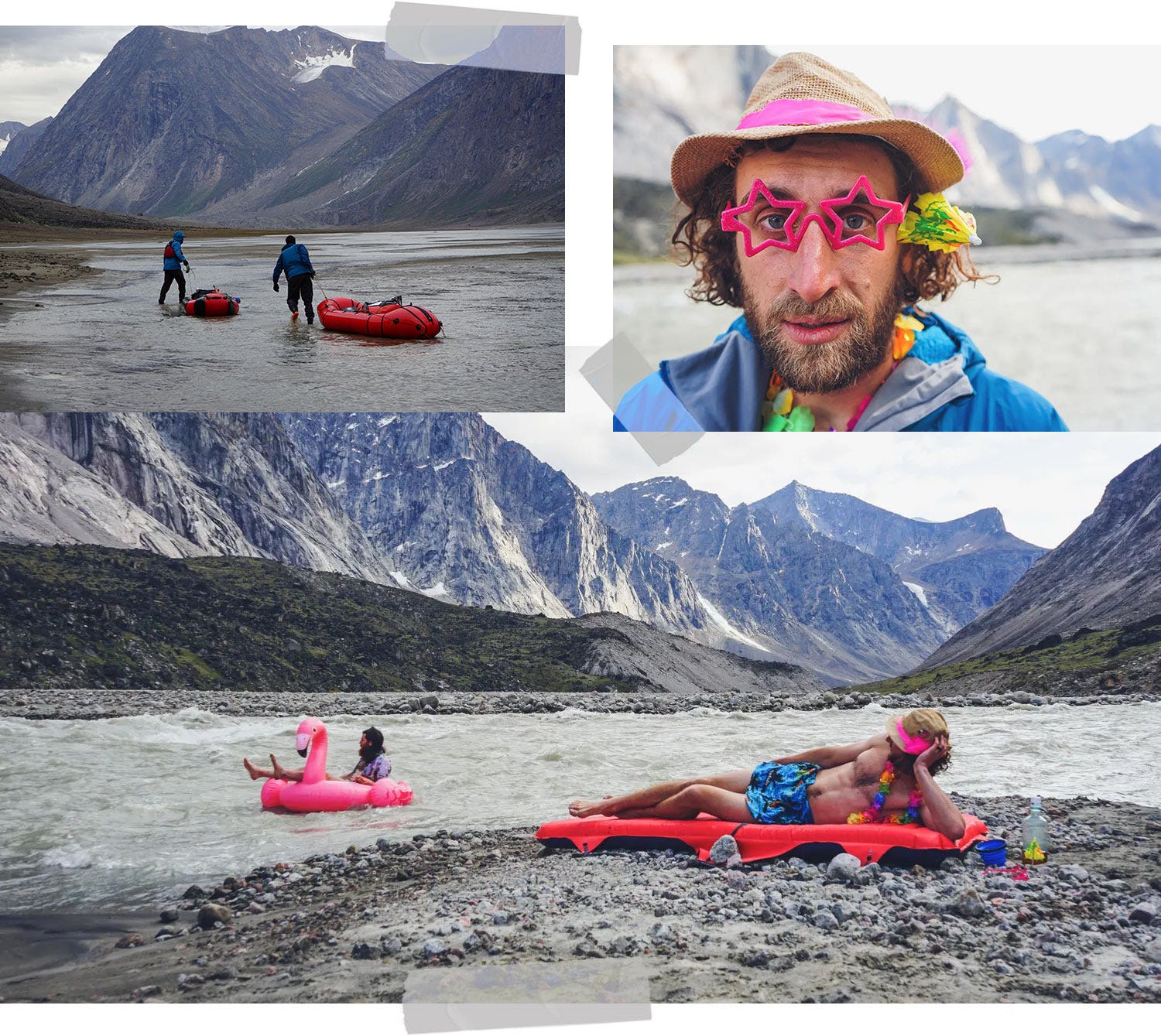 July 28th: Not Worth It
"Rock!!!!" I scream. I watch in horror as I accidentally dislodge a huge flake and it comes crashing down the corner toward Zack and Thor. The flake hits the rock just above them and explodes into a million pieces, showering them in dust.
This is messed up. We're three pitches up Mount Tirokwa. We'd set off as a team of four, to attempt the 700m face big wall style over three days. The rock had been bad from the start, but this pitch was the worst. Holds were crumbling in my fingertips. "I'm not going any further until you guys get off that anchor and jug the ropes to get above me!" I shout. We need to get off this mountain. We'd already core shot our haul-line and dropped a pair of shoes and a camera. And now this. The pair catch up to me, I'm apologizing like crazy. Jacob is out of sight at an anchor above. We decide to climb up to him and then probably bail. This isn't worth it.
We bail.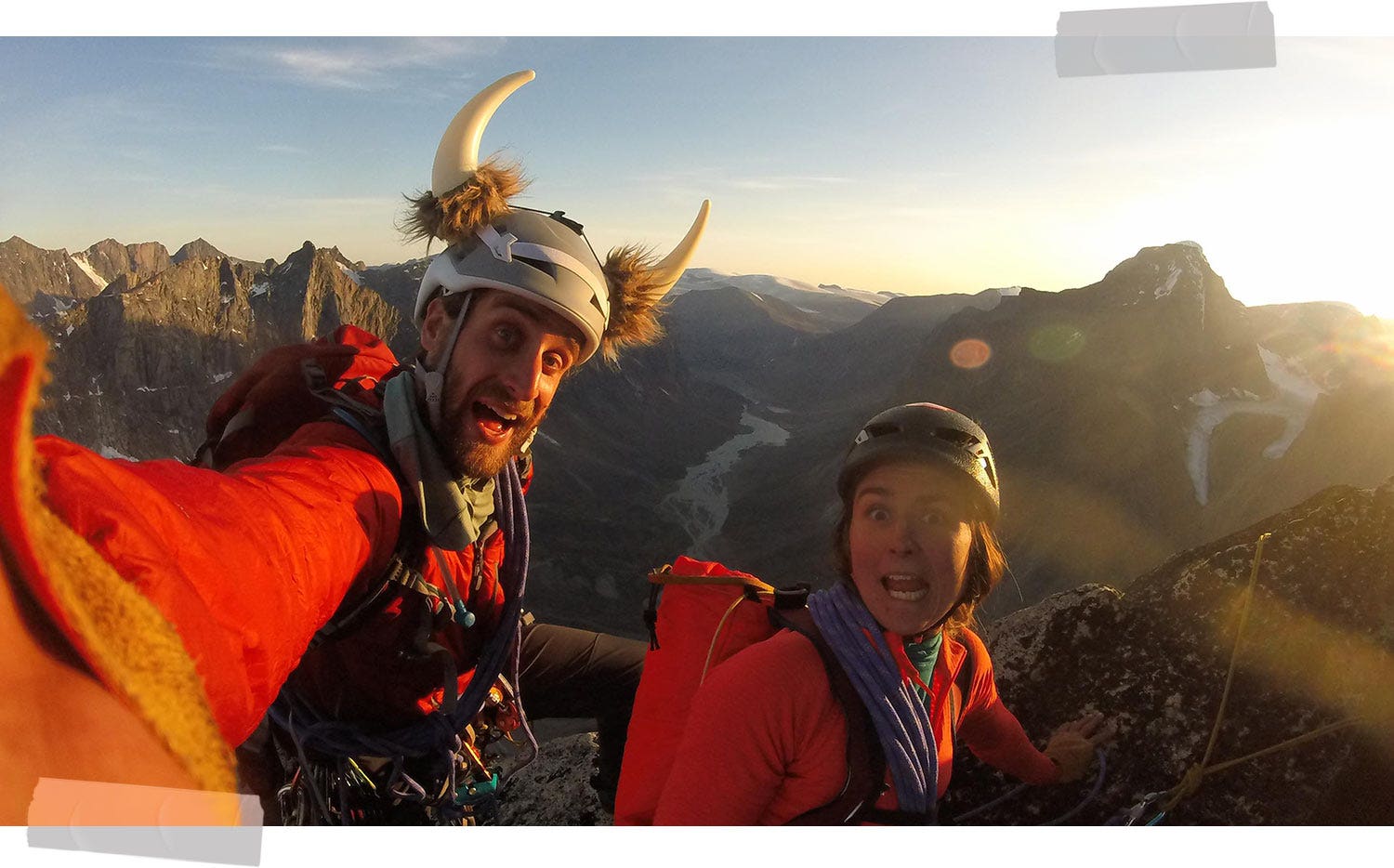 August 1st/2nd: The Splitter
I crouch on the ledge. This "ledge" is about the width of a picnic table bench at its widest, and gently sloping outward towards the abyss. My left hand grips the edge of our pot, my right stabilizes our little stove. The water rolls to a boil and I quickly cut the fuel before any splashes onto my hands. Jacob helps as I pour the water into pouches of rice. There's no space for Jacob on the ledge, instead, he kneels on a Grade 7 Pod (inflatable portaledge). We look at the watch, it's 1 am; dinner in ten, and then we'll try to get some sleep.
I wake up around 7 am. Jacob is already awake, lying in his sleeping bag unable to sleep. We take a few photos - we aren't really in the mood, but we can't deny that this is one of the wildest places we've ever spent a night! Our free-hanging camp is halfway up a 400m unnamed tower on Baffin Island! Above us, a headwall stretches upwards, totally blank, immaculate, but for one striking splitter crack that rises above our camp and disappears into the sky. Yesterday morning we'd spied the splitter from the glacier below. An unclimbed beauty.
I focus on belaying. Above me, Jacob has reached the start of the splitter, but he looks sketchy like he could pop off any second. "What's going on?" I shout. "It's not a finger crack!" He manages to shout back, "it's a tips crack, the seam is almost closed!" He finishes the pitch and puts me on belay. "Climbing!" I set out cautiously along some flakes, pull a roof and then I'm desperately crimping up the splitter seam. I arrive at the anchor totally worked, what a warm up! Above us the seam continues and the wall steepens slightly, it's going to get harder before it gets easier. Jacob sets off again, now he's really using some crazy granite mastery. He plugs in our smallest totem cam and pulls up the rope to clip… then woosh, his feet pop and he comes sailing down next to me. Next go he falls just one move higher, sagging onto the cam. He looks down at me, "do you have the brush?"
I have a funny moment where I feel I am outside my body, looking down at the two of us, watching Jacob as he scrubs the rock. It feels almost comical to be in such a wild place faffing with the minutiae of hard free climbing. He swings about, tests some moves and puts little marks in chalk as he works out a quick sequence. I lower him to the anchor. "I give myself a 20% chance of sending this right now," he shrugs, takes a deep breath and pulls on. Jacob and I started dating 7 years ago. Since then we've climbed a tonne together, and I know that this is Jacob's perfect state: when he thinks he will probably fail but there's just enough of a chance for success that he's going to give it everything he's got. I'm consistently amazed.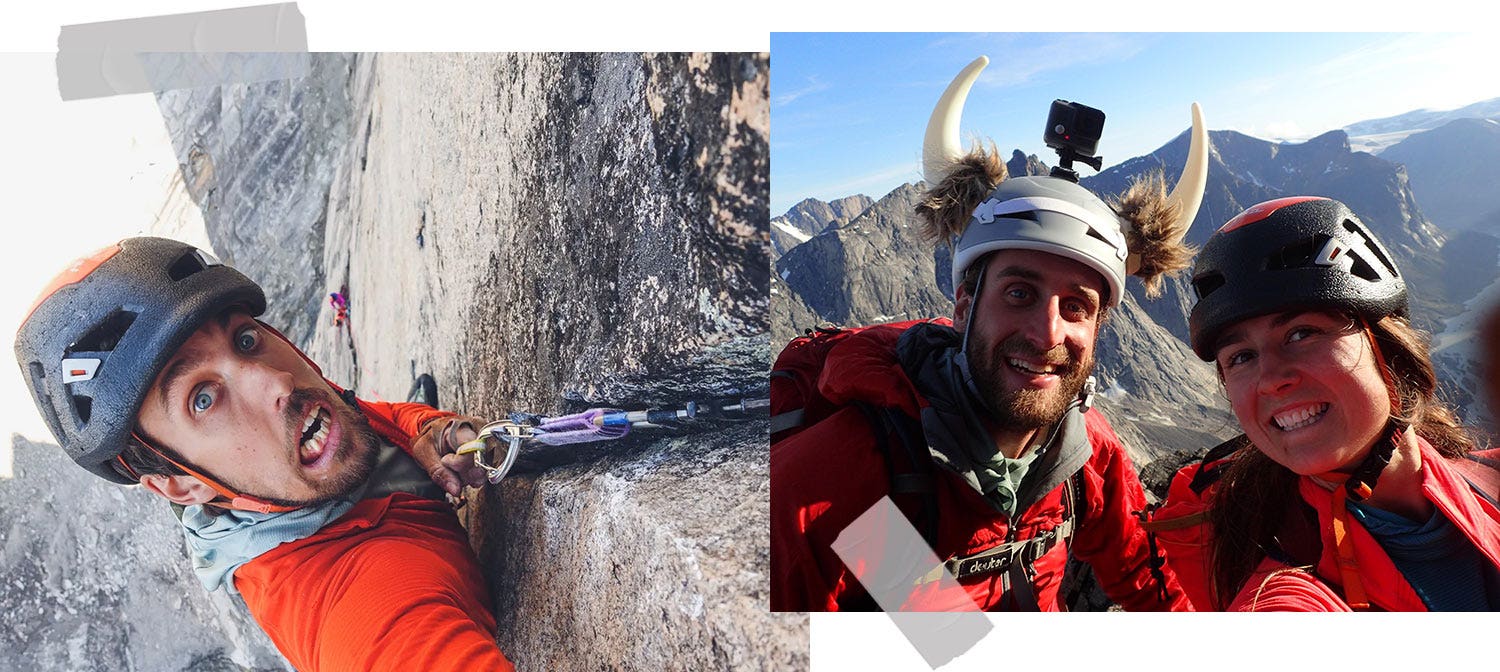 I watch as he dances up the wall, looking desperate but somehow in control too. I encourage him, though I'm not sure he can hear me through his flow state focus. And then he's into the fingerlocks. Fingerlocks turn to ringlocks and eventually to thin hands. He's whooping now as he carries on up the perfect hand crack, cruising jam after jam. He arrives at a stance in a shallow cave and builds an anchor. "Nice work Jacob!" I cheer.
Breathe. Its a slab, I tell myself. A very steep slab. I have to trust my feet, give them the weight that my fingers cannot hold. A delicate balancing act. I make about five moves until I'm spat off. I pull on from there and fall almost instantly. I decide to pull on a few cams to get past the crux. With performance focus gone I swing about between the pieces, what a wild place to be right now! The exposure is unreal. I take the next lead and climb a long and beautiful hand crack pitch, as we continue up this never-ending splitter. I hear a shout in the distance and look across the cirque to see two miniature silhouettes on the summit of Mount Ulu, our neighbour mountain. It's Thor and Zack! They've been on the go since yesterday morning, same as us.
Soon Jacob and I stand on the summit of our tower, our last summit of the trip. We are lost in thought and nearly forget to take a summit photo. We always take a summit photo. We scramble back up and take a few snaps, then turn our attention to the long technical descent. Our minds can't relax until we are safely back on the ground.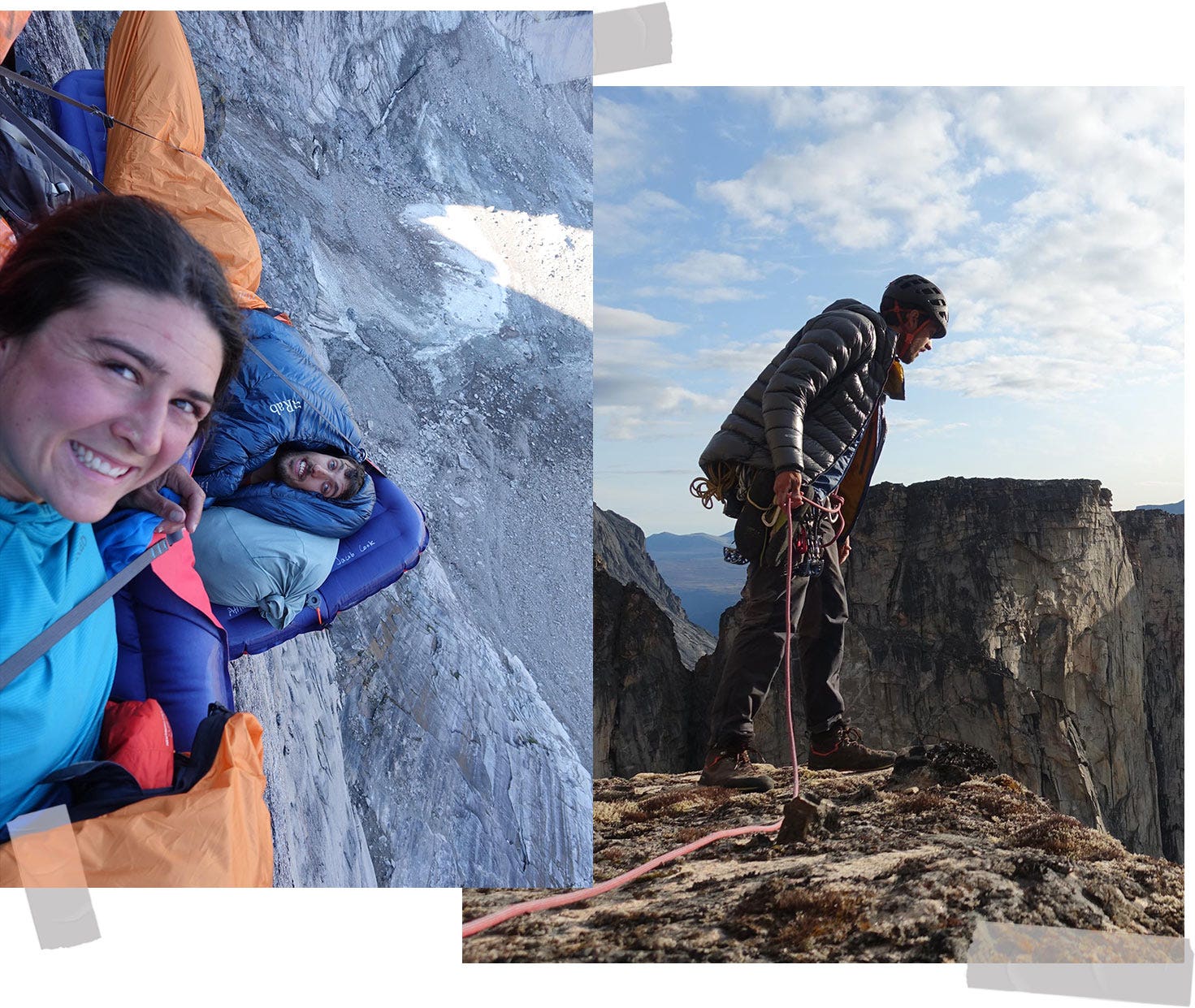 August 4th: The Return
At 6pm we inflate the boats. We choose the evening tide, when the wind is calmest. The final current from the Weasel zips us out to sea and then we are riding the falling tide. The past five weeks have been incredible and I will cherish the memories forever. I'm sad to be leaving, but I'm ready too. My mind and body are longing for the comforts and safety of home. We push through our exhaustion, keeping to a steady rhythm with our paddle strokes. A deep dusk settles over us, we can see the moon and even a few faint stars overhead. The season is changing. We turn the corner and the lights of Pangnirtung come into view - the finish line - but it's still far away. We press on: "Pang or Bust!" Light starts creeping back across the sky, but the sea is still dead calm. We glide silently though the water, each stroke bringing us closer to those distant lights.
At 3am our boats slide up against the dock in the Pang Harbour. It's broad daylight, but the town still sleeps, well… most of the town… a gang of kids are running down the dock. They're curious and wired with energy! We let them play in the boats. It's a gong-show! They rip around paddling in circles, shouting in Inuktitut and laughing. We stand on the dock, exhausted, dumbfounded, but entertained by their joy. When we can't keep our eyes open any longer, we tell them we need to pack up. Immediately they paddle over to us, and help deflate the boats. Thanks kids, what a welcome back!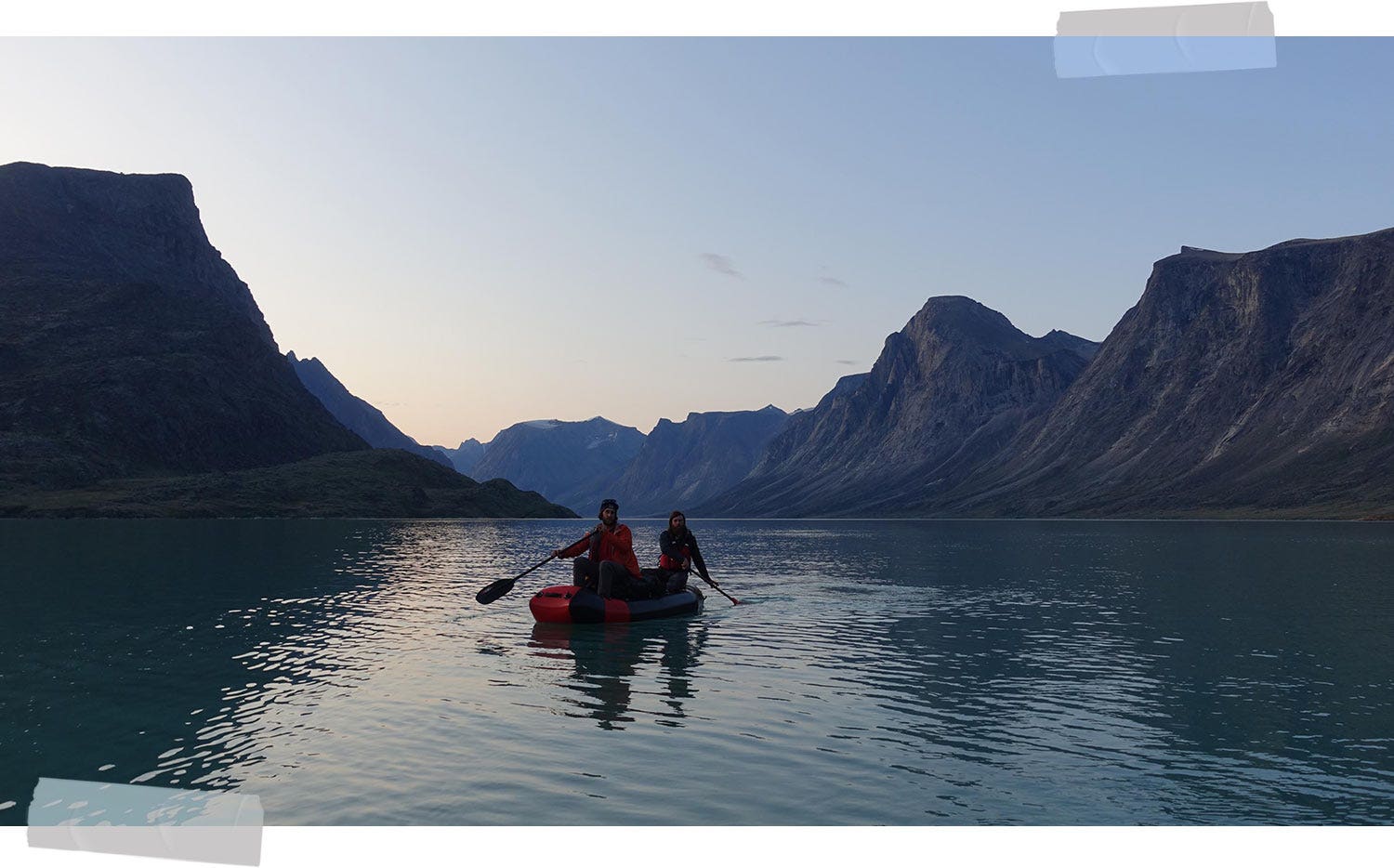 August 8th: Rock Climbing with the Qallunaat
Thor spent the summer of 2012 living in Pang as part of a university program and still felt a strong connection to the community. As part of our trip, we wanted to do something with the locals, to interact in a more meaningful way than simply transport and logistics. We put up posters around town. They read:
Rock Climbing with the Qallunaat
August 8th. All Ages. Meet at noon at the Northern Store.
Our posters were tongue in cheek; Qallunaat means "stupid white people" in the native tongue. The next day 20 kids followed us excitedly to some nearby cliffs. We set up top ropes and they spent the afternoon climbing! They especially loved wearing Thor's helmet with the big horns. At the end of the day, several kids asked if it would happen again. Sadly we had to tell them we were flying south, but with a bit of information sharing we hope to get the word out and maybe future climbers to the area will take them out again! The afternoon was one of the highlights of our trip.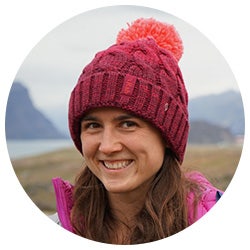 Words by | Bronwyn Hodgins
Originally published Winter 2019