Lake District rock climbing offers something for everyone. From beginner trad climbs through to some of the hardest routes in the country, there is both easily accessible, roadside cragging and long days on the mountain crags. The bouldering also gives a wide variety of rock types, grades, and locations, and there is quality sport climbing in the South Lakes too.
---
As with all climbing areas, a bit of local knowledge can go a long way in helping to choose the best routes and crags for the conditions and your climbing ability. I know we all love a good ticklist, but there are plenty of those around, and 'starred' routes in the guidebooks give a good indication of which routes are most popular. Instead, I've tried to compile some useful knowledge for climbing on different rock types in the Lake District.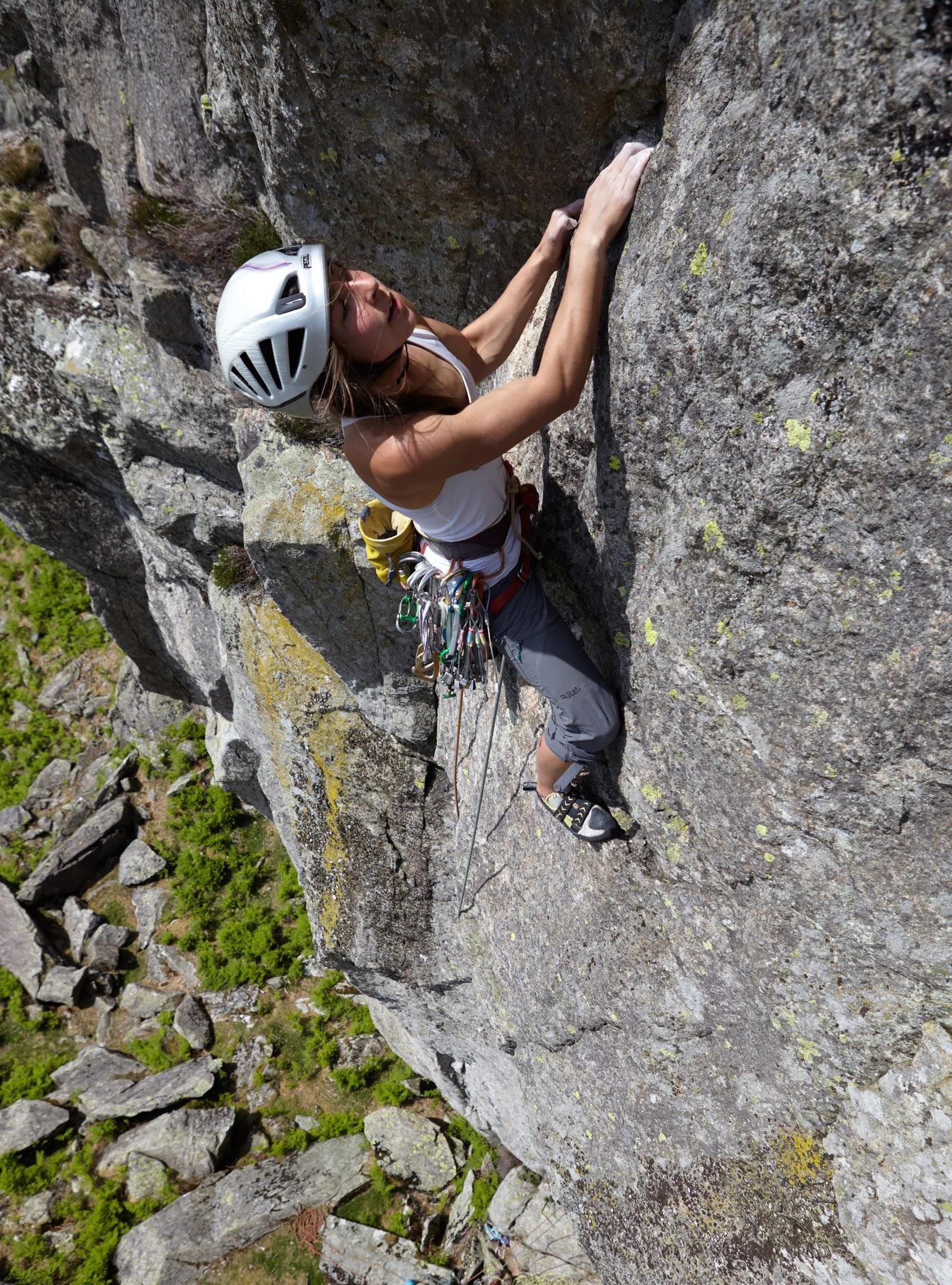 Most crags in the Lake District are igneous rock formations that are grouped using the term 'Borrowdale Volcanics'. Complex volcanic geology has created a variety of rock textures; some crags are very abrasive with large crystals (for example Gimmer, Napes, Black Crag Wrynose), and others have a smoother texture (for example, Black Crag Borrowdale, Shepherds Crag, White Ghyll). The rougher rocks are sometimes quicker to dry and have less vegetation on the crags, whereas the smoother rocks sometimes stay a bit greasy after rain and can feel pretty sketchy if climbing in damp conditions.
Volcanic rocks lend themselves to lots of wire placements, and I've found offset wires to be really useful as well as a good range of cams. This rock type has lots of uncut holds, cracks and features, which means that there are often many different ways to climb any one move, and sometimes you might have to look around a little to find the gear placements.
The numerous Borrowdale Volcanic crags offer a variety of textures, crag aspects and locations, so with a little research you can easily choose the best crag for the weather conditions. Crags that have vegetated ledges or lots of vegetation above can take much longer to dry than crags which have more clean and compact rock. For example, crags such as Napes and the East Buttress of Scafell are very high up, but have little vegetation above and on the crag, and the rough texture and exposed position means they dry relatively quickly in the summer despite their high position. In contrast, crags such as Pavey or Sergeant Crag Slabs have vegetated ledges and seepage lines, and therefore take longer to dry despite catching the sun and being much lower down.
Granite is an intrusive igneous rock that is found in small outcrops in the beautiful and more remote valley of Eskdale. It's a very aesthetic rock with clear lines and a very rough texture. Granite is best climbed in cooler conditions, as the climbing is friction based and grades will feel much more amenable when the rock is cold and grippy. The cracks and rock features are more easy to spot than on Borrowdale Volcanic rock, which means that it's sometimes easier to route read from below, and there will either be obvious crack lines with good gear placements, or none at all! Boulderers take advantage of cold, high pressure winter days when the bracken and midges are not a problem, and the quick drying trad outcrops are nice to explore for a different experience than the usual mountain rock in the area.
Slate is a metamorphic rock created from the heating and compression of mudstone. The slate quarries in the Lake District offer some really great climbs, but it is worth taking the time to research your chosen routes. Like most slate areas, routes are often a slightly disconcerting blend of trad and sport; some routes have been re-equipped in recent years and now offer brilliant, well-bolted climbing, whereas some have widely spaced or old bolts. The climbing style ranges from steep 3D climbing through to delicate slabs. Use UKClimbing, up-to-date guidebooks, and local Facebook climbing groups to check out routes in advance. Keep in mind too that slate quarries are inherently unstable - there have been rockfalls at Hodge Close, Tilberthwaite and Cathedral Quarry in recent years.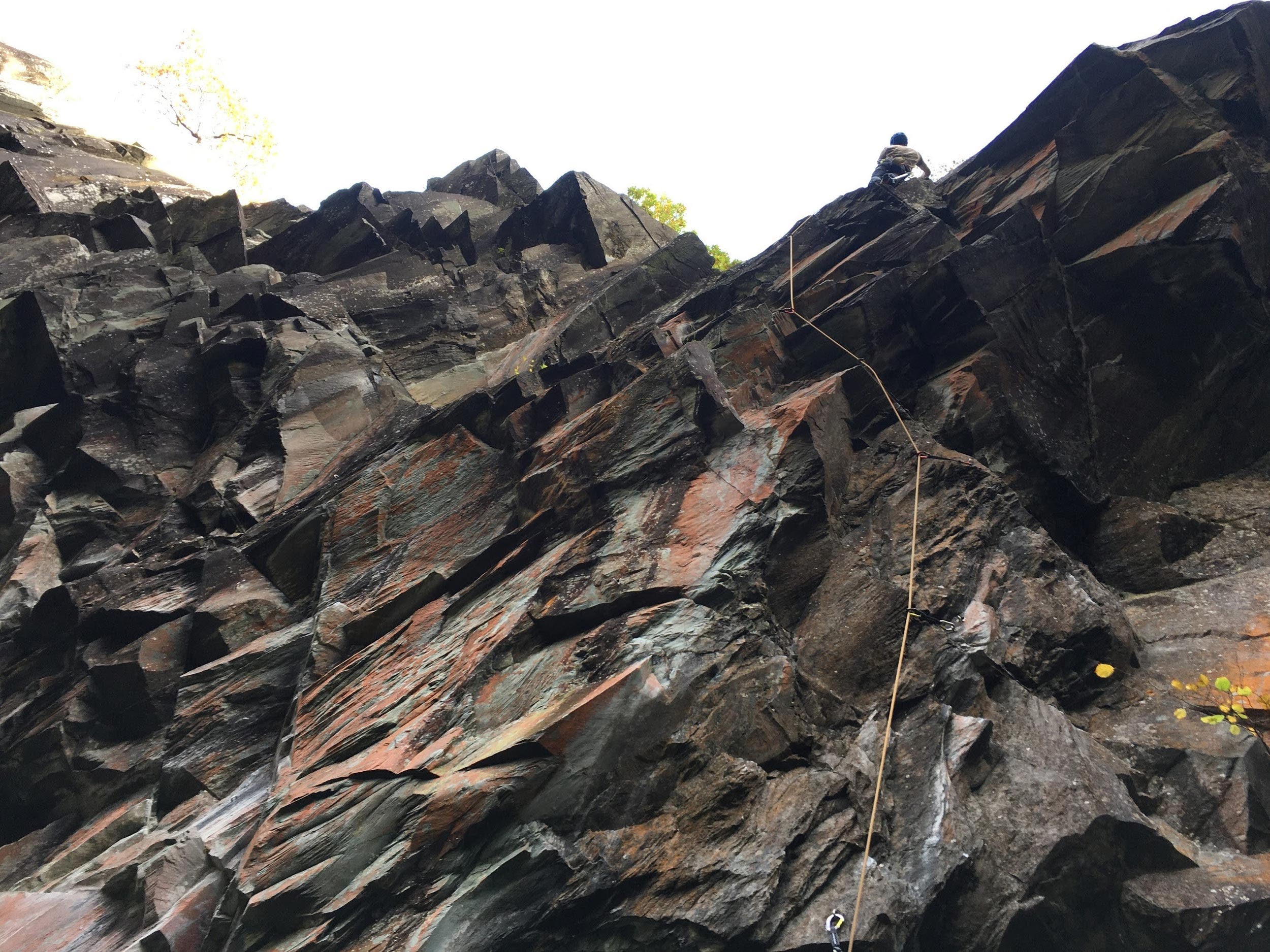 There are a few limestone outcrops on the outskirts of the Lake District that can be alternatives to poor weather in the mountains or offer good places for practising trad skills. Limestone is a smooth, shiny rock, and, although it is usually quick drying, can feel very slippy in the wet. The climbing style often suits indoor climbers, as there are lots of incut holds to choose from and vertical or gently overhanging climbs.
There is sport climbing at Scout Scar and Humphrey Head, however the main attraction is the sport climbing at Chapel Head Scar in the South Lakes. This crag offers superb climbing, but be aware that a bird ban restricts access from March through till the end of June, which are the best months for climbing there. Warm, dry spells are best for Chapel Head as the crag suffers from seepage, but really hot windless days in the summer can be pretty unbearable!
This highly abrasive igneous rock is best known for making up the Cuillins on the Isle of Skye, but in the Lake District it provides some excellent bouldering at Carrock Fell in the northern Lakes. The rock is a real skin shredder and cold conditions make all the difference. It takes a bit of time to get used to the style of climbing on Gabbro, and often there is a really specific sequence of moves that you need to figure out, so don't worry if the grades feel stiff at first! As the area becomes more popular, the small tracks are becoming easier to find between the boulders, however it can still be tricky to move around as the boulders are dispersed across the hillside.
The coastline of West Cumbria is often forgotten about in comparison to the tourist hotspot of the Lake District, but tucked away on the coast are beautiful, quiet beaches and rugged sandstone cliffs. The sandstone boulders and sport routes at St Bees offer a completely different style of climbing to the rest of the Lakes, and are in a stunning location right by the sea. The soft sandstone does need to be thoroughly dry before climbing though, as it becomes fragile when damp and holds can be prone to snapping. Lots of the sport routes have been re-equipped (although not all), and there is bouldering of all grades. Sandstone routes often involve tricky sections between big ledges and rests, and learning to trust and weight feet on smears and sloping footholds is important for this rock type.
Check forecasts carefully before visiting; it can be a good dry option if the mountains are damp, but also the wind direction and sea mist can make a real difference to conditions. There are also some other sandstone outcrops in the Eden Valley (for example Armathwaite and Coudy Rocks) if the weather is bad in the Central Lakes or you want to explore something different.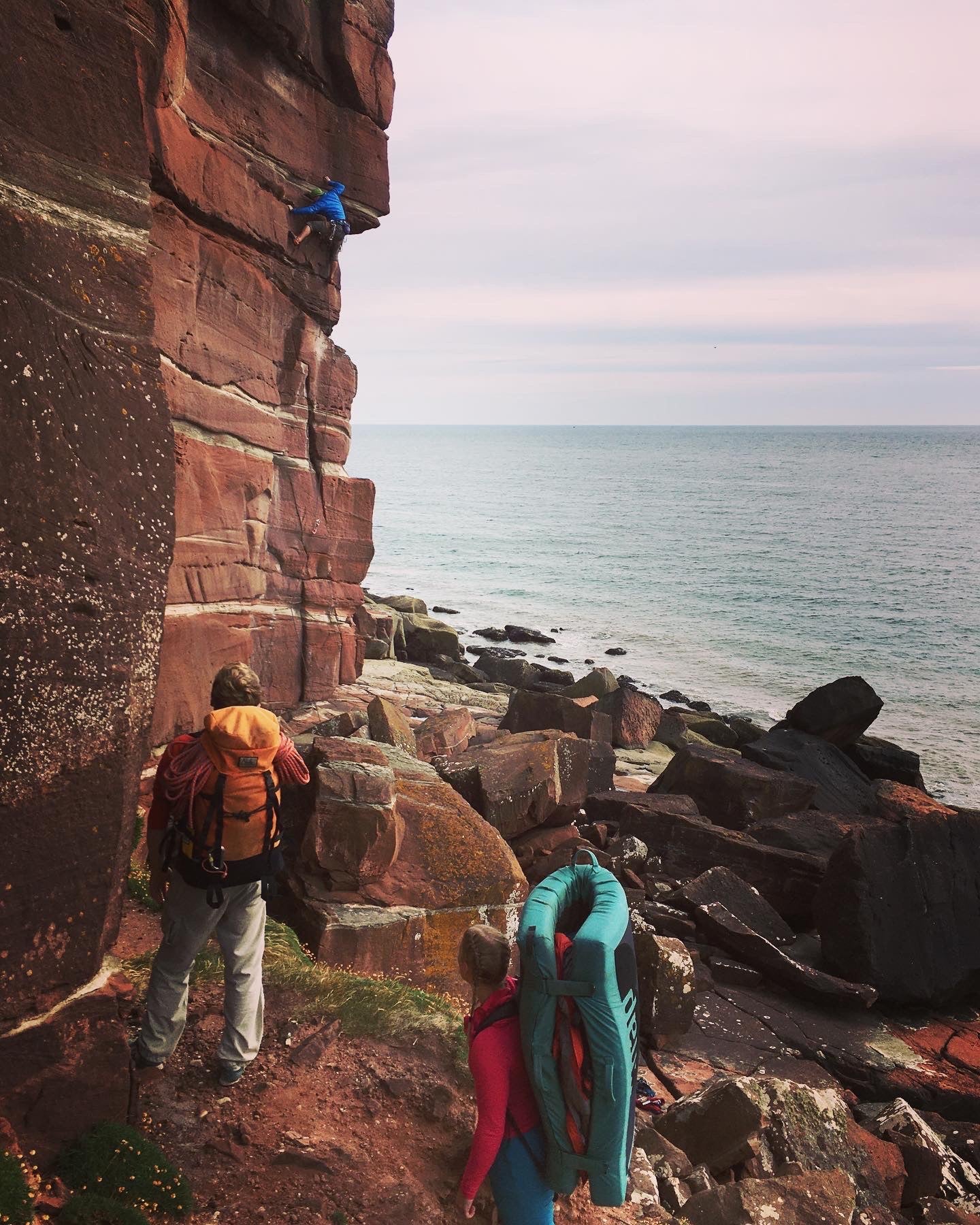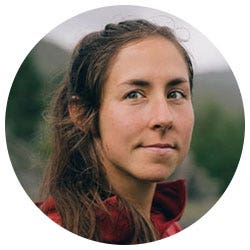 ---
Esther lives in the Lake District, teaching, coaching and guiding rock climbing and mountaineering. She is a member of the Association of Mountaineering Instructors and is part of our AMI Test Team, helping to put new product designs through rigorous testing in the mountains.