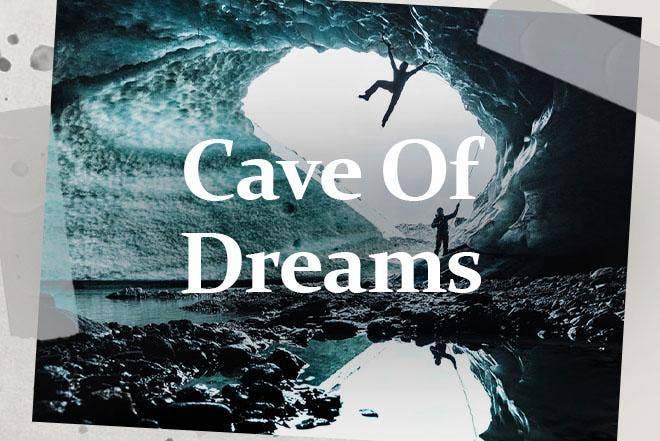 The Mont Blanc massive offers attractions all year around, like an alpinist's Disney Land. Accessible to anyone, there is only one rule prevailing: "The mountains are neither just nor unjust. They are dangerous".
I was born at the foot of this mountain, and here I became an Alpinist. I worked as a professional mountain rescuer, and a certified mountain guide in the range. But suddenly, three years ago, I felt a strong need to move away from this area that had been home for so long. My pull towards the mountain had become so strong that certain dangers had just vanished from my perception. On one occasion, a monstrous avalanche had swept me away despite being so sure that the snowpack was stable. And on another, I was dropped by the helicopter on a rescue mission for two climbers in need. Suddenly, I had found myself on the west face of the Drus jamming my fists into a crack without any protection and any attachment.
As I said, "the mountains are dangerous."
So I went as far away as my work as a professional mountain rescuer would allow; the south of Corsica. Swapping white mountains for the blue ocean. After four decades in the heart of the Alps, I had thrown myself into an unknown world. I needed to start from the scratch. Invent myself anew. Learn to adapt to the new environment. Open my spirit to a whole new way of life and fill the open gaps. And, never stop dreaming of new projects, building them, then realising them.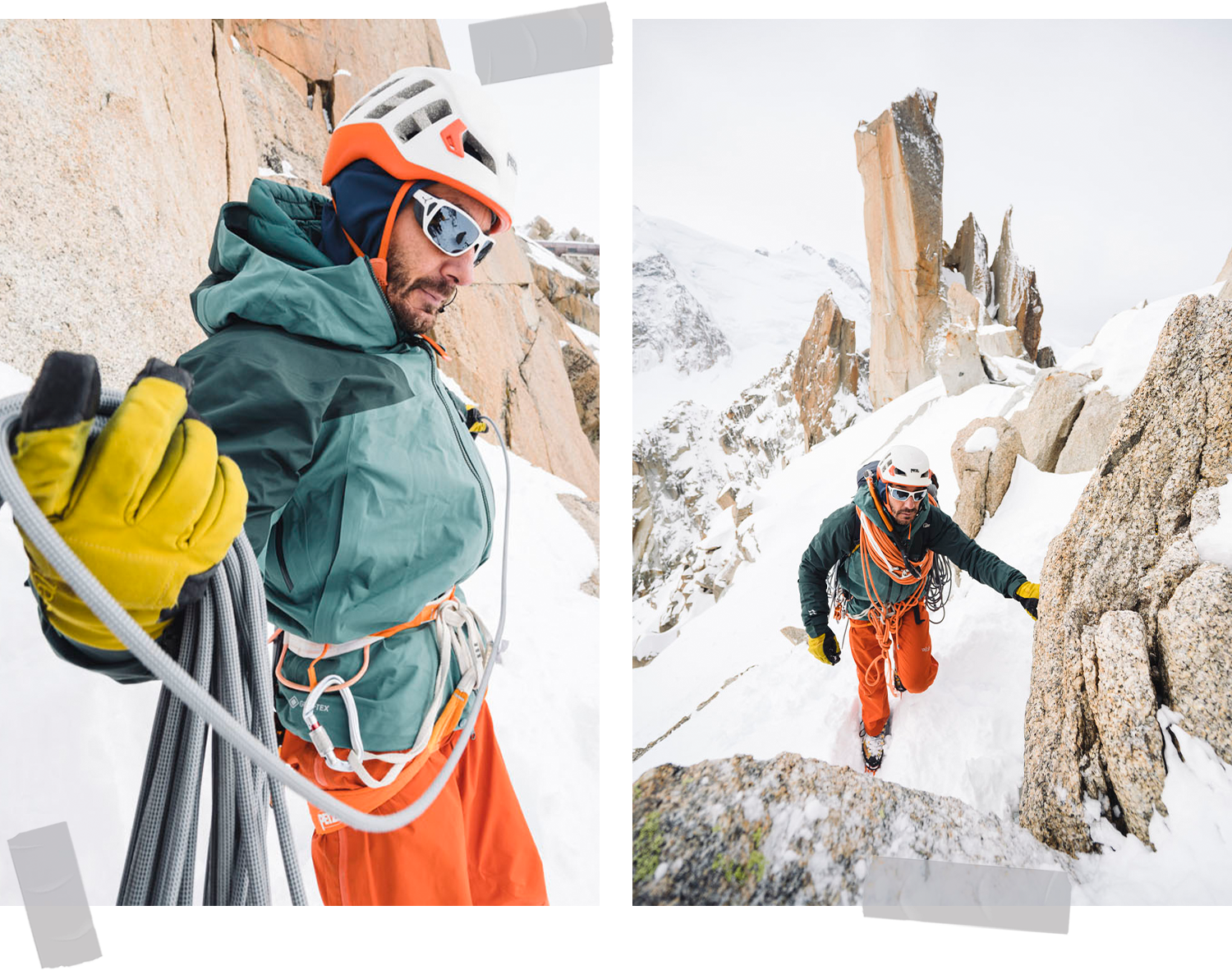 My passion for Alpinism was, is, and will always be, at the centre of my being. Now, however, it was about setting my priorities. This process moved my focus to the ice climbing element of Alpinism.
I climb all year long, but from the end of August I start weight training to get strong for the beginning of the dry-tooling season a month later. My work brings me back every autumn to the mountains of the Mont Blanc massive. I use this occasion to explore the reborn and reshaped ice caves and crevasses. Sadly, these annual visits visibly show me the impact of climate change. I witness the meltdown with my bare eyes! And even worse, places I had worn crampons back in 1983, is now just dust and sand.
Every time I go back to The Valley, I lift my head in admiration for all the mountain faces that gave Chamonix its outstanding reputation. It's nearly impossible to resist yet another ascent, breathing in the air of altitude. Here, this is easily realised. Just twenty minutes in a cable car, and after a bit of abseiling I'm playing with my axes.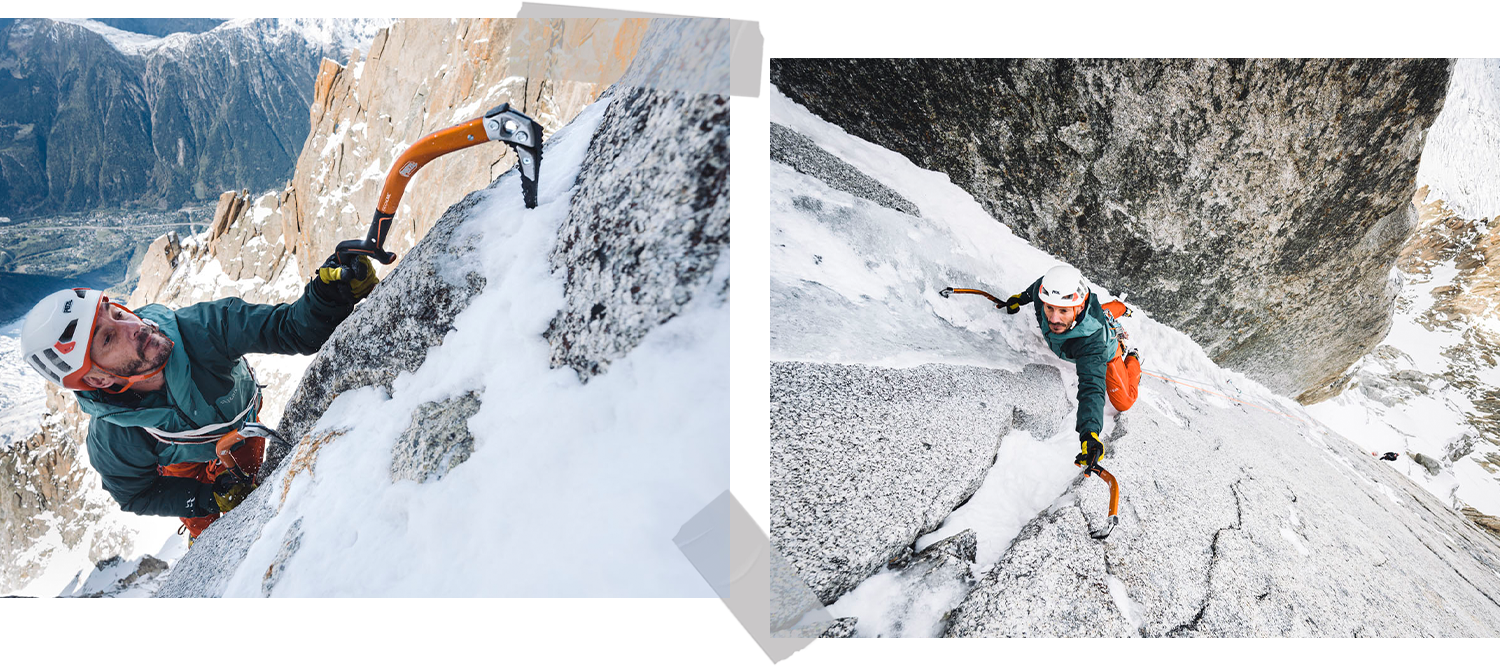 For this trip, I share my rope with a young and super motivated guy who dreams of being a fully certified mountain guide. He has a lot of experience in rock climbing and dry-tooling but lacks experience on mixed terrain. For our climb, I choose a line called "Le vent du Dragon" (The Dragon's Wind), a classic route with moderate difficulty.
At the beginning of the season the ice is not yet well formed in the depths of the cracks, support is fragile, and so the game spiced up! Following the fine cracks on the left side of the main line and torquing the picks is more technical. But what a pleasure it is. Absolutely no stress. Chamonix style!
We climb the line in three pitches. At each break, the cooling temperature reminds us that it is already autumn. And after the effort of climbing, it feels good to put on a warming jacket and new pair of dry gloves.
The following day we embark in search of the famous Moulin of the Mer de Glace. Every summer, melting ice creates impressive streams draining the ice. When the meltwater cannot proceed, it excavates its way through. By the end of the season, you can find well carved vertical shafts which extend for dozens of meters. Here, the ice is very dense as there are few air bubbles inside. The ice screws are solid, the anchors trustworthy, and the verticality adds a physical factor. I love it.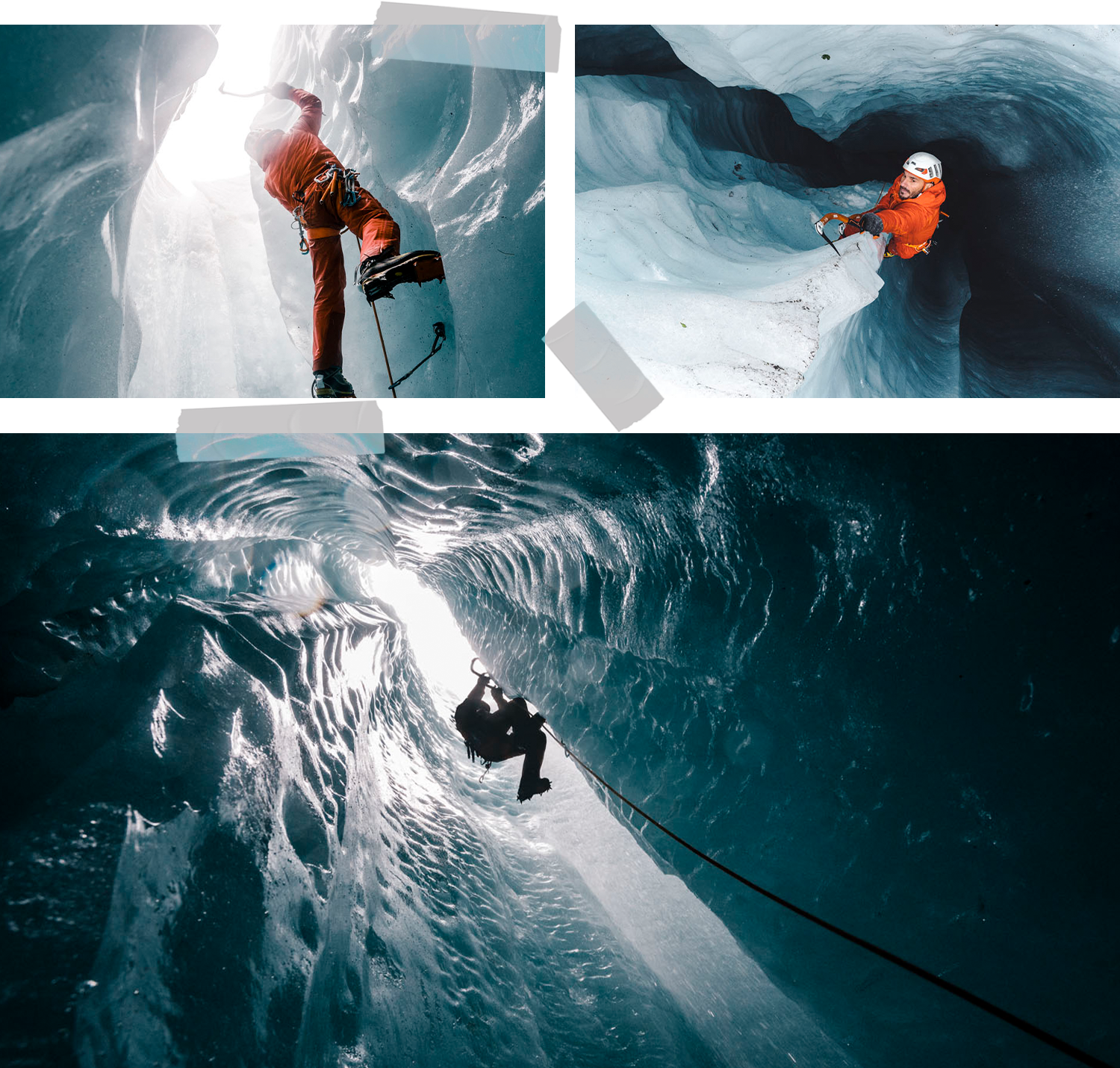 It's a dream for a climber like me! The run-offs offer us four different lines and a particularly unique light. Like an irresistible cake, I enjoy every piece of it. However, those intense moments of pure climbing joy leave me unaware of one little detail: the weather!
It had been heavily raining the whole day, and we deeply appreciated our waterproof clothing in the cold. Though it's not exactly British tea, we sip hot ginger and cinnamon tea, which certainly warms the body.
Once back in the valley, we discuss the schedule for the next day over a climbers' favourite dish: pasta with tomato sauce and grated cheese. Everyone scrolls through social media on their phone, and I am no exception to this anti-social rule.
I stumble upon an image recently taken showing the inside of an enormous ice cave. There's no further information given about its position, but given the surroundings I can instantly guess the glacier it must be hidden in.
For the exact position we'll need to look around a bit.
We leave intentionally early. Which means after the bakeries open, and we fill our backpacks with fresh croissants, pain-au-chocolat, and slices of pizza.
The ascent is steep, and the breath short. Nobody talks. This is time for me to dive into the past. To a place that recalls memories from the very beginning. Back to when I started ice climbing.
With borrowed ice tools from my uncle, and hiking crampons my father lent me, I embarked alone on a journey to climb those frozen ice daggers. Back then I didn't have the means to buy ice screws. And anyway, I didn't even have a climbing partner. But I did have an enormous amount of motivation. My next-to zero knowledge of the fragility of ice pushed me to climbs I wouldn't even touch today.
Luck undoubtedly plays a significant role when it comes to longevity.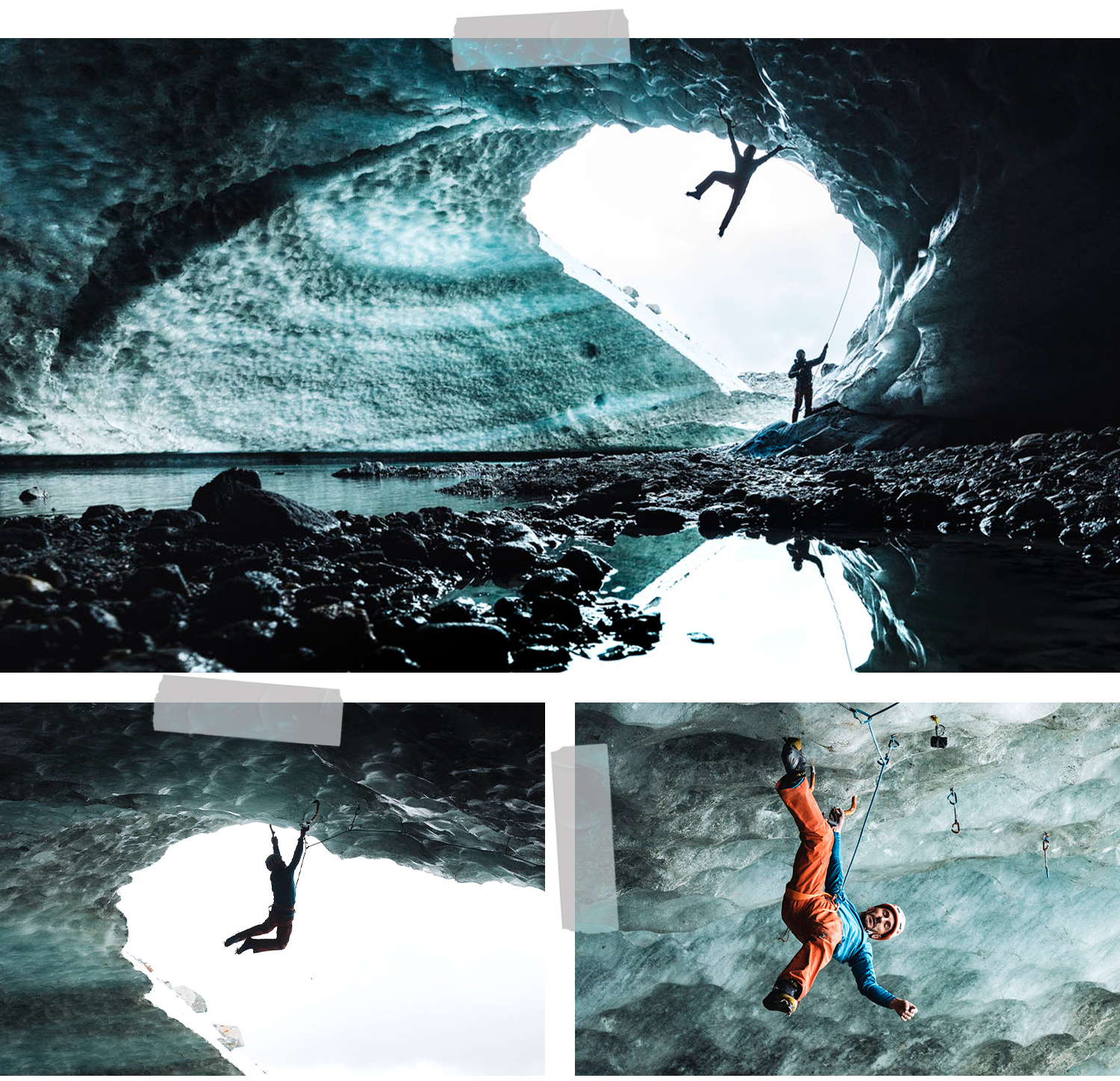 After a significant physical effort, we finally arrive at a plateau, and I come out of my meditative state.
We look up and in front of us a spectacular ice cave.
Nearly 50 meters deep and about 15 meters high. The potential of an extraordinary line is obvious. Avoiding mistakes of the past, I take some time to evaluate the risks first before starting the climb.
No rock fall blocking the access. Check. No danger of the cave collapsing, looking for wide cracks or dull cracking sounds. Check. The ice thickness is substantial, and its colour is a beautiful, deep blue. While the ice has not been weakened by the sun! Check.
That's a green light. We can enter this shining palace of ice.
This is THE moment I love the most, freely imagining the line I am going to climb. Dreaming just before you set the dream into actual reality is a rare thing. Let the ascent begin!
"Going there where our eyes can see" is the nicest definition of Alpinism.
Construction compartimentée et isolant synthétique : couche ultra chaude pour l'alpinisme hivernal.

Construction compartimentée et isolant synthétique : couche ultra chaude pour l'alpinisme hivernal.

Une polaire mi-épaisse à capuche. Conçue pour être portée seule ou en couche intermédiaire.
---
Jeff is recognised as a highly talented ice and mixed climber and currently lives and works in Chamonix as a mountain guide and rescue instructor for the PGHM. Jeff's climbing ability reaches across many disciplines, any of which would be impressive in itself.

Read more about Jeff here