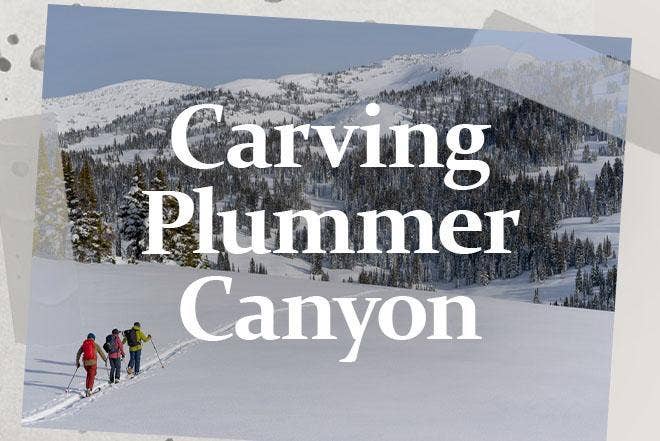 This crew had never been to the west slope of the Tetons together. We didn't know what to expect. But we were ready and armored with the new RAB Khroma line, available for the 2021-22 season.
As we skinned into the Jedediah Smith Wilderness, the trail led us through aspen and fir. The team -- Amy Jane David, Jon Frederick, Cam Mcleod and myself, Mark Morris -- were excited for the coming week of backcountry skiing. We climbed the 7-kilometer trail leading to the remote Plummer Canyon Yurt, and quickly realized we were venturing into one of the continent's most stunning backcountry ski destinations. As we crossed streams and snow covered forest meadows we stopped occasionally to take in the crisp winter beauty.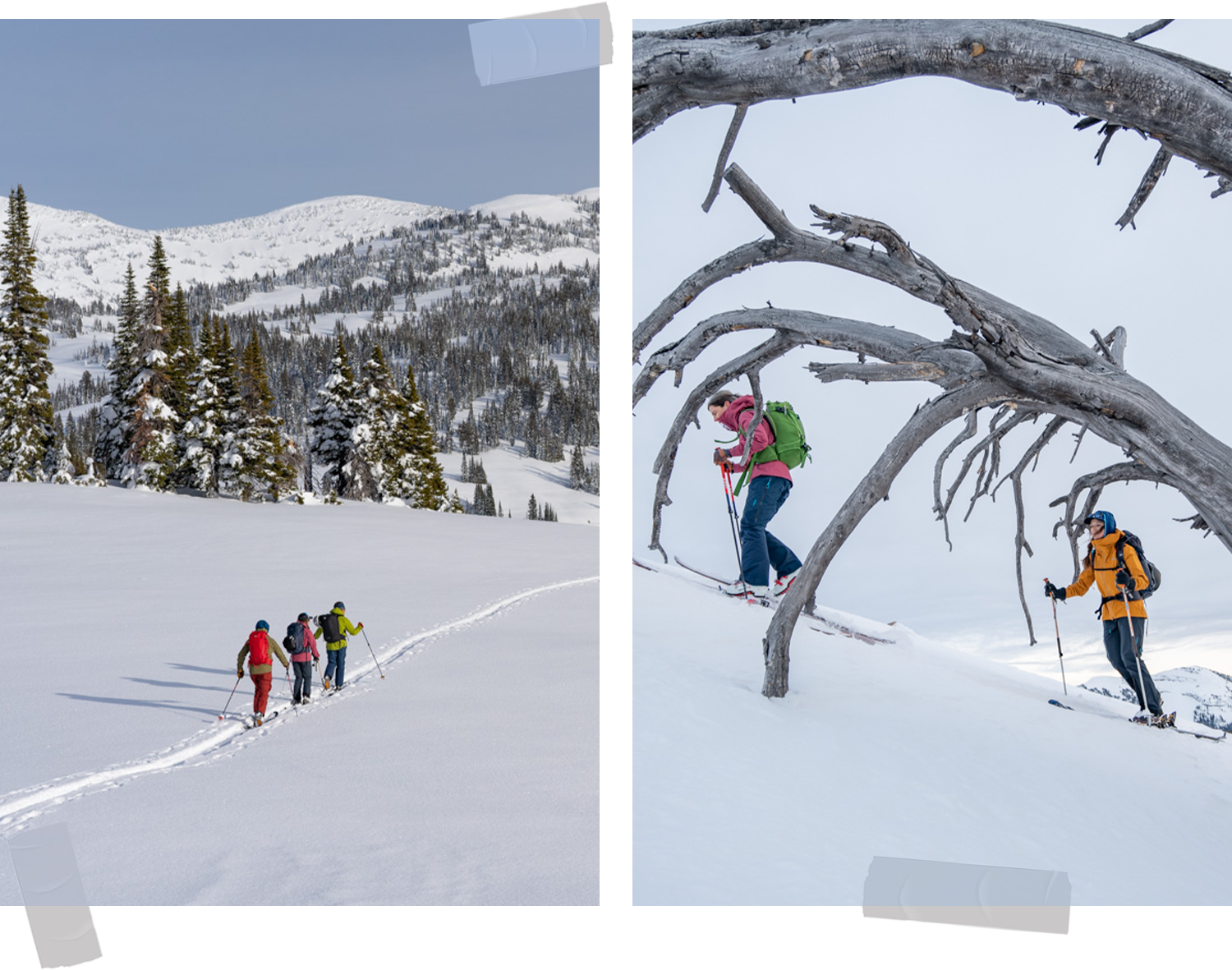 The only way to get to Plummer Canyon Yurt is on foot, or skis. And it's a haul, ascending close to 700 meters. We were all carrying a week's worth of supplies for the trip in our Lowe Alpine packs. I even packed my guitar for evening entertainment.
Because of the long approach and my heavy pack, I chose my favorite Rab layering system, which includes the Force Tee and Pulse Hoody. This layering system allows for extreme breathability on long treks that may include some sweating in cold temps. I choose these pieces because they allow me to focus on climbing and not overheating.
As we set out on the journey, our skin-track wound through forested wilderness and across the fabled Moose Canyon. We climbed through dense groves of old-growth timber and mountainsides of aspens. The backside of the Tetons offer breathtaking terrain in every direction. Awash in the scenery, we barely noticed the gradual climb up from Moose Canyon to Plummer Canyon.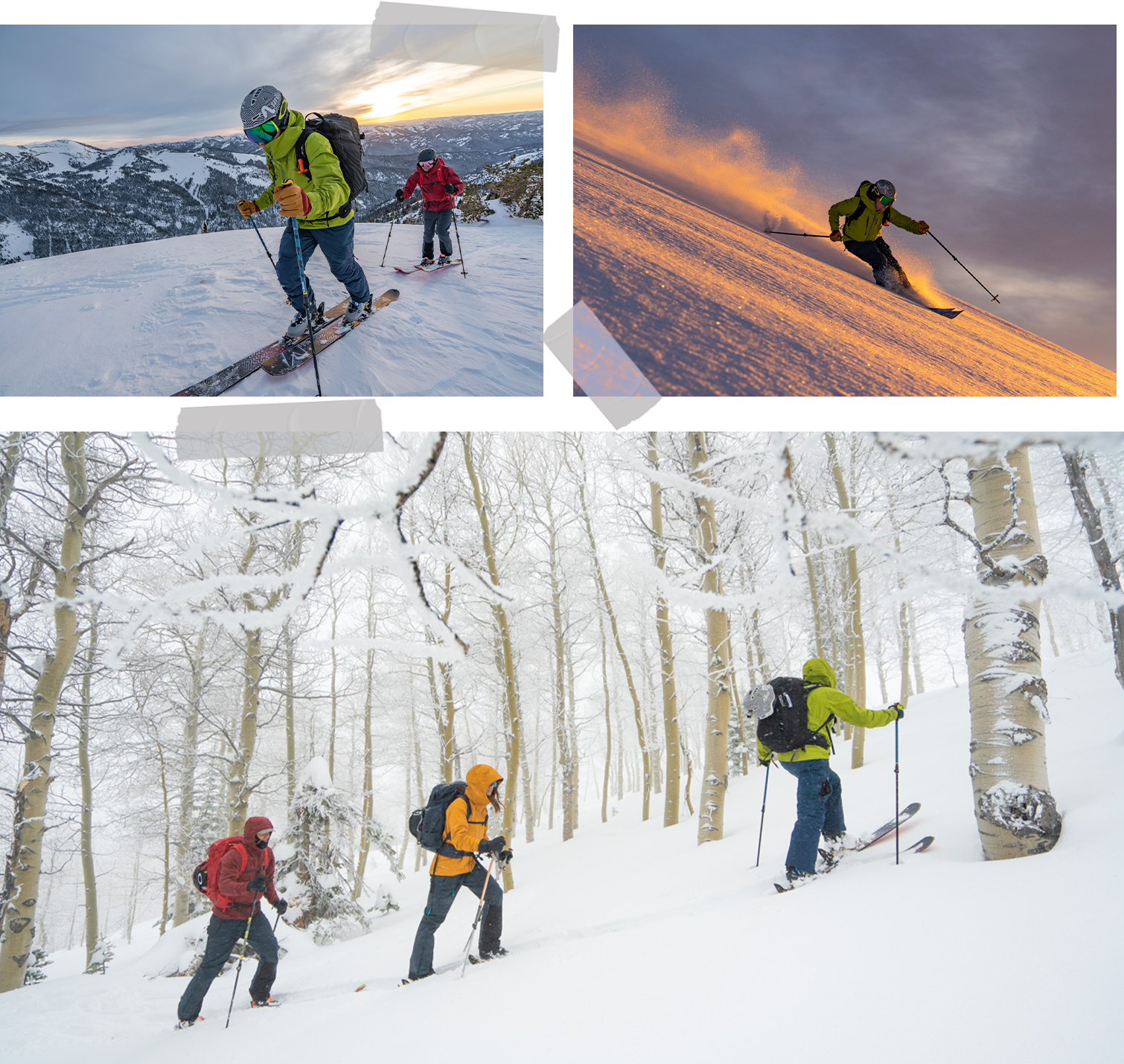 When we reached the yurt we decided to start skiing. We had a few hours of sunlight left, so Jon, Amy and I shed our heavy packs and set out for the North Chutes of Game Creek to explore our options for the coming days.
At this point I added the Khroma GORE-TEX Pro over my base layers to ensure warmth and dryness for the evening. As we climbed the 10-kilometer skin-track toward the steeps, we found way more than a week's worth of fresh snow to explore. We picked up our pace as the sun dipped behind our back and relished in soft snow as the golden hues of twilight closed the day!
This was the first trip we had all been on since the Covid 19 pandemic had locked us down, so we all made sure we had negative tests and used our Rab masks when we were in close quarters. We packed the yurt with eight of us, all contributing with breakfast, lunch and suppers. In the evening we would play card games and I would sing country classics written by my hero, Willie Nelson.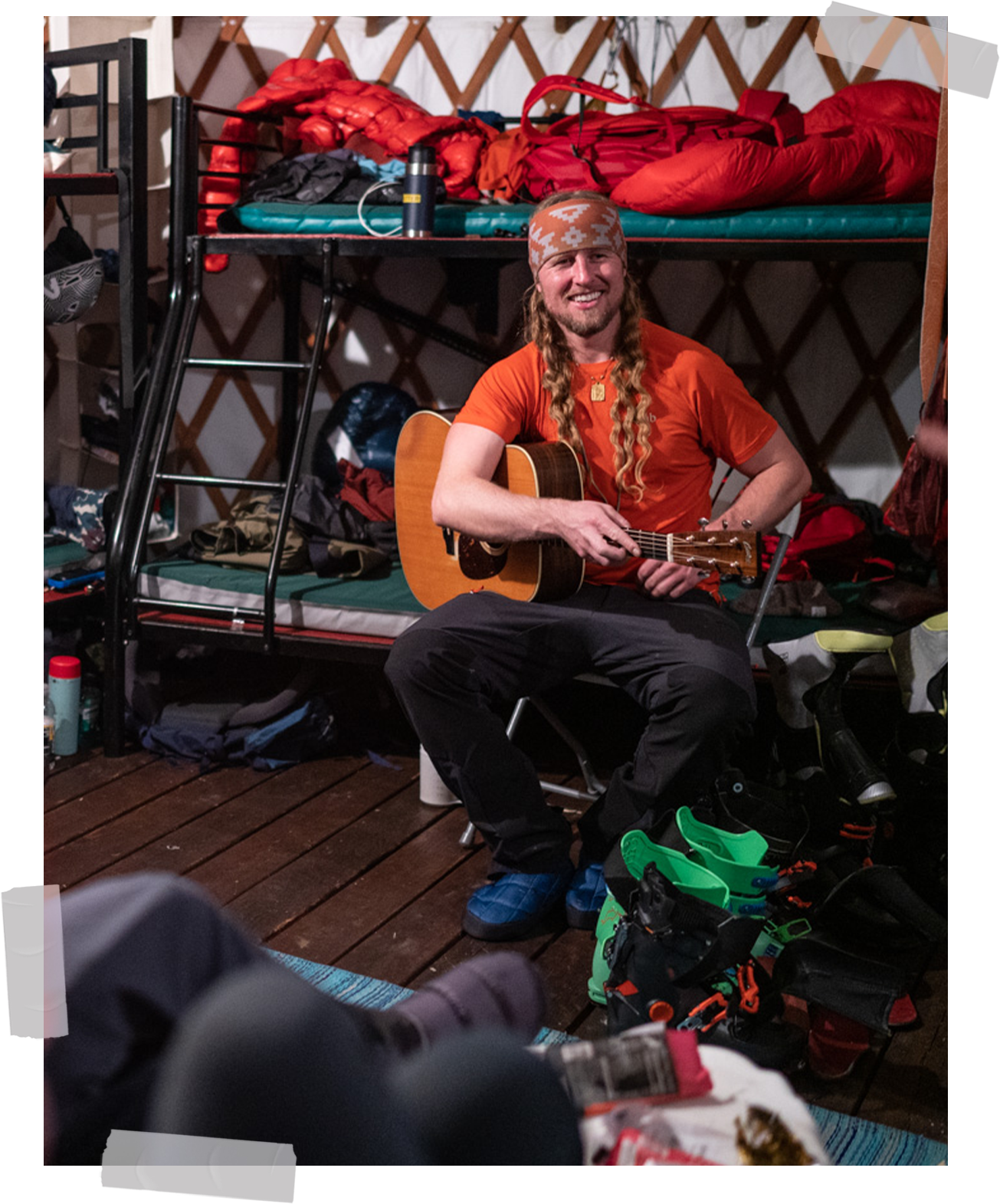 Mornings came early and we were all up before sunrise, bustling around the hut, ready to enjoy the day to come. Our favorite ski zone was off the north side of the Game Creek drainage, which offered some of the steeper pitches above the valley. We only had the daylight and energy to ski three or four runs most days. Because the avalanche danger was moderately high, we travelled with avalanche beacons and moved slowly and safely, checking the snowpack at every waypoint.
The Plummer Canyon Yurt is in a remarkably beautiful and untouched location. When we gained the ridge, the entire Teton Valley was below our skis as we basked in the shadow of the Grand Teton atop giant cornices. This spot is in a perfect place for backcountry skiing, with a wide range of opportunities from beginner to advanced backcountry skiers. And unlike the other side of the Tetons, this is a lonely place.
Our favorite zone was at the top of Mt. Wow, which is a short skin from the yurt porch. We started our days by skiing lines off Mt. Wow and eventually graduated to the Game Creek Chutes which offered steep lines and deep snow that we lapped until sunset.
The Plummer Canyon Yurt experience is magical thanks to its location and the abundance of fresh snow. In the Rocky Mountains the snow falls with a very low precipitation index, which makes the powder very fluffy and easy for all types of carving. We saw very cold temperatures, which kept the snow fresh and light throughout our entire trip. We found the most beautiful ski lines the valley had to offer right outside the door and we were blessed with.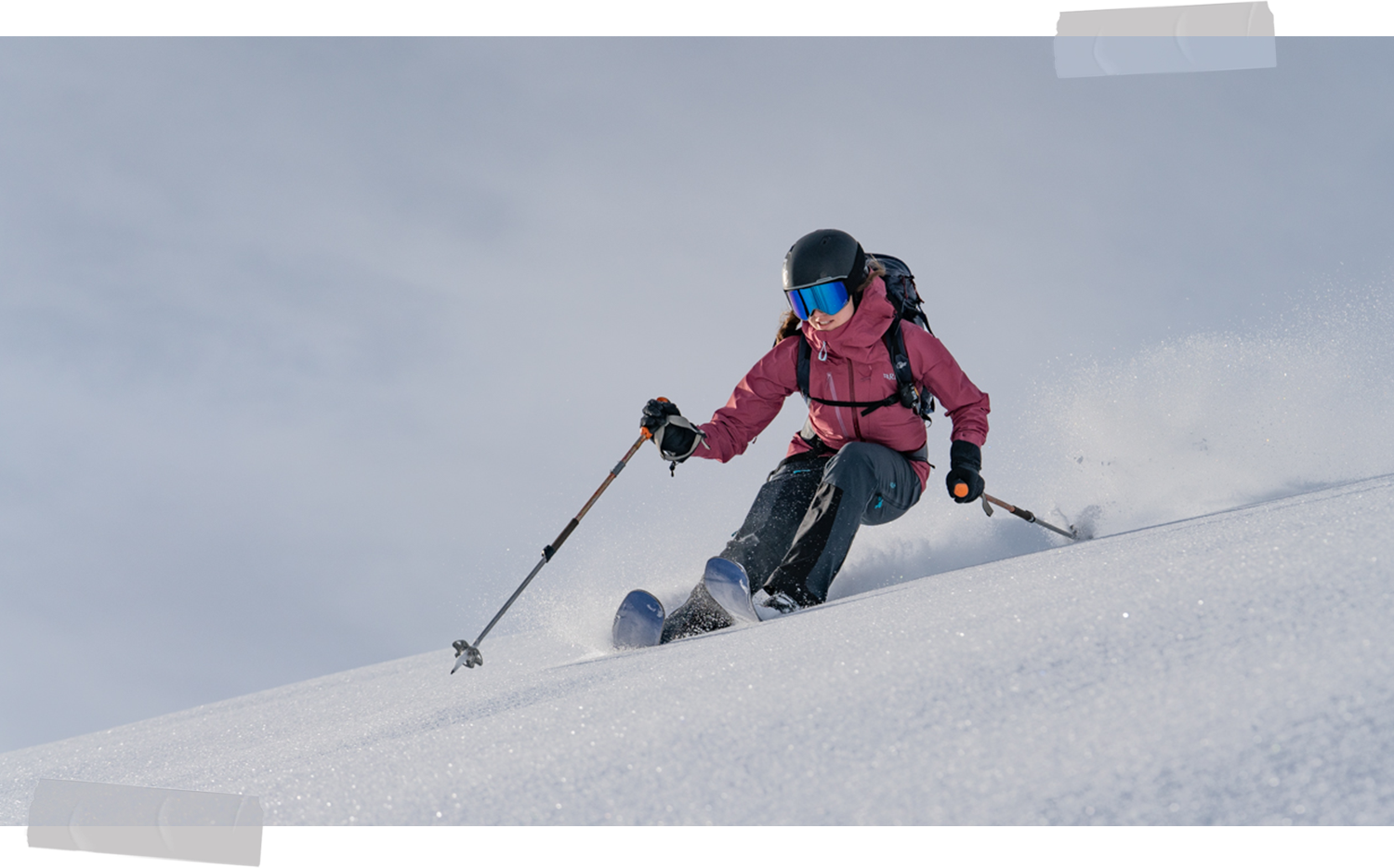 On our last morning, we awoke to severe wind that almost kept us from skiing at all. Gusts up to 70 kmh punished the entire crew. We needed to use our compasses to navigate in the blinding squalls. We couldn't see anything as snow swirled thick in the wind. Ultimately the wind settled the snow enough to allow us to venture out of the yurt. With the temperatures at nearly -18 degrees I layered on my Khroma GORE-TEX Pro jacket, which was the perfect armor for the extreme temperature drop.
The new Khroma line served us well in these extreme conditions, giving us the ability to test its strength, warmth and durability. Temperatures dipped well below freezing and I stayed both completely warm and extremely dry on the long skin tracks. Even as my heart rate rose and I broke a sweat, I still stayed dry and warm in howling winds and plunging temps. The breathability and cuts of the new Khroma line wicked away my sweat and kept me toasty in the cold conditions. Both jackets and pants allow for extreme breathability and combined with the Rab base layering system, I was never cold, even in the most extreme conditions. The Khroma kit combined with my layering system allows me to ski remote backcountry with confidence the gear can handle any conditions. This ultimately makes any backcountry experience more safe because it never needs to be double guessed.
After four days in the Yurt it was time to start our journey back to the Moose Creek Basin where we continued our adventure with a few days at Jackson Hole Mountain Resort. The ski out was beautiful as we carved through perfectly spaced aspens beneath the crown of the Grand Teton.
Pourquoi compliquer la liste des affaires dont vous avez besoin ? Chaude en altitude et confortable durant les efforts intenses, notre veste à coquille souple VR Summit est la veste multi-sports de montagne tout-en-un qu'il vous faut.

Pourquoi changer de vêtements lorsque votre journée ne se déroule pas comme prévu ? Fabriquée à partir de la nouvelle technologie multi-couches Vapour-Rise™, notre veste VR Summit pour femmes est la veste qu'il vous faut pour pratiquer la randonnée, le ski et l'alpinisme en hiver.
---
Mark Morris grew up in the mountains of Clear Creek County, Colorado. He started skiing at age 2 and learned the fundamentals of ski racing at Loveland Ski Area. He quickly changed his focus from racing to backcountry skiing at age 13 after his first helicopter skiing experience in Valdez, Alaska.
Read more about Mark here