Die Pivot GTX für Frauen sind die ultimativen technischen Winterhandschuhe. Die Kombination aus GORE-TEX® Active und PrimaLoft® Gold in einer 3D-Konstruktion bietet unvergleichliche Bewegungsfreiheit auf herausfordernden Routen.
Mehr lesen
Description
Die Pivot GTX für Frauen sind die ultimativen Winterhandschuhe. Sie wurden speziell für technische alpine und Eisklettertouren entwickelt. Diese robusten, flexiblen Handschuhe mit wasserfester GORE-TEX®-Active-Technologie und synthetischer PrimaLoft®-Gold-Isolation bietet fantastische Wärme und angenehmen Nasswetterschutz selbst an bitterlich kalten Klettertagen. Dank des zusätzlichen Knöchelschutzes und der Lederaufsätze zur Verstärkung an den Fingern halten sie selbst den rauesten Verhältnissen stand.
Die vorgeformten Pivot GTX Damenhandschuhe mit 3D-Konstruktion bieten bestmöglichen Griff bei der Nutzung von Kletterausrüstung und minimieren die Ermüdung der Hände auf steilem Terrain. Das weiche Pittards®-Leder an den Handflächen mit PrimaLoft® Gold Grip Control sorgt für zusätzliche Reaktionsfähigkeit und Komfort. Die Damenversion der Pivot GTX überzeugen des Weiteren mit abrollbaren Fingern und Daumen, und bieten so eine noch bessere Passform und weniger Nahtfläche. Das Bündchen kann in kalten Witterungsverhältnissen problemlos einhändig verstellt werden und die integrierte Zuglasche und abnehmbare Befestigungsgurte ermöglichen rasche Änderungen.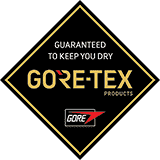 Made with GORE-TEX Active
Drier, for longer.
Learn more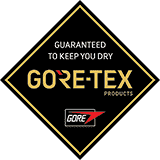 Made with GORE-TEX Active
Gloves made with GORE-TEX Active are optimized for maximum breathability, while maintaining the waterproof and windproof properties GORE-TEX is renowned for.
Extrem atmungsaktiv
During intense activity, it is essential that sweat vapour can escape. This product has superb breathability that ensures your hands stay dry and comfortable.
Langlebig und wasserfest
GORE-TEX-Produkte mit GUARANTEED TO KEEP YOU DRY™ sorgen für innovativen, langlebigen und wasserfesten Schutz, auf den du dich stets verlassen kannst.
Absolut windfest
Cold wind removes the warm air between your skin and clothing. Products made with GORE-TEX are totally windproof, so you stay comfortable for longer.
Key Specs

Weight

:198g / 6.9oz

Product Code

:QAH-83
Features

Durable stretch outer
PrimaLoft® Gold mapped 170g/m2 Insulation
GORE-TEX® Active waterproof technology
Primaloft Grip Control 100g/m2 Palm
High Pre-curve for tool grip
Knuckle Protection
Mapped 3D construction for high dexterity and suppleness
Pittards® Armortan leather palm and nosewipe
Pittards® digital leather reinforcement in key wear areas
Soft Bemberg lining
Single handed adjustable cuff
Integrated pull on tab
Removable leash
| | Hand Circumference | Hand Length |
| --- | --- | --- |
| XS | 15.5cm-16.5cm | 14.5cm - 15.5cm |
| S | 16.5-18cm | 12.5-16.5cm |
| M | 19-20cm | 18-19cm |
| L | 20cm or larger | 19-20cm |
| | Hand Circumference | Hand Length |
| --- | --- | --- |
| XS | 6-6.5in | 5.5-6 in |
| S | 6.5-7in | 6.5-7in |
| M | 7.5-8in | 7.5-8in |
| L | 9-9.5in | 8.5-9in |
N.B. The table above shows body measurements not garmernt measurements.
Hand Length is measured from the wrist to the end of the middle finger.
Hand circumference is measured around the knuckles.
Versand
Rab ships throughout the EU Europe via DPD. Orders over €50 qualify for Free Shipping, otherwise, a flat rate of €8.00 will be charged per order under €50. We will aim to ship orders placed Monday - Friday before 1:00 pm the same day, although this is not guaranteed. Orders placed on weekends will ship on the following Monday
For more information regarding shipping, including shipping charges and estimated delivery times, please visit our help centre.
Rückgaben
If you are unhappy with your purchase, please return it to us within 90 days of receipt. The item(s) must be in resalable condition with tags attached. We are currently unable to exchange items and will refund products returned to us under the policy above.
Bitte beachten Sie, dass wir Unterwäsche nicht zurücknehmen können, außer sie wurde fehlerhaft oder defekt geliefert. Wir empfehlen, einen Kurier- oder Transportdienstleister für die Rücksendung zu nutzen, da wir nicht für auf dem Versandweg verlorene Artikel aufkommen können.
Für weitere Informationen zu Rückgaben und Gewährleistung sehen Sie bitte Hilfe-Zentrum help centre.
Women's Pivot GTX Glove Reviews