It's been over 40 years since the first Rab sleeping bag was hand cut, sewn and filled in Sheffield. So, it's no surprise that down is an integral part of our heritage and we take pride in making sure all the virgin down we use is sourced from within Europe.
From farm to factory, every stage of the process is Responsible Down Standard certified by Control Union 842603. We believe the RDS is the most robust and transparent scheme available.
RDS is an independent, voluntary global standard, which means that companies can choose to certify their products to RDS. The standard recognises and rewards the best practices in animal welfare. The key points of RDS are:
Removal of down/feathers from live birds (live-plucking or moult-harvesting) is prohibited.

Force-feeding is prohibited.

Holistic respect for animal welfare of the birds from birth to end of life.

RDS down and feathers are properly identified.

Each stage in supply chain is audited by a professional, third party certification body.

Only products with 100% certified down and feathers carry the RDS logo.
What is the Responsible Down Standard?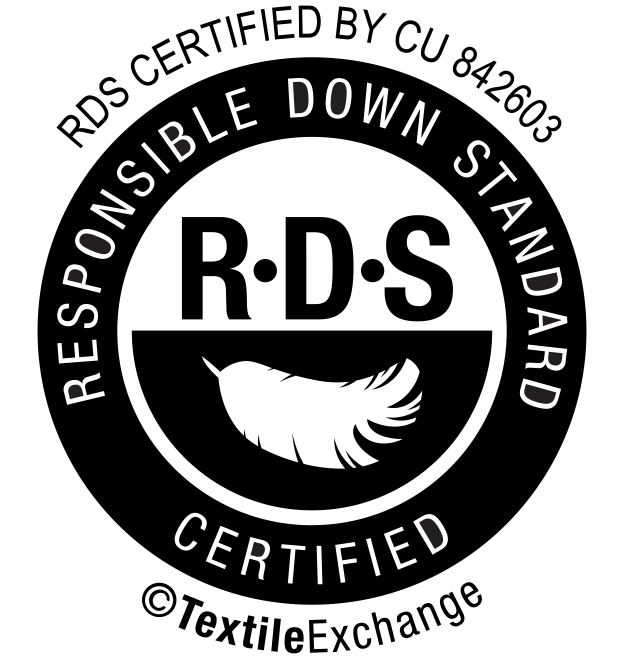 The Responsible Down Standard independently certifies down against animal welfare requirements and tracks it from the source to the final product. RDS is an independent, voluntary global standard that companies can choose to certify their products to.
All our virgin down is certified to the Responsible Down Standard.
Down is a by-product of the meat industry. Our virgin down is sourced from farms that follow best practices in animal welfare. This means the Five Freedoms of animal welfare are respected:
Freedom from hunger and thirst

Freedom from discomfort

Freedom from pain, injury, or disease

Freedom to express normal behaviour

Freedom from fear and distress
So, animals:
Are not live plucked

Are not force-fed

And, have humane treatment from birth to end of life.
As an early certified member of the Responsible Down Standard, we are committed to maintaining animal welfare standards.
You can find out more about the Responsible Down Standard, here.
Interested in our Down products?
As one of the first certified members of the Responsible Down Standard, we are committed to continually improving animal welfare and ensuring all our down is traceable throughout our supply chain. Find out more information about RDS down here – http://responsibledown.org/.
A number of Rab products, contain down processed with a Hydrophobic treatment. This is a fluorocarbon free solution co-developed with Nikwax®, added to the down at the cleaning stage. Hydrophobic down absorbs less water helping to protect the down from saturation, preserving its lofting ability and insulation properties for longer. It also speeds up drying times and extends the range of conditions in which you can use your product.
Recycled down is goose or duck down that had been recycled from post-consumer sources; down duvets and pillows. The recycled down is washed, steam dried, sterilised and sorted and produces a high-quality alternative to sourcing virgin materials, and avoids landfilling a waste product. We have plans to use recycled down in future products. Due to the sourcing mechanism, recycled down cannot be recognised as holding the RDS but can be certified under the Global Recycled Standard (GRS); an international, voluntary, full product standard that sets requirements for third-party certification of Recycled Content, chain of custody, social and environmental practices, and chemical restrictions.
No duck or goose is bred or kept for the sole purpose of harvesting down or feathers. Poultry is predominantly farmed for human consumption. Approx. 98% of the down and feathers produced worldwide are a natural by-product of poultry breeding or meat production (source: European Down and Feather Association).