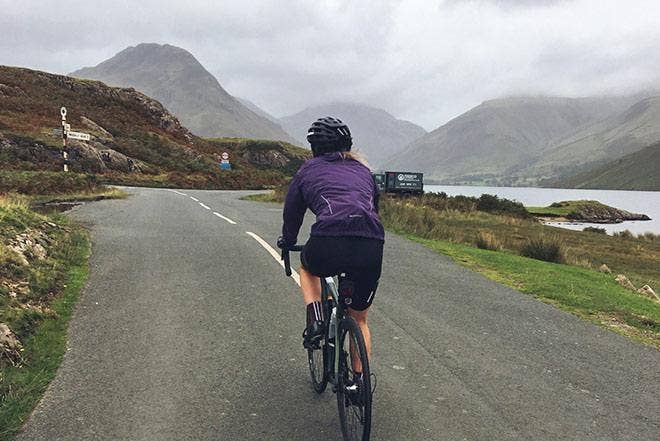 "I started hallucinating from what was a 22 hour day hearing noises, seeing figures and abandoned kit but Paul assured me they were just rocks. When we got to the bottom, we were dead and couldn't believe that it was all over, it was so surreal. It felt like a weird dream."
---
We were in a warm café on a dingy August bank holiday in Pembroke after climbing got rained off. We sat there eating a greasy breakfast sipping on our tea feeling a bit fed up with being stuck either in a wet tent or a café full of tourists choosing which fridge magnet to buy. We could have just got out a pack of cards, but we weren't that organised so we came up with another way to pass the time - thinking up crazy ideas we could attempt over the next year or so.
We originally discussed the idea of helping kids with anxiety learn how to climb and talked of setting up a charity ourselves. To raise funds, we could hike up and down the UK's largest mountains and cycle in between them (The Three Peaks Cycling Challenge). We soon realised logistically with Lizzy going travelling and Paul and I having full-time jobs and all living in separate towns it probably wasn't all that realistic, and setting up a charity is a lot of work. However, if we could do a crazy challenge and raise money for a charity that was already doing something similar, we would be helping out other people and pushing personal boundaries in the process.
A couple of months before I did my first long cycling event – 200 miles in a day, along with the Three Peaks National Challenge that Paul and I participated in, so it seemed like natural but mad progression to go on and do The Three Peaks Cycling Challenge. The more we thought about it the more serious the idea became. I guess that's where all the type two fun ideas get created, in between baked beans, friends and adventure?!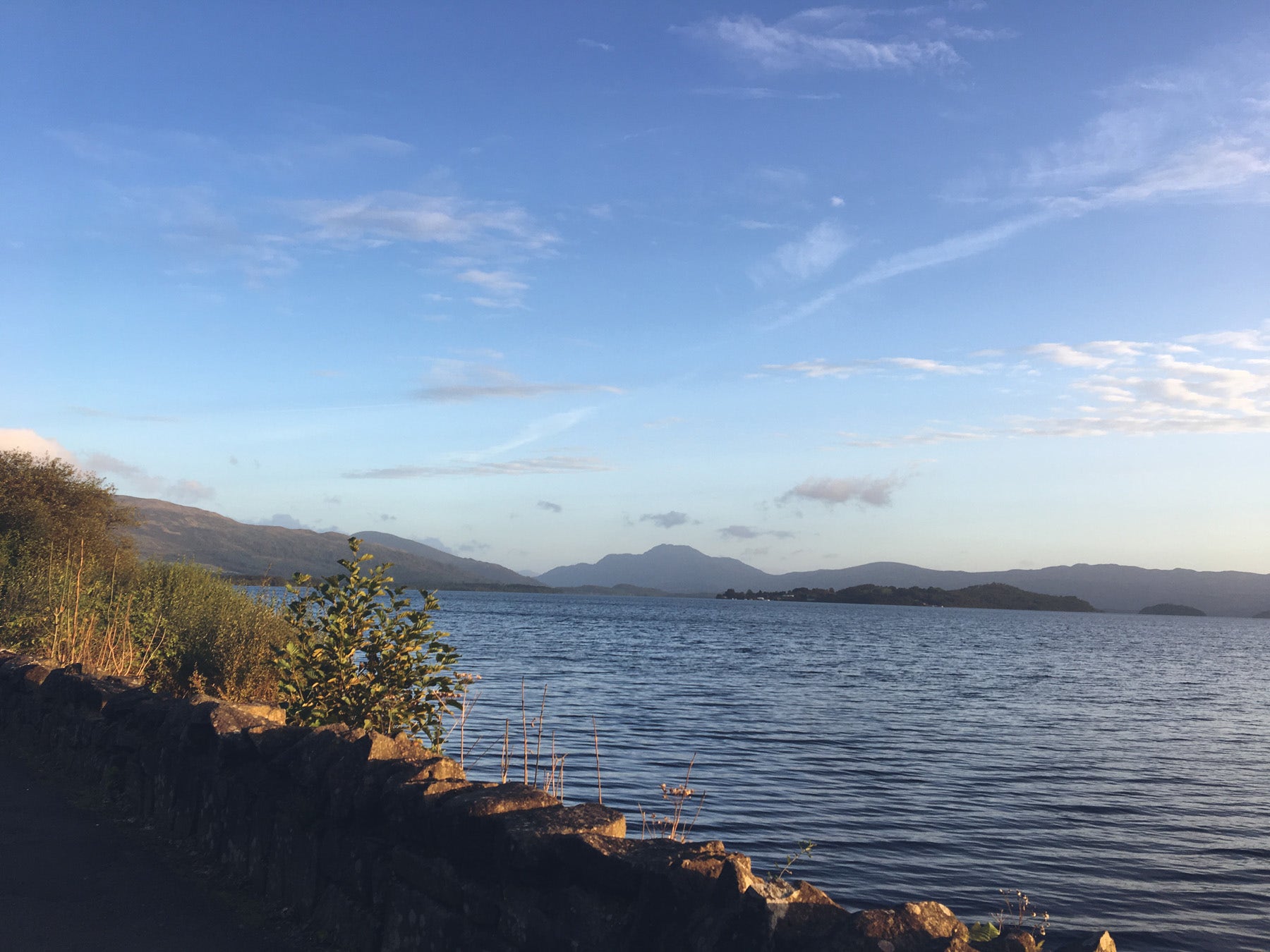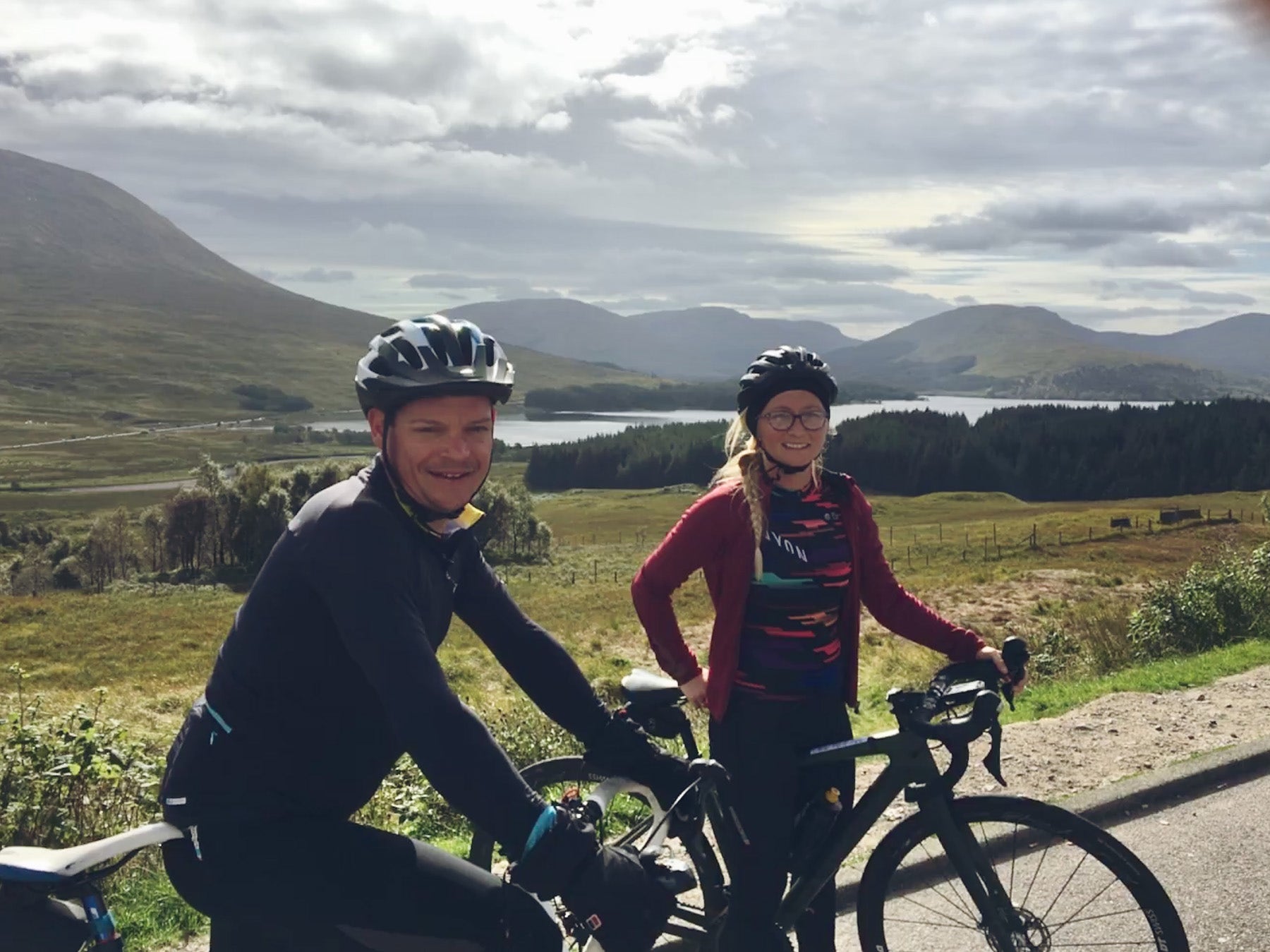 The Training
I'm not going to lie and say I was really motivated for the Three Peaks Cycling Challenge at first because I just thought of cycling nearly 500 miles and hiking 23 more as something only crazy endurance athletes do. It's virtually impossible for someone like me, right? I half-heartedly committed to completing the challenge and Paul and I set a goal of achieving it the following summer.
The following six months flew by, I moved to the Peak District, got a job as a designer at Rab and comically broke my leg trail running the day before I started work. I was out for six weeks and did nothing but feel sorry for myself, moan, binge watch Netflix and munch on too much chocolate. Meanwhile, Paul signed up for a triathlon, trained hard and focused on his diet. Once I no longer needed a boot or crutches (well almost) I bandaged up my ankle as best as I could and went for a cycle. That ultimate feeling of freedom made me feel lucky to be there in that moment, and the Peak District hills also killed me (some rides were more of a walk up hills and cycle down them affair). But that was the start. I was determined to make up for the lost time, push myself and be fitter than ever before.
I set a goal to at least cycle 70 miles a week (mainly commuting). At first, this was unachievable, but soon I was cycling 100 miles a week as well as climbing. Eventually, I was cycling between 120 to 200 miles a week as well as climbing whenever I could. Anything to be outside and challenge my mind and endurance. My training was purely outdoors based and what I class as 'fun' led. I ate what I wanted and just got out as much as I could. I found I could focus more whilst at work too because I was getting my outdoor kick before and after work.
Paul and I did a few 60 mile training rides and talked about which charity would be a perfect fit. We came across Cyclists Fighting Cancer . These guys help kids regain their physical fitness, strength, mental wellness and confidence by giving them new bikes along with other equipment and support. We decided to raise money for Cyclists Fighting Cancer and NSPCC. Raising money wasn't easy and I took the introverted approach, promoting our challenge and sponsorship on social media. A week before we were set to leave I'd only raised £200 and began to panic. If we were going to make a difference I needed to try harder. I baked loads of cakes, did a cake sale at work, sent office-wide emails around, went a bit mad on social media and kept promoting the charities. By the time we set off we had raised over £1300.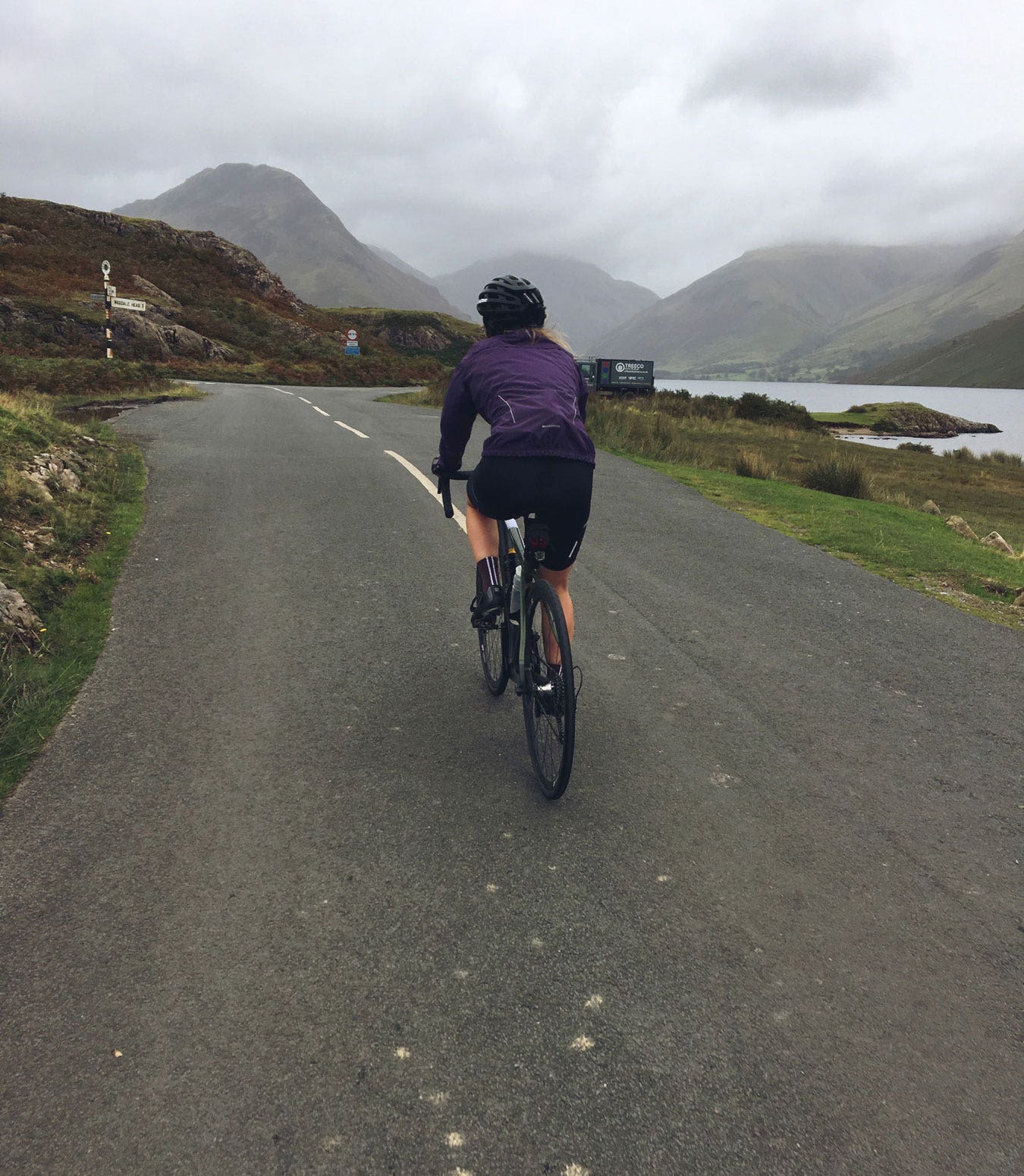 The Challenge
The night before leaving I panicked about what food to take. The first 145 miles were to be unsupported. I baked veggie sausage rolls, packed random energy bars that in hindsight I should have tried previously, multiple packets of strawberry shoelaces, flapjack and many other concoctions that would result in me needing a filling and getting a wobbly tooth…
The day finally came where my alarm went off at 1:30 am and I woke up to a message from Paul saying that they were running an hour and a half late. It turns out he slept through his alarm and Sarah (our support for Snowdon) rang him 67 times before he woke up. In my head, things were already going wrong and I just felt like quitting. Putting my phone on silent, rolling over and sleeping it off seemed like a solid plan, but I knew I wasn't a quitter. This was already type-2 mayhem and I was still in the warmth of my home. I honestly don't quite know how but we pretty much jogged the whole of the Pyg track up and down Snowdon (1085m) we managed to pass people on the way up that we saw on the way down still coming up. We made up the hour and a half lost and we were back on track.
By the time we got on the bike, I felt a rush of adrenaline, we were actually doing this! The first 50 miles were pure excitement consisting of sunshine, little to no winds, Welsh coastline and chip shop chips. I felt strong and energised. The fatigue and darkness soon hit as well as a few lumps in the road. By the time we met Alex at the campsite hoping to be greeted by hot food and ready-made tents and instead there were a half-made tent and no food I pulled a tantrum like a spoilt kid. Alex was patient and managed to get us pizza whilst we sorted out the tents and got into our sleeping bags. Day one was over.
Day two consisted of 60 miles on the bike and hiking up Scafell Pike (978m). 60 miles on the bike sounded deceivingly easy, so we set off late and a bit smug by only having a shorter cycle. Alex met us in Ambleside with piping hot tea and a bar of Galaxy in hand. I tried to plot the most direct route to Scafell which took us up two of the hardest climbs in the Lake District – Wrynose and Hardknott Pass that crank up to 30%, which in hindsight was a big mistake. Paul joked that we walked up three mountains that day (I cycled halfway up Wrynose and had to walk the rest). The downhill was just as terrifying! If anyone is up for a challenge apparently Hardknott Pass descent is one of the UK's biggest challenges?! When we finally got to the campsite, we couldn't find Alex anywhere and I started to panic whilst Paul downed a pint. We lost an hour searching for him to find him parked at the neighbouring campsite offloading the kit. We wanted to make sure we got up and down Scafell with enough time to get last orders in at the local pub and to prevent getting benighted. It was a close call, but we managed it by the skin of our teeth.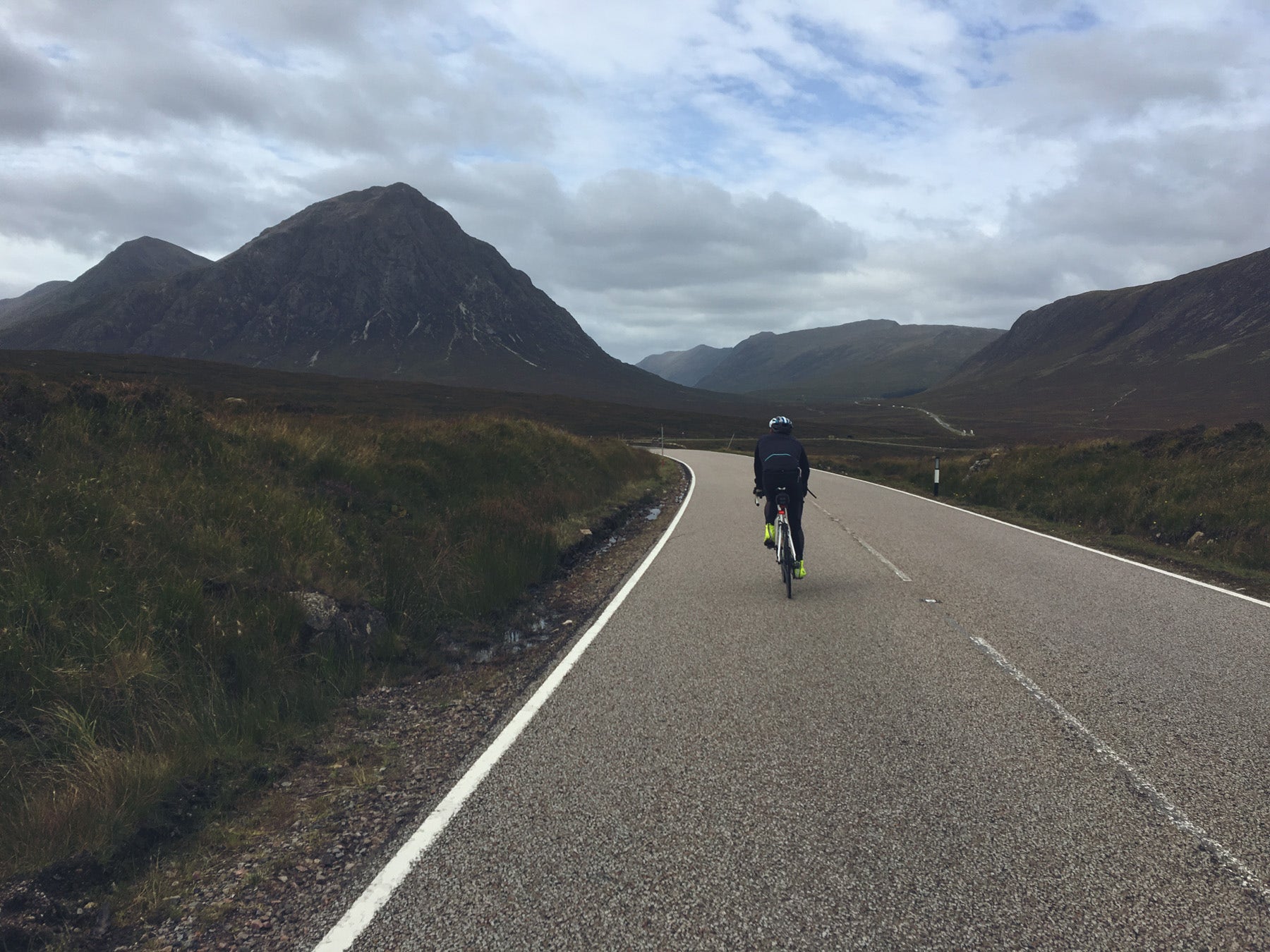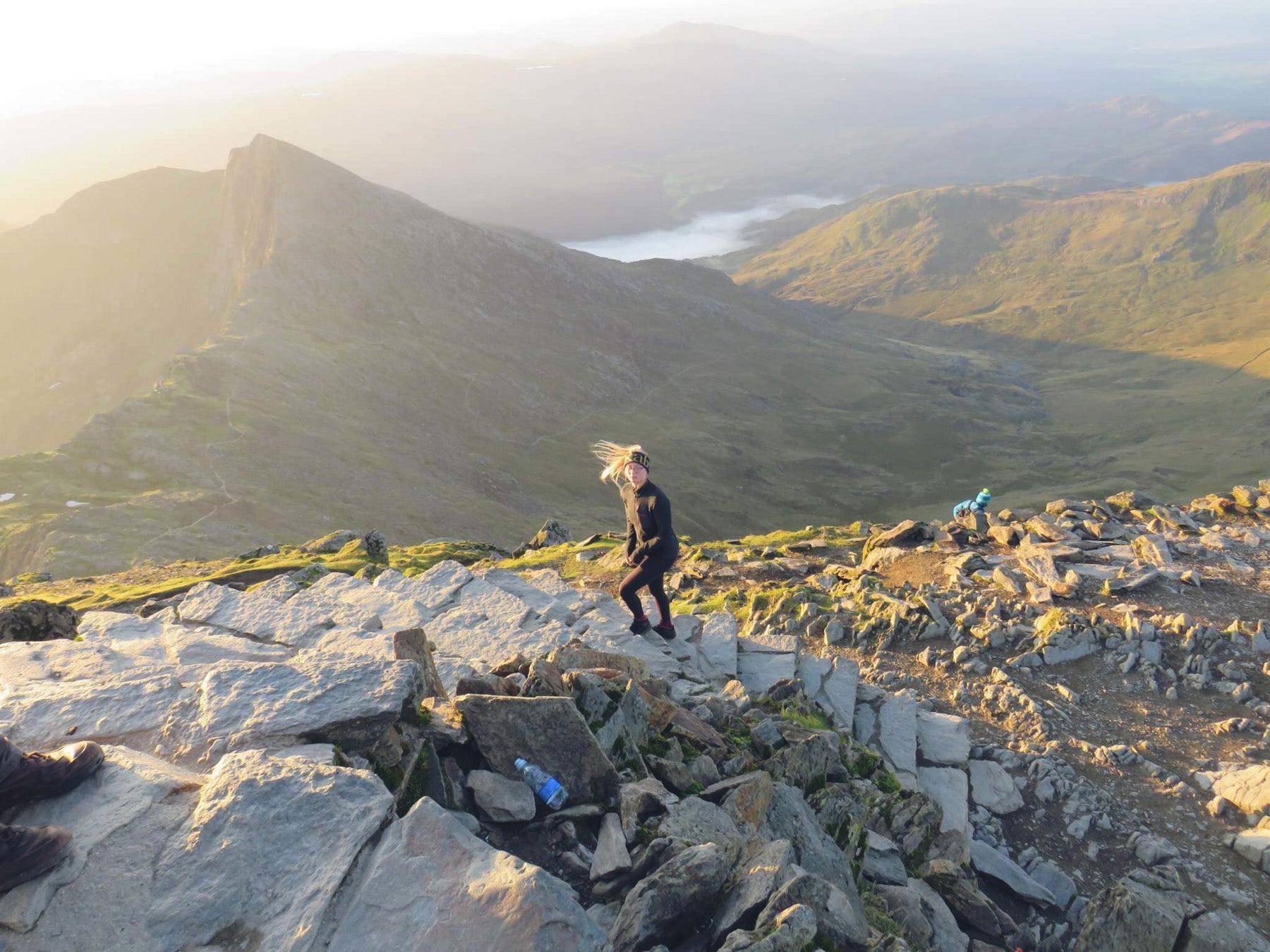 For me, day three was the turning point. The day where I properly hit the wall. We endured headwinds, crazy hills coming out of the Lakes which felt more like mountains, pothole-filled roads for endless miles, sore bums and limbs as well as food boredom. As soon as I started getting bored with eating so much so often of the same thing, I started to get cranky and quiet, the pace slowed, my knee killed but my legs still turned. By the time we got to 100 miles, I was broken. Alex warned us of a hill that went on for miles just up the road. I sat down and cried, as pathetic as it was it's the truth. I managed to eat a big Galaxy chocolate bar down in one, get my sore bum back on the bike and just about make it to the campsite in Glasgow with warm curry waiting for us for tea.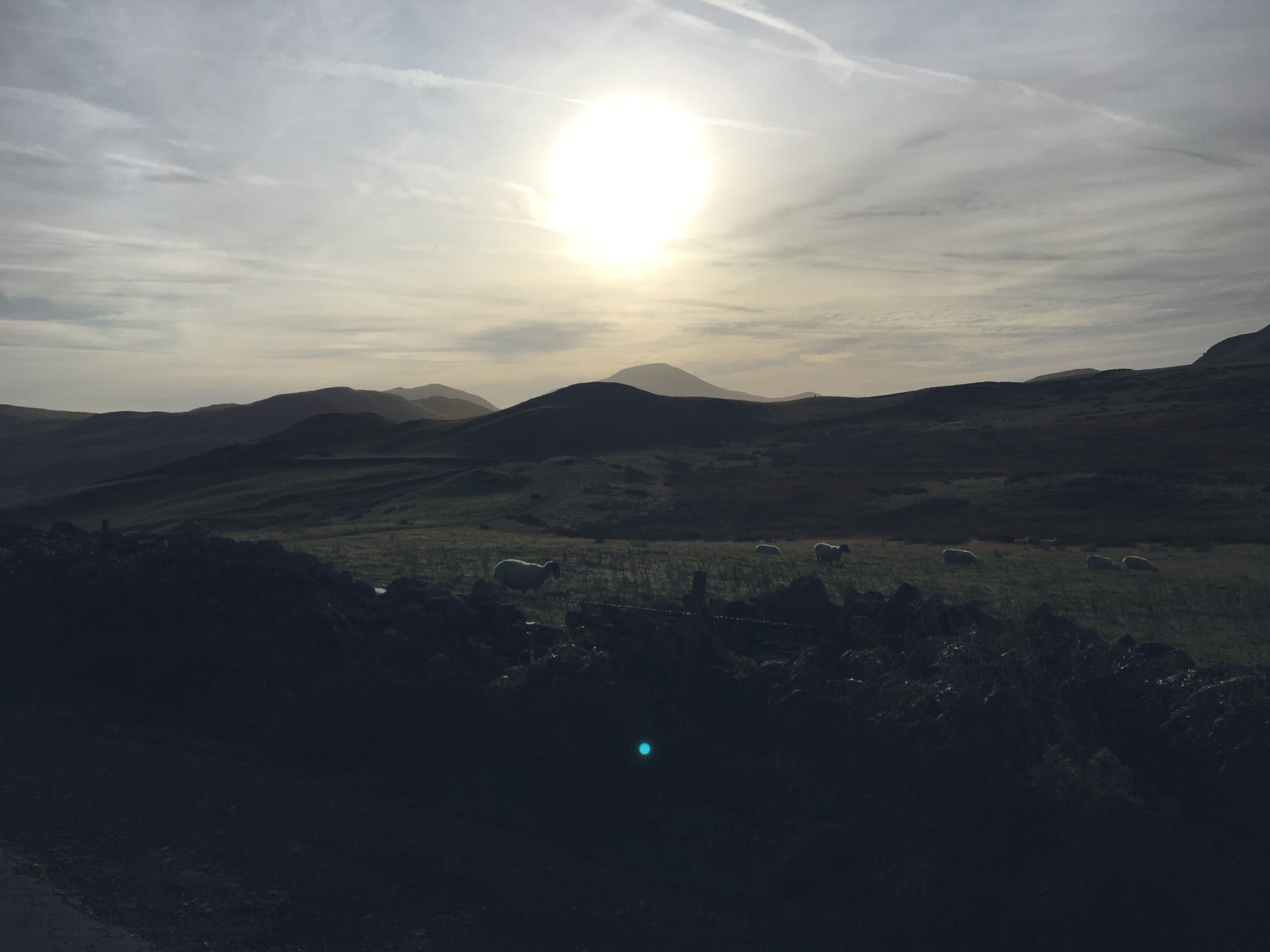 The most memorable thing about day four was cycling through Glasgow at 4am in the morning, turning and twisting along canal towpaths and coming out at sunrise onto Loch Lomond to see mountains in the background and an incredible sky. All the pain seemed to lift and I felt so emotional that we had actually made it this far. About 10 minutes later Paul got a puncture and another one straight after that. We soon realised that his tyre was threadbare and it may completely split down the middle at any moment. We managed to make it to the stop where Alex sussed out a bike shop and planned to go and get a new tyre and meet us at the next stop hoping we would make it that far. I tucked into the remainder of last night's Veggie Pasanda and Peshwari Naan when I heard a crack. My front canine had come loose and was so wobbly I could probably just yank it out. Both Alex and Paul advised that we had a long day ahead and the adrenaline and blood would be too much, so I let it wobble and ache and tried to only eat soft foods for the remainder of the day.
At the next stop 73 miles in, Alex saved the day and turned up with a tyre in hand and we were able to cycle to the Highlands with big grins on our faces watching the beautiful scenery pass us by, and let the emotions run wild. Glen Coe is one of my favourite places ever so cycling through the skyline and seeing the Three Sisters and thinking of the times I've climbed there in the winter and scrambled here in the summer was an emotional moment. I was so overwhelmed when we reached Fort William all I could think about was doughnuts before heading up Ben Nevis. Everyone thought we were crazy starting our climb at 5:30 p.m. but we knew we were prepared with many head torches, bike lights and layers to keep us warm and dry. We trudged on and only stopped once on the way up with pretty much perfect conditions of no wind and no snow on top. It was a bit eerie though having silence, darkness and a lack of visibility due to the mist setting in. We navigated our way down in the dark following cairns and focusing on our feet.
I started hallucinating from what was a 22 hour day hearing noises, seeing figures and abandoned kit but Paul assured me they were just rocks. When we got to the bottom, we were dead and couldn't believe that it was all over, it was so surreal It felt like a weird dream.
We beat the mixed team record by 18 hours and raised just over £1600 for Cyclists Fighting Cancer and NSPCC. A week on I feel mainly fatigued and keep thinking what next? This has opened the gate to what you can achieve when you endure type two fun, and if you want something and put your mind to it anything is possible.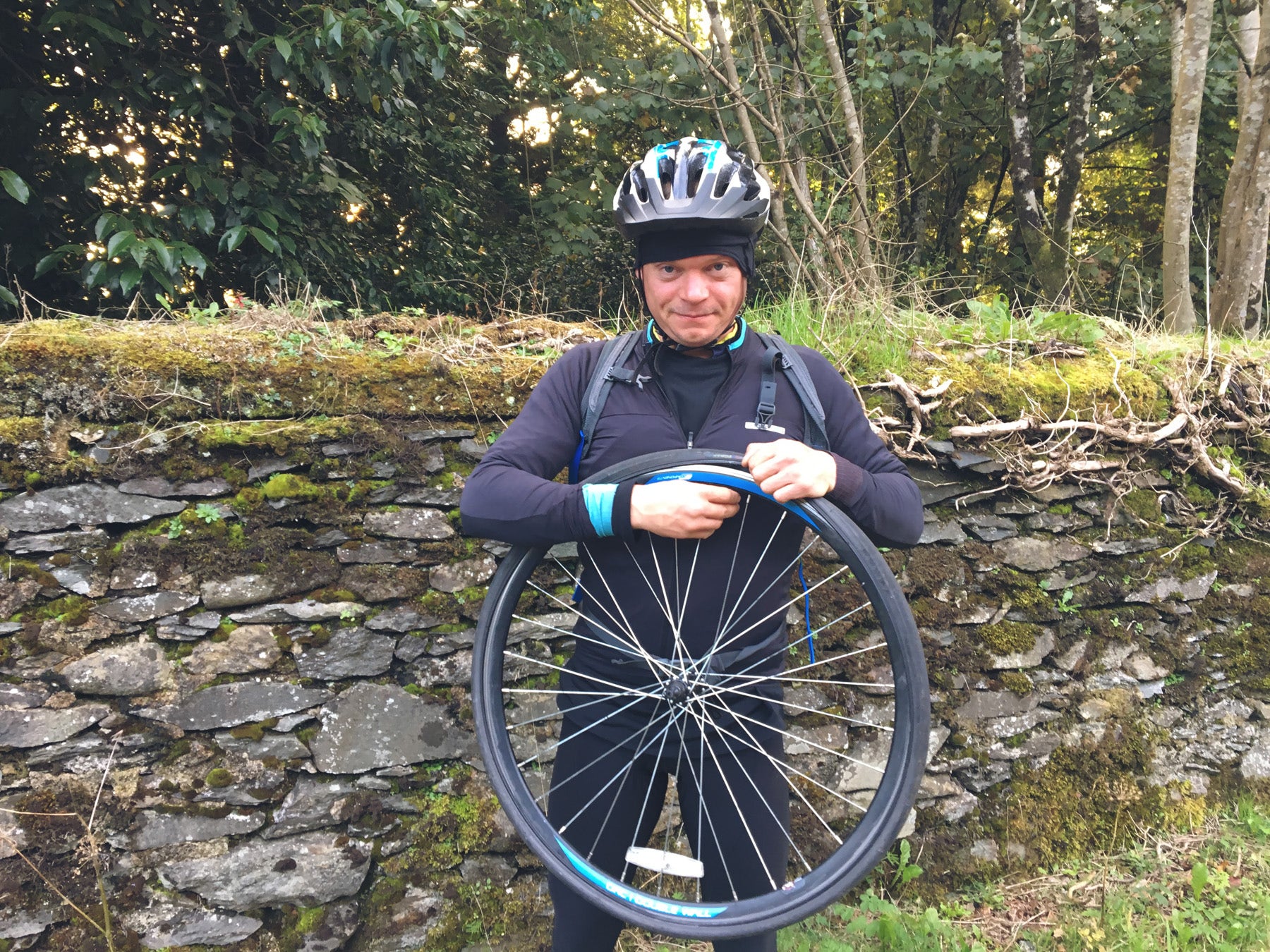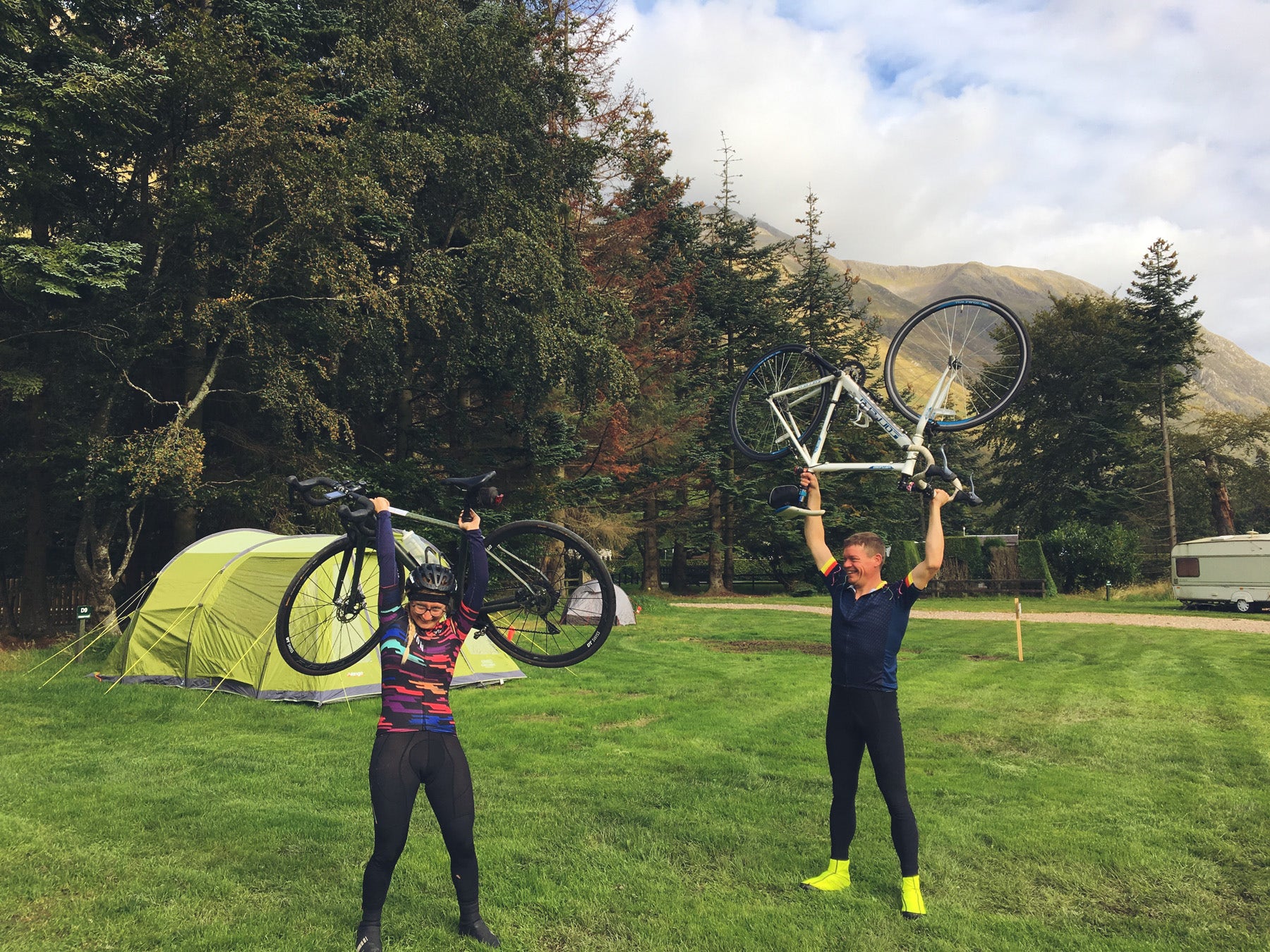 Amber's Kit List