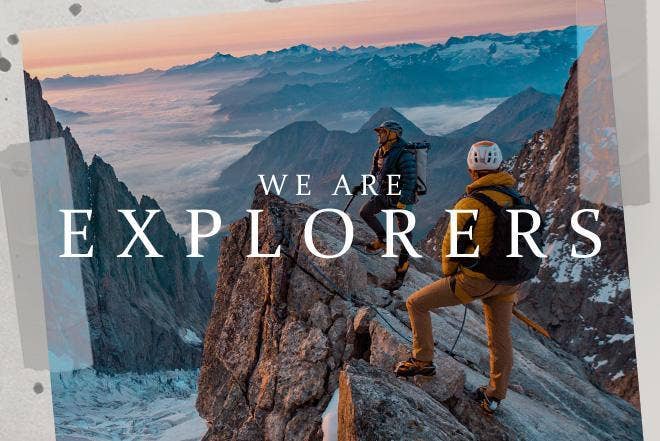 Patience is a virtue, or so I'm told. In the high mountains I'm normally on the move constantly and it seems unusual to be stood still, waiting for the perfect moment. The fabric on my paraglider is still rustling as a katabatic wind blows gently down the glacier trying to dislodge the light fabric from its delicate perch on the frozen snow slope.
---
It's 10am and the sun is slowly swinging round and generating thermic winds which will allow us to launch from the mountain safely. When paragliding, you must always take off facing into the wind so that the air inflates the canopy – a katabatic or tailwind will prevent the glider from rising above your head. The strong September sun is already melting snow in the gullies up and left of us and small rocks are beginning to rain down onto the glacier below, getting ever closer to us as the sun moves round. Adding to the level of urgency is the valley breeze, which is quickly rising in the Valle d'Aosta to a point where landing will become treacherous. Will the sweet-spot of wind and time of day align in time for us to fly down to the valley two-and-a-half-thousand metres below?
We're stood at 4,000m on the Italian side of Mont Blanc on Glacier du Brouillard. The tin-shack of the Eccles bivouac is to our left whilst the Pilier Rouge "Red Pillar" du Brouillard stands majestically to our right. The position is awe-inspiring and the ever-steepening convex snow slope is perfect for a take-off – or it would be if the entire slope wasn't still frozen. Paul and Jake are standing on a hacked-out snow ledge 30m to my side. It will be Paul's first flight under the command of Jake on an ultra-light single skin tandem wing. What a place for a first flight, but also how committing. Whilst I've launched down a steep snow slope in crampons before, it is far from ideal, and a trip in the wrong place could have longer lasting implications than embarrassment.
As the katabatic wind ceases, I make my committing run to launch the glider. The light fabric quickly and easily launches above my head and as the leading-edge touches the sun a warm valley breeze inflates the canopy and gently lifts me off my feet. Looking back, I see Jake and Paul safely take-off with woops of joy as they drop beneath the wing. There's something liberating about flying. Maybe it's the release of pressure from a committing launch where you have to get everything just right. Or perhaps it's that you've found a way to cheat evolution and soar with the birds, feet dangling improbably over the abyss. Whatever it is, it's an addictive sensation to the initiated.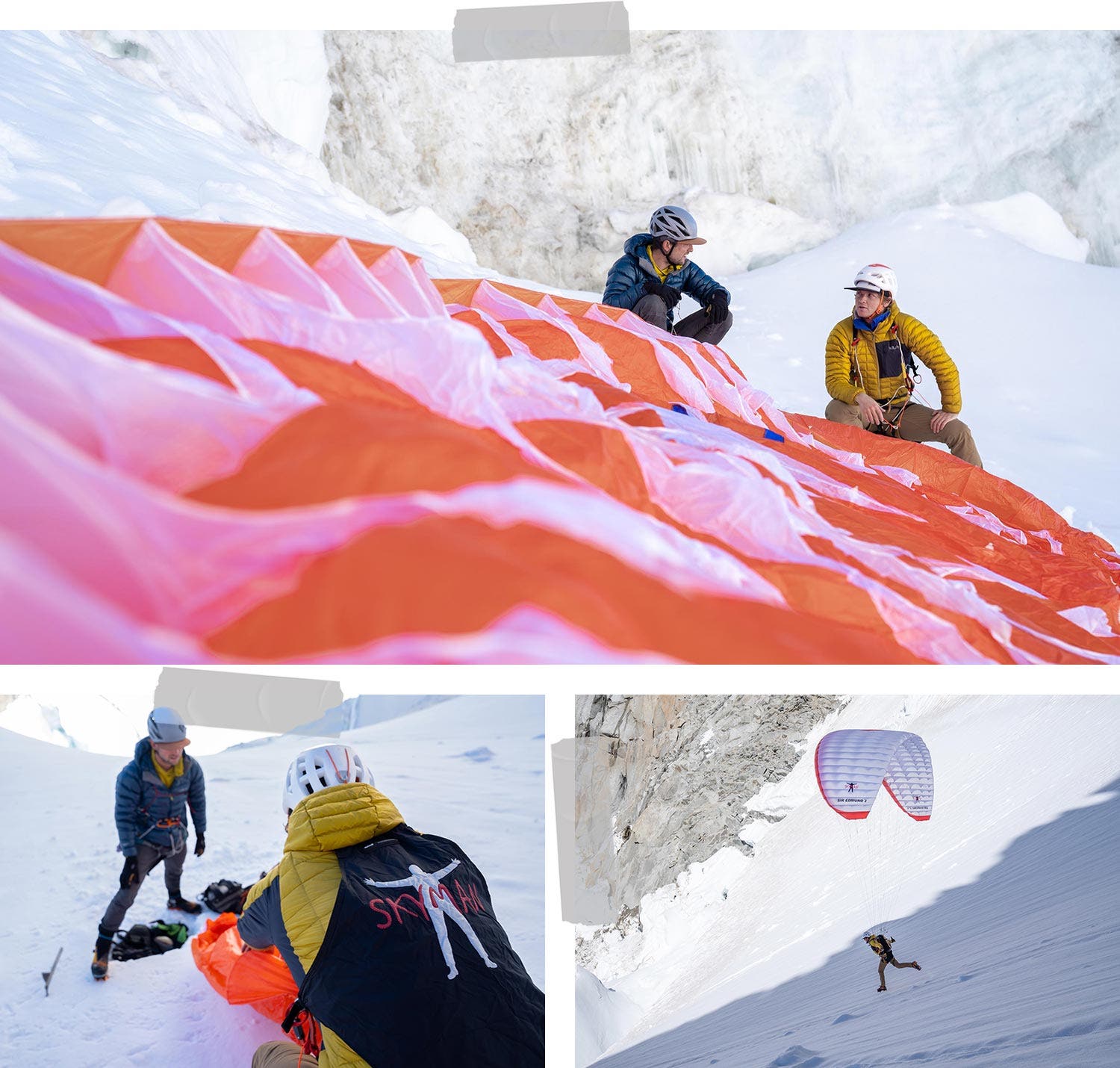 Para-alpinism, as it is known in France, is becoming an increasingly popular past-time. In high mountain areas such as the European Alps, its advantages are obvious. Consider an ascent of Mont Blanc. In place of a seven-hour descent through dangerous terrain, you could be in the valley ordering a pizza following a twenty-minute flight. It sounded like a win-win to me anyway! Despite the sports recent rise in popularity, it's not a new idea. In fact, paragliders have been taking off from high summits around the world for four decades. One of the pioneers was legendary French alpinist Jean-Marc Boivin, who in 1988 flew off the summit of Everest. Until recently though, wings and harnesses have been heavy and bulky items weighing in excess of 10kg, which as an additional load to climbing equipment becomes impractical. Improvements in technology have provided new canopy types consisting of just a single "mono-skin" layer rather than the conventional double layering system with air cells. These new wings weigh as little as 1kg, pack into a mid-sized stuff sack, with a harness the same weight as one for climbing. This step-change in technology has given the sport a new lease of life.
Throughout the last two summers I've been experimenting with where to fly and how to carry my equipment. I've found it works particularly well on easier climbs and alpine routes, where you don't mind carrying extra bulk in a bag, or conversely, it is excellent on the harder routes where you haul bags up behind you. I aim to keep my pack weight down to a 15-18 kilo maximum which is about as much as I can manage launching and landing safely and I always fastidiously follow the weather forecast in advance of a flight looking at altitude winds, wind direction and cloud cover. I tend to use the mobile app FATMAP, which has high resolution satellite mapping, to work out where viable take-offs will be atop mountains and ridge-lines. I fly a Skyman Sir Edmund 2 wing, which at 1.25kg is one of the lightest out there, but more importantly for me, it launches easily in nil wind, doesn't collapse unexpectedly and handles intuitively in the air.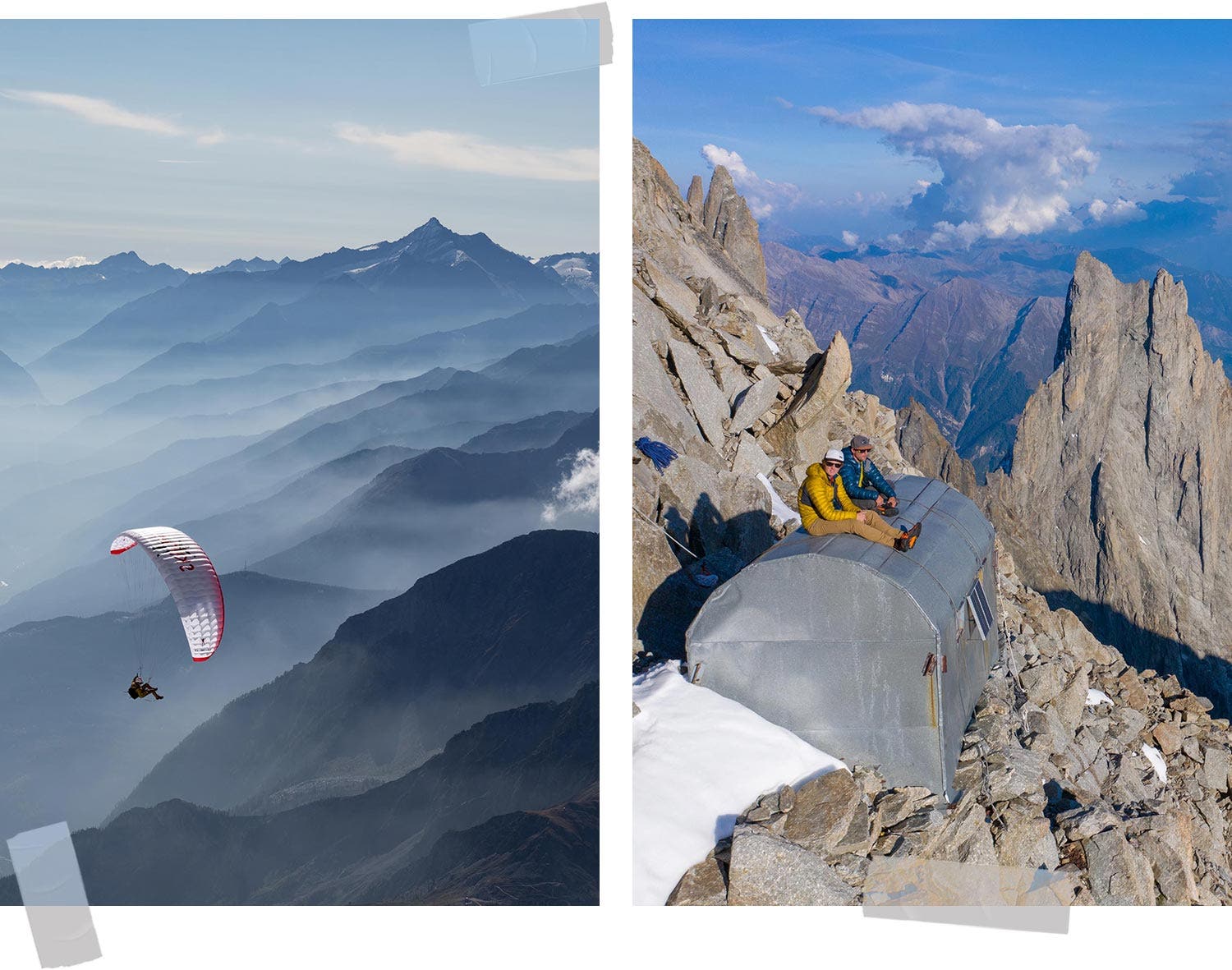 On this occasion we were on the wild Italian side of Mont Blanc, far away from the hustle and bustle of the Chamonix valley. The granite climbing on this side is amongst the best and highest in the Alps, with the likes of the Freney and Brouillard Pillars, as well as the spectacular Grand Pilier d'Angle. Starting at 4,000m in altitude, all these routes require prior acclimatisation, and with a huge 2,500m descent, are perfect climb and fly objectives to save you from a long walk back down to the valley. We were here to try and repeat a new route on the Pilier Rouge du Brouillard called 'Incroyable', an 8a multi-pitch opened by an Italian friend at the beginning of the summer. It was my first time climbing on the "red pillar" and I was excited to be in this spectacular location with good friends, so late in the season when the mountains have quietened down.
It's always a gamble trying a tough multi-pitch rock climb in the mountains though with only one realistic shot at a free ascent. Will the temperature be ok? Will the rock be dry? Am I fit enough? At least I was sure I'd be acclimatised on this occasion after two months of guiding in the Alps. In mid-September, our main concern was that a slight breeze at 4,000m would render the temperature too cold for difficult free climbing – how wrong we would be.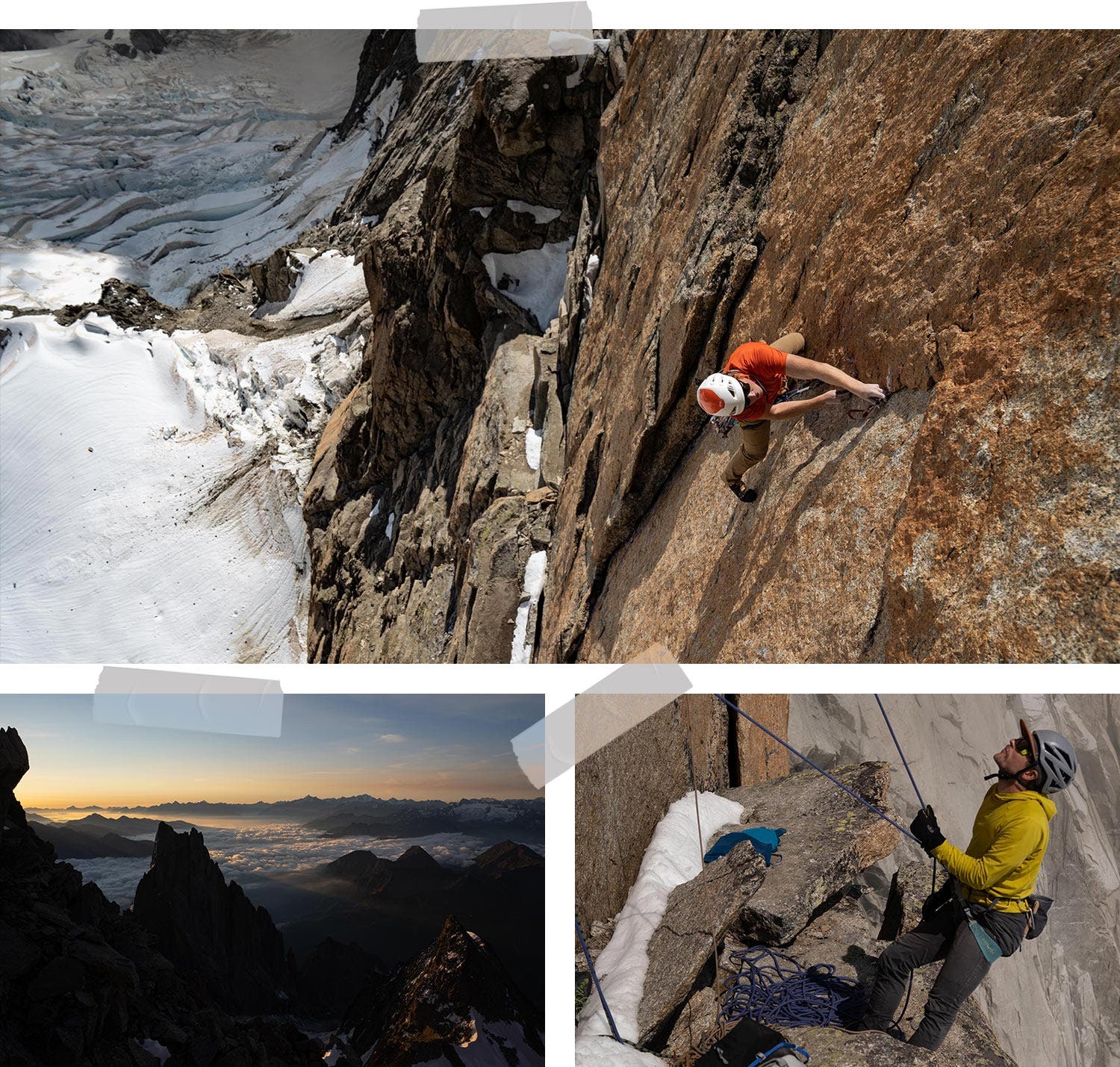 A 'not-quite' alpine 7.30am start got us to the base of the route just as the rock began to warm up. The great thing about rock climbing in the Alps is that you need to allow the rock to warm up following sub-zero overnight temperatures which suits my disposition for a lie-in. It was the right move as well as the first pitch was a very technical 7a+ which was a rude awakening after a mellow approach to reach the route. The granite on the red-pillar is compact and solid, splattered with little edges that seem to mysteriously disappear into the cliff face until you're right next to them.
As we gained height up the pillar the temperatures really began to soar and we were surprised to find ourselves climbing in t-shirts above 4,000m in mid-September. The crux pitch loomed above up a seemingly blank wall with bolts spaced inconveniently far apart. I was going to need to dig deep for this one. Micro-edges led up past the first couple of bolts to an impasse - a long reach to an imaginary finger lock. After testing the strength of the second bolt and Paul's reactions (both were quite adequate), I felt satisfied to push through the lower crux and up a strenuous layback crack feeling quite pleased with myself that whilst I'd whittled down the skin on my fingertips on the sharp crimps, I was now through the worst of it. As if reading my mind, the climbing got more difficult again. After repeatedly flying off the upper section I eventually clawed my way through the pitch with tenderised fingertips and toes. It goes – just maybe not on this occasion…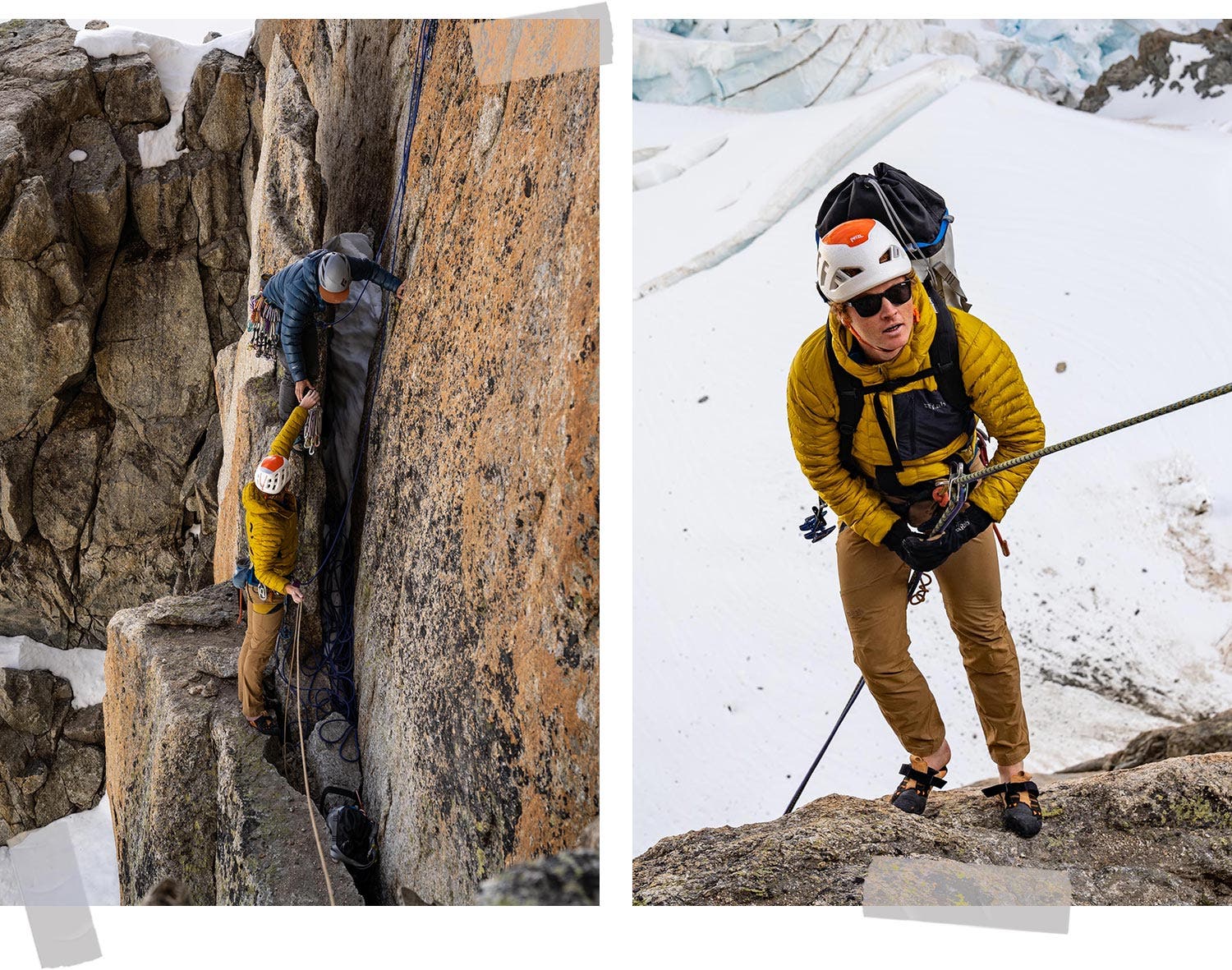 "We'll call it a draw today!" I shouted down in mock defiance to Paul and Jake who were waiting patiently below.
Whilst it's always a little disappointing to walk away from a route without claiming a free ascent, it's also nice to look at the positives. The good company and banter, the amazing location and the hundreds of metres of amazing rock climbing. With para-alpinism you have another positive to look forward to – the flight down.
Flying down to the valley is an absolute pleasure in high mountain terrain, and descending from such an altitude provides plenty of time to enjoy your surroundings. It was Paul's first flight and far from the motion-sickness people often get on their first tandem flight, Paul was lapping up the ride and the hefty 'wing-overs' that Jake was putting the glider through. Landing in Val Veny, next to a couple of cafés at midday provided us with a fitting end to two days in the mountains and with the summer season rapidly coming to a close, it was time to start planning next summer's adventures.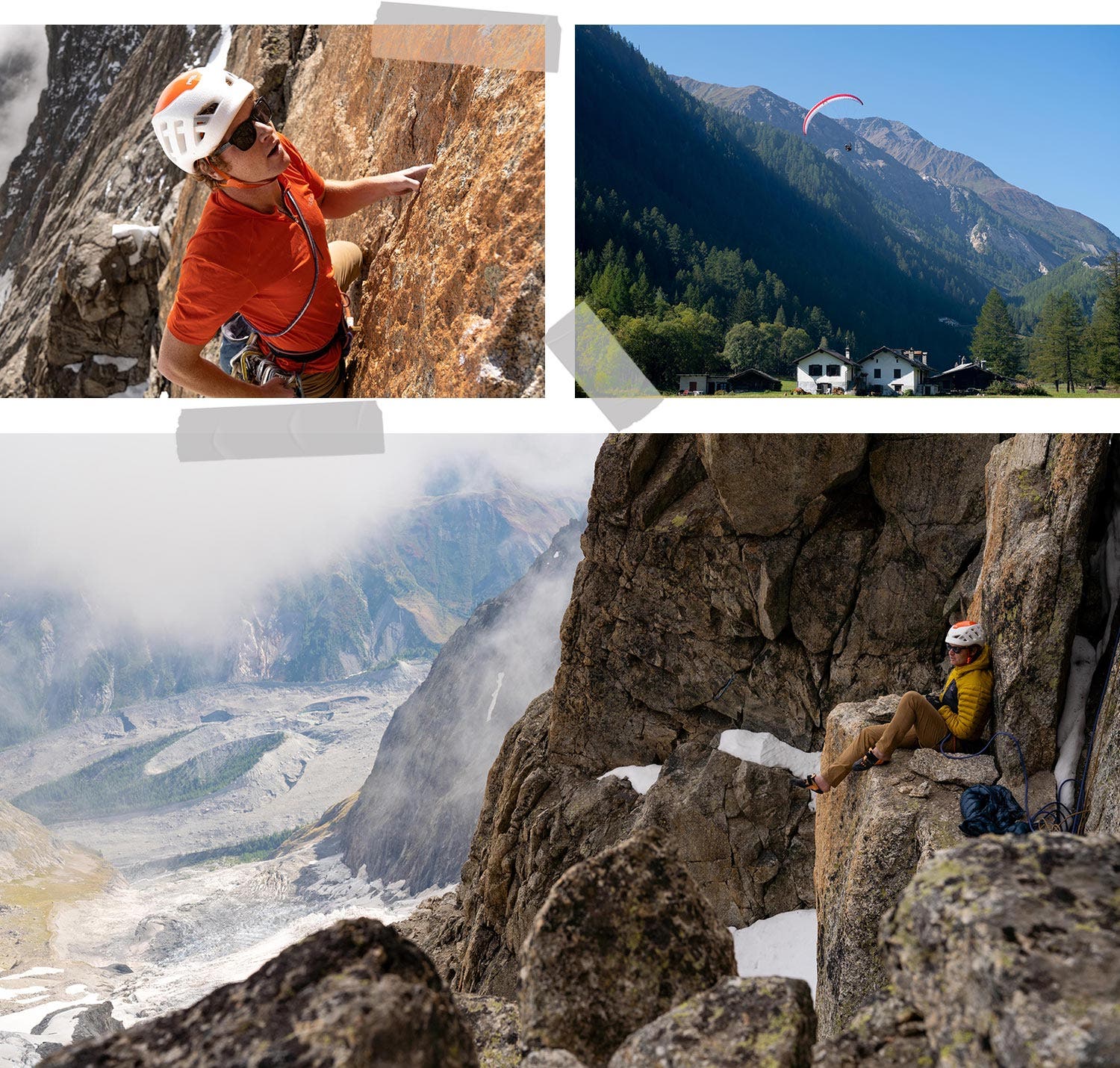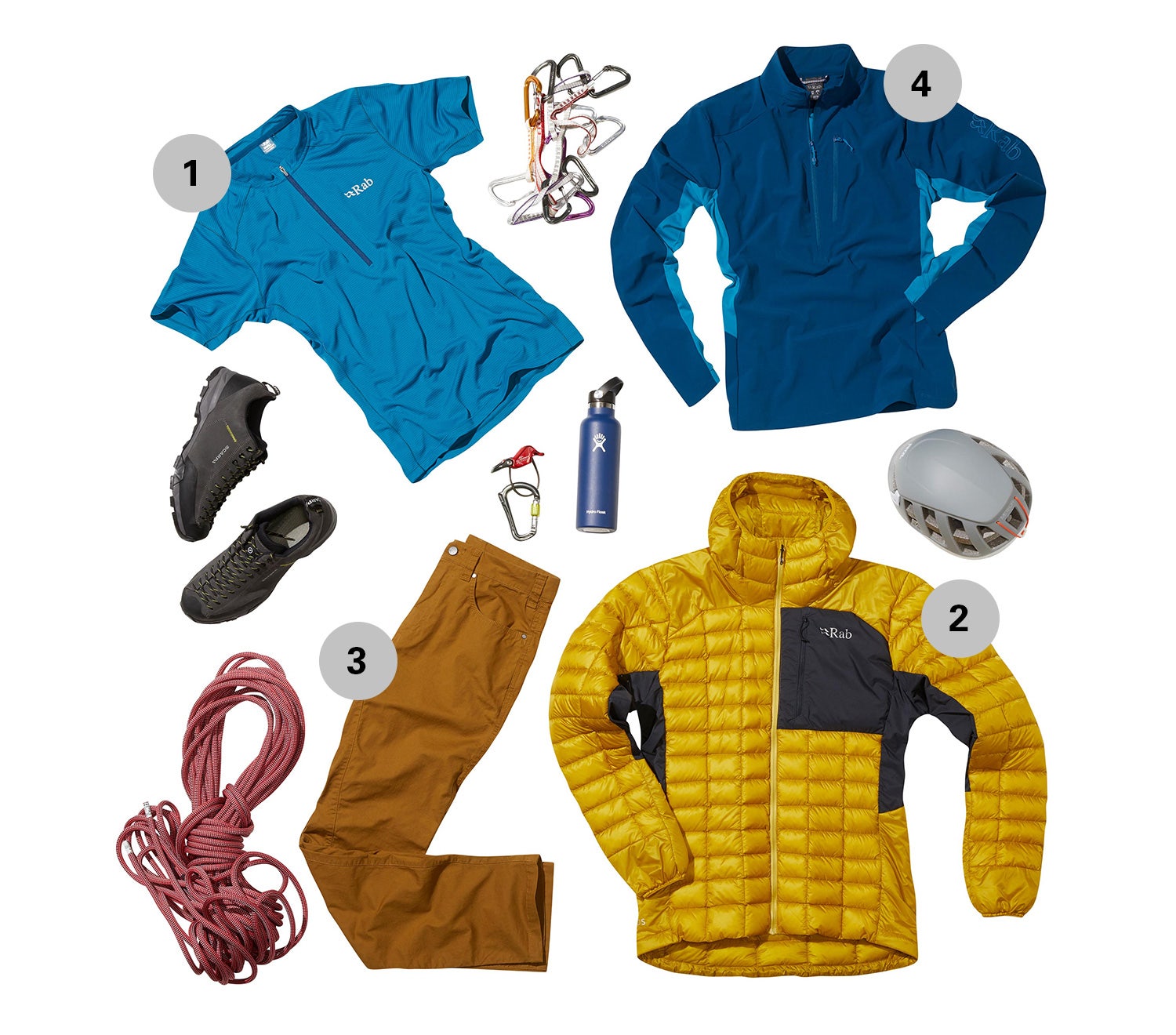 1. Sonic SS Zip
Lightweight, quick drying and with a high collar for sun protection and to stop any rubbing with a rucksack or alpine rope coils. This simple but light layer ticks all the boxes for me for active use in the mountains either as an independent layer or part of a layering system.
2. Kaon Jacket
This light down jacket has enough warmth to work as a belay jacket but with its non-insulated underarm panels is also nice to climb in on cooler days. It packs down to a tiny size so perfect when weight is at a premium.
3. Radius Pants
Flexible, tough and cool – everything I'm not…
4. Momentum Pull-On
The Momentum Pull-On is my favourite alpine layer. It provides fantastic sun and wind cover whilst also being light and cool enough to wear on hot days. I spend half my year working in the high mountains on highly reflective glaciers and as a fair-skinned ginger a layer like this is perfect.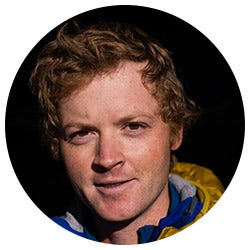 ---
Calum has known the hills and mountains of North Wales since his earliest days and they have shaped his love of the outdoors and of mountain sports in particular. Working as an IFMGA Mountain Guide, Calum splits his time between Wales and the French Alps.
Learn more about Calum here