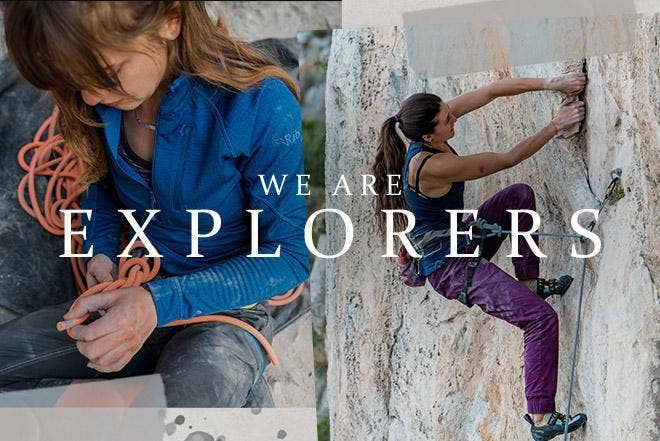 It was the start of January 2020. The world had no idea what was about to hit it. It was only weeks later that the World Health Organization would declare the outbreak as a global health emergency, and a few months later that the virus would hit the Americas. All eight of us sat on the big bed, gossiping about boys, relationships, menstrual cycles, tinder dates… the whole deal. We took turns sharing stories while the rest listened curiously, giggling like little girls at a sleepover. This was nothing like any climbing trip I'd ever been on.
---
About a month earlier, Savannah and Heather had invited me along on an all-ladies trip to El Potrero Chico in Mexico. I didn't know either of them well, and I didn't know the other ladies at all. I'd also never climbed in Mexico and up to this point most of my climbing trips had been with dudes... "I'm in!". We rented a large villa with a pool out the back. Three ladies in the bigger bedroom, two ladies in the smaller one and two in the living room. We called it Tequila Villa. Savannah was the one who connected us all. I love that about Sav, she brings people together — a friend magnet.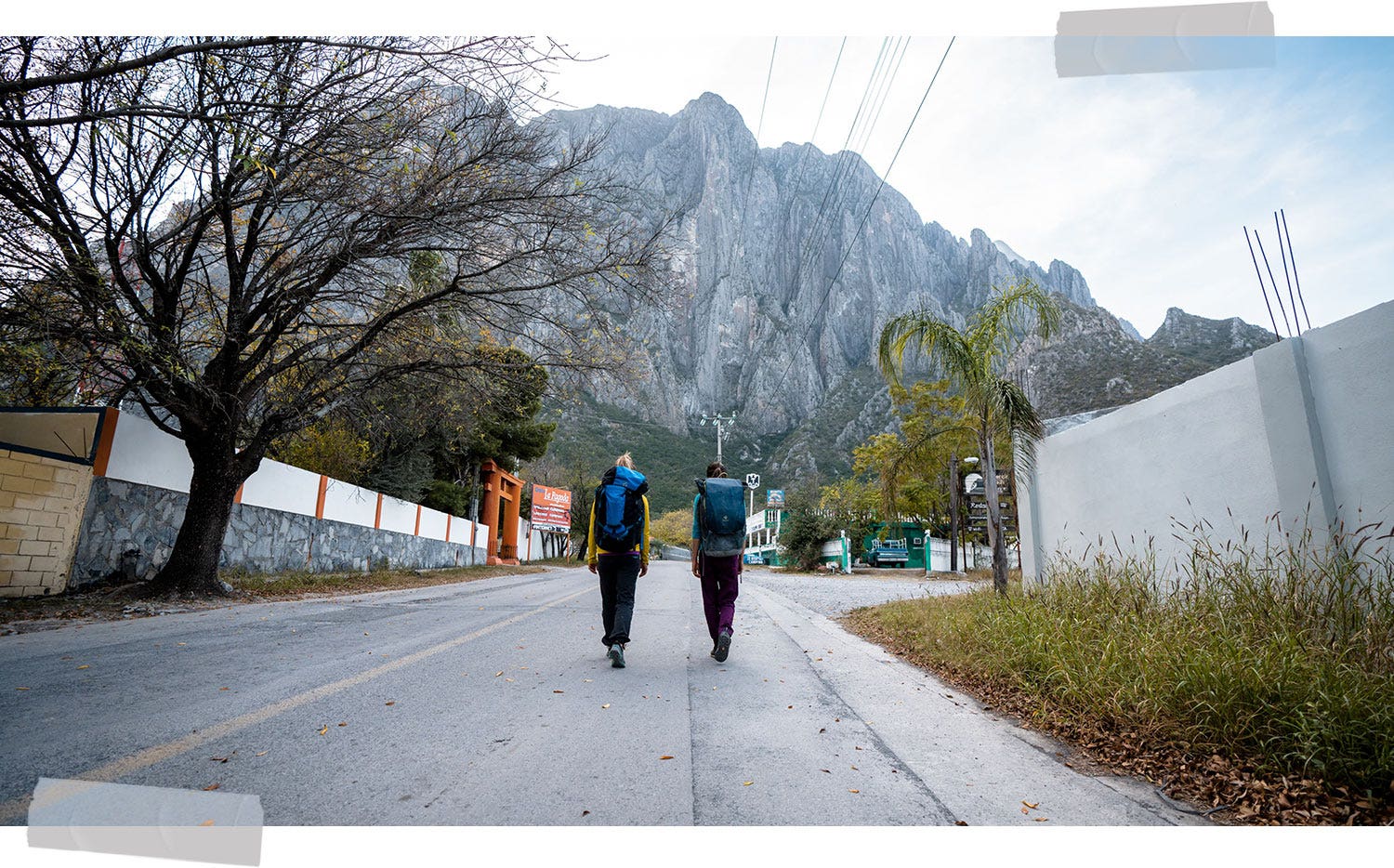 The next morning we crammed into Savannah's car and drove to the market in Hidalgo. On market day the streets are filled with fresh fruit and veggies, hand pressed tacos, fried cactus, and a variety of other items like clothing, tools and trinkets. Bellies full and our taco supplies restored, we headed back to the villa.
Each day we'd show up at the crag in our female posse. The supportive, positive energy was incredible and infectious. One of my goals for this trip was to work on my onsight game. It was a fun goal since it meant I'd get to do a ton of mileage. But it was also a style that greatly intimidated me. Too often in the past I would set off burdened with constant doubt that I wasn't climbing "right." I would get stuck, down climb, get frustrated, hold on for so long that my forearms felt like they would burst from the lactic acid build-up, and eventually I'd fall off. I lacked confidence in unknown terrain.
Flashing is a little less intimidating. It means you have some prior information about the climb. I arrived at the crag one day looking to try a route called Cyclops 12d/13a (7c/+), just as a lady was lowering off it. "Want beta?", "Yeah sure." She pointed out a few things from the ground and then as I climbed she continued to shout beta. I moved through sequences, sometimes following her suggestions, sometimes finding my own. I felt like everything was flowing perfectly. I was trying hard yet executing without caring too much about the outcome. Just picking things and going for it with confidence. Suddenly I was at the rest just below the anchor, shaking out my forearms I tried not to get excited prematurely. I pulled the final moves and clipped the chains. Woah, that was unexpected, "Thanks for the beta!".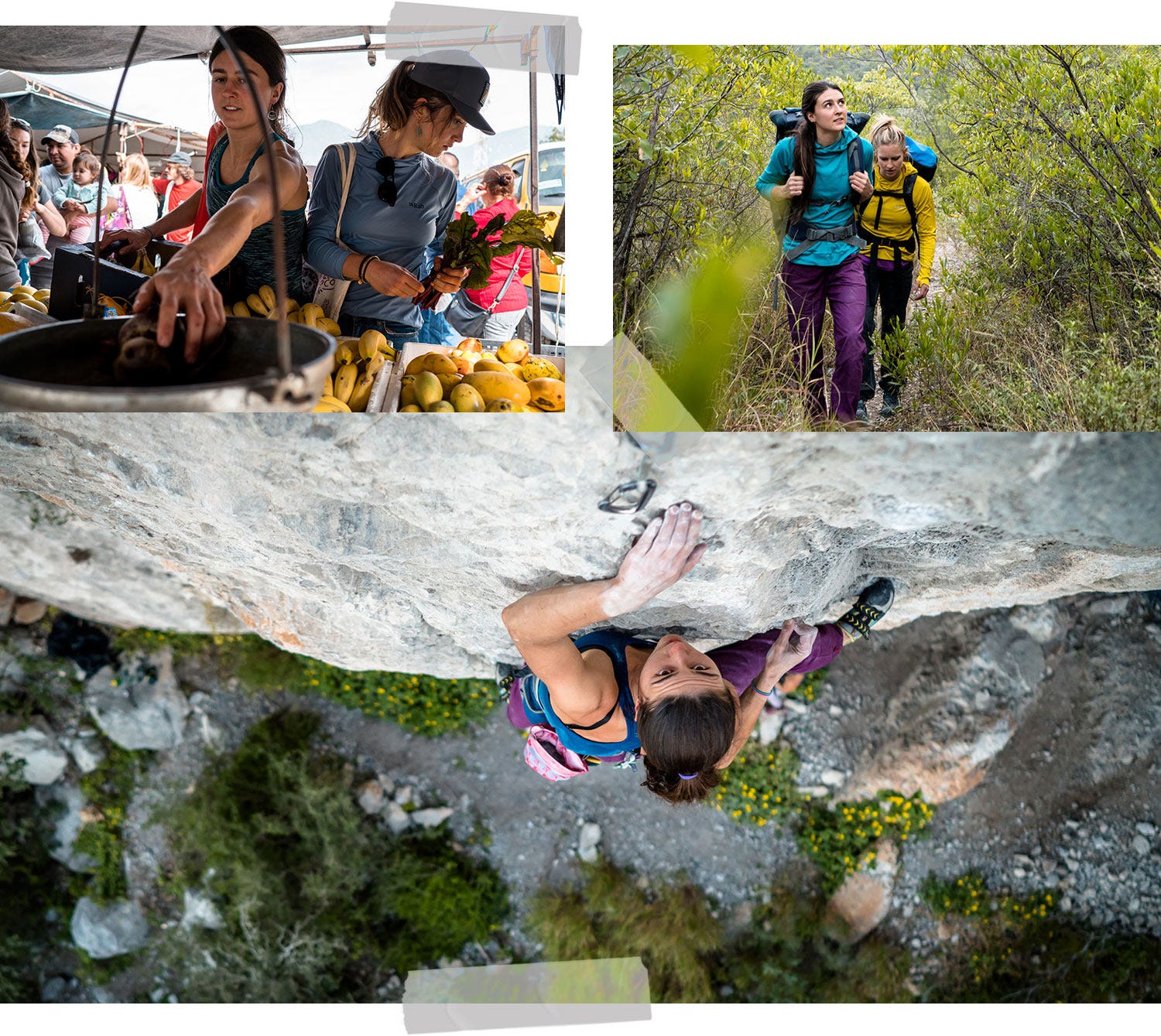 Feeling more confident, I turned my sights to bigger objectives. Sendero Luminosa is a 15-pitch (450m) hardman classic of Potrero. Sustained, with nearly every pitch graded 5.12 (mid 7s), it follows the prominent central pillar of El Torro, the tallest cliff in the canyon. At dawn, Jordanna and I hiked excitedly up to the start of the route to find it in a thick cloud. We sat at the base hoping the fog would lift but instead it only became wetter. Eventually we stashed our packs and hiked down.
I fell back asleep. A few hours later I woke to a soft whisper, "Bron, the clouds lifted, you still want to climb it?". So Jordanna and I set off for a second time that same day. We climbed the first three long pitches, and then another two by headlamp to arrive at the midway ledge. I flowed up the grey rock in my little bubble of light, enjoying the technical and delicate movement. It was a beautiful evening, warm with a light breeze. Mexican music drifted up to us from the town below. We danced a little at the ledge and then rapped off into the night. The top half of the route loomed in mystery above us. I was determined to come back for it.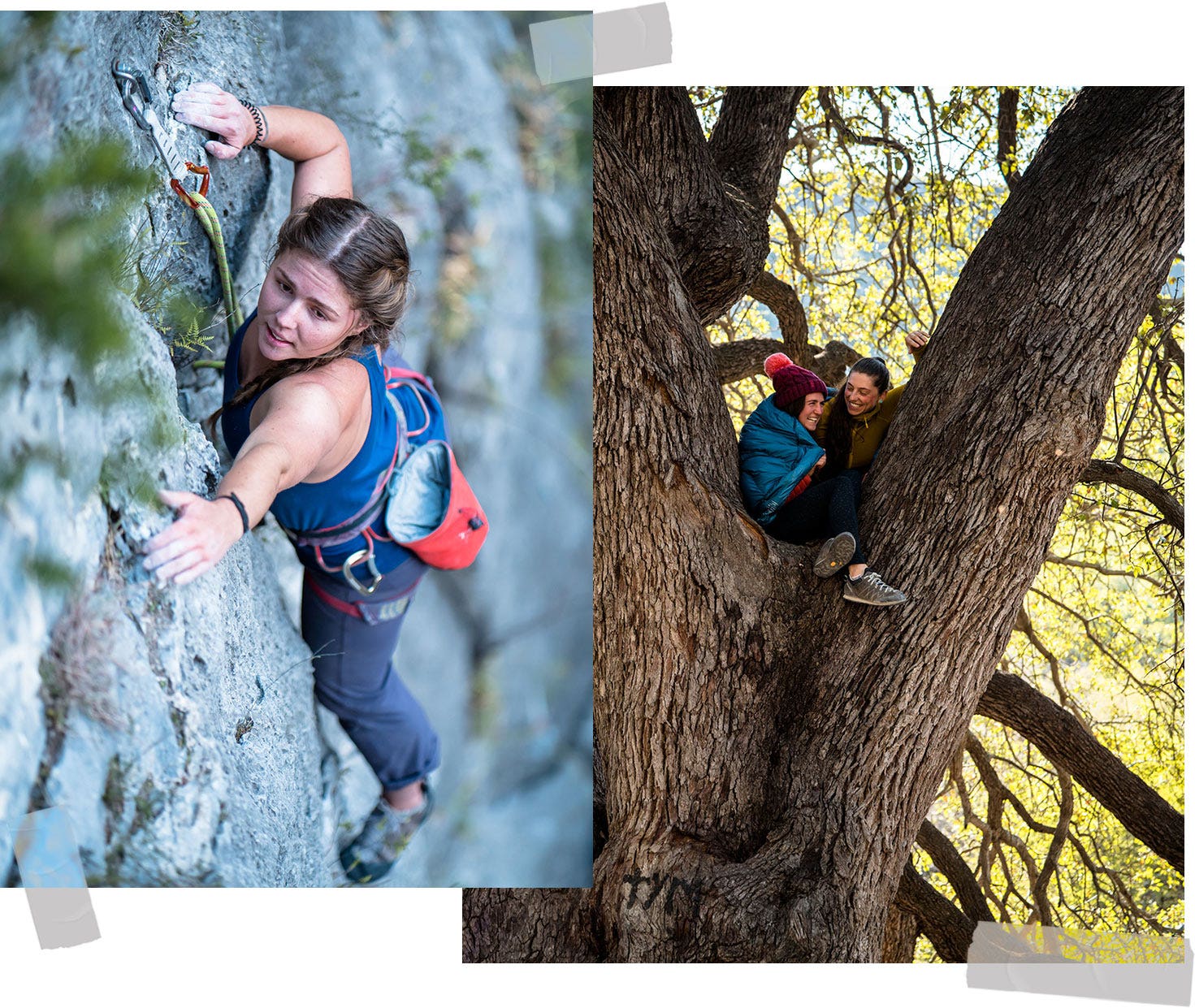 Jordanna was the first of the ladies to fly home. She was off to work as a travel nurse in Argentina. "Let's climb together again someday", I said as I gave her a final hug. Over the next few days we said goodbye to most of the ladies until we were down to four: Sav, Kiersa, Sarah and I. We moved into a smaller house and said goodbye to Tequila Villa.
Sarah was nervous but excited to try Sendero Luminosa with me but the next morning she woke with a terrible cough, a cough which unfortunately would last for weeks. We brought her cough syrup, tea and anything else that might make her feel better. Sarah urged me to find a new partner. I knew a few guys who were camped nearby. I met Ezra, who had only been climbing for a few years, but he was stoked to support me on my mission.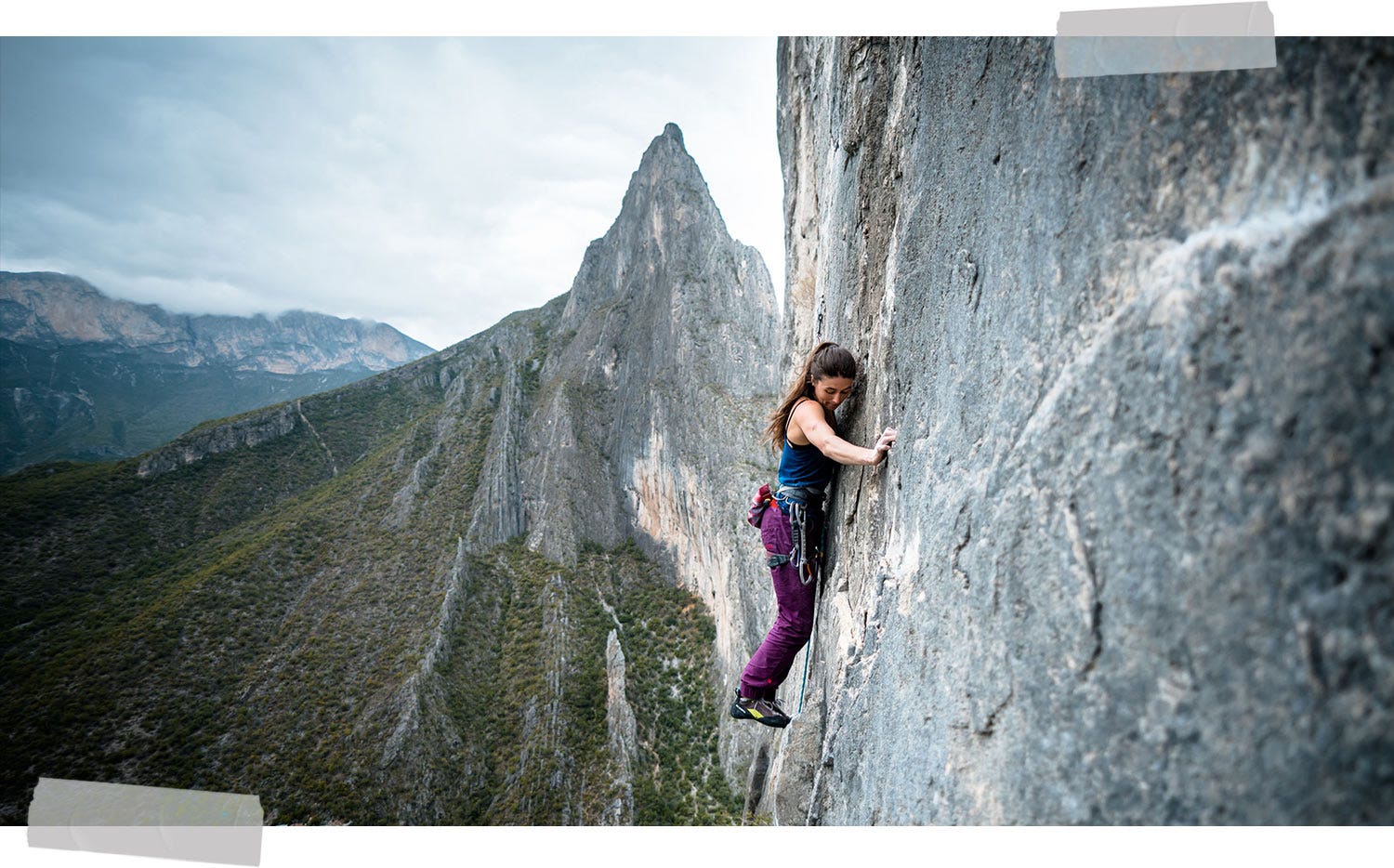 Ez and I set off early. Everything went smoothly to the halfway ledge, but I could feel myself tiring on the pitches above. By the time we arrived under the upper crux, pitch 12 (12c/7b+), I felt pretty beat. I looked up at the orange and black speckled face, glowing in the last rays of light, "I hope there are some positive crimps up there." I took the quickdraws from Ezra and he put me on belay, "Go get it, Bron!". I wondered if I had this in me, I had to be confident. I could do this. I pulled on to the first little crimps.
I reached the last hard pitch. It was the last spot I could fail. My headlamp was fastened on my helmet, but I didn't quite need it yet. Our timing was perfect. I wanted to get to this pitch before dark. I'd led every pitch and had not fallen, but I couldn't think about that now. This pitch was a continuously insecure and unrelenting puzzle, a theme of the route. I needed to focus on each move. Trust my feet on the smears to relieve my tired fingers from some of the strain. I emptied my mind of all other thoughts.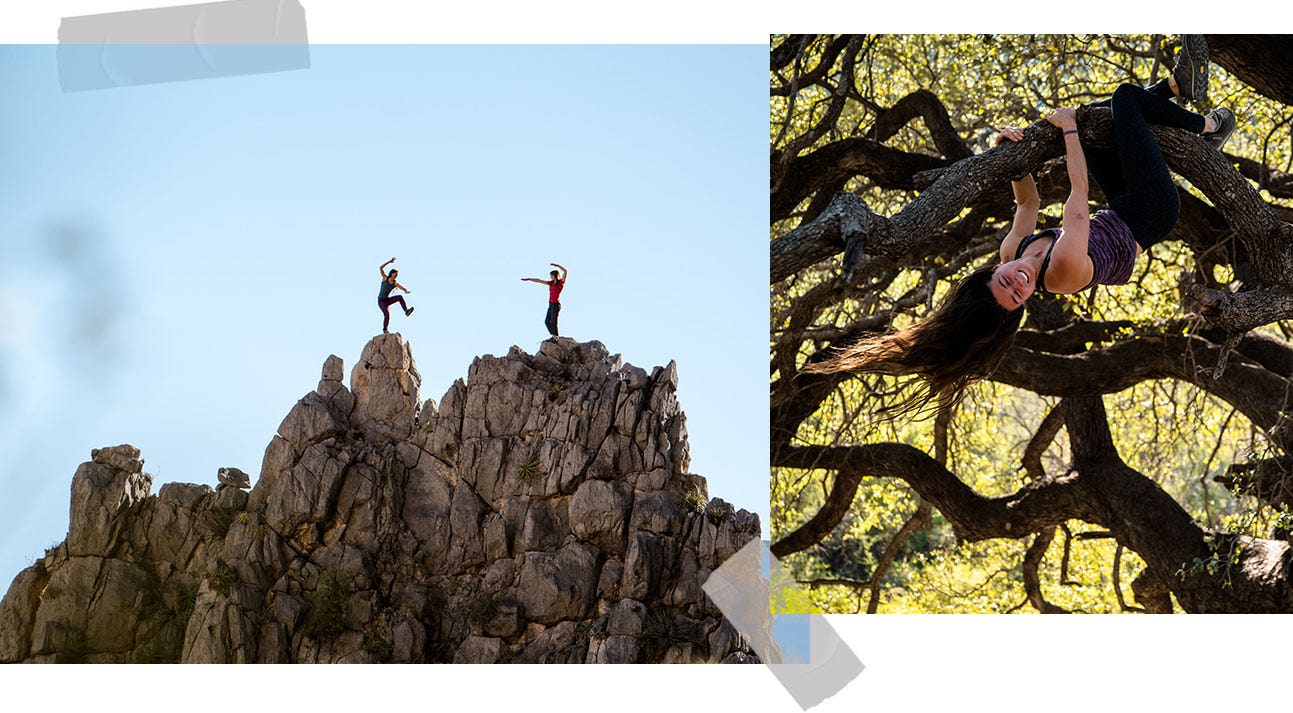 I let out a mini shriek as I nearly fell off. Ez shouted up encouragement, his words cut through my pounding calves and forearms. Focus. Be confident. I pulled through the last moves and clipped the chains. "Yeaooooooo!", I flicked on my headlamp and fixed the rope for Ez to jug. An hour and half later we were standing on the summit. I arrived back to the house around midnight, completely exhausted, to find a surprise. The ladies were awake and had baked homemade pizza. They'd been watching our headlamps as we rappelled the face, "You ladies are the best."
Being surrounded all day, everyday by awesome women, climbing together, cooking together, and sharing all the gossip over tequila in the evenings made for a really special trip. A week later Sarah recovered from the cough and managed to free Sendero Luminosa with our friend Tony. Sav and I continued our Mexico adventures at a remote desert cliff, but that's a whole other tale. Cheers to all the ladies of Tequila Villa, and fingers crossed for a sequel.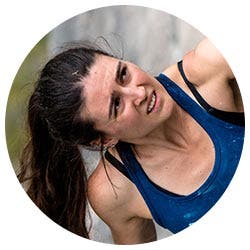 Words by | Bronwyn Hodgins
Photos by | Savannah Cummins
---
Bronwyn is a professional rock climber and guide, based out of Squamish, Canada. Originally from rural Ontario, she grew up canoeing, hiking and skiing with her family. She started climbing at university and immediately fell in love with the sport. She has since climbed 13c sport and 13a trad, as well as many adventurous routes in Europe, Africa and North America. In November 2018 she became the first Canadian female to free climb El Capitan in Yosemite, CA, with her ascent of 'Freerider' over five days. That was her fourth attempt in as many years, and a huge personal goal.
Read more about Bronwyn here