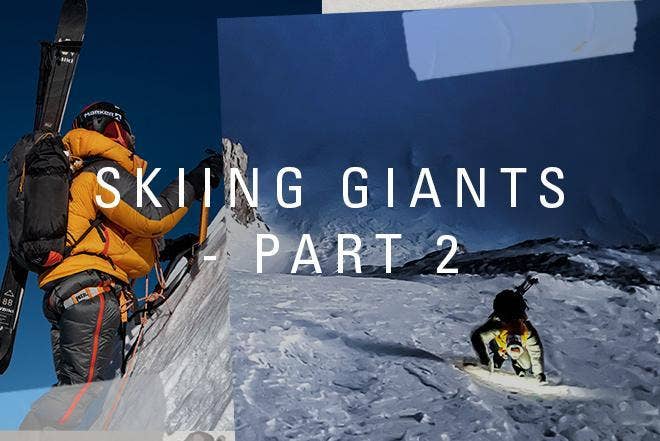 Pakistan 2021, a two month expedition with a great team. Aurelia Lanoe with her extremely strong mental game, Guillaume Pierrel who comes as strong as he is enthusiastic, and Tiphaine Duperier my sole and best climbing partner.
After a few days in Skardu to organize the logistics, ascent permits and necessary administrative work with the liaison officer, we head off on the road towards the base camp of Gasherbrum. After five days of trekking along the Baltoro Glacier with our armada of mules and porters, we reach the base camp. We are in the place with the highest density of 8000m mountains in the world: K2, Broad Peak, Gasherbrum 1, Gasherbrum 2. Here, the atmosphere is a little different; we are surrounded by a dozen expeditions. 8000m mountains remain fashionable. A stark contrast with the first part of the expedition, where we were doing 'exploration skiing' alone, in wild places. It's nice to have some life at base camp.
The main objective this year is to ski the French route on Gasherbrum 2, opened in 1975 by Yannick Seigneur and Marc Batard. It's located to the right of the normal route, which it joins on the summit ridge. It's a direct and aesthetically beautiful route that follows the line of the spur. Although it's sheltered from serac falls and avalanches, it has rarely been repeated and never skied.
Our strategy is still unclear. But we agree on the need to climb to 7000m to finalize our acclimatization in order to attack the summit at the first opportunity. Climbing an 8000m peak is often a question of small details. You need to acclimatize well. Push yourself, but not too much. Not get exhausted during the long card games at base camp. Be patient. Rest. And most importantly, take advantage of a good weather window.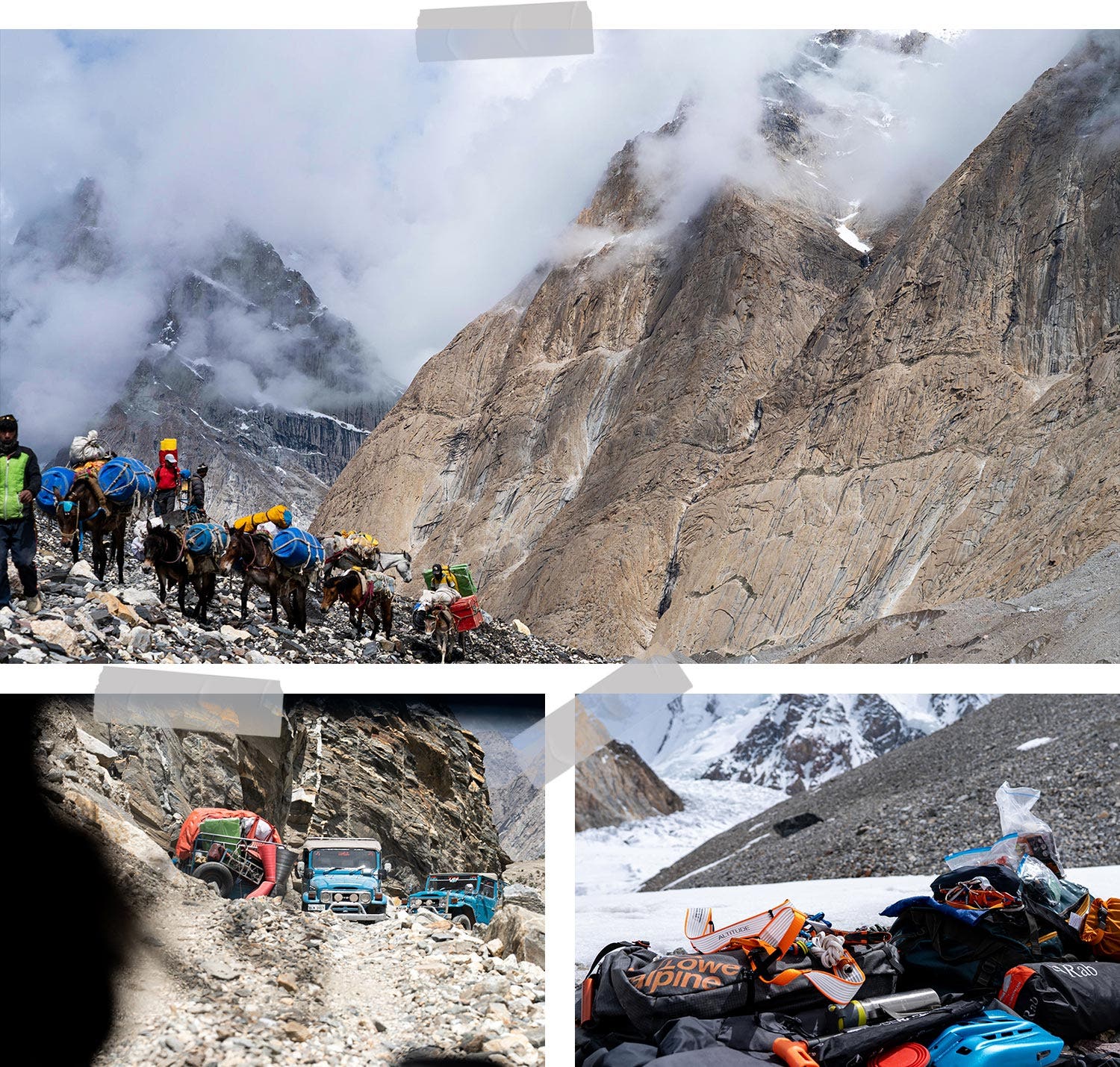 After two days at the base camp and following tracks through the ice fall, thanks to the American guide Luke and his porters who had made them, we arrive at Camp 1. The ascent that leads to the spur and to Camp 2 is quickly climbed, but just after, we are surprised by a technical part on bad rock. A little too optimistic during our scouting, we had imagined a smoother running route. Even if the climbing is not extreme, it's difficult to put any protection in the rock. The pro is, at best, of questionable quality.
With our big backpacks and skis on our backs, it's not ideal. The leader climbs without a pack to fix the rope, and then goes back down to get his gear and climb up a second time. It's hard work and with our speedy rhythm, it takes us 4 hours to cover a mere 100 meters! However, at around 6400 meters, we find the perfect place for Camp 2. Tomorrow, we'll be able to scratch at the 7000 meters mark.
We wake up, and surprise, it's snowing! Although the location of the camp is super safe, it's still a mouse trap. If bad weather settles in, it would be difficult to leave. The slopes below are steep and prone to avalanches. After a long debate between staying an extra night to acclimatize or going back down, we choose the safer option. As the snowfall intensifies, we abandon ship as soon as possible! The slope between Camps 1 and 2 looks like a big, 700 meter slide. With an icy surface the steepness is probably accentuated even more, but it must be close to 55 degrees. A great ambiance for lovers of steep skiing! We manage the descent on skis with concentration. Three hours later, we're back at base camp. It may not have been perfect, but we decide our acclimatization is done.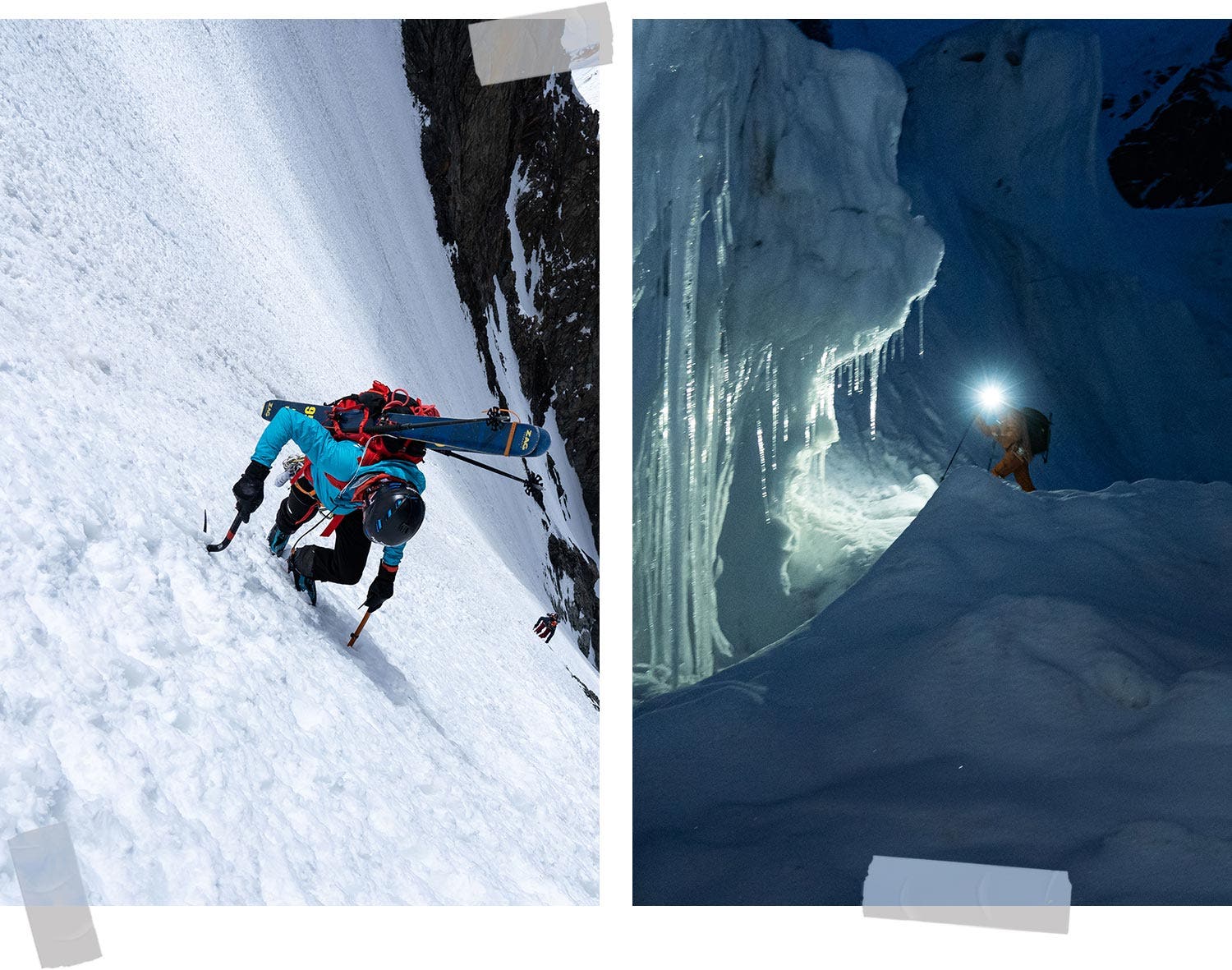 At the first favourable weather window, we set off to try the summit push. To avoid a new weightlifting exercise climbing the technical part of the spur, we go around it to the left. This time, without any heavy lifting, we are at Camp 2. No doubt, from now on it should be smooth sailing. One more camp around 7000m and we're done! Yet, as is often the case, things don't always go as planned.
On our third day of climbing, we only gain a few hundred meters. The crusty snow is slowing us down. Although the location is questionable, we decide unanimously to add an extra camp in the middle of a big slope. We rest. The fourth day brings relief as we passed all the difficulties of the spur. It's doable on skis, but it's not easy. We opt to camp around 7300m for the final night. If the weather is good tomorrow, it will only be a question of mental strength and enduring the altitude to reach the summit.
In the morning, the wind is blowing gently. It's difficult to find a rhythm between snow and rocks. As I've felt many times before, at the beginning, the summit seems inaccessible and far away. It doesn't want to come closer. You feel like you are treading water. It's only after a good dose of self-denial and hours of effort that suddenly, when you raise your head, it seems possible, and you can start to believe that you might make it.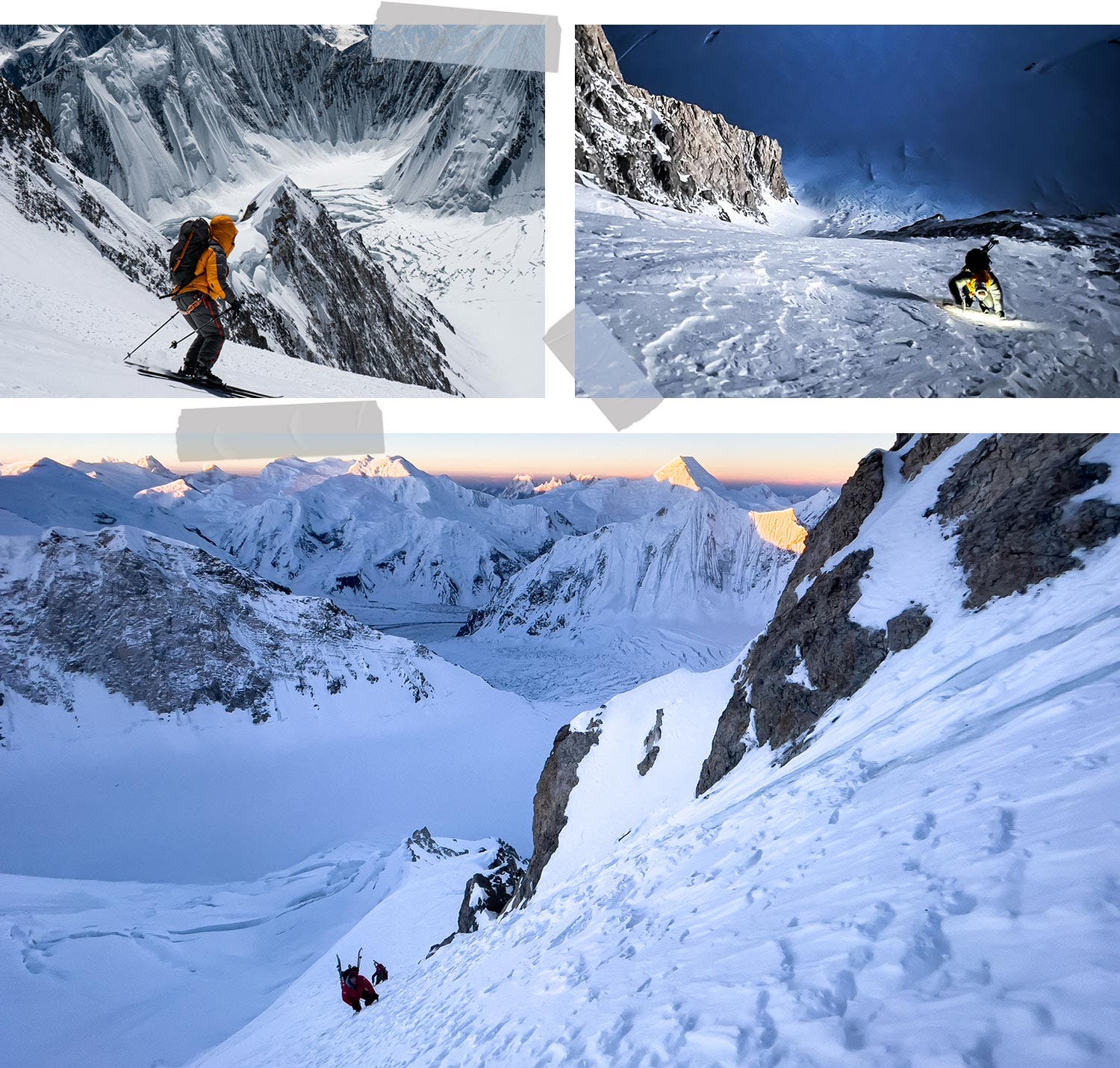 It's been seven hours since we left. Bent over on my poles and worn out, I'm almost at the top. Tiphaine is just behind me and we will arrive at the summit together.
Those first ten seconds at the summit are the best. The most intense. You wait for months, days, and hours for this moment. Now, you don't have to look up anymore, the whole horizon opens up to you. It's impossible to experience this anywhere else. In a few seconds, all the pressure dissipates. The sensation is difficult to describe, it's an ephemeral and powerful feeling that invades your body and your soul. Finally, I can hug Tiphaine and simply enjoy the magic of this place. Damn, it's hard, but it's beautiful! Guillaume, then Aurelia joins us, we all four of us are happy at the top. The first summit since 2019 under the COVID-19 era. It's cool, Raoul!
After more than two hours at the top, we get back on track, the descent is not easy to manage. The start is magical and aerial. For 40 meters it follows the ridge line between China and Pakistan. The rest is more complicated. After picking up our things at Camp 4, we continue the descent. A 30 meter rappel allows us to pass the first step of the spur. The slope is steep and exposed, the snow is hard, the ice is always close and the backpacks are heavy. We stay focused for each turn. Shattered, it seems wiser to stop at Camp 3 and continue the next day.
We wake up to mixed weather and quickly finish the descent. The snow is still hard, but I enjoy myself on my skis between the snow and ice on this giant slide.
We just completed the French Route in a perfect mix of styles combining mountaineering and high altitude skiing. It's always incredible to ski a mountaineering route; small satisfaction and big, giant relief.
WE SKIED THE G2!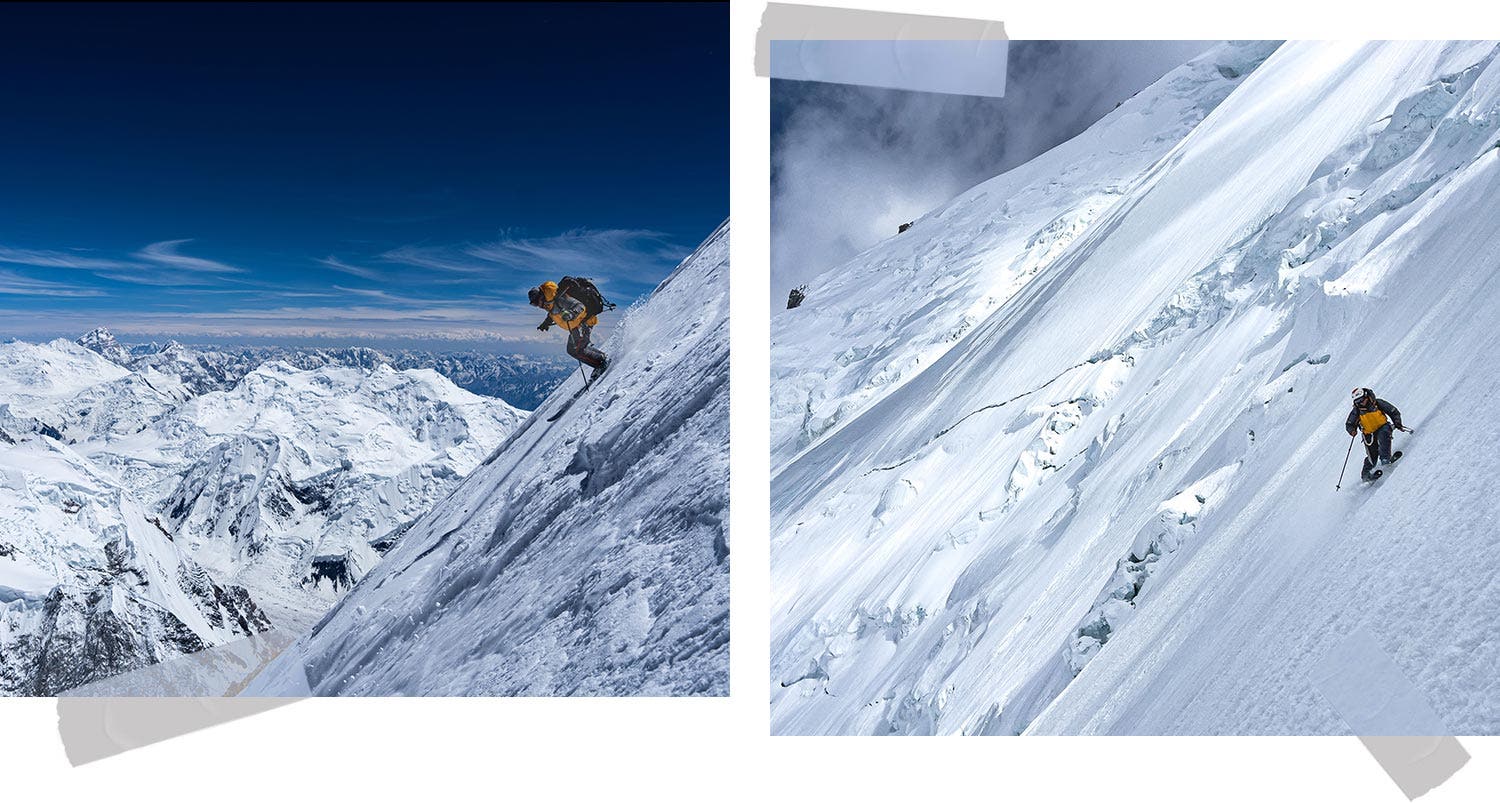 After three days of rest, Tiphaine and I look to take advantage of our acclimatization. The direction; Gasherbrum 1. We want to test ourselves, climb faster and lighter.
We go directly to Camp 2 from the base camp. After a few hours break, we aim for a summit push. We're the first alpinists of the year to climb the Japanese couloir. Conditions are good. After about ten hours, we finally reach the plateau at the foot of the summit pyramid. The summit seemed doable. Only here, our bodies let us down! We did not ski the G1!
Four hours ago, it seemed within reach… Now, laying on my backpack, I am frustrated.
Managing the descent of the Japanese Couloir is ticked off the to-do list. A beautiful dream accomplished. In this steep couloir, my turns had a special flavour, with G2 standing in front of me. It was a blast. I know that in a few weeks, any frustrations will be forgotten.
This marks the end of a beautiful expedition, which makes me want to come back even more.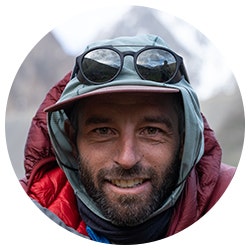 Words by | Boris Langenstein
Images by | Tiphaine Duperier & Boris Langenstein
---
Lachlan Gardiner has quickly established himself as one of Australia's leading adventure photographers with an eye, not just for action, but the human relationships and divergent cultures that make climbing and mountaineering expeditions such unique, rewarding experiences.
Read more about blank here