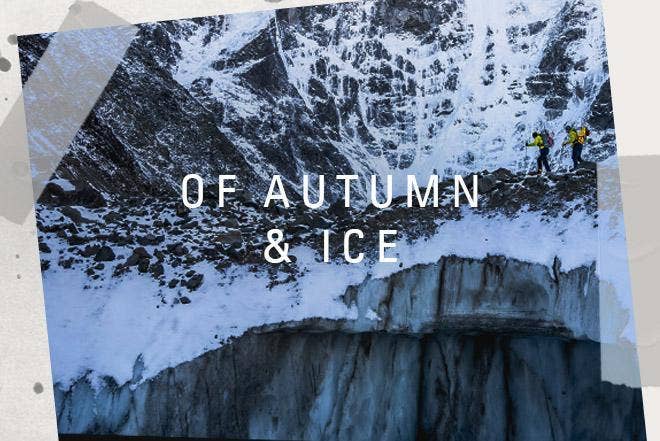 On October 13th, we were up early in the dark, our headlamps illuminating our breathing as we each put our kit on and debated when to leave our sleeping bags.
The stoke was high that morning and with well over half of the route already climbed and rigged with anchors to rap off, we were confident in finishing it. Following our approach tracks up and down the rocky hills of the glacier and skirting alongside benign crevasses, I looked up at the proper North Face and knew I'd be back to give it a try. Our inquiry of autumn climbing had been a success regardless of if we finished our route today or not. I was already beginning to look at the range in a different way.
Regaining our high point on the route was a mostly uneventful and very fun. However, early on, on the low snowy section of the route, an erupting crash shattered the silence of the valley. We looked across to see massive blocks of ice shedding from a high shelf some five to six thousand feet (1524 – 1828m) above the valley floor. In just a matter of seconds the cascade of ice and snow swept down the steep face. It obliterated itself on the glacier below. Its snow plume cast a monstrous cloud that filled the entire valley. Our approach tracks were just out of harm's way. We all watched humbly from our route. Though we had low avalanche hazard on that trip, large shelves naturally shed weight all year-round and it is simply incredible to see them at work.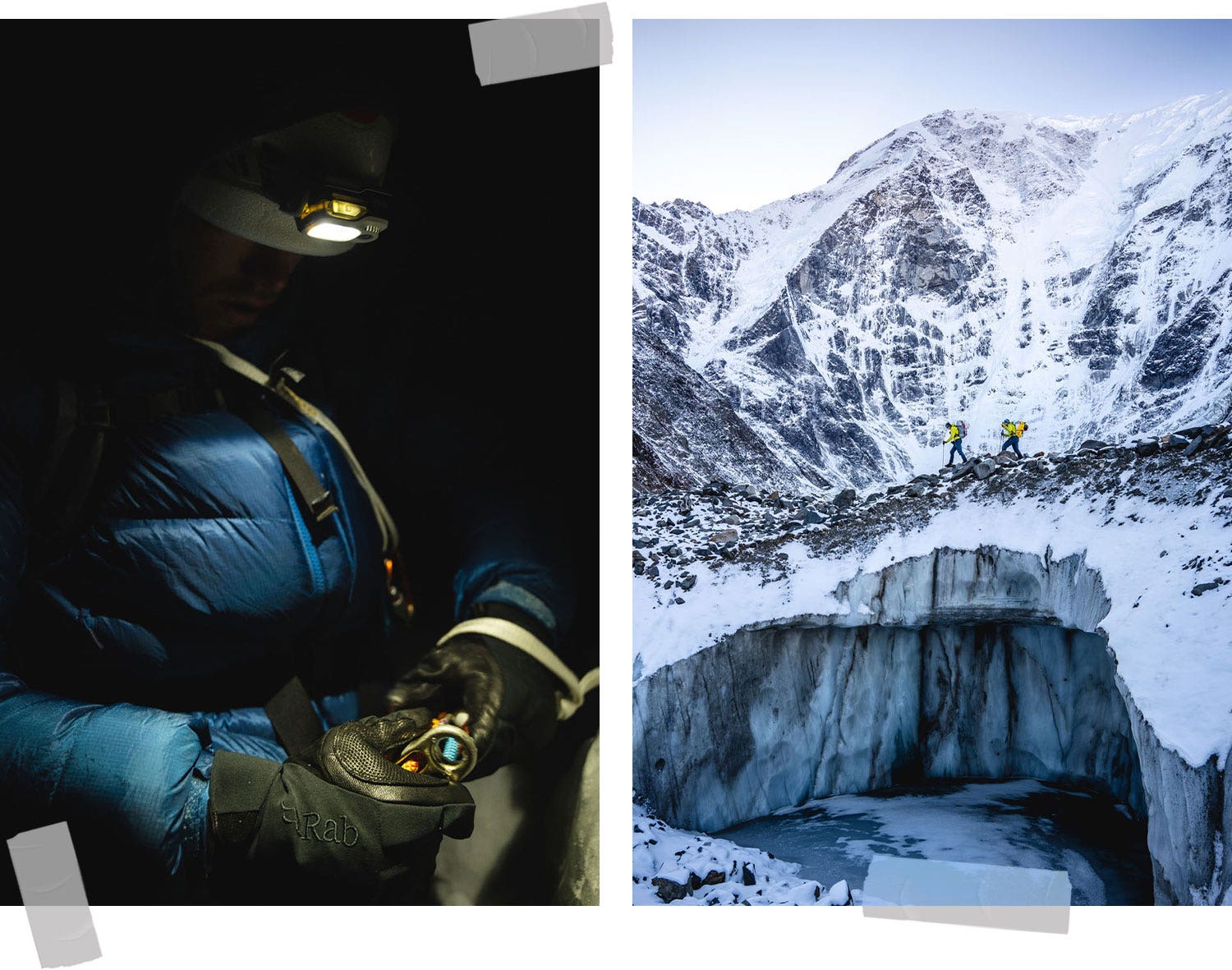 Shortly after our previous high point we found the best pitch of the route. Alex had called dibs on it from the valley. He was psyched! It was a beautiful swath of steep ice pouring down a stretch of rock from a high corner. It was so long that our sixty meter ropes were insufficient, and I had to simul climb it while Alex was grinding his way to the next available anchor. I got absolutely buried in snow for the first forty to sixty meters. Alex handed me his lofty down mitts then he set off on lead again and traversed out right over a steep rib of snow and then onto moderate ice for another rope length. The final pitch was steep scary snow. After a poor pin and a mediocre nut, I made it to the ridge. It was a knife edge. On the other side, the world seemed to drop away. The jumbled icefall we'd seen from the bush plane was below and it radiated a deep blue under now grey skies. More exciting than that though, we'd topped out the route!
Clouds were building but the weather was fine. It was freezing. Staying for only a short time on top of the route, we prepped to go down. Again, we rappelled together into the cold dark night. When we reached the glacier below, we'd rapped seventeen times with two sixty meter ropes. That's a long way!
We woke in basecamp on October 14th to heavy snowfall ushering in an arctic trough. It was the first day of winter as far as I was concerned. And we had climbed the last day of autumn. Temperatures plummeted. Ice crystals covered the tents and our hardware. On the morning of the 15th we stuffed and strapped our packs to max capacity and began the hike out. Our rather simple hike in was now covered in half a foot of fresh powder. Our packs heavy, we struggled to maintain any pace in the miles of boulders on glacial ice. The hike out was significantly harder than anything we'd done on the trip so far. It continued to snow. We each snapped a trekking pole, and in low flat light we poked and prodded our way across the lumpy bare blue ice of the main branch of the Trident Glacier – a seemingly blind crossing that challenged my several years of guiding on glaciers. Alas, we made it across and now had access to the tundra – but at a full day's cost and we were forced to camp as nightfall took over the valley.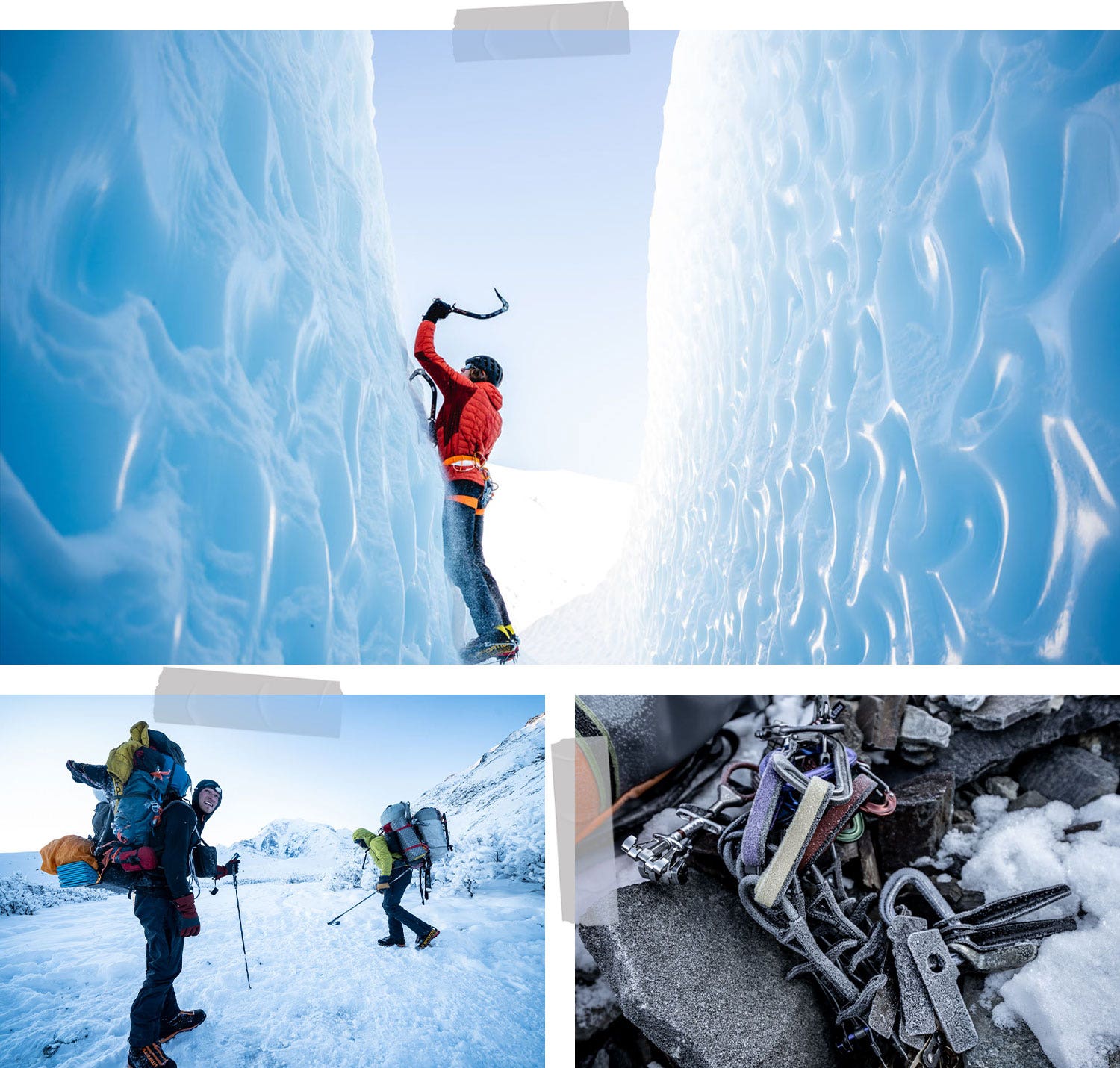 That night temperatures continued to drop. We estimate it was well below -20 °F (28 °C). When I woke up in the snow beside the Trident Glacier, Austin had the stove going and Alex lay awake, headlamp on, staring at the ice crystals hanging overhead on the tent ceiling. I rolled over, my face wet and stiff, and an icy frost around the head of my sleeping bag shed into my eyes. It was super frosty. We packed camp and began our last, and much easier, hike out to the now snow-covered air strip. Just as we were about to feel the sun, after seven days in shade, we turned a corner to find an entire herd of moose blocking the way. Must have been more than fifty. It was a surreal dream. We stood together, with ice forming on our hoods from our breathing, and watched them run up the alder-covered hillsides and out of the way. With wood-block fingertips in stiff gloves, we made the final hike out under clear skies and Jesse came in just before noon with the supercub.
We flew out one by one. I went last. For forty-five minutes I was alone in the frozen tundra and the sun cast its rays on me. I ran in circles to stay warm and I watched moose stare strangely at me from the hillsides. I looked out at the high peaks and to the shadowed North Face of Mount Moffit. We all long to live in the now, to be present. And for that forty-five minutes I was as present as I'd ever been. My senses all in tune with the great power of Alaska. I thought of Alex and Austin, erupting into the Lodge with big smiles. They were grabbing a hot coffee and getting dry, taking a hot shower & putting on clean clothes. The thought of my friends rejoicing was so pleasing. My stiff wind-burned cheeks stretched with tension as I smiled. Alas, Jesse's plane came buzzing over the moraine and a few minutes later I tucked in behind him for the ride out. My hands grew warm again, and now my spirit did too. Strangely, in retrospect, the experience of hiking out was more memorable than the route itself. We learned much more about ourselves on that final phase of the trip. With one last look at the Trident – I knew I'd be back come Spring. It was time to let the range winter over.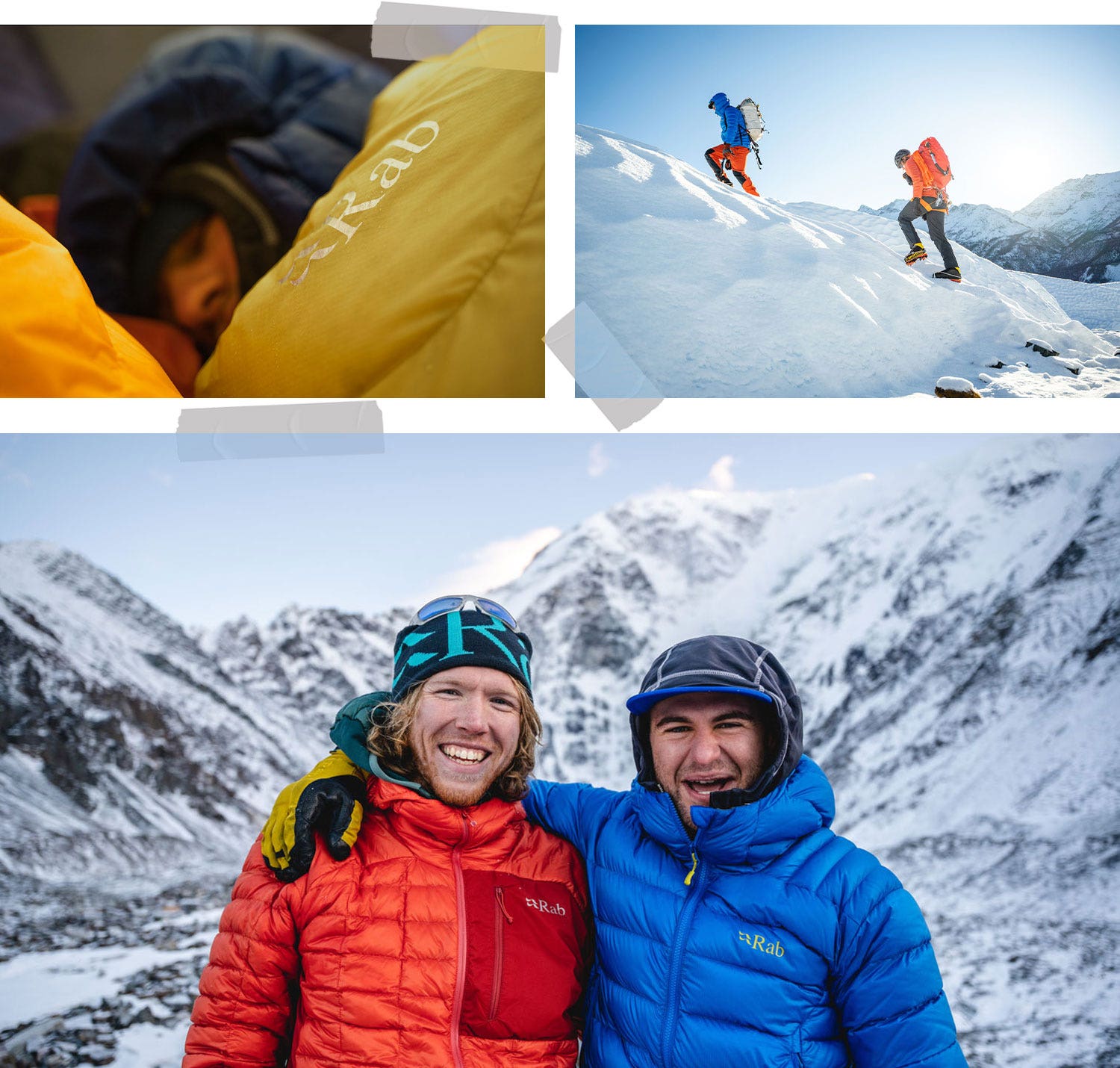 Shop Of Autumn & Ice Kitlist
Words by | Benjamin E. Lieber
Images by | Benny Lieber and Austin Schmitz
---
Designer, writer, alpinist. In 2016, Benny radically redesigned his life, throwing away sketchpads and sticky notes to begin prototyping a greater design project: a life in the Alpine.
Read more about Benny here