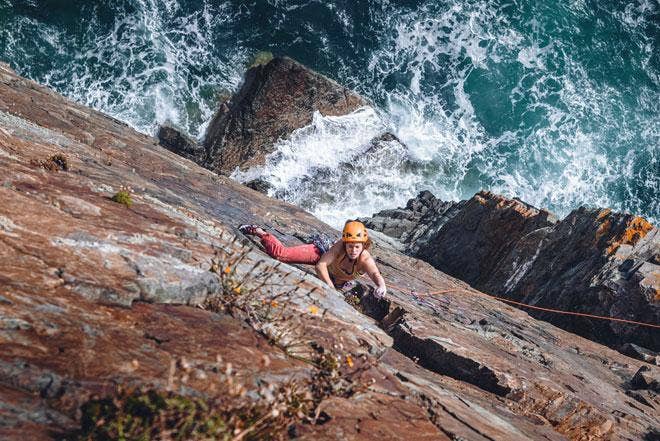 At Rab and Lowe Alpine we're delighted to continue our partnership with Kendal Mountain Festival, which is fully digital this year.
---
Taking place over 10 days, the KMF programme is packed with more than 200 films, 15 specialist sessions and over 30 literature talks. Live and on-demand from Thursday 19th November, it's finally your chance to catch all those sessions, lectures and films that you can't usually fit in!
Share the Adventure
We're proud to be sponsoring the 'It's Great Out There' Adventure Session and introducing the premiere of 'Over the Edge' short film.
This difficult year has highlighted how important it is for our wellbeing to spend time outside in nature connecting with other. KMF 2020 is all about sharing the adventure with the world, and these two sessions both focus on inspiring stories of bringing inclusivity and diversity into climbing and the outdoors.
Film premiere: Rab presents 'Over The Edge'
To celebrate five years of Women's Trad Festival, Rab commissioned the film 'Over the Edge' to tell the story of the women behind the sell-out festival. The film follows festival organisers Ellie Fuller, Charlie Low, Gilly McArthur and Hetty Key, with conversations about confidence, community and connections made through climbing.
Over the Edge premieres at Kendal with a live Q&A with Emma Crome, Gilly McArthur, Hetty Key & Ellie Fuller.
Lowe Alpine Adventure Session: It's Great Out There
The Adventure Session has taken on many forms over the years with different speakers delighting audiences with tales of travel. It stands for a celebration of those who embrace and love adventure. This year, the session will see a cross-section of speakers take us on their journey about how they got into the world of adventure. Stories from speakers that will inspire everyone to put on their hiking boots, pick up a rucksack and remember that #ItsGreatOutThere.
Supported Films
Don't miss these films by Rab supported athletes!
Ocean to Asgard
Four friends travel to Baffin Island for a forty-day human-powered adventure, featuring big wall first ascents, whitewater paddle descents, and wild Arctic flamingos. Featuring Rab athletes Bronwyn Hodgens and Jacob Cook.
A Plea for Refuge
Two adventurous friends, Jeff Shapiro (Rab athlete) and Cody Tuttle, have a desire to experience one of the last raw, and truly preserved wilderness areas in North America. Through the attempt to hike and fly paragliders across the Arctic National Wildlife Refuge in the eastern Brooks Range of Alaska, north of the Arctic Circle, they gain a visceral connection with the importance of fiercely protecting its nature.